If you're in the market for stable rails, ATX compliancy, SLI/CrossFire/dual-core support and a nice clean design, then Thermaltake's ToughPower 520W power supply is right for you. The MSRP for this unit is set at $129.99, so that's not a bad deal considering the price for PurePower models (with panel) range from $140 to $160 green. ToughPower will be available worldwide in mid-March
Introduction
Thermaltake is a well known company among enthusiasts. It was founded back in 1999. Their success started with manufacturing high-end CPU coolers and case accessories. The most memorable cooler was the Golden ORB available for both Intel and AMD platforms. The introduction of PC cases, power supply units and liquid cooling systems gave the company a nice head start in the market.

2004 – Restructure of the company in correspondence to the global scale it has grown into: reorganization of patent, channel, chassis, power supplier & computer accessories, and industrial design departments to strengthen organizational management and reinforce our commitment to research and development. Designs cooler for the heat-conducting pipe to the specification of desktop Silent Tower and four other types of CPU. Manufactures fanless power supplier with Fanless PSU. Unveils Tsunami chassis, incorporating the mirror bake-coating technology and a transparent, see-through side-window. Designs 12CM, applying low-noise liquid cooler Big Water which receives AMD's outstanding partner award. Size of net capital now grows to NT 75 million while the cash capital increases to NT 255 million.
Not so long ago, I reviewed the PowerStation 520W from Thermaltake. If you recall, the power supply performed really well under both idle and loaded conditions while not going over a tolerance level of 3.1%. With faster and more power-demanding PC components, it's crucial to upgrade your PSU every now and then.
Today, I'm looking at Thermaltake's yet to be available ToughPower 550W power supply. You might ask what's the big deal? Let's say you already have a PurePower / PowerStation ~500W model. While the amount of Watts may be enough, your new components may require more stable voltages and higher amperage (strength of an electrical current). As the name implies, ToughPower is all about stability.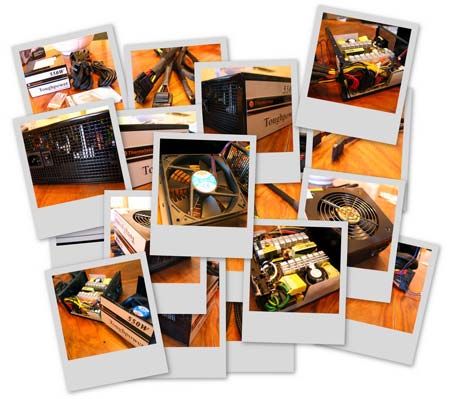 Features & Specifications
Combining the output for +12V rails, this power supply should be pushing up to 36A (530 Watts) and 38A at maximum load of 550 Watts. It is very important that +12V rails (especially) are stable because this is where most of your PC components draw power from. With companies introducing higher frequency processors each year and overclockers pushing for more MHz, unruffled rails are a crucial concept.
Here are the main features of Thermaltake's ToughPower 550W PSU
Complies with ATX 12V 2.0 version
Independent Voltage Circuit: offers unflappable current delivery under heavy load and makes voltage output more stable
SLI, Cross-Fire, and Dual Core CPU ready
Active Power Factor Correction (PF>0.99) and high efficiency (80%)
Extremely good voltage regulation (±3%): provides steady voltage for system
Industrial grade components (capacitor, transformer, etc)
High reliability: MTBF>120,000 hours
Mirror effect housing and reliable 12cm ball-bearing fan
Protections: Over Current, Over Voltage, Short-Circuit, Under Voltage, Overload, and Over-temperature
Safety / EMI Approvals: CE, CB, TUV, FCC, UL, and CUL certification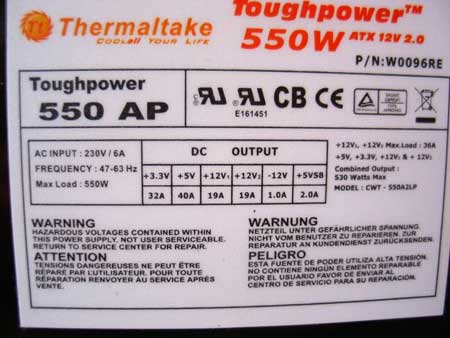 Below I'd like to present some more detailed specifications of this ToughPower unit: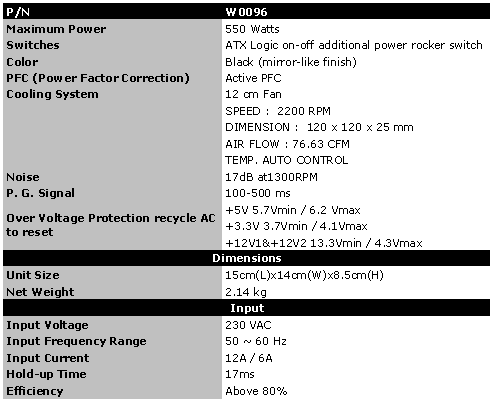 Voltage is switched automatically depending on what you have in your wall socket, either 115 or 230V — no need for additional switches, neat right? The PSU features a 120mm fan rocking at ~2000 RPM, automatically controlled by temperature. In case of a short cirtuit, Thermaltake's PSU will kick in with Over Voltage Protection, temporarily shutting down power to all of the components. It's designed to protect all your computer peripherals currently connected to the power house.
External & Internal Loooks
There are a lot of companies out there (including Thermaltake) that tune their power supplies on both the outside and inside. With ToughPower, it's a mixed bag of both. While the PSU features a very clean look, it does not come with fancy LED fans or additional control panels. However, the inside is built to last using only high-quality components (transistors, capacitors, etc).
Click a picture to see a larger view
---
---
If you first look at the housing, you'll notice a nice black mirror-like finish. It's not the shiniest case I've seen, but it's definitely good looking. The back of the PSU features a grilled casing where the hot air leaves the power supply. If you don't have enough airflow inside your case, you better not worry. Thermaltake's power supply comes equipped with a 120mm fan rotating at ~2000 RPM. The fan can be loud at timea, so those of you who are noise freaks better come up with a solution to dampen it. As I have mentioned earlier, the components used are high-quality, which can be easily proven just by lifting the PSU — it's quite heavy! This particular PSU does not come with modular cables or a PST type bay. Its main focus is stability.
Let's move on and see the cabling system.Bundle, Cabling & Installation

As far as bundle is concerned, ToughPower comes with a bag of screws, installation booklet and power cable (in our case, 230V version). The manual is clear and highlights the PSU's features and detailed specifications. In the back, you can find a troubleshooting guide in case you get stuck with installation.
Click a picture to see a larger view
---
---
As for cables, Thermaltake decided to use a non-modular system and went with a standard solution. The company calls it
Intelligent Cable Management.
I don't know if it's intelligent, but it sure works like a charm — very sturdy solution, no more cable tanglements, better case ventilation. The above pictures show you a bunch of cables: 24-pin main power connector (detachable 4-pin so it's ATX compatible) along with P4 cable, 4-pin, SATA, floppy, PCI-E (2x). All are wrapped up in black aesthetic braid. They are extremely useful when reducing heat inside your case. Additionally, 4-pin power cables come equipped with finger grips so it's easier to detach them from a device.
Components
– DFI NF4 Ultra-D
– Athlon64 3000+ Venice
– 2x256MB Corsair PC3200LLP (Dual Channel)
– Thermaltake ToughPower 550W
– Thermaltake PurePower 520W
– PowerColor X1800 XT

Software
– Windows XP SP2
– DirectX 9.0c
– nForce4 6.53 drivers
– CATALYST 6.2
Tools used

– 3DMark 2005 v1.2.0 (GT 1 looped 3 times)
– Digital Multimeter for voltage measurement

Notes
CPU clocked at 1.8GHz (idle/load) and 2.7GHz (idle OC/load OC)

Installation procedure was a standard unscrew, take out old PSU, put in new one and screw it back in, attach cables. I haven't experienced any problems during installationTesting & Thoughts
For a lot of the readers, this is probably the most important part of any product review: testing and performance under different kinds of working environments. The tolarance level for most PSUs nowadays is +/- 5% from the nominal voltage. With that in mind, I recorded minimum, maximum and average rail values (both idle, loaded and overclocked states).
Thermaltake advertises their ToughPower PSU as being very stable with only a +/- 3% tolerance. Are they correct? Let's find out.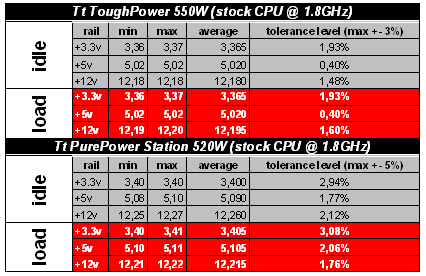 With stock CPU at 1.8GHz and RAM running nominal speeds of 400MHz, our ToughPower plant achieved very good scores where none of the rails flapped above 2% from standard voltage values.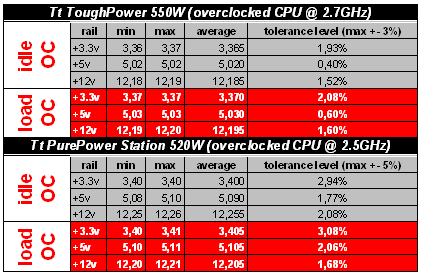 Overclocking the CPU to 2.7GHz as well as the X1800 XT to 700 MHz core / 800 MHz (1600 MHz DDR) RAM yielded interesting results. OC loaded values did not exceed the advertised tolerance level of 3%. Again all rails appear to be as stable as a rock with only the 3.3V rail reaching 2% tolerance.

Above, we have consolidated values inside a table. All voltages were averaged to give you a narrower look at the performance.
Coming to a conclusion, I must say I've had a very pleasant time with Thermaltake's ToughPower 550W. As much as I could stress it, the power house was stable at all times. While in overclocked mode, tolerance level did not exeed 2%, which is a good indicator that this particular PSU is worth your consideration. Voltage fluctuation is very low indeed and more notable than with the PurePower 520W. Thermaltake's ToughPower has everything a power user can dream of — well maybe lack of modular cables, but it's not a minus when stability is your priority.
If you're in the market for stable rails, ATX compliancy, SLI/CrossFire/dual-core support and a nice clean design, then Thermaltake's ToughPower 520W power supply is right for you. The MSRP for this unit is set at $129.99, so that's not a bad deal considering the price for PurePower models (with panel) range from $140 to $160 green. ToughPower will be available worldwide in mid-March.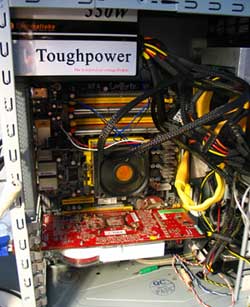 Pros:+ Very stable rails
+ Up to 38 Amps on 12V rail
+ SLI / CrossFire / Dual-core ready
+ Clean look

Cons:
– No modular design
– A bit loud

For phenomenal stability, the Thermaltake ToughPower 550W gets the rating of 9.0 (Extremely Good) out of 10 and the Bjorn3D Seal of Approval.