NVIDIA's latest flagship video card was introduced in early March. In this review, we take a look at one of Leadtek's representatives for this new card – the PX7900 GTX TDH Extreme. How will this factory overclocked card compare to previously tested cards? Read the review to find out!
Introduction
NVIDIA made a decent sized splash in the graphics card pool a couple of weeks ago when it launched its latest GeForce 7 Series cards – the 7600 GT, 7900 GT and 7900 GTX. The 7900 GTX is, of course, the new flagship card from NVIDIA. New video card launches are pretty fun and exciting, but to me, it's almost more exciting to see what the board partners decide to do to the reference designs before unleashing them to retailers.
When new cards hit the market, I always hope to see new bundles and innovative or at least quieter coolers. One company that has repeatedly delivered unique bundles and coolers for years now is Leadtek. Coolers seem to have lost a lot of focus over the last several launches for NVIDIA's board partners, including Leadtek. Factory overclocking has taken center stage as custom coolers head to the backseat. In this review, I'll be looking at the Leadtek WinFast PX7900 GTX TDH Extreme, which is a factory overclocked GeForce 7900 GTX that features NVIDIA's reference cooler.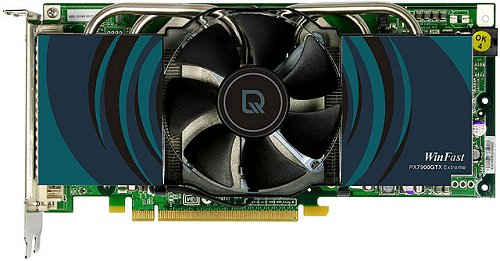 For its Extreme 7900 GTX, Leadtek overclocks the core from 650MHz to 675MHz and the memory from 1.6GHz (effective) to 1.66GHz. While those clocks aren't actually as high as some others on the market, they should still offer a nice boost over any 7900 GTXs with reference clocks.
Features & Specifications
Features
Full Microsoft® DirectX® 9.0 Shader Model 3.0 Support
Built for Microsoft® Windows Vista™
NVIDIA® SLI™ Technology
NVIDIA® CineFX™ 4.0 Engine
Full-Speed 128-Bit Studio-Precision Computation
Transparency Antialiasing
90nm Process Technology
NVIDIA PureVideo Features

Adaptable Programmable Video Processor
MPEG-2 Decode Acceleration
H.264 Decode Acceleration
WMV Decode Acceleration
Inverse Telecine (3:2 & 2:2 Pulldown Correction)
Bad Edit Correction
Spatial-Temporal De-Interlacing
High-Quality Scaling
Video Color Correction
Integrated SD and HD TV Output

Integrated HDTV encoder
UltraShadow II Technology
Normal Map Compression
NVIDIA ForceWare® Unified Driver Architecture (UDA)
OpenGL® 2.0 Optimizations and Support
Dual Dual-link DVI Support
Dual 400MHz RAMDACs
Specifications
In the table below, you will find a quick summary of the Leadtek WinFast PX7900 GTX TDH Extreme's specifications. For your reference, I've also included the reference specs of NVIDIA's 7800 GTX, 7800 GTX 512, 7900 GTX and 7900 GT.
| | | | | | |
| --- | --- | --- | --- | --- | --- |
|   | Leadtek 7900 GTX Extreme | Reference 7800 GTX | Reference 7800 GTX 512 | Reference 7900 GTX | Reference 7900 GT |
| Bus Technology | PCI Express | PCI Express | PCI Express | PCI Express | PCI Express |
| Memory Interface | 256-bit | 256-bit | 256-bit | 256-bit | 256-bit |
| Memory | 512MB GDDR3 | 256MB GDDR3 | 512MB GDDR3 | 512MB GDDR3 | 256MB GDDR3 |
| Core Clock | 675 MHz | 430 MHz | 550 MHz | 650 MHz | 450 MHz |
| Memory Clock | 1.66 GHz | 1.2 GHz | 1.7 GHz | 1.6 GHz | 1.32 GHz |
| Pixels Pipes | 24 | 24 | 24 | 24 | 24 |
| Vertex Shaders | 8 | 8 | 8 | 8 | 8 |
Closer Look & Bundle
Like other 7900 GTXs that hit the shelves on launch day, the Leadtek 7900 GTX Extreme doesn't vary much from the reference design. The only change is cosmetic: Leadtek added its own stickers to the cooler.
As you can see, the 7900 GTX uses the same cooler that was first introduced for NVIDIA's 7800 GTX 512. Actually, that two-slot behemoth was first used by Leadtek on its 256MB 7800 GTX Extreme card (first use outside of the Quadro line that is). Those heatpipes and big fan should keep the 7900 GTX plenty cool.
The 7900 GTX features two dual-link DVI connectors and an HDTV-out connector. Unlike the previous flagship card, this card does not include VIVO capabilities. As with other high-end video cards, the 7900 GTX requires connection to your system's power supply.
Leadtek tends to include decent software and at least one full game with its higher end video cards, and the 7900 GTX Extreme is no exception. Along with PowerDVD 6, you also get two full-version games – Serious Sam II and Trackmania Nations.
WinFast PX 7900GTX TDH Extreme graphic card
General guide
Quick installation guide
Driver & Utilities CD-ROM
DVI to VGA converter
HDTV cable
PCI Express power cable
Software:

PowerDVD 6
muvee 3
Serious Sam II
Trackmania Nations
Test System & Benchmarks
I used the same test system that was used for my recent 7600/7900 launch article. I decided to just add the test results for the Leadtek 7900 GTX Extreme to the charts I created for that article. You will notice that not every card included in the charts is a high-end card; including the 7600 GT, 7800 GT and X1800 XL gives you a good idea of what you are getting for the extra money you spend on the flagship cards. I still don't have any X1900 cards for comparison unfortunately. You can check out the test system below.
Test System
DFI LANParty NF4 SLI-DR Motherboard (review)
AMD Athlon 64 3800+
Corsair TWINX1024-3200XL (review)
Maxtor 120GB Serial ATA 7200RPM Hard Drive
Video Card 1: Leadtek WinFast 7900 GTX TDH Extreme – ForceWare 84.17
Video Card 2: XFX GeForce 7900 GTX XXX Edition – ForceWare 84.17
Video Card 3: XFX GeForce 7900 GT XXX Edition – ForceWare 84.17
Video Card 4: XFX GeForce 7600 GT XXX Edition – ForceWare 84.17
Video Card 5: XFX GeForce 7800 GTX 512 XXX Edition (review) – ForceWare 84.17
Video Card 6: XFX GeForce 7800 GT (review) – ForceWare 84.17
Video Card 7: Gigabyte Radeon X1800 XL (review) – Catalyst 6.1
Windows XP with Service Pack 2 and DirectX 9.0c
Dell 20.1″ LCD, max resolution 1600×1200
Since this is a 7900 GTX review, the most relevant comparison will be between the Leadtek 7900 GTX Extreme and XFX 7900 GTX XXX. Note that the Leadtek is clocked at 675MHz core and 1.66GHz memory while the XFX is running at 700MHz and 1.8GHz, respectively.
Benchmarks
3DMark06 – default settings
Counter-Strike: Source, Video Stress Test – 4xAA / 8xAF
Quake 4 v1.1 – NoAA / NoAF and 4xAA / 8xAF
F.E.A.R. v1.03 – NoAA / NoAF and 4xAA / 8xAF
X3: Reunion, Rolling Demo – NoAA / NoAF and 4xAA / 8xAF
Benchmark Results – 3DMark06
As usual, I'll start things off with 3DMark. Here are the results from 3DMark06 with default settings and the detailed results from the feature tests.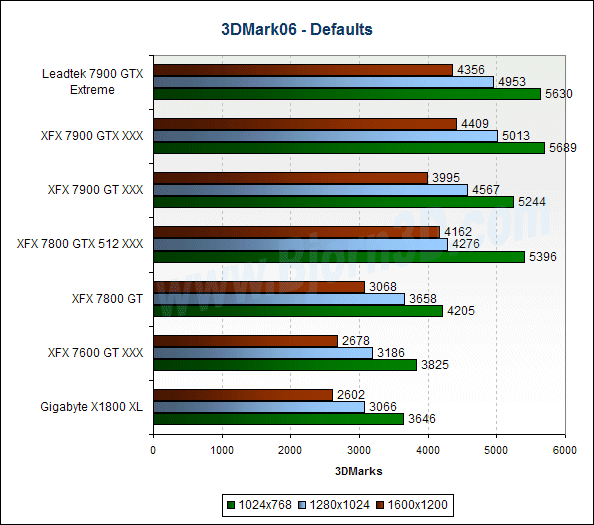 Benchmark Results – CS: Source
The Counter-Strike: Source video stress test, which can be found in the CS: Source game menu, is a quick benchmark that tests a card's ability to render various scenes that demonstrate the Source engine's advanced capabilities. The average FPS is shown on the graph.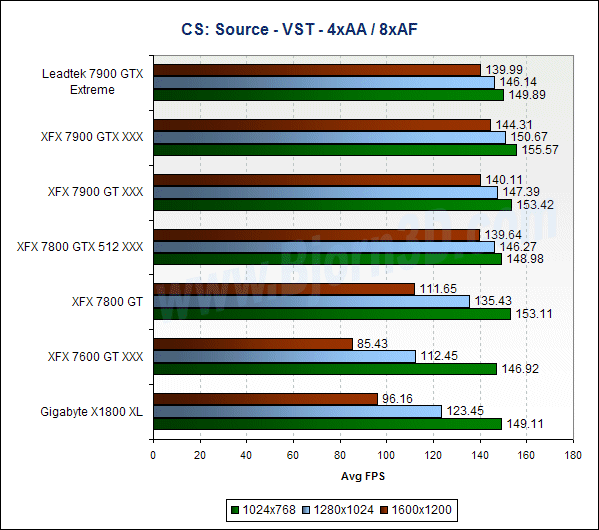 Benchmark Results – Quake 4
Before benchmarking Quake 4, I updated it to v1.1. I used the latest version of the HardwareOC benchmark utility and the included HOC demo to benchmark the game. In the charts below, you will find the average FPS reported.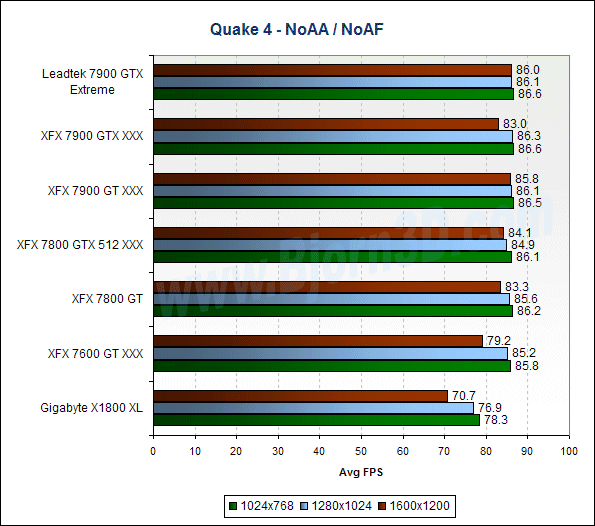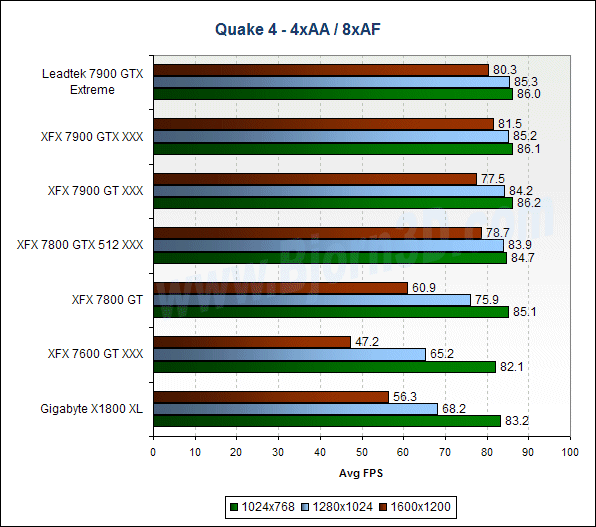 Benchmark Results – F.E.A.R.
F.E.A.R. is a game known for nice graphics, and it happens to be a good test of a powerful machine if you turn up all the eye candy. When running the performance test, I set all settings in the game to maximum, but I left soft shadows disabled.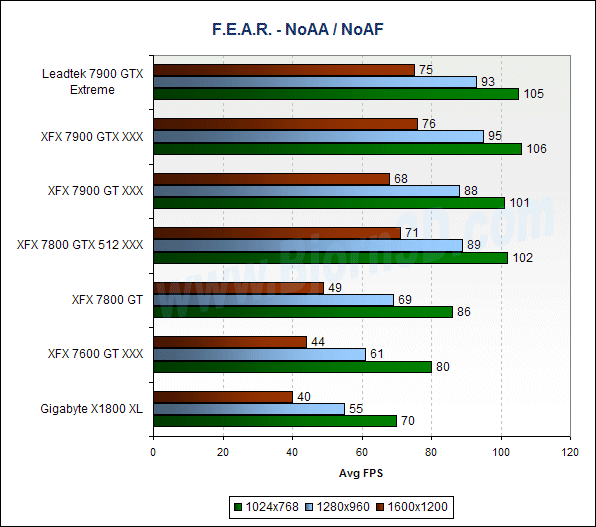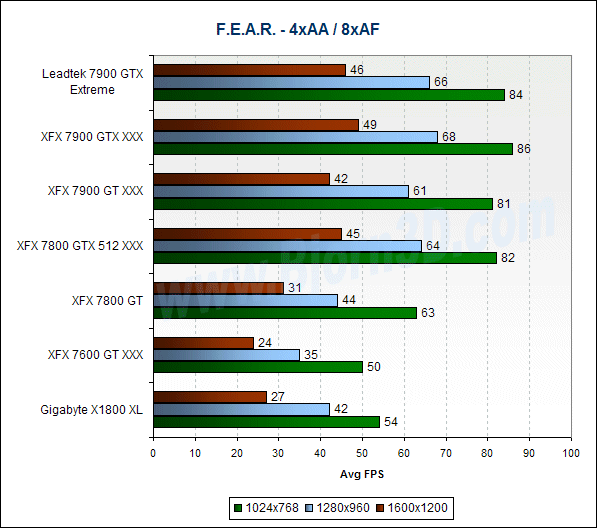 Benchmark Results – X3: Reunion
To test X3: Reunion, I simply used the rolling demo that can be found at EGOSOFT's web site. The demo includes a benchmarking feature that is very similar to the X2: The Threat rolling demo that we used to use. Various game scenes are rendered and then an average FPS is reported. All options were set to high and "Glow" was enabled for all runs.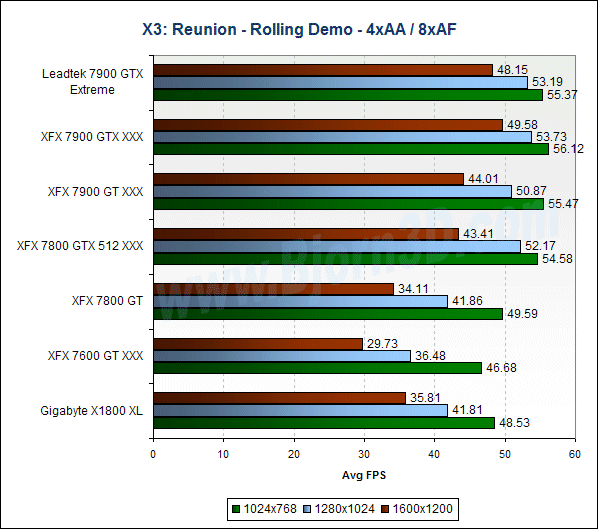 Overclocking
Recall that the NVIDIA reference spec clocks for the 7900 GTX are 650MHz for the core and 1.6GHz (effective) for the memory. The Leadtek 7900 GTX Extreme comes out of the box at 675MHz for the core and 1.66GHz for the memory. Several companies are pushing the 7900 GTX a bit further, so I figured I had some room to get at least a little higher.
I installed Coolbits and let it auto-detect overclock frequencies. The results that came back were some of the most ludicrous I've ever seen Coolbits come up with – 925MHz for the core and 2GHz for the memory! Obviously, I wasn't going to shoot for anywhere near those speeds. Instead, I took the core to 700MHz and the memory to 1.8GHz and began running tests and checking for artifacts and graphical anomalies. I didn't notice any, and that was about as high as I could get this card overclocked. The performance at these speeds mirrored that of the XFX 7900 GTX XXX, which you can see on the charts on the previous pages.
Conclusion
While the Leadtek WinFast PX7900 GTX TDH Extreme is a solid representative of the new NVIDIA flagship graphics card, availability continues to be a problem. Most of the 7900 GTXs and GTs keep selling out quickly. I couldn't find this Leadtek card in stock online unfortunately. It may be restocked by time you read this, though, so be sure to check your favorite stores. More supply should be on the way to meet the high demand.
Availability aside, Leadtek put together a nice package with its 7900 GTX Extreme. The included software and games should please many buyers. The card's performance fell where I expected it to – just under the performance of the higher clocked XFX 7900 GTX XXX. The Leadtek 7900 GTX Extreme's factory overclocks, while not the highest available, will add an extra bit of performance out of the box over reference clocked 7900 GTXs. Plus, if you're into overclocking, you might be able to squeeze even more performance out of it.
One major downside to all flagship cards is the price. Since I can't find the 7900 GTX Extreme in stock, I'm not sure what its current street price is, but I did see it listed for back order for $599 at ZipZoomFly. That's a lot of money for a single card. Unless you have to have the absolute best, I'd suggest looking into getting two 7900 GTs and putting them in SLI. Leadtek offers vanilla and Extreme versions of its GT as well.
Pros:
+ Great performance
+ Nice bundle
+ SLI capable
+ Factory overclocked
Cons:
– Not a lifetime warranty like some of the competition
– Price
– Very limited availability (couldn't find in stock at time of writing)
Final Score: 7.5 out of 10 (Good)