It is indeed my pleasure to share with you today my impressions of the "new and yet to be released" ZBoard MERC Gaming Keyboard from Ideazon (ZBoard).
INTRODUCTION
---
A few days ago I got a call from Scott, the grand PUBA here at Bjorn3D, asking if I'd be interested in reviewing a gaming keyboard from Ideazon. I thought for a few seconds and assumed he was talking about their Zboard keyboard that is pretty popular amongst heavy duty gamers. My was reply was, sure. Although that reply doesn't sound that enthusiastic, I thought it would be a cool change of pace even though I don't fit into the "heavy duty gamer" category. I do play most of the first person shooters when they come out…but I digress! Scott's next words were something to the effect of "this keyboard is brand new and hasn't been released yet." Those are the magic words to a reviewer, "new and yet to be released." I was then completely psyched! Those are magic words to any reviewer of computer products!
Okay, enough foreplay; on to the matter at hand. On Monday, the guy in the brown square truck, whose initials are UPS, delivered to my door the product I'm about to reveal to you. Could we have a fanfare maestro: It is indeed my pleasure to share with you today my impressions of the "new and yet to be released" ZBoard MERC Gaming Keyboard from Ideazon (ZBoard).
FEATURES
---
Listed from the accompanying product literature that was included with the keyboard:
MERC's dedicated gaming terrain combines 34 gaming keys, a deadly central butterfly layouts, three thumb keys an 11 weapon keys.
Sleek ergonomic game pad tilts 11 degrees to match natural wrist position while providing hours of comfortable gaming
MERC also has an enhanced QWERTY keyboard for game-play banter, chatting with friends or standard PC functionality with Windows shortcut keys
Core game commands are labeled for quick access, including run, walk, jump, crouch and reload.
MERC features multimedia keys and programmable hot keys
Phantom elimination capabilities deliver superior simultaneous keystroke response.
On-board programmable chip recognizes the game being played and instantly re-maps the MERC with the corresponding key layout.
FIRST IMPRESSIONS
---
After carefully opening the secure packaging, which if you've read any of my other reviews you'll know is a major plus to me, I was greeted by an extremely nice looking keyboard and the accompanying software. It looked ergonomic in design with what appeared to be many nice features which we'll examine in greater depth later in the review. My biggest surprise was how streamlined everything was coupled with the size, which was about the same in comparison to most of the other keyboards currently on the market. Most of the other gaming keyboards I've seen over the years were either proportionately longer and/or wider than the MERC, which was not always necessary.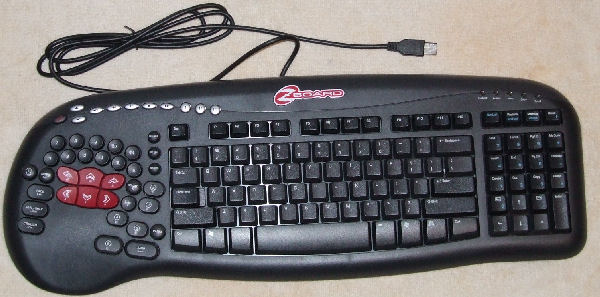 MERC Gaming Keyboard
As you can see from the picture 75% (looking right to left) of the product is your typical QWERTY styled keyboard and number pad in a somewhat standard layout. It's the remaining 25%, or the gaming section of the keyboard, that the balance of this review will predominately focus on.
A CLOSER LOOK
---
Let's take a closer look at the gaming portion of this keyboard.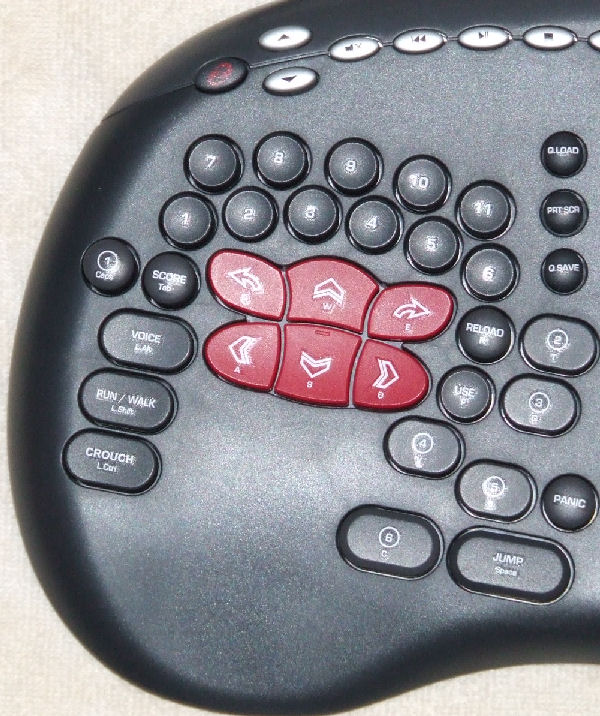 MERC Gaming Keys
As you can see from the picture the following special keys are at the users immediate control in the gaming section, each with their normal corresponding key on the keyboard conveniently labeled:
Forward
Backwards
Left Turn
Right Turn
Slide Left
Slide Right
Reload
Use
Jump
Crouch
Walk/Run toggle
Quick save
Quick Load
Print Screen
Panic
Score
Voice
Eleven weapon keys
Caps/1 key
Five other programmable keys
There are also several silver colored keys and one black with a red image key above the gaming section which can be used to control multimedia functions.
INSTALLATION
---
Installation is pretty straight forward. First install the Z-Engine software that's included which consists of the typical place the disk in your CD/DVD and select the appropriate location for the installation, and the software does the rest. We'll look more at the Z-Engine Software in just a just a moment. Next plug the keyboard into any vacant USB port, it is almost instantly recognized and the installation is complete.
Z-Engine Software
After installing the Z-Engine software, this icon
is placed in your system tray. Double clicking on it reveals the following screen: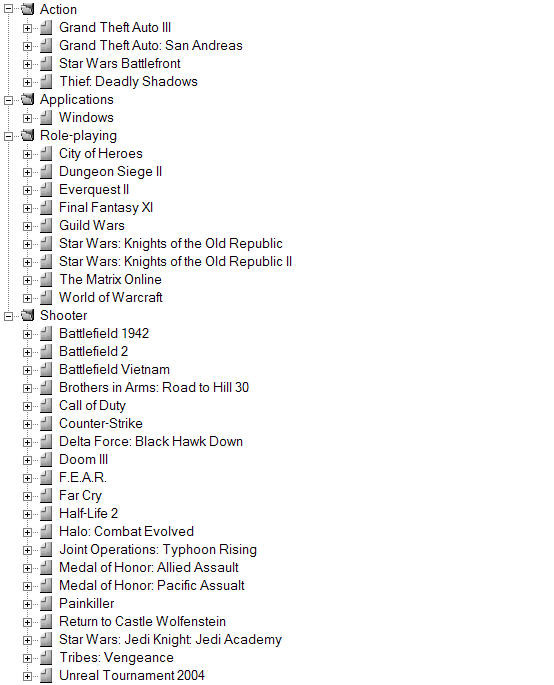 As you'll notice each game in the list has more information beneath it. In most cases it simply is the default choices from the game. A few offer the choices of newer game revisions in addition to the default options. I was quite impressed with the array of games supported right out of the box. It is my understanding that the Z-engine software will be a work in progress with revisions released often to cover new games as they become available. It is my understand that a USB 64 driver is also currently available. Later in 2006 the Z-engine software will have both a high definition skinnable graphic interface and advanced macro editing with drag and drop key mapping available. There are also quite a number of modded game files available to download for this engine on the Zboard website.
Immediately to the right of the menu is this keyboard layout for the user to visualize: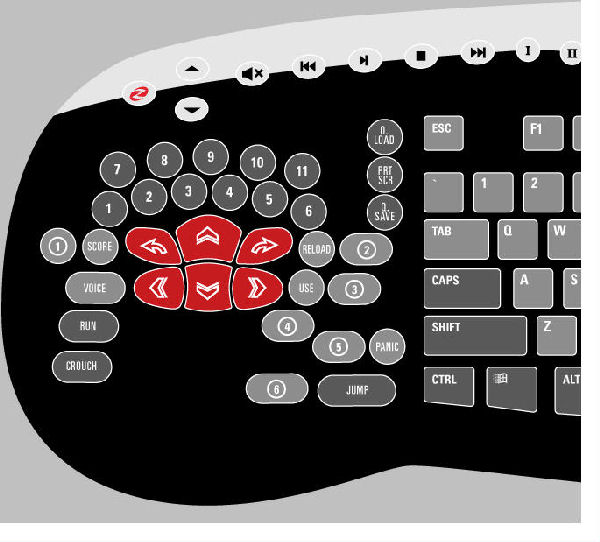 Under the tool bar is the following options screen for programming hot keys: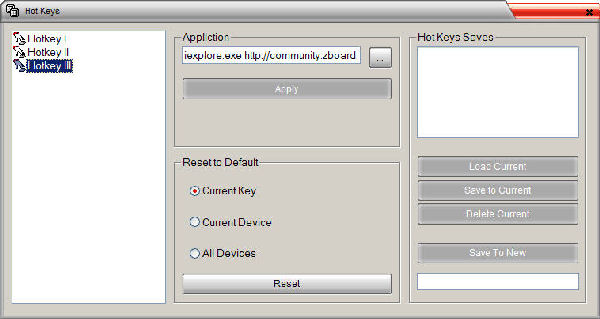 TESTING
---
Next it was time to put this baby through its paces and give you my impression of the keyboard's functionality. I chose to test the gaming side of the keyboard by playing about two hours of FEAR™. To test the standard keyboard's functionality and to get used to the keys, I chose to type the vast majority of this review using the MERC.
Gaming
To begin with I use the standard default keyboard options and the engine immediately recognized I was playing FEAR™ so no adjustments were necessary. As I stated in the Introduction I'm not the super gamer like many of you that will read this review. I did notice that once I got used to the gaming pad (approximately 15 minutes), that my reaction time appeared significantly improved as compared to using either my standard Logitech or Microsoft keyboard. Yes, I have two and each has its purpose. Unfortunately when testing something like this product the writer's impressions can only be subjective as I know of no benchmarks to give you objective measurement of any improvement ascertained. I would put my gaming skill somewhere in the average range, meaning I takes a few tries for me to get through any of the levels of FEAR™ playing at a moderate difficulty level. I noticed that I certainly wasn't getting killed nearly as often as I usually do and in fact some of the areas of the game that usually confound me, seemed to flow much more smoothly.
One of the features that particularly impressed me about this keyboard was the response of its gaming keys. Ideazon maintains that they have improved simultaneous key stroke response, and I can certainly attest to that. Previous combinations of keystrokes on my other keyboards seemed to lag somewhat, there was no lag whatsoever with this keyboard. My only limitation appeared to be my own shortcomings as a gamer and not the equipment I was testing. I was however able to kick some major alien butt that heretofore would have toasted me. Overall, I'd give this portion of the test a 9, only because with subjective perception alone I will not give any product a 10.
Standard Keyboard Function
If this keyboard has any shortcomings this is the area. Let me first state that all keys worked as they should and performed their designated function without error. My biggest problem with standard keyboard function was the key placement, not that they're obscurely placed on the keyboard, but their spacing. The standard keys, even for a person with short fingers like my self, are spaced entirely to close for comfortable operation. I feel that with more time I might be able to adapt to their spacing, but for now the felt entirely too cramped to venture into typing anything longer than this review. I often found myself striking the wrong key. I will say that much of this could be due to my anatomy and the muscle memory my fingers have from years on what I would call a "full sized keyboard". For that reason I will give this portion of the review a 7.
CONCLUSION
---
The MERC Gaming Keyboard from Ideazon will most certainly appeal to a vast number of the experienced gamers out there and to others who just beginning their venture into gaming. I found it to be exceptionally fast and very well suited for gaming, the primary purpose for which it was introduced. I would not suggest using it to write your first novel or for that matter a short story as if your anatomy is anything like mine, you'll begin to cramp from the close proximity of key placement.
I was able to ascertain from Ideazon that the MERC Gaming Keyboard will retail for $39.95 USD. I find this pricing to be in line with most standard keyboards that have no gaming options to speak of, in other words I think it's priced right for the gaming market. To sum it all up this keyboard and the technology behind it are superior for the purpose in which it was intended, gaming. The enhanced simultaneous key response alone should quite easily help to decrease those milliseconds in reaction time the best gamers are always trying to achieve.
Lastly, I'd like to sincerely thank Ijaz Jamal at Ideazon (ZBoard) for providing the MERC Gaming Keyboard to Bjorn3D for our review.
+  Easy and fast setup
+  Attractive and ergonomic on the gaming side of the fence
+  Compact styling to easily fit in most keyboard trays
+  Excellent intelligent software
+  Created by gamers for gamers
+  Programmable hotkeys
+  Price
Cons:
– Standard key placement is cramped
Final Score: 8 out of 10 and the Bjorn3D Seal of Approval.