Check out our review of one of the smallest digital audio players in the world. It's not perfect, but it offers a lot in a small package.
Introduction
When it comes to digital audio players or MP3 players, size really matters. Size doesn't just refer to physical dimensions, though. It also refers to storage capacity. Typically, smaller players have less storage capacity (256MB to 4GB+ versus the 20GB+ of larger players), which means you can't carry as many songs and files with you. You might think that physically smaller MP3 players are cheaper than larger players, but that's often not the case. With technology, small physical size generally costs more just like bigger storage capacity costs more.
Today, it's time to review some digital audio player goodness in the form of a 1GB mobiBLU DAH-1500i Cube Digital Audio Player, one of the smallest MP3 players in the world. The DAH-1500i is 24mm cubed, which means it is just under one inch tall, wide and deep.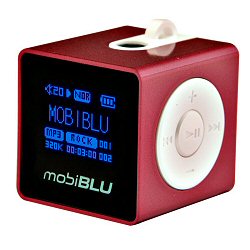 The DAH-1500i comes in blue, red, pink, orange, black and silver, and you can choose from three different capacities: 512MB, 1GB and 2GB (which was recently  released). When it first came to market, Wal-Mart had the exclusive rights to sell this little cube. Now, you can purchase it from Target, Amazon, TigerDirect and directly from mobiBLU in addition to Wal-Mart. Canadian shoppers can find the DAH-1500i at TheSourceCC.com.
Features & Specifications
The DAH-1500i might be small in stature, but that doesn't mean it is lacking in the features and specs departments. mobiBLU packs in quite a bit of information on the tiny yet easy to read OLED display. In addition to listening to MP3s and WMAs, DAH-1500i users can listen to FM radio. They can also record FM radio and their own voice. Additionally, the DAH-1500i features a rechargeable lithium-ion battery that boasts 8-10 hours of playback time. Check out the rest of the features and specifications below.
Features
OLED Display
Self Emitting Blue OLED (Organic Light Emitting Diode) Display combined with Blue letters brings new beauty to the unit. OLED provides superior sharpness, and a bright, easy to read display.
WMA (Digital Rights Management)
Now you can download and play purchased music from several popular music download sites.
FM Radio Receiver and Recorder
Enjoy FM radio listening as well as digital music files (MP3/WMA). It can also record your FM Programming which allows you to listen to it over and over or to save it on your PC.
USB 2.0 FLASH DRIVE
By connecting the product to PC, the Windows system automatically recognizes it as a removable disk. No additional software needed to load your music files over the blazingly fast USB 2.0 connection. It can also be used as storage for other types of files.
Voice Recorder
Built in high quality microphone allows you to record your voice.
Five Preset EQ modes plus one User-Set EQ mode
Features 5 preset equalization modes; Normal / Rock / Jazz / Pop / Classic / and you can also customize equalization to suit your sound.
SRS WOW – Surround Sound
3D Surround and superior Bass enhances your music listening experience.
File Navigation System and Unlimited Folder Capacity
The player can play MP3 files saved in multiple folders. Those files and folders can be selected and played as if in a Windows environment.
Easy & Convenient Clock
The built in clock keeps you on time.
Built-In Lithium-Ion Battery
No extra battery or external charger is required. This advanced battery system is easily recharged by connecting into the USB port on your PC.
Resume Function
Previous user settings and track location are automatically restored when the unit is powered ON in case of sudden power down.
Firmware Upgradeable
Firmware is easily upgradeable to new features and functions.
Specifications
AUDIO FORMATS
MP3, WMA, WMA DRM

BUILT-IN MEMORY
512MB / 1GB / 2GB

ANTENNA
Headset/Earphone Antenna

BIT RATE
MP3: 8~320Kbps
WMA: 32~192Kbps

HEADPHONE OUTPUT POWER
16 Ω / 15mW

AUDIO OUTPUT FREQUENCY
20Hz ~ 20KHz

AUDIO SIGNAL TO NOISE RATIO
90dB

RECORDING TIME
520Min Voice Recording(256MB, 64Kbps Recording Mode)

OPERATING TEMPERATURE
-5C ~ 70C

 
FM FREQUENCY
87.50MHz – 108.00MHz / 76.0MHz ~ 108.0MHz

FM SIGNAL TO NOISE RATIO
50dB

PC INTERFACE
USB 2.0

DOWNLOAD SPEED
16-20mbps

POWER SUPPLY
Built-in Li-Polymer

BATTERY LIFE
8-10 hours

DIMENSIONS
0.94″ x 0.94″ x 0.94″
24mm x 24mm x 24mm

WEIGHT
0.63 Ounces (18 Grams)
Closer Look & Package Contents
What better way to package a little cube MP3 player than in a cube of its very own. The DAH-1500i comes well-packed and adequately protected in a small blue and grey box. If you want to get a grasp of just how small the DAH-1500i is, take a look at the third image below. That is a US quarter I am holding next to the Cube.
Inside the box, I found a small software CD, a manual, and a box containing the accessories, including necklace style earbud headphones, a USB/charging cable and a protective case.
The headphone connector is on the top of the DAH-1500i. This same connector also receives the USB cable, which is not only used for data transfer but also for charging the unit. There is also a small plastic loop on the top that you can attach the headphones to, as shown in the first picture below. The second image shows how the USB cable connects to the DAH-1500i. In the final two pictures, you can see the included protective case and how it looks on the device. It's kind of a pain to get the case on the player, but all it takes is a little determination and patience. This will protect the corners of the Cube, but the screen is left unprotected.
The front of the DAH-1500i is of course the OLED display. The display features very cool and easy to read blue text. On the left side of the DAH-1500i, you can see the menu and hold buttons. The right side features the typical play/pause, fast forward, rewind and volume up/down buttons. These buttons all do more than just their labelled functions, but I'll get into that a little more on the next page. On the top of the player, you can see the earphone/USB jack and the loop for securing the DAH-1500i to the earphone strap. The bottom of the unit reveals a reset button, which is also where the mic is hidden.
As I mentioned before, the DAH-1500i comes in six different colors. Here's a look at several of those.
Testing & Using the Cube
I have been using the DAH-1500i for several weeks now and have grown to like it. At first, I was a bit skeptical about the cube design. Think about it. No company would design a larger digital audio player in the shape of a cube, right? So does it work for a smaller one? For the most part, yes it does. People like to put their MP3 players in their pockets. At 24mm cubed, the DAH-1500i will fit in many pockets, but it doesn't seem as meant for pockets as an iPod nano or similar player. That is probably why mobiBLU included the necklace style earbuds. Wearing the Cube around my neck actually worked better than I thought it would, but I don't think the player could really be much bigger before it would just be too silly. Imagine it being two inches cubed or even one and a half. It just wouldn't have the same appeal.
Most of my testing was done while doing some sort of exercise, either using an elliptical machine or lifting weights. I actually liked having the DAH-1500i securely around my neck during my workouts. My wife also used it while on the elliptical. So far, she's has really liked it as well, not to mention the fact that she loves how little and "cute" it is. I do not think the DAH-1500i would be as good for jogging though since it would bounce around a lot more, and the tugging might get annoying. The armband that mobiBLU sells would be better for joggers.
Some people, especially guys, might not want to wear their MP3 player as a necklace, but if you want to use the included earphones, then that'a about your only option because of their cord length. You most likely won't be able to put the player in your pocket and still use the earphones. So, if you're too cool to wear it as mobiBLU intended, then you'll have to use your own set of earphones. I have found the necklace setup to be rather convenient, and I gave up on caring about what other people think of my coolness a long time ago.
One of the downsides to the cube shape is that the placement of buttons is pretty much limited to the sides of the device. While the screen is great and shows all the essential information, it's awkward to use the buttons on the side while trying to look at the screen. When first using the DAH-1500i and actually still quite a bit now, I find myself looking at the screen, then looking on one of the sides for a button, then looking back at the screen and flipping back and forth until I've done what I wanted. Like all things, you can get used to it, but it's not very slick.
Because of the button arrangement and screen size, using the DAH-1500i can be more time consuming than it would be on a standard digital audio player with a larger screen and buttons directly below the screen. That being said, navigating for music or functions isn't really that bad, especially once you get accustomed to it. One of the things that makes it so complicated is that each button has several different uses. For example, the play/pause button is also the power button and sometimes acts as an "enter" button, depending on what you're doing. Another example would be the menu button, which is used to get to your music files or to see the clock or to bring up configuration options. The manual is pretty good about showing you how to use the Cube and what all the buttons do in different scenarios. I highly recommend giving the manual a thorough reading or two in order to get the most out of the DAH-1500i. Even after a couple readings, you will find yourself scratching your head at times.
Getting files onto the DAH-1500i is a rather simple and straightforward task. With my Windows XP machine, all I had to do was plug the player in via the included USB cable. The device shows up just like a USB flash drive or similar storage device. Then, I just started copying over folders of MP3s and WMAs. This player does recognize ID3 info, but it uses a simple folder structure for organization (see the image above). I happen to like this type of organization, but some of you might not. Transfer speeds were adequate but not quite as fast as I expected for a USB 2.0 device. The device's specs mention a "download speed" of 16-20Mbps, which means you can copy files to it at about 2-2.5MB/s, which is what my testing confirmed. The included software is only needed for older operating systems and for firmware upgrades.
The sound quality is pretty good for this player. Additionally, the FM radio, FM recording and voice recording work as advertised. I don't see myself using these functions very often, but they do work well for those of you wanting them. The EQ modes are also decent. I don't usually like EQ modes, but the "rock" one worked great for my hip hop tracks.
mobiBLU claims a battery life of 8-10 hours for the DAH-1500i, and my use so far proves that to be fairly accurate. I've been getting 7 or 8 hours of use out of it before recharging the battery.
Conclusion
Sacrifices and compromises are made when creating small things, whether they be ultraportable laptops or digital audio players. In the case of the DAH-1500i, mobiBLU had to make some sacrifices to realize its goal of creating one of the smallest digital audio players in the world. Some people won't like the cube shape; some won't like the button arrangement; some won't like the necklace style earphones. Regardless, it's a cool little device.
I think mobiBLU did an excellent job with the DAH-1500i, and I recommend you take a closer look at it if you are looking for a small digital audio player. Keep in mind that the included charging cable requires hook up to a USB port and hence a PC. If you want to charge it via a wall socket, you have to buy the AC charger, which looks basically like a USB-to-AC adapter.
If you are considering purchasing a DAH-1500i, you'll have to spend about $100 for the 512MB version. I'd highly recommend spending another $30 for the 1GB or $60 more for the 2GB one. $130 for 1GB or $160 for 2GB is a much better value than $100 for 512MB.
Pros:
+ Uniquely cool and tiny
+ Good manual
+ Easy to get songs on it (drag and drop) + Fair price, good value
+ Nice, easy to read OLED screen
+ Great features in a small package
+ Firmware is upgradeable
+ Available in six colors and three capacities
Cons:
– Could have made the screen a bit larger
– Button location
– No AC adapter included (have to buy a USB-to-AC adapter if you want to use a wall outlet)
– Necklace style won't appeal to some
– Longer battery life would be nice
Final Score: 8.5 out of 10