If you have thousands of photos, videos and MP3s, then you need a lot of storage. If you also game, you have probably found yourself running out of space on your hard drive. No worries… Seagate has a solution for you – the 500GB Barracuda 7200.9 SATA 3Gb/s hard drive! Check out our review of this storage monster!
Introduction
Storage just gets bigger and bigger, but there are some good reasons for that. For one thing, files keep getting bigger as high-definition programming gains popularity. Also, games are commonly installing at 3GB and larger these days as well. Another trend that is driving storage size up is the increase in the number of files that people are storing, especially music files, videos and high-resolution photos. Still, with all that said, it's hard for me to imagine the average user needing more than 200GB. Plenty of people must be using more than that, though, since all the major hard drive manufacturers are offering 500GB drives now. Seagate and Hitachi were the first to offer 500GB drives, and they were the only ones for months. 600GB+ drives are on the horizon, but for now, 500GB is as big as they get.
Today, I have the pleasure of reviewing Seagate's 500GB Barracuda 7200.9 SATA 3Gb/s hard drive. I actually have two on hand for a whopping 1TB (TB = terabyte) of storage (well, actually it's around 930GB). So, keep on reading if you want to see how the 500GB Barracuda 7200.9 performs in single and RAID 0 configurations.

Specifications
Before getting to the performance of the 500GB Barracuda 7200.9, let's take a look at its specifications. There really isn't anything too surprising about this drive on paper.
| | |
| --- | --- |
|   | 500GB Barracuda 7200.9 |
| Spindle Speed | 7,200 RPM |
| Cache Size | 16 MB |
| Interface | Serial ATA 3Gb/s (native) |
| Seek Time | 11.0 ms |
| Power Draw (Idle/Max) | 7.4 W / 13.0 W |
| # of Platters | 4 |
| S.M.A.R.T. | Yes |
| NCQ | Yes |
| Form Factor | 3.5″ |
| Formatted Capacity | 465.76 GB |
| Warranty Length | 5 years |
Test System & Test Results
Below you can see the system I used for testing the Barracuda 7200.9 HDDs. The controller I used was the onboard nForce4 Serial ATA controller. I tested the 500GB 7200.9 by itself and with two drives in RAID 0. For comparison, I included the test results from my 400GB Barracuda 7200.8 review. To make things a little more interesting, I've also included the NCQ performance of a single 7200.9 drive. NCQ is supposed to help boost performance, but that is often not the case, especially in the average single-user setup.
Test System
DFI LANParty NF4 SLI-DR Motherboard (review)
AMD Athlon 64 3800+
Corsair TWINX1024-3200XL (review)
XFX GeForce 7900 GTX (review)
Windows XP with Service Pack 2 and DirectX 9.0c
Test Results
My tests included the following benchmarks: HD Tach 3.0.1, FutureMark PCMark05 and SiSoftware Sandra 2005.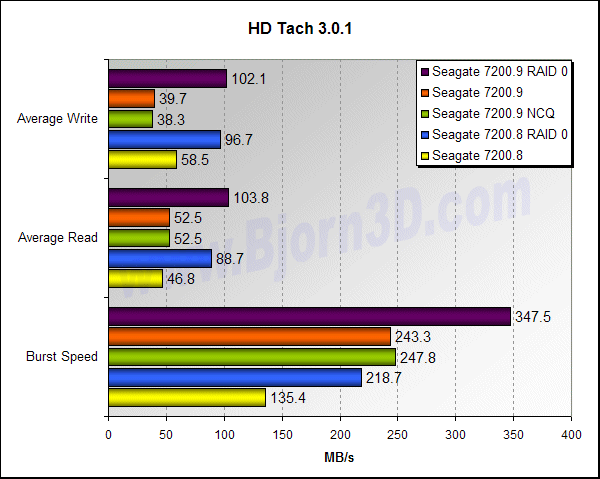 In HD Tach, a single 500GB 7200.9 drive whoops up on a single 400GB 7200.8 in read performance, but for some reason, it falls considerably behind in the average write performance. On the other hand, the 7200.9 drives in RAID 0 outclass the 7200.8 RAID 0 setup in all three tests.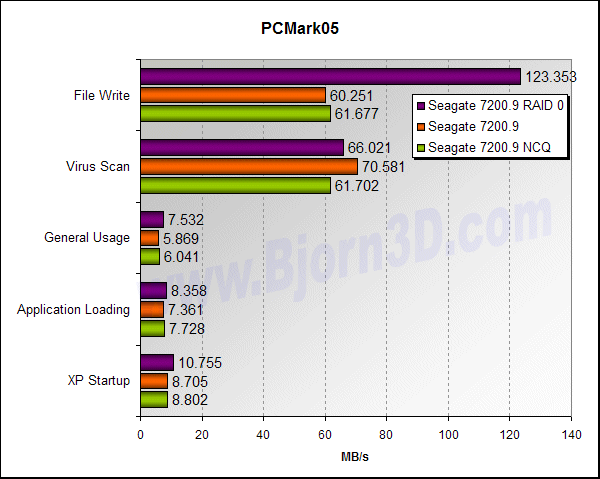 I don't have performance numbers for the 7200.8 drive in PCMark05, which is why they aren't included in the chart above. The performance boost provided by RAID 0 isn't very evident in the PCMark05 tests except for the File Write test.
Test Results (cont'd)
The trends and performance in Sandra are similar to those shown in the other tests. Overall, the performance of the 7200.9 HDD is quite good.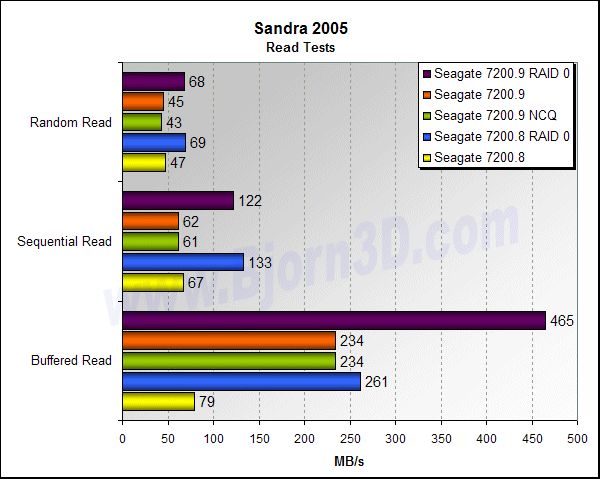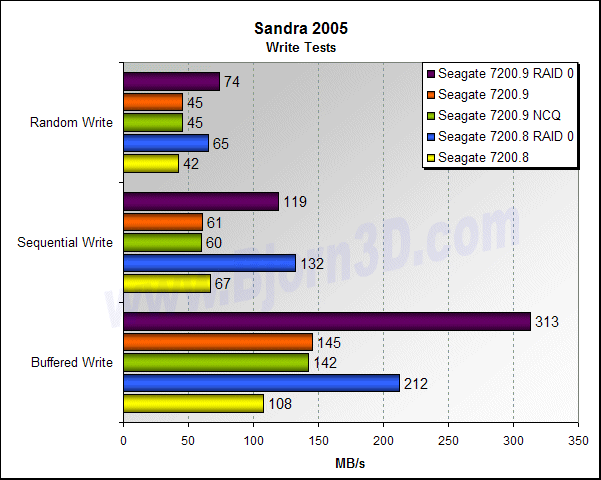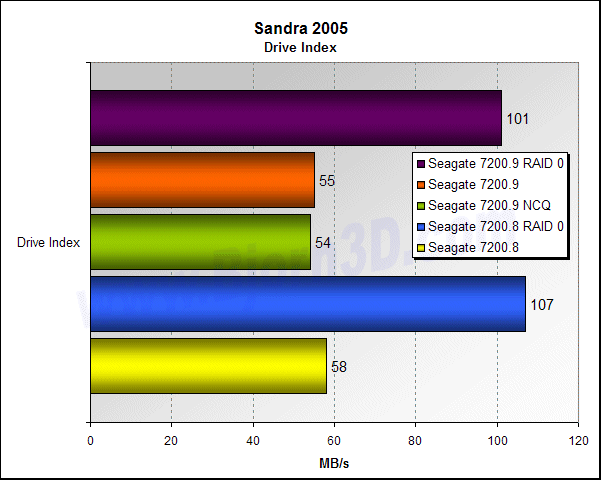 Final Thoughts & Conclusion
From what I've seen on the Web, the 500GB Barracuda 7200.9 isn't the fastest 500GB drive around, but it's also not the slowest performer either. Obviously, I didn't have any other company's 500GB drive on hand to see for sure, so you might want to do more research on the drives if you are interested in having the absolute highest performance and highest capacity. Where the Seagate 7200.9 drive does win out over other 500GB drives for sure though is the price and the warranty.
While 500GB drives are not as cheap per gigabyte as smaller capacity drives, the Barracuda 7200.9 500GB drive is one of the least expensive on the market at the time of this writing. Expect to pay right around $300 for this drive and even more for competing 500GB HDDs. That comes out to $0.60/GB or more, which can be about twice as much per gigabyte when compared to 250GB SATA drives.
One reason I find myself recommending Seagate hard drives frequently is because of the warranty. The Barracudas come with a 5-year warranty while all the other competing 500GB drives are covered for only three years (this warranty length advantage applies to other capacities as well and not just 500GB). When a drive dies, it can be quite frustrating and costly, so having the ability to get it replaced for an extra two years is great. A couple other things to keep in mind about the Seagate Barracudas is that they tend to run a bit cooler than the competition, and they also typically draw a bit less power.
When you look at the big picture, the 500GB Barracuda 7200.9 SATA 3Gb/s hard drive has a lot to offer, including solid performance, reliability, great warranty and a good price when compared to the competition. If you're in the market for big storage, do yourself a favor, and put this drive on your list of considerations.
Pros:
+ 500GB!!! (only takes two for 1TB)
+ Good performance
+ Less expensive than competition
+ 5 year warranty!
+ 16MB cache
Cons:
– More expensive per gigabyte than smaller capacity 7,200 RPM drives
Final Score: 8.5 out of 10 and the Bjorn3D Seal of Approval