This year we'll see power requirements increase even higher as the technology will move from currently supporting a maximum of two GPUs to four and possibly beyond. Today we are going to review the SilverStone ST56F 560 watt power supply, a member of SilverStone's Strider Series of power supplies.
INTRODUCTION
---
In the last year or two, it has become quite evident to the Computer Enthusiast market that having a quality power supply is no longer just an option; it is a necessity. This is due in no small part to the ever increasing demands by components for more and more power to satisfy their ravenous hunger. There was still a bit of wiggle room until the advent of SLI and Crossfire. Both of these new technologies, as you're probably already aware, facilitate the use and processing power of multiple GPUs. This year we'll see the requirements increase even higher as the technology will move from currently supporting a maximum of two GPUs to four and possibly beyond.
SilverStone Technology was founded in the summer of 2003 by what have been described as a group of forward thinking engineers that were previously employed by Cooler Master®, a well known and respected case maker. Within a very short period of time, SilverStone went from relative obscurity to a corporation known for making high quality computer enclosures for both the Computer Enthusiast and home theater markets. With diversity often being the key to success, SilverStone moved into designing and/or producing electronic enclosures, computer power supplies, CPU coolers, computer fans, and metal alloy accessories. Enough history already!
SilverStone delivers five different lines of power supply:
Zeus Series:  consists of what appears to be four high performance power supplies ranging from 560W up to their soon to be released 750W model.
The Strider Series:  also performance based with eight models all containing 120mm fans ranging from 360W up to 600W.
Nightjar Series:  consists of one completely passive (no active cooling) 300W power supply.
Gemini Series:  consists of one 460W redundant powered power supply, designed for what appears to be rack mounted servers.
Element Series:  consists of one 500W power supply also with a 120mm fan.
Today we are going to review the SilverStone ST56F 560 watt power supply, a member of SilverStone's Strider Series of power supplies.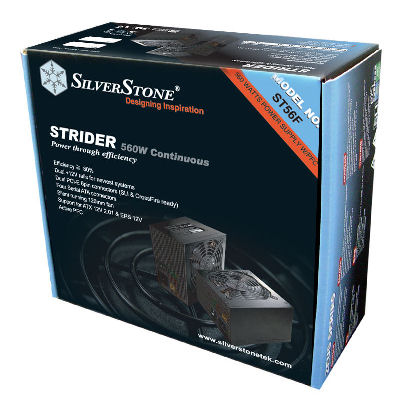 FEATURES & SPECIFICATIONS
---
Features
Efficiency over 80%
Dual +12V rails for advanced systems
Dual PCI-E connectors (Certified by ATI CrossFire)
Silent running 120mm fan
Support for ATX 12V 2.01 & EPS 12V
Active PFC
Specifications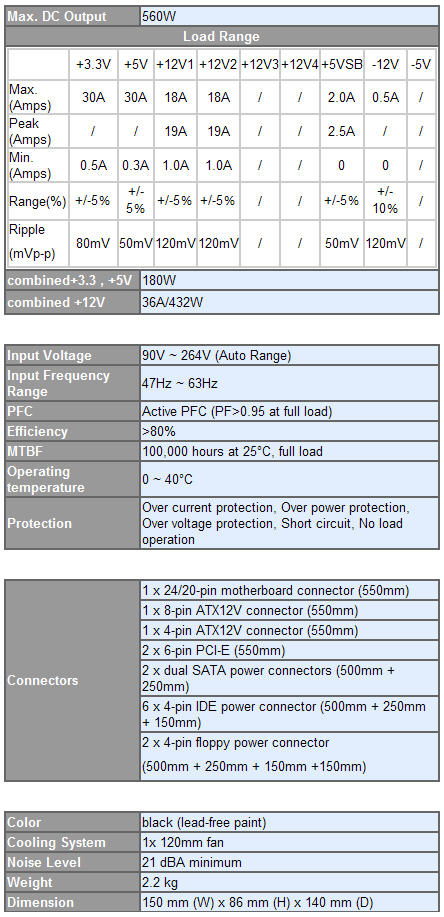 A CLOSER LOOK
---
The box contained the power supply, a manual, a 110 volt cord, and four screws. Sparse by some standards, but in the case of a power supply, how much more would one need? Nothing, right!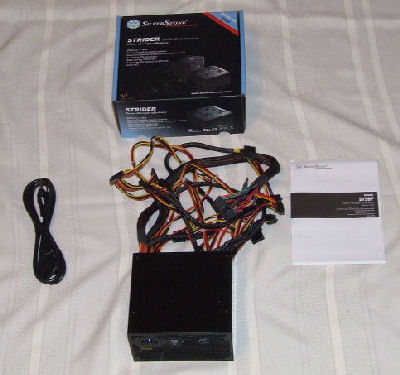 Since I've never been one to adorn power supplies as being "pretty" or "stylish," I won't go off on a great tirade about the looks of this power supply. For all intents and purposes, it looks like just about every other black power supply with the exception of its components on which we'll put more emphasis.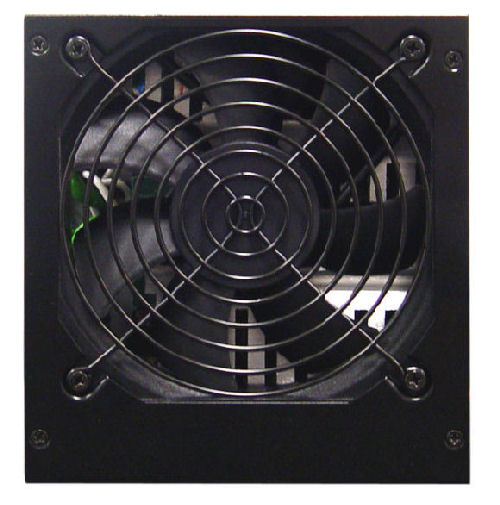 As you can see from the above image of this unit, SilverStone has followed suit with many of the other power supply manufacturers and adorned their creation with a single 120mm fan to keep things quieter while still supplying ample airflow to the components inside. This fan operates in a low RPM range around 2,200 and is exceptionally quiet even under full load.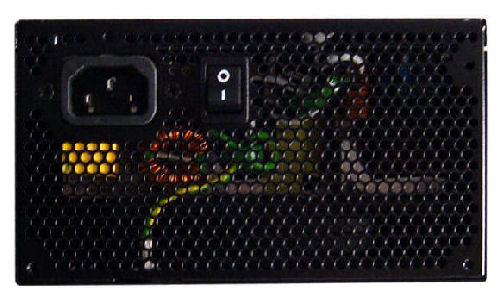 From the rear view, we can see that the construction offers an excellent design for unimpeded airflow.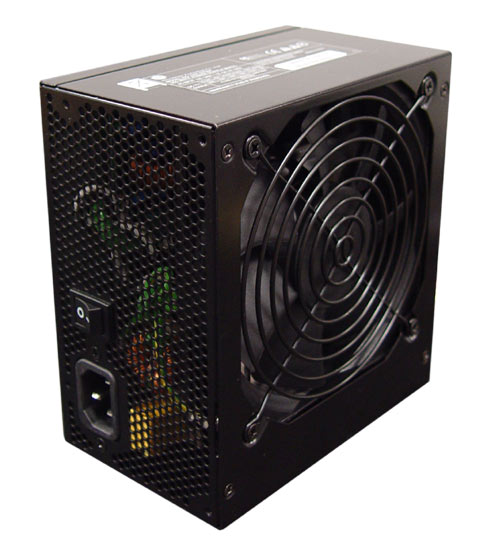 Cabling
The ST56F delivers more than sufficient cables which are certainly long enough for most operations. There are two PCI express cables making this unit ready for both Crossfire (which has been certified for this PSU) and SLI. The primary cables are sleeved, which is a nice touch; an even nicer touch would have been to sleeve all the cables. The following cables are included:
2 – 29″ SATA cables each with two connectors
2 – 20″ PCI Express cables each with a single connector (Sleeved)
1 – 21″ 24/20 pin cable (Sleeved)
1 – 20″ 4 pin 12V ATX connector (Sleeved)
1 – 20″ 8 pin 12V ATX connector (Sleeved)
2 – 40″ cables each with 3 x 4 pin "Molex" IDE Drive connectors and a floppy connector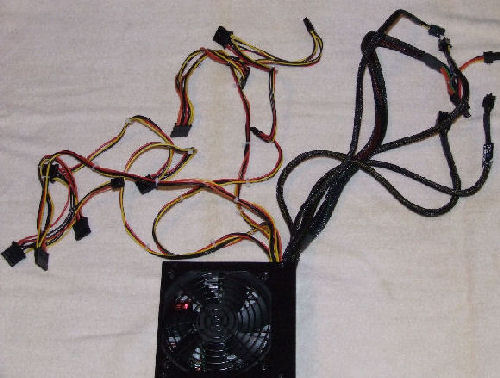 Inside the ST56F
Inside the case, we see a component view of the ST56F. There are two large aluminum heat sinks with horizontally configured finger-like projections for heat dissipation. SilverStone details the internal components as "industrial grade."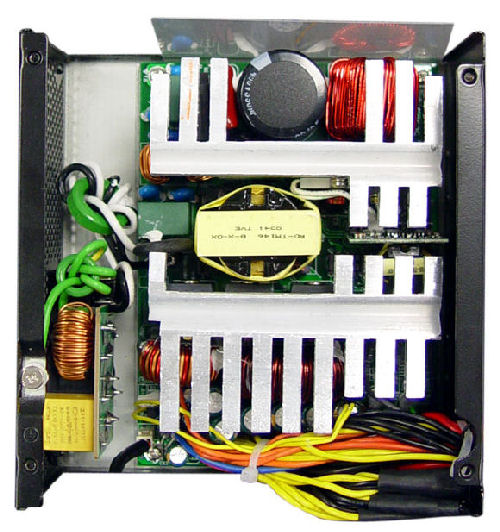 Power & Limitations
Inside the technical manual supplied with the ST56F I found the following table that outlines the both minimal and maximal power output. I found the figures quite impressive:

INSTALLATION & TESTING
---
Installation
There was nothing really remarkable about installation of the ST56F. Simply place it in the desired location, and secure it with the retaining screws. Connect the cables, and power it up. Unless you are dealing with a specialty power source, such as a modular unit, this process seldom changes.
Test System
Motherboard:    Intel D875PBZLK
Processor:   Intel 3.4 GHz Northwood run at default speed
HSF:  ZALMAN CNPS7000B-CU
Video Card:   ATI X800XL run at default speed
Optical Drives:

Plextor PX-712A
Lite-On Model 167 DVDROM

Hard Drives:   2- Seagate Barracuda 7200.7 120 GB SATA drives
Memory:   1 GB (2- 512 MB sticks) Mushkin 3500 Level 2 DDRAM run at 2.75 volts
Hard Drives:   2- Seagate 7200.7 Sata Drives (non-RAID)
Sound Card:   Turtle Beach Santa Cruz
Fan Controller:   Sunbeam 4 channel rheobus 17 watts per channel
Case Fans-P150:   Rear: Antec® Triflo™ 120mm; Front: 2- Panaflo™ M1A 92mm fans
Case Fans-SLK3000-B:   Rear: Antec™ Triflo® 120mm; Front: Antec™ Triflo® 120mm;
Test Methodology
Let's face it, with a power supply, this is the real meat and potatoes of any review. Power supply pictures and verbose descriptions mean absolutely nothing without the ability to produce the desired results. For that reason, I try to place the majority of my emphasis and time in this area of the review.
To act as a break-in period, I ran the ST56F in normal operation for 48 hours prior to performing the tests captioned below. To establish load conditions, I ran a variety of different processes on my test system to create as much power demand on the ST56F as the components of the test system I was working with would allow. These processes consisted of running two simultaneous sessions of CPU burn in hyperthreading mode and ripping a DVD. Power was supplied via a power conditioning UPS to remove any test variances attributable to voltage fluctuations attributable to wall current alone.
I thought it might be interesting to compare the performance of the ST56F with two other power supplies I own that are in its power range, a Seasonic S12 600W PSU with Active PFC, and an older model Enermax E651P-VE 550W PSU. Results were discerned using a no-name, yet reliable digital multimeter that I have owned for about a year.
Test Results
Power Supply

Results(v)

 

Idle(3.3v)

Load(3.3v)

Idle(5v)

Load(5v)

Idle(12v)

Load(12v)

SilverStone® ST56F

3.35

3.33

5.10

5.02

12.3

12.1

Seasonic® S12

3.33

3.31

5.15

5.05

12.25

12.15

Enermax E651P-VE

3.33

3.28

5.05

4.98

12.02

11.98
Throughout the testing phase, the ST56F went from what I would call very quiet to simply quiet as the fan ramped up from the obvious temperature increase due to increased power demand. At no time did the noise from the fan become obtrusive.
While these testing conditions and methodology are not optimal, they are in fact "real life." A more controlled laboratory environment where loads could have been dialed in and results measured digitally from the same unit would have been much more scientific, but I'm not sure it would have told me what the power supply would do in a "real life" scenario. One day I hope to have both the funds and resources to do a comparative analysis of laboratory and "real life" conditions.
IMPRESSIONS & CONCLUSION
---
I was very impressed with the performance of the ST56F coupled with only a very small rise in fan noise. The 3.3v, 5v, and 12v rails all remained quite stable throughout the testing process. Other than the normal signs of stressing a system, there were no aberrancies noted. As previously stated, this is one piece of equipment where performance is everything.
I checked PriceGrabber for product pricing and found that much to my surprise that Newegg is the only retailer listed. Newegg's price for the SilverStone ST56F is $128.99, which I find to be a little on the high side given the number of other quality power supplies in this range for $10 – $20 cheaper. I would also liked to have seen all of the cables sleeved if they were going to sleeve any of the cables. Sleeving only half of the cables is almost like teasing the owner.
I can heartily recommend the SilverStone ST56F to anyone searching for a power supply in this power range. This power supply exudes quality ranging from its external and internal design, cooling, noise under stress, to most importantly performance.
Pros:
+  Quiet operation
+  Excellent performance
+  Active PFC
+  Partially sleeved cabling
+  Efficiency rating
+  Cooling design and results
Cons:
–  Priced slightly higher than I'd like
–  Only partially sleeved cabling
Final Score: 8.5 out of 10 and the Bjorn3D Seal of Approval.