So today we're going to give you the scoop on what those uses are and how directly or indirectly this tool may help you not only in checking out your computer system's power needs but also almost any electrical device you have, with certain limitations of course.
INTRODUCTION
---
How we happened upon this product to review is interesting. While reading other computer reviews I happened across one about the Seasonic Power Angel Review kit. The kit is specific to power supplies and allows the user to determine power supply output measurements at varying load values. Well this puppy was just what the Doctor ordered for this writer, no more guessing at load values when reviewing power supplies. The device would allow consistent measurements and uniformity across the board for all the power supplies I reviewed.
What happened next went something like this; I wrote Shane, Bjorn3d's Managing Editor, who inturn wrote Seasonic requesting one of the kits, which incidentally is only available for members of the press. Seasonic responded that they did not have one of the complete kits in stock at the present time but they did have a portion of the kit, the Seasonic Power Angel monitor which they shipped posthaste. As it turned out "portion of the kit" was a true statement, about 40% to be exact.
Well not being one to turn down a review, well not often anyway, I decided to go ahead and check the product out. Much to my surprise I found out that it had a number of other "real world" uses besides just being a component of the power supply review kit. So today we're going to give you the scoop on what those uses are and how directly or indirectly this tool may help you not only in checking out your computer system's power needs but also almost any electrical device you have, with certain limitations of course.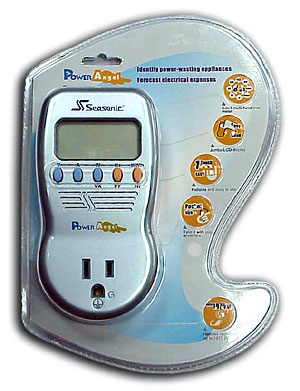 A CLOSER LOOK
---
As the picture in the Introduction shows the Seasonic Power Angel arrived in a plastic encasement somewhat reminiscent in shape of the the state of Rhode Island, or is it Connecticut. Shapes not withstanding, the packaging was more than adequate to protect the cargo it carried within. My first impression was that it appeared to be solid and quite well built. It has a large digital readout with function buttons located just below the digital screen. The device essentially functions to measure the output and many other measurements of a single 110 AC volt connection, or as a conduit between two 110 volt AC connections. It can measure and/or calculate the following :
Voltage
Current (V)
Power (W)
Power Factor
VA
Hz
Accumulated KWH
Duration (in time after power on)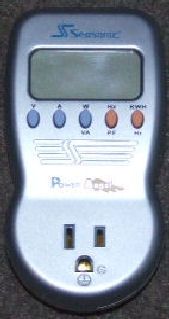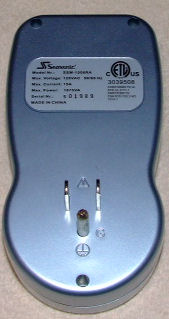 The front view of the above pictures shows the input for a 110v connection and the rear shows where the Power Angel connects to a 110v connection. The device can be chained in between other devices (i.e.; a power supply connected to the front and a UPS to the rear) as long as a circuit is established. The device doesn't require any batteries as it gets its power from the 110 volt connection(s) it services.
Features
Help to forecast and manage your electric bill.
Monitor AC power quality to protect sensitive instruments.
Choose the correct Uninterruptible Power Supply (UPS) based on the real VA of your equipment.
Pocket-sized, light and stylish design.
Use it anywhere with any 120VAC appliance.
Easy-to-see large LCD display.
Single-press buttons for all functions.
Plug it into the AC outlet, plug in the appliance and start monitoring immediately.
8 power measurement functions.
High power capacity to use with devices up to 1875 watts at 125 volts.
Suitable for home, school, office or even factory.
Specifications
Dimension:   133.6 (L) x 70.0 (W) x 39.6 (H) mm
Weight:   130 grams
Approvals:   ETL for US and Canada
Model number:   SSM-1508RA
AC Input:   115 V, 50/60 Hz
Maximum Voltage:   125 V, 50/60 Hz
Maximum Current:   15 A
Maximum Power:   1875 VA
Accuracy:   2%
Warranty:   6 months
Power Consumption:   10 W max.
Operating environment:   0~40°C, 80% relative humidity
TESTING
---
Besides running around the house checking out how much power draw many of my toys have, I thought it fitting to check out certain valuable measurements on my computer. For those of you that are not familiar with what a power supplies power factor is, here's the formula PF = watts(s)/volt amps(VA). It is only one of the many measurements of power supply function that can be either easily measured or calculated using the Power Angel alone or combined with the Power Angel kit. Seasonic has a rather nifty PDF document located here that details a great deal of information about various power supply measurements, and it also shows the other 60% of the kit I was hoping to receive.
I decided since this was a component review of a larger system only to measure three parameters of my computer at idle and at a moderate load. Those parameters were:
volt amps:   a useful measurement for determining the appropriate size UPS to buy
power factor   a measurement of how easy or difficult an electrical device can be driven; a perfect power factor is 1.0
amps   a measurement of the AC current being drawn
The test system was tested at idle and at moderate load by running two concurrent sessions of CPU Burn.
Test System
Motherboard:    Intel D875PBZLK
Processor:   Intel 3.4 GHz Northwood run at default speed
Power Supply:   Seasonic S12 600 watt
HSF:  ZALMAN CNPS7000B-CU
Video Card:   ATI X800XL run at default speed
Optical Drives:   Plextor PX-750A
Hard Drives:   2- Seagate Barracuda 7200.7 120 GB SATA drives; 1- Western Digital JB 100 GB PATA drive
Memory:   1 GB (2- 512 MB sticks) Mushkin 3500 Level 2 DDRAM run at 2.75 volts
Hard Drives:   2- Seagate 7200.7 Sata Drives (non-RAID)
Sound Card:   Turtle Beach Santa Cruz
Fan Controller:   Sunbeam 4 channel rheobus 17 watts per channel
Case Fans – Antec P150:   Rear: Antec® Triflo™ 120mm; Front: 2- Panaflo™ M1A 92mm fans
Idle Measurements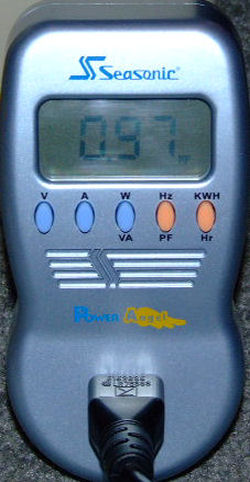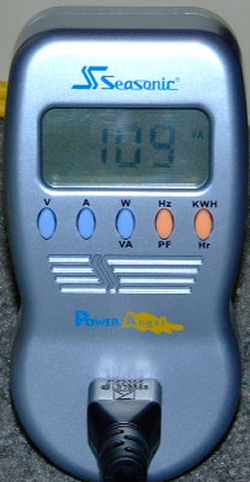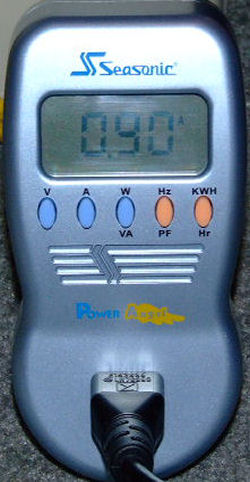 Moderate Load Measurements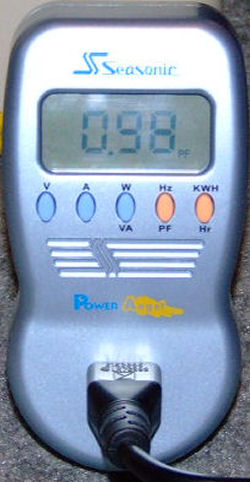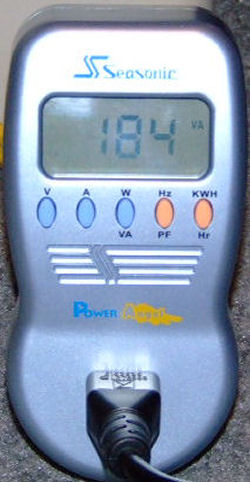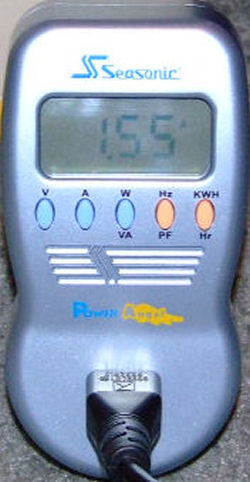 I must admit, this is a handy little tool! It's so simple to use that anyone, even a beginner, should be able to use it without difficulty. One of the things that most interested me is the ability to determine volt amps (VA) thus giving any user the ability to calculate the necessary size UPS to best fit their system. It should be noted for purposes of clarification that all I tested was the computer's volt amp requirements at idle and moderate load. To fully ascertain the size of the UPS necessary the user would have to check the requirements for every device that he/she plans to attach to their UPS. This might also include the monitor (CRTs generally have a much higher requirement than LCDs do), your printer, your modem, router, and etc. It would probably be a good idea when using this device to determine volt amps for UPS size determination to add about 15 – 25% to your final figures to have adequate time to perform whatever tasks are necessary prior to system shut down.
CONCLUSION
---
The only real negative is that the Power Angel is only accurate to + 2% whereas most volt meters are considerably much more accurate. Some volt meters can even perform the same calculations. The ease of use of a volt meter as opposed to the Power Angel is significantly more involved and requires a much sounder knowledge of electrical fundamentals than does the Power Angel.
As I stated in the Introduction, this was initially supposed to be part of a kit that would be used by me and other reviewers for power supply reviews. This kit would present loads of up to 140W to objectively rate power supply function instead of guessing at what the load value actually is. I would like to suggest to Seasonic that this kit is an excellent idea, with one exception. Today's systems use much larger power supplies based on system need for components such as SLI™ and Crossfire™. These Power supplies are often now as high as 1 kilowatt (KW). Please think about manufacturing a kit that would supply load values in excess of 600 watts and release it again in a new yet improved version. My thoughts are that every writer that does power supply reviews would want one and would use it faithfully for their reviews.
Overall I would highly suggest the Power Angel component that I reviewed today to anyone just beginning their journey into the exciting world of computer building. I would even be extremely useful to the average homeowner that wants to check his/her appliances for power demand. It is simple to use, strait forward in function and does exactly as advertised, which I've said before and I'll say again is a very rare commodity in today's marketing of computer products and components.
The only problem you might face is finding a Power Angel to purchase, I did a Price Grabber search and found only one merchant that had this tool in stock. That merchant, which I had never heard of, was asking $36.75 for for the Power Angel which is considerably higher than the much more reasonable MSRP of $25.00.
Pros:
+  Size
+  Functionality
+  Ease of use
+  Available parameters of measurement
+  Ability to use this device for measuring more than your computer system
+  Reasonable MSRP
Cons:
–  Availability
–  Accuracy of measurement + 2%
Final Score:   8 (Very Good) out of 10 and the Bjorn3D Seal of Approval.