Thermaltake® Technology, Co. LTD, a Hong Kong based company burst onto the case, cooling, and computer accessory manufacturing scene in 1999. Thermaltake has been kind enough to furnish us with one of their newest products, the Matrix VX Case for review today. This case targets two very popular subsets of the computer case market, consumers looking for a light mid-tower case that is transportable enough to be taken to LAN parties. Please join us while we discuss the inner workings of this attractive all aluminum case.
INTRODUCTION
---
Which case is better, Aluminum or Steel? To answer this question properly one must first quantify what advantage(s) each material brings to the table. Steel (SECC) is stronger and generally more rigid than aluminum leading to less resonance which in most instances decreases the noise from vibration of any components inside the case. Aluminum is much lighter weight making it much easier to move from one point to another. Aluminum is also considerably easier and probably cheaper to fabricate and manufacture.
From a raw material standpoint, Aluminum is somewhat more expensive than steel thus mostly negating any real cost savings realized in design and manufacturing. There is also the look and style which Aluminum generally wins hands down; depending on the eye of the beholder. Finally, there is the price difference between the two competing products which in the beginning showed aluminum cases of similar dimension to be as much as three times higher than their steel brethren. Advances in production as of late have somewhat lessened that price margin, but Aluminum is still a more expensive product to the end user than steel.
Aside from these primary differences that have been noted, there is also the long-standing notion that Aluminum dissipates heat much better than it's steel counterpart. This subject in itself has been the issue of many articles generated by persons much more learned than I in the physics of this matter. The heat dissipation qualities in the "real world" between cases constructed out of these two materials along with perceived style, looks, weight, and price of the finished product has probably done more to separate computer enthusiasts into two camps. Each of these camps touting the overall benefit(s) of their champion.
Thermaltake® Technology, Co. LTD, a Hong Kong based company burst onto the case, cooling, and computer accessory manufacturing scene in 1999. Thermaltake has been kind enough to furnish us with one of their newest products, the Matrix VX Case for review today. This case targets two very popular subsets of the computer case market, consumers looking for a light mid-tower case that is transportable enough to be taken to LAN parties. Please join us while we discuss the inner workings of this attractive all aluminum case.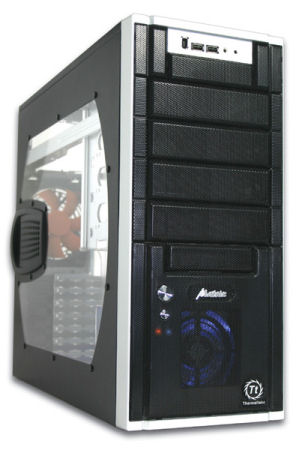 A CLOSER LOOK
---
When bringing this case to market Thermaltake did as much as humanly possible to appeal to masses. They made four different versions of the case in "all aluminum" each available with or without two different power supply options. Talk about choices!
As the image above shows the case is available in either black or silver with or without a side window. The model we'll be reviewing today is second from the left in the array, a black case with a side window and without a power supply. I would assume given today's mindset of most computer case buyers that are looking for this category of case that this would be the most popular choice to buy.
A CLOSER LOOK cont.
---
First Impressions
When the case arrived and I carried it into my house, the very fist thing I noted was how light weight it was, 3.8 kg. My next observation was the packaging, which is usually my first consideration in receiving any new product for review.
The Matrix VX was soundly packed in a solid, well sealed carton. The goods inside were well protected by several inches of high quality foam that kept this product from any damage from its origin in Hong Kong, to its US Headquarters in City of Industry, CA, to its ultimate destination; my home. The rear of the shipping carton does an excellent job of visually exhibiting the features of this product to potential buyers.
After unpacking the case, my first impression was that it was extremely nice looking and stylish; and subtly reminiscent in design to the CoolerMaster® Centurion. I also noted the construction to be solid with the exception of the of the aluminum side panels which actually appeared quite flimsy due to the thin aluminum used to decrease the products weight for the market it was intended. We'll see later if this decrease in weight is actually a benefit or a detriment.
Features
Super light 3.8 kg, solid constructed
Perfect for LAN party
All mesh design front panel for maximum ventilation
High efficiency ventilation: 12cm silent fan in front & rear
Tool – Free installation for all drive bays and add-on card
Dual USB 2.0, IEEE 1394 Firewire, Audio & Speaker ports
Thumb-screws for easy opening side panel
EMI protection spring
Specifications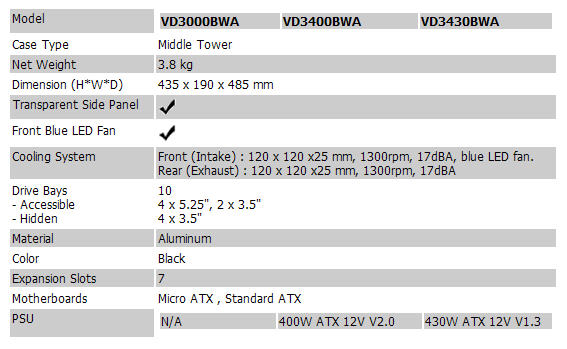 Exterior View
The front of the case screams massve air flow with its all mesh design. At the top center of the case is an aluminum panel of I/O ports that include two USB sockets, one IEEE 1394 firewire socket, and two audio sockets. Just below this panel is a slot for a 3.5 inch external drive, be it a card reader or floppy drive. Next there are four 5.25 inch slots. Just below these is also another 3.5 inch external drive slot. The On/Off switch and reset buttons are comfortably located in the lower left of the case to maximize accessibility for owners who place this case on their desktop.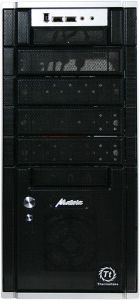 The rear of the case is is pretty much the norm when it comes to mid tower cases with a couple of exceptions. Thermaltake has chosen to curved circular exhaust slots for the included 120mm (120 x 120 x25 mm, 1300rpm, 17dBA) exhaust fan as opposed to the more commonplace use of a multitude of of vent holes in a honeycombed design. There are also a group of concentrically drilled vent holes just to the right of the I/O slots.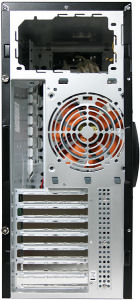 The side of this case is very enticing. The window is installed using black coated rivets which mesh nicely with the case's color scheme and design. Notice if you will the ingenuity that was used in creating vent holes in the side covers handle to help enhance the airflow to your CPU's HSF.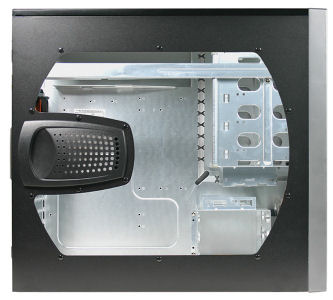 A CLOSER LOOK cont.
---
Interior View
After removing the side panel one of the first features that I viewed was an intrusion alarm switch which is deactivated when the side panel is in position. This feature will notify the case owner if anyone has removed the side panel in an effort to tamper with innards of their system. This feature was very popular years ago in home consumer cases but since has more or less been relegated to the the server arena. I find it somewhat disheartening that a feature of this type is included and yet there is no reference on how to use or install it anywhere in the the product manual. Other than a picture of the device on the rear of the shipping carton and Thermalatake's website I can find no mention of this feature or how it should be properly configured.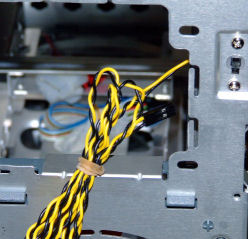 Removal of the front bezel shows an interesting concept that Thermaltake has used on this case. First the On/Off switch and reset switch are actually located in the bezel proper as opposed to simply having spring loaded contacts in bezel which activate switches located behind the bezel affixed to the front of the case. This technique of mounting the switches is a dual edged sword in that you do not have to worry about on of the contacts missing its mark, instead you have connections that must be removed or reinserted every time the bezel is removed or reinstalled. The front fan also has a foam removable, washable filter as do each of the 5.25 inch mesh bay covers to help keep your system clean.
The side view reveals some other nice touches. Each of the standoff holes is numbered and the sticker in the back of the case has the numbers of the holes standoffs should be mounted in for both form factors supported by this case, micro-ATX and ATX. Each of the supplied 120mm (120 x 120 x25 mm, 1300rpm, 17dBA) fans has a mounting bracket that the fans snaps into. The rear fan is the traditional Thermaltake black and orange color combination, while the front fan is clear to support a blue LED.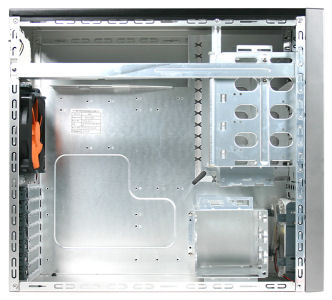 The 5.25 inch bay support 4 drives in traditional fashion with a tool-free design. The 3.5 inch hard drive bay supports 4 drives in one on the most unusual configurations I've ever seen. There is a single non-tool-free position to mount one drive on top of the bay. The bay is rotated 90 degrees counter clock wise and supports the remaining 3 drives using the supplied tool-free rails which we'll show in a minute. Both the 5.25 inch and 3.5 inch bays feature the ability to mount your drives with screws as well as using the tool-free design offered by Thermaltake.
Although, a number of case manufacturers including Thermaltake have resorted to using the hard drives bays rotated at a 90 degree angle to conserve space I do no find this method of cooling to be nearly as effective as the more standard orientation of the drive bays. The reason is simple less surface area of the drives is available to contact and inturn cool. In the case of this setup the drive located on top of the bay would receive little if any airflow and the three drives held within the bays would receive a decreased amount of flow due to the reason I've already mentioned coupled the decreased output of the fan supplied with the case. We'll test this design's effectiveness later.
The tool-free design uses plastic rails with plastic pins that insert in the screw holes on the side of the 5.25 or 3.5 inch drive that you happen to be mounting. I am somewhat leery of the plastic pins ability to hold a heavy drive securely during frequent system movement which is after all what this case is designed to support. I must admit they worked very well with my case static on the desktop. If I were using this for LAN parties I would probably opt for screws just for the peace of mind.
In addition to the tool-free drive rails the accessories include (l to r):   A locking clip which can be mounted to facilitate the use of a small padlock for securing the primary side panel, an I/0 shield, and a bag of parts including brass standoffs and miscellaneous screws.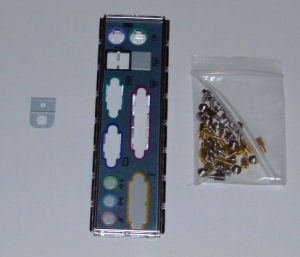 The tool-less PCI card retention tab(s) used by Thermaltake® on the Matrix VX is as good as any I've ever seen. To use the tabs lift up on the locking tab on the slot you desire to use, this unlocks the tab and allows the user to slide it to the left releasing tension on the slot blank and allowing easy removal. Next pop out the aluminum blank and insert your PCI card in the slot that was vacated and simply reverse the procedure detailed above for unlocking the retention tab.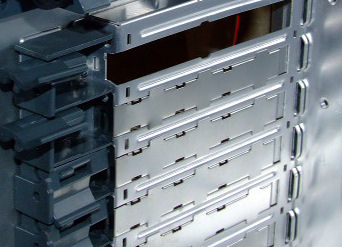 INSTALLATION & TESTING
---
Installation
As with most mid tower cases that do not provide a removable mother board tray space is tight and conditions are somewhat cramped. Previous to reviewing this case I had my system housed in an Antec™ P150 case, which while still midtower case is slightly roomier than the Matrix VX. To be perfectly honest because of the arrangement of the Matrix VX although being very tight I found that cable management was not an issue. I also found the fit and finish of the case to be excellent with no sharp edges or other infirmities that would impede installation; the black paint used does hold fingerprints quite readily but these are easily removed with a soft cloth. Other than space limitations installation was otherwise unremarkable.
Testing
Test System
Motherboard:    Intel D875PBZLK
Processor:   Intel 3.4 GHz Northwood run at default speed
HSF:  ZALMAN CNPS7000B-CU
Video Card:   ATI X800XL run at default speed
Power Supply:   Seasonic S-12 600 watt
Optical Drives:

Plextor PX-750A
Lite-On Model 167 DVDROM

Hard Drives:   2- Seagate Barracuda 7200.7 120 GB SATA drives
Memory:   1 GB (2- 1,024 MB sticks) Patriot PC 3500 DDR SDRAM (review)
Hard Drives:   2- Seagate 7200.7 Sata Drives (non-RAID)
Sound Card:   Turtle Beach Santa Cruz
Test Methodology:  Temperature & Noise
I thought it might be interesting to compare the cooling performance of the Thermaltake® Matrix VX to that of other cases I've tested and/or own that are also in the midtower category. To achieve the load I will run a session of CPU burn while looping CPU Mark 2001 for a period of 15 minutes and ascertain the temperature reading of each case. Temperatures will be measured using SpeedFan. I also felt that the provided fans might not provide the airflow necessary to adequately cool this case so I also substituted two moderately quiet 120mm fans (the same 120mm fans utilized in both Antec cases) that produce about 70 CFM to see what differences might surface. I also measured the average temperature between the two hard drives in test system using SpeedFan. Ambient room temperature is held consistent at between 21-22 degrees celcius. I will extend this table as necessary to eventually cover every case that I have reviewed and all future cases that I will review to act as a table for our readers to refer to.
Until such time as funds will allow me to purchase a decent decibel meter ($250 – $500) I have devised a subjective noise quantification system to measure perceived system noise, it consists of five measurements at different distances from the computer. Each is incrementally scored from 0-2 with 0 being the best and 2 the worst. The scores are then totalled for a possible (or should I say impossible) score of "0" to a hopefully impossible score of "10". While still not perfect it will have to suffice for now. It should also be noted that I have mild to moderate hearing loss from years of not using proper hearing protection in various arenas where noise was a factor when I was was in my youth. These deficits should if anything cause me to err on the side of being conservative in my quantification of noise levels.
Test Results:  Temperature & Noise
Case

System Temp (C)

CPU Temp (C)

Mean HD Temp

Noise Scale

 

Idle(C)

Load(C)

Idle(C)

Load(C)

Idle(C)

Load(C)

Best=0 Worst=10

Thermaltake® Matrix VX (Supplied Fans)

32

36

44

56

34

38

6

Thermaltake® Matrix VX (Alternate Case Fans)

28

32

40

54

28

32

7.5

Antec® P150

24

28

25

48

24

28

4

Antec® SLK3000-B

25

30

26

52

23

27

5
Impression
The initial tests supported my hypothesis that the Matrix VX would be inadequately cooled due to the lack of sufficient airflow and mild to moderately noisy due to the extremely thin aluminum used to decrease the case's weight for LAN party use. Adding additional airflow helped to improve the cooling issues substantially while worsening the noise level the case presented to this reviewer.
As I have often stated, case are one of my most favorite computer related commodities to review. I feel that too many people tend to cut corners when it comes to cases and power supplies. The blame for issues is then laid on some other system component which in many instances is not the root cause. I do tend to be somewhat anal in all my reviews as I try to put myself in the place of the consumer reading the review. In my case (yeah! I had to state it that way) I want to know the "good", the "bad", and the "ugly" with an emphasis much as possible on the complete gambit of the products use. Enough already, on to the conclusion!
CONCLUSION
---
Thermaltake® has designed a simply beautiful product in their Matrix VX case which should certainly appeal to any consumer desiring a light weight, easily transportable system. I have listed several issues throughout this review that I feel with a little work can be easily rectified. The predominant issues are cooling, noise, and extremely thin Aluminum construction to conserve weight. I feel Thermaltake could have a real winner on their hands if they would address these findings in a second iteration of the Matrix VX.
A search of Price Grabber showed the case to retail somewhere around the $90.00 USD mark which I feel is an excellent price for an all aluminum case with this degree of design. I must also compliment Thermaltake® on being consumer conscious and offering such a complete line of options with this product. It's just like Burger King® in that you can have it "your way" right from the manufacturer. Thermaltake® is the only company making cases that offer this degree of choices in their product line to my knowledge.
Finally, the central question:  Can I recommend this product to a person looking for a person wanting a case that's readily transportable to LAN parties and other like needs? You bet I can, but with certain caveats! You should be prepare to replace the fans with ones that provide better airflow and line the side panels and top and bottom of this case with a moderately stiff acoustic material which should sufficiently dampen the noise and add to the product's rigidity making it much less likely to be damaged through incidental contact. You should also for peace of mind's sake secure your drives utilizing screws instead of the tool-free railings. My reply is:   Are you willing to spend the $60+ to make these changes and make this case fully meet your needs?
My rating of this case essentially says it's a decent product with a boat load of potential!
Pros:
+  Stylish and very attractive design
+  Light weight 3.8 kg
+  Extremely nice component fit and finish
+  All aluminum construction
+  All mesh bezel design
+  Nicely implemented window on side panel
+  The price is right
+  Good tool-free design for static cases
+  Excellent tool-free PCI card retention tab
Cons:
– Extremely thin Aluminum construction to conserve weight
– Flimsy side panels that can dent quite easily
– Some features not detailed in product manual
– Insufficient airflow for adequate cooling
– Somewhat noisy especially at higher airflow levels
– Possible breakage of plastic pins on tool-free rails when transporting
Final Score: 6.5 out of 10