About 10 days ago, I was surprised when a VisionTek™ Xtasy™ Theater 550 Pro™ MCE Edition was delivered to my doorstep by the man in the brown truck. Needless to say, I was ecstatic at the opportunity to ascertain whether the purported facts I had read were simply hype or truly factual. Today, it's my pleasure to share that investigation with you.
INTRODUCTION
---
Multimedia hardware and software generally are manufactured with two markets in mind: the home user and the professional. The differences in the two are generally light years apart with regard to both quality and price. TV capture devices and their related software are a smaller yet very rapidly growing subset of the multimedia platform which are generally associated with Home Theater PCs (HTPC).
TV capture devices up until recently for the home user were relegated to having average quality unless you were willing to invest megabucks in a professional platform that was generally vast overkill. Manufacturers as of late have been scurrying to advance their technology to a point where the differences between products available for the home user and the professional would be much more subtle. The trick to this was keeping the prices of the new products in a range that was palatable to the home consumer.
A few months ago I began reading about the ATI Theater 550 which according to sources at the time would significantly surpass their already successful ATI Theater 200. Some of the information even alluded that the ATI Theater 550 would become a new standard for the HTPC. Having done computer product reviews over the last several years I was very familiar with the "marketing hype" that generally predates the release of any new product. As impressive as the proposed specifications were, I was very hopeful that they would hold true when the product was finally released to the consumer.
About 10 days ago I was surprised when a VisionTek™ Xtasy™ Theater 550 Pro™ MCE Edition was delivered to my doorstep by the man in the brown truck. Needless to say I was ecstatic at the opportunity to ascertain whether the purported facts I had read were simply hype or truly factual. Today it's my pleasure to share that investigation with you.

A CLOSER LOOK
---
The Package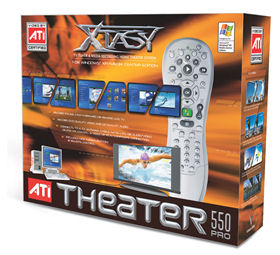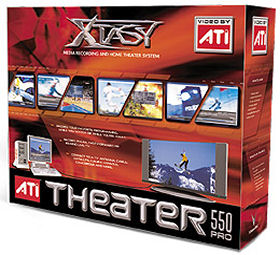 The VisionTek™ Xtasy™ Theater 550 Pro™ MCE Edition arrived in a stylish orange tone box. The front of the box exhibited the remote control in a clear plastic window. The rear and the of the box contained features, specifications, system requirements, and other useful information that the potential buyer could absorb before taking this prize home.
The Card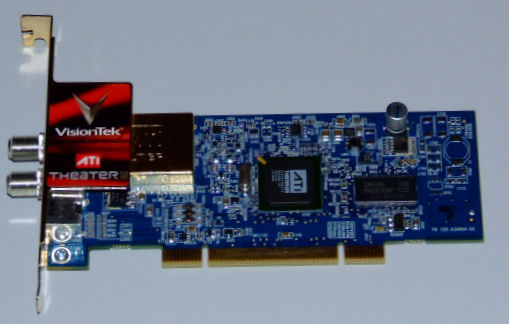 The card itself is also a quite nice looking half-height PCI card made out of blue PCB. It contains not only the Theater 550 Pro chip™ (located in the card's center), but also 16MB of DDR RAM and tuners for both TV and FM radio.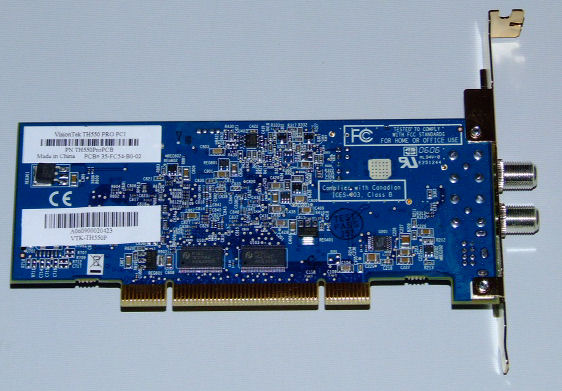 The rear of the card has two labels that contain the card's serial number, part number, model number, and PCB/revision information.
The Bundle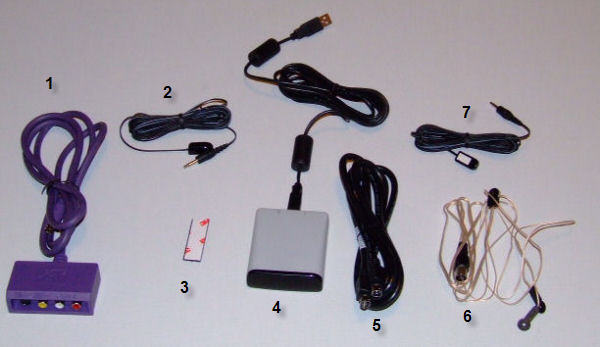 Everything that you need to perform almost any task with the exception of video editing comes with the hardware and software bundle:
"PCI Purple Box®" lets you connect personal video, gaming consoles and more — virtually any device with an S-Video, RCA/Composite or Coaxial Connection
Remote receiver infrared blaster for connection to the Infrared Remote Receiver # 1
Velcro patch
Infrared Remote Receiver (Windows XP Media Center Version only)
S-video cable
FM antenna
Remote receiver infrared blaster for connection to the Infrared Remote Receiver # 2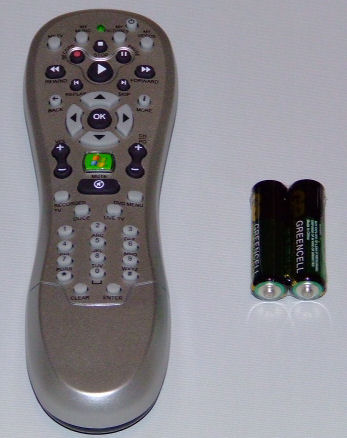 This by far the most comprehensive remote control I've ever seen with a product of this type. I should note for potential buyers that this informational warning is included in the instruction manual:
Important!!!!! Media Center Edition users:
If you purchased the VisionTek Xtasy Theater 550 Pro Media Center Edition (w/remote control) and you have a digital cable box or satellite receiver we recommend you use Media Center Edition for viewing and recording TV programs. This is because the remote control that comes with the product may not be able to interface with a digital cable box or satellite receiver when using SnapStream Beyond TV. The remote control supplied with the product has limited functionality with SnapStream programs.
A CLOSER LOOK cont.
---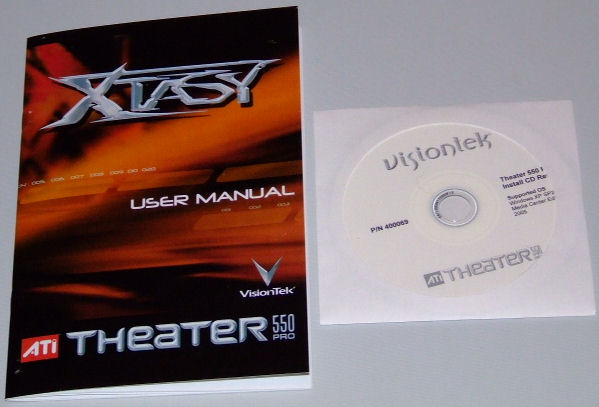 The hard copy of the User Manual contains basically the quick setup information. The complete manual that is in PDF format that is on the software disk is much more through and provides the inexperienced user with a much more complete instruction set. The software disk contains in addition to the manual a subscribers edition of SnapStream's Beyond TV Subscriber Edition and Beyond Media which we'll cover in much greater detail later in the review.
Features
125 Channel TV tuner with stereo audio
5-line 2D comb filter
Uses ATI's Theater™ 550 Pro ASIC

3D Comb Filter
Hardware Noise Reduction Algorithm
Hardware MPEG-2 720×480 compression

16MB DDR memory
External audio-video inputs
PCI bus interface
IR Remote Control
IR receiver
IR Blaster
INSTALLATION & PERFORMANCE
---
Test System
Motherboard:    Intel D875PBZLK
Processor:   Intel 3.4 GHz Northwood run at default speed
HSF:  ZALMAN CNPS7000B-CU
Video Card:   ATI X800XL run at default speed
Optical Drives:

Plextor PX-750A
Lite-On Model 167 DVDROM

Hard Drives:   2- Seagate Barracuda 7200.7 120 GB SATA drives
Memory:   1 GB (2- 1,024 MB sticks) Patriot PC 3500 DDR SDRAM (review)
Hard Drives:   2- Seagate 7200.7 Sata Drives (non-RAID)
Sound Card:   Turtle Beach Santa Cruz
Case:   Antec P150 (review)
Hardware Installation
Hardware installation was very straightforward and without any notable problems. After shutting your system down completely, you simply place the Theater 550 Pro card in any vacant PCI slot and attach your cable or antenna to the appropriate coaxial connection, your FM antenna or the supplied FM antenna to the remaining coaxial connection, and if your using the PCI Purple Box®, connect it to the AVI input. See diagram below:

The diagram below shows options for adding other hardware devices to VisionTek™ Xtasy™ Theater 550 Pro™ MCE Edition.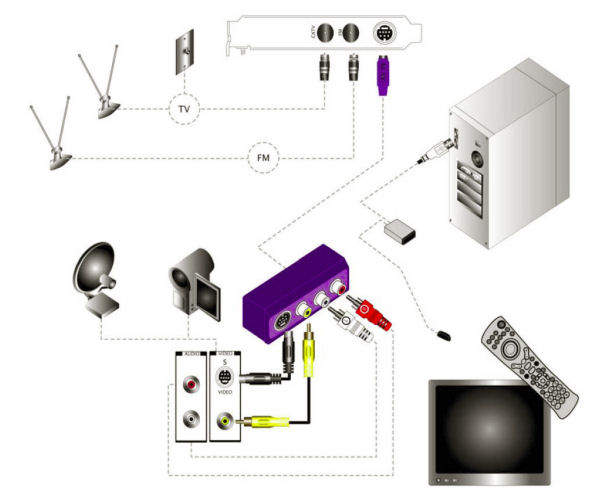 Software Installation
After the hardware installation is complete and you restore system power and boot your system you'll get the Windows acknowledgement that new hardware has been found. Cancel this operation and insert the software CD in an available optical drive. The CD will auto start and you will be presented with the following screen:
Choose first to install the VisionTek 550 Pro drivers and following the on screen options. Next install choose the second option, SnapStream's Beyond TV Subscriber Edition once again following the options presented on the screen. At the end of the software installation you will see the Beyond TV Installation wizard (see image below) which automatically installs your television channels, be it antenna, cable, or satellite dish.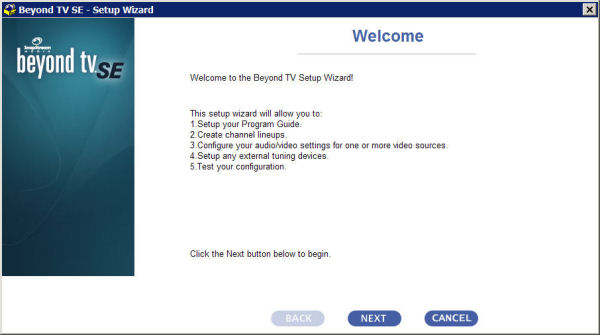 After finishing the installation of the Beyond TV I also installed SnapStream's companion software Beyond Media. It is installed in a like fashion to the previous installation. There is configuration necessary at the end of installation which can once again be done with a wizard or the software can do it automatically based on your computer's settings.
Because my cable is analog and does not follow the same channel numbering scheme as my cable provider's digital service I had to use the software's auto scan feature where it independently scans and verifies each channel. This process takes about 5 minutes to scan all available channels. If I had a recognized digital service the software would have quickly downloaded the digital configuration that a I chose and taken much less time. One of the other drawbacks was that I was unable to access the Electronic Programming Guide (EPG) that would allow me to automate the video capture/recording process.
Before I begin the detail in the next section of the review, I want to state one other disadvantage that I had other than the two already mentioned when reviewing this package, I don't have Windows XP's Media Center Edition, I am running Windows XP Professional. I was therefore unable to test and comment upon some of the features that the VisionTek™ Xtasy™ Theater 550 Pro™ MCE Edition has that work specifically with Windows XP Media Center Edition.
INSTALLATION & PERFORMANCE cont.
---
Beyond TV Software
In this section, we'll look at the functionality of the software and how it works in tandem with the Theater 550 Pro™. I was actually quite amazed with the results and think you will be to.
The next image is the main menu to Beyond TV where most of the tasks that the Theater 550 Pro™ can perform are controlled. The initial version of the Beyond TV that I installed was version 4.1. Using the update manager I learned version 4.2 was available and had reputedly fixed a number of bugs so I opted to go ahead and update the software before moving forward. The update was a seamless process and took less than a minute to install once it had been downloaded; there was no requirement to remove the previously installed version and no reconfiguration was necessary.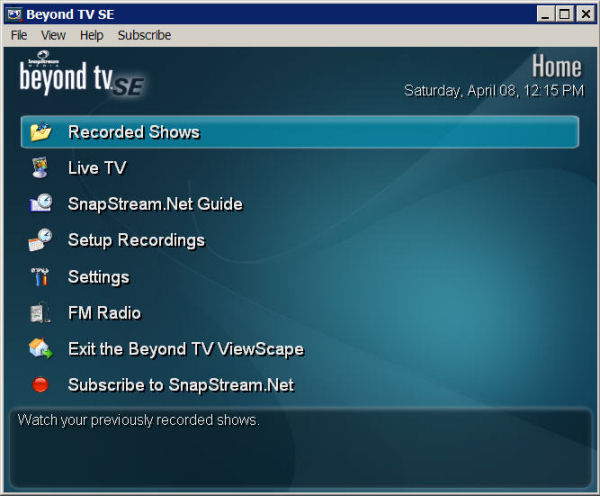 Beyond TV's
Main Menu
As you can see the settings under the General Setting screen are predominately for controlling the on-screen appearance of the Electronic Programming Guide with the exception of two other very important areas. The Screen Saver option allows the user to change the length of inactive time before their screen saver is activated. This change is specific only in effect when Beyond TV is operational, otherwise the screen saver reverts to the settings you have tailored in Windows. The Portable Media Center Option allows you to download your favorite TV show or movie that you have recorded to your Portable Media Center device.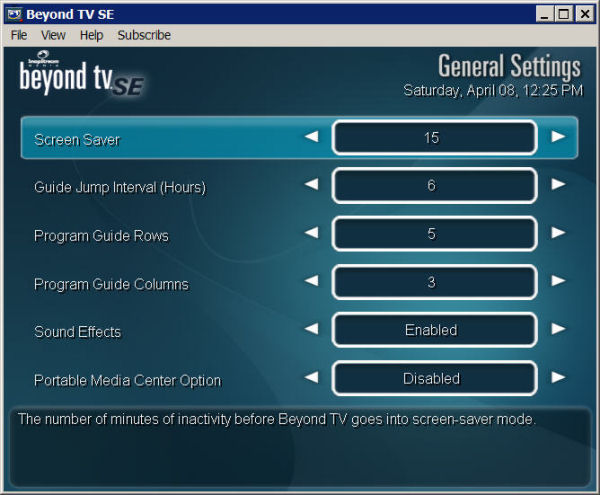 Beyond TV's
General Settings Menu
In general operation the only mode of recording available to the user is MPEG-2. With the Show Squeeze™ mode activated, which is located in another screen in the menu, the user may select to record in either DIVX or Windows Media (.wmv) format in addition to MPEG-2. Four quality modes from Standard to DVD Ready Quality are available. There is also a Padding feature that allows an additional number of minutes before and after a scheduled recording session to allow for time variances.
Beyond TV's
Recording Options Menu
The following image was ascertained from SnapSteam's FAQ and shows an approximation of how much space is used when choosing various quality modes and in different formats of recording.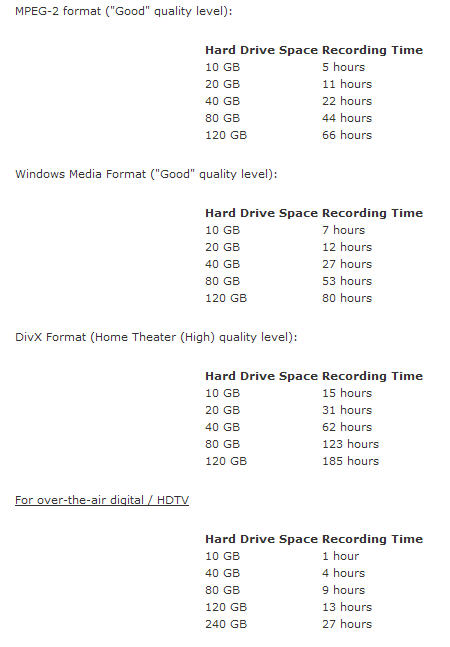 INSTALLATION & PERFORMANCE cont.
---
Two of my favorite features included in Beyond TV are the Show Squeeze™ and the Smart Skip™ functions. As I alluded to earlier the Show Squeezee™ function when activated allows the user to select either the DIVX or Windows Media format saving valuable disk space. The "Smart Skip" feature which detects where commercials and other breaks are located in a recorded show. Then when you play back your recording, you can jump between the different segments with the simple press of a button. SmartSkip™ runs as a post-process job, after your recordings are made. SmartSkip™ can be configured to run immediately after recordings are made or during off-peak hours. Depending on the power of your PC's processor, SmartSkip#153; might take 1 hour to run on a 1 hour show, or it might take only 30 minutes.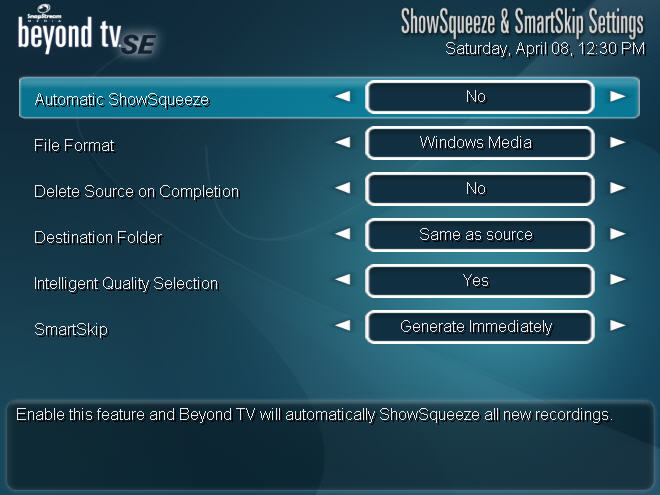 Beyond TV's
SmartSkip™ & Show Squeeze™ Menu
A Manual Recording setup screen is available for those of you that want more control over your recording sessions or if like me you don't have access to an Electronic Programming Guide.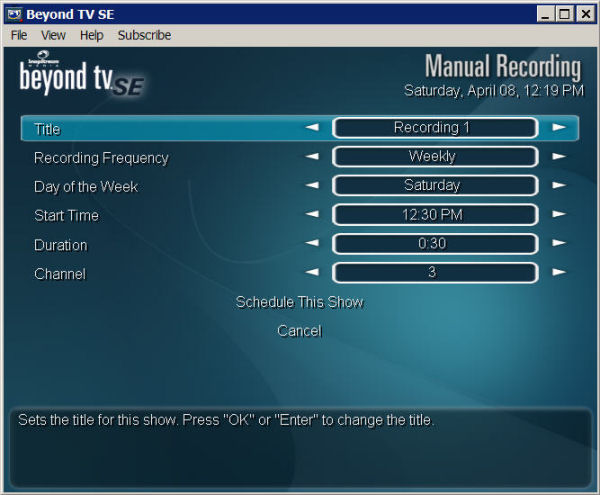 Beyond TV's Manual Recording Menu
Here's a screen shot of live TV. This screen shot in no way does justice to the image quality of what I experienced on my monitor. I own a Sony Wega 36″ TV and I'll have to admit the picture quality generated by the Theater 550 Pro™ is in most case better than my Sony generates using the identical signal.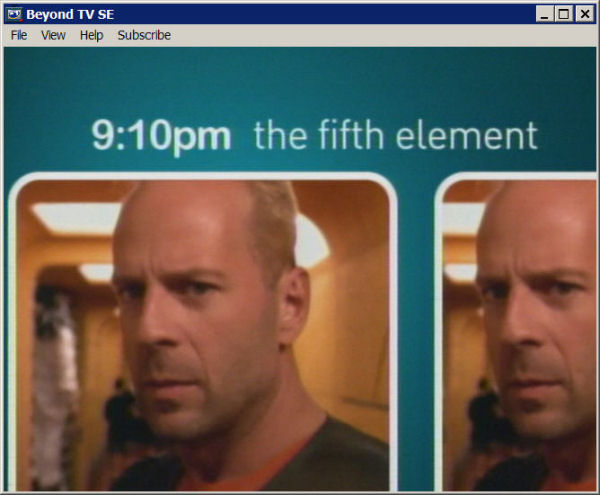 Live TV Image
Finally, the FM radio control screen. With the supplied antenna I was able to pull in very good reception from stations as far as 50 miles away. I even got pretty good reception on a couple of large Atlanta, Georgia radio stations which is over 120 miles from my home in South Carolina. Needless to say I was quite impressed, imagine what you could get with a good external FM antenna mounted on your roof.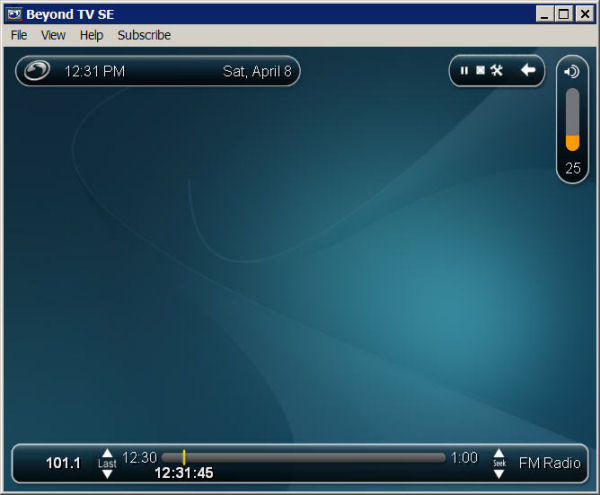 Beyond TV's
FM Radio Screen
INSTALLATION & PERFORMANCE cont.
---
In the Photo menu you can setup up various options for your photos including viewing chosen picture in a slide show format.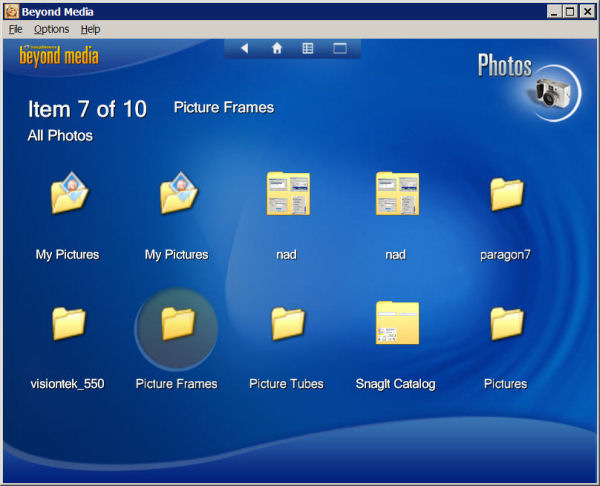 Beyond Media's
Photo Menu
The Spotlight menu allows the user to quickly access a number of included live streaming sites. You are not limited to just the sites included in the menu and can add your own favorites to the menu for speedy retrieval. Most of the live streaming sites are not free and require the user to subscribe to their service. Nevertheless, this is a very nice feature.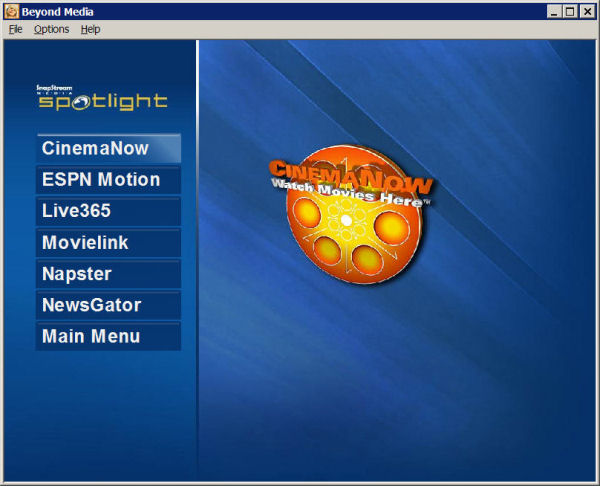 Beyond Media's
Spotlight Menu
Beyond Media is a very nice addition to the included software package. It works very well as an adjunct to Beyond TV and essentially lets you perform the following tasks and much more:
Access all your photos, music and videos from one, user-friendly interface
Access movies on-demand with SnapStream Spotlight
Access weather information and Caller ID
Setup photo slideshows
Watch DVDs with Dolby 5.1 channel surround sound
Sort and browse your music by genre, title, artist and keyword
Integrate & access Beyond TV
INSTALLATION & PERFORMANCE cont.
---
Beyond Media Software
I couldn't exit the software section without making some substantive comments about Beyond Media a companion piece of software to Beyond TV included on the disk. Beyond Media is a DVD player, a music player, and a photo browser.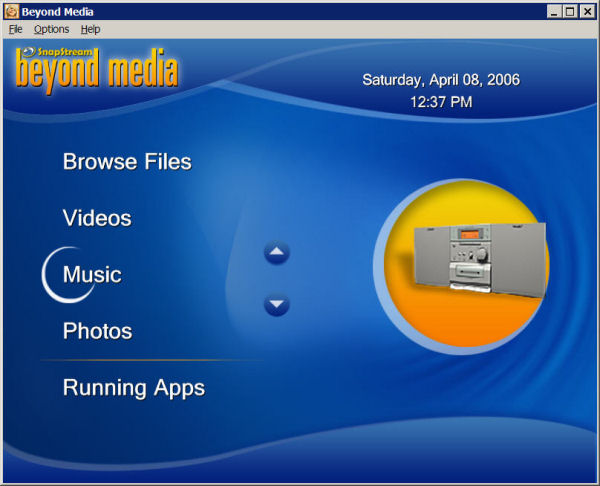 Beyond Media's
Main Menu
The Browser menu allows you access to any of the programs that are currently installed and active on your system and shows them in a list. You can edit or categorize this list to allow for your personal needs.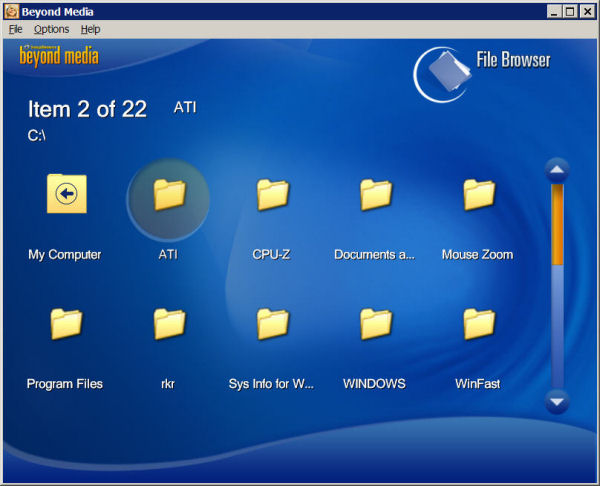 Beyond Media's
Browser Menu
The Video menu allows you to sort you collection of videos by the type of files.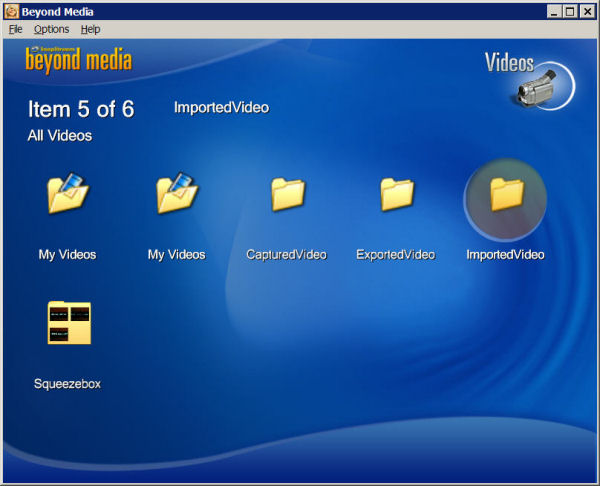 Beyond Media's
Video Menu
The Music menu allows you to sort your collection by artist, album, or musical genre. Selections can be played directly from this menu by simply choosing your player of choice.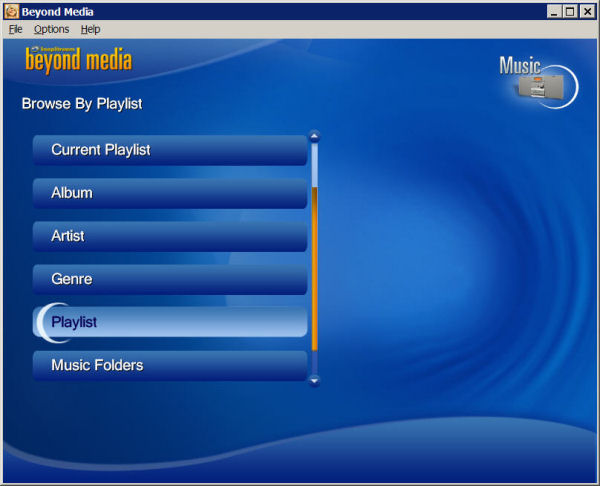 Beyond Media's
Music Menu
IMPRESSIONS & CONCLUSION
---
The VisionTek™ Xtasy™ Theater 550 Pro™ comes in two editions:   1)  The Widows Media Center Edition which adds increased functionality for those that utilize Windows XP Media Center, it also includes the infrared remote control and receiving devices. This edition retails for $129.95 USD; and 2)  The Pro Edition which includes most of the same functionality for Windows XP Professional but lacks the remote control and remote receiver. This edition retails for $99.95 USD. I should once again note the remote control disclaimer that was published earlier in this review citing it's decreased functionality when using SnapStream's Beyond TV. I find that the pricing for these two products is certainly in line with what one would expect given the inherent quality of the product you receive.
Overall I was tremendously impressed with the crisp and clean image quality of the Xtasy™ Theater 550 Pro™. It is obvious that ATI® and VisionTek™ have gone to great lengths to give the home consumer a vastly improved product over their previous offerings. The recording function(s,)even with my limitations of not being able to use the EPG, were superb and produced reproductions that were equal to the original the original broadcast version of the program/movie. I tried running some other CPU intensive operations in an attempt to see what effect it would have on the final recorded product and am happy to report that try as I may I was unable to disrupt the Theater 550 Pro™'s quality of reproduction. This is probably due to the 16MB of DDR RAM that is included on the card.
I have read about and personally experienced problems in another review I "attempted" with SnapStream Media's Beyond TV product in earlier revisions. I must however state that with their current iteration, version 4.2, none of the bugs or installation problems that I had previously experienced surfaced. I was somewhat disappointed that I was unable to access their Electronic Programming Guide which would have led to a much more informative review; but as I stated earlier I believe this problem to be related more to my cable supplier's lack uniformity in their channel numbering system between their digital and analog cable products. I have even noticed that TV Guide online doesn't offer the correct channel numbering system for this particular version of my provider's service.
Some of the advertised combined hardware/software features that have yet to be mentioned and I feel are worthy of mention are as follows:
Ability to search EPG by program name or genre of presentation
Ability to watch one show while recording another
Ability to extend services across your home network to other family members using SnapStream's Web Admin (an add-on product)
Time shifting, which functions much like TiVo
MPEG-2 can be directly burned to DVD
Supports all 5.1 channels of the Dolby Digital AC-3 audio in ATSC broadcasts
3D Comb Filter
Hardware Noise Reduction Algorithm
Hardware MPEG-2 720×480 compression
5-line 2D comb filter
I will reserve my opinion on whether this product truly sets the "gold standard" for the home consumer and HTPC market until a later time when I've had a chance to review other manufacturer's coming attractions. I will say for this given moment in time, it's the best this writer has yet to see in the home consumer/HTPC market, and I highly recommend it to anyone desiring this type of functionality.
Pros:
+  Easy and fast setup
+  MPEG-2, WMV, and DIVX recording formats
+  Show Squeeze™ +  Smart Skip™
+  Ability to download to PMC devices
+  Crisp and clean high quality video imaging
Cons:
– Decreased remote control functionality when using the included software
– No bundled video editing software
Final Score: 9 (Extremely Good) out of 10 and the Bjorn3D Golden Bear Award