In this review we have taken a look at a card for people who don't have a lot of money to spend on their video cards but still want to be able to get decent performance in games. The card in question is the HIS X1600 Pro IceQ Turbo with 128 MB DDR3 memory. With a low price, decent performance, low noiselevel and the ability to use it in Crossfire mode without any extra Master card on paper it sounds like an good product.
INTRODUCTION
Today I am taking a look at a card for people who don't have a lot of money to spend on their video cards but still want to be able to get decent performance in games. The card in question is the HIS X1600 Pro IceQ Turbo with 128 MB DDR3 memory.
With a low price, decent performance, low noiselevel and the ability to use it in Crossfire mode without any extra Master card on paper it sounds like an excellent product.
HIS – THE COMPANY
The company behind this product is HIS – Hightech Information System Limited. HIS was established in 1987 with the mission to "produce the highest quality graphic cards in the industry". Their headquarters are in Hong Kong and they sell their cards all over the world.
HIS is an authorised 1st Tier AIB Partner, Certified Partner and Launching Partner. While they do make "normal" ATI-based video cards they are also know for their IceQ cards which uses various IceQ-coolers to lower temperature and noise. We've reviewed a lot of HIS-cards on the site and overall been impressed with them.
SPECIFICATIONS&FEATURES
Even though this is a card aimed at price-conscious gamers it sill has some nice specifications and features.
Powered by ATI Radeon X1600Pro – 587MHz
128MB-128bit 4 channel GDDR3 memory – 1.38GHz
12 Pixel shader processor
5 Vertex shader processor
8 Geometry Pipelines
Ultra-threaded SM 3.0 Engine
256-bit Ring-bus ATI
Avivo™ High Precision Architecture
CrossFire™ Support
PCI Express® x16 lane native support
Revolutionary Avivo™ Video and Display Technology
With ATI's Avivo™ technology the HIS X1600 Series connects to home entertainment devices and allows you to view your digital media and play games with vibrant colors, sharp images, true-to-life image reproduction, and the smoothest video playback ever offered by ATI.

CrossFire™ Ready for Extreme, Accelerated Gaming
Get double barrel multi-GPU gaming performance that works with all games by just adding another HIS X1600 Series graphic card for powerful GPU sharing. Starting with a HIS CrossFire Ready graphic card and motherboard, plugging another HIS X1600 Series graphics card. HIS CrossFire™ accelerates all your games, all the time, and delivers the highest image quality modes and resolutions with no special software or patches needed for compatibility.

IceQ cooling technology
The IceQ cooling system draws cool air from inside the case and exhausts warm air outwards. This prevents the fan from recycling warm air to cool the VPU, which increases cooling performance and lower the air temperature inside the case significantly.
Since it both has a quiet fan-system as well as has the full Avivo support the card does sound like a perfect choice for a HTPC.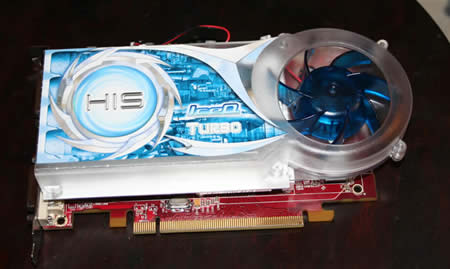 The biggest draw-back with this version of the card is the 1280 MB video memory. HIS does have versions with more memory though that might be even more interesting.
The Turbo in its name refers to the fact that HIS has already overclocked the X1600 Pro a bit from 500 MHz to 587 MHz for the GPU and from 780 MHz to 1.38 GHz for the memory. In fact this X1600 Pro runs at the same speeds as a X1600XT.
THE BOX AND BUNDLE
We've gotten use to the packaging HIS is using for their IceQ-products and this is no different. You get the same blue box with the same stickers.
Opening up the box you'll find the following items:
CD with drivers
S-Video Cable
Conversion Cable Mini-Din to RCA
HDTV Output cable
DVI to VGA Dongle
Flat Out
Microsoft Dungeon Siege
Full 3D Album PicturePro
PowerDirector 3 SE Plus
Power2Go 4
It's a pretty bland bundle that has been around since I started to review HIS cards over a year ago. Still, you'll get what you need.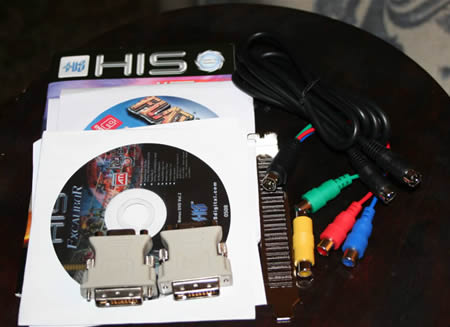 BENCHMARKS – OVERVIEW
I recently built together a dedicated review machine to be used for all future testing. The HIS X1600 Pro IceQ Turbo had the honours to be the first card tested on it.
AMD X2 4800+
2 GB Corsair PC3200 cas2 DDR
ASUS A8R32-MVP Deluxe
80 GB Maxtor HD
Lite-On DVD-RW optical drive
The cards tested on this rig was:
HIS X1600 Pro IceQ Turbo, both single and Crossfire
XFX 7600GS
ASUS 7600GT
The software tested were:
3Dmark05
3Dmark06
FEAR internal test
Ghost Recon:Advanced Warfare demo together with FRAPS
Drivers:
Catalyst 6.4
ForceWare 85. …
Anisotropic Filtering was set to High Quality.
BENCHMARKS – 3Dmark05
Settings: Default and 1280×1024 with 4xAA and 8xAF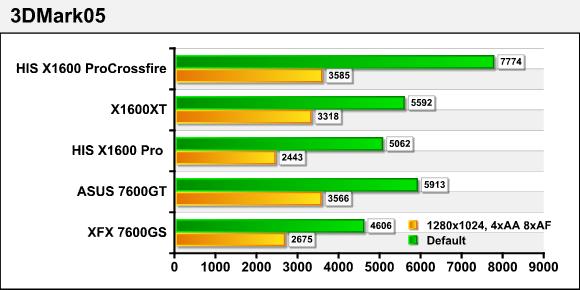 At the default settings (1024×768) a single HIS X1600 Pro IceQ Turbo scores a bit higher than the similar priced 7600GS. Adding another card increases the score with 53%. When we turn the resolution up and turn on the quality settings the lack of memory kicks in and the single HIS X1600 Pro IceQ Turbo scores worst of all the tested cards. When we add another card the score increases with 47% making the Crossfire-system tieing with the single ASUS 7600GT.
BENCHMARKS – 3Dmark06
Settings: Default.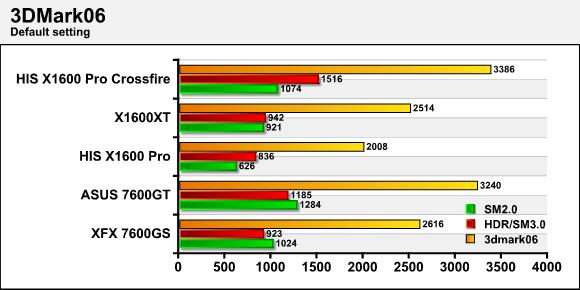 3Dmark06 tests the card in a more modern and demanding environment and here we see the single HIS X1600 Pro IceQ Turbo suffering. I still think it's mainly the lack of memory that is affecting the score. Adding another card for Crossfire does however help a lot increasing the scores by 70-80% and putting it in the same ballpark as the 7600GT.
BENCHMARKS – FEAR
Settings: Everything set to max except soft shadows that were turned off. 4xAA and 8xAF.
The FEAR internal benchmark allows us to get an idea on not only the average frame rate but even more important, how much the frame rate fluctuates.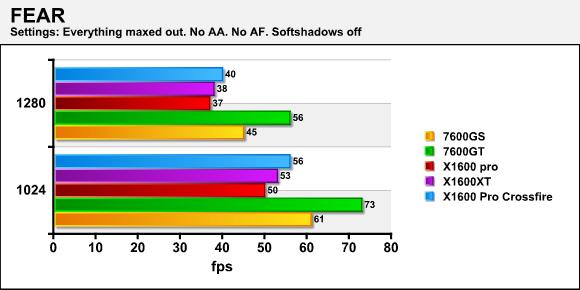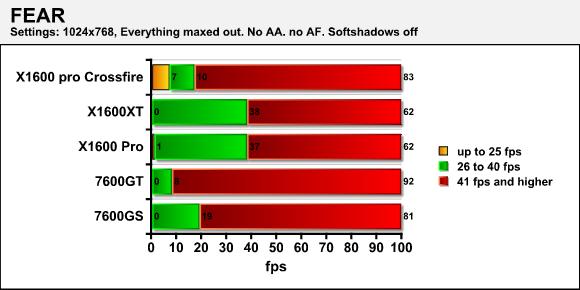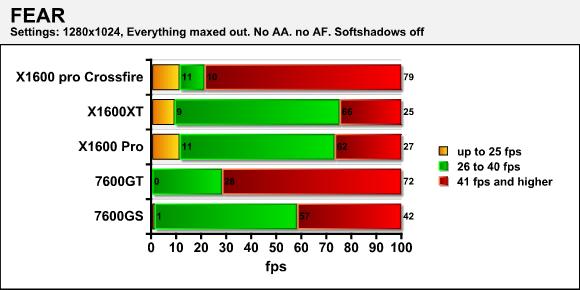 Even with no Anti-Aliasing and Trilinear filtering the HIS X1600 Pro IceQ Turbo not quite manages to catch up to the two NVIDIA cards, even in Crossfire mode. In fact, running two cards in Crossfire mode doesn't really help the average framerate much. However, when we look at the % frames in the various brackets we see that Crossfire at least makes sure the experience is much smoother since a higher percentage of the frames are 41 fps or higher.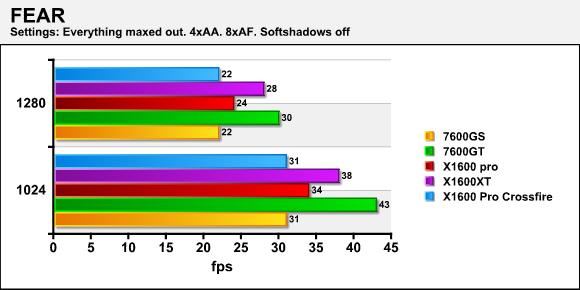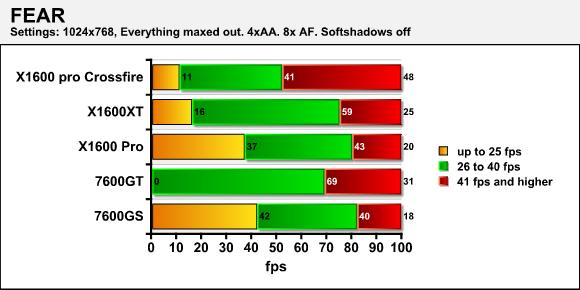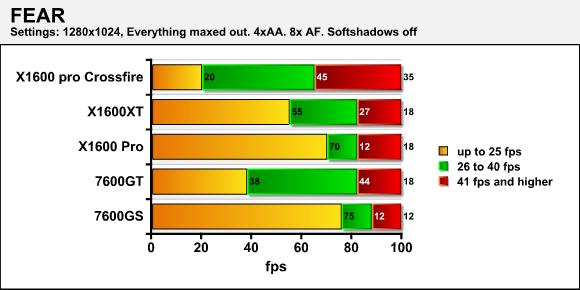 When we turn on 4xAA and 8xAF the HIS X1600 Pro IceQ Turbo gets some revenge since it has caught up with at least the 7600GS. The frame rate is pretty low though.
BENCHMARKS – Ghost Recon: Advanced Warfare demo
Settings: Everything set to highest possible setting in the demo (which means medium textures). No AA but 8xAF.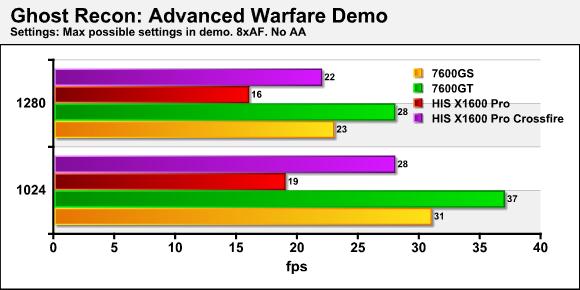 Once again the HIS X1600 Pro IceQ Turbo trails behind the two NVIDIA cards. This demo represents the worst case scenario though since it demands a lot of your PC and with turning down some effects you probably can get out more frame per second. Don't expect to be able to play it with the best visuals though.
CROSSFIRE
When ATI first introduced Crossfire it needed a master card to work. It still needs that for some cards (at least the speedier ones like the X1900XT), however with the HIS X1600 IceQ Pro you can just place another one in your Xpress 1600 or Xpress 3200 based motherboard and get all the benefits of a second card.
HIS provided me with an ASUS A8R32-MVP Deluxe motherboard but you can also use the cheaper A8R-MVP motherboard that uses the Xpress1600 chipset. You do loose the full speed on the PCI-Express slots though.
As you could see from the benchmark scores above Crossfire do help in many cases although you never get the double performance.
NOISE LEVEL
If you ever read any of our previous reviews of IceQ-based video cards from HIS you will know that the IceQ cooler does an excellent job in keeping the cards cool while running very silently. My review machine is sitting in a large DigN 5 HTPC case without a lid and I keep it a meter or so beside my keyboard. Even at that range and with no lid AND using two X1600 Pro's in Crossfire mode the fans make no or very little noise. It is really impressive. In contrast the ASUS 7600GT was very noisy.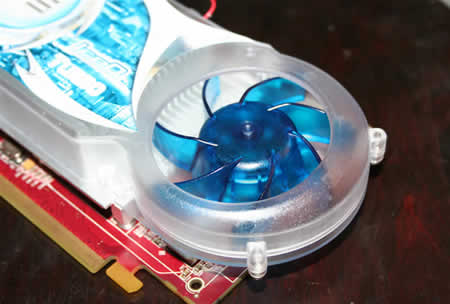 AVIVO
One of ATI's strength in video cards is their video quality. AVIVO has lots of cool features that help improve the video quality:
Advanced 10-bit-per-color display engine
Advance 3D comb filtering
Automatic Gain
Great video scaling technology
High quality 12-bit analogue to digital converters (ADC)
Vector adaptive de-interlacing
Hardware decoding of h.264 material
I'm not completely sure at which level this X1600 Pro can decode h.264 material but it should be at least 720p.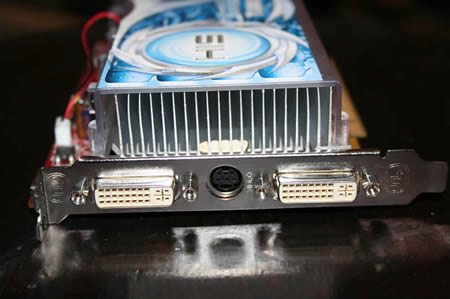 Two DVI and one SVIDEO Out-connector
With the latest Catalyst drivers (6.4) the HQV videobenchmark DVD the card managed to score 128 out of 130 possible points. While the benchmark is a bit subjective since you have to sit and "judge" if a card pass/ almost pass or fail a test it still gives a clear indication on how well a card can handle different situations when displaying video.
With the AVIVO features as well as the silent fan the X1600 Pro is an excellent choice for a HTPC.
CONCLUSION
At a price of ~120$ the X1600 Pro IceQ Turbo is a cheap way to get more speed out of a mid-range PC. Compared to a similar price NVIDIA-product like the 7600GS the HIS X1600 Pro IceQ Turbo performs well although its limited 128 MB memory hurts it when turning up the resolution and quality features. That's one of the reasons I am a bit hesitant to recommend this card if you are planning to play games. HIS got a 256 MB version to that also is priced similar and I feel that this would give you more bangs for the buck.
The card would fit well into a HTPC though since it still supports both AVIVO, Dual Link DVI and has a good and silent cooler.
The last plus-point is the fact that you can add another card in Crossfire without having to buy a Crossfire master card. This means you can add a cheap X1600 Pro later instead of buying a brand new card.
Pro
+ Cheap
+ Runs cool and silent
+ Does not need a master card for Crossfire on Xpress1600 and Xpress3200 motherboards
+ Good performance at this price point
+ AVIVO
Cons
– Little memory hurts the performance at higher quality levels
– Weak bundle
– Need to turn down quality features or resolution of newer high-profile games