Thermaltake Armor Jr offers a lot of things we've seen in super tower Armor model. Even more, you get lightweight and compact design with similar looks and functionality including BTX / Tt BigWater cooling compatibility
Introduction
Thermaltake has been manufacturing cases for quite a while. Their products are known for quality, aesthetics and design all over the world. Everyone recognizes Thermaltake and their PC/HTCP encloures. They make steel and aluminum chassis for all kinds of needs. I'm sure you're all aware of the fact that there are people who cannot pick a product for themselves simply because there're too many to choose from. Finally they end up buying one, but in the end their souls are not fully satisfied. Bjorn3D comes to rescuse those poor spirits with all kinds of product reviews. Let's begin our adventure and check what we have in our lab today.
Remember Thermaltake Armor review? Forget that for the time being — it's heavy, big and you don't necessarily like it because of it. The case I have with me is something that might be of interest: lightweight, aluminum, same Armor design sporting most of its features. Should I continue? Well, read on…
Features
Middle tower, all aluminum case design
ATX/BTX compatible (BTX upgrade kit is optional)
Dual 120mm silent front and back case fans
Accepts standard ATX & BTX motherboard
Fits Tt liquid cooling system
Opened front panel design for easy access to drive bays
Relocate-able front control panel (Power/Reset buttons)
Blue LED fan gives a glow to the case front
12cm silent case fans on the front and rear
Front intake fan keeps hard drives cool
Ventilation holes allows better airflow
Mesh design for improved cooling performance
HDD & FDD rack with power/reset buttons
Tool free drive rails for 5.25" devices
Removable HDD cage for easy installation
Tool free expansion slots
Easy access USB2.0 and 1394 ports on top
Thumb screws for easy remove
Retractable foot stand
Front & side panel lock for security
Specs
If you feel the above features are not enough, please be my guest and check out more detailed specifications.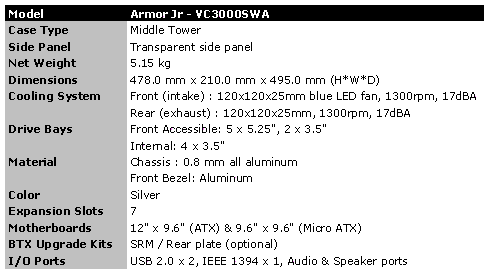 Thermaltake Armor Jr characteristics resemble a lot of what's inside the
Armor super tower case
I've reviewed a while ago. The most obvious differences are weight, size, HD / PSU mounting, number of expansion slots and included fans. The junior model weighs 3 times less than the bigger steel brother…yikes.
Package & External Design
As far as package is concerned our Thermaltake Armor Jr case arrived in a regular (compared to Armor senior) carton. I was happily carring it around as it weighs around 5 kg! The case has been safely packaged and wrapped around two types of protective covers. The box shows main case features and specifications.
The chassis is well equipped. There are a few accessories worth mentioning. They are mounted inside and include 2 fans (rear 120 mm and front blue LED 120 mm), drive cage and PSU support hook. The package came of course with a user manual, a pack of screws (all kinds), cleaning cloth and equipment I've already mentioned above.
Click a picture to see a larger view

---
---
Case frame is made out of 0.8mm aluminum components making it very light. Everything, including the front bezel is aluminum — a good solution for a LAN party. There are two silver models you can pick from, one without a side door and one with side doors which I'm now presenting.
Before I go into presenting the case let's see what Tt gave us besides it: accessory box with pack of screws, bunch of drive bay rails. The other foil bag contains I/O back plate, PSU hook, manual, Mylars (plastic film strips to prevent ATX motherboards from coming into contact with the aluminum) and cleaning cloth. The case presents itself really well. On the fith picture you can see how it was packaged: the front bezel was given a protective foam in order to keep it out of harms way. The lock on the side door isn't necessarily something everyone will like, but the opening has been thought of. In order to open the door, you need to push both buttons and swing the side panel out. On the top of the case, you'll not find ventilation holes as with Armor Senior. As you can see, Thermaltake includes USB / Firewire / Audio ports on the top instead of placing them vertically on the side. It's a cool idea as it comes with small closing doors to cover it up when not used.
Although side fan is not included, Thermaltake made sure the case is running cool. If you look closer there is this ventilation opening on side panel for better heat management. The bottom and side bays are used optionally. The vertical bay is there if you want WD Raptor X HD displayed in your window (upgrade kit not included). As with larger Armor case, anything on the front panel can be interchanged, meaning you can place your power button anywhere you like. The swivel doors are nice, but that's about it. It's only for aesthetics, and it doesn't really serve any purpose other than that. The back shows standard PSU horizontal mounting and 120 mm fan.Internal Design
After having spent time peeking at the externals let us move on and look inside. Just briefly, this case is made out of aluminum composites making it very light. You won't find that much space inside as with the super tower Armor. This case is considered a standard mid tower enclosure, but that doesn't mean you cannot fit in a Thermaltake Bigwater cooling kit 🙂 In addition you can transform this case into BTX compatible design with optional upgrades — no need for selling it when jumping on the BTX bandwagon.
Click a picture to see a larger view
---
---
Let me start off by saying Thermaltake Armor Jr is a thought out design. Everything seems to be fitting in perfectly. The finish on the edges has been taken care of. Polished aluminum looks more than average and it's nice to look at.
All "Jr" models come with a horizontal PSU hole to save the space. As with the super tower, Thermaltake includes a PSU hook to safely fasten your power box. Let's look at the hard drive rack. It's not everyday you see cases with HDs mounted across the case, facing the side window. It's a great feature for those that often swap them. One thing I don't like is the additional (vertical) space dedicated for Western Digital Raptor X hard drive which blocks the other 3.5″ slots.
In the front we have a blue LED 120 mm fan to give the case a fancy clean look. Just like Armor super tower this mid tower design sports mesh drive bay covers for better heat circulation. In the back we have another 120 mm fan this time without LED, but it does it's job perfectly. Right below are tool-free mechanisms for expansion slots such as your video card / sound card. They work okay, but I have never been a fan of those so I always secure my cards with a screw.Installation
Being through a similar installation procedure with our Thermaltake Armor chassis, this has now been a much easier task to achieve. One thing I noticed was no more problems with power drive bay being stuck on both sides of the case. Inside, you won't find so much space as with the other Armor box. I would not recommend this case to people seeking space. Of course you could remove the HD cage and live without it, but that's not necessarily a wise thing to do as there isn't any other way to mount the drives.
Click a picture to see a larger view
---
---
As I have mentioned before most installation issues I've encountered with previous Armor case were gone. Now the details. If you're building a LAN box or just a regular computer it would be best to install ATX case without any fancy accessories. Although Tt advertises this case as watercooling ready it's obvious you won't fit in many 5.25″ devices, however Tt thought about it and included another drive bay all the way to the bottom.
One thing I've noticed was the speaker placement — it's visible on the third picture above the 120 mm fan, not a usual placement, but interesting nonetheless. Upon screwing in the motherboard I had to put the included film strips on the case bed to prevent any electrical shortages from going off.
One thing worth mentioning is you need help from your screwdriver for a few things including hard drive rack, fastening your graphics card as the tool-free clips don't hold it very well. No accessory box in this model, instead there is the additional drive bay which may come in handy!Thoughts
This is a second case from Thermaltake I've reviewed and tested. Albeit same family, it only shows Tt products are getting better from one model to another. What I've been mostly impressed with are finish quality, features, design and not so hardcore price tag. Thermaltake Armor Jr offers a lot of things we've seen in super tower Armor model. Even more, you get lightweight and compact design with similar looks and functionality including BTX / Tt BigWater cooling compatibility. Of course like every other product there are flaws or features that aren't very much needed ie. useless. Input / Output port placement is one of the things I'm worried about yet I can understand Thermaltake wanted to maximize cooling performance. Second up would be optional kit for installing WD Raptor X hard drive which would block access to HD cage — thank god that's optional. The swivel doors don't do anything besides just looking good 🙂
Overall I have to give this case a thumbs up. Thermaltake did an excellent job providing customers with handful of models to choose from. If you like the design, there are quite a few versions you can pick:
Thermaltake Armor Jr. Black Middle Tower with Window (steel frame)

Thermaltake Armor Jr. Silver Middle Tower with Window (aluminum frame)

Thermaltake Armor Jr. Black Middle Tower without Window (steel frame)

Thermaltake Armor Jr. Silver Middle Tower without Window

(aluminum frame)
Keep in mind that only silver models come in aluminum chassis.
Pros:
+ Good looking
+ Aluminum frame
+ Very light
+ BTX compatible (needs an upgrade)
+ Ready for watercooling kit
+ Side panel
+ Great airflow
+ 2 x 120 mm fans
+ Big thumbscrews
+ HD cage

Cons:

– Not so tool-free
– I/O port placement
– HD cage blocked when combined with WD hard drive kit
For its light design and features, Thermaltake Armor Jr.
gets the rating of 8.5 (Very Good) out of 10 and Bjorn3D Seal of Approval Award