EasyIDE and EasySATA is two products that allow you to hook up either a IDE or SATA drive to the USB bus. We've tested them to see what kind of performance you can expect.
INTRODUCTION
As hard drive prices keep falling while the storage capacity increases smaller hard drives are frequently put in the "good to have" pile at home. I myself got several older hard drives just lying around and while I could get myself a cabinet for each of them I've just haven't bothered yet mainly because it feels unnecessary to spend money for several cabinets when I rarely use the drives.
Throwing away these drives also isn't an option since there occasionally are times when the extra storage space is useful, either for just moving over some stuff temporarily or for testing purposes. The problem with using these drives is that it is a chore opening up the case everything you want to hook them up. In the case of IDE-drives the problem also is that many new motherboards only got 1 PATA-connector which might already have one or two DVD/CD/DVDRW/HDD hooked up and thus have no space for more drives.
Eksitdata.se sent me two pieces of hardware that allows you to quickly hook up these drives to a PC using USB 1.1 and USB 2.0 without having to open the case: the Easy IDE and the Easy SATA.
FEATURES AND SPECIFICATIONS
EASY IDE
USB1.1 and USB2.0 to 40-Pins ATA/ATAPI.
Included cables: One USB Type A, one Milex-cable for powering HDD/CD-ROM
External power-adapter. Also available for the UK
Supports Win 98, ME , 2000, XP, Mac OS 8.6 and higher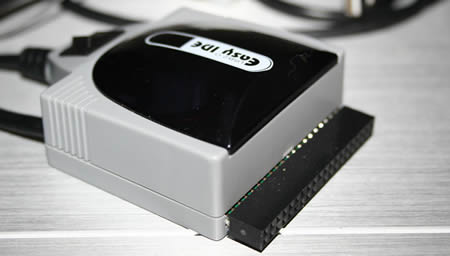 EASY SATA
USB1.1 and USB2.0
Supports SATA 1.0
Supports USB plug&play
Supports SATA hotplugging
SATA disk has to be formatted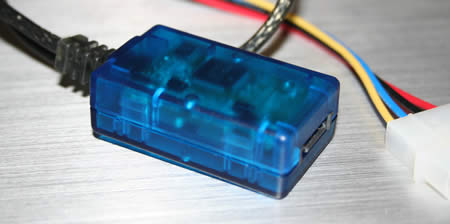 Let's take a look what you get in each package.
With the EASY-ATA you get everything you need to hook up your IDE-drive to the computer:
The actual adapter
A cable-adapter to allow the use of 2.5" HDD's
USB-cable
Power supply
CD with drivers for Win98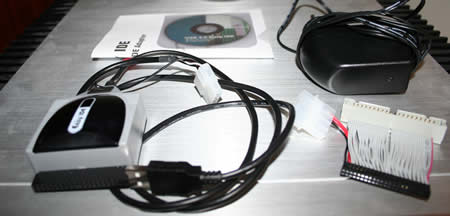 The EASY-SATA has a similar content with one exception
The adapter
SATA-cable
USB-cable
Molex to SATA-Power
CD with drivers for Win98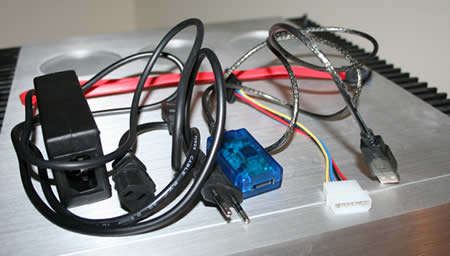 As you might notice it doesn't come with the power supply, instead expecting you to hook it up to the computer through the Molex to SATA power adapter. I don't think this is a good idea since it kind of defeats the purpose of the adapter since you still have to open up the computer anyway. Why not then just hook it up to a SATA-connector? Most motherboards these days have at least 4 of those. Eksitdata however also sells a power supply for this adapter and in my test I had access to that. 
TESTING
USB2.0 theoretically has a max speed of 480 Mbps. Even at that speed the USB connection still would be the bottleneck and we know we never will see that speed in real life.
To get a feeling on the kind of performance you will get I took an old 60 GB Maxtor IDE drive and a newer 120 GB Seagate 7200.7 SATA-drive and hooked them up to my review computer both using the adaptors and to the motherboard directly.
The review computer
AMD X2 4800+
2 GB DDR RAM
ASUS A8R32-MVP
60 GB Maxtor IDE
120 GB Seagate 7200.7 SATA-drive
OS: WinXP SP2, Ubuntu
PCMark05, HDD test
The first test is the HDD benchmark in PCMark05
Strangely enough the IDE-drive isn't much faster in IDE-mode (Slave to an 80 GB Maxtor) than when used in USB-mode. I tried that drive in 2 more computers with similar results. An 80 GB newer Maxtor was faster so it turns out the 60 GB drive I took out for testing was pretty slow.
Other than that it's obvious that the USB-connection is the bottleneck here keeping the speed down.
SiSoft Sandra 2007
Next benchmark I tried was the HDD-benchmark in SiSoft Sandra 2007.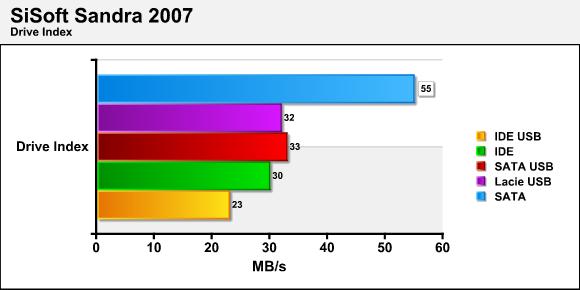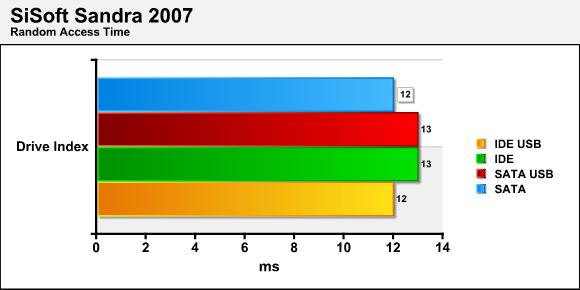 We see a similar result in SiSoft Sandra as in PCMark. We also see that the access time isn't affected by the switch to USB.
File copy
Last but not least I copied a large (634 848 bytes) file to the drives.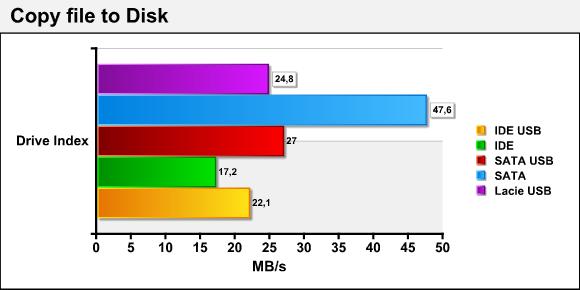 I included my external Lacie-disk in this test. It works better than the IDE-drive hooked up through EasyIDE and the same as the SATA-drive hooked up to the EasySATA.
Linux-test
Since more and more users are looking into Linux it might be interesting to see how it works with one of the more popular distributions, Ubuntu. I downloaded the latest Ubuntu-version and burned it to a CD. I booted from the Live CD into Ubuntu (nice to do without having to install anything) and then hooked up each drive to the USB-connector on the computer. In a few seconds each of the drives popped up and I had no problems accessing file on them. Full marks in Linux (Ubuntu) support.
Conclusion
Neither the EasyATA nor the EasySATA is meant to be used all the time with a drive. Letting a drive lie outside the case without any real protection for long isn't the smartest idea if you value what is on. However, for a quick hook up to a computer without the hassle of having to use an enclosure or open up the computer, both products work great. The prices, ~35-40$, also are acceptable although I think that it would have been nicer if the power supply was included with the EasySATA. That costs about ~25$ more.
Thanks to Eksitdata.se for the opportunity to test these two products.