The X1800GTO is ATI's attempt to conquer the ~200$ market. We've tested the HIS X1800GTO, a card that offers great performance and also the promise of even more performance waiting to be unlocked under the hood.
INTRODUCTION
While NVIDIA has enjoyed success with the GeForce 7600, ATI hasn't had a X1000 card to compete with it. That is about to change now as the X1800GTO's are being rolled out from various OEM's like
Powercolor
and HIS.
The X1800GTO is a cut down X1800XL where 4 pipelines have been cut. "Cut" in this case doesn't necessarily mean that they no longer are available. In some cases the OEM's have taken left-over XL-chips and rebranded them as X1800GTO GPU's just disabling the last 4 pipelines in the bios.
The X1800GTO I am testing today is one from HIS which has the new IceQ3 cooler. While there is no guarantee if your X1800GTO can be unlocked HIS themselves pointed me to a bios for this card that should unlock the pipes. While I didn't want to risk this card and try it out while reviewing word on the net is that HIS cards generally are unlockable. A good place to look for info about this is
techpowerup.com
.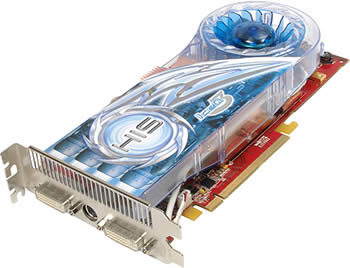 HIS – THE COMPANY
The company behind this product is HIS – Hightech Information System Limited. HIS was established in 1987 with the mission to "produce the highest quality graphic cards in the industry". Their headquarters are in Hong Kong and they sell their cards all over the world.
HIS is an authorized 1st Tier AIB Partner, Certified Partner and Launching Partner. While they do make "normal" ATI-based video cards they are also know for their IceQ cards which uses various IceQ-coolers to lower temperature and noise. We've reviewed a lot of HIS-cards on the site and overall been impressed with them.
SPECIFICATIONS AND FEATURES
As you probably know by now the X1000 GPU's introduced new cool stuff like Shader Model 3 support, a new more advanced memory controller as well as AVIVO (video) support.
The X1800 GPU, just as the X1800XL and the X1800XT, is manufactured with a 90nm process.
Video card

HIS X1800 GTO

HIS X1800 XL

HIS X1800XT
GPU (256-bit)
  R520

R520

R520
Chip Architecture
 .09µ (TSMC fab)
.09µ (TSMC fab)
.09µ (TSMC fab)
Transistors
 ~320 Million

~320 Million

~320 Million

Memory Architecture
 256-bit

256-bit

256-bit

Frame Buffer Size
 256 MB GDDR-3

256 MB GDDR-3

256 MB GDDR-3

Pixel Pipelines
 12 (3 quads)
16 (4 quads)

16 (4 quads)
Vertex Pipelines
 8

8

8
TMU(s) per Pipeline
  1

1

1
Engine
 Ultra-threaded architecture
Ultra-threaded architecture
Ultra-threaded architecture
Bus Type
 PCI-e 16x
PCI-e 16x
PCI-e 16x 
Core Clock
520 MHz


500 MHz

625 MHz
Memory Clock
 1000 MHz DDR


1000 MHz DDR

1500 MHz DDR
RAMDACs
 2x 400 MHz DACs
2x 400 MHz DACs
2x 400 MHz DACs
Memory Bandwidth
 

32 GB / sec

32 GB / sec

48 GB / sec

Pixel Fillrate
 6.4 GPixels / sec
8 GPixels / sec
10 GPixels / sec
Texel Fillrate
  6.4 GTexels / sec
8 GTexels / sec
10 GTexels / sec
DirectX Version
 9.0c
9.0c
9.0c
Pixel Shader
 3.0
3.0
3.0
Vertex Shader
 3.0
3.0
3.0
Since this is a "Turbo Edition" card it is clocked a bit higher than a regular X1800GTO, 520 MHz versus 500 MHz.
If we look at the feature-side the card is filled with cool stuff:
Dual DL-DVI
VIVO (VideO In/Video Out)
Avivo support with h.264 HW acceleration
IceQ 3 cooler
The cooler deservers some closer inspection. We've gotten used to the nice IceQ coolers on HIS-cards. With the ICEQ 3 they continue the tradition at offering a cooling that is both quiet as well as manages to transfer a lot of heat away from the GPU and the memory.
The main improvements ares:
Innovative design: Significantly improve cooling performance and lower weight.
Heatpipe with sintered powder wicks: Heat is rapidly transferred from the core area reducing the GPU temperature.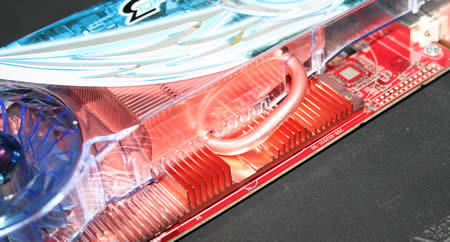 Isolated heatsinks: Memory and GPU heatsinks are completely separated, preventing any heat transfer from GPU to memory.
Bi-directional air in-take channels: Cool air is drawn from both sides of the fan. Improving air flow. This ensure effective cooling even for CrossFire platform.
Ultra silent and durable fan: Significantly reduced noise level and extended service lift.
Larger heatsink surface area: Ensure maximum heat dissipation.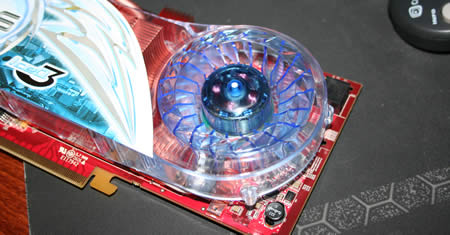 The important question of course is, does it still work? The short answer is: yes. The longer answer is. Yes – it works extremely well. The noise-level is impressive and if you plan on building a crossfire-system you won't have to live with any extra noise.
THE CARD AND BUNDLE
The first thing you'll notice is the different design on the box that the card comes in. Gone is the blue box and in is a new very stylish black box. In my opinion it looks a lot cooler.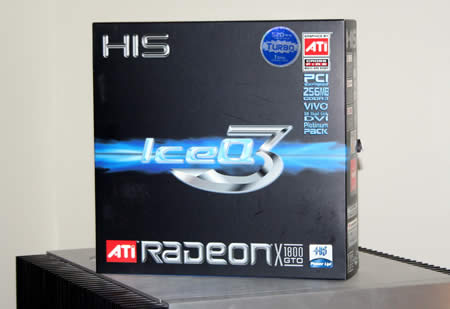 Inside the box you'll find the card as well as various cables and CD's.
FlatOut
Microsoft Dungeon Siege Full
3D Album PicturePro
PowerDirector 3 SE Plus
Power2Go 4
PowerDVD 6
VIVO Cable
HDTV Output cable
DVI to VGA Dongle x2
An not overly exciting bundle where the games are getting old and the rest of the software is cut-down versions that help you get going but leaves you wanting more.
The card looks like any other ICEQ-based card at first glance but then you'll notice small differences in the cooler. There is separate heat sinks for the memory and the GPU and there is a large heatpipe coming out from the heat sink over the GPU. It's a long card which of course requires two slots.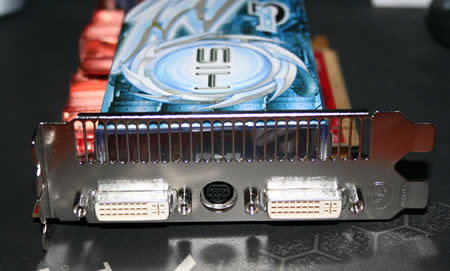 On the end you'll find two Dual-Link DVI-connectors as well as the VIVO-connector for Video.
BENCHMARKS – OVERVIEW
To test this card I used the following system and software:
Components
– ASUS AV832-MVP
– Athonl X2 4800+
– 2 GB Corsair PC3200 cas2 DDR
– HIS X1800GTO
– Reference X1800XL
– HIS X1900XT
– HIS X1600Pro
– ASUS GeForce 7600GT
– XFX 7600GS
Software
– Windows XP SP2
– DirectX 9.0c
– nForce4 6.53 drivers
– CATALYST 6.5
Synthetic Benchmarks
– 3DMark 2005 v1.2.0
– 3DMark 2006
Gaming Benchmarks
– F.E.A.R / ingame benchmark
– Half-Life 2 / Guru3D Lost Coast demo
Benchmarks – 3DMark 05
Our first synthetic benchmark is 3Dmark05 v1.2 from Futuremark. we tested the cards at the default setting as well as 1280×1024 with 4xAA and 8xAF.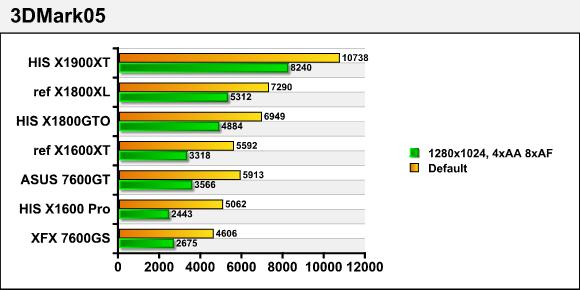 The HIS X1800GTO only is beat by the X1900XT and the X1800XL. the X1800XL only beats it with 4-8%. The ASUS 7600GT is left far behind.
Benchmarks – 3DMark06
Our second benchmark is 3DMark06 from Futuremark. We tested the cards with the default setting.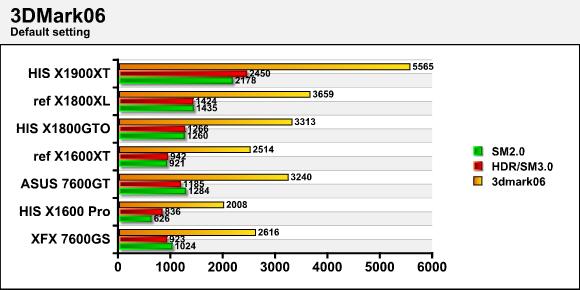 Moving to the more modern and demaning 3Dmark06 we see that the GTO trails behind the X1800XL with 10% while the ASUS 7600GT catches up.
Benchmarks – Half Life 2
Our first game is Half Life 2 from Valve. we've choosen to use the Guru3D lost Coast demo with maximum quality settings and 4x AA and 8xAF together with and without HDR.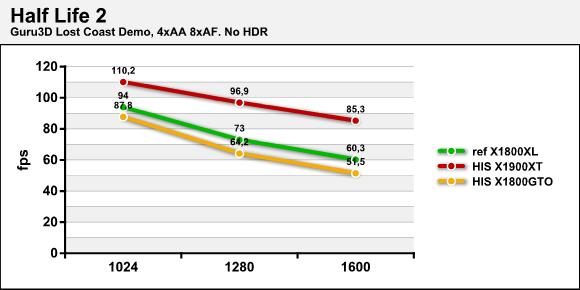 The extra 4 pipelines helps the X1800XL to beat the HISX1800GTO, even though it is only by 6-10%. The framerate still is impressive.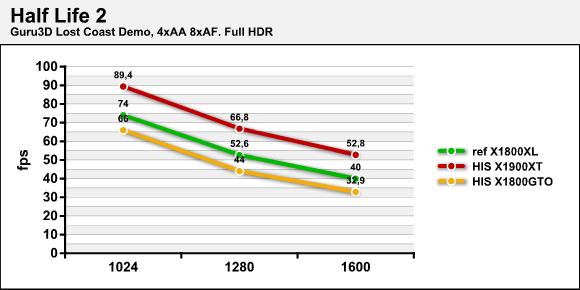 Turning on HDR does put more strain on the X1800GTO which means the X1800XL beats it by 12-16%.
Benchmark – FEAR
Our last benchmark is a game that is know for its impressive and demoanding graphics, FEAR. The cards were tested with all settings set to maximum except Soft Shadows that were set to off. The built in test-run was used.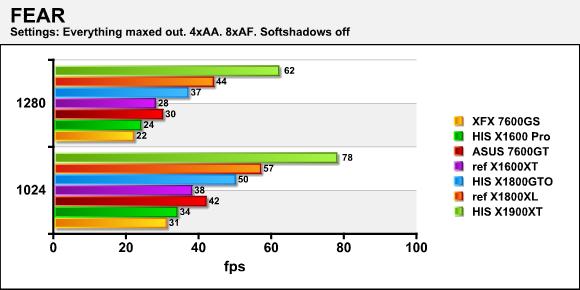 The results isn't really surprising. The X1900XT leads followed by the X1800XL and then the X1800GTO. The ASUS 7600GT follows and then we got all the rest of the cards.
While average framerate might be interesting, even more interesting is to see how the framerate fluctuates.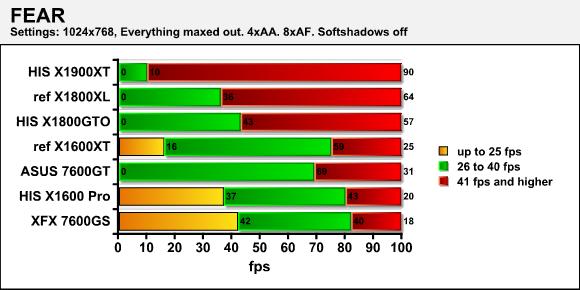 At 1024×768 only the X1900XT, the X1800XL, the X1800GTO and the ASUS 7600GT manages to not dip below 25 fps. The X1800GTO might 'only' beat the ASUS 7600GT with 8 fps when looking at the average framerate but it manages to keeps its framerate about 41fps was more than the 7600GT.
Moving up to 1280×1024 we no longer can keep the framerate above 25 fps. The X1800GTO still performs well, especially compared to the 7600GT.
CROSSFIRE

Just a few weeks ago ATI released a hotfix that added the support for bridge-less Crossfire for the X1800GTO. This means you can use two regular X1800GTO's in Crossfire mode. Unfortunately I didn't have access to two X1800GTo's at the time of writing so I could not test the performance gain.
AVIVO
One of ATI's strength in video cards is their video quality. AVIVO has lots of cool features that help improve the video quality:
Advanced 10-bit-per-color display engine
Advance 3D comb filtering
Automatic Gain
Great video scaling technology
High quality 12-bit analogue to digital converters (ADC)
Vector adaptive de-interlacing
Hardware decoding of h.264 material
During the World Cup in Soccer that at the time of writing is being played in Germany, the games are broadcasted in MPEG4 (h.264, 720p) through DVB-T (Terrestial). I've been testing the Avivo-support together DVBViewer and the h.264 codec in PowerDVD 7 and it definitely helps in taking strain from the CPU. There still are issues with occasional choppiness but hopefully the codecs will get more mature and use the ATI GPu better in the future.
With the 6.4 Catalyst drivers the HQV videobenchmark DVD the card managed to score 128 out of 130 possible points. While the benchmark is a bit subjective since you have to sit and "judge" if a card pass/ almost pass or fail a test it still gives a clear indication on how well a card can handle different situations when displaying video.
CONCLUSION
At a price of around ~220$ (Newegg) the card is at least $40 more expensive than the cheapest GeForce 7600GT cards while at least $50 cheaper than the GeForce 7900GT. Performance-wise it performs a lot better than the GeForce 7600GT and with the prospect of possibly it being possible to unlock some more pipes there's a lot of potential for the card. Even without any unlocking the performance is solid and I think ATI has found a perfect price-spot for this card forcing NVIDIA to consider making the 7600GT or the 7900GT cheaper.
As always HIS has made a solid card. While the bundle isn't anything special the ICEQ3-cooler makes all the difference and after using the card I cannot imagine having to use a stock cooler again. 
Pros:
Good performance
Excellent cooler
Decently priced
Can be Crossfired without a Mastercard
High probability it can be unlocked for 16 pipelines
Cons:
I award the HIS X1800GTO IceQ3 Turbo a score of 9 out of 10 and a Golden Bear Award.