Please join me today as we determine if LeadTek's quality of words captioned above stand tall and are transmitted into actions with one of their newest products, the LeadTek WinFast WinFast PX7950 GX2 TDH.
INTRODUCTION
Those of you that have read some of my most recent articles and reviews have noticed my budding interest in AMD and NVIDIA. These interests centered around motherboards containing the newly released NVIDIA 500 series of media and communications processors (MCP) and AMD's new line of Socket AM2 processors. For a guy that six months prior to this couldn't, or should I say wouldn't even spell NVIDIA or AMD this was quite a drastic change in thought process. Being somewhat anal and also a huge procrastinator when it comes to purchasing brand new, first generation products; my history also dictates that nothing is added to my collection without it being minimally a generation 2 of a product.
Last week all of the premises that I have lived by so closely went out the window when I obtained a brand new rig comprised of an ASUS M2N32-SLI Deluxe (NVIDIA 590) motherboard and an AMD socket AM2 X2 5000+ processor. My plans were to initially use an older GeForce 7800GT that I had on the shelf until such time as I did the appropriate research to determine the best video card to accentuate my new toys.
No more than a day or two passed when I received a message on my voice mail from Scott the Owner/Publisher of Bjorn3D asking if I'd be interested in doing a review on the new LeadTek WinFast WinFast PX7950 GX2 TDH. Having recently co-authored a review with Scott on another 7950 GX2 based card and being extremely hyped by the results this was an obvious sign verifying that I'd made a great decision to get the new products as all my previous rigs were AGP based. I wasted no time in contacting Scott and giving him a resounding YES!
Having reviewed two of LeadTek's video capture systems a few months ago and being highly impressed with both the quality and performance of those products I was extremely optimistic that this product would continue to improve upon that history. In preparation for the review I went to LeadTek's site and read a bit more about their history. Aside from the usual hoopla that all technical sites publish, one statement in LeadTek Research's corporate overview stood out!
"Innovation and Quality are all and intrinsic part of our corporate policy." "We have never failed to stress the importance of strong R&D capabilities if we are to continue to make high quality products with added value." "By doing so, our products will not only go on winning favorable reviews in the professional media and at exhibitions around the world but the respect and loyalty of the market." "For Leadtek, our customers really do come first and their satisfaction is paramount important to us."
Please join me today as we determine if LeadTek's quality of words captioned above stand tall and are transmitted into actions with one of their newest products, the LeadTek WinFast WinFast PX7950 GX2 TDH.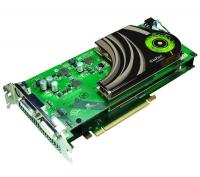 FEATURES & SPECIFICATIONS
Features
PCI Express support:  Designed to run perfectly with the next-generation PCI Express bus architecture. This new bus doubles the bandwidth of AGP 8X delivering over 4 GB/sec in both upstream and downstream data transfers.
High-Speed GDDR3 Memory on Board:  Enhanced memory speed and capacity ensures more flowing video quality in latest gaming environment especially in large scale textures processing.
Dual Dual-Link DVI: upport hardwares with awe-inspiring 2560-by-1600 resolution, such as the 30-inch HD LCD Display, with massive load of pixels, requires a graphics cards with dual-link DVI connectivity.
Dual 400MHz RAMDACs: Blazing-fast RAMDACs support dual QXGA displayswith ultra-high, ergonomic refresh rates up to 2048×[email protected]
Microsoft® DirectX® 9.0 Shader Model 3.0 Support:  The standard for today's PCs and next-generation consoles enables stunning and complex effects for cinematic realism.
HDCP Ready:  Allows playback of HD DVD, Blu-ray Disc, and other protected content at full HD resolutions with integrated High-bandwidth Digital Content Protection (HDCP) support.
High dynamic-range (HDR) Rendering Support:  The ultimate lighting effects bring environments to life for a truly immersive, ultra-realistic experience.
NVIDIA ® PureVideo ™ technology:The combination of high-definition video processors and NVIDIA DVD decoder software deliver unprecedented picture clarity, smooth video, accurate color, and precise image scaling for all video content to turn your PC into a high-end home theater.( Feature requires supported video software.)
Integrated HDTV encoder:  Provide world-class TV-out functionality up to 1080i resolution.
CineFX 4.0 Engine:  Powers the next generation of cinematic realism. Full support for Microsoft® DirectX®9.0c Shader Model 3.0 enables stunning and complex special effects. Next-generation shader architecture delivers faster and smoother gameplay.
UltraShadow II Technology:  Enhances the performance of bleeding-edge games, like id Software's Doom III, that feature complex scenes with multiple light sources and objects. 2nd-generation technology delivers more than 4x the shadow processing power over the previous generation.
64-Bit Texture Filtering and Blending with Advanced Memory Control:  NVIDIA's 64-bit texture implementation sets new standards for image clarity and quality through floating point capabilities in filtering and texturing.
NVIDIA® Intellisample™ 4.0 technology:   The industry fastest antialiasing delivers ultra realistic visuals, with no jagged edges, at lightning fast speeds. Visual quality is taken to new heights through a new rotated grid sampling pattern, advanced 128 Tap sample coverage, 16x anisotropic filtering, and support for transparent supersampling and multisampling.
OpenGL® 2.0 Optimizations and Support:  Full OpenGL support, including OpenGL 2.0
NVIDIA® ForceWare™ Unified Driver Architecture (UDA)
NVIDIA® nView® multi-display technology
NVIDIA® Digital Vibrance Control™ 3.0 technology
WinFast PX7950 GX2 TDH Specfications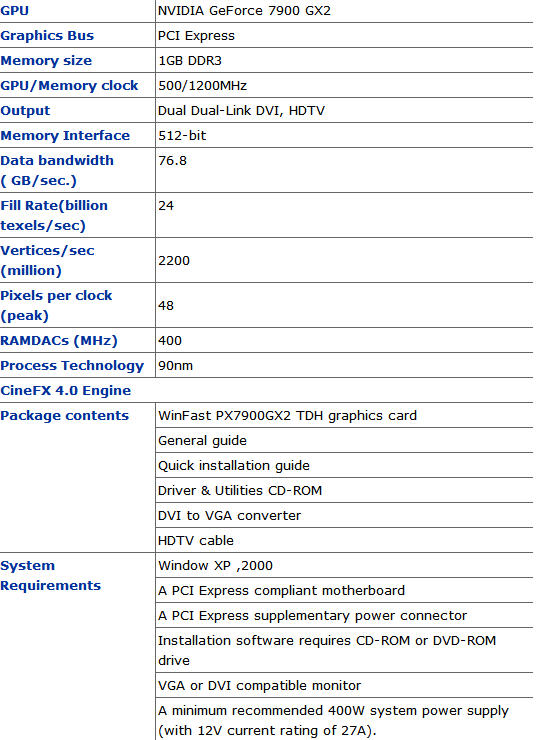 A CLOSER LOOK
When I unpacked the LeadTek WinFast WinFast PX7950 GX2 TDH from its shipping container I was really in awe of how solid the factory packaging for this card was. It has to be the best I've seen to date for any video card. Not only is the cardboard container dual layered, there is enough foam and bubble wrap strategically located on the inside of the container to protect it during even the worst of shipping experiences. Hmmm! Sounds like a job for the "Myth Busters"!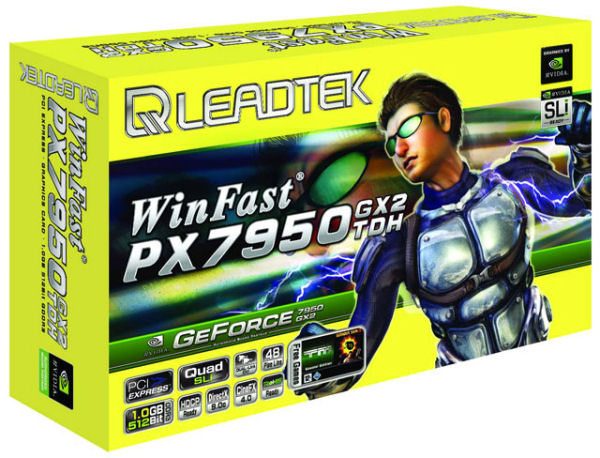 "The Package"
At first glance I noticed the card to aesthetically pleasing as are all the NVIDIA® reference based cards are. LeadTek chose to make the swirls on the faceplate of the top heat sink varying shades of brown and tan, which look equally appealing as opposed to the all green scheme on the reference board. Otherwise the placid, relaxing green color scheme is a bit of a paradox for a thoroughbred card with the features and obvious horsepower that this card possesses. One would expect it to be painted bright red with orange luminescent flames. What do I know? My wife is a professional artist and frequently reminds me that I have less ability than a two year old when it comes to choosing appealing color schemes.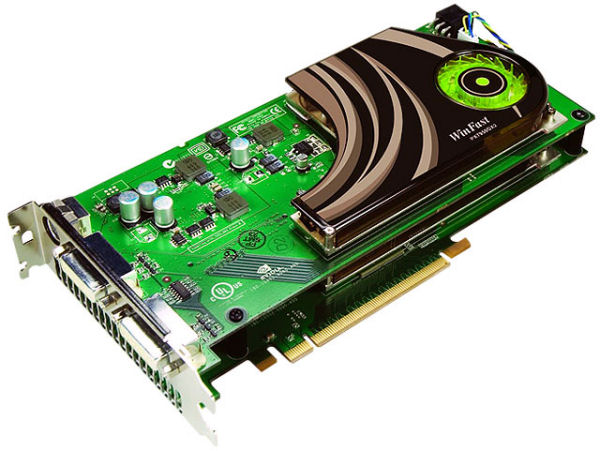 WinFast PX7950 GX2 TDH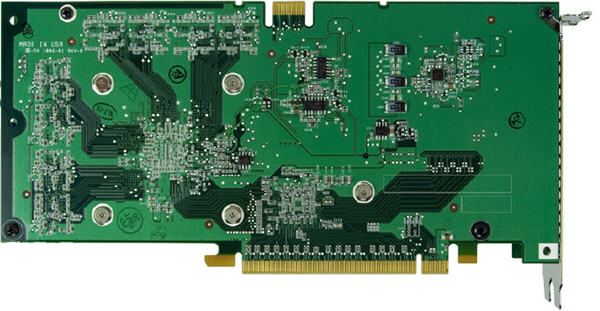 WinFast PX7950 GX2 TDH (Back View)

WinFast PX7950 GX2 TDH (Top View)
A CLOSER LOOK cont.

WinFast PX7950 GX2 TDH (Rear Bracket)
As with all of the 7950GX2 based cards two slots are occupied. Even then the installed card pictured below in my Lian Li G70 case takes up much less system room and provides much easier cooling options than does a similar SLI system.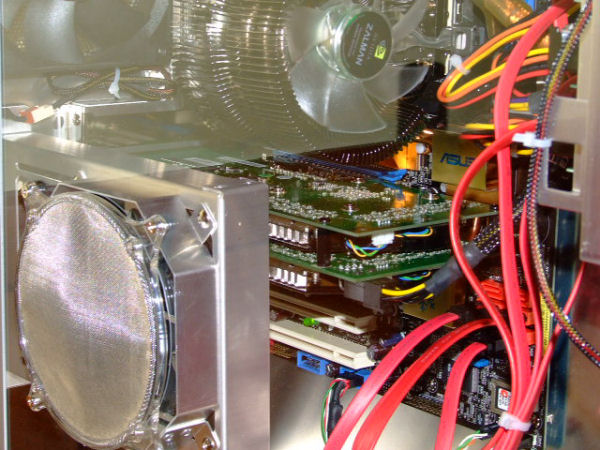 A quick look at the pictures, features and specifications shows that LeadTek has completely followed the reference design as set forth by NVIDIA® and has not initially overclocked the card to appeal to the Computer Enthusiasts as several manufacturers do. Given the recent problem(s) experienced by many consumers with a number of the factory overclocked 7900GTX cards I would say that this is a pretty smart idea.
Don't get me wrong, this card offers plenty of headroom for overclocking as will later be demonstrated. Please don't take my comments as in any way condemning those manufacturers that choose to sell factory overclocked cards, as many function with out issue. I simply feel that until the boundaries of any new card have been fully investigated that this is safe and very sound strategy.
The Bundle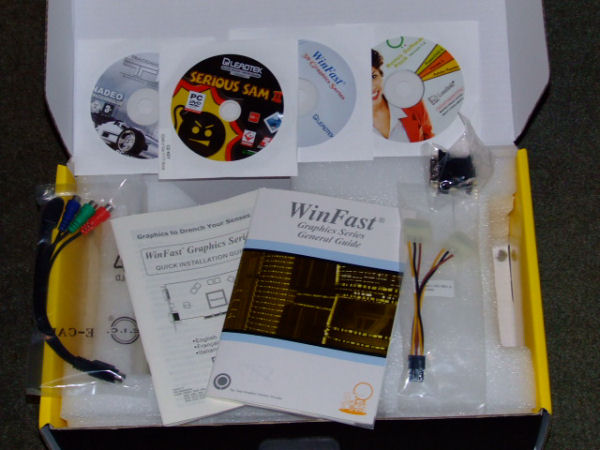 "The Bundle"
Included in the bundled software and hardware accessories are:
General guide
Quick installation guide
Driver & Utilities CD-ROM
DVI to VGA converter
HDTV cable
Serious Sam II
Trackmania Nations
PowerDVD™ 6
WinFox II Utility
A CLOSER LOOK cont.
NVIDIA® Control Panel
I'll have to admit even though I recently wrote some information about the new NVIDIA® Control Panel in an article I co-authored with Scott Sherman, I was only moderately impressed as I had very little chance to use it. Well today that all changed! The new Control Panel absolutely ROCKS especially with NTUNE installed. I was able make all the changes I used during this review as well as tuning my system without going into the BIOS with this application. I thought I'd throw in a few screen shots just to remind you of the functionality that this new tool contains.

Main Control Panel Screen
The Main Control Panel Screen is the pathway to the rest of the functionality provided.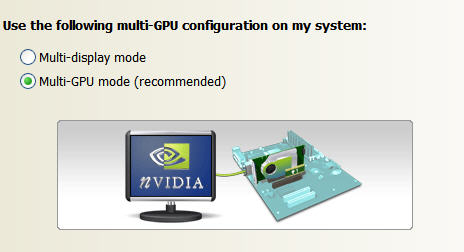 GPU Adjustment Panel
With the GPU Adjustment Panel you can select between using your 7950GX2 as either a single dual processor unit going to a single DVI ouput or using it as two single processor units each servicing a separate DVI output.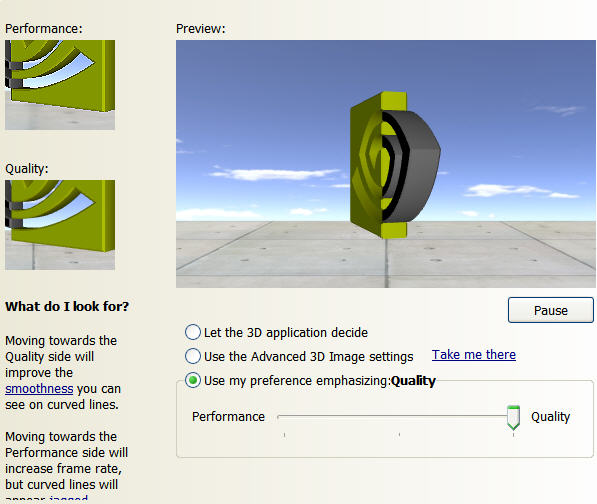 Image Adjustment Panel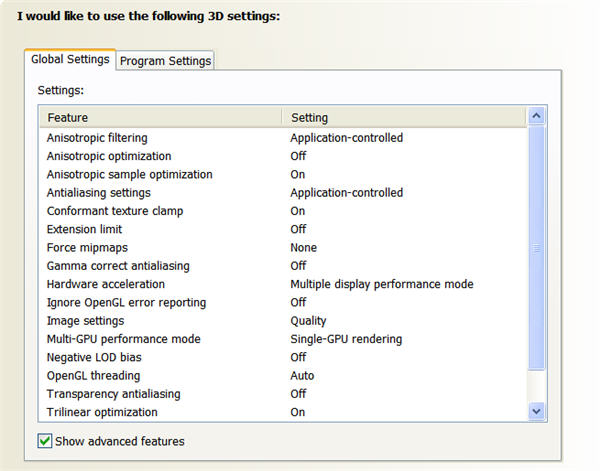 3D Adjustment Panel
The Image Adjustment Panel allows you to select either quality and performance settings, or any place in between. It also allows you access to the 3D Adjustment Panel in which you can set your specific image adjustments based on the program/game that you are running. Initiating the program initiates the settings you have dialed in.
A CLOSER LOOK cont.
NVIDIA® Control Panel cont.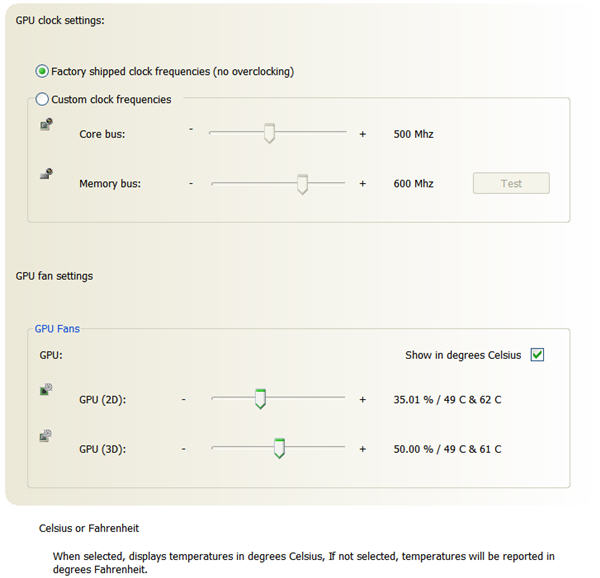 GPU Clock Adjustment Panel
The GPU Clock Adjustment Panel allows you to not only control the output of your GPU and its memory, it also allows you to adjust the fan speed incrementally to compensate.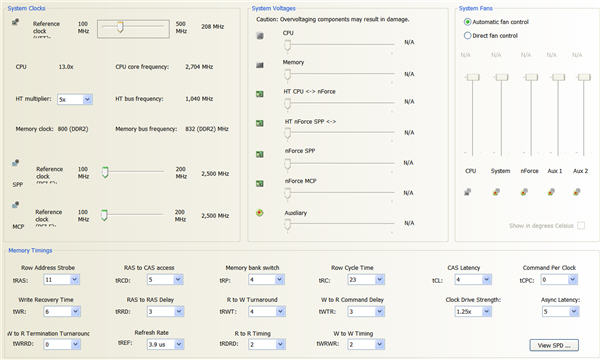 System Adjustment Panel
The system adjustment panel allows you to control almost every aspect of your system's operation without the need of of going to the system BIOS.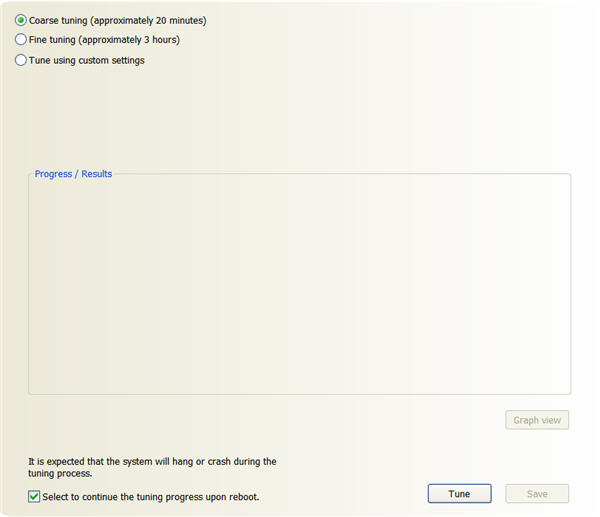 NTUNE Adjustment Panel
Finally, the NTUNE Adjustment Panel gives you the option of allowing your system to be custom tuned to its best performance specifications while still maintaining a very high degree of reliability. There are three methods available:   1) Coarse Tune – which takes approximately 20 minutes to perform and gets the settings in the ball park; 2) Fine Tune – which can take upwards of 3 hours and refines the settings repeatedly until you're completely dialed in; 3) Tune Using Custom Settings – where you specific your setting requirements and NTUNE attempts to achieve them. NTUNE use very complex algorithms that have been developed to achieve the task at hand. I have only personally used the Coarse Tune feature, but was extremely impressed with the outcome.
TESTING
Test System
AMD X2 5000+ running at default speed
ZALMAN CNPS9500AM2 HSF
ASUS M2N32-SLI Deluxe nForce 590 motherboard
2GB of Mushkin Redline XP2-8000 DDR-2 (4-5-4-11-1T @ 2.0 volts) This product will be featured in my next review!
LeadTek WinFast PX7950 GX2 TDH running ForceWare 91.29 drivers
2 – Seagate Barracuda 7200.7 120GB drives
Lian-Li G70 Case customized by Performance PCs
Windows XP Pro SP2
Samsung Syncmaster 213T 21.3″ LCD Monitor
Benchmarks
3DMark06
Counter-Strike: Source, Video Stress Test
F.E.A.R. v1.05
Far Cry
Serious Sam II
Testing Methodology
I will be testing the LeadTek WinFast PX7950 GX2 TDH card in dual CPU mode compared at the stock settings: Core Clock: 500MHz, Memory:600MHz. I will then rerun the above captioned benchmarks on the GPU moderately overclocked to: Core Clock 550MHz, Memory 730 MHz. The AMD 5000+ processor will be run at a default speed of 2.6 Ghz. 3DMark06 will be run in default mode while all other tests will be run at the standard 1600 x 1200 resolution with Anti-Aliasing set to 4x and Anisotropic Filtering set to 8x.
I sincerely wish I had a comparable card to benchmark alongside LeadTek WinFast PX7950 GX2 TDH but currently as I stated earlier I only have an older model 7800GT which I don't believe would provide much competition for this behemoth.
The benchmarking tests will again be run on what we refer to as a "real world system" which was initiated during a recent review meaning I will run all the background applications that we run in every day life and not sequester them as are done by some reviewers to enhance benchmark results. Among the applications running in the background on our test system are:   NOD32 AV, Trillian, SnagIt, Steam and some other system applications that are too numerous to mention. Our hope again in using this approach are to give you as close to possible the results you'd achieve if you were running these benchmarks on a similar system in your home. No other secondary enhancements to improve benchmark results will be run either.
TEST RESULTS
3DMark06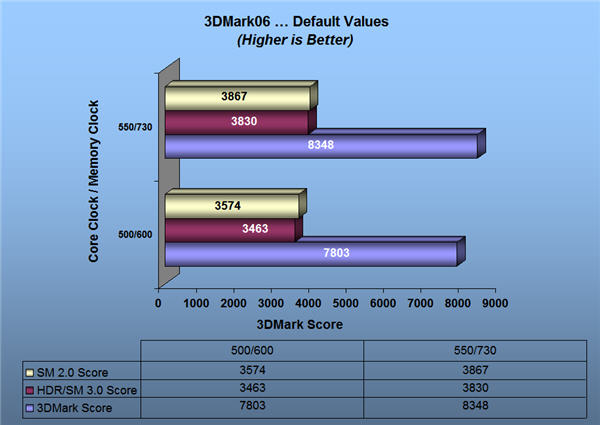 Counter Strike: Source, VST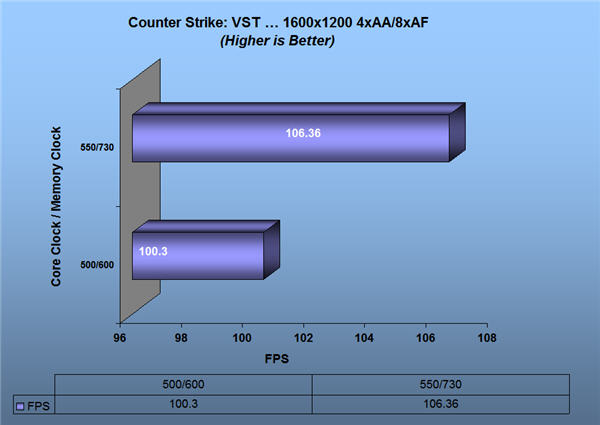 F.E.A.R.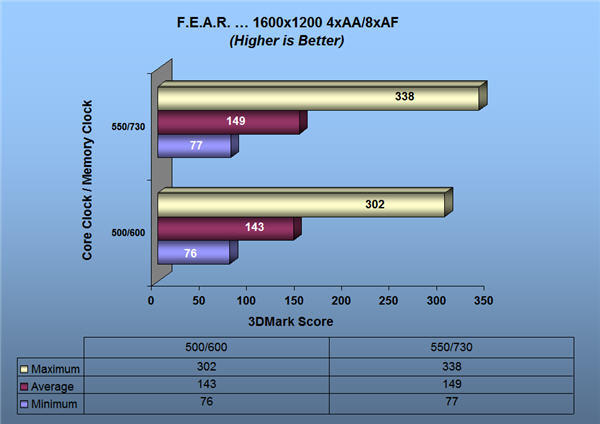 TEST RESULTS cont.
Far Cry 1.05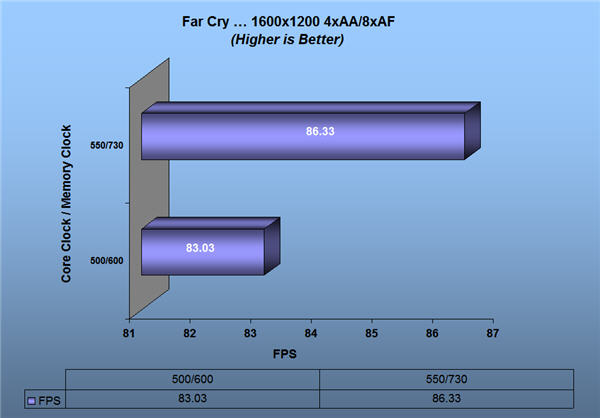 Serious Sam II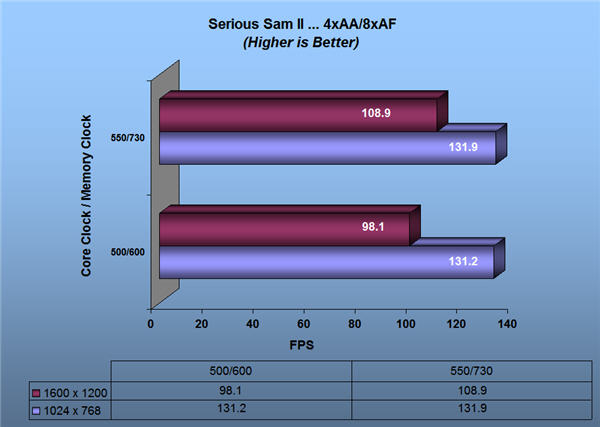 Impression
While not as fast out of the box as some of its factory overclocked competitors the LeadTek WinFast PX7950 GX2 TDH has more than ample headroom to reach and most certainly surpass the competition. I wasn't hesitant to go higher in my clocking the card during testing but I felt I'd leave something for you to experience when you decide to buy LeadTek. I'm extremely impressed with the performance and might add for the record that I successfully overclocked this baby to a core clock of 600 and a memory clock of 800 and ran a few tests with the expected increase in performance and no artifacts whatsoever.
One of the most impressive things to me aside from this card's obvious performance was how cool it runs. My Lian Li G70 is setup with a mid-speed 120mm fan (44cfm) blowing directly on the video card. With the 120mm fan running and after many hours of gaming and testing I could not drive this card above 65 degrees Celcius, idle temperatures run in the 45 degree Celsius range. I thought I'd disconnect the 120mm fan and also test how well the card cools without an equalizer. Remarkably the card only reached 70 degrees Celsius during maximum load and idled around 48 degrees Celsius.
The card is also extremely quiet and at no time during either my gaming or testing sessions did I ever so much as hear the fans ramp up one time. While not totally trusting my hearing due to some damage I experienced in my younger and wilder years, I monitored the RPMs of the fans quite closely. During all of my gaming, testing, and even during my 600/800 overclock they stayed within 5% at load of their idle range and you've already read how the temperatures fared.
CONCLUSION
First and foremost let me say that in the three reviews of LeadTek products that I've performed, I've found LeadTek does in fact hold true to their words that I quoted in the Introduction. From my perspective they produce a high quality product that's meant to last and the LeadTek WinFast PX7950 GX2 TDH is certainly no exception. When you have a product of this obvious quality made by a manufacturer with this mission I'd say you're in pretty good hands!
One of my pet peeves in any computer system is having a single component product that makes more noise than any of the rest. This is extremely aggravating and quite a nuisance even with my decreased hearing. In most cases I have found the culprit to be the video card. Such was certainly not the case with the WinFast PX7950 GX2 TDH, everything appeared unchanged with this card running even at its highest settings. For that alone I give it an A+.
The only negative I could find with this card was its price which averages in the $580 USD range. This will not preclude the high-end Computer Enthusiast from strongly considering this card for their arsenal. The average user, well the average user's system probably doesn't cost this much; but then again this product or this review isn't aimed at the average user.
To call this one of the best video cards I've had the pleasure to review might be overkill, but if overkill so be it! I highly recommend it for anyone looking for a premier quality video card. Let's sum it up by remembering what this card has to offer, it's fast, cool, quiet, HDTV 1080i compatible, it comes with a more than adequate bundle of software and hardware accessories. It would be perfect if only it came with fresh baked apple pie ala mode, that withstanding let's say it's pretty damn close.
Pros:
+  Excellent core overclockability
+  Excellent memory overclockability
+  Runs extremely quiet
+  Excellent cooling
+  Excellent utilization of system resources
+  New and enhanced control panel
Cons:
–  Cost may preclude some users from buying
Final Score: 9.0 out of 10, and and our highest award, the Golden Bear Award