The Rainbow fan TC is something as cool as a fan that displayes the temperature onto it's blades while spinning. It's probably not that usefull byut definitely eyecatching.
INTRODUCTION
These days our cases are filled with fans to get rid of all that hot air that is produced by our CPU's, our GPU's, our hard drives as well as everything else we put into the cases. To measure temperatures we either use software or led-displays that we place in the 3.5" or the 5 ¼" spaces in our cases. But what if we could see the temperature of the air right away on the fans? This is where this quite funny fan from Sharkoon fits in. The Rainbow Fan TC projects the temperature onto the spinning fan-blade making it possible to monitor the case-temp by just looking at the fan.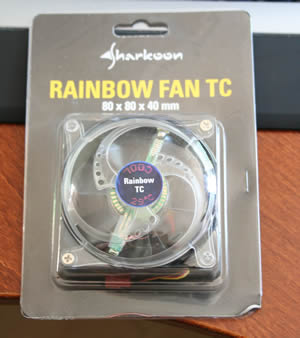 SPECIFICATIONS AND FUNCTIONALITY

The specifications of the fan are as follow:
12V fan
2250 rpm
32.5 m3/h (19 CFM) Airflow
28 dB
3.6W Power consumption
80x80x40 mm
Skarkoon themselves describe the fan this way:
The Rainbow Fan TC is capable of reading out the current case temperature and projecting it onto its fan blades. Thus it offers the feature to always control your actual case temperatures, which gives the fan its name: Rainbow Fan TC – Temperature Control. A chip on the PCB synchronizes fan speed and projection, in order to always keep the text readable independent of the current rotation speed.
TESTING
Unfortunately I had no place for a 80mm fan in my test-system but I hooked it up to the motherboard and let it stand inside the case. The effect is actually really cool but the pictures really does not do it justice. The text is sharp and very readable.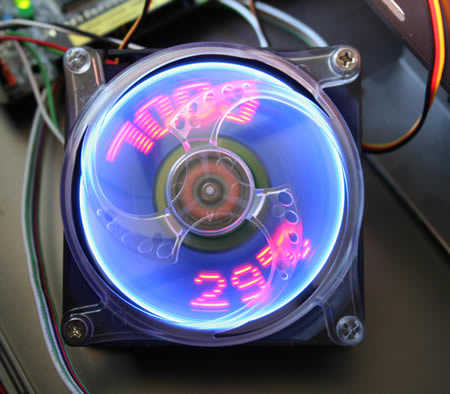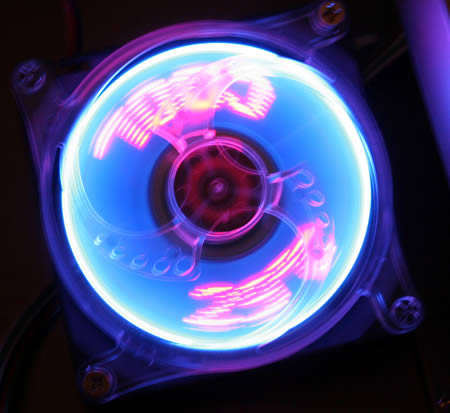 The text is much clearer and sharper in real life.
As you can see it's pretty hot in my room right now (I run with an open case) and blowing hot air at it directly changed the reading on the fan-blades. The temperature displayed also was in line with what other temperature probes were saying so it seems pretty accurate.
Even though the noiselevel is rated at 28 dB I actually thought it was pretty quiet. I had to put my ear close to hear it over all other fans and noises in the case.
CONCLUSION
Do you really need a fan that displays the temperature? Probably not. Still, it's a cool idea that works well in a case with a window. It sure will draw some attention. The fan also is pretty quiet so even if you don't really need the temperature reading is has its uses in a case. Hopefully they will release larger versions of this soon. Imagine being able to put your own message together with the temperature on a 120mm fan.
Thanks to CrazyPC for giving us the opportunity to test this cooler.