The Swiftech MCX159-CU is all-copper chipset cooler that comes with fittings for most types of motherboard. With a fast fan as well as a interesting design it promises lots of cooling for hot Northbridges.
INTRODUCTION
One thing that I don't like with many nForce4 motherboards is that their Northbridge chipset get quite hot and most companies thus have to use fans to coole the chipset. There's nothing wrong with using a fan but too many companies put fast spinning fans that both are loud and prone to failure after a while. I had an ASUS nForce 4 motherboard where the chipset fan not only was loud but also died on me after a year.
CrazyPC sent us an interesting chipset-cooler from Swiftech, the MCX159-CU, which uses a pure copper heatsink together with a Sunon 40mm fan.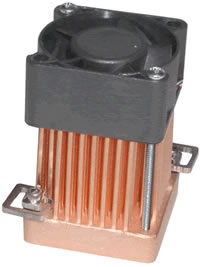 SPECIFICATIONS AND FEATURES
MCX159-CU™
Base dimensions 1.59 x 1.59 x 0.375″ – 40.4 x 40.4 x 12.7mm
Base material Copper C110
Base flatness +/- .0003″
Heatsink overall dimensions without fan 1.59 x 1.59 x 1.63″ – 40.4 x 40.4 x 42 mm
Heatsink overall dimensions with fan 1.59 x 1.59 x 2.34″ – 40.4 x 40.4 x 59.4mm
Weight with fan 7.9 oz – 223 g
Fan summary specs 40x20mm fan 12V DC 2 wires (no RPM output) – 6 CFM 18dBA
Performance * 1.25°C/W 
Main features
All-copper forged thin-pin design
Ultra quiet (18 dBA) VAPO bearing Sunon 40mm fan
Extreme duty heatsink
Shipping with hold-down mechanisms for both Intel® and AMD® platforms. (for compatibility with various motherboards, check http://www.swiftnets.com/products/mcx159-CU.asp)
WHAT YOU GET
The cooler comes in a small brown cheap-looking box.
In the box you'll find a lot of stuff:
The cooler with the fan screwed on.
Clips for Intel motherboards
Thermal Paste (Arctic Silver Ceramic)
Various screws and stuff
Neopren pads (used when you have a raised core in the middle and you need to stabilize the heatsink)
Allen wrench
Manual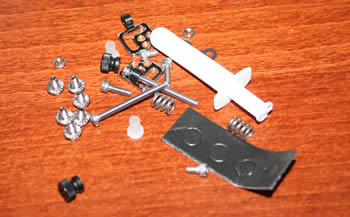 The heatsink is really cool looking. It is quite tall while making sure not to be larger that the chip is cooling. As long as you got space above the chipset this cooler should fit on your motherboard.
INSTALLATION
Installing the cooler is pretty easy although with most AMD-motherboards you need to remove the motherboard from the case and put two screws up through the holes by the chipset. If you got an Intel platform motherboard there are some clips supplied that look much easier to use.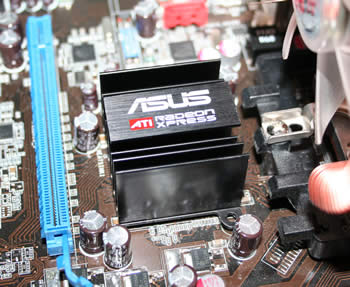 The cooler I want to replace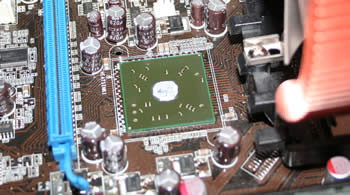 Since the core is raised I need to use the neopren pads.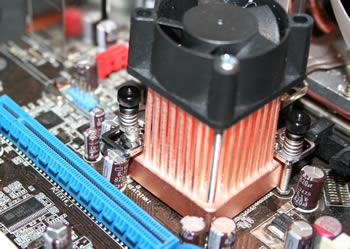 If there is capacitors close by you can use a
spacer to raise the screws.
Swiftech includes enough various screws and brackets to make it fit on most motherboards. Even on a motherboard like mine where I have capacitors close by works when you use the extra bracket to move the screws higher.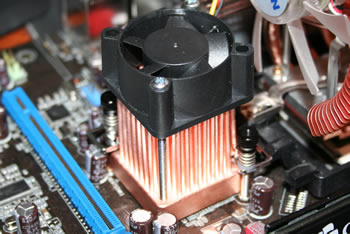 PERFORMANCE
I choose to put the MCX159-CU on my ASUS A8R32-MVP Deluxe motherboard. This is a motherboard using the ULI M1575 Southbridge and the ATI Crossfire Xpress 3200 Northbridge. The ULI chip sits behind the two PCI-Express slots and is covered by the dual-slot video cards I am using. This leaves me with the Northbridge chip. This has an ATI heat sink without a fan.
Using a Crossfire Xpress 3200 motherboard isn't the best choice for this testing since ATI motherboards run a lot cooler than nForce4-based motherboards. Still, after checking the temperature at idle and after a few hours of PCmark05, SiSoft Sandra and some gaming the MCX159-CU manages to lower the temperature of the chipset with at least 5 degrees C. I'm pretty sure the gain would be even higher when using it on a NVIDIA-based motherboard.
My main complaint however is that the fan is running at 7670 rpm and is quite noisy. I'm actually a bit surprised at this since Swiftech themselves says this fan should run at 5200 rpm. They also say it is a two-wire fan, which would mean you couldn't monitor it, but my fan had three wires and I could monitor it in the ASUS PC Probe II application.
I suggest getting some software to control the fanspeed and turn it down a bit.
UPDATE 20060621: A reader (Kevin V:) made me aware that the cooler that I had gotten was the CrazyPC version which uses a different fan which blows 8.9 CFM of air at 7200rpm and 26dba. The normal version uses the slower fan and is virtual noiseless.
CONCLUSION
This positive side with this cooler is that it is well made, offers a lot of ways to put it on a motherboard and offers better cooling that most stock fans/heatsinks. The negative side is that it still is a bit noisy.
The main reason you would replace your stock chipset cooler would be if you are not happy with its noiselevel or you want to have better cooling so you can overclock the FSB more. Since it still is quite noisy I would not get this one if reason one is why I am looking for a new cooler. However, if you need that extra cooling this cooler is doing a great job and at ~$35 it's also reasonably prized.
Thanks to CrazyPC for giving us the opportunity to test this cooler.