The Insomnia365 Game Servers provide an easy way to administrate game-servers on the net. We have tested one server for a few months to see if they are worth the money.
INTRODUCTION
When ID announced that Quake would be a multiplayer game only I didn't know what to think. In fact I seem to remember writing about it on this very site being very skeptical arguing that people first and foremost wanted to have a solid single player experience. How wrong I was.
Had I thought a bit longer I probably would have figured out that multiplaying was the future. Even when playing in the arcades one of the cool things was to either just compete with fellow gamers for the top score or even play against them on the same arcade cabinet. So why would playing on the computer be any different?
Since the early days with Nethack, MUD, Quake and Duke Nukem 3D things have evolved a lot. These days very few games come without a multiplayer component and in many cases it is the main thing with the single player campaign serving as training for the "real thing".
Playing with others usually is easy. You fire up the game, us the in-game browser and find a game to play. That usually works great if you're a lone-wolf but as soon as you become a small group of people playing, maybe a clan or just a bunch of gaming friends, things get a bit more complicated. Now you need to find a server where you all can play. As long as you aren't in control over that server you are at the mercy of the administrator. A better solution is to host your own server.
Setting up your own game server actually is pretty easy. Most games have a free server-component that can be downloaded and set up either under Linux or Windows. The problem of course is that you first of all need a server and second of all you need the bandwidth. So setting up the server at home might not be the best option.
The Planet has a game server line called Insomnia365 which promises not only to give you a good server for your games but also make it easy to administrate and set up the games. We got a opportunity to test a server for a few months and on the following pages we're going to tell you what was cool and what was less cool with this whole package.

THE SPECIFICATIONS
The Insomnia365-package comes in several flavors.
| | | | | | | |
| --- | --- | --- | --- | --- | --- | --- |
| Model | Processor | RAM | Hard Drive | Uplink | Bandwidth | Price  |
| P28 | 2.8GHz P4 | 512MB | 36GB SATA | 10Mbps | 2000GB | $139/Month |
| EEG-P3.2 | 3.2GHz P4 | 1GB | 1 x 160GB SATA | 100Mbps | 2000GB | $179/Month |
| EEG-P950D | 3.4GHz P4 | 2GB | 1 x 250GB SATA | 10Mbps | 2000GB | $209/Month |
| EEG-DX3.2 | Dual Xeon 3.2GHz | 2GB | 2 x 250GB SATA | 100Mbps | 2500GB | $359/Month |
| EEG-DO265D | Dual Opteron 265 (Dual core) | 2GB | 2 x 160GB SATA | 100Mbps | 3000GB | $379/Month |
The cheapest server probably isn't the best to get if you intend to host more than one game (or a larger BF2 server) but I recommend checking out in the forums at theplanet.com to discuss the requirements of the particular game you want to host before deciding which server to get.
Each server can be had with RedHat Enterprise Linux 3.0 or Microsoft Windows Server 2003 and the control panel that is use is Cortex (more about that later though).
Included with Every Server
Flexible monthly agreements
Premium grade hardware
99.9% Service Level Agreement
Full Root access
Full monitoring (Ping, Service, System, Process)
System software updates
Private VLANs
Linux, Windows or FreeBSD
Managed DNS
Free 24 Hour Live Technical & Sales Support
Orbit(TM) Customer Control Portal
Free Advanced Security and Other Tools
Arbor PeakFlow DDoS Detection
Cisco Guard DDoS Mitigation
Urchin Web Stats
Free 24 Hr Live Sales & Support
Available via telephone, chat, e-mail and tickets
On-site hands and eyes
Administration from Certified Engineers available
Free Orbit(TM) Customer Control Portal
Secure access to all your servers and your account
Reboot-On-Demand
Manual reboot requests
Live, up-to-date bandwidth reporting
Administration reporting
Hardware tracking
Domain registration
Accounting tools
Specials on additional services
Robust ticketing system
In addition to these features you can also add more stuff including upgrading from 10 Mbps to 100 Mbps on the servers that only got 10 Mbps as standard as well as get backup-solutions and control panels for the actual server (Plesk, Cpanel or Helm).
THE SUPPORT
While we only had this game server for about 2 months and thus didn't have so many reasons to use the support we've had Bjorn3d.com there for quite some time now and thus have quite a lot of experience with their support. So far I've been very impressed with it. We've on several occasions have had to contact them due to problems with the site. These have been problems that were due to lots of traffic combined with a crappy file download-script, a security issue with phpBB that allowed hackers to put Trojans in the temp cat (even though I had secured it – grrrr) as well as other minor issues related to the site or the software. In each of the cases it has been easy to get in contact with them either over phone or through their Orbit Customer Control portal where you can set up tickets.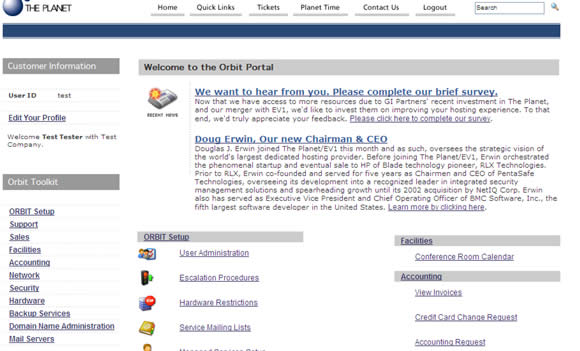 In the Orbit Portal you can administrate a lot of things on your server.
You also can have contact with support there.
Even reboot requests during late hours have been swiftly taken care of and in some instances where we couldn't reboot the server ourselves (you can do that from Orbit) and the customer rep couldn't do it himself from his terminal they got someone to physically go to the server and reboot it without having us wait to long.
The Planet also got nice forums where you can get answers to many questions and I've used them many times when I've been uncertain on things.
CORTEX
The control panel on these servers are the Cortex Game Panel. This software allows you to manage all the different games that you can install on the server.
The main features of the Cortex Game Panel are:
Remote Game Installation
Never upload games from your home connection again. Cortex downloads all content from high speed content and update servers hosted in your local datacenter. Using Cortex you can get your game server set up in minutes as opposed to hours. Tooltips are provided to help you configure your server as well as our own default configurations that have been worked out with the game developers and CAL administrators to ensure a great experience right out of the box.

Easy Server Configuration
Easy to use forms make server configuration a snap. Cvars are explained right on the form, so you're never in the dark about how to set yours up.

Map Rotation Management
Each game server has support for multiple map rotations in Cortex. Web based forms let you add in maps, map packs, and place them into your map lists. Move maps around to your liking and save them to your server with the click of a button without ever having to touch a file.
Configuration Management
Cortex allows you to control multiple server configs, save them to your server to run later, export them to your web browser so you can run the same config elsewhere, and import your own custom configs. Cortex's backend database takes care of the work for you, giving you more time to manage your server and play.

Hardware Status
View the realtime state of your system. Cortex lets you view your current CPU, memory, hard drive and network usage. Since you can access Cortex from any web browser you'll never have to wonder how hard your server is working again, no matter where you are.

RCON Support
Most other game control panels have a fire-and-forget style of rcon. You send a command to it and hope that the server did what you asked. Cortex allows two-way communication between you and your game server. Send a command to it on one of Cortex's realtime forms and get the server's response immediately. Now you don't need to be sitting in front of the game to use your server's rcon.

Statistics
Supported games have their player and uptime stats tracked by the awesome GameMonitor service. Use a custom GM signature image for your game server on your site and forum posts.

Game File Management
Get direct access to your game server's files via more easy-to-use web forms. You can zip up logs and download them, move files around, upload your own files, and much more with our filebrowsing tools. Or if your users prefer to work directly with their instance's files they'll enjoy having access to Cortex's built-in FTP server without having to use the file browser interface.

Game Uptime
Game servers aren't perfect, and we all know how gamers react when they're not working. Cortex helps you by automatically restarting your servers if they crash. Game servers are set up to start on system boot, so if your whole server goes down you won't have to log into it to restart everything.

Skinning
Give Cortex your own look and feel by designing a custom skin

Manage Multiple Servers through a Single Interface
Control all your servers at once by putting them on a Cortex Cluster. Secure communication between Cortex servers lets you manage multiple physical servers from any one of the servers on your cluster. If any of your servers go down, the cluster will keep on going and keep your business afloat.

User Management
Set up Cortex users and distribute game servers to them. Users can only control the game servers you assign to them while the admin account can work with all games running on your server.

APIs
Integrate Cortex into your site and billing systems. Those with a head for development can browse our online documentation and learn how to make Cortex work with existing programs like ModernBill or your own custom solutions.

Network Diagnostics
Fixing lag can be real pain. Cortex takes some of the work out of it by letting you ping and send traceroutes from your game server to connected users or any IP address of your choice. DNS tools like nslookup and whois top off the mix to put easy network troubleshooting at your fingertips.

Notification Systems
Take the guesswork out of your servers. Cortex's event notification systems let you and your users know when a game is updated, if they crash, when they're created, welcome new users to the system, and much more via email. Create your own custom notifications to give your users the best possible experience.

News and Announcements
Keep your users up to date when they log into Cortex by giving them custom announcements. Cortex's news management system works with the Insomnia365 update system to keep you and your users in the know.
In short the Cortex Game Panel promises to make it a snap to install, config and control all the games on the server. We'll see about that in a second.
So what games are supported by Cortex? The list is actually pretty big.
Counter-Strike: Source
Day of Defeat: Source
Half-Life 2 Deathmatch
Battlefield 1942*
Battlefield 1942: The Road to Rome*
Battlefield 1942: Secret Weapons of WWII*
Battlefield 2 * ***
Battlefield 2: Special Forces
Battlefield Vietnam*
Desert Combat Final*
Counter-Strike**
Counter-Strike: Condition Zero
Day of Defeat
Half-Life
Natural Selection
Team Fortress Classic
Call of Duty*
Call of Duty – United Offensive*
Call of Duty 2 (Windows Servers Only)
Unreal Tournament 2003
Unreal Tournament 2004
Quake 4
America's Army: Special Forces
F.E.A.R. (Windows Servers Only)
Halo (Windows Servers Only)
Red Orchestra: OSTFront 41-45
Return to Castle Wolfenstein
Return to Castle Wolfenstien: Enemy Territory*
Soldier of Fortune II*
Star Wars Battlefront II (Windows Servers Only)
Star Wars Jedi Knight 3: Jedi Academy
Medal of Honor: Allied Assault
Medal of Honor: Allied Assault: Spearhead (Windows Servers Only)
Medal of Honor: Allied Assault: Breakthrough (Windows Servers Only)
Medal of Honor: Pacific Assault (Windows Servers Only)
* Punkbuster supported
** AMX Mod supported
*** BF2CC supported
In addition to all the games there's also some add-ons available with the server
Voice Server
The CortexSM control panel supports Teamspeak, one of the most sought after add-on services for the gaming community. Teamspeak enables gamers to speak with one another over the Internet, providing the highest level of game play available. The Teamspeak server acts as a host to multiple client connections, capable of handling literally thousands of simultaneous users. This results in an Internet based teleconferencing solution that works in a variety of applications such as team mates speaking with one another while playing their favorite online game on The Planet's Insomnia365 servers.

Punkbuster From Even Balance
Even Balance, Inc. spearheads the effort to fight cheating in the online multiplayer gaming industry. The company's PunkBuster Anti-Cheat software technology and services combat online cheating in some of the most popular games being played over the Internet today. For more information on Even Balance, visit www.evenbalance.com

Ranked BF2
Insomnia365 is one of the few dedicated server providers certified for official Battlefield 2 ranking. Just enter "bf2ranked" in the promo code field when purchasing your server online or let your salesperson know that you want your server to be a Ranked Battlefield 2 server
While you can get a Ranked BF2 server you will loose all administration rights to the actual server although you still will have access to the Cortex Game Panel.
USING CORTEX
After you log in into Cortex you should set up a user so you can start using the games. I had some issues understanding exactly what to do since Cortex threw up errors when I only had the administrator user setup (it complained about the lack of an e-mail address which I had entered) but after I set up another user I from that moment had no problems at all. I'm sure if I had read the WIKI for the Cortex Control Panel a bit better I would have figured out how to get everything working with my default administrator user but since it worked fine I didn't bother investigating this more.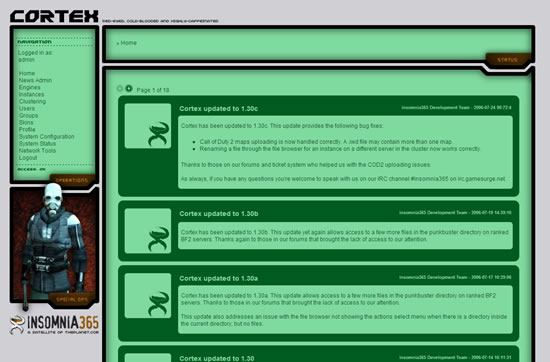 This skin can be changed and re- or de-branded.
The first thing you will see in Cortex are the news. Here you will get news about new patches for either Cortex or for various games. You then can opt to install a patch/upgrade Cortex or the game or not. I found it great that I didn't have to hunt for patches or anything and that everything was already present and could be downloaded in a few seconds directly from The Planet. As the patches and upgrades are downloaded from inside The Planet the speed is very good.  
Engines and Instances
When you want to install a game on the server you go to the Engine-link and choose your game. It will then download from the central server and automatically get installed. After the game is installed it is ready to be used. The only exception might be Steam-based games that are fetched from Steam (through The Planet) and which can take a bit longer to download. I'm not sure if The Planet have them locally now or not.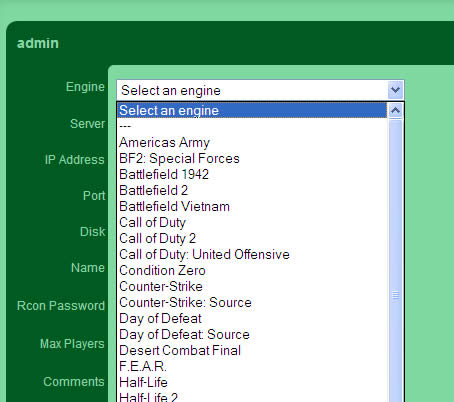 Hmm, what game do I want to create a server for ….
Next step is to start an instance. An instance is the actual "server" for that game. It's the instance that people will see when they browse the games server-browser. You can have many instances running on the server, both running separate games but also the same game.
Instances are set up on a user-basis. This means that it is possible to have one user administrate some games and another user other games. The main administrator of course can handle all the games.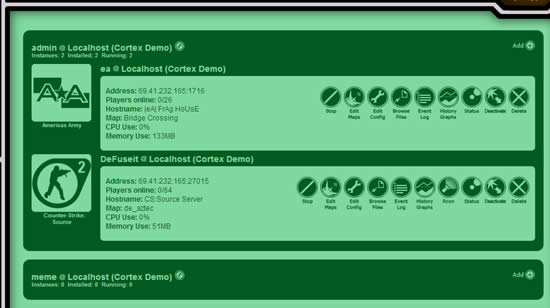 Configuration of a game
After you added an instance of a game you can configure it. Each game has different options but the look is pretty similar. You can basically change every possible variable for that game directly inside Cortex.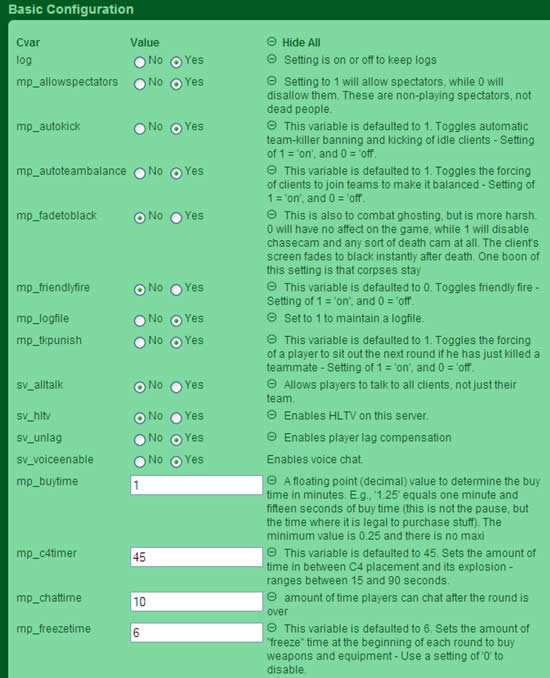 Lots of configuration variables. This is for CS:Source
You can also edit the map-rotation, add custom maps, add your own server-graphic (for instance in BF2) and in some games use the rcon-window to send commands directly to the server and get an instant response directly (just as you were sitting in the game and doing it in the console).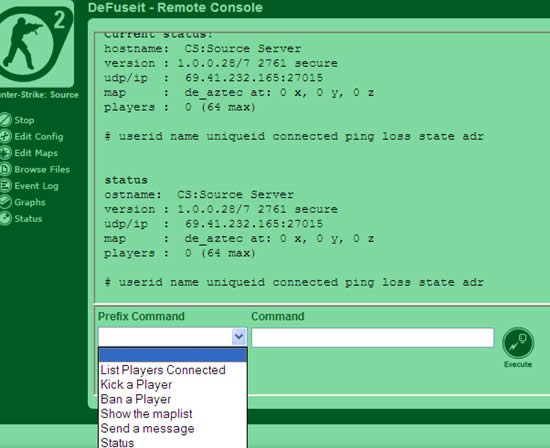 Send commands directly to the game-server with rCon
For each instance you also can see an event-log as well as some history graphs that show the bandwidth usage, the CPU-usage and the memory usage over time.
Something I do miss is some kind of log of what's have been happening inside the game. It would be nice to maybe get a total score after each. Or why not a list of the last 50 players on that instance? You do get some player-stats though through GameMonitor. It shows you a graph of the number of players the last month. This is however only supported in some games.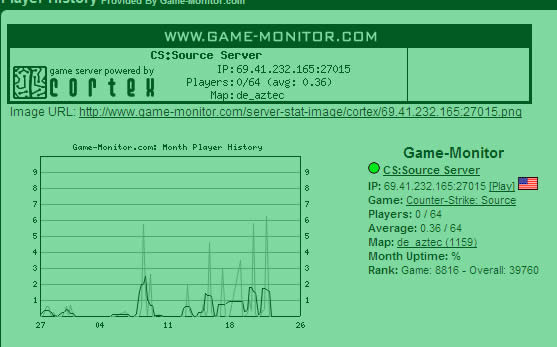 Only supported in some games
The Planet has a demo of the Cortex Control Panel here: http://public2.insomnia365.com:8365/news.php where you can try it out a bit.
TESTING THE SERVER
As mentioned earlier we had access to the server for about two month. During that time I set up a number of instances of mainly Battlefield –games but also a few others like Star Wars Battlefront II.
The server we used had Windows 2003 installed on it and was not set up to run a ranked Battlefield 2 server.
Easy-of-use
The Cortex Control Panel gets high marks for ease-of-use. After the initial confusion about the administrator profile it was easy to set up both the engines but also the games. Installation was swift and even though it of course was a bit tricky to figure out all the various settings for each game the control panel included helpful tips of each variable. Just as nice and painless was patching.
Performance
A lot of the performance depends on both the game and the hardware. We set up a number of instances but unfortunately had some problems getting people to play on the server. During the end of the 2 months we set up a number of "stress-test" games on the site where we tried to get a bit more people on the server to play.
Our first "bigger" game attracted around 20-24 people at the max (not sure the exact number) and we had a riot. The game played was Battlefield 2 and in addition to the game I had a few other BF1942 and SW BF II instances running. The server also had Teamspeak active and we were a few on that at the same time we were playing the game.
I monitored the server from another computer during the games and as far as I could se the server didn't break a sweat and hummed a long very nicely. It should be noted though that BF2 is quite resource-intensive so a couple of 32 man ranked servers or a single ranked server will tax the cheapest server as well as eat up most of your bandwidth.
CORTEX 2.0 – THE FUTURE
Just in time for this article The Planet told me about a new version of Cortex that will be released later this year.
The main improvements are:
Completely rewritten backend code using lots of AJAX
In Cortex1.x the page load time can increase a lot if you have a lot of instances or servers in your cluster. In version 2 the backend code has been rewritten so that it now utilizes AJAX when displaying data for each instance. This means that the page is loaded and that the call then is made in the background. This also means that the new refresh-feature works without having to reload the whole page, it just reloades the instance you want refreshed directly on the page.
The use of AJAx also means that a lot of stuff can be done with the instances (like stopping, starting, activating) without the page having to reload. The number of people occupying each game server also is updated through AJAX without having to reload the page.
New way of handling engine and instance installations, updates and instance transferrings
In Cortex 1.x this is handled inside Apache. This means that if you close your browser windows apache will end the thread that is executing the action you want to complete. In version 2 this will be handled outside apache so that you can be sure that the action you choose is taken care of regardless if you close the wrowser window or not. You also now only can do one precess at a time. If you click again while a process is running it just will tell you that it is running and that you will have to wait.
Better status history
Instead of creating a snapshot of the system status when you request it, version 2 will keep an history of the status for a longer time. This means you can go back a long time to see what's going on on the server.
Below are some screeshots I got acess to which shows what I hope is the new default look of Cortex. Considering that the green look of Cortex 1.x is quite horrible the new look feels much more modern.
Click on the images for a larger version
CONCLUSION
My experience of the Insomnia365 server with the Cortex Control Panel has been very good. For a regular user like me the easy of use with the control panel is excellent and you still are able to control the games are a detailed level even with the simplified GUI. For those wishing more control you got the rcon-feature as well as support for other apps like BF2CC.
The prices of the more advanced server are of course a bit steep. It's not something you get just for fun. If you are a bunch of people sharing or maybe a clan the prize is more acceptable. If it's BF2 you are interested in Electronic Arts actually rents servers on a monthly service and it might be cheaper getting it from them. They however charge for the number of slots on the server and if you want more than 16 the Insomnia365 servers look like a better investment, especially since they also are available to rent on a monthly basis.
The only real downsides I see with the Insomnia365 servers and the Cortex Control Panel is that you still loose some control over how to control the games. After reading up on several of the games it's obvious there is some remote server utilities for games like BF1942 which offers stat tracking etc. and which would be nice to have integrated into Cortex. Also even if they support tons of games, if you are interested in some older games like Q2 and Q3 you're out of luck as they are not supported. Last but not least, some mods might not be supported. Last but not least the bandwidth included is on the small side, at least if you are running a BF2 server. This game is quite network intensive and it has been reported that two 32 man servers that are always full use around 1800GB which is cutting it close to the 2000GB limit. With extra bandwidth costing $125 for 500GB extra/month, $150 for 750GB extra/month and $175 for 1000GB extra/month you don't want to go over the allowed bandwidth.
All-in-all these are minor issues that really don't affect that I think that these game-servers are really cool. I'm already planning to rent one from time to time (a bit steep to have one all the time just for the site) and hold competitions on it. If so, what games would you want to play on it? Head over to our forums and let us know.
A big thanks to The Planet for giving us the opportunity to test the Insomnia365 game server.