So for purposes of clarification, today's presentation will be part guide, part review, part article, and even include a mini shoot-out of the RAID controllers we have for comparison. Now that you're totally confused please join us for what we feel is a very thorough investigation of RAID 2: A Look At The PCI Players.
INTRODUCTION
Back in May we published an guide on RAID entitled: RAID: A Guide For All … Part 1. We announced at that time that it would be the first in a series of RAID related articles and reviews as this subject seemed to have quite a bit of interest by our readers on the subject. I think this interest by our readers was generated primarily because only a few very highly technical "white papers" and a few equipment related reviews had been published since 2004. These white papers, although quite excellent for the extreme techie, were way over most peoples' heads with regard to content. Our goal with the first and subsequent RAID related guides and reviews is to make the content such that everyone from the beginner to the expert can garner some useful information from the content they contain.
Part 1 of this series dealt predominately with a history of RAID technology from its early beginnings to the present day SATA RAID powerhouses. It detailed all of the various types of technology to choose from when exploring RAID as a viable storage option and was in the form of a guide as opposed to our more common reviews. In planning for part two we thought it would be best to take the next logical step and actually look at some RAID controller cards that were available for the beginner and intermediate level workstations that most of us own today. Yes, by workstation standards most of our power house overclocking monsters would only be considered beginner or intermediate when compared to some of the multi processor behemoths with their $3,000 plus graphic cards that are used for high end graphics, CAD, video editing, and other extremely processor intensive tasks.
In preparation for Part 2 we decided to limit the targeted controllers to those that still function in either a 32 or 64 bit, 33 MHz or 66 MHz PCI slot and support SATA or SATA II drives. We felt that this logical limitation would appeal to the vast majority of our readers as most of them still use this type of equipment, even though we know that the PCI-X and PCI-E based controllers are considerably faster. You may say: "Wait! I've got PCI-E slot(s) in my system!" This may well be true but most of you are not willing to sacrifice your ability to run SLI, Crossfire, or other cards that are more "Consumer Enthusiast" PCI-E based for purposes of having a separate RAID controller in your system. Besides, we'll cover those controllers in Part 3 of this series at a future date once we feel the evolution of motherboards in the Computer Enthusiast realm warrant it.
OK, we had our focus for this presentation but no equipment so it was time to beat the bushes. We wrote the six top RAID controller card manufacturers as well as Seagate, our primary hard drive supplier and explained the circumstances of what we were trying to achieve. We also wrote a few other companies that produce either software or hardware that is an important adjunct to RAID controllers in an effort to obtain some supplementary products to enhance the flavor of this guide. The response was phenomenal as you'll soon see!
So for purposes of clarification, today's presentation will be part guide, part review, part article, and even include a mini shoot-out of the RAID controllers we have for comparison. Now that you're totally confused please join us for what we feel is a very thorough investigation of RAID 2: A Look At The PCI Players.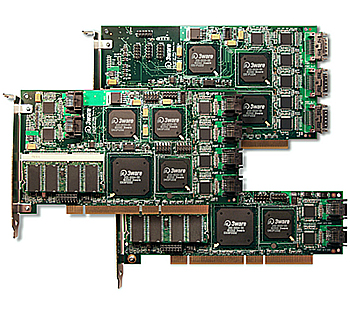 THE PLAYERS
As we alluded to in the Introduction we had an excellent response from the manufacturers in helping to make this project a reality. We received RAID controller cards from: Adaptec, AMCC (Formerly 3Ware), HighPoint, and Promise. Unfortunately Adaptec's contribution didn't fit our criteria for this particular review as it was PCI-X based and would not adapt to a PCI slot as some PCI-X controller cards do. Adaptec had no PCI based controllers in stock, but fear not, this product will be featured in either Part 3 or as solo review at a future date.
Seagate was extremely benevolent and donated three of their top of the line hard drives for use as our storage vessels. Acronis contributed a copy of their workstation imaging software that saved us immense time on the highly labor intensive benchmarking which even with the help of Acronis took approximately 10-12 hours to complete, but was well worth the effort.
I even used this project as a reason to purchase a new, much larger case that was modded to perfection by Hank Barron and his skilled professionals at Perfomance PC"s, Inc. Sure it is an excuse, like I really needed one, to get a product that I had been drooling over for a month or more.
Before getting down to the testing we felt it most appropriate to give you a history and overview of each of the manufacturers that contributed which will include the features and specifications of the product(s) they contributed.
AMCC (Applied Micro Circuits Corporation)
The Company
My first recollection of AMCC goes back to 2004 when I read an article concerning their merger with the then storage giant 3Ware. As it turns out AMCC wanted to increase their computer storage market, hence the merger. A bit more research and I happened upon this fact sheet on AMCC's website:
FOUNDED:   1979
ISO CERTIFIED:   1997
MISSION   Building upon our recognized expertise, we will deliver the solutions for future multimedia networks that meet our customers' needs for complex IP packet processing, content delivery over next generation carrier access networks, and high performance, cost effective mass storage.
COMMITMENT TO QUALITY:   AMCC is committed to developing and delivering products and services that satisfy our customers' quality requirements, and to the ongoing improvement of our capabilities, processes, and product support throughout the Product Life Cycle.
MARKET LEADERSHIP

#1 merchant network processor supplier
#1 merchant switch fabric IC supplier
#1 high port count SATA RAID controller supplier
1st merchant switch fabric scaling to 1 Tb
1st 40 Gbps WAN chipset
Industry leading multi-gigabit SerDes
290+ patents & patent pending inventions

OUR CUSTOMERS:   AMCC's communications, storage and embedded hardware and software solutions are sold to leading equipment manufacturers addressing global wide area networks (WAN), embedded applications such as PowerPC and programmable SOC architectures, storage area networks (SAN), and high-growth storage markets such as Serial ATA (SATA) RAID.
RECENT AWARDS AND INDUSTRY HONORS

EDN Innovation Awards Finalist – Communications Products (PRS 5G/20G)
NSDC Best in Show (MISSION Platform)
NSDC Best Telecom Product (MISSION Platform)
InfoWorld Review – 3ware 9500S
Ciena Supplier of the Year

EMPLOYEES:   Approximately 660
U.S. HEADQUARTERS: Sunnyvale, California
DISTRIBUTION: AMCC products are distributed worldwide via: Distributors, OEMs, Resellers, VARs, Systems Integrators
INTERNATIONAL AMCC DESIGN CENTERS AND SALES OFFICES

North America
San Diego, CA
Sunnyvale, CA
Andover, MA
Cary, NC
Austin, TX
Houston, TX
Kanata, Ontario, Canada
Asia/India
Beijing, China
Shenzhen, China
Shanghai, China
Tokyo, Japan
Singapore
Europe
Sophia Antipolis, France
Essonnes Cedex, France
Landshut, Germany
Cheshire, United Kingdom
Manchester, United Kingdom
9500S-4LP FEATURES & SPECIFICATIONS
Features
Optimized hardware XOR RAID 5 engine provides true hardware based RAID and intelligent drive management functions
Supports RAID levels 0, 1, 10, 5, 50, Single Disk (JBOD)
Single array capacity scales to over 4.8TB per controller (64-bit LBA support)
128 MB of ECC protected SDRAM, upgradable to 256 MB
AMCC StorSave Platform for maximum reliability and performance

Battery Backup Unit (BBU)
Write journaling for protection of drive write caching

Storage management

Online Capacity Expansion to grow total capacity easily
RAID Level Management for converting non-redundant

RAID volumes to RAID 5
StreamFusion maximizes performance through efficient handling
of sequential streams
StorSwitch point-to-point, non-blocking switched architecture
for highest performance
Bootable array support for greater fault tolerance
Variable stripe size for performance tuning by application
Multiple array background initialization for immediate data redundancy
Host controller and drive command queuing for peak performance
Support for up to 4 cards per system for large storage requirements
Multiple logical volumes and RAID levels can exist on one card for maximum configuration flexibility
Legacy and SATA II out of band (OOB) staggered drive spin-up support
Hot-swap and hot-spare support for data availability
Dynamic sector repair for robust data protection
S.M.A.R.T. disk drive monitoring for reliability
SMTP support for email/pager notification
Emergency Flash Recovery protects against power failure during firmware upgrades
Support for drive activity LED
Flexible task scheduling for increased useability
Multi-lane connectors based on the Infiniband SFF-8470 specification
Complete configuration management suite

3ware BIOS Manager (3BM) – BIOS configuration tool
3ware Disk Manager 2 (3DM® 2) – browser-based management tool
Command Line Interface (CLI) – scriptable configuration tool
Specifications
PCI 2.2 compliant 64-bit/66MHz bus master
Serial ATA Specification 1.0a compliant
BIOS PnP (plug and play) and BBS (BIOS boot specification) support
Operating Temperature without BBU: 0°C to 50°C; with BBU: 10°C to 40°C
Power Requirements 8.72W max. on +5 V, 250mW max. on +3.3 V, 250mW max. on -12V, +12 V not used
Dimensions:  PCI MD2 Low Profile: 9500S-4LP 7.475″L x 2.300″H (18.987cm x 5.842cm)
The Controller & Package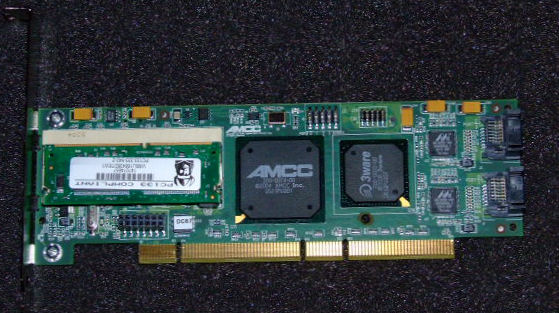 AMCC/3ware 9500S-4LP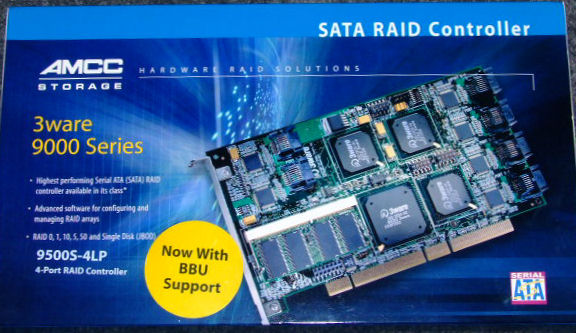 9500S-4LP Package
HIGHPOINT TECHNOLOGIES
The Company
To most of us that have been into computing for any length of time, HighPoint is a very familiar name. I can well remember using their adapters and later RAID cards going back many years. The following history and company information is excerpted from their website:
HighPoint Technologies, founded in 1995 specializes in providing cost effective multi-channel SATA RAID solutions that meet customer performance requirements. To ensure that their information is stored securely and backed up reliably, many organizations rely on HighPoint multi-channel SATA RAID solutions and RAID management utilities.
With its new family of 3.0Gbps SATA II RAID Controllers HighPoint is paving the way for customers to gain the benefits of the latest storage technologies. With a vision of delivering RAID storage solutions to all customer types HighPoint products are well positioned in the industry to meet the needs for the (SMB) small to medium business and meet requirements for the enterprise customer.
Today, HighPoint multi-channel SATA RAID solutions help maximize technology investments with highly available and easily manageable storage solutions for mission-critical storage, server, and application resources. The result is a high-performance, high-availability IT environment designed for cost-effective growth.
HighPoint products are sold directly to OEMs and through distributors and resellers. HighPoint customers rely on the company's technology to deliver storage solutions that are cost effective and meet performance requirements for every business sector. HighPoint multi-channel SATA RAID solutions are found in:
Storage-intensive enterprise applications such as data warehousing, data mining and online transaction processing
Media-rich file types such as film/video, broadcast, medical imaging and CAD/CAM
Servers and high-speed (tape to disc) and (disc to disc) backup
HighPoint multi-channel RAID controllers make up a complete solution for all customer types. The company is a leading provider of host bus adapters and RAID management software. Product families include multi-channel SATA II and SATA I RAID Controllers:
3.0Gbps SATA II

RocketRAID 2340
RocketRAID 2322
RocketRAID 2320
RocketRAID 2310
RocketRAID 2300
RocketRAID 2224/2220
RocketRAID 2240

1.5Gbps SATA I

RocketRAID 1820A
RocketRAID 1810A

RocketRAID 2220 FEATURES & SPECIFICATIONS
Features
8 channels PCI-X to SATA II host adapter
PCI-X 64 bit 133/100/66 MHz
Up to 3.0Gb/s transfer rate.
RAID 0, 1, 5, 10 and JBOD
Native Command Queuing(NCQ)
Staggered Drive Spin up
Single RAID Cross Adapter up to 16HDDs
Online Capacity Expansion and RAID Level Migration
(OCE/RLM)
Hot Swap and Hot Spare
S.M.A.R.T monitoring hard disk for status reliability
SAF-TE enclosure management
Online Array Roaming
Quick and background initialization for quick RAID
configuration
64-bit LBA for over 2TB partition support
BIOS booting support
Automatic RAID rebuild
Command Line Interface(CLI)
Web browser RAID management software
SMTP email notification
Supports Windows, Linux and FreeBSD
Specifications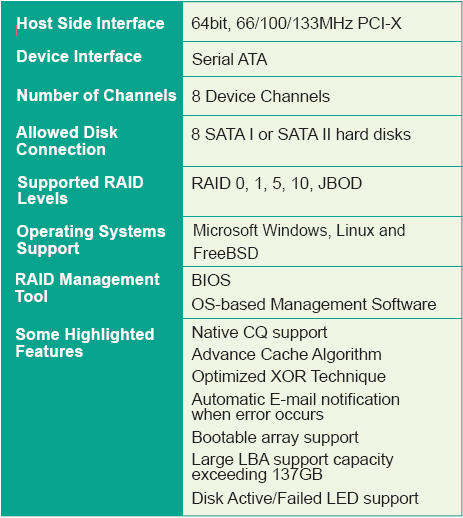 The Card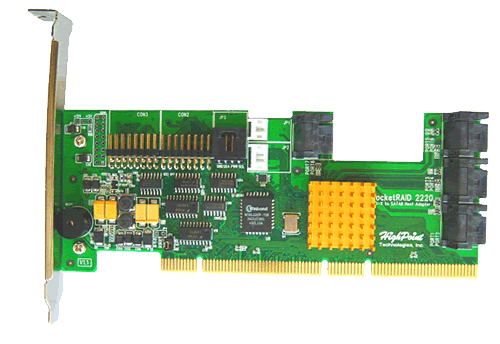 HighPoint RocketRaid 2220
The Package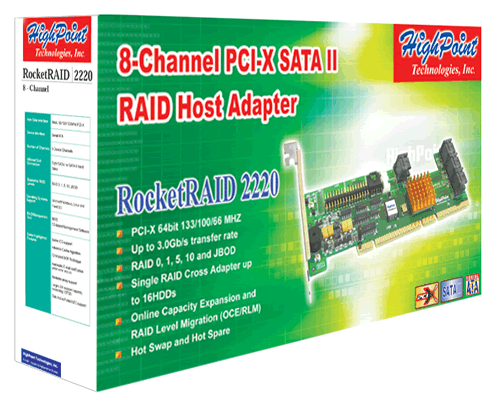 RocketRaid 2220 Package
PROMISE TECHNOLOGY
The Company
Promise is another household name amongst computer enthusiasts dating back a number of years. I also have used their adapters to do everything from add additional hard drives to my system back in the ATA 33 days to using their ATA RAID controllers back before SATA was even on the drawing board. The following company profile was also excerpted from their website:
With fifteen years of design expertise in Serial ATA (SATA) and Parallel ATA (PATA) storage solutions, Promise Technology, Inc. is recognized as the global leader in ATA interface products and the creator of ATA RAID. From the newest Serial ATA to legacy Parallel ATA solutions, Promise maintains strong market leadership with wide range of value-driven storage product offerings for Entry-level to Mid-range Enterprise, PC Workstations and desktop PCs.
Promise designs, develops, manufactures and markets a comprehensive line of Serial ATA / Parallel ATA solutions including SAN (Storage Area Networks) and DAS (Direct Attach Storage) storage enclosure systems that hold terabytes of data with multiple hard disk drives with advanced data protection and management functionalities, host bus RAID (Redundant Array of Inexpensive Disk Drives) and ATA interface adapters that plug into internal computer expansion slots, and ASICs (Application Specific Integrated Circuits) that are integrated onto computer motherboards.
With such a wide variety of products, Promise has become the "King of ATA" with solutions for home users to corporate-user mission-critical applications that require terabytes of data.
The ATA storage interface started out humbly as the adequate-performance, basic storage interface for single-user, desktop personal computers. Today, with the leadership and the tremendous effort provided by Promise Technology, Inc., ATA disk interface solutions-such as ATA RAID-are used in systems ranging from large, enterprise-class storage to desktop PCs and many portable devices. As the market has grown, Promise solutions have played a key role in supercharging ATA and driving the success of ATA RAID and the ATA interface.
From the introduction of the first ATA RAID controller through to today's advanced solutions, Promise has lead the ATA RAID market in product units shipped with huge market share year after year. According to Gartner Dataquest, Promise continues to dominate the ATA RAID segment with an industry-leading market share in IA (Intel Architecture) file servers. In 2002 Promise ATA RAID host bus adapters for servers outsold every other manufacturers' host bus adapters based on every other storage interface including SCSI and Fibre Channel.
Promise's longevity and core competency in ATA – from the ASIC, firmware, and software through advanced enclosure systems – affords Promise a great advantage over SCSI RAID companies that never made ATA the central focus of their company or product development plans. Since its founding in 1988, Promise has the distinction of creating more ground-breaking "firsts" in EIDE/ATA controller technology than any other firm worldwide. Within two years of entering the controller market, Promise Technology introduced the world's first IDE cache controller, and the first EIDE chipset. Other major first-to-market products include controllers for ATA/33, ATA/66, ATA/100, ATA/133, SATA, ATA RAID 0/1, ATA RAID 5, and the ATA RAID drive hotswap chassis.
Promise Technology also went above and beyond our request for a RAID controller, as they also included one of their four disk Super Swap 4100 hot swappable drive enclosures for our use, and without us even asking for it! This product greatly enhanced our abilities to change disks ad lib and shortened our already labor intensive benchmarking process. It was used exclusively for all the testing we'll later present.

TX4310 FEATURES & SPECIFICATIONS
Features & Specifications
Device Support
Storage capacity up to 4.0 terabytes (four 500GB drives x 2 controller system)
4 SATA 3Gb/s ports for up to 4 Serial ATA devices
Supported RAID Levels
RAID 0/1/5/10/JBOD
RAID 0 – Data striped across 2-4 drives for increased performance
RAID 1 – Mirrored pairs of drives for data protection
RAID 5 – Striped data + rotate parity
RAID 10 – Data mirrored then striped across 4 drives, ultimate data protection and performance (provides a level of double drive failure protection)

Data Transfer Rate

Up to 266 MB per second (Performance may vary depending upon drive make, motherboard and PCI bus speed)

RAID Features

Data handling optimizations include elevator seek and load balancing
Supports hot-swap of failed drives
Offers transparent data recovery and rebuilds drive in background
Online Capacity Expansion – add capacity on the fly
RAID Level Migration – change array levels on the fly
MetaData on Disk (MDD) for drive roaming

Easy to Use

Quick initialization
Arrays are bootable with built-in BIOS
Upgrades your current disk drive to a RAID array by migrating existing data to the array

System Management:  Management Tools

WebPAM (Web-based Promise Array Management) local and remote monitoring for Windows and Linux:

monitors status of arrays, hard drives, and controller via TCP/IP
warns of drive failure
allows rebuilds of mirrored arrays
synchronizes data in fault-tolerant arrays
email notification for array events
S.M.A.R.T.-compatible status reporting

Notification

Email, audible, and visible alarms

Operating System Support

Microsoft Windows XP
Windows Server 2003
Windows 2000
RedHat Linux
SuSE Linux
Linux partial open source code

Hardware

Serial ATA 3G Support Supports Serial ATA II: 3Gb/s Specification

Supports Serial ATA II: Extensions to Serial ATA 1.0a, including
Native Command Queuing
Staggered Drive Spin-Up
HDD Activity Indication

Multiple Controllers Support Up to 2 controllers in the same system are supported
PCI Support 32-bit / 66MHz PCI interface compliant to PCI Rev 2.3 (Backward-compatible with PCI 33MHz)
HBA Features Low-profile form factor (HW) 2.00 x 4.69 inches (51 x 119 mm)
BIOS flash upgradeable for future updates
Built in SMBus connector for Promise SuperSwap 4100/1100
Supports ACPI (S1, S3, S4)
Physical and Environmental Operating temperature: 32 to 122°F (0 to 50°C)
Relative humidity: 5%-95% non-condensing
Built in SMBus connector for Promise SuperSwap 4100/1100
Cables in kit 4 x 25″ (650mm) Serial ATA Cables
Agency Certifications UL, cUL, CE, FCC Class B, BSMI, MIC, C-Tick, VCCI
Limited Warranty 3 Years

The Card

Promise TX4310

The Package

TX4310 Package

The Extras

SuperSwap 4100 (frontal view)

SuperSwap 4100 (rear)
SEAGATE
Seagate literally needs no introduction as we have reviewed almost every hard drive that they make here at Bjorn3D. Seagate is known far and wide as one of the best manufacturers of computer storage equipment in the world today. Their recent acquisition of Maxtor will only serve to enhance their market share as the two technologies combined can only produce a winning combination of future products. Here's a few facts you may or may not have known courtesy of Seagate's website.
Seagate was founded in 1979 and was the first company to build 5.25-inch hard disc drives for the PC. And while it may have seemed like a minor milestone at the time, today this hard disc drive introduction is regarded as one event that helped fuel the PC revolution. Suddenly, people could access unprecedented amounts of information, which eventually gave rise to the Internet and other developments. And for nearly a quarter of a century, Seagate has been developing the technology and manufacturing the products that helped make it all happen.
25 years later, the world runs on information. Every time you access the Internet, use an ATM, watch TV, listen to digital music, enjoy a movie with computer-generated special effects, or use a consumer-electronics device, you access and share large amounts of digital information on disc drives — the core of Seagate's business.
Seagate's position as the world's largest manufacturer of disc drives places it at the heart of today's information-centric world. Throughout its history, Seagate has successfully relied on a strategy of ownership and vertical integration of key underlying technologies: designing, developing and producing the components that underpin its storage products, rather than relying solely on outside suppliers. This isn't easy, because building disc drives is widely recognized as the leading edge of the technology industry. It requires expertise in physics, tribology, aerodynamics, fluid mechanics, information theory, magnetics, process technology and numerous other disciplines.
Seagate also has its sights set years into the future. From hand-held computers and web phones, to intelligent storage that knows what information you want and when you want it, to home networks that deliver entertainment, education and services on demand — Seagate has the knowledge and resources to develop the technologies required for tomorrow. The company is committed to developing new solutions and technologies, pushing storage further than anyone could have imagined in 1979.
Seagate is our largest contributor to this project donating three of their NL-35 500 GB hard drives to our effort. Without that quality of storage, this presentation would not have taken wings and flown, or at least to the altitude we feel comfortable at.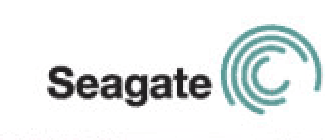 NL-35 500 GB FEATURES & SPECIFICATIONS
Features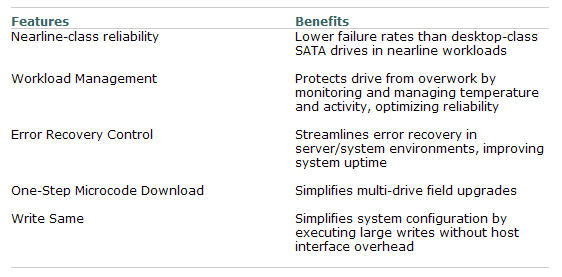 Specifications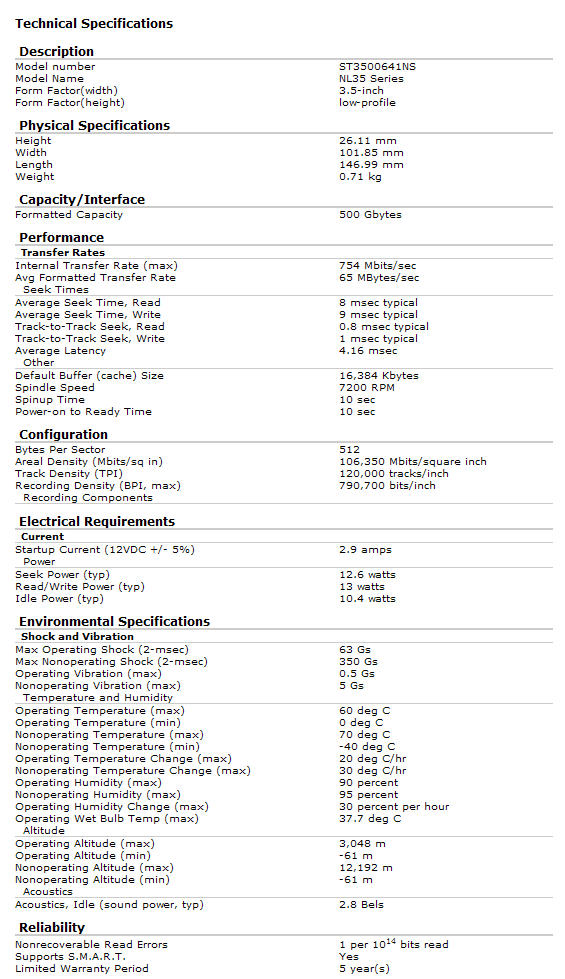 The Drive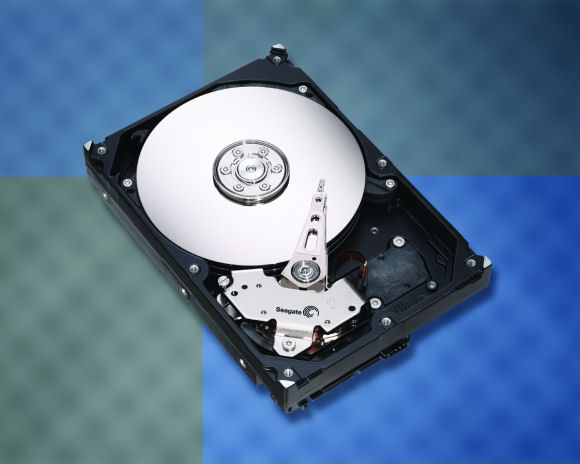 NL-35 500GB Drive
ACRONIS
Last, but most certainly not least in our array of contributors is Acronis. I first became aware of Acronis when I was looking for a solution to back up my RAID 0 arrays on an Intel ICH5-R onboard controller several years ago. No one had a solution, no one that is except Acronis. I later reviewed several of their products and found them to be unsurpassable in quality.
Acronis offers storage management solutions that are technically advanced for mission-critical applications but easy to use. The company provides disaster recovery, backup and restore, partitioning, boot management, privacy, data migration, and other storage management products for enterprises, corporations and consumers of any qualification. Acronis has offices in the United States, Europe and Asia and sells its products through retail outlets, resellers and on the Web.
Acronis donated a copy of their True Image Workstation software to our efforts. This saved me many hours as instead of reformatting or copying RAID 5 images I simply let Acronis do the work for me. One image and I was good to go for the entirety of this article, restoring as necessary to keep a clean OS at hand for each aspect of this presentation.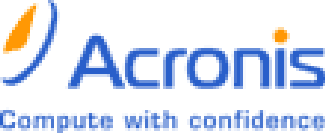 True Image Workstation Features & Specifications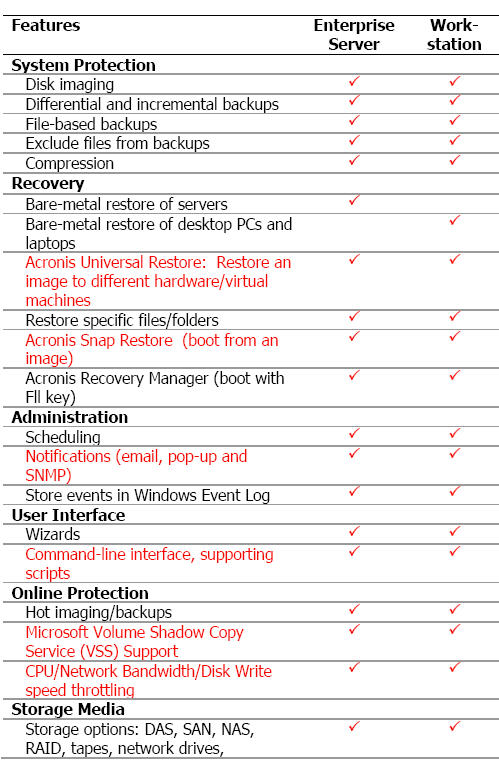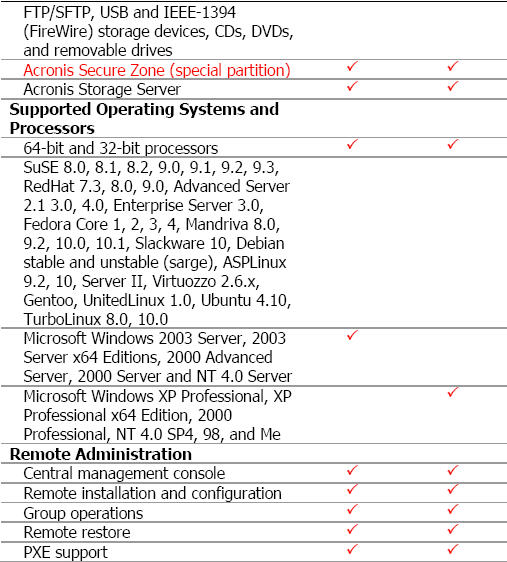 INSTALLATION
Well here we go, it's time to get down to the real action; installing and testing the cards. This is the installation process I used with each of the controller cards:
After turning off the computer turn the the power off with the power supply switch
Open the system chassis and locate an unused PCI slot
Remove the PCI slot cover
Insert the controller card into the PCI slot, and secure the bracket to the system chassis
After installing the adapter, attach hard disks to the controller card using a SATA data cable
Close and secure the system chassis
Restore the power to the system with the power supply switch
Turn the system on a wait for a successful boot to take place
As we were not installing an operating system on the RAID array driver installation was accomplished by going into Device Manager and right clicking on the newly found RAID controller and then clicking on update driver then tping in the drivers location on the main hard drive which was not part of the array. The driver then installed and the RAID controller was recognized. A reboot was generally necessary.
Upon reboot all of the controller cards would give you the option to enter the cards BIOS to setup a specific array, exit and the system would reboot
Once the system returned to the Windowa XP Operating System we then went in to Manage function by right clicking on My Computer and clicking the Drive Manage Function. The array was then setup as a Basic Disk as opposed to a volume. A single partition for the array was then setup and the array formatted.
Each time we changed to a different type of array we would simply repeat steps 10 & 11. Although each of the RAID controllers came with RAID management software which was quite powerful, I opted to set the arrays up using the BIOS method stated above to preclude any influence the managment software might have on the array. The RAID management software will be the topic of another review at another time.
TESTING
Test System
AMD X2 5000+ running at default speed
ZALMAN CNPS9500AM2 HSF
ASUS M2N32-SLI Deluxe nForce 590 motherboard
2GB of Mushkin Redline XP2-8000 DDR-2 (4-5-4-11-1T @ 2.0 volts)
LeadTek WinFast PX7950 GX2 TDH running ForceWare 91.29 drivers
1 – Seagate Barracuda 7200.7 120GB drives
Lian-Li G70 Case customized by Performance PCs
Windows XP Pro SP2
Samsung Syncmaster 213T 21.3″ LCD Mo
Benchmarks
SiSoft Sandra 2007 Professional Physical Disk Benchmarks
PCMark05 Advanced Hard Drive Benchmarks
HD Tach RW version 3.0.1.0 Long Benchmark
HD Tune version 2.52
ATTO HD Benchmark most current version
Testing Methodology
Our test system used one single main drive that contained the operating system and the necessary benchmarks along all the other commonplace applications I run in day to day life. An image of the main drive was initially made and the system was re-imaged every time a controller card was changed as to prevent any issues from driver overlap between the controllers. A quick format of the array being tested was performed after each benchmark was run as to prevent any corruption from any files written to the array by the previous benchmark. Now it may be evident why this process takes so long, but accuracy and quality of results are essential for a successful article.
The three Seagate NL-35 drives comprised the array for both RAID 0 and RAID 5. In RAID 1 only two of the drives were used. Each of the benchmarks using the above described practices were then run on each array provided by our three controllers. It should also be noted that the PCI slots on the test motherboard are 66 MHz slots and are standard 2.1 compliant. I should also state that each of the benchmarks were initially performed on an older Intel based system with 33 MHz PCI slots, but this newer review system provided faster, more accurate and up to date comparisons of each controller's capability so the extra effort was certainly worth it. All four of the drives were run in the SuperSwap 4100 drive enclosure provided by Promise and the position of each drive remained constant throughout the testing.
TEST RESULTS … RAID 0
We'll begin with the RAID O results which should by all rights be the fastest, first some individual graphs and the a few combined ones. All the tests of one type will be kept together for clarity sake.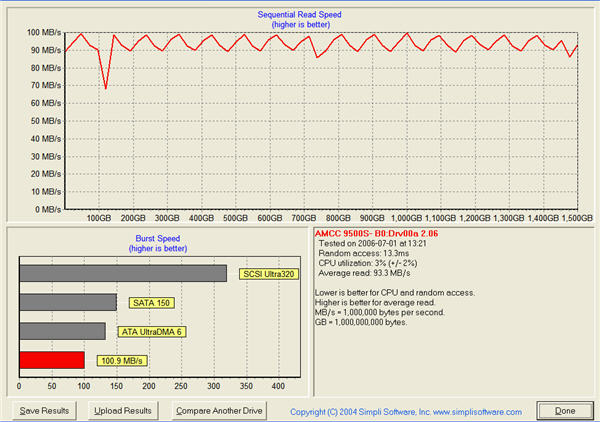 AMCC 9500S-LP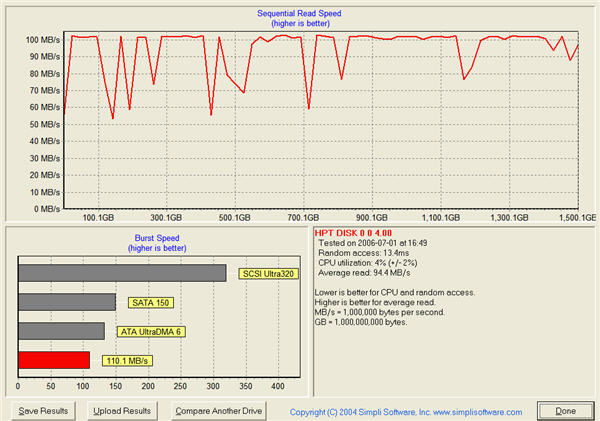 HighPoint Rocket RAID 2220
Promise TX 4310
Wow, the Promise TX-4310, a software based RAID controller is playing hard ball with the independent processor based controllers, but it's just the first inning and the bases are still loaded.
TEST RESULTS … RAID 0 cont.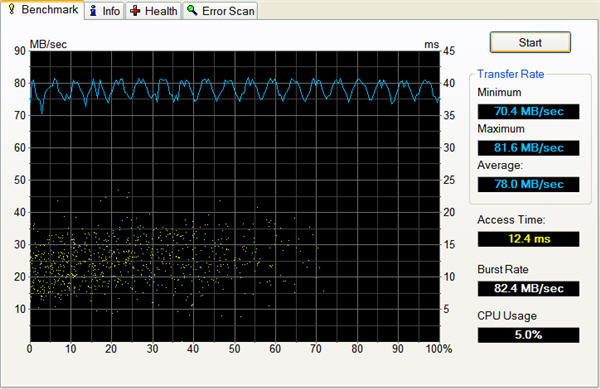 AMCC 9500S-LP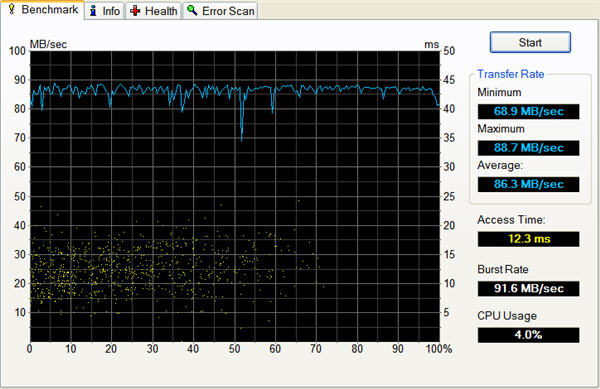 HighPoint Rocket RAID 2220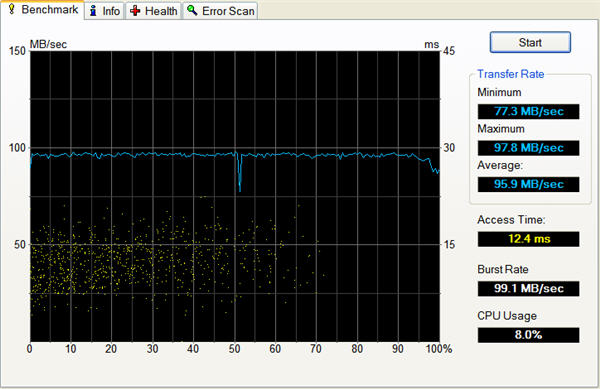 Promise TX 4310
The Promise still has a slight lead, but we took away a few points for almost double the CPU utilization.
TEST RESULTS … RAID 0 cont.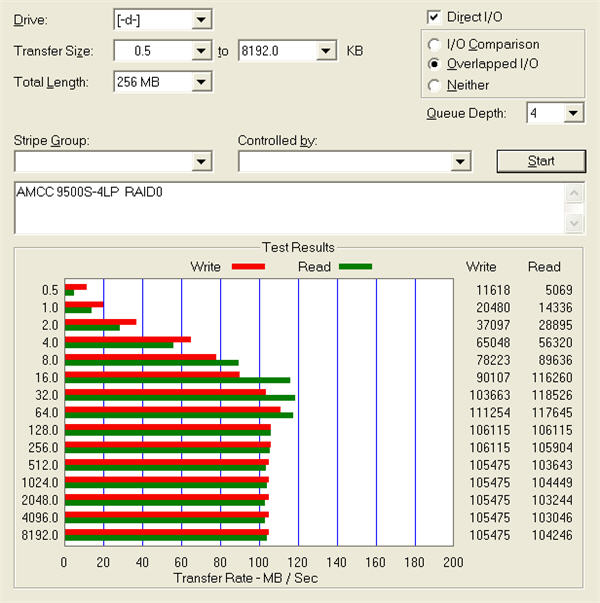 AMCC 9500S-LP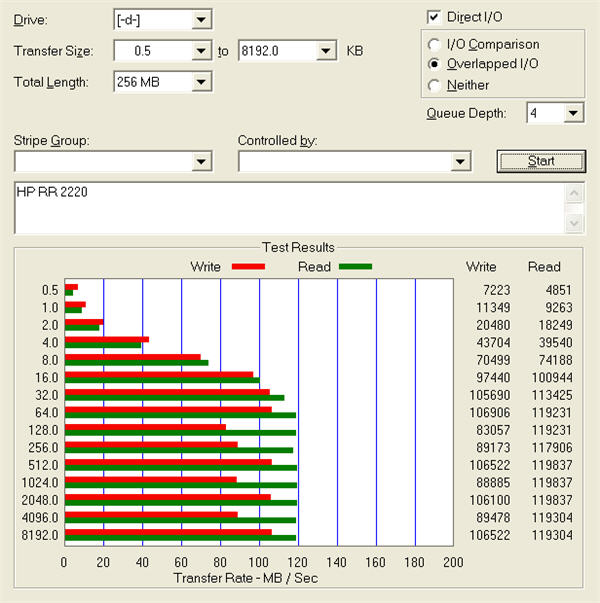 HighPoint Rocket RAID 2220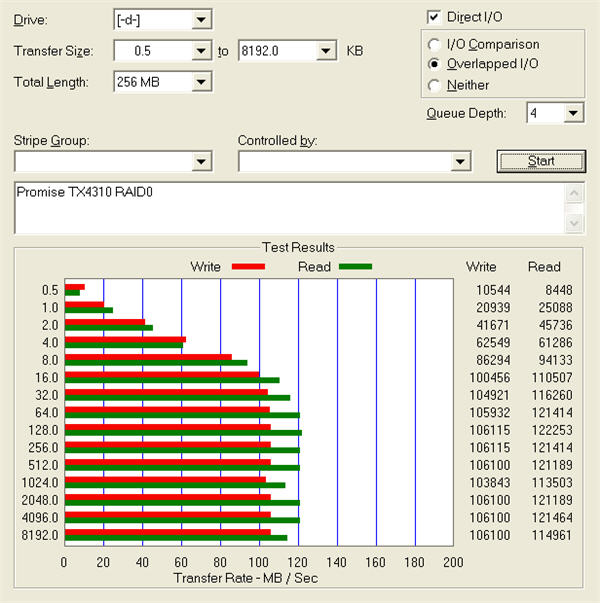 Promise TX 4310
In the ATTO benchmarks we start to see the processor based controllers begin to strut their stuff with the HighPoint Rocket RAID 2220 barely edging out the AMCC 9500S-4LP, but Promise isn't far behind.
TEST RESULTS … RAID 0 cont.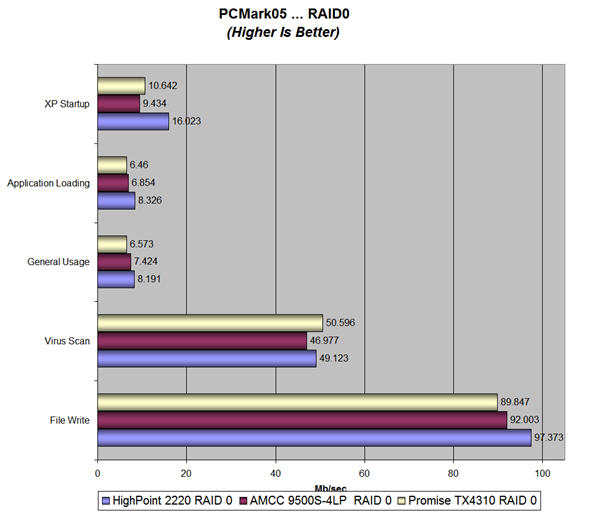 PCMark05 Combined RAID 0
In PCMark05 again the HighPoint Rocket RAID 2220 barely edges out its two competitors, RAID 0 is becoming a real nail biter.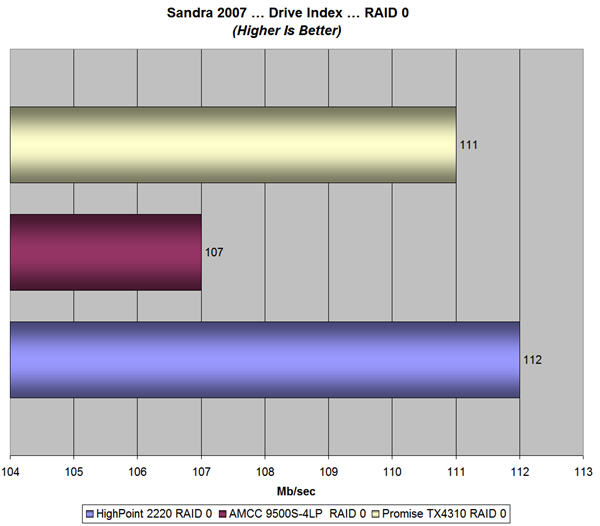 SiSoft Sandra 2007 Combined RAID 0
One more win for HighPoint but just barely over the 9500S-4LP with the Promise TX-4310 brining up the rear.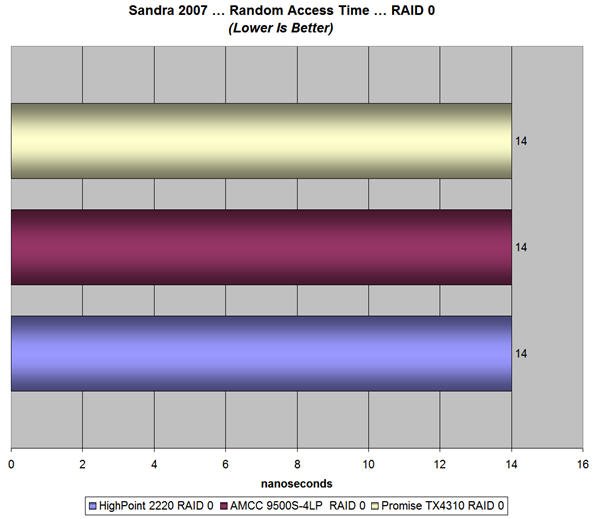 SiSoft Sandra 2007 Combined RAID 0
Well Random Access time is a tie across the board. If my calclations are we have a tie in RAID 0, HighPoint has three wins as does Promise. We'll give the win to HighPoint by the skin of their teeth with the tie breaker being the CPU utilization required by the Promise TX-4310, it's double that of the other two. This of course is the best two out of three so the championship is still up for grabs.
TEST RESULTS … RAID 1
On to RAID 1 which by all rights should be the slowest but yet one of the safest of all the RAID arrays tested.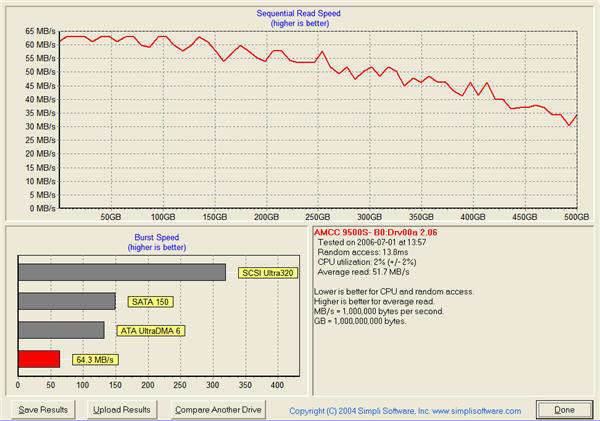 AMCC 9500S-LP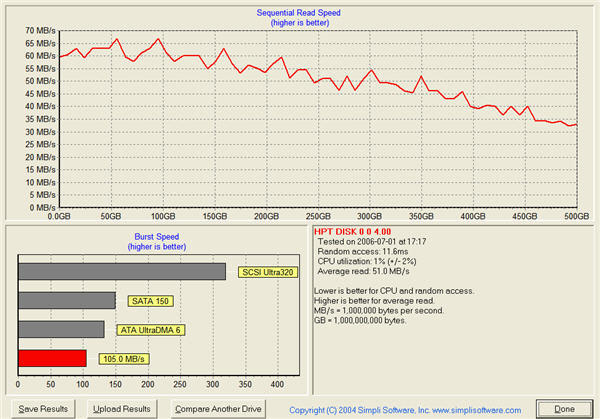 HighPoint Rocket RAID 2220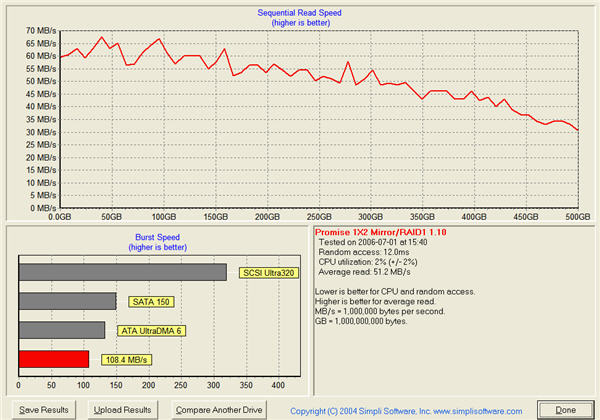 Promise TX 4310
Again the Promise TX-4310 comes out of the gate smoking, for a non-independent processor based controller these results are amazing and this time the CPU utilization is in the same range with the HighPoint and the AMCC.
TEST RESULTS … RAID 1 cont.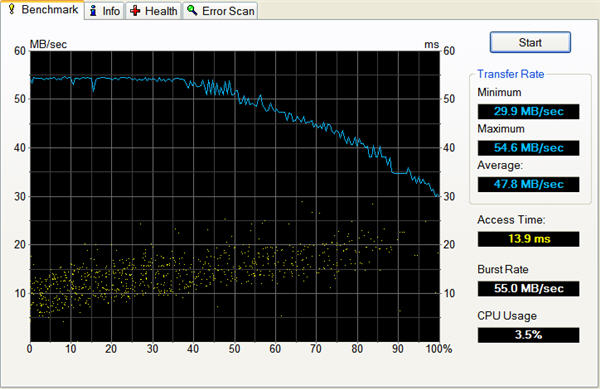 AMCC 9500S-LP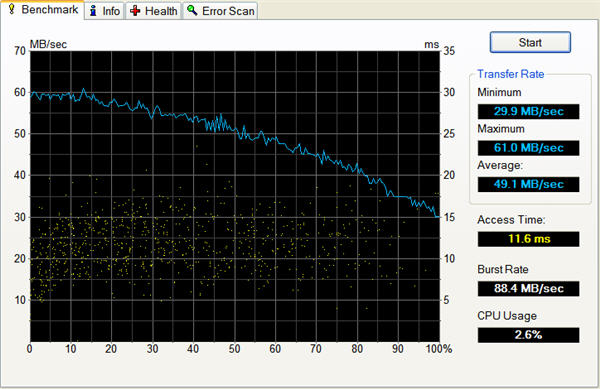 HighPoint Rocket RAID 2220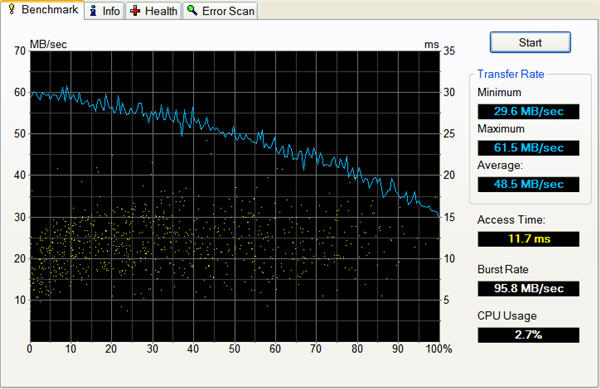 Promise TX 4310
I'll have to give this one to the HighPoint Rocket RAID 2220 in a photo finish with the Promise TX-4310, with AMCC trailing by a link or two.
TEST RESULTS … RAID 1 cont.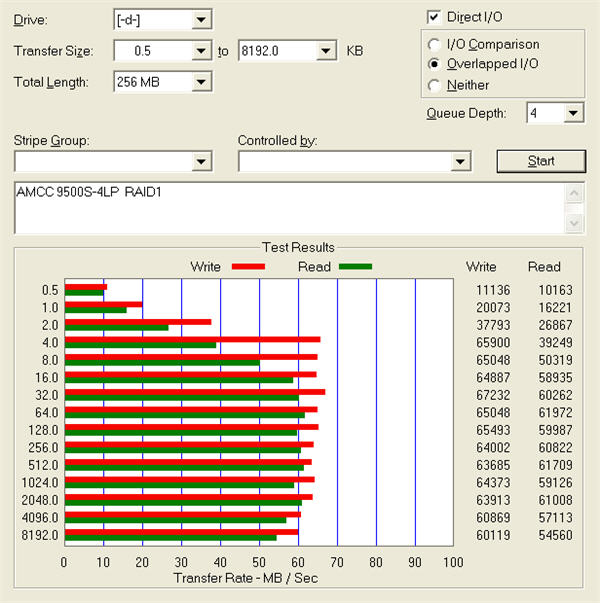 AMCC 9500S-LP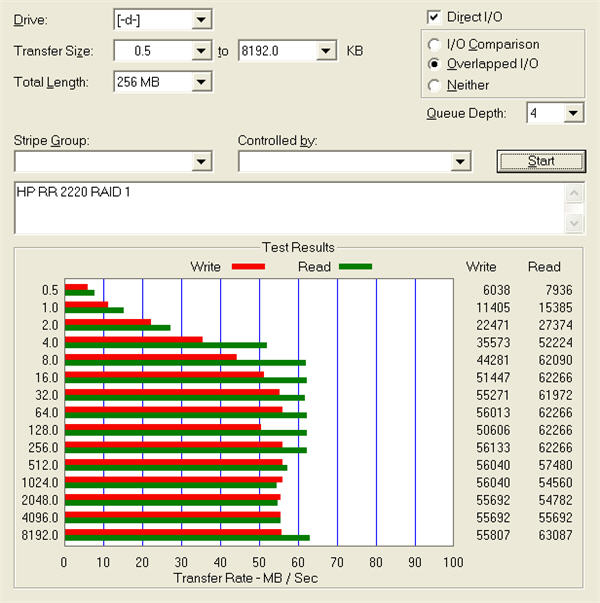 HighPoint Rocket RAID 2220
Promise TX 4310
In the ATTO benchmarks the AMCC 9500S-4LP won soundly over both HighPoint and Promise. The 9500S-4LP's graphs a truly a thing of beauty in this series of RAID 1 benchmarks.
TEST RESULTS … RAID 1 cont.
PCMark05 Combined RAID 1
In PCMark05 again the HighPoint Rocket RAID 2220 barely edges out its two competitors, RAID 0 is becoming a real nail biter.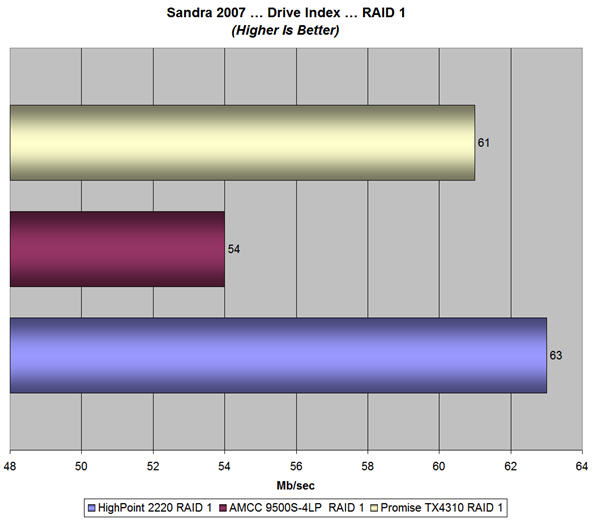 SiSoft Sandra 2007 Combined RAID 1
Here again one more win for HighPoint but just barely over the 9500S-4LP with the Promise TX-4310 brining up the rear.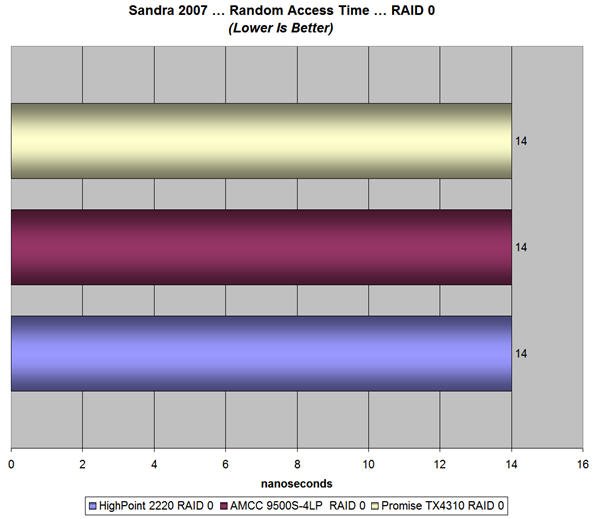 SiSoft Sandra 2007 Combined RAID 1
Again Random Access time is a tie across the board. My calclations show HighPoint has four wins, Promise has one and AMCC has one. So HighPoint is also the champion amongst our competitors in the RAID 1 category of benchmarks. On to the most anticipated of all the RAID 5 testing.
TEST RESULTS … RAID 5
On to RAID 5 which should be the faster than RAID 1 but slower than RAID 0, RAID 5 is somewhat safer than RAID 1 as data recovery is considerably easier in most cases, and considerably safer than RAID 0 where a crashed drive almost always results in complete data loss. Always remember a point I made in the first RAID Guide the chance of a drive crashing increases with the number of drives in use.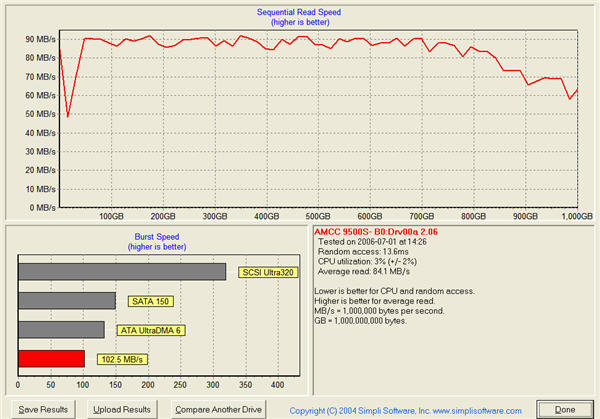 AMCC 9500S-LP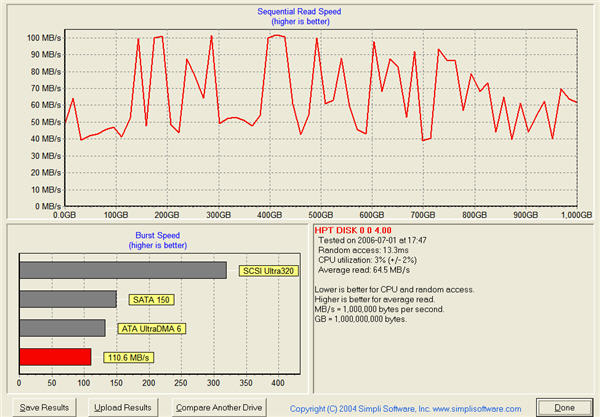 HighPoint Rocket RAID 2220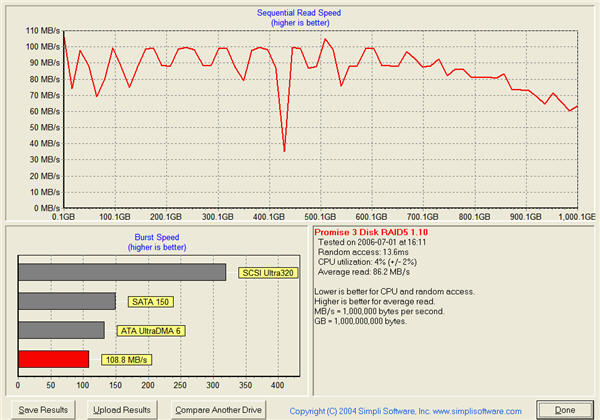 Promise TX 4310
Promise again closely edges out AMCC with HighPoint a very close third.
TEST RESULTS … RAID 5 cont.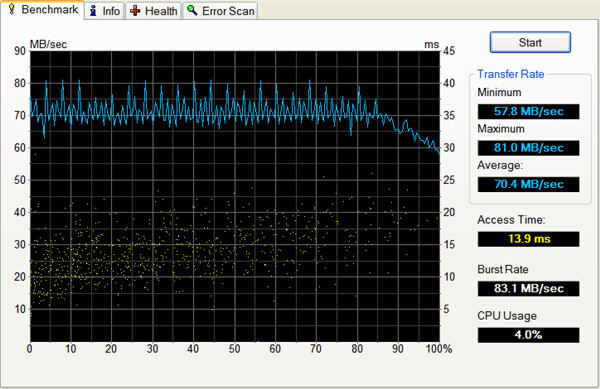 AMCC 9500S-LP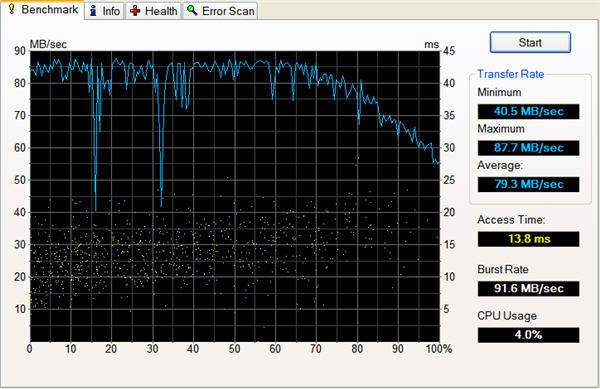 HighPoint Rocket RAID 2220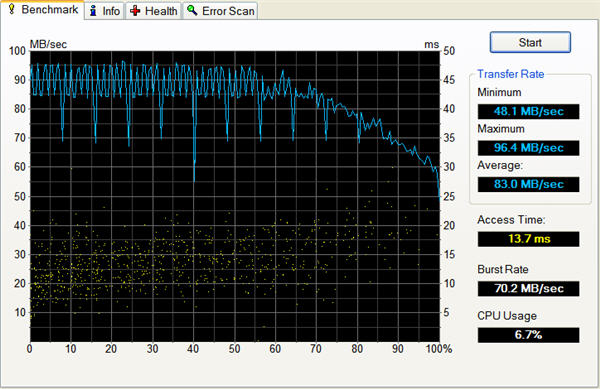 Promise TX 4310
The AMCC 9500S-4LP is clearly the winner of this benchmark with one of the most stable graphs I've yet to see on any test.
TEST RESULTS … RAID 5 cont.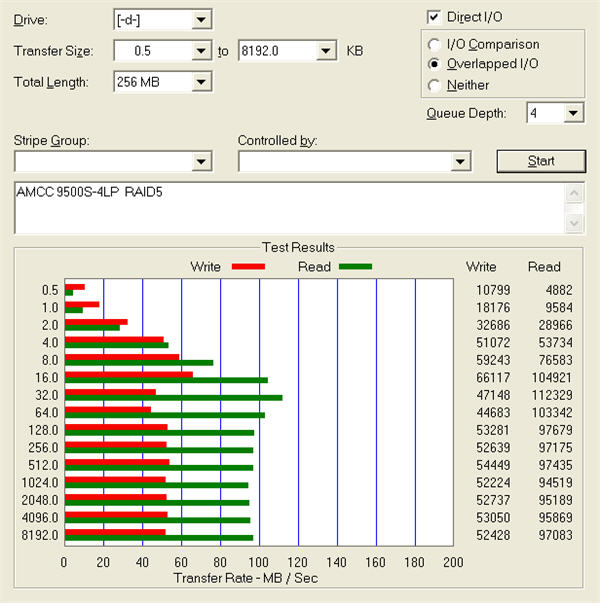 AMCC 9500S-LP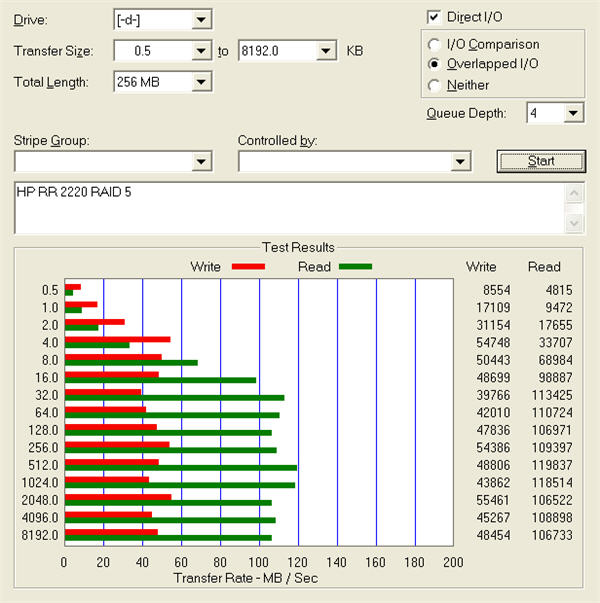 HighPoint Rocket RAID 2220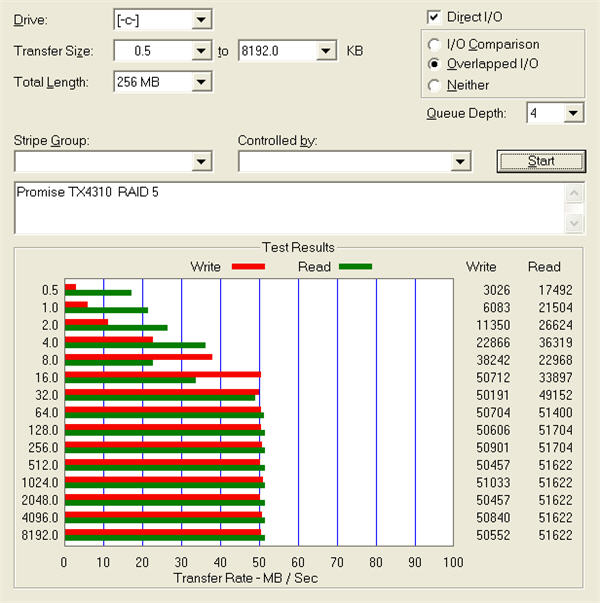 Promise TX 4310
In the ATTO benchmarks the AMCC 9500S-4LP again wins soundly over Promise. The margin of victory over the HighPoint is not as great, in fact the HighPoint has higher Read speeds than that of AMCC, but I'm basing my decision on the lesser differential exhibited between the Read and Write speeds exhibited by AMCC.
TEST RESULTS … RAID 5 cont.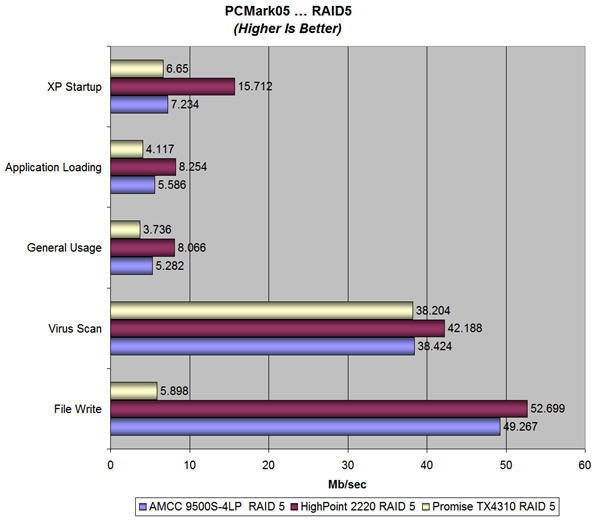 PCMark05 Combined RAID 5
In PCMark05 again the HighPoint Rocket RAID 2220 barely edges out its two competitors, RAID 5 is becoming a real nail biter.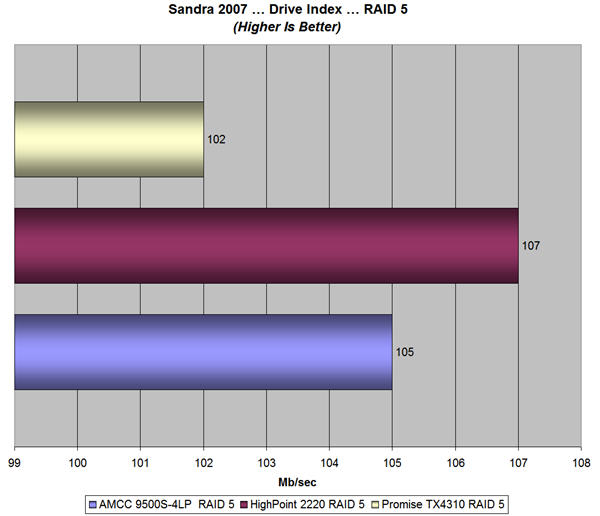 SiSoft Sandra 2007 Combined RAID 5
Here again a more solid win for the HighPoint RocketRaid 2220 by more of margin than before over both the 9500S-4LP and the Promise TX-4310.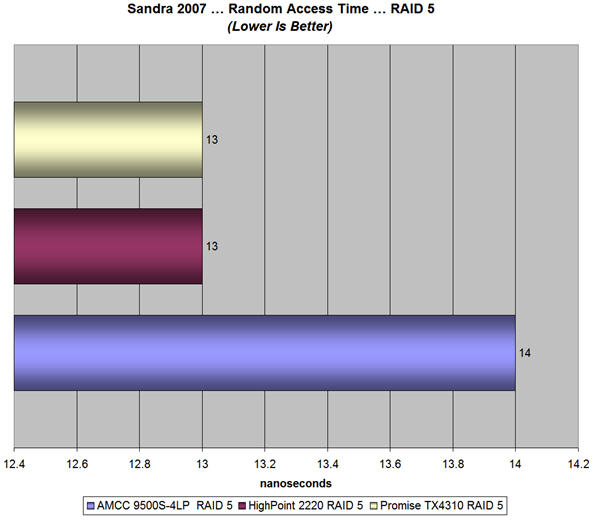 SiSoft Sandra 2007 Combined RAID 5
Random Access time is a tie between HighPoint and Promise with AMCC only slightly trailing. My calclations show HighPoint has three wins, Promise has one and AMCC has three. In the RAID 5 testing I feel that on the tests AMCC won they were more substantial than we've seen and HighPoints only reason for a tie was the Random Access Time in the Sandra benchmark. I therefore believe we'll give the RAID 5 benchmark championship to the AMCC 9500S-4LP.
CONCLUSION
Well it's final! We had three very interesting products that each participated in twenty different benchmarks. I worked with each of these controller cards over the 40+ hours I've devoted to this article and feel as though I know them each quite well. Of the three, the HighPoint RocketRaid 2220 and the Promise TX-4310 were the easiest to set up and performed flawlessly after that. The AMCC 9500S-4LP required a bit more TLC to achieve the same functionality, but once I understood its idiosyncrasies it was also easily mastered.
Even though the benchmarks indicated various winners in each of the categories, remember that benchmarks are strictly synthetic and don't always assimilate results that equate to "real world product utilization". The HighPoint Rocket RAID 2220 and the AMCC 9500S-4LP were out of their native environment in that each is optimized for a different PCI arrangement than I used. The HighPoint is optimized to run on a PCI-X 133 MHz slot and the AMCC 9500S-4LP is optimized to run on a 64 bit PCI slot. Even my PCI slots are 64 bit, I'm running Windows XP, the 32 bit version, so draw your own conclusions.
I couldn't leave without saying how very impressed I was with the Promise TX-4310! It is essentially almost as fast and in many cases faster than the other two competitors in this article. Remember the Promise TX-4320 is nothing more than a controller card that doesn't have its own processor, but perform and perform very well it did. In some cases the CPU utilization is double that of the other two but that is to be expected given the nature of the Promise controller card's function.
Overall, I would have to say that judging from the benchmarks and my own perception of speed the HighPoint Rocekt RAID 2220 is clearly the winner having bested 2 out of the 3 arrays tested. Also remember that these are by no means the fastest RAID controller cards manufactured by any of the companies we received products from. They are slow in comparison to their big brothers which operate in a PCI-E 133, MHz environment. Many of you might be asking why by a separate RAID controller when you have an onboard controller that performs as well or in some cases better than the separates do. Well it's strictly a matter of preference but remember your onboard RAID controllers are just like the Promise card in that they use your CPU cycles for processing power not that that's bad if you don't run a lot of CPU oriented processes. I just happen to like separates better and equate this to onboard sound and video which generally never quite measure up to their separate counterparts.
As is my practice with any article or review where products are involved I always discuss pricing for that is a concern of most of our readers. I checked Price Grabber and for the first time ever found what appeared to be a very limited search option on the Promise TX4310 RAID controller. This card sells currently for around $125 USD but Price Grabber listed only two locations and each priced this card at over $500 USD this would scare the hell out of most potential buyers. I even checked the listed merchants and the pricing was accurate for them but not for the other (20+) merchants that have this card priced at retail or below. The remainder of the Price Grabber information appeared quite accurate with the HighPoint Rocket RAID selling in the $225-$250 USD range and the AMCC 9500S-4LP selling in the $275-#300 USD range.
Finally, recommendations! I can easily without a doubt recommend each of these fine products without reservation. You must however judge the circumstances of your use to pick the tailor the card for your individual needs. In my specific use I would opt for a RAID 5 or RAID 1 array as the possibility of data loss with RAID 0 outweighs the speed benefit gained by its use. Another fact to remember is that each of the tested cards in their RAID 5 arrays were only tested with 3 drives which is the absolute minimum for RAID 5. Up to a point the more drives used significantly optimize the environment and also increase the speed of data transfer.
Last but certainly not least this is Part 2 of what I hope to be a continuing saga with regard to all aspects of RAID. I will plan to publish the next installment in the early fall as it takes a while to make an article of this type take place. Expect the next installment to include the absolute fastest controller cards available at the time that will operate on the desktop environment, I will also compare the fastest onboard RAID controllers to give you a better perspective of performance gain or loss by choosing this route.
Oops! I almost forgot what I feel is the most important aspect of any review; Bjorn3D's thanks and of course mine to the merchants and manufacturers that make these type of presentations possible. In this case I believe naming the cast of characters that helped in this effort is more than appropriate. My (our) sincerest thanks go out to:
Debbie Clima & staff at Adaptec
Julie Parayno, Tina Declerck & staff at AMCC/3ware
Billy Harrison, Claudia Lin & staff at Promise Technology, Inc.
Allen Mah & staff at HighPoint Technologies, Inc.
Stephen Lawton & staff at Acronis
The entire Marketing Team & staff at Seagate
Hank Barron and his team of skilled craftsmen at Performance PC Inc.
We sincerely appreciate each of your efforts and continuing support!