Today we'll be reviewing a product that for lack of better terms I'll call a hybrid USB drive, the Verbatim 4GB Store 'n' Go USB HD Drive. Why do I call it a hybrid? Read on and ye shall be enlightened on the answers to this and many other questions!
INTRODUCTION
Data storage and convenience coupled with the portability of moving it from Point A to Point B received a huge boost a few years ago with the advent of the USB drive. These types of drives go by many names ranging from "flash drives", "thumb drives", "ROM drives", and others to numerous to mention. Each manufacturer offers something unique to their own brand to either increase speed, extend storage capacity, or decrease the physical size of the drive to facilitate the needs of the potential consumer. Speaking of consumers, these types drives can in most cases allow anyone from a student to the business professional to easily carry small to moderately large amounts of data and easily transfer it from one computer to another. The only caveat being that each of that both of the systems must provide a USB port. What reasonably modern computer doesn't have a USB port? Duh!
You might be asking yourself at this point "I'm a computer enthusiast and just how does this type of device affect my world?" Ok, do you remember the floppy drive you once used or for some of you that's maybe not past tense? This category of product can and effectively does totally eliminate their need! The small number of enthusiasts that still use a floppy drive do it for one of two purposes:   1) To flash their motherboard's BIOS; or 2) To boot their computer to a DOS environment in an emergency. USB drives have effectively removed that need. Flashing your BIOS with one couldn't be any easier. The storage size for some drives is large enough where you can put a scaled down version of Windows XP Pro on it, so forget DOS; but for diehards DOS can just as booted to.
USB drives also offer you the ability to store security information in a single location that can easily be used on a multitude of devices. You can store hundreds of MP3s and even small movies on the larger drives. If are anal about your apps and travel and want to use certain smaller applications such as email clients,, browsers, and the like on a computer that's not yours, here's your opportunity. I could go on and on but I think you get the message.
Today we'll be reviewing a product that for lack of better terms I'll call a hybrid USB drive, the Verbatim 4GB Store 'n' Go USB HD Drive. Why do I call it a hybrid? Read on and ye shall be enlightened on the answers to this and many other questions!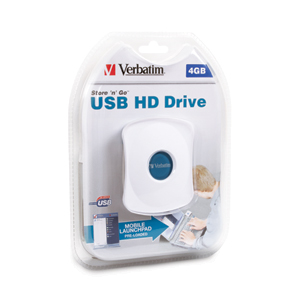 A CLOSER LOOK
The Verbatim 4GB Store 'n' Go USB HD Drive comes nicely packaged in a secure plastic enclosure.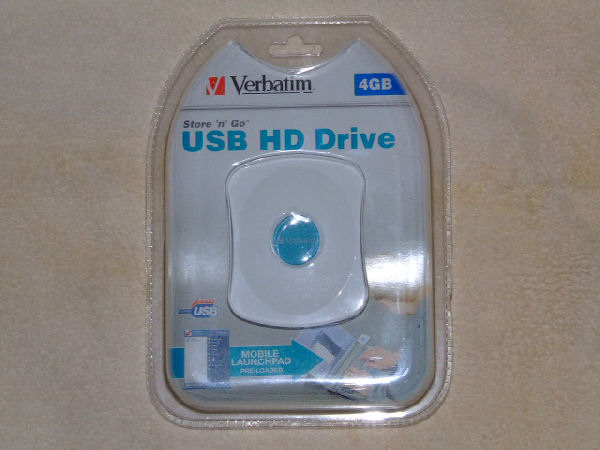 The package includes the 4GB Store 'n' Go USB Drive, a padded vinyl case, a USB extension cable, and a small instruction page that is relatively comprehensive.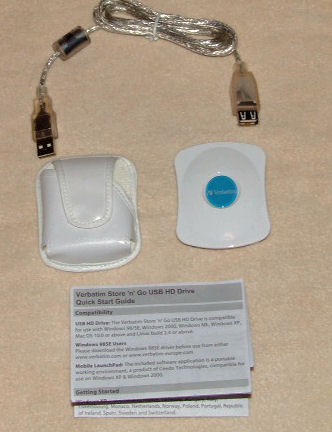 The next image is a frontal view of the drive with the attached USB cable removed from its storage socket.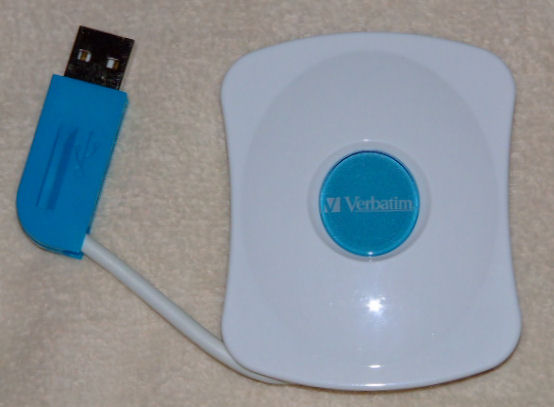 Finally, a view of the Store 'n' Go in use on top of my Lian Li G70 case plugged into one of its front USB ports. Notice also the blue Verbatim Logo in the center of the drive. The logo actually has a drive activity LED behind it that lights when in use and flickers accordingly with drive activity.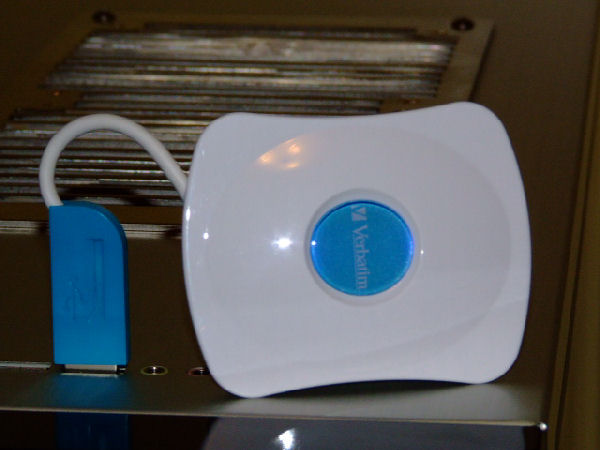 A CLOSER LOOK cont.
Features
4GB of storage space with built-in USB 2.0 connectivity
Pre-loaded with Mobile Launchpad, the "start" menu for your USB HD Drive
Sleek and compact design, convenient for carrying and transporting files
Ease of use. Same Plug and Play operation as a USB drive – no external power required
One Year Limited Warranty
Mobile Launch Pad
The Store 'n' Go USB HD comes pre-loaded with a co-branded version of Ceedo Starter hence referred to as Ceedo Mobile Launchpad. Mobile Launchpad is a portable working environment for portable storage devices that allows users to carry their programs, documents, e-mails and favorite browser with them. Mobile Launchpad enables users to download, install and run applications listed on the Programs Directory, which features some of the most popular applications for users on the go.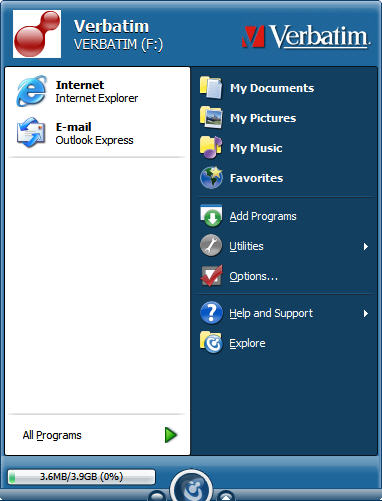 Ceedo Mobile Launchpad provides an array of general and advanced options available to appease the users discretionary tastes.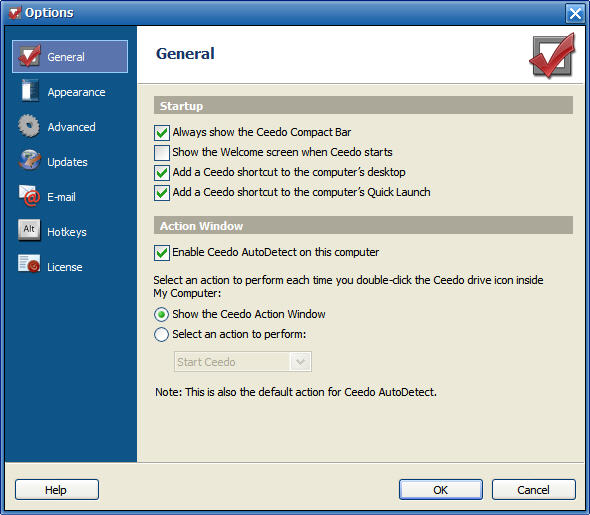 Ceedo Mobile Launchpad General Options
Ceedo Mobile Launchpad Advanced Options
Observations
The size of the drive is not overly large measuring just over 2.25″ wide x 3″ long x .25″ thick. It fits nicely in its white padded case making it a perfect size to fit your shirt pocket, assuming you have one. As I alluded to in the introduction this is what I term a "hybrid USB drive" meaning it is actually a very small hard drive as opposed to the standard USB drive which stores data on the drive's NAND chip. There are Pros and Cons to this type of arrangement. The Pro's include larger data storage and the ability to be formatted in either, FAT, FAT32, or NTFS; (most other standard USB drives limit you to formatting in FAT or FAT 32 only). The primary Con is that this drive is more vulnerable to damage associated with shock coupled with the fact that a spinning disk will never have the longevity of a drive that stores it's data on a NAND chip.
TESTING
Test System
Benchmarking Tools:
HD Tune version 2.52
Simpli Software's HD Tach RW version 3.0.1.0
Test Methodology
I thought the best possible test for this product would be to actually compare it to a standard USB drive. For this test I'll use a Sandisk Cruzer mini 512 Mb drive. To answer a question that would pop into most people's mind when they read this type of comparison, No! the Sandisk isn't a new drive, I've been using it daily for data transport to and from my job for over a year. Yes! I realize I'm not comparing apples to apples here but I don't have a standard 4GB USB drive to compare the Verbatim Store 'n' Go to, so we'll have to just see and analyze the results accordingly. I should further note that neither of these drives are USB 2.0 high-speed drives, so from that standpoint they are evenly matched.
TEST RESULTS
HD Tach RW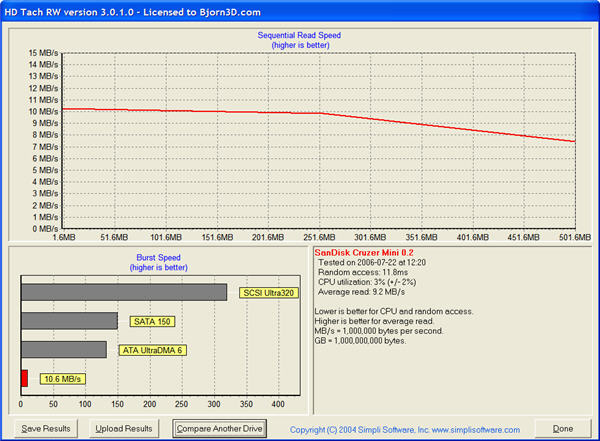 Sandisk Cruzer mini 512 Mb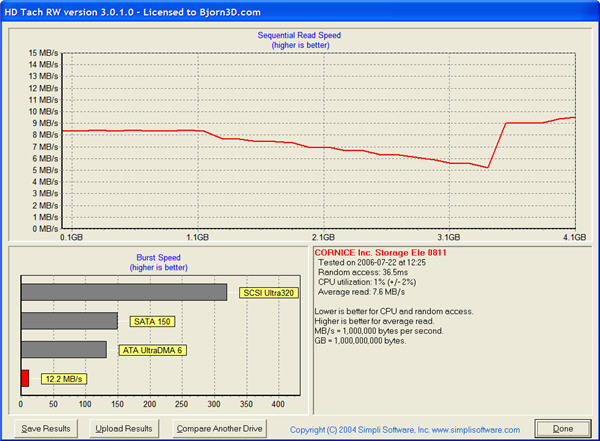 Verbatim 4GB Store 'n' Go
HD Tune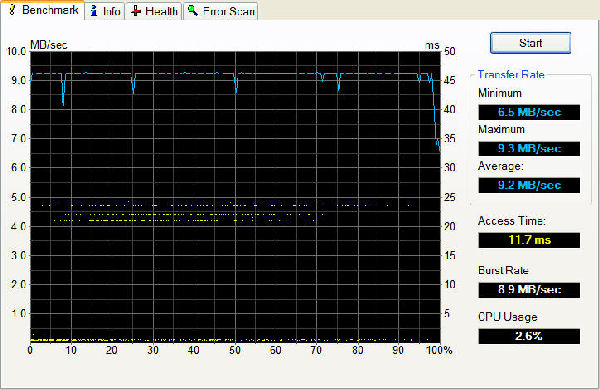 Sandisk Cruzer mini 512 Mb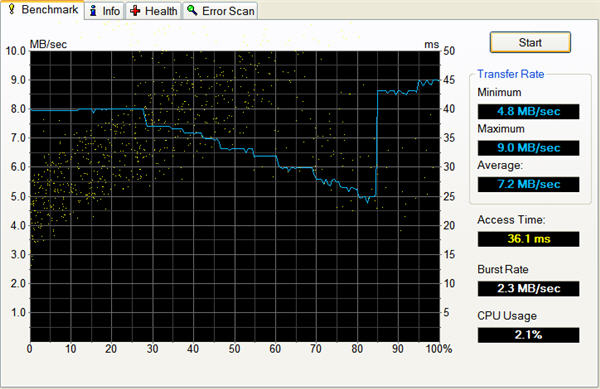 Verbatim 4GB Store 'n' Go
Impression
As one might expect the NAND based Sandisk drive is considerably faster, primarily because there is no interaction with a moving platter as is the case with the Verbatim 4GB Store 'n' Go. Let us not forget speed is not everything. No! I haven't lost my mind, we're looking at 8 times the data storage with the Verbatim drive even though the transfer maybe about 15% slower, it's still 8 times larger. I was also impressed with how quiet the Verbatim product is given that it is a true hard drive with a spinning platter.
CONCLUSION
I'm readily impressed with the Verbatim 4GB Store 'n' Go drive. First and foremost is the 4GB capacity. To get a NAND based USB drive with the same capacity you're looking at almost double the cost. A quick Price Grabber search shows the price range for the 4GB Store 'n' Go to be in the $100 – $110 USD price range. Verbatim also makes an 8GB version of the same drive for about $50 – $60 USD more. This makes the price per GB much more attractive for the Verbatim 4GB Store 'n' Go.
The only real negatives with the Store 'n' Go are:   1) The fact that it is a true hard drive with moving parts thus the mean failure time will be considerably shorter than that of a NAND based drive; and 2) The NAND based drive is much more durable, tests have shown that the better NAND based drives can be dropped from considerable heights and still function without any degradation of the data contained on board. Of course how many of you are going to drop your drive from the top of a 4 story building?
Overall, I give this product a hearty recommendation for those of you looking for mass, easily transportable storage at an excellent price! Even though I would probably never use the Ceedo Mobil Launchpad, I feel most general consumers will be overjoyed with it and the fact its included at no extra charge.
Pros:
+  Excellent price per GB
+  Quiet Operation
+  Nice unobtrusive size
+  Ability to be formatted in NTFS file format
+  Quality construction
+  Nice extras in the package
+  Ceedo Mobile Launchpad included at no extra charge
Cons:
–  Durability of a spinning disk & longevity as opposed to other USB alternatives
Final Score: 7 out of 10 and the Bjorn3D Seal of Approval.