Today we have the rare opportunity of reviewing a product before its actual release date. Corsair, a company well known to the entire enthusiast market for making some of the finest memory currently available has joined a few of its memory manufacturing brethren in moving into the manufacture and sales of power supplies. Corsair's first two offerings consist of both a 520W and 620W watt PSU that offer most if not all of the bells and whistles currently available. Please join us while we review the Corsair's CMPSU-620HX 620 watt power supply to see if this product fully warrants your consideration as a viable alternative to its considerably more expensive counterparts in the PSU arena.
INTRODUCTION
We alluded to the fact that today's systems are power hungry monsters in our last PSU article. Recent developments certainly support the truth of that statement. In the very near future it is safe to say that NVIDIA will be releasing drivers that will support the use of their newest 7950 GX2 VPU/GPU in a quad SLI™ configuration. I would hope that the same will be true for those motherboards that support both the Crossfire™ and the 7950 GX2 platform as well. In other words the power savings that have recently been brought to bear by the newer, cooler, more efficient processors that are currently being marketed by both Intel and AMD will be more than absorbed by the GPU/VPU should the enthusiast user opt for either the SLI™ or Crossfire™ configuration(s).
Many users saw the handwriting on the wall and immediately opted for either of PC Power & Cooling's mammoth offerings of a 850W or a 1KW power supply when the hit the shelves. That being said, not every enthusiast user can afford nor justify the $400 – $500 it takes to own one of these units. Manufacturers are well aware of this conundrum and in most cases have gone back to the drawing board to make their current mid-range power supplies more energy efficient. We have also seen the entry into this lucrative market by a number of companies that here-to-fore had been more unidirectional in their product lines. Is this change in marketing strategy simply a diversification for these companies, or is it a well thought out plan to bring new and exciting technology to the table? Time alone will answer that question!
Today we have the rare opportunity of reviewing a product before its actual release date. Corsair, a company well known to the entire enthusiast market for making some of the finest memory currently available has joined a few of its memory manufacturing brethren in moving into the manufacture and sales of power supplies. Corsair's first two offerings consist of both a 520W and 620W watt PSU that offer most if not all of the bells and whistles currently available. Please join us while we review the Corsair's CMPSU-620HX 620 watt power supply to see if this product fully warrants your consideration as a viable alternative to its considerably more expensive counterparts in the PSU arena.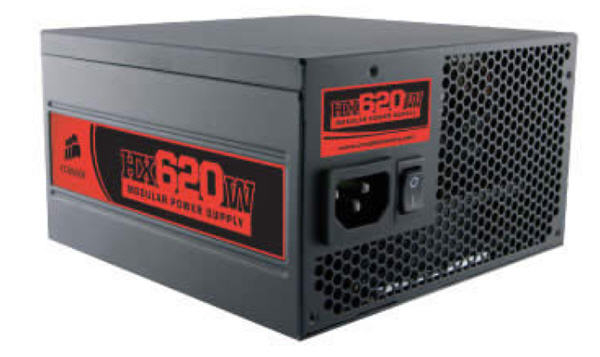 Corsair: The Company's Overview
Corsair has been a leader in the design and manufacture of high-speed modules since 1994. Our focus has always been on supporting the special demands of mission-critical servers and high-end workstations, as well as the performance demands of extreme gamers.
As a pioneer in high-speed module design, Corsair is a trusted supplier to many computer manufacturers. In high-density memory solutions, Corsair has always been one of the first suppliers to achieve advanced qualifications on Intel, Tyan and SuperMicro server platforms. We also work closely with other major server platform manufacturers to release product that is 100% compatible with their latest server products.
Their flagship memory products are part of the XMS (Xtreme Memory Speed) family which is designed for the unique demands of the serious enthusiast community. The XMS memory line has become the world's most awarded memory, garnering more awards and Number One rankings from review sites and users' polls than any other performance memory. The XMS family includes XMS2, high performance DDR2 modules that have broken world speed records; XMS Xpert, the first modules with real-time display of parametric data; Pro Series, gaming memory with real-time activity LEDs; and XMS Classic with black or platinum heat spreaders.
Their ValueSelect line of desktop memory brings our quality and compatibility standards to cost-effective products for today's most popular desktops and laptops. Value Select is available in DDR1 and DDR2.
They also offer a large range of ultra-reliable server memory and memory for laptops and OEM desktop systems.
Corsair has expanded beyond memory modules to offer performance water cooling units under our Corsair COOL brand. In addition, we offer a line of Flash memory. Our world's first water-resistant, shock-proof Flash Voyager USB is winning kudos for its sleek and functional rubber housing. Our range of SD and CF cards offer a lifetime of reliable performance for popular photo and MP3s devices, cell phones and PDAs.
With more high-speed experience than anyone out there, we know the importance of design features like tightly-controlled trace lengths, controlled impedances, clock trace design, unbroken power and ground planes, and selectively plated gold. Corsair Memory has developed an industry-wide reputation for quality, compatibility and performance
Sidebar
Our recent Power Supply reviews have been pretty much cut and dry as we felt that most of our readers were primarily interested in seeing a thorough description along with a few pictures but primarily the performance figures. In other words taking a "more meat and less potatoes" approach. Recently we have received some valuable feedback from several of Bjorn3d's members as well as from some of our readers telling us they appreciated the thoroughness of our other reviews and not to change our content for power supplies. For that reason we'll be returning to the same highly detailed and extremely thorough format that we use for all the other products we review.
FEATURES & SPECIFICATIONS
Features
Supports the latest ATX12V v2.2 and EPS12V 2.91 standards and is backwards compatible with ATX12V 2.01 systems.
Guaranteed to deliver rated specifications at 50C?.
Active Power Factor Correction with PF value=0.99 provides clean and reliable power to your system.
Double forward switching circuitry design offers high efficiency, up to 84% under wide load range.
8 Serial ATA connectors (4 on 520W).
105 C rated industrial grade capacitors provide uncompromised performance and reliability, delivering 4 times the lifespan of conventional 85 C rated capacitors.
Triple 12V Rails provide independent reliable power to the CPU, video card and other components with a combined rating of 50A maximum! Advanced circuitry design that automatically enables power sharing between the triple +12V rails in an event of overload on any single +12V rail.
Ultra quiet 120mm double ball-bearing fan delivers excellent airflow at an exceptionally low noise level by varying the RPM in response to temperature.
Powerful +5Vsb rail with 3A rating.
Auto switching circuitry provide universal AC input 90~264V.
Over Current/Voltage/Power Protection, Under Voltage Protection, and Short Circuit Protection provide maximum safety for your critical system components.
Gold Plated connectors provide oxide free ultra low-resistance contact between the power supply and your critical components.
Dimension: 5.9″(W) x 3.4″(H) X 5.9″(L); 150mm(W) x 86mm(H) x 150mm(L)
MTBF: 100,000 Hours
Specifications
Corsair HX620W Power Supply (CMPSU-620HX)

Voltage

+3.3
V
+5
V
+12
V1
+12
V2
+12
V3
-12
V
+5V
sb

Max. Current

24A

20A

18A

18A

18A

0.8A

3A

Regulation

± 5%
± 5%
± 3%
± 3%
± 3%
± 10%
± 5%

Ripple
(mV)

50

120

50

Max.
Combined
Wattage

 

170W

 

600W

 

9.6W

 

18W

 

620W continuous output @ 50C ambient temperature
AC INPUT

Operating Range

90 – 240V

Frequency

47Hz to 63Hz

Current

5A / 115V , 120A /  230V

Inrush Current

115V / 60A (max), 230V /120A (max)

Power Factor

.99 @ full load

Efficiency

80%+ under wide range load
ENVIRONMENTAL

Operating Alt.

Sea Level-10,000 ft

Humidity

10% – 90% RH

MTBF

80,000 hours at 50'C

Fan Type

Double ball bearing fan

MTBF

100,000 hours @ 25 ° C

Safety Approval

UL, CUL, TUV, CE, FCC, CCC, CB,
C-tick
Efficiency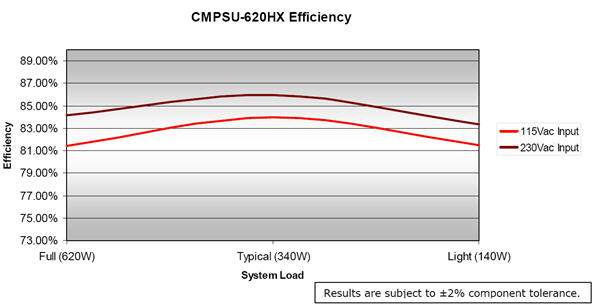 Noise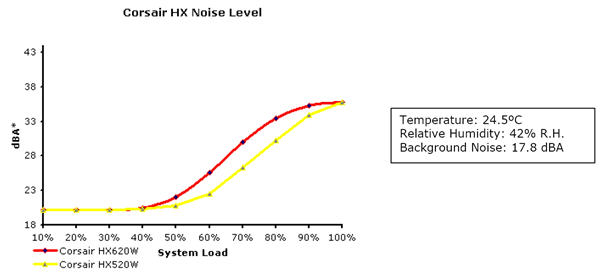 A CLOSER LOOK
Packaging
Packaging, as I have stated countless times, is one of my pet peeves with the choice of product protection used by some vendors to ship computer products. They approach packaging parts with the assumption that they are being picked up at a storefront as opposed to traveling in some cases several thousand miles and being subjected to the rigors that various freight companies put the packages through. Corsair made my A+ list with their excellent packing of the CMPSU-620HX.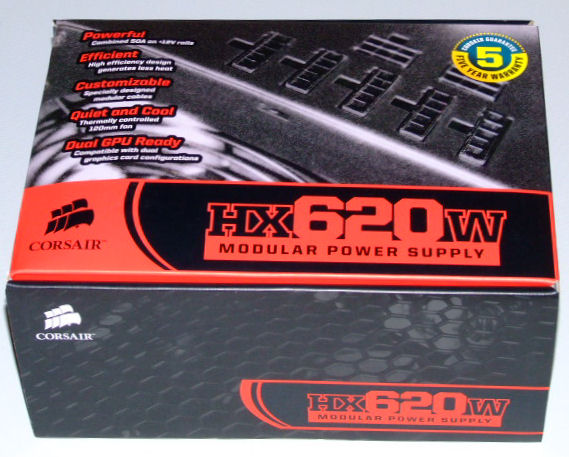 The Package… Front
As you can see the primary package is quite sturdy and well detailed with the product features. The primary package was shipped double boxed with airbags further protecting the valuable contents that were enclosed.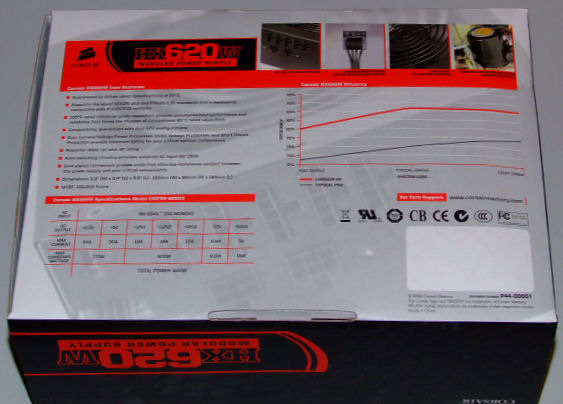 The Package… Rear
The rear of the box takes up where the front leaves off, completely familiarizing the potential buyer with all the unit's features almost to the point of being a company presented mini-review of the power supply. Well done Corsair! There's no such thing as having to much information when it comes to investing your hard earned money!
Upon opening the primary shipping carton we found that the dual boxes were not the only protection proved for the CMPSU-620HX. Th power supply unit was completely enclosed in sculpted foam, form fitted encapsulation that was as minimum of two inches thick thus protection the power supply unit.
Exterior View
We were also impressed with the flat black color scheme used by corsair on the CMPSU-620HX. Although not different from many other PSUs on the market the red and black logos added a touch of flair and style to the unit. The following images depict the CMPSU-620HX from the top, side, and rear views.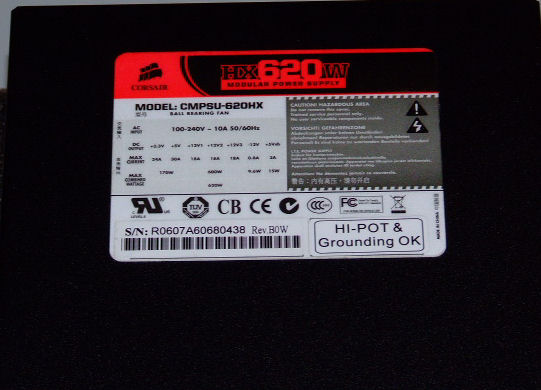 The PSU… Top view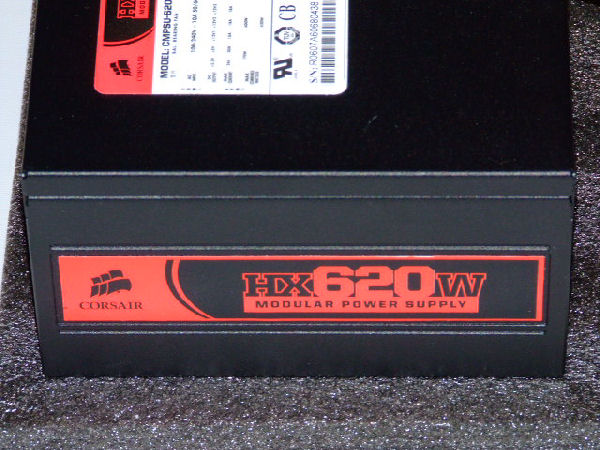 Power Supply … Side View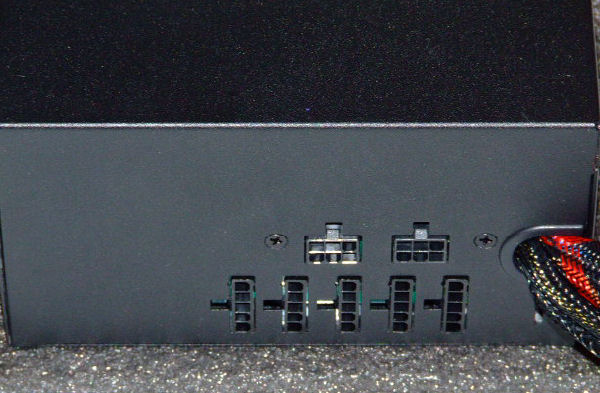 Power Supply … Rear View
The rear view shows the cable inserts for the supplied modular cables. Note the two PCI express adapter inserts at the top and the five modular cable inserts immediately below. As we have stated before we feel that the newer modular designs do not sacrifice reliability or compromise power flow as has been argued in other reviews at other sites in the past. The modular cables certainly are easier to establish orderly cable management as the user only connects and installs the necessary cables for his/her system.
A CLOSER LOOK cont.
Included Components
1 – CMPSU-620HX Power supply with 24/20 pin main power connector, a +12V 4 pin cable, and a +12V 8 pin EPS cable permanently affixed; 550mm in length
1 – User Manual
1 – AC power cord
4 – mounting scres
1 – Corsair case badge
10 – cable ties
1 – enhanced modular case set
Enhanced modular cable set contents:
2 – 800mm 4 pin peripheral power connector cables (Molex) with 3 "quick release" style connector heads
2 – 450mm 4 pin peripheral power connector cables (Molex) with 2 "quick release" style connector heads
2 – 550mm PCI Express cables
2 – 800mm SATA connector cables with 3 SATA connector heads
1 – 600mm SATA connector cables with 2 SATA connector heads
1 – Yadapter cable with 2 floppy power connectors
1 – Yadapter cable with 2 4 pin female (Molex) "FAN ONLY" power connectors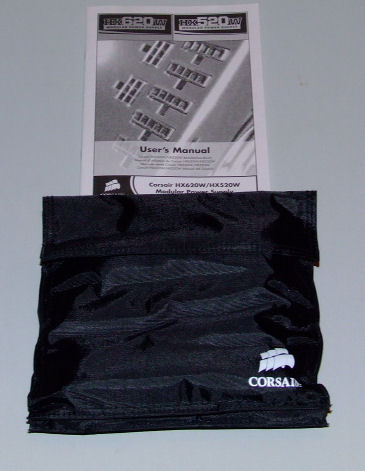 Encased Modular Cable set with Instructions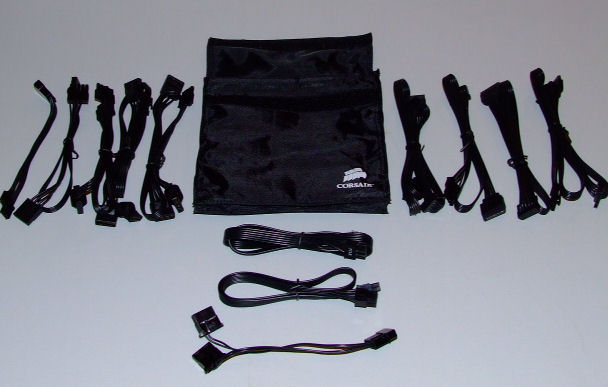 Modular Cable Set with Case
This is with a doubt the most complete array of included modular cables that I've ever seen! You have a whopping 8 SATA power cables and 10 molex power adapters which should easily meet the needs of even the most demanding of systems.
Main Power Cables
Internal View & Components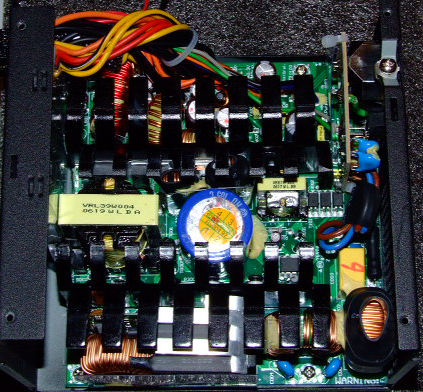 Interior View … Top-Down
The above image is a top-down view of the internal components of the CMPSU-620HX. As stated in the "Features" section this unit uses 105 C rated industrial grade capacitors which should significantly enhance the products reliability and performance at almost any temperature operating range that the user might encounter. Note the 8 black finger-like projections on each side of the case. These are heat sinks more than ample space in between to allow the PSUs 120mm fan to dissipate heat.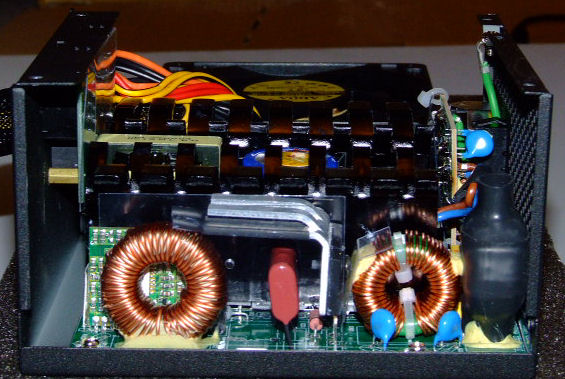 Interior View … Side
From the side we can easily see the craftsmanship that Corsair has put into this power supply. It is chocked full of industrial grade components yet still retains adequate spacing for high-performance cooling.
Cooling Fan
Corsair opted to use the Adda Model AD12124B-A71GL 120mm fan for this unit's cooling. We looked the fan's specifications up to find that it produces a maximum airflow of 85.2 CFM at 2200 RPM at 39.1 DBA. The 120mm fan is largely becoming the fan of choice in most of the "enthusiast grade" power supplies that are currently being produced.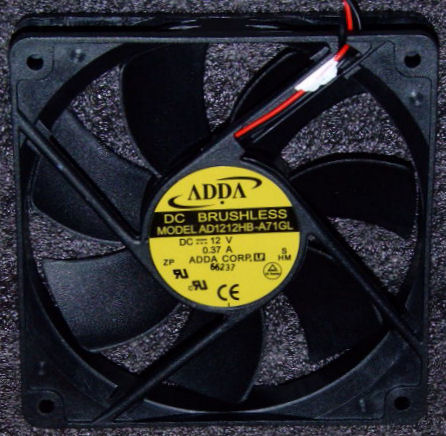 Adda Model AD12124B-A71GL 120mm Fan
Viewing the fan from the other side shows that Corsair also used rubber grommets in the fans installation to keep vibration and noise to a minimum.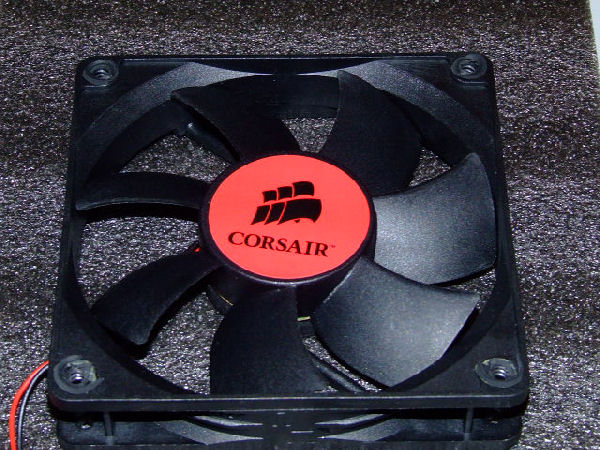 Adda Fan with Rubber Installation Grommets
TESTING
Test System
AMD X2 5000+ running at default speed
ZALMAN CNPS9500AM2 HSF
ASUS M2N32-SLI Deluxe nForce 590 motherboard Version 1.03G Newest Revision
2GB of Mushkin Redline XP2-8000 DDR-2 (4-5-4-11-1T @ 2.0 volts)
LeadTek WinFast PX7950 GX2 TDH running ForceWare 91.29 drivers
Corsair CMPSU-620HX 620W Power Supply
Lian-Li G70 Case customized by Performance PCs
Windows XP Pro SP2
Samsung Syncmaster 213T 21.3″ LCD Monitor
Test Methodology
Let's face it, with a power supply this is the real meat of any review. Power supply pictures and verbose descriptions mean absolutely nothing without the ability to produce the desired results. For that reason we had previously tried to place the majority of my emphasis and time in this area of the review. This review is however more inclusive while still placing a strong emphasis on the product's test results.
To act as a break-in period for the Corsair CMPSU-620HX 620W Power Supply, it was setup and run for several days in the above described test system case and allowed to run virtually undisturbed during normal everyday use ranging from surfing the Net to some hard-core gaming. To establish load conditions we ran a variety of different processes on my test system to create as much power demand on the CMPSU-620HX as the components of the test system I was working with would allow. These processes consisted of looping a session of 3DMark 2006 while running a session of CPU burn and also ripping a DVD. Power was supplied via a power conditioning UPS to remove any test variances attributable to voltage fluctuations attributable to wall current alone.
All electrical measurements were measured using a no-name, generic digital multimeter that I have owned and heavily relied upon for the past 18 months. I also used a Seasonic Power Angel for some of the power measurements. Several months ago I began keeping a data base in the form of a table comparing the various power supplies that I have reviewed and owned. This review's results will be added to that data base.
We will continue our "real world system" which was initiated during several recent reviews meaning we will run all the background applications that we run in every day life and not sequester them as are done by some reviewers to enhance benchmark results. Among the applications running in the background on our test system are: NOD32 AV, Trillian, SnagIt, Steam and some other system applications that are too numerous to mention. Our hope again in using this approach are to give you as close to possible the results you'd achieve if you were running these benchmarks on a similar system in your home. No other secondary enhancements to improve benchmark results will be run either.
Test Results
 
Corsair® CMPSU-620HX
620W Power Supply

3.35

3.35

5.15

5.15

12.4

12.4

Antec® Neo HE 550 Watt

3.35

3.35

5.10

5.10

12.3

12.3

SilverStone® ST56F

3.35

3.29

5.10

4.97

12.3

11.9

Seasonic® S12

3.33

3.27

5.15

4.95

12.25

11.85

Enermax E651P-VE

3.33

3.15

5.05

4.82

12.02

11.78
CONCLUSION
We'll begin our conclusion by saying that the Corsair CMPSU-620HX 620W power supply is one incredible power supply! The test system utilized is by no means a slouch, we threw everything we had at this PSU and it was like it wasn't even phased by the load. I'm simply amazed by its performance! With performance of this type one would expect the cooling fan to be working at max RPMs, WRONG! The CMPSU-620HX took the load in stride and easily proved to be the quietest PSU I've tested to date. I could never even hear the Adda fan of this unit, much less hear it ramp up the RPMs due to increased power demand. Let's see quiet, efficient, solid as a rock, hmmm I think I've covered all the bases.
Oh did I mention that until a better product comes along this will be my new reference power supply. Some might think that this is a huge step for a brand new product, I would both agree and disagree! It's a huge step for a brand new product to perform as well as this product does, it's not a huge step to uses it as a reference PSU. The Corsair CMPSU-620HX 620W power supply literally beats the pants off every mid to upper range PSU I've tested thus far so why not make it my reference standard until I find something better, assuming that happens.
Corsair lists the retail price of this unit at $179.00 USD and also estimates the street value should be in the $155 – $169 USD range. Because this product is a yet unreleased Price Grabber or any other pricing service for that matter is unavailable for verification of the "street" price range.
You've heard what we liked about the Corsair CMPSU-620HX 620W power supply, now two pieces of constructive criticism:  1) Since this is a pre-release version of the power supply I would strongly suggest that Corsair consider adding adjustable pots in future models. Why, you might ask since the voltage variances are currently nonexistent? With age any product will tend to relax its performance, thus some slight tweaking might become necessary.    2) Corsair should consider sleeving more than just the main power connections. Even though the flat modular cabling is very easy to hide and does an excellent job, I still think fully sleeved cabling is much more attractive.
Finally it's recommendation time. Do I really need to say that again this is without a doubt one of the best mid to upper range PSUs I've ever had the pleasure to test? You might be asking yourself too, because of the product's "yet unavailable status" did he get a specially prepared engineering sample to review? I truly don't believe so, I honestly feel that this is the same product that you will be able to buy in the stores on it's release date. Should I ever find out that I received a product especially amped up for a review, I would refuse to air that review until I received a consumer version. I am strongly against both being hypocritical and placating Bjorn3d's readers by giving them results that I feel will not apply universally to the consumer version of the product being reviewed!
Oh yeah, one last little issue (well maybe not so little), we've stated several times that this product is "yet to be released". When's this piece of art finally gonna hit the shelves so that you can check it out? Simple answer; today, August 1, 2006!
Pros:
+  Extremely quiet operation
+  Excellent performance
+  Active PFC
+  Fully sleeved main power connections
+  Very high efficiency rating; PFC = 0.99
+  Cooling design and results
+  Excellent power regulation
+  Industrial grade components
Cons:
–  No adjustable voltage pots
–  Modular cables aren't sleeved
Final Score: 9.5 out of 10 and the Bjorn3D Golden Bear award.