The Foxconn C51XEM2AA-8EKRS2H is an excellent motherboard. With full nTune 5 support, lots of overclocking capabilitiees and great performance it is a mohterboard that does full justice to the nForce 590 chipset.
INTRODUCTION
When AMD released their new AM2 CPU's NVIDIA was quick out from the starting block with their nForce5 chipset. Among the first motherboards, in fact probably the very first, was Foxconn with their imaginary named C51XEM2AA-8EKRS2H. They were probably first since the motherboard also was the reference motherboard from NVIDIA.
As the chosen motherboard to display all the might and glory of the nForce5 chipset, the C51XEM2AA-8EKRS2H is a motherboard filled with features and also one of the few fully supporting the nTune-software from NVIDIA.

NFORCE 5
The Foxconn C51XEM2AA-8EKRS2H uses the top of the line chipset in the nForce 5 family, the nForce590.  
Just as they did with the nForce 4, NVIDIA has filled the nForce 5 with lots of (on paper) cool features.
46 PCI-E lanes on the high-end nForce 590 chipset.
18 from the SPP and the rest from the MCP. This means you got 2x16x lanes for two video cards in SLI

Linkboost
Linkboost is another feature only available on the nForce 590. When the nForce 590 SLi chipset senses that you have a certified video card in the system (right now a 7900GTX) it automatically overclocks the PCI Express (PCIe) and MCP HyperTransport (HT) bus speeds by 25%. It does sound great but in actual tests the performance wasn't really different with Linkboost on or off. A lot of other factors decide the performance and in the end increasing this bandwidth doesn't really do much.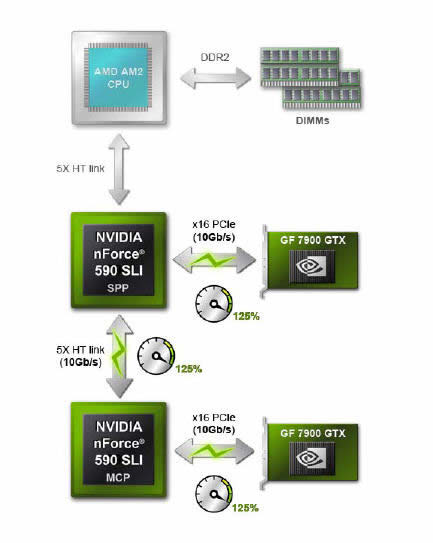 Note that the link between the SPP and CPU still is 8 Gb/s
SLI Memory
Enhanced Performance Profiles, or EPP, is an open standard, PC initiative designed to provide higher levels of system performance by integrating additional high-performance capabilities into their SDRAM DIMM modules. Developed as an extension to the traditional JEDEC standard Serial Presence Detect (SPD) found on today's high-performance DIMMS, new Enhanced Performance Profiles (EPP) simplifies the overclocking of memory DIMMs, while at the same time ensuring platform and component compatibility. The benefits for the beginner include good introduction to tweaking and a guaranteed success with their first overclock. For the expert, EPP provides a good basecamp to begin overclocking by moving "ground zero" two-thirds up the mountain for the sophisticated overclocker.

The NVIDIA nForce 590 SLI chipset is the first core logic to introduce support for this new specification. The system BIOS will automatically recognize the presence of a DIMM that supports EPP. Upon boot-up, the BIOS will flag detection of these DIMMs to users. A user has the ability to enable or disable EPP support in the SBIOS using the SLI-Ready Memory option.

Memories that run at much higher speeds above 800MHz, such as Corsair TWIN2X2048-8500C5, will require CPU overclocking to achieve the 1066 MHz memory frequency the device is capable of operating at. This may require increasing CPU voltage and increasing CPU frequency. Due to manufacturing process variations of CPUs, some CPUs might not be very overclockable while others might very well be. By incrementally increasing and testing the percentage of CPU overclocking in the SLI-Ready Memory BIOS setting, the user will be able to capture higher system performance.

First Packet
Essentially, FirstPacket™ is packet prioritization — it allows users to set network data packets for applications and games that are more latency sensitive with a higher priority. For applications, FirstPacket™ technology gives users much more flexibility in how they may use their computers, allowing them to successfully do more things at the same time. For games, FirstPacket™ is about response time. FirstPacket™ delivers a predictable online gaming experience by treating gaming network packets more importantly than other network packets that can saturate a limited DSL or Cable broadband connection, such as FTP packets.

Any application that tends to use small packets and requires bounded end-to-end latency will benefit from FirstPacket technology. Any networked game, plus voice over IP, video over IP, and any interactive applications (network meetings, like WebEx) will benefit. The benefit is achieved by forcing the latency-tolerant applications to wait a bit longer to access the wire. This is a good trade-off, since the user has indicated that their preference is to have the latency-sensitive applications be given priority over the other applications.

DualNet
The nForce 5 offers two Gigabit Ethernet controllers on the same chip. These can be run independently as well as combined.

Teaming
Teaming allows the two integrated network connections to work together, appearing as a single network connection while providing up to twice the Ethernet bandwidth for transferring large amounts of data from home file servers to other PCs. Teaming also provides network redundancy through fail-over capability. By hooking up Ethernet connections to both gigabit ports, not only is performance increased by combining the two pipes, but the network is instantly protected against port or cable failure (such as a network wire getting kicked loose.)

TCP/IP acceleration
NVIDIA TCP/IP acceleration is a networking solution that includes both a dedicated processor for accelerating networking traffic processing and hardware-optimized software. TCP/IP acceleration provides deep levels of networking and traffic inspections at full-duplex gigabit Ethernet speeds. By offloading CPU-intensive packet processing tasks in hardware, TCP/IP acceleration delivers the highest system performance. If you use this feature however you cannot use any third party firewall.

MediaShield
The nForce 590 and 570 now features 3 SATA controllers with dual PHYs that can run at 1.5 GB/s or 3.0 GB/s. This gives you support for 6 SATA drivers that can be set up in various RAID-configurations: RAID 0, 1, 0+1, and RAID 5. Since you now have support for 6 SATA drives you can run multiple RAID 5 arrays or even a massive RAID 5 array.

If the support for SATA drives have increased, the support for PATA (IDE) drives have decreased. Instead of 2 PATA-ports you now only have support for 1 PATA-port. This can be negative to anyone still running a bunch of old IDE-drives or with a bunch of optical drives.

High-Definition Audio
The nForce 5 now supports the various "Azalia" High Definition Audio codecs.

nTune 5
The updated nTune application now has even more features:
Manually control bus speeds (FSB or HTT and AGP or PCI-E), fan speeds, memory timings, and voltages of the motherboard.
Manually control the 3D core and memory bus speeds and the fan speeds for GeForce series (3x and higher) graphics cards.
Automatically tune the system and graphics performance.
Dynamically load saved settings for different performance states.
Monitor system performance data such as bus speeds, temperatures, and voltage levels.
Perform stability tests to verify tuning results.
Change BIOS settings from within Windows.
View detailed SW and HW version information.
As with previous versions the motherboard vendors will have to add support for some of the features. As an example the Foxconn motherboard has full nTune support and allow you to dynamically change bios settings while the ASUS motherboard has limited support.
As you can see NVIDIA has added a lot of cool features with the nForce 5. Some of the features are only available on the high-end nForce 590 chipset.
SPECIFICATIONS AND FEATURES
Processor:

AMD Sempron™, Athlon™ 64, Athlon™ 64×2, Athlon™ 64FX processors, Socket AM2

Chipset:

NVIDIA nForce 590 SLI

Front Side Bus:

2000 MT/s HyperTransport™

Memory:

Dual channel DDR2 800 / 667 / 533 x 4 DIMMs, Max 8GB

VGA on Die:

N/A

Expansion Slots:

2 x PCIe x16, 1 x PCIe x4, 1 x PCIe x1, 2 x PCI

IDE:

ATA133 x 1

Serial ATA(SATA)/RAID:

Serial ATA II x 6 with RAID 0, 1, 0+1, 5, JBOD

Audio:

7.1+2 channel, Realtek ALC882D (HDA), Dolby Digital Live

LAN:

Dual 10/100/1000 Base T Enthernet PHY

IEEE1394:

1394a x 2 (TSB82AA2B), 1394b x 1 (TSB81BA3)

 

Back Panel I/O Ports:

1 x PS/2 keyboard 1 x PS/2 mouse
1 x 1394a 1 x 1394b
6 x USB 2.0 2 x RJ45
1 set 7.1 channel Audio jacks (5 jacks + 1 S/PDIF output)


Internal I/O Connectors:

2 x USB 2.0 headers, support 4 ports
1 x Front audio header
1 x COM
1 x Speaker
1 x Front panel
1 x Buzzer
1 x 1394a


Support CD:

NVIDIA nForce Driver, DirectX, Audio Driver, Adobe Reader, Norton Internet Security, Manual & Raid Manual, NVIDIA nTune, Foxconn LiveUpdate

Special Features:

NVIDIA®LinkBoost™ technology, SLI™-Ready, MediaShield storage™ technology, HDA, NVIDIA nTune, NCQ, AMD® Cool "n" Quiet™ technology,Fox LiveUpdate, QuadSLi support

One of the features worth mentioning a bit more is the nTune support. Foxconn has gone all out and made sure this motherboard as all the settings you need to overclock your CPU and memory. It also fully supports nTune which means that you can control a lot from inside Windows and even change a lot of the settings in the bios directly there.
THE BOX AND ITS CONTENTS
Just as the name is pretty uninspiring, the same goes for the box. The board comes in a plain white box with a little black and green on it. It does almost feel like the box you usually see for a reference-board. Not that it really matters though. In some way it is a bit refreshing from all those boxes with all sorts of fantasy-based art on them.
Inside the box you'll find the usual assortments of stuff.
SATA cables, lots of them. All the cables have a regular connector on one end and a 90 degrees angled connector on the other end.
Rounded PATA-cable
Rounded Floppy-cable
Rear panel brackets for SUB, IEEE1394 and the Com-port
SLI-connector
Drivers
Thick manual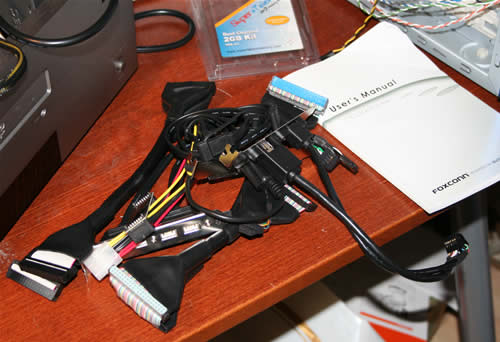 LAYOUT
The motherboard itself looks very nice. I like the black color compared to the bright colors some of the other vendors use. Unfortunately the black theme is extended also to all the various connectors on the motherboard. These days most motherboards color-code frontpanel, USB and Firewire connectors but Foxconn choose to not do this. This means that when you want to hook up for example the USB-ports from the front of the case you have to consult the manual to figure out which of all the connectors are USB and which are Firewire. It would have been much easier if they just had made them blue as every other motherboard does.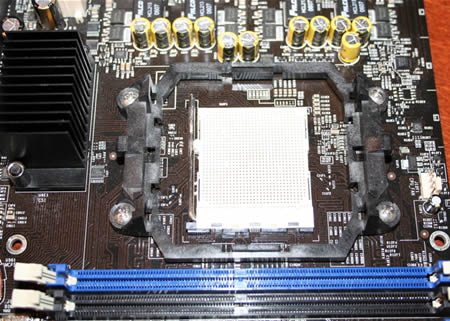 There is quite a lot of space on the motherboard around the CPU. The motherboard has a 4-pin CPU-fan connector with Pulse Width Modulation speed control. Normal 3-pin fans-connectors of course still work.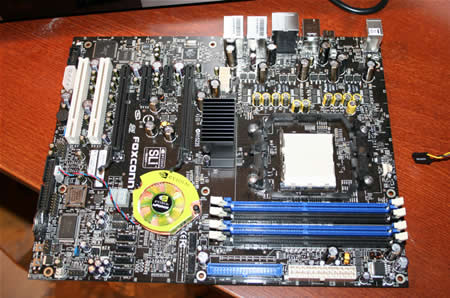 As dictated by the chipset the motherboard has just one PATA-connector meaning support for only 2 IDE-devices. If you like me have a few larger IDE-drives lying around it finally looks like it is time to retire them as the PATA-connector have to go to my DVD-RW drive. Luckily the motherboard instead has 6 SATA II-ports as well as support for RAID 0,1,0+1 and 5.
On the PCI-E front we have two PCI-E x16 slots for two video cards in SLI as well as a x4 and a x1 PCI-E slot. Last but not least we got 2 regular PCI-slots. Unfortunately they are quite close to one of the x16 slots and with a dual-slot video card in that slot we end up with just one available PCI-slot.
Another curious decision is the placement of the floppy-connector and the extra molex-connector for extra SLI-power. The floppy-connector is placed on the left side of the motherboard. That is usually quite some way away from the floppy drive, especially if you want to have the cables neatly managed. The extra power connector for SLI is also placed very odd, as far away from the PSU as it possibly can be.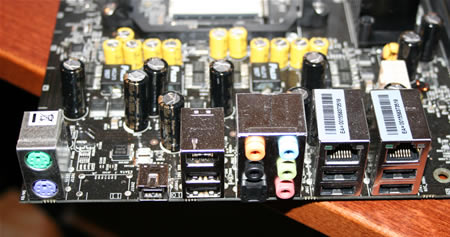 On the back of the motherboard we find the usual connectors:
PS/2 for mouse and keyboard (when will we get rid of them?)
2xFirewire
6xUSB
2xLAN
5 connectors for the Realtek ALC8820 7.1 sound as well as a optical connector
As you might notice there is no parallel or serial port available. The serial port is now instead on a break-away bracket.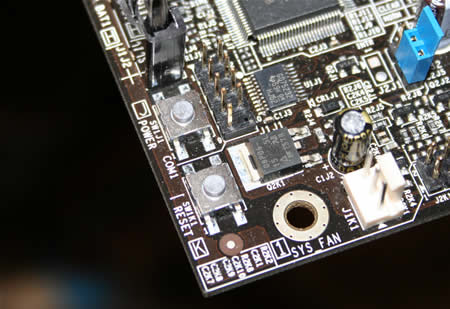 A very nice touch is the reset and power "buttons" that you find on the motherboard. They come in handy if you want to quickly hook up the motherboard without having to put it in a case or if you want to make sure it isn't the case that is faulty when nothing happens when you push the power button on the case.
THE BIOS
 Foxconn C51XEM2AA-8EKRS2H uses the Phoenix Award bios. You'll find the usual pages and settings in there but it is under the Advanced Settings some of the more interesting stuff appears.
In addition to various sub-menus with clock speeds you can turn on Linkboost (called GPU Ex here) which is said to boost the performance of certain NVIDIA video cards. In real life testing the increase just isn't there though so don't expect miracles.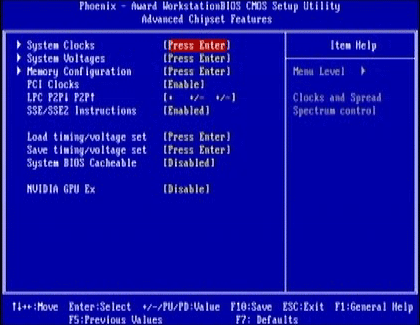 The HTT reference clock can be adjusted in 2 MHz increments between 100 MHz and 500 MHz. CPU Multipliers are adjustable in 1x increments. The PCI Express slots can be adjusted between 100 MHz and 200 MHz in 1 MHz increments.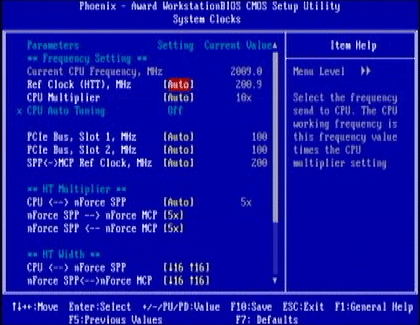 Moving to the voltages you can change the CPU VCore from 0.375V to 1.8500V in 0.025V increments. VDIMM can be selected between 1.825V and 2.500V in o.25V increments. The memory speeds supported are 400MHz, 533MHz, 667MHz, and 800MHz (unless you of course overclock). It also has support for NVIDIA's SLI-memory ((also known as Enhanced Performance Profiles). As mentioned earlier in the review the motherboard fully supports nTune 5 meaning that many of these settings can be accessed from inside Windows and the nTune utility.
THE TEST SETUP
Antec NeoHE 550W PSU. Excellent PSU which handles both SLI and Crossfire systems.
Maxtor 80GB EIDE 6L080L0 with WinXP SP2 installed
Seagate Barracuda 7200.7 120 GB. Used for the SATA performance test.
Maxtor 60 GB D740X-6L. Hooked up to the computer through the EasyIDE adapter to test USB performance.
LiteOn DVD-RW 812-S 
Zalman CNPS9500 AM2 CPU cooler. Works for both AM2 and Socket 939.
AMD FX-62 AM2
Corsair 1066 Mhz SLi-Mem run at 800 Mhz
The motherboused in the systems
Foxconn C51XEM2AA-8EKRS2H
ASUS M2N32 – SLI Deluxe Wireless Edition
ECS (Elite Group) KA3MVP Extreme (Crossfire Xpress3200 AM2, RD580 + SB600)
The Video cards used in the systems
ATI-systems: HIS X1900XT + HIS X1900XT Crossfire Edition with Catalyst 6.6
NVIDIA-systems: 2x XFX 7900GTX OC with ForceWare 91.31 
The drivers used
ATI-systems: Catalyst 6.6, latest Uli SouthBridge drivers.
NVIDIA-systems: ForceWare 91.31 (video), 9.35 (nForce 590 SLI)
The benchmarks
Synthetic
PCMark05 (default, CPU, Memory)
SiSoft Sandra 2007
3DMark06 (default, CPU)
Cinebench 9.5 (Daylight benchmark)
Applications
Create archive with WinRAR
Audio and Video encoding
Encode VOB of chapter 5 of Charlies Chocolate Factory to MPEG2 with TMP Express 4.0
Encode VOB of chapter 7 of Charlies Chocolate Factory to DivX with AutoGK
Encode Madonnas "Confession on a dance floor" to MP3 with WinLame (GUI for LameMP3)
Audio
Games
640×480 in Quake 4 and FEAR
SYNTHETIC BENCHMARKS
Synthetic benchmarks will never tell you the whole story on how you system will work in real life applications. They can however help you get a general feel on how various componets work in your system and quite possibly even help find bottlenecks.
PC Mark 05
PC Mark 05 tests the system in a variety of everyday tasks designed to test the various subsystems of your computer. We've choosen to include the default PC Mark 05 score as well as scores for the separate CPU and Memory tests.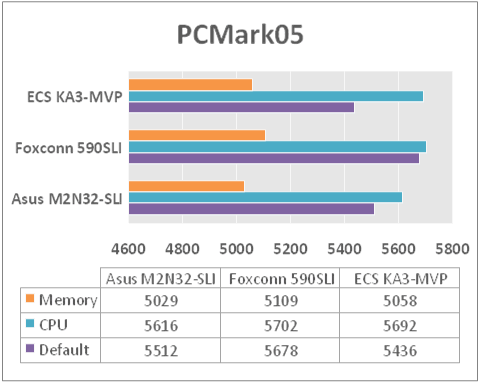 3DMark06 CPU
We've picked out the CPU score from the loved/hated synthetic benchmark from Futuremark.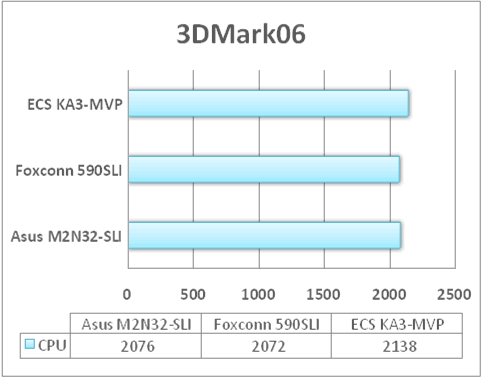 SiSoft Sandra 2007
This benchmark utility includes a variety of benchmark modules and is an excellent software to use when you need information about a subsystem or want to test it to make sure it works well. It also includes stress test modules.
We've picked out the two CPU benchmarks as well as the memory benchmark.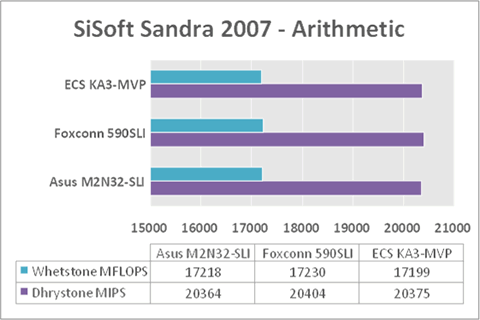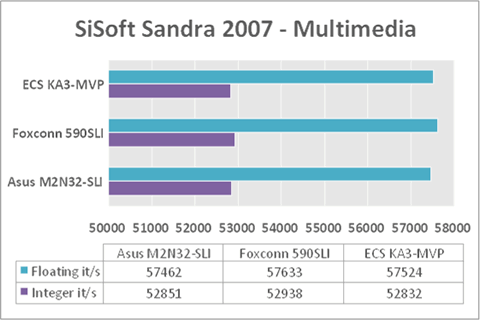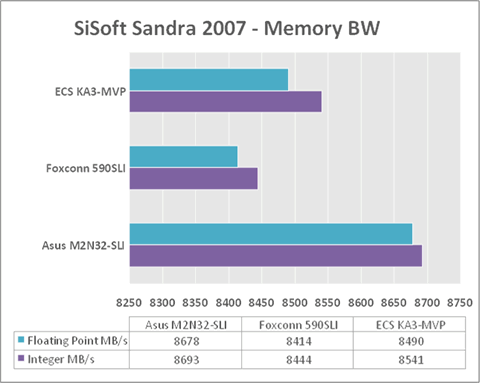 CineBench 9.5
CineBench is based on the high performance 3D software CINEMA 4D. It includes various small benchmark moduls. We've used the CPU module which renderes a image to the screen.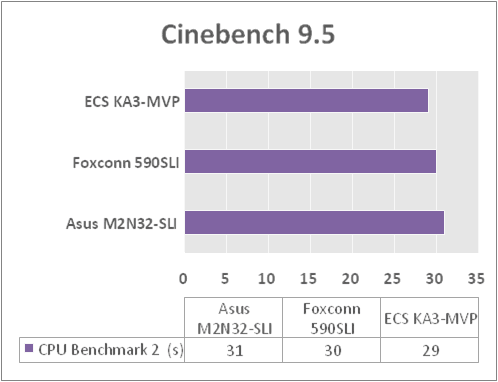 APPLICATIONS
We've used WinRAR v3.51 and created archives from two different folders. This was done 3 times and the average score was taken.
Archive 1: 21198 files, ~560 MB of mixed images and textfiles
Archive 2: 1895 files, ~338 MB with the content from the System 32 folder in Windows (only files, not subfolders)
Conclusion
The Foxconn manages to beat the Asus M2N32 and the ECS KA3-MVP.
AUDIO AND VIDEO ENCODING
In the first two tests we encode a VOB from the movie "Charlie and the Chocolate Factory" (the new film) with TMPGEnc 4.0 Xpress and with AutoGordian Knot. Then we test the MP3 encoding speed with WinLame and Madonna's latest CD, Confessions on a dance floor.
Test 1: VOB 5 (x MB). Encoded to MPEG2 with TMPGEnc 4.0 Xpress . 2 pass. The results is the seconds it took for all passes.
Test 2: VOB 7 (xMB). Encoded to DivX with AutoG.
Test 3: Madonna CD. Encoded with WinLame. High Quality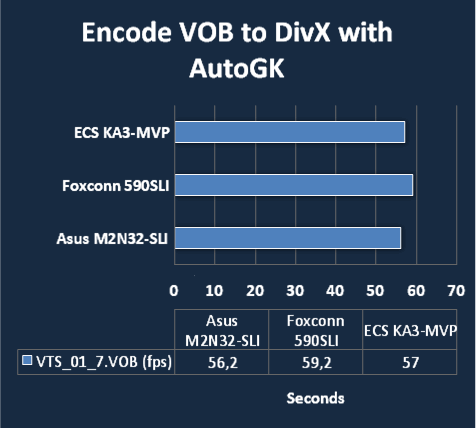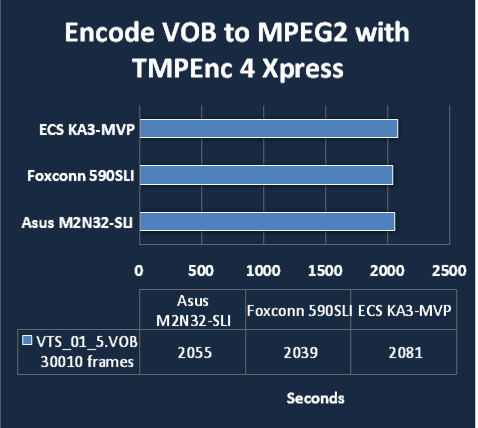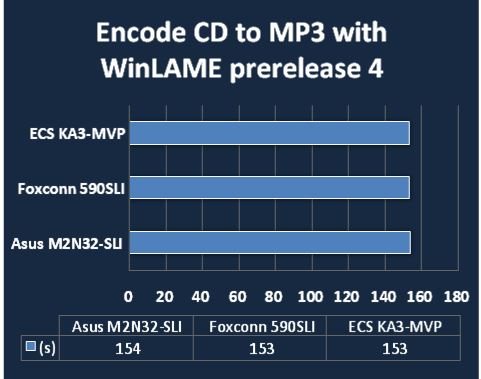 AUDIO
Both the Foxconn and the ECS motherboard uses Realtek for their HD-Audio. ASUS on the other hand has choosen to use Soundmax/ADI.
Asus M2N32-SLI:

ADI 1988B HDA, v 4530

Foxconn 590SLI: Realtek ALC882D HDA, v1.37
ECS KA3-MVP: Realtek ALC883 HDA, v1.39
I used the latest drivers available at each homepage. RightMark 2.2 was used to measure the CPU utilization when playing various types of sound.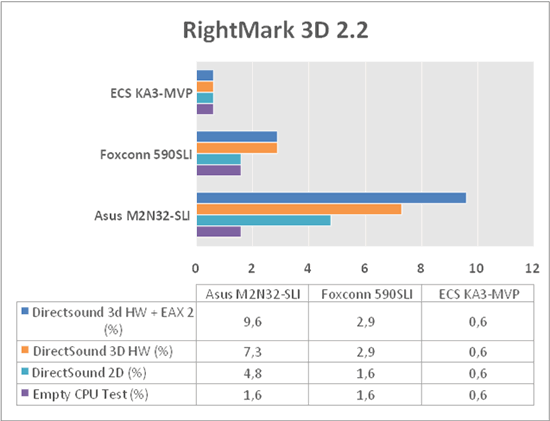 Conclusion
It's obvious that the Realtek HD-codec is much more CPU-efficient than the Soundmax/ADI codec. The version used by ECS manages to perform a lot better than the Foxconn version. The CPu utilization still is quite low.
GAMES
We've tested Quake 4 and FEAR at 640×480 trying to take the video card out of the equation as much as possible.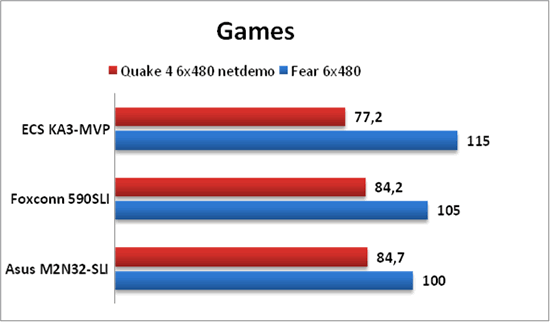 Conclusion
Even when you try to take the video card out of the equation it is obvious which game engine works best on which type of video card. The Quake 4 engine likes NVIDIA while FEAR and Half Life 2 likes ATI. The Foxconn motherboard manages a few more frame per second than the ASUS with the same video card.
OVERCLOCKING
Overclocking must have been around as long as there have been CPU's. While I'm not sure the motherboard and CPU makers in the early days really appreciated that users tried to exceed the specifications of their products, these days it is expected that you in an easy way can overclock not only the CPU but memory and other parts of the motherboard too.
Aa mentioned earlier the Foxconn C51XEM2AA-8EKRS2H allows you to change a lot of settings in the bios. The HTT reference clock can be adjusted in 2 MHz increments between 100 MHz and 500 MHz. CPU Multipliers are adjustable in 1x increments. The PCI Express slots can be adjusted between 100 MHz and 200 MHz in 1 MHz increments. Moving to the voltages you can change the CPU VCore from 0.375V to 1.8500V in 0.025V increments. VDIMM can be selected between 1.825V and 2.500V in o.25V increments. The memory speeds supported are 400MHz, 533MHz, 667MHz, and 800MHz (unless you of course overclock). It also has support for NVIDIA's SLI-memory (also known as Enhanced Performance Profiles).
We did a quick and dirty test to see what we overclock we could get without having to spend to much time twiddling with the voltages.
| | | | |
| --- | --- | --- | --- |
| | Default | ASUS M2N32 SLI DELUXE | FOXCONN C51XEM2AA |
| FSB | 200 MHz | 256 MHz | 256 MHz |
| Multiplier | 14 | 12 | 12 |
| CPU | 2.8 GHz | 3072 MHz | 3072 MHz |
| HTT | 1000 MHz (5x) | 1024 MHz (4x) | 1024 MHz (4x) |
| Memory | 800 MHz | 1024 MHz | 1024 MHz |
The only voltage changed was the DDR2-voltage that was increased to 2.2V (as per Corsairs specifications). The timings on the DIMMS were 5-5-5-15 which is their default timing.
Now, remember that this is just a quick and dirty overclock where I quickly changed a few settings in the bios. I'm rusty when it comes to overclocking so with more time and experience you should be able to wrangle a lot more out of these systems. I however was pleasantly surprised that in a few minutes I could increase the performance as much as it did.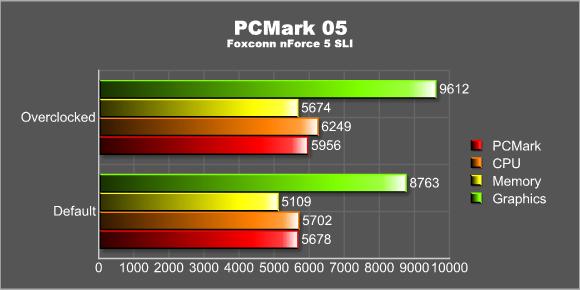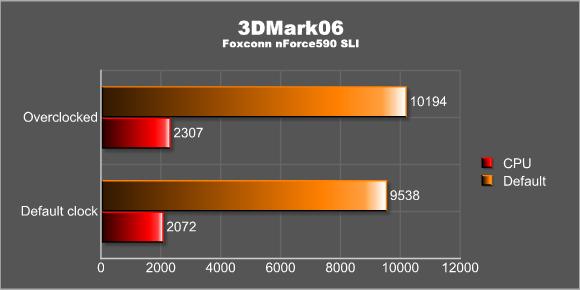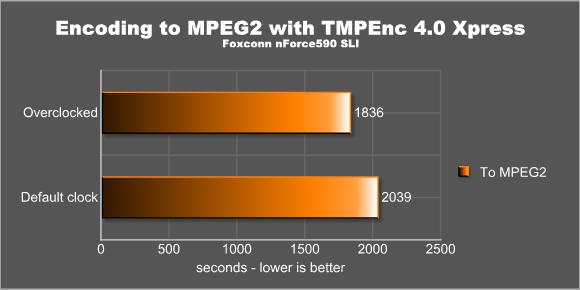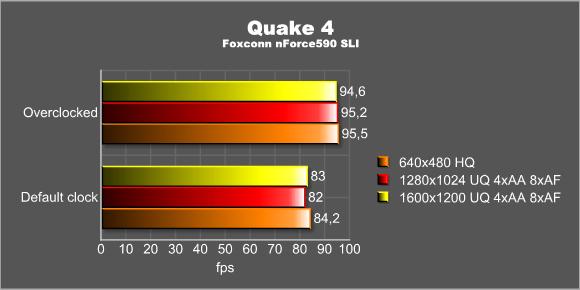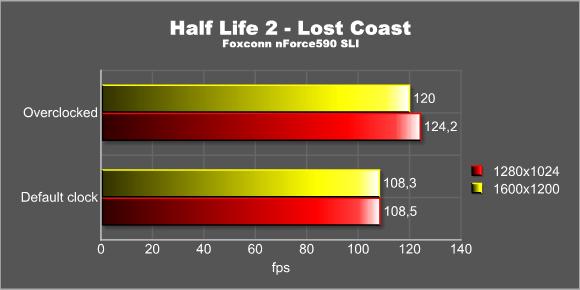 As you can see it is not only games that benefit from overclocking. CPU intensive tasks like video encoding will benefit as well.
Scott's Thoughts
I have been using the Foxconn C51XEM2AA-8EKRS2H for the last several months and have found it to be an excellent board. There are many pluses with the NVIDIA designed board versus the layout of other nForce 590 motherboards. The biggest plus has to be the location of the SATA connections that don't interfere with two 7950 card running Quad SLI at all.

Overclocking the motherboard is easy as Björn pointed out in his quick overclock of the motherboard. I have been able to squeeze out a little bit more out of my motherboard and CPU going to to 3.1 GHz compared to the 3.07 GHz Björn managed (FX-62).

The only thing the motherboard is lacking is more fan headers. Not having case fan headers may bother some users.
Conclusion
There is no doubt that this is an excellent motherboard. Inside the relatively anonymous box you'll find a sleak looking motherboard filled with features. The full nTune support is great and something I would like to see from all motherboards (ASUS, you listening?). It is also nice to get all those angled SATA-cables. Last but not least the motherboard performs excellent easily matching the ASUS AM2 motherboard. However, at the same time I cannot help feeling that the motherboard lacks some of the sophistication you get from for example the ASUS M2N32-SLI Deluxe motherboard. There's no color-coding of the various connectors, you get one(!) free fan-header and the floppy and GPU power connectors are being placed way off on the motherboard. You also don't really get anything extra with the motherboard as you do with most of ASUS motherboards. 
Pros
Great performance
Lots of overclocking potential
Full nTune support
Good placement of SATA-connectors
Cons
Quite expensive when you look at what you get compared to the motherboards from ASUS and MSI
To few fan headers
Not 'newbie'-friendly (no colour coding of the connectors on the motherboard)
Summary: Despite the drawbacks I pointed out on this motherboard it still is an excellent motherboard showing off the true power of the nForce 590 chipset. I award the motherboard a score of 8 out of 10 and a Bjorn3D Seal of Approval.