The Razer Pro Solutions is a great mouse regardless if you are playing a game or doing web development work. The only downside are the hard to reach side-buttons and the fact it doesn't allow left/right scrolling with the wheel.
INTRODUCTION
Razer is mostly know for all their gaming mice including the Razer Krait Victor reviewed just a few days ago. Not as much known is their professional series called Pro Solutions that were announced at the Mac World expo 2005. Together with the white color of all the Pro Solutions products it is easy to think that they are aimed at Mac-users only but that is not true. Razer has drivers and tools for both Mac and PC.
FEATURES AND SPECIFICATIONS
The specifications of this mouse are similar to their gaming mice.
Infrared engine powered by Razer Precision™
1600 dpi, twice that of conventional high performance sensors
High speed motion detection, up to 40ips and 15g
Frame rate over 6400 frames per second (5.8 megapixels per second)
16 bit data path
Always-On™ Mode – the optical sensor never powers down
– provides instantaneous response at all times
Buttons – 7 independently programmable physical buttons with multiple macros
Ultra large non-slip mouse buttons, tactile response design
Non-slip side rails and new ergonomic ambidextrous design
Zero acoustic Teflon feet for smooth motion over any surface
Gold plated USB connector for maximum conductivity
Size: 5.04″ length x 2.5″ width x 1.54″ height
7 foot, lightweight, non-tangle cord
On-the-Fly™ sensitivity adjustment
IT GOT THE LOOKS
The Razer Pro Solution 1.6 is a really good looking mouse. I'm usually a bit wary when it comes to products that are white (I think I got a 'white'-overdose from Apple) but this mouse just look stylish.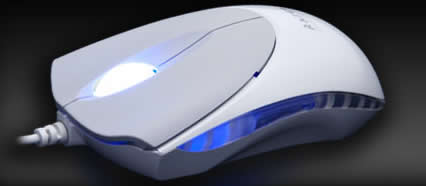 The shape of the mouse is similar to other razer gaming mice like the Razer Krait and the Razer Copperhead. This is not a bad thing as the shape is very comfortable in the hand regardless if you are a leftie or a right handed person.
The surface of the mouse is really smooth while the actual buttons use a slightly more rubbery material. Underneath you get very nice Teflon feet which glide very well on the surface.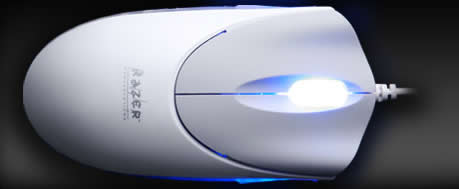 The mouse buttons are coated with a rubber coating giving a better grip
On the top you find two big buttons and the scroll wheel. Some other mice allow you to scroll both up/down and left/right but the Razer pro Solutions 1.6 only has the regular up/down scrolling. I never use left/right scrolling with my other mice so it is not a bit omission for me but if you really need to you're out of luck with this mouse.
On each side you find 2 buttons. These can be assigned any action with the included software. The left buttons can be reached ok if you are right-handed but the right buttons can be tricky to reach.


In the middle you actually see two buttons although they share the plastic
The mouse lights up with a cool blue color when plugged into a USB-slot. To be noted is that the mouse needs quite a lot of juice and thus doesn't work well with some USB-hubs that don't provide enough power.
THE SOFTWARE
The software you get with the Razer pro Solutions 1.6 is similar to the one you get with the gaming mice, just a bit stripped and with a new look of the tools.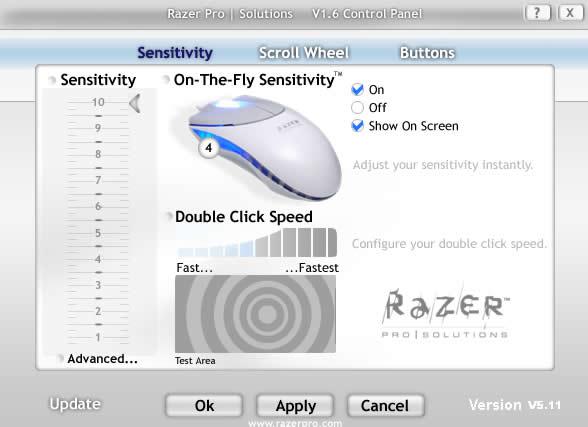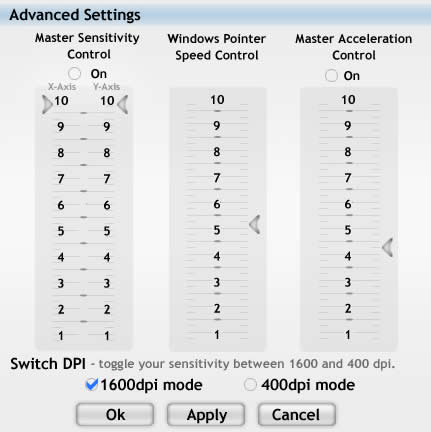 You can adjust various settings including scroll speed, click speed and assign actions to buttons.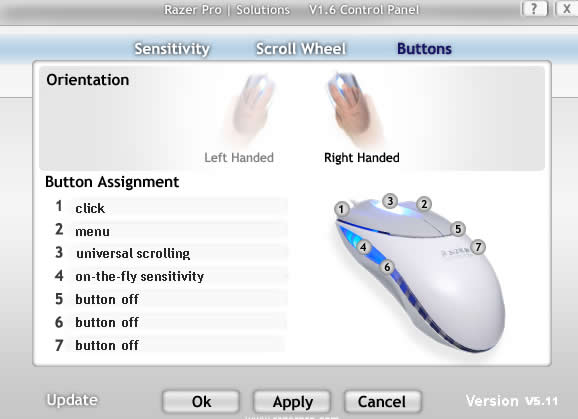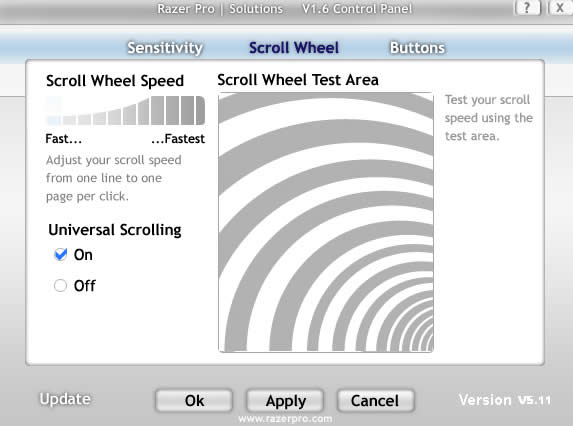 SO HOW DOES IT WORK?
I must admit that I am a mouse-junkie. I have more computer mice in my house than I need. I just can't stop buying them. My main use for a mouse is in my regular line of work: web development. It includes doing a lot of work in Dreamweaver (point, click, mark, past, scroll) or working with images in Fireworks (pixel-editing, point, click, mark etc.). The few hours of gaming I do these days on the PC mainly are spent in WoW, BF2 or with a RTS like the Companies of Heroes beta.
This mouse handled all these tasks and games excellent. This is by far one of the more comfortable and great to use mice that I've tried. It compares right up with the Logitech G5 I got at work and the Microsoft Laser Mouse 6000 I have on my other computer at home. In fact, I'm considering swapping those two mice for a couple of more Razer pro Solution 1.6, that's how much I like it.
CONCLUSION
I think it was a stroke of genius by Razer to start their Pro Solutions series of hardware. This way they can reach people like me who has overlooked the Razer mice when looking for a good mice for general work. Razer as a company still however seem a bit unsure on how to promote these new products. If you go to the Razerzone-site you only find information on their gaming products. Not even a link is present to the Razerpro-site where you find the Pro Solutions products.
At around $40 the mouse is roughly similar prized to the Logitech G5 while a bit more expensive to the Laser Mouse 6000 but the prize is still not too high to deter a purchase.
Pro
– Looks great
– Fits perfectly in my hand and is very comfortable to use
– Very sensitive
– Dynamically adjust sensitivity
– Good feel on the scroll wheel
Cons
– The buttons on the right side are a bit hard to reach
– Only up/down scrolling with the scroll wheel
Summary: I'm in love! How did I overlook the Raxer mice even for normal use I don't know. The Razer Pro Solutions is a great mouse regardless if you are playing a game or doing web development work. The only downside are the hard to reach side-buttons and the fact it doesn't allow left/right scrolling with the wheel.