Today we'll have an opportunity to see if the resurrection of the AGP video card, even if its only a temporary measure was a sound move on the part of at least one of the manufacturers involved. Join us as we investigate the latest AGP release from VisionTek®, the Radeon™ X1600XT 512MB XGE (Extreme Gamer Series)video card.
INTRODUCTION
Who said the Accelerated Graphics Port(AGP) was dead? Let me rephrase that question! With almost half the computer users still owning systems that use the Accelerated Graphics Port, why did all of the options for a newer faster video card using this configuration suddenly dry up and virtually disappear? Many would answer this second question by saying it was a sound business decision by many of the GPU/VPU manufacturers to introduce a newer, faster technology, namely PCI Express. I would question the validity of this decision no matter what the reason given that over half of the consumer population still utilizes systems that have the AGP video slot.
Apparently a number of the video card manufacturers feel that making cards using the AGP is still a viable market as exemplified by the recent reemergence of several of the newer midrange VPU/GPU chipsets on cards configured for AGP. Granted AGP is approximately 33% slower than PCI Express and does not have a BUS configuration that offers the same graphical though put, but nonetheless dropping a technology as rapidly as AGP dropped from the scene leaves much of your consumer base wondering why.
Today we'll have an opportunity to see if the resurrection of the AGP video card, even if its only a temporary measure was a sound move on the part of at least one of the manufacturers involved. Join us as we investigate the latest AGP release from VisionTek®, the Radeon™ X1600XT 512MB XGE (Extreme Gamer Series)video card.

Visiontek … A Company Overview
VisionTek is a leading supplier of 3D graphics cards and PC enhancement products to retailers and Consumers. American based out of Inverness, IL, VisionTek brings the most innovative and best performing products to the PC enthusiast consumer market. We further committed to exemplary customer service and support for all of our products. VisionTek is a "Premium Retail Partner" of ATI for North America and our award winning brand of graphics card solutions continue to set the standard for excellence in the US retail market. VisionTek products can be found at Best Buy, Circuit City, COMP USA, Fry's electronics, Micro Center, Wal-Mart and other leading retail/e-commerce sites in North America.
FEATURES & SPECIFCATIONS
ATI X1600 VPU/GPU Features & Specifications
Features
157 million transistors on 90nm fabrication process
Dual-link DVI
Twelve pixel shader processors
Five vertex shader processors
128-bit 4-channel DDR/DDR2/GDDR3 memory interface
Native PCI Express x16 bus interface
AGP 8x configurations also supported with AGP-PCI-E external bridge chip
Dynamic Voltage Control
Ring Bus Memory Controller
256-bit internal ring bus for memory reads
Programmable intelligent arbitration logic
Fully associative texture, color, and Z/stencil cache designs
Hierarchical Z-buffer with Early Z test
Lossless Z Compression (up to 48:1)
Fast Z-Buffer Clear
Z/stencil cache optimized for real-time shadow rendering
Ultra-Threaded Shader Engine
Support for Microsoft® DirectX® 9.0 Shader Model 3.0 programmable vertex and pixel shaders in hardware
Full speed 128-bit floating point processing for all shader operations
Up to 128 simultaneous pixel threads
Dedicated branch execution units for high performance dynamic branching and flow control
Dedicated texture address units for improved efficiency
3Dc+ texture compression
High quality 4:1 compression for normal maps and two-channel data formats
High quality 2:1 compression for luminance maps and single-channel data formats
Multiple Render Target (MRT) support
Render to vertex buffer support
Complete feature set also supported in OpenGL® 2.0
Advanced Image Quality Features
64-bit floating point HDR rendering supported throughout the pipeline
Includes support for blending and multi-sample anti-aliasing
32-bit integer HDR (10:10:10:2) format supported throughout the pipeline
Includes support for blending and multi-sample anti-aliasing
2x/4x/6x Anti-Aliasing modes
Multi-sample algorithm with gamma correction, programmable sparse sample patterns, and centroid sampling
New Adaptive Anti-Aliasing feature with Performance and Quality modes
Temporal Anti-Aliasing mode
Lossless Color Compression (up to 6:1) at all resolutions, including widescreen HDTV resolutions
2x/4x/8x/16x Anisotropic Filtering modes
Up to 128-tap texture filtering
Adaptive algorithm with Performance and Quality options
High resolution texture support (up to 4k x 4k)
Avivo™Video and Display Platform
High performance programmable video processor
Accelerated MPEG-2, MPEG-4, DivX, WMV9, VC-1, and H.264 decoding and transcoding
DXVA support
De-blocking and noise reduction filtering
Motion compensation, IDCT, DCT and color space conversion
Vector adaptive per-pixel de-interlacing
3:2 pulldown (frame rate conversion)
Seamless integration of pixel shaders with video in real time
HDR tone mapping acceleration
Maps any input format to 10 bit per channel output
Flexible display support
DVI 1.0 compliant / HDMI interoperable and HDCP ready **
Dual integrated 10 bit per channel 400 MHz DACs
16 bit per channel floating point HDR and 10 bit per channel DVI output
Programmable piecewise linear gamma correction, color correction, and color space conversion (10 bits per color)
Complete, independent color controls and video overlays for each display
High quality pre- and post-scaling engines, with underscan support for all outputs
Content-adaptive de-flicker filtering for interlaced displays
Xilleon™ TV encoder for high quality analog output
YPrPb component output for direct drive of HDTV displays*
Spatial/temporal dithering enables 10-bit color quality on 8-bit and 6-bit displays
Fast, glitch-free mode switching
VGA mode support on all outputs
Drive two displays simultaneously with independent resolutions and refresh rates
VisionTek® X1600XT AGP 512Mb XGE Specifications
ATI RADEON™ X1600XT Visual processing Unit
512MB GDDR3 Memory
8x/4x AGP
90 nanometer GPU
Ultra threaded core 3D architecture
Avivo™ display enhancement technology
128-bit memory interface
256-bit ring bus memory controller
Shader model 3.0
Single Slot solution
Dual Link DVI (up to 2560 x 1600 resolution)
FEATURES & SPECIFCATIONS cont.
Specific Features of Interest
ATI's Avivo Video Technology
The Radeon X1000 family of GPUs all include a brand new display engine and video processing capabilities featuring Avivo technology. It addresses the latest trends toward media and consumer electronics integration, providing high quality analog and digital display connectivity along with full support for standard and high definition video formats. Its PC display capabilities are second to none, overcoming all the limitations of previous products. The engine is compatible with all of the latest LCD display technologies that feature higher resolutions, new aspect ratios, faster response times, and higher color depths.
The Avivo Display Engine incorporates a wide range of features designed to perfect the image and video display experience. All products in the family support dual 10-bit display pipelines, each with independent high quality gamma correction, color correction, video overlays, scaling, and de-interlacing technologies. The integrated TV encoder uses the same Xilleon technology ATI developed for high-end HDTV sets, and the temporal/spatial dithering features allow low cost LCDs to display a dramatically increased range of colors.
The Radeon X1000 family is also ready for upcoming video formats and display formats. In particular, it is the first product line capable of accelerating encoding, decoding, and playback of H.264 and VC-1 codecs, which will form the basis of the next-generation Blu-Ray and HDDVD formats.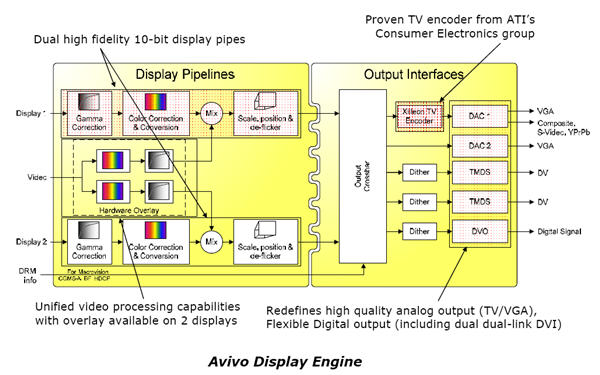 Ultra-Threaded Pixel Shader Engine
The Radeon X1000 Family features an Ultra-Threaded Pixel Shader Engine capable of handling up to 512 threads at once. This design minimizes wasted processing cycles, and delivers well over 90% efficiency for shader processing. The shader engine is optimized for Shader Model 3.0, with fast dynamic branching and full speed 128-bit floating point rendering. The futurelooking design provides the highest performance in the latest games, and is ready to deliver outstanding frame rates in upcoming titles as well.
Adaptive Antialiasing
Adaptive antialiasing – In modern games, many objects are not realized as 3D objects because this would unnecessarily increase the strain on the graphics card. An example of this is fences or leaves on trees and plants, since their complex structures would require too many polygons to depict accurately. Instead, game designers often take an alternate route and use a special texture (bitmap) to depict these complex structures. Certain areas within the textures are then declared transparent, ensuring a realistic appearance within the game.
These images show a screenshot from the game "Half-Life 2". On the left you see the results using standard FSAA methods, on the right the same scene using the new adaptive FSAA of the Radeon X1300, X1600 and X1800.
Conventional FSAA methods break down when applied to these kinds of objects, since the edges aren't actual object edges but only appear within the larger texture (bitmap). The new adaptive FSAA of the Radeon X1000 models automatically recognize this type of object, ensuring optimal anti-aliasing quality.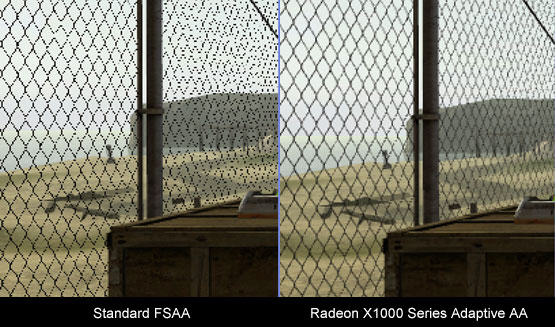 FEATURES & SPECIFCATIONS cont.
HDR with FSAA
"HDR" is the widely used abbreviation for "High Dynamic Range" calculations. This technology can be found in an increasing number of modern computer games to make lighting effects with very high contrasts look as realistic as possible. The concept builds on the fact that even in environments where the human eye is partly exposed to a very bright light source that creates a glare, it can still make out less brightly lit objects in the surrounding area. In virtual 3D worlds, however, such a high dynamic range of light requires very complex calculations.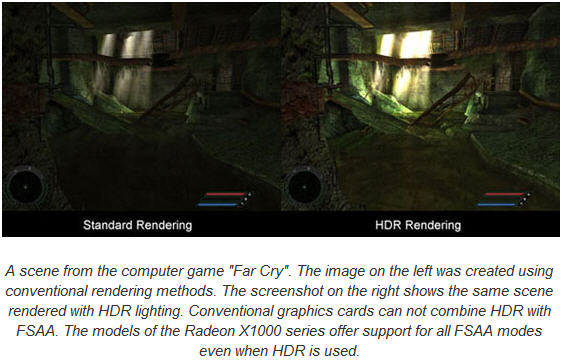 All graphics cards belonging to the new Radeon X1000 series support modern HDR calculations. While conventional graphics cards may also offer HDR support, they are unable to combine it with the benefits of FSAA. Not so with ATI: All Radeon X1300, X1600 and X1800 models allow the use of all available FSAA modes – even in conjunction with HDR calculations. This results in an extremely realistic image quality offered only by ATI.
CrossFire™ Support
Designed from the ground up with GPU sharing in mind, the Radeon X1600 series allows you to get incredible gaming performance by adding a second Radeon® X1600 graphics card for ultra fast performance that works with all games, all the time. To achieve optimal enthusiast-class performance from your Radeon X1600 CrossFire platform, combine two Radeon X1600 graphics cards with a motherboard based on ATI's CrossFire Xpress™ 3200 chipset.
Supertiling for optimized gaming performance -CrossFire's "supertiling" GPU-sharing speeds rendering by evenly dividing the graphics processing, intelligently alternating the rendering workload to each Radeon GPU for efficient load balancing, and optimized performance.
CrossFire boosts image quality – CrossFire boosts image quality along with rendering speed, eliminating the need to crank down screen resolutions to get the high image quality you want.
CrossFire ignites with the higher anti-aliasing, anisotropic filtering, shading, and texture settings you desire. Adjust your display configurations, experiment with your advanced 3D settings, and check the effect with a real-time 3D-rendered preview within ATI's Catalyst® Control Center to rule your CrossFire system.
A CLOSER LOOK
Packaging
When I received the VisionTek® Radeon X1600XT 512MB XGE card just over a week ago, my first inclination was to examine the package to assure that it's contents arrived in virtually the same condition that they were in when they were shipped to me for review. I'm somewhat overly zealous when it comes to the issue of packaging due to having several products that I purchased over the years arrive at my doorstep appearing as though they had been through a meat grinder. That being said, the Visiontek® card was securely packaged and double boxed with plenty of protective materials to keep its contents safe.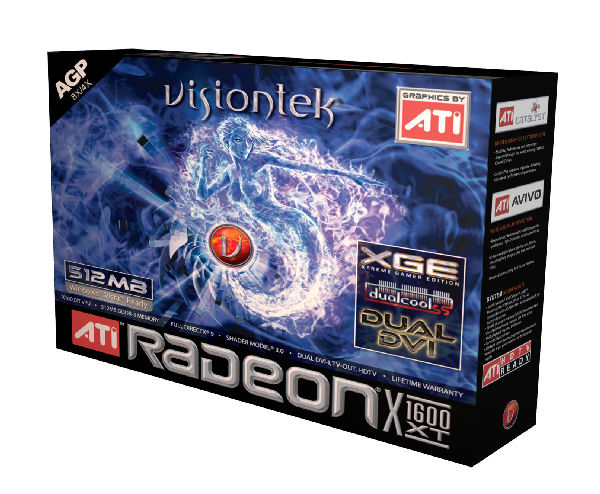 The Package… Front
The next image shows that VisionTek® is a consumer savvy company that gives potential purchasers as much information as possible on their packaging to help the make the appropriate decision if the product is right for them. The rear of the package demonstrates this point.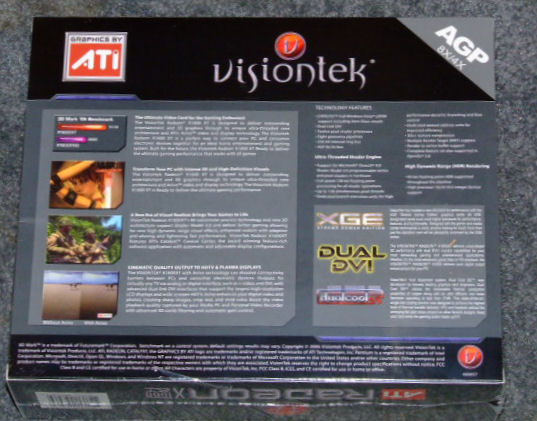 The Package… Rear
The Card
The card itself is quite trendy in appearance and has the look of speed. Notice the DualCool™ VisionTek's heat dispersion system. DualCool SS™, was developed by industry leading graphics card engineers. DualCool SS™ utilizes the remarkable thermal conductive properties of Copper and Aluminum along with an ultra efficient, low noise fancooler operating at less than 27dB. This state-of-the-art, single slot cooling solution was designed to achieve the highest level of thermal transfer between VPU and heatsink without the annoying fan spin noise present on other fansink designs. Keep your cool while the gaming action heats up!
The card also is a member of VisionTek's XGE or Extreme Gamer Series. VisionTek® states the following regarding their XGE series of cards:   "VisionTek has created a new standard for performance with the XGE "Xtreme Gamer Edition" graphics cards." "All XGE designated cards must meet higher standards for performance, features, and functionality. Designed with the gamer and media center technophile in mind, anyone looking for much more than just the standard card will be pleasantly surprised by the XGE series."
VisionTek® Radeon™ X1600XT 512MB XGE AGP … Front
The rear of the card shows excellent component separation coupled with remarkable traces and solder joints; making for improved cooling with adequate system airflow. It's probably one of the cleanest looking AGP based card I've ever seen, especially given the fact it's several inches shorter than my last Radeon™ based card and in no way interferes with hard drive cables as many of the longer cards do in smaller mid tower enclosures.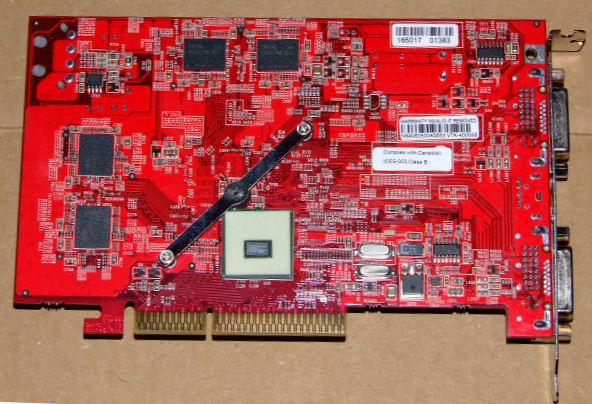 VisionTek® Radeon™ X1600XT 512MB XGE AGP … Rear
A side view of the card shows the Dual DVI connectors as well as the S-Video and Composite video output. VisionTek® describes their Dual DVI as follows:   "The VISIONTEK™ RADEON™ X1600XT delivers unparalleled 3D performance with dual DVI-I monitor capabilities for your most demanding gaming and entertainment applications. Whether it's the most advanced game titles or HD playback, the VISIONTEK™ RADEON™ X1600 delivers pure digital output enhancement for your PC." The card supports the following video formats:

VisionTek® Radeon™ X1600XT 512MB XGE AGP … Side
Dual-Link, Dual DVI-I
Component HDTV YPbPr output
S-Video & Composite Video TV-Out
Dual VGA (with DVI to VGA adapters)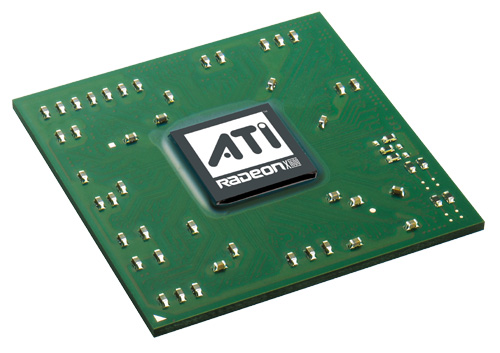 RX1600 Chip
The Bundle
The contents of the package are sparse in comparison to some the that I have seen. I was however impressed that VisionTek® included a full editon of UBISOFT's Brothers In Arms: Earned in Blood. The full accessory package included the following:
1 – 512 MB X1600 XT XGE AGP Graphics Card
1 – Installation CD, drivers, demos, utilities
1 – DVI-I to VGA adapter
1 – 7 pin S-Video to HDTV (YPbPr) cable
1 – full editon of UBISOFT's Brothers In Arms: Earned in Blood CD
TESTING
Test System
Motherboard:    Intel D875PBZLK Rev 3.03
Processor:   Intel 3.4 GHz Northwood run @ 3.6 GHz
HSF:  ZALMAN CNPS7000B-ALCU
Video Card:   VisionTek® Radeon™ X1600XT 512MB XGE AGP at default speed running Catalyst 6.6 drivers
Power Supply:   Antec NEO HE 550 watt PSU
Optical Drives:
Hard Drives:   Seagate NL-35 500 GB SATA drive
Memory:   2 GB (2- 1,024 MB sticks) Patriot PC 3500 DDR SDRAM
Sound Card:   Turtle Beach Santa Cruz
Monitor:  Samsung SyncMaster 213T 21.3″ LCD
Synthetic Tests & Gaming Benchmarks
Futuremark's 3DMark06
Futuremark's 3DMark05
Far Cry v1.32 Benchmark
F.E.A.R. v1.6 Benchmark
Serious Sam v2.068 Branchera Benchmark
Testing Methodology
We will be testing the VisionTek® Radeon™ X1600XT 512MB XGE AGP vs. the ATI® Radeon™ X8800XL 256MB AGP card. We will run the above captioned benchmarks on both systems with the each GPU/VPU set at default speed while our Intel 3.4C Northwood processor is overclocked to 3.6 GHz. Our synthetic benchmarks 3DMark06 and 3DMark05 will be run in default mode. All other gaming tests will be run at 10124 x 768, 1280 x 1024 (1280 x 960 in F.E.A.R), and 1600 x 1200 resolutions with Anti-Aliasing and Anisotropic Filtering disabled. We will then run the benchmarks again at the same resolutions with Anti-Aliasing set to 4X and Anisotropic Filtering set to 8X. Each of the tests will be run individually and in succession three times rebooting between each attempt and an average of the three results calculated and reported.
The benchmarking tests will also be run on what we refer to as a "real world system" meaning we'll run all the background applications that we run in every day life and not sequester them as are done by some reviewers to enhance benchmark results. Among the applications running in the background on our test system are:   NOD 32 AV,  Trillian, InCD, Steam and some other system applications that are too numerous to mention. Our hope in using this approach are to give you as close to possible the results you'd achieve if you were running these benchmarks on a similar system in your home. No other secondary enhancements to improve benchmark results will be run either.
Test Card Comparisons
X1600XT vs. X800XL Comparison

 

X1600XT

X800XL

Core Speed

590 MHz

400 MHz

Memory Speed

1.3 GHz

1 GHz

Memory Interface

128 bit

256 bit

Memory Transfer Rate

22.08 GB/sec

32 GB/sec

Pixels Per Clock

12

16
TESTING cont.
Synthetic Test Results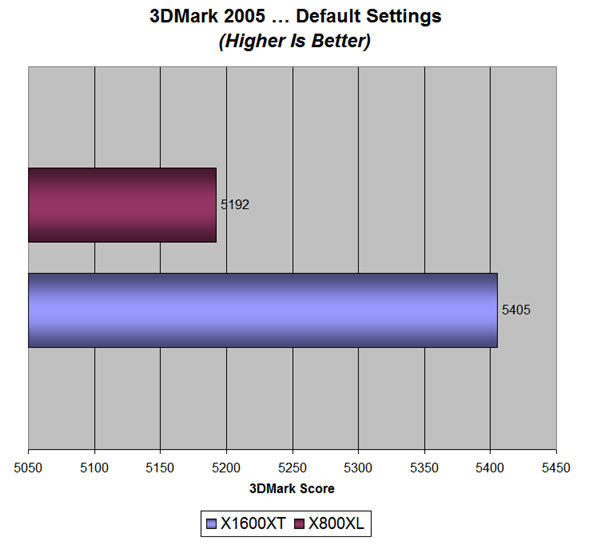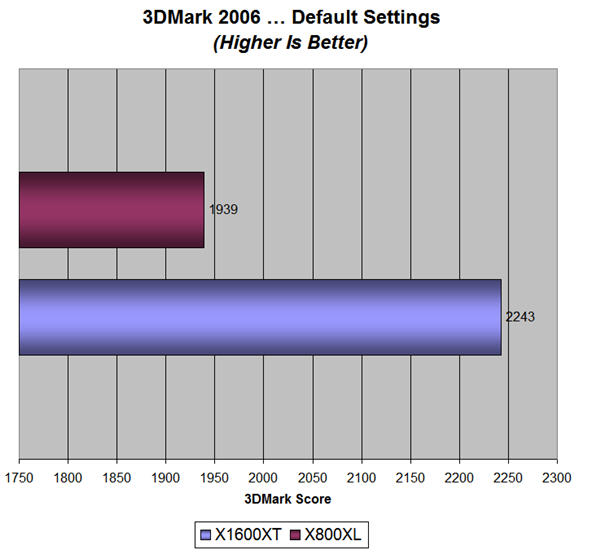 The VisionTek® Radeon™ X1600XT 512MB XGE AGP takes an early lead soundly kicking the ATI® Radeon™ X8800XL 256MB AGP card's butt in the synthetic test results. Will the same trend follow with our gaming results? Let's see!
Gaming Benchmark Results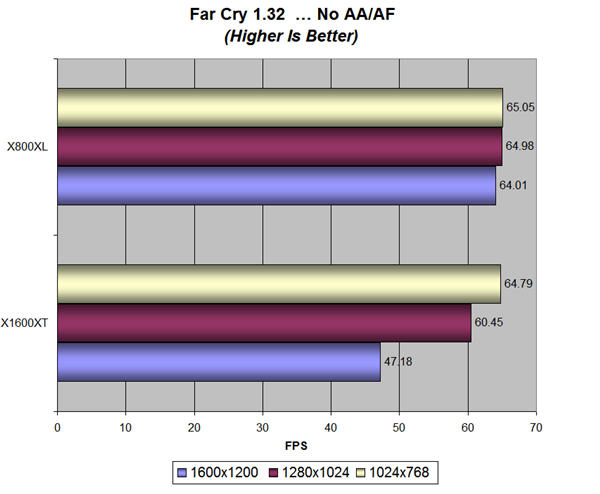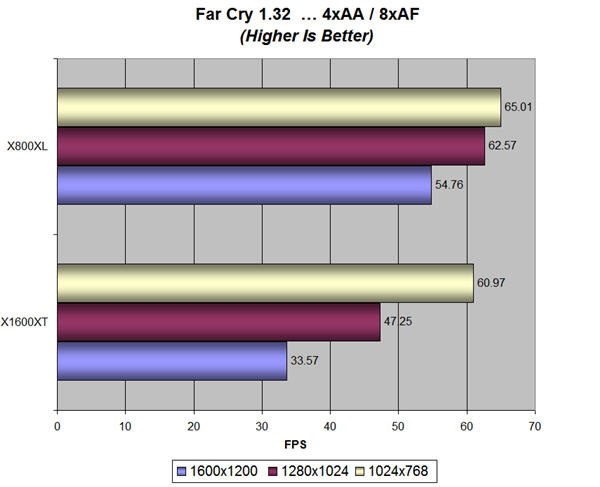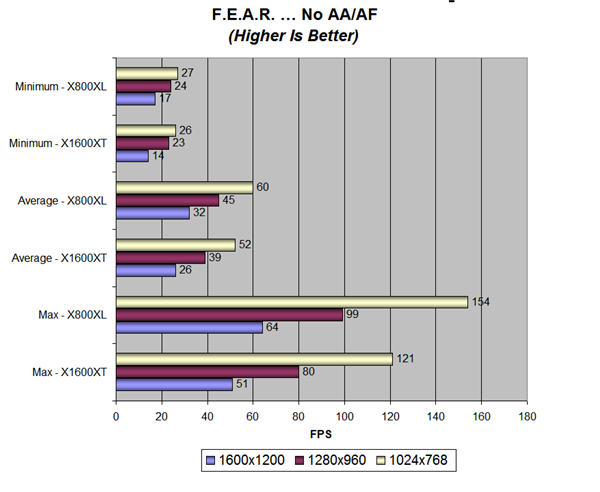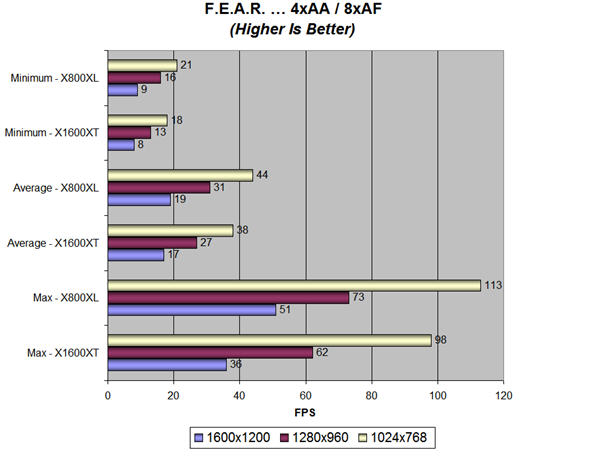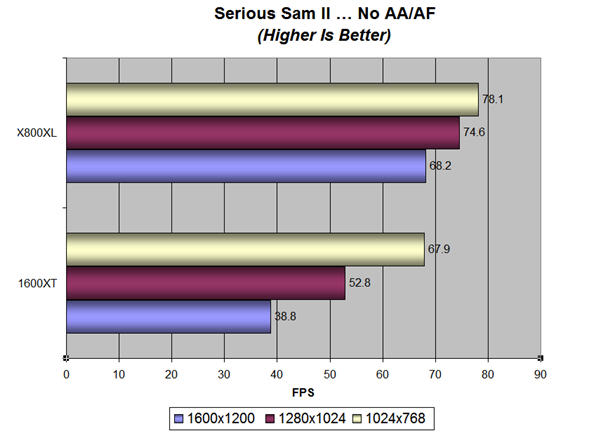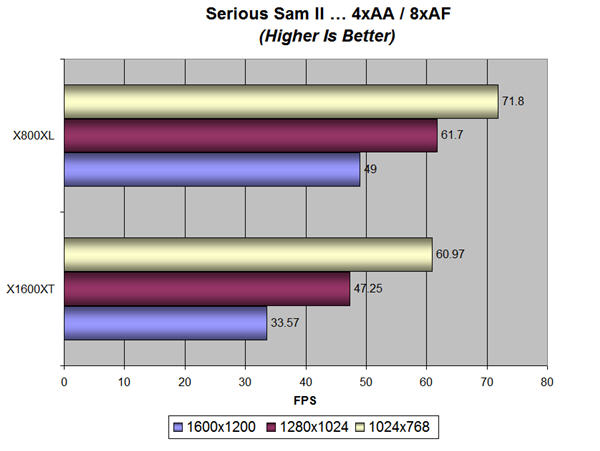 CONCLUSION
Before I actually get in to discussing the test results I'll render my strictly subjective opinion on the video images produced by the VisionTek® Radeon™ X1600XT 512MB XGE AGP as opposed to those from the ATI® Radeon™ X8800XL 256MB AGP card. The VisionTek® X1600XT was much more vibrant in its image rendering than the X800XL. Colors were much more realistic and lifelike! I would assume this is in no small part due to the Shader 3.0 technology implemented in the X1600XT and not in the X800XL. "Pretty" and "vibrant" are nice but in the Computer Enthusiast's world raw speed coupled with excellent quality is the name of the game!
On to the test results. As previously mentioned the VisionTek® Radeon™ X1600XT 512MB XGE AGP took an early lead soundly thrashing the ATI® Radeon™ X800XL 256MB AGP card in the synthetic test arena in both 3DMark revisions. When it came to more "real life" testing in the gaming environment the tables were turned, and soundly so. When I decided upon the match-up between the two cards I assumed that the significant difference in core and memory clock speeds would equalize the differences in Memory Interface, Transfer Rate, and Pixels per clock. Well you've heard the analogy concerning the term "assumed".
The X800XL in its day would have been considered to be at the bottom of the high-end range of the Radeon™ video card spectrum with the X1600XT soundly affixed in the upper ranks of the mid range. As far as what it's designed to do for the targeted consumer market the VisionTek® Radeon™ X1600XT 512MB XGE AGP does so and quite well I might add. I'm highly impressed with the card's range of visual quality and performance based on this quantification.
A search of Price Grabber puts the two cards in the same general price range at around $275 USD with a range from $260 – $310 USD. Now the question is the VisionTek® Radeon™ X1600XT 512MB XGE AGP card worth the cost given its performance. I would say definitely so, although I feel it might be priced $25 or so on the high side of where it truly belongs. Let us not forget that for the $$$ you're getting a card that is solidly built, runs quite cool and quiet, yuou can run almost any current game out there, twin DVI connections and it has 512MB of RAM. Are there better cards for the same money. Considering both speed and image quality I would say probably not. From strictly a performance point of view there are several video cards in the same price range that are in fact faster, but definitely aren't as visually stimulating.
I can unequivocally say for the midrange consumer this card is an excellent choice as it will perform quite well any task they might throw at it. For the Computer Enthusiast this card would serve quite well on their backup system or server. Let us also not forget that this card is CrossFire™ ready and even though not tested in this review, I have read other reviews of by writers that I trust that showed the performance to be phenomenal for two cards of this category and price range.
Pros:
+  Extremely vibrant image & video rendering
+  Highly feature laden
+  Cool and quiet operation
+  Twin DVI connections
+  Shader 3.0 and HDR compliant
+  Size causes no issues with hard drives
+  512MB of RAM
Cons:
–  Slower performance than its specifications would indicate
–  Priced a little on the high side
Final Score: 7.5 out of 10 and the Bjorn3D Seal of Approval.