While ASUS of course offer lower end solutions, it is the high-end motherboards that we look at today and more specifically the ASUS M2N32-SLI Deluxe Wireless Edition. This motherboard uses the latest nForce 590 chipset for AM2 from NVIDIA and is chocked full with cool solutions and goodies in the box.
INTRODUCTION
ASUS is one of the better known motherboard manufacturer in the world. If there is a motherboard chipset coming out, you can count on that ASUS will have a motherboard using it, whether it is from ATI, NVIDIA or VIA. According to ASUS, they shipped 52 million motherboards during 2005, something that puts them into almost every third new PC sold.
While ASUS of course offer lower end solutions, it is the high-end motherboards that we look at today and more specifically the ASUS M2N32-SLI Deluxe Wireless Edition. This motherboard uses the latest nForce 590 chipset for AM2 from NVIDIA and is chocked full with cool solutions and goodies in the box.
FEATURES AND SPECIFICATIONS
The motherboard uses the new nForce5 chipset from NVIDIA. Instead of pasting in the same information again I'll direct you to our nForce5 overview article as well as our article in the Multi-GPU article series.
Let us instead concentrate on this particular motherboard. The M2N32- SLI Deluxe/Wireless Edition is packed with nice features.
Supports AMD Socket AM2 Athlon 64 X2/Athlon 64 FX/Athlon 64/Sempron
The M2N32-SLI Deluxe supports AMD socket AM2 single-core Athlon 64/Sempron and dual-core Athlon 64 X2/Athlon 64 FX processors with 2MB/1MB/512KB L2 cache, which is based on 64-bit architecture. It features 2000/1600 MT/s HyperTransport Bus, dual-channel un-buffered DDR2 800 memory support and AMD Cool 'n' Quiet! Technology.

Dual-Core CPU
The advanced processing technology contains two physical CPU cores with individually dedicated L2 caches to satisfy the rising demand for more powerful processing capability.

Dual-Channel DDR2 800
DDR2 is the next generation memory technology to replace the current DDR. With the highest speed up to 800MHz, DDR2 memory provides great performance for 3D graphics and other memory demanding applications.

NVIDIA nForce® 590 SLI™ (NVIDIA LinkBoost™ certified)
NVIDIA nForce® 590 SLI™ media and communications processors (MCPs) deliver the tools and performance PC enthusiasts demand. When combined with select NVIDIA GeForce graphics cards and other system components, you get automatic access to faster bus speeds. Ready for system overclocking and greater data throughput.

NVIDIA SLI™ Technology
NVIDIA SLI™ (Scalable Link Interface) takes advantage of the increased bandwidth of the PCI Express bus architecture and features intelligent hardware and software that allows two GPUs to efficiently work together to deliver earth-shattering, scalable performance. For some applications nearly 2X performance! (From www.NVIDIA.com)

Dual Gigabit LAN
The integrated dual Gigabit LAN design allows a PC to serve as a network gateway for managing traffic between two separate networks. This capability ensures rapid transfer of data from WAN to LAN without any added arbitration or latency.

High Definition Audio
Enjoy high-end sound system on your PC! The onboard 8-channel HD audio (High Definition Audio, previously codenamed Azalia) CODEC enables high-quality 192KHz/24-bit audio output, jack-sensing feature, retasking functions and multi-streaming technology that simultaneously sends different audio streams to different destinations. You can now talk to your partners on the headphone while playing a multi-channel network games. All of these are done on one computer.

DTS® Connect
This feature is consists of two elements: DTS interactive and DTS NEO:PC . DTS interactive re-encodes your stereo or multi-channel sound into a DTS audio signal and send it out from your PC to any DTS enabled system. While DTS NEO:PC turns your stereo audio such as MP3, WMA, CD, and other sound format into a convincing multi-channel audio experience.

SATA on the Go
The M2N32-SLI Deluxe supports the next-generation hard drives based on the Serial ATA (SATA) 3Gb/s storage specification, delivering enhanced scalability and doubling the bus bandwidth for high-speed data retrieval and saves. The external SATA port located at the back I/O provides smart setup and hot-plug functions. Easily backup photos, videos and other entertainment contents on external devices.

Dual RAID
The NVIDIA nForce 590 SLI™ chipsets incorporate six Serial ATA connectors with high performance RAID functions in RAID 0, 1, 0+1, 5 and JBOD. The Silicon Image controller provides another two Serial ATA connectors for RAID 0, 1, and JBOD functions. This motherboard is the ideal solution to enhance hard disk performance and data back up protection without the cost of add-on cards.

IEEE 1394a interface
IEEE 1394a interface provides high speed digital interface for audio/video appliances such as digital television, digital video camcorders, storage peripherals & other PC portable devices.

WiFi-AP Solo™
WiFi AP Solo™ allows a new level of versatility for your PC, enabling it to create a complete wireless home network in either AP or wireless client mode. Users will be able to play LAN games, connect to the Internet, access and share printers, and use Skype from anywhere within range. WiFi-AP Solo™ can provide these functions even when the PC is in sleep mode, so users can use Skype as a true replacement for tradition long distance telephone service. WiFi-AP Solo™ is an on-board feature, which means that user will save the extra WiFi AP cost.

ASUS Crystal Sound
This feature can enhance speech-centric application like Skype, online game, video conference and recording.

  ASUS Array Mic
The bundled Superbeam Array Microphone receives only the sound coming from the reception cone and ignores the sound coming from other directions. This mechanism eliminates a large number of interferences including neighboring speakers and reverberations. It also uses advanced de-reverberation techniques to reduce echo and minimize its effect on the speech engine.

  Noise Filter
This feature detects repetitive and stationary noises like computer fans, air conditioners, and other background noises then eliminates it in the incoming audio stream while recording.

Advanced Thermal Design
ASUS has devoted special efforts to address the thermal issues across the motherboard, and most notably the areas that reside the CPU, power, Northbridge and Southbridge.

  Stack Cool 2
Stack Cool 2 is a fan-less and zero-noise cooling solution offered exclusively by ASUS. It effectively transfers heat generated by the critical components to the other side of the specially designed PCB (printed circuit board) for effective heat dissipation.

  8 Phase Power Design
ASUS 8-Phase Power Design keeps CPU and power module away from suffering risk of high power stress, which makes CPU lifetime much longer and system more stable. Furthermore, It provides high efficiency operation to generate less heat than conventional power solutions and consequently achieve cool system environment. With this strong power pump, this motherboard is made for overclocking.

  Fanless Design: Heat-pipe Thermal solution
Cooling fans, though a popular thermal solution, also come with noise and malfunction likelihoods. ASUS Motherboard's fanless concept is specifically created to provide a cool environment without all the baggage.
The heat pipe, heat sinks and strategic board layout were tailor made to dissipate heat in the most efficient manner.

AI Gear
To balance both system performance and quietness, AI Gear allows users to choose from profiles to adjust CPU frequency and vCore voltage, minimizing system noise and power consumption. Users can real-time change the mode under operating system to suit their needs.

AI Nap
With AI Nap, users can instantly snooze your PC without terminating the tasks. System will continue operating at minimum power and noise when user is temporarily away. It keeps downloading files or running applications in quietest state while you're sleeping. Simply click keyboard or mouse, you can swiftly wake up the system in few seconds

AI Clock Skew
AI Clock Skew automatically skews the memory clock signal timing, thus improving memory overclocking capability by 10 to 15%, depending on the memory features when users overclock memory frequency. Users can easily enjoy better memory overclocking without strenuously fine-tuning the clock signal timing. For professional users, they can still adjust each memory channel's clock signal separately to reach the highest memory frequency.

ASUS O.C. Profile
The motherboard features the ASUS O.C. Profile that allows users to conveniently store or load multiple BIOS settings. The BIOS settings can be stored in the CMOS or a separate file, giving users freedom to share and distribute their favorite overclocking settings.

Precision Tweaker
It offers ways to raise system performance inch-by-inch and step-by-step to achieve maximum performance! This is about getting the most out of your machine and taking pride in your customized computer.
  * vDIMM: Take control of how much power is going into the memory modules. ASUS gives you 25-step voltage control to the DIMM
  * vCore: Find out "exactly" how much power your CPU needs. Fine-tune it with 0.0125 volts at a time!
  * SFS: (Stepless Frequency Selection) allows – FSB tuning from 200MHz up to 400MHz at 1MHz increment – PCI Express frequency tuning from 100MHz up to 200MHz at 1MHz increment

AI NOS™
Applications such as 3D games and video editing demand a huge chunk of system resource. Inject "nitrous oxide" into your CPU! The patented AI NOS™ (Non-delay Overclocking System) technology intelligently detects system load and automatically boosts performance for the most demanding tasks. Unlike other dynamic overclocking techniques, AI NOS™ reacts much faster to satisfy your unending need for speeds.

PEG Link
This latest technology, PEG (PCI Express Graphics) Link Mode, is a unique feature that enables users to boost graphics card performance for superior video quality. PEG Link allows users to raise GPU and VGA memory throughput via the motherboard BIOS the same way system bus and memory bus are tweaked. PEG Link Mode enables powerful video performance on DX8 and DX9 applications. ASUS engineers carefully fine-tuned the parameters for every single PCI-Express card to provide system stability during high-speed graphics operation.

ASUS Q-Connector
The ASUS Q-Connector allows you to connect or disconnect chassis front panel cables in one easy step with one complete module. This unique adapter eliminates the trouble of plugging in one cable at a time, making connection quick and accurate.

ASUS CrashFree BIOS 3
The ASUS CrashFree BIOS 3 allows users to restore corrupted BIOS data from a USB flash disk containing the BIOS file. This utility saves users the cost and hassle of buying a replacement BIOS chip.

ASUS EZ Flash 2
EZ Flash 2 is a user-friendly BIOS update utility. Simply launch this tool and update BIOS from a USB flash disk before entering the OS. You can update your BIOS only in a few clicks without preparing an additional floppy diskette or using an OS-based flash utility.

ASUS MyLogo 3
The ASUS MyLogo 3 is the new feature present in the motherboard that allows you to personalize and add style to your system with customizable and animated boot logos.

ASUS Music Alarm
Wake up to the music of your choice instead of the irritating sound of an alarm clock. The ASUS Music Alarm gives you a personal wake-up call with your favorite CD music when system is off.
Phew. That is quite a lot features. Right from the bat the ASUS M2N32-SLI Deluxe/Wireless Edition lives up to its name and gives you the feeling you definitely are dealing with a Deluxe motherboard.
THE BOX AND THE BUNDLE
The ASUS M2N32-SLI Deluxe/Wireless Edition comes in a pretty modest looking box. Instead of putting fantasy creatures on the box or painting it in noticeable colors, the box is elegant with a green/dark green background, the AI Lifestyle Logo in the corner and the name of the motherboard in the middle. Simple yet elegant.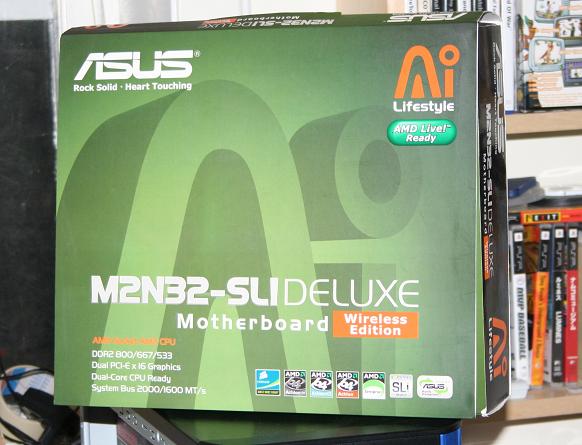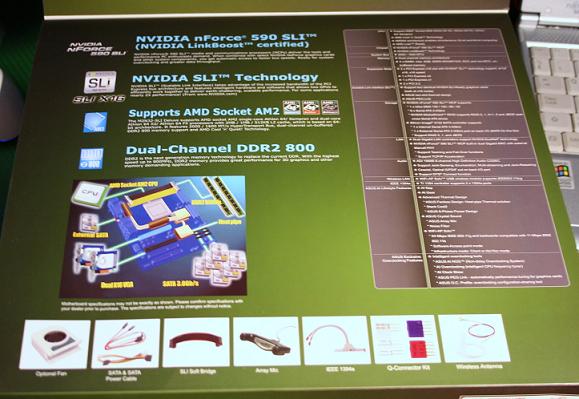 When we open up the box we find these items:
The motherboard
Thick manual for the motherboard
Manual for the WIFI AP Solo
CD with drivers and utilities
InterVideo MediaLauncher OEM (WinDVD suite)
6 SATA-cables
3 SATA power cables
1 ATA-133 cable
1 Floppy cable
1 game port and USB rear panel combo bracket
1 IEEE1394 rear bracket
1 optional chipset fan for use with passive and water cooling solutions
WIFI antenna
ASUS Array Mic
Q-Connector (for making front panel wiring easier)
SLI-bridge
The Q-Connector is simple yet invaluable help in wiring up the front panel. I don't know how many times I have had to dig up a manual or try to make out the tiny text beneath the front panel connector on the motherboard when hooking up a motherboard to the case. The Q-connector takes away all that pain.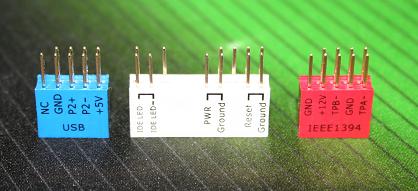 The ASUS array mic is intended to be placed on top of the monitor. It looks a bit spacey but at least fit well on both the LCD-screens I tried it on (Fujitsu W19-1 and a Dell 24").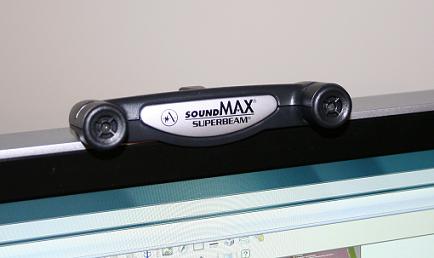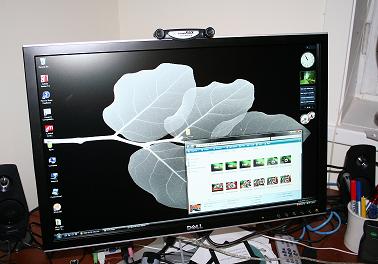 The SLI-bridge is flexible meaning it will actually work on any motherboard regardless the distance between the two video cards. This again is a sign that ASUS engineers have taken some time and thought about what is best for the consumer.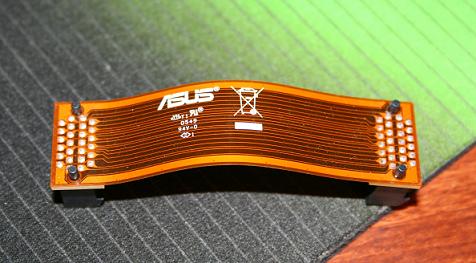 The chipset fan included is only intended to be used if you use passive or water cooling on the CPU. The reason is that the chipset cooling solution on the motherboard needs the CPU fan to take away heat. If you do not have a fan there you need to add the included chipset fan so you still take away the heat.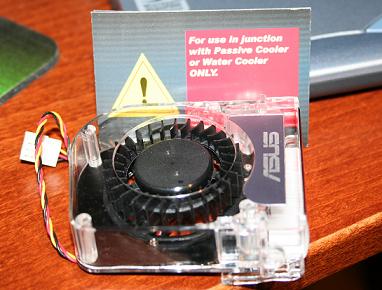 The WIFI-antenna hooks up the WIFI card that sits in a special slot on the motherboard.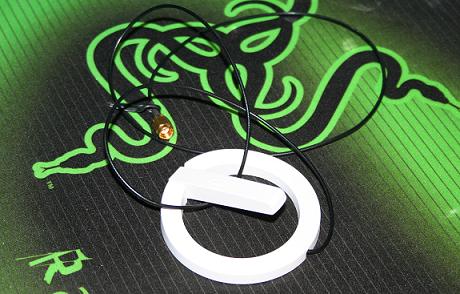 LAYOUT
The ASUS M2N32-SLI Deluxe/Wireless Edition is a full-sized ATX motherboard. The main feature of the motherboard is the passive cooling solution for the chipsets.
All the chips are connected to a single heat pipe solution and the CPU fan is used to push away the heat from the top of the heat pipe. The only real issue I can see with the heat pipe solution is that one of the PCI-E slots is placed very close to one of the heat sinks. ASUS uses the locking mechanism which I hate for the PCI-E cards where you have to pull a little lever to release the PCI-E card. On this motherboard that lever sits just right by the heat sink and my wife heard lots of swearing when I wanted to switch a video card.
The memory slots have been placed to the right of the motherboard instead of under the CPU. I didn't find any negative issues with this placing. In fact it was even a bit easier to switch memory with everything installed than on other motherboards where the memory slot interferes with the video card and IDE-cables.
Something I do miss, and which is present on the Foxconn motherboard as well as ASUS own Gamers Revolution Crosshair AM2 motherboard, is small power and reset buttons on the motherboard. If you need to quickly test a motherboard it is much easier if you do not have to hook it up to a case first.
You'll find 6 red SATA ports on the bottom left of the motherboard. A long PCI-E video card does interfere with the top ports making you loose 2 ports unless you use the 90 degrees angled SATA-cables. A lone extra SATA port is also situated at the top right of the motherboard. Last but not least you get an e-SATA connector on the backplate.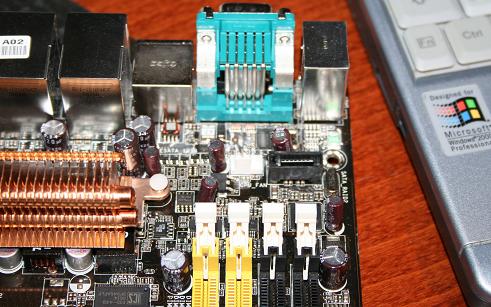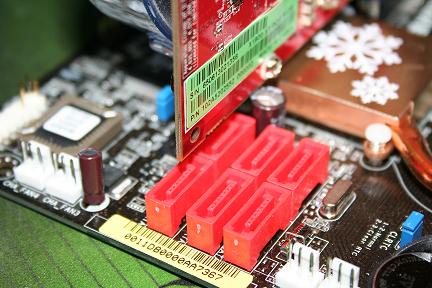 If you like to hook up fans in your case you will be pleased to find 6 fan headers plus one 4-pin CPU fan header. 4 of the regular fan headers are placed on the front of the motherboard while the other 2 are placed in the back of the motherboard.
One problem with SLI (and Crossfire) systems is that you usually loose a PCI-slot when using two cards and end up with a single PCI-slot for add-on cards. ASUS have solved this by increasing the distance between the two PCI-E slots and place an extra PCI-slot between them. Even with a 2-slot video card you still can fit an add-on card in the middle PCI-slot. You still loose the PCI-slot closest to the second PCI-E slot but this still leaves you with two free PCI-slots.
The WIFI-card actually sits in a USB-connector and if you remove it you can hook up two more USB-ports. The card is screwed to the motherboard though so it takes some effort to take it out.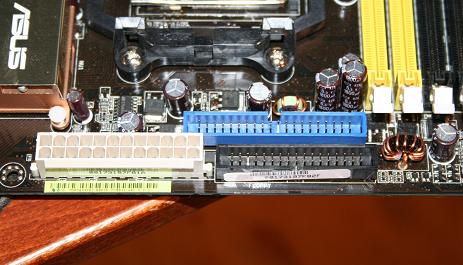 The 24-pin power connector sits a bit to close to the IDE-connector. I had to apply a bit force to get both in.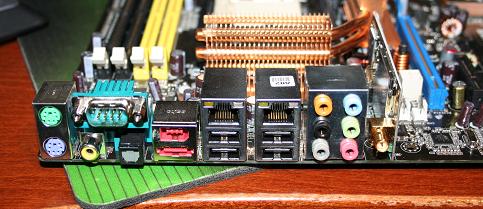 In the back You find a whole bunch of connectors including an e-SATA connector, 4 USB connectors and 2 Gigabit ethernet ports.
THE BIOS
The bios used in the ASUS M2N32-SLI Deluxe/Wireless Edition is the Phoenix Award Bios that we all are familiar with.
It has all the usual settings that you find in a bios so I won't go into those. Instead we take a look under the Advanced tab where we find all sorts of cool stuff for overclockers and tweakers. This is where you get to change settings for the CPU, memory including the voltages.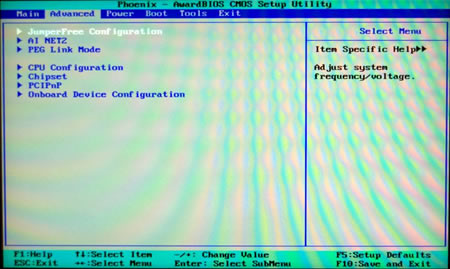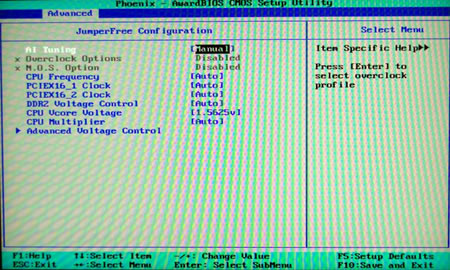 The CPU FSB speed can be set from a range of 200.0 MHz up to 450 MHz in 1 MHz increments. The PCI-E 1 and 2 clock speeds are also adjustable from 100 MHz to 200 MHz. The DDR2 voltage can be adjusted between 1.8v to 2.5v. Last but not least the CPU voltage can be set at max 1.5625v ins teps of 0.0125V. You can however also turn on Over-voltage which allows you to increase the voltage by 5-6%.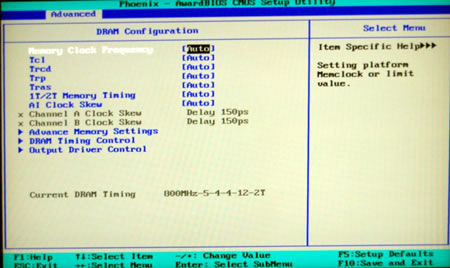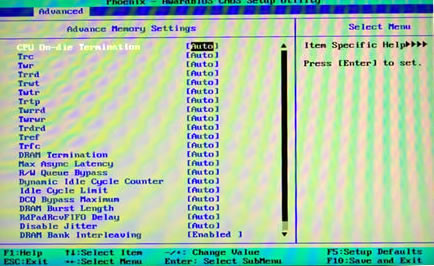 The memory tuning settings are almost overwhelming and I won't pretend to have a clue what everything does. If you are a serious overclocker you will find this useful, otherwise just ignore them.
Something that might interest a few is the SLI-memory setting. Regardless of the name it has nothing to do with video card SLI. You can read more about it in our nForce 5 article. If you have SLI-memory that can be run at higher speeds you set the SLI-memory support to Disabled, Optimal, High Performance or High Frequency. Depending on what you choose it will automatically change settings to overclock the memory to faster speeds. We will test this later.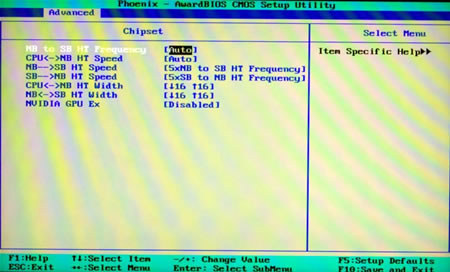 Under the chipset menu you can set the various frequencies for the North and SouthBridge. The CPU<->NB HT Speed and CPU<->SB HT Speed can be set between 1 and 5x FSB.
ASUS also includes some more or less useful features in their bios. You can if you want change the Logo that is shown at the start. Could be handy if you want to show off at a LAN party I guess. Music Alarm lets you set a CD that should start playing at a certain time even if your computer is turned off. ASUS O/C Profiles allows you to store multiple settings. You can even swap profiles with others although I haven't found any out on the net yet. EZ Flash 2 is a very useful Bios utility that allows you to flash the computer from a USB drive without having to boot from a floppy (or from the USB drive)
THE TEST SYSTEM AND THE BENCHMARKS
The board was tested with the following components:
Antec NeoHE 550W PSU. Excellent PSU which handles both SLI and Crossfire systems.
Maxtor 80GB EIDE 6L080L0 with WinXP SP2 installed
Maxtor 60 GB D740X-6L. Hooked up to the computer through the EasyIDE adapter to test USB performance
Seagate Barracuda 7200.7 120 GB.
Seagate 7200.9 320 GB
Two Seagate 7200.9 320 GB set up in RAID 0
LiteOn DVD-RW 812-S
Zalman CNPS9500 AM2 CPU cooler. Works for both AM2 and Socket 939.
AMD FX-62 AM2
Corsair 1066 Mhz SLI-Mem run at 800 Mhz
The motherboards used in the systems
Foxconn C51XEM2AA-8EKRS2H (driver version 9.35, nForce 590 SLI)
ASUS M2N32 – SLI Deluxe Wireless Edition (driver version 9.35, nForce 590 SLI)
ECS (Elite Group) KA3MVP Extreme (Crossfire Xpress3200 AM2, RD580 + SB600)
The Video cards used in the systems
ATI-systems: HIS X1900XT + HIS X1900XT Crossfire Edition with Catalyst 6.6
NVIDIA-systems: 2x XFX 7900GTX OC with ForceWare 91.31
The benchmarks
Synthetic
PCMark05 (default, CPU, Memory)
SiSoft Sandra 2007
3DMark06 (CPU)
Disk and USB
HD Tach RW 3.0.1.0 on SATA drive
HD Tach RW 3.0.1.0 on Lacie USB-drive
HD Tach RW 3.0.1.0 on IDE-drive hooked up to USB slot.
HD Tach RW 3.0.1.0 on RAID 0 array

Applications
Create archive with WinRAR
Audio and Video encoding
Encode VOB of chapter 5 of Charlies Chocolate Factory to MPEG2 with TMP Express 4.0
Encode VOB of chapter 7 of Charlies Chocolate Factory to DivX with AutoGK
Encode Madonnas "Confession on a dance floor" to MP3 with WinLame (GUI for LameMP3)
Audio
RightMark 3DSound 2.2
Games
640×480 in Quake 4 and FEAR
SYNTETIC BENCHMARKS
Synthetic benchmarks will never tell you the whole story on how you system will work in real life applications. They can however help you get a general feel on how various components work in your system and quite possibly even help find bottlenecks.

PC Mark 05
PC Mark 05 tests the system in a variety of everyday tasks designed to test the various subsystems of your computer. We've chosen to include the default PC Mark 05 score as well as scores for the separate CPU and Memory tests.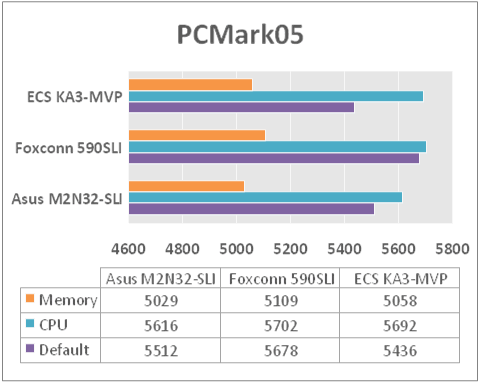 As expected the three motherboards get similar CPU and memory scores. The ASUS might trail slightly but we are only talking about a ~1.5% difference between the Foxconn and the M2N32. The difference in the overall PCMark05 score can be attributed to the different graphics cards used (2x 7900GTX vs 2x 1900XT).
3DMark06 CPU
We've picked out the CPU score from the loved/hated synthetic benchmark from Futuremark.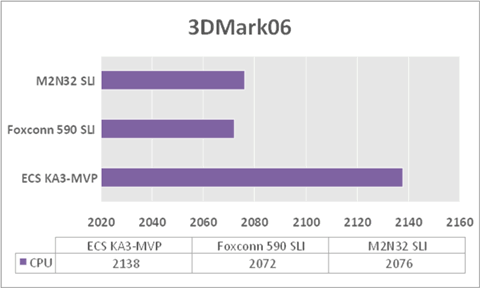 As expected all three motherboard perform equally. There is a 3% difference between the top result by the ECS motherboard and the slowest score from the Foxconn. The M2N32 places itself between the two other motherboards.
SiSoft Sandra 2007
This benchmark utility includes a variety of benchmark modules and is an excellent software to use when you need information about a subsystem or want to test it to make sure it works well. It also includes stress test modules. We've picked out the two CPU benchmarks as well as the memory benchmark.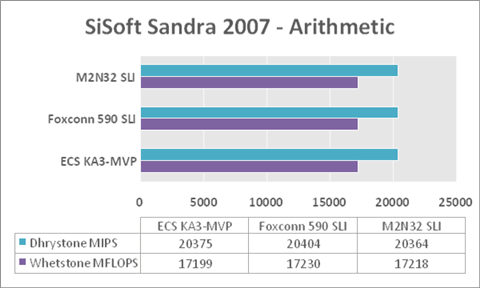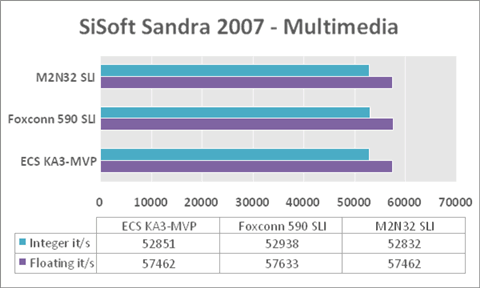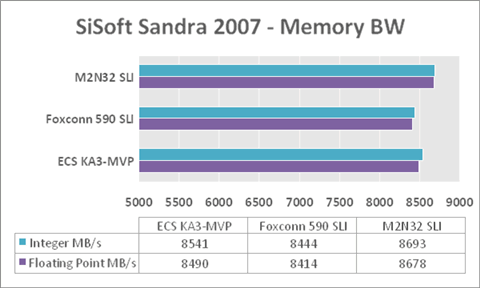 I know it is boring but these motherboards simply perform very similar when you look purely on their CPU performance. The memory bandwidth test shows that there are slight performance differences but they are in the 2-3% range with the M2N32-SLI coming out on top.
APPLICATIONS
We've used WinRAR v3.51 and created archives from two different folders. This was done 3 times and the average score was taken.
Archive 1: 21198 files, ~560 MB of mixed images and text files
Archive 2: 1895 files, ~338 MB with the content from the System 32 folder in Windows (only files, not subfolders)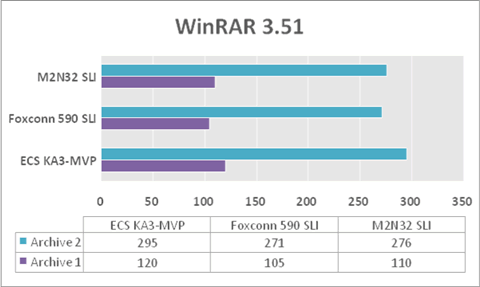 The M2N32-SLI Deluxe ties the Foxconn motherboard and leaves the ECS KA3-MVP behind.
DISK AND USB
To test the performance of the SATA-ports as well as the USB ports we've used HD Tach RW 3.0.1.0.
Test 1: Seagate Barracuda 7200.7 120 GB
Test 2: Seagate Barracuda 7200.10 320 GB (SATAII)
Test 3: RAID 0 (2x Seagate Barracuda 7200.10 320 GB (SATAII))
Test 4: External 160 GB USB Lacie harddisk
Test 5: Maxtor 60 GB D740X-6L hooked up to the computer through the EasyIDE adapter.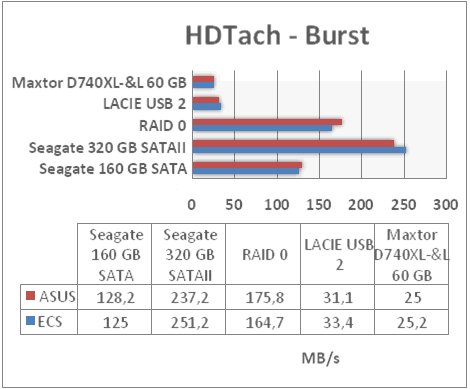 The ECS and the Asus M2N32-SLI both perform pretty similar when running the SATA disks. The 160 GB SATA drive is slight faster on the ASUS while the 320 GB SATAII drive performs a bit better on the ECS. The Burst speed on the RAID0 array is slower than a single 320 GB SATAII and the ASUS performs better here. Moving to the USB drives the performance is almost neck-to-neck on both motherboards.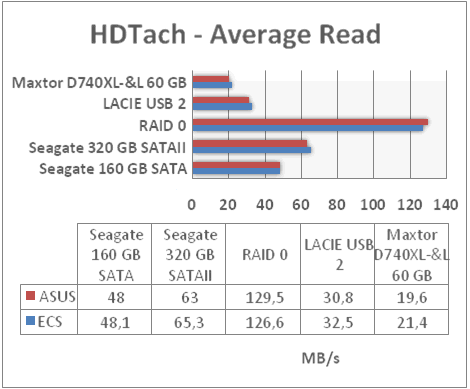 When measuring the average read-speed the motherboards perform very close to each other with a few "wins" for each motherboard.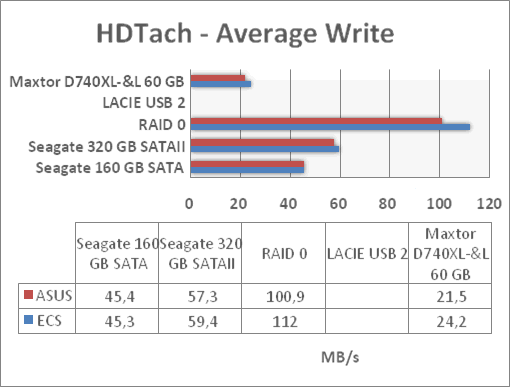 The average write test gives us a similar result although the M2N32-SLi Deluxe actually performs a bit worse than the ECS KA3-MVP.
AUDIO AND VIDEO ENCODING
In the first two tests we encode a VOB from the movie "Charlie and the Chocolate Factory" (the new film) with TMPGEnc 4.0 Xpress and with AutoGordian Knot. Then we test the MP3 encoding speed with WinLame and Madonna's latest CD, Confessions on a dance floor.
Test 1: VOB 5. Encoded to MPEG2 with TMPGEnc 4.0 Xpress . 2 pass. The results are the seconds it took for all passes.
Test 2: VOB 7. Encoded to DivX with AutoG.
Test 3: Madonna CD. Encoded with WinLame. High Quality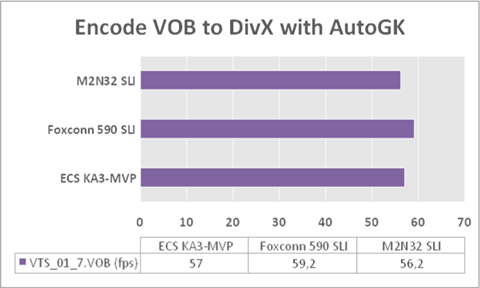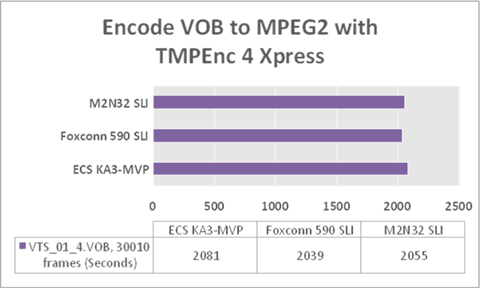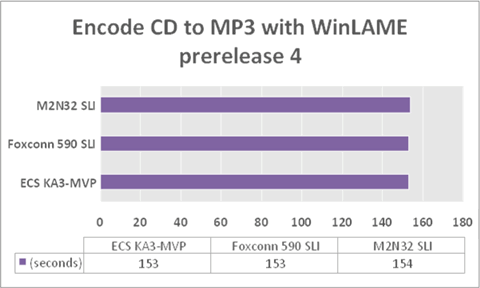 The M2N32-SLI Deluxe comes in last in the DivX encoding test and second when encoding the MPEG2. It is however close between the motherboards.
AUDIO
Both the Foxconn and the ECS motherboard use Realtek for their HD-Audio. ASUS on the other hand has chosen to use Soundmax/ADI.
Asus M2N32-SLI: ADI 1988B HDA, v 4530
Foxconn 590SLI: Realtek ALC882D HDA, v1.37
ECS KA3-MVP: Realtek ALC883 HDA, v1.39
I used the latest drivers available at each homepage. RightMark 2.2 was used to measure the CPU utilization when playing various types of sound.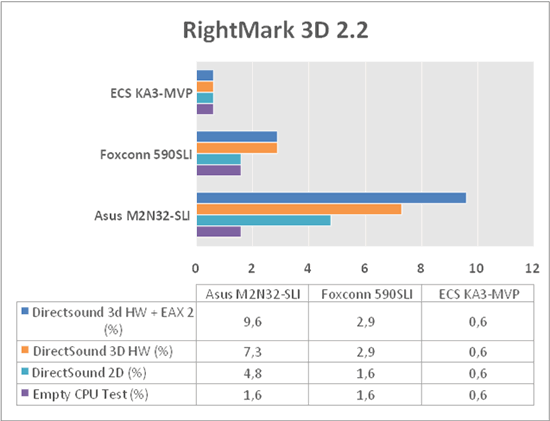 It's obvious that the Realtek HD-codec is much more CPU-efficient than the Soundmax/ADI codec.
GAMES
We've tested Quake 4 and FEAR at 640×480 trying to take the video card out of the equation as much as possible.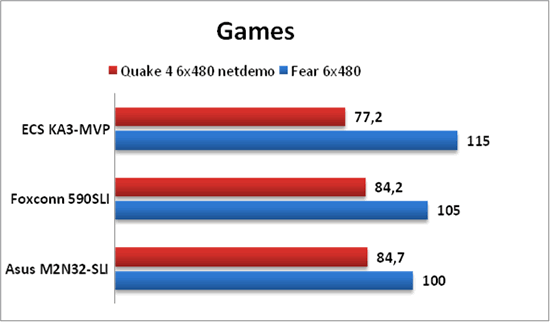 Even when you try to take the video card out of the equation it is obvious which game engine works best on which type of video card. The Quake 4 engine likes NVIDIA while FEAR and Half Life 2 likes ATI. The Foxconn motherboard manages a few more frames per second than the ASUS with the same video card.
WIFI-AP Solo
The wireless features of this motherboard deserve some more discussion since it is more than just a regular wireless adapter. Not only does it work as a regular IEEE802.11b/g client, it also doubles as a access point.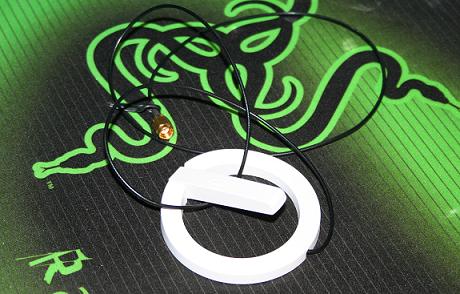 The idea is that you will be able to connect to this AP with your notebook or even wireless Skype telephone, even when the computer is in sleep mode.
While it worked fine as a regular IEEE802.11b/g client I ran into a lot of problems using it as an AP-point. I hooked up my review computer to the net using a regular cat-5 cable. I then set the WiFI AP Solo in AP-mode and tried to access it with my notebook. While my notebook found the network and could connect, I couldn't do anything. Neither surf the net nor access any shares on the review computer. Apparently there were some problems with the ICS (Internet Connection Sharing) on my review machine but I didn't manage to find the problem and solve it.
OVERCLOCKING

ASUS includes a lot of ways to overclock the CPU and memory. In the Bios you can turn on AI NOS which automatically overclocks your system to a smaller degree. ASUS also includes software for Windows that allow you to turn on AI NOS inside Windows.
The M2N32-SLI Deluxe supports nTune 5 but only to some degree. While it is possible to change most bios setting for the FOXCONN C51XEM2AA inside nTune5, the M2N32-SLi Deluxe only supports a limited number of bios settings that can be changed.
The SLI-memory setting in the bios is interesting. I tested the motherboard with Corsair DDR2 memory that is SLI-memory certified and can run up to 1066 MHz. By turning on SLI-mem with the high frequency setting the computer started at 230×12 MHz instead of 200×14 MHz for the CPU. This resulted in 920 MHz for the DDR2 memory instead of 800 MHz. As you might have calculated the CPU was running at a slightly slower speed (just 40 Mhz slower though). This also can be cured by allowing the motherboard to overclock the CPU automatically. If you get hold of SLI-memory it is a quick and easy way to get some more speed out of the system.
| | | | |
| --- | --- | --- | --- |
| | Default | ASUS M2N32 SLI DELUXE | FOXCONN C51XEM2AA |
| FSB | 200 MHz | 256 MHz | 256 MHz |
| Multiplier | 14 | 12 | 12 |
| CPU | 2.8 GHz | 3072 MHz | 3072 MHz |
| HTT | 1000 MHz (5x) | 1024 MHz (4x) | 1024 MHz (4x) |
| Memory | 800 MHz | 1024 MHz | 1024 MHz |
Without changing anything more than the memory voltage I immediately could go up to 256×12 MHz = 3072 MHz which is almost a 10% increase in the CPU speed and a 28% increase in the speed of the memory (even though it still was slightly under the max speed of 1066 MHz).
CONCLUSION
There are many ways a company can differentiate its products from the competitors. ASUS has done this by creating an impressive package with lots of cool features and included goodies. You really feel the quality when you open the box and take out all the items in the bundle. This of course is important since this isn't a cheap motherboard. At around $200 it is one of the more expensive AM2 motherboards. I think however that it is worth every penny due to the quality of the motherboard and the bundle.
If I am going to complain on something it could be the issues I had with the WiFI AP Solo or some bad design choices with the SATA ports on the motherboard. Overall though these are minor issues that just brings down the final rating of the motherboard a notch.
Pros
+ Excellent bundle
+ Lots of ways to overclock the CPU and memory
+ Q-connector
+ Quality
+ Support on ASUS webpage.
+ Great performance
+ Overall great motherboard layout
Cons
– Expensive
– Some issues with the WiFi AP Solo
– Placement of SATA ports too close to long video cards
Summary: The ASUS M2N32-SLI Deluxe/Wireless Edition is an excellent motherboard that provides great value for the money. The motherboard performs very well compared to other AM2 motherboards and comes with a impressive bundle.
The ASUS M2N32-SLI Deluxe/Wireless Edition gets 9 out of 10 paws and the Golden Bear Award