All that being said, I invite you to join me today as we review one of the newest contenders on the block, the Asus® P5NSLI. This board is not only the newest kid on the block, but it's different from the standpoint it's the first released version of a Conroe™ motherboard based on the NVIDIA® 570 chipset. Will it be the panacea everyone's been looking? Let's venture forth without further ado and find out!
INTRODUCTION
For the past six months or more the computer enthusiast's world has been totally buzzing about the imminent release of the Intel® Core2 Duo ((AKA Conroe™) series of processors. Leaked results of the Core2 processor's performance led the "Gurus of Speed" as the forthcoming messiah of the overclocking world. Since the introduction of the Conroe™ processor a month or so ago the emphasis has shifted from talk to action and reviews coupled with individual efforts of individual computer enthusiasts have shown in fact that the Conroe™ was everything it was originally cracked up to be and maybe even more.
The biggest dilemma facing the Conroe™ enthusiasts aside from which version of the processor to buy has been finding the optimal mainboard to run their new treasure. I have been an avid computer enthusiast forum aficionado, and never in my life have I rad of more different motherboards being purchased for the sake of bragging rights than now. Each individual seems to be searching for something different, be it ultimate overclocking, stability, some other innate quality, or a combination of the three. Unfortunately the cream of the crop has yet to surface and the contenders bearing real merit seem to all have a very immature current BIOS that in time may unlock that hidden potential that is currently lacking.
Currently there are several options to the consumer to choose from each based on either the Intel® 975 chipset, the Intel® 965 chipset, and most recently the NVIDIA® 570 chipset. In the not to distant future we should see the NVIDIA® 590 and ATI RD600 chipsets also become serious players in the quest for this elusive dream. One thing is definitely for sure, the manufacturer that gets it right will definitely have a gold mine in their back pockets. Hype, as it always is, will certainly be both the mitigating and driving factor.
All that being said, I invite you to join me today as we review one of the newest contenders on the block, the Asus® P5NSLI. This board is not only the newest kid on the block, but it's different from the standpoint it's the first released version of a Conroe™ motherboard based on the NVIDIA® 570 chipset. Will it be the panacea everyone's been looking? Let's venture forth without further ado and find out!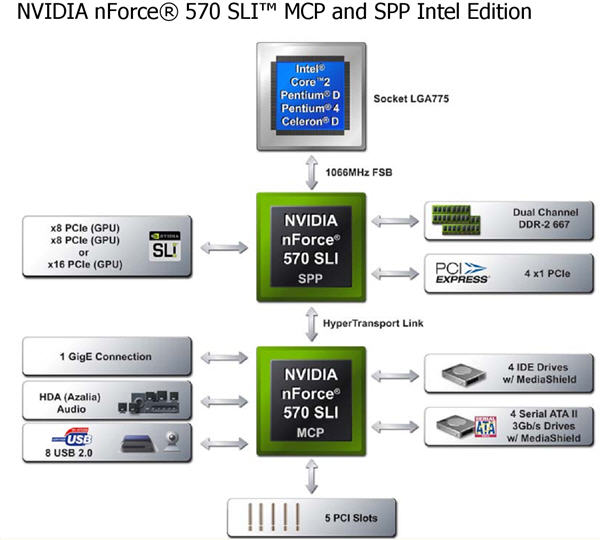 FEATURES & SPECIFICATIONS
CPU and Memory Features
LGA775 Intel® Core™2 Processor Ready:   This motherboard supports the latest Intel® Core™2 processors in LGA775 package. With new Intel® Core™ microarchitecture technology and 1066 / 800 MHz FSB, Intel® Core™2 processor is one of the most powerful and energy efficient CPU in the world.
Dual-Core CPU:  Enjoy the extraordinary CPU power from the latest dual-core CPU. The advanced processing technology contains two physical CPU cores with individually dedicated L2 Caches to satisfy the rising demand for more powerful processing capability.
Dual-Channel DDR2:   DDR2 is the next generation memory technology ! With the highest speed up to 667MHz, DDR2 memory provides great performance for 3D graphics and other memory demanding applications.
NVIDIA® Features
NVIDIA® nForce™ 570 SLI™ Intel® Edition:   NVIDIA® nForce™ 570 SLI™ Intel® Edition – Power for High-Performance Gaming. Get the power of NVIDIA® nForce™ 570 SLI™ for Intel® platforms! High performance NVIDIA® nForce™ 570 SLI™ MCPs provide features designed with the gamer in mind. It delivers comprehensive features for advanced PC security, reliable PC storage, SLI™ technology, PCI Express bus architecture and dual DDR2 memory technology. NVIDIA® nForce™ 570 SLI™ offers Intel® enthusiasts stable, reliable, compatible plaftform support for ultimate PC performance.
NVIDIA® SLI™ Technology:   Ultimate Gaming Performance with NVIDIA® SLI™ Technology…NVIDIA® SLI™-Scalable Link Interface- takes advantage of the increased bandwidth of the PCI Express bus architecture and features intelligent hardware and software that allows two GPUs to efficiently work together to deliver earth-shattering, scalable performance. For some applications nearly 2X performance! (From www.NVIDIA.com)
ASUS EZ DIY
Q-Connector:   Make connections quick and accurate! The ASUS Q-Connector allows you to connect or disconnect chassis front panel cables in one easy step with one complete module. This unique adapter eliminates the trouble of plugging in one cable at a time, making connection quick and accurate.

O.C. Profile:   Conveniently store or load multiple BIOS settings … Freely share and distribute favorite overclocking settings. The motherboard features the ASUS O.C. Profile that allows users to conveniently store or load multiple BIOS settings. The BIOS settings can be stored in the CMOS or a separate file, giving users freedom to share and distribute their favorite overclocking settings.
EZ Flash 2:  Simply update BIOS from a USB flash disk before entering the OS … EZ Flash 2 is a user-friendly BIOS update utility. Simply launch this tool and update BIOS from a USB flash disk before entering the OS. You can update your BIOS only in a few clicks without preparing an additional floppy diskette or using an OS-based flash utility.
CrashFree BIOS 2:  Simple BIOS auto-recovery process…The CrashFree BIOS 2 feature now includes the BIOS auto-recovery function in a support CD. Users can reboot their system through the support CD when a bootable disk is not available and go through the simple BIOS auto-recovery process. ASUS motherboards now enable users to enjoy this protection feature without the need to pay for an optional ROM.
FEATURES & SPECIFICATIONS cont.
ASUS Overclocking Tools
Precision Tweaker:   Achieve system maximum performance! It offers ways to raise system performance inch-by-inch and step-by-step to achieve maximum performance! This is about getting the most out of your machine and taking pride in your customized computer.

vDIMM – Take control of how much power is going into the memory modules. This motherboard gives you 4-step voltage control to the DIMM.
vCore – Find out "exactly" how much power your CPU needs. Fine-tune it with 0.0125 volts at a time!
SFS (Stepless Frequency Selection) allows:

FSB tuning from 133MHz up to 400MHz at 1MHz increment
Memory tuning from 533MHz up to 1200MHz at 1MHz increment
PCI Express frequency tuning from 100MHz up to 150MHz at 1MHz increment

C.P.R.(CPU Parameter Recall):  When the system hangs due to overclocking failure, there is no need to open the case to clear CMOS data. Just simply restart the system, the BIOS would show the previous setting and then users can amend the CPU setting again.
Audio features
High Definition Audio:  The onboard 6-channel High Definition audio CODEC enables high-quality ADI AD1986A audio CODEC, which automatically detects and identifies what types of peripherals are plugged into the audio I/O jacks and notifies users of inappropriate connection.
S/PDIF-out:  This motherboard provides convenient connectivity to external home theater audio systems via an coaxial S/PDIF-out (SONY-PHILIPS Digital Interface) jack. It allows to transfer digital audio without converting to analog format and keeps the best signal quality.
ADI SoundMAX HD Audio:  The SoundMAX Digital Audio System is the industry's highest performance and most reliable audio solution for business professionals, audiophiles, musicians, and gamers. SoundMAX Digital High Definition Audio System can output 5.1 channel surround sound and features state-of-the-art DLS2 MIDI synthesizer and supports all major game audio technologies.
ASUS Unique Features
ASUS two-slot thermal design (ASUS exclusive):  ASUS two-slot thermal design provides better air-flow and lower VGA cards temperature than other brans' one-slot design, which also ensures better system stability and longer component life cycle.
ASUS Music Alarm:  Wake up to the music of your choice instead of the irritating sound of an alarm clock. The ASUS Music Alarm gives you a personal wake-up call with your favorite CD music even when system is off.
Fanless Design:  Provide a cool environment without all the baggage…Cooling fans, though a popular thermal solution, also come with noise and malfunction likelyhood. ASUS Motherboard's fansless concept is specifically created to provide a cool environment without all the baggage. ASUS has devoted special efforts to address the thermal issues across the motherboard, and most notably the areas that reside the CPU, power, VGA, Northbridge and Southbridge. The heat sinks and strategic board layout were tailor made to dissipate heat in the most efficient manner.
AI NET 2:  ASUS AI NET2 remotely detects cable connection the second you turn on the system, and any faulty connections are reported back up to 100 meters at 1 meter accuracy.
ASUS MyLogo2:  You can convert your favorite photo into a 256-color boot logo for a more colorful and vivid image on your screen.
ASUS Q-Fan:  Constant, high-pitched noise generated from heatsink fans are a thing of the past thanks to ASUS Q-Fan. This motherboard with Q-Fan technology intelligently adjusts fan speeds according to system loading to ensure quiet, cool and efficient operation.
Interface Features
PCI Express Architecture:  PCI Express is the latest I/O interconnect technology that will replace the existing PCI. With a bus bandwidth 4 times higher than that of AGP 8X interface, PCI Express x16 bus performs much better than AGP 8X in applications such as 3D gaming. PCI Express x1 also outperforms PCI interface with its exceptional high bandwidth up to 500MB/s. The high speed PCI Express interface creates new usages on desktop PCs e.g., Gigabit LAN, 1394b, and high-speed RAID systems.
Serial ATA 3Gb/s:  The motherboard supports the next-generation hard drives based on the Serial ATA (SATA) 3Gb/s storage specification, delivering enhanced scalability and doubling the bus bandwidth for high-speed data retrieval and saves.
Gigabit LAN:  The Marvell Gigabit LAN controller delivers transfer speeds up to ten times faster than conventional 10/100 Ethernet connections. Gigabit LAN is the networking standard for the early future and is ideal for handling large amounts of data such as video, audio, and voice.
Max. 8 USB 2.0 ports:  USB 2.0 is the latest connectivity standard for next generation components and peripherals. Backwards compatible with current USB 1.1 peripherals, USB 2.0 delivers transfer speeds up to 40 times faster at 480Mb/s, for easy connectivity and ultra-fast data transfers.
Specifications

NVIDIA nForce 500 Series MCPs for Intel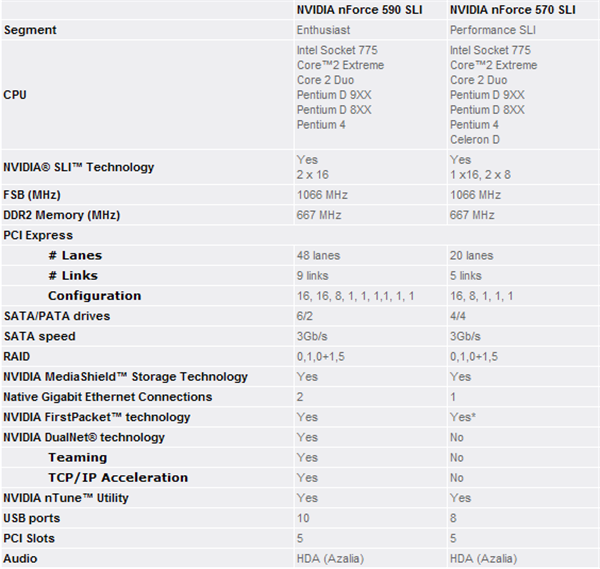 The chart above compares the NVIDIA® 570 SLI Intel® Edition media and communications processor (MCP) featured in the Asus® P5NSLI with its soon to be released big brother, the 590 SLI.
THE PACKAGE
When the blue and white FedEx delivery truck pulled up in front of my house I was extremely relieved as my recent experiences with one of their competitors have not been that superior, as some of the delivered products appeared they had narrowly survived the journey. The Asus® P5NSLI arrived looking as though it had just returned form a weekend trip to a spa; clean, lean, and healthy.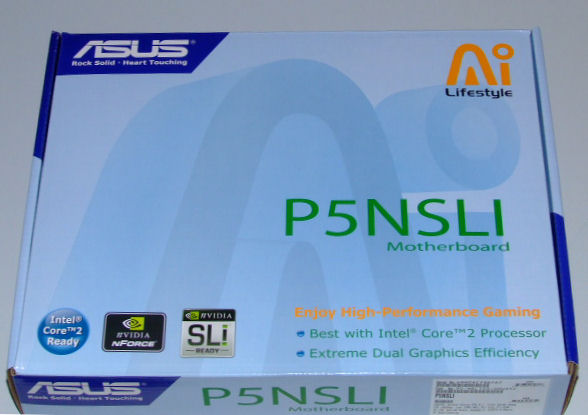 After digging through the triple layered bubble wrap, I actually got to the package and upon opening it found that the motherboard was surrounded by compressed cardboard which in my opinion is just as protective and much more environmentally friendly than Styrofoam. No matter, the precious cargo was safe and secure.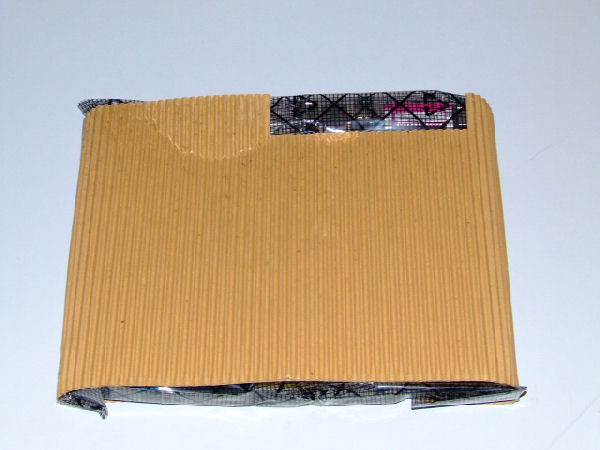 My first visual impression of the motherboard was Wow! it's small! While not the size of a micro-ATX board, it's approximately two-thirds the size of a normal ATX board. This board only uses two sets of vertical standoffs as opposed to the three normally used by most ATX board. I'll speak more about this later when we discuss installation.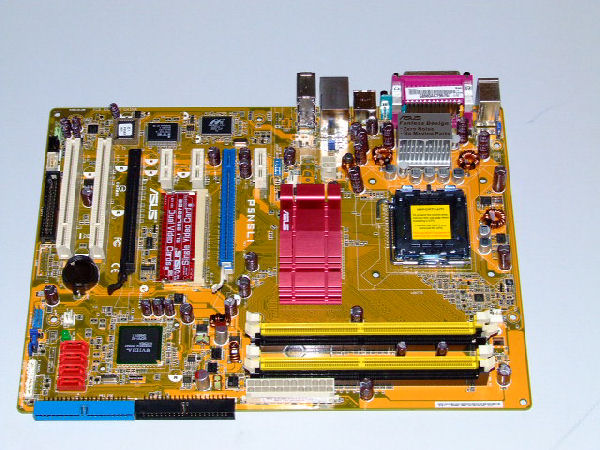 As you can see from the image it's a rather stylish looking PCB of varying shades of gold coupled with some red and black accents. As I've stated before I wouldn't care it the board was flat black and oddly proportioned if it performs well. In this case the board is very stylish and the performance is yet to be determined…Will it be a "Golden Beauty" or a "Dumb Blonde"? We'll soon see!
THE BUNDLE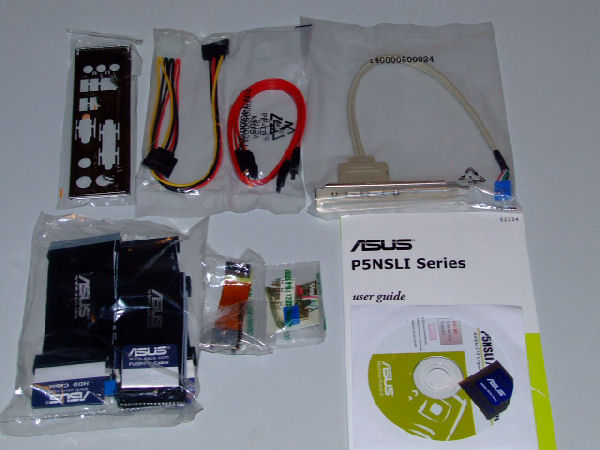 As you can readily see the bundle is somewhat sparse in comparison to other high end mother boards. The accessories are as follows:
I/O Shield
2 – SATA cables
1 – 4 pin molex to dual SATA power adapter
1 – floppy ribbon cable
1 = ATA 33/66 ribbon cable for optical drives
1 – ATA 100 ribbon cable
1 – rear USB adapter
1 – SLI connector
1 – Asus Q connector for quick connection to headers
1 – Driver/utility disk
Product guide
THE BOARD
The right rear section of the board shows the the socket and with Asus's "Fanless Design" which supposedly helps to regulate thermal issues across the motherboard, and other area that reside the around the CPU, power, VGA, Northbridge and Southbridge. I'm a little perplexed on how exactly this device coupled with the board's design is supposed to provide additional cooling other than by Asus's component placement on the board, which aside from a few issues is actually quite good.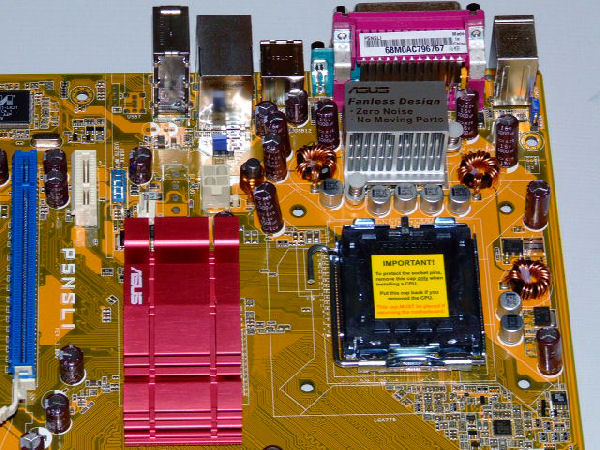 The NVIDIA® nForce™ 570 chipset is cooled passively by a large red aluminum heatsink that is located in such a manner that it does not interfere with any peripheral placement on the board. I'm again is awe of why there is no active cooling here given the fact that this chipset is know in general operation to exhibit quite a lot of heat. Alternative cooling might be a good suggestion for those really wanting to improve this boards performance.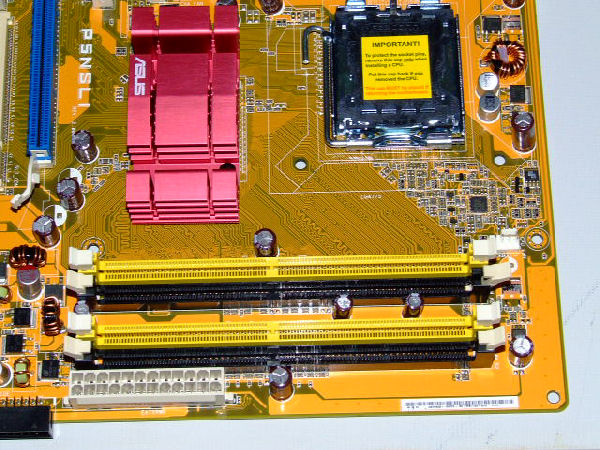 The memory DIMM slots are 240 pin DDR2 and are color coded yellow and black. While not optimally located the memory modules can be be exchanged if care is taken with a full sized video card installed. Just below the slots is the the board's 24 pin power connector.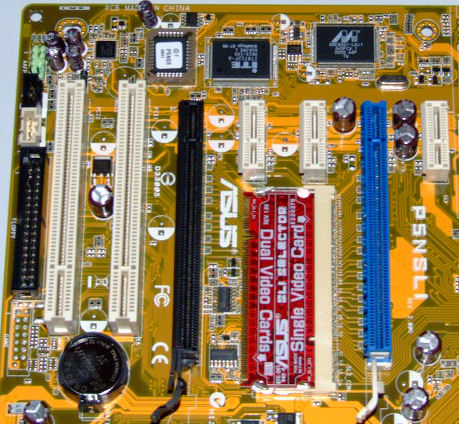 The P5NSLI provides two PCI Express X16 connectors (blue and black), three PCI Express X1 connectors, and two PCI 2.3 compliant 32-bit connectors. The SLI card is located behind the two PCI Express X1 slots and must be installed properly for either SLI or alternative multiple GPU/VPU installations. Asus chose to mount the black floopy drive connecter in an inconvenient position next to the last PCI slot. This would necessitate the use of a very long floppy cable in most of today's current mid-tower and full-tower cases.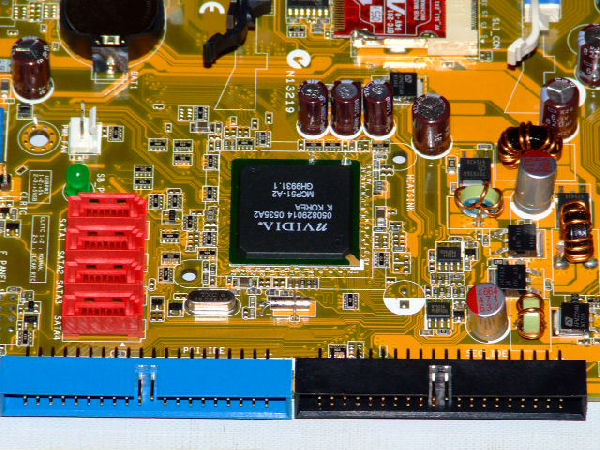 The P5NSLI utilizes four red SATA slots conveniently located in the front lower left corner of the board. Each Serial ATA (SATA) 3Gb/s storage specification, delivers enhanced scalability by doubling the bus bandwidth for high-speed data support. In front of the four SATA ports is the primary NVIDIA IDE connector (blue) and secondary connector (black) are mounted at a right angle to the board making for extremely convenient connectivity.

The rear ports and inputs are all nicely arranged. I'm still waiting for the day when the PS2 ports, the parallel port, and serial port(s) completely disappear from mainboards in lieu of more USB or 1394 connectors. From top to bottom you get the following:
1 – PS2 keyboard and mouse connections
1 – LPT parallel port
1 – S/PDIF coaxial output connector
1 – 9 pin serial connector
4 – USB 2.0 connectors
1 – RJ-45 LAN connector
1 – audio panel with connections to facilitate 2, 4, or 6 channel audio reproductions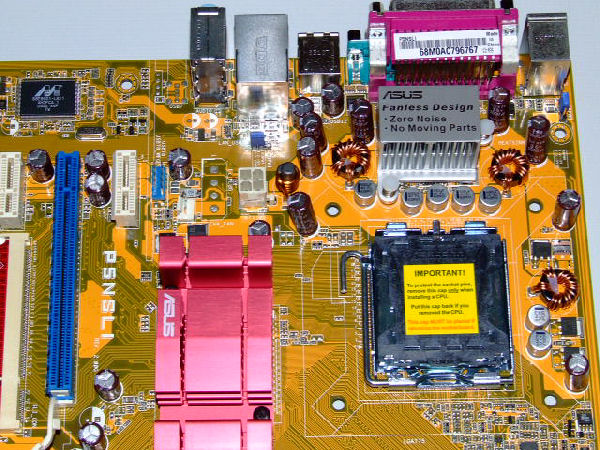 Another view of the socket area shows there to be more than ample room for use of after market cooling products. I had no problems whatsoever installing the Zalman CNPS 9500 LED cooler that I used for this review. I would think that all but the largest coolers should probably fit this board without any modification.
A few more observations that might be of interest: 1) The board uses a 3 phase power regulator which proved more than ample for any task I attempted during the review; 2) It will be nearly impossible to have access to the first two PCI-E X 1 slots when running any type of dual GPU/VPU board configuration; 3)  the board is fairly limber and obviously not 6 layered PCB construction, so care should be taken when using downward pressure to insert components; and 4)  I had difficulty in getting the attached Q Connector™ to work properly as the female connection side that attaches to the header connections on the board didn't appear to have the holes uniformly opened.
Installation was very easy especially given the fact that my test case is a Lian Li G70. The only real idiosyncrasy that I noticed was that the board is of an odd size, smaller than a normal ATX board yet larger than a micro-ATX. Installation is achieved as I alluded to earlier using only rows with three standoffs per row instead of the usual three rows with four standoffs in the first row and three in each of the other two. This configuration leaves about a 2 inch section of the motherboard with little or no support as it overlaps the final row of standoffs. Again downward pressure in this area of the board such as inserting the 24 pin power connector should be minimized to prevent cracking the PCB.
TESTING
Test System
Benchmarks
Synthetic Benchmarks

PCMark 2005
Sandra 2007 Professional CPU Arithmetic Benchmark
Sandra 2007 Professional Multimedia Benchmark
Sandra 2007 Professional Buffered Memory Benchmarks
Super Pi mod 1.5 XS 1 Meg and 2 Meg Calculations

Gaming Benchmarks

3DMark 2006
F.E.A.R. v 1.05 Benchmark
Serious Sam II v 2.068 Branchera Benchmark
Testing Methodology
Initially this was to be a review comparing several new Conroe™ motherboards. Due extenuating circumstances, the other equipment either didn't arrive on time or the revision of the one additional motherboard that I did receive wasn't "Conroe Ready"; I decided to pour all of my efforts into this board to see exactly what it had to offer, as it was brand new on the market.
The testing methodology was very simple,  we would run each of the tests initially at default settings and then overclock the board and memory up to its highest point of stability repeating each of the benchmarks at each stage of progress. That was the plan, but what's it they say about the best laid plans? Read on and see what I mean!
TEST RESULTS

PERFORMANCE BENCHMARKS … SYNTHETIC

Benchmark

266 FSB

300 FSB

PCMark 2005

6477

6644

Sandra Arithmetic
  Dhrystone
  Whetstone
22015 mips
15285 mflops
24001 mips
17013 mflops

Sandra Multimedia
  Integer X 16
  Floating Point X 8
131127 it/s
70950 it/s
134584 it/s
75670 it/s

Sandra Memory
  Int ALU
  Float FPU
5512 MB/sec
5512 MB/sec
5984 MB/sec
5899 MB/sec

SuperPi … 2 Meg

54 secs

49.750 secs

SuperPi … 1 Meg

21.20 secs

19.26 secs

PERFORMANCE BENCHMARKS … GAMING

Benchmark

266 FSB

300 FSB

3DMark 2006
8019
8285

F.E.A.R.  1600 x 1200   NoAA/NoAF
  High
  Average
  Minimum
280 fps
114 fps
58 fps
295 fps
125 fps
65 fps

F.E.A.R. 1600 x 1200   4xAA/8xAF
  High
  Average
  Minimum
224 fps
73 fps
51 fps
242 fps
84 fps
60 fps

Serious Sam 1600 x 1200   NoAA/NoAF

162.2 fps

171.4 fps

Serious Sam 1600 x 1200   4xAA/8xAF

123.4 fps

136.8 fps
CONCLUSION
As you can see from the test results we were not able to progress very far with our testing of this board, but certainly not from a lack of trying. We spent in total almost 4 hours attempting everything in our bag of tricks to get this board to progress beyond 300 FSB. This included both manual and automatic manipulation of FSB, voltages, memory timings/speed, and essentially every other tool this obviously immature BIOS had to offer. To put it bluntly it was completely stable at 300 and failed to boot other than in the BIOS's safe mode at 301. The only thing we didn't try was overclocking it externally after boot with a clockgen program. It was felt that this effort would be to little or no avail considering out initial results.
It is my sincere hope that all of these problems were directly related to the board's initial BIOS offering. In our experience it sometimes takes a while to formulate a BIOS that will optimally deliver all the performance a system is capable of. Other possible explanation for not being able to progress was the fact that we used DDR2 1000 RAM in our testing running at DDR 800. I attempted several times to lower it to 667 but again to no avail. I even tried a set of DDR2 800 sticks running at both 800 and 667 and had no better luck. Both sets of RAM were run at very loose and very tight timings and again no favorable results. Another concern is the BIOS only allows you a 2.1 vCore, which we feel is most inadequate for today's high performance DDR2
We will keep a very close eye on both new hardware revisions of this board and new iterations of a BIOS being released and update the review if favorable conditions are achieved. We had high expectations for this board, but I guess you get what you pay for. This board retails in our Price Grabber search in the $110 – $135 USD range. For a board in this price range it is completely stable and performs reasonably well at both default and slightly overclocked settings. I can recommend this board currently to only one type of buyer, a completely new member of the Computer Enthusiast ranks that is building his/her first system and is looking for stock stability at a very good price.
Pros:
+  Easy installation
+  Smaller board size provides more space in a mid-tower system
+  Decent performance at stock and slightly overclocked speeds
+  Stylish design
+  Good board architecture and component distribution
+  The price is right
Cons:
–  Immature BIOS
–  Inability to OC beyond 300 FSB
–  Could use a few more accessories
–  Chipset runs very warm even at stock speeds
Final Score: 6 out of 10