Not only is the ECS KA3 MVP Extreme the first Xpress3200 AM2 motherboard but also one of the cheapest ones. We've compared it to two nForce590 motherboards to see if it can keep up.
INTRODUCTION
When AMD launched the AM2 socket CPUs, NVIDIA was hot out of the starting blocks with their new nForce5 chipset. From ATI however there were not much sound and you could have been fooled that they weren't planning to release anything. While investigating motherboards for the big Multi-GPU article we got wind of the new Xpress 3200 for AM2 and started to hunt for motherboards.
ECS was the only manufacturer which could supply us with a Xpress 3200 for AM2 motherboard, the KA3 MVP Extreme , which thus is the motherboard we are reviewing today at Bjorn3d. Can it hold its own against the multitude of nForce5 motherboards? Read on to find out.
Xpress 3200 AND SB600 FOR AM2
The Xpress3200 has 44 PCI-E lanes and allows you to have 16 lanes for each video card instead of 8. One thing ATI is often pointing out to us media is the fact that ATI has chosen to let both their 16x PCI-E slots connect to the RD580. NVIDIA on the other hand connects each of their 16X PCI-E slots to the MCP and the SPP. According to ATI the fact that the data then has to travel between the MCP and SPP to the CPU adds a bit of an overhead compared to ATI's solution. This is something you only would notice with slower cards and I must admit I haven't seen much empirical evidence yet that this actually affects gaming performance.
With the Xpress 3200 for AM2 and even more importantly the new SB600 Southbridge ATI has finally added some missing features to the chipset-pair.
Support for up to 10 USB 2.0 ports (up from 8 ports)
SATA 2 support Including support for NCQ.  (Previous only SATA1 support)
Support for 4-drive RAID 10 in addition to RAID 0 and RAID 1.
HD-Audio (same as before)
THE FEATURES OF THE KA3-MVP
ECS advertises the KA3-MVP this way:
The First Motherboard Supports AMD Socket AM2 Platform
ATI Crossfire™ Xpress 3200 chipset that is the first unrestricted 2×16 PCI Express soluction
Extreme overclocking and unprecedented control over system behavior
Socket AM2 supports up to dual channel DDR2 800
Supports SATA 3Gb/s and RAID 0,1,10 function
Supports Dual LAN & IEEE1394 connection
Supports high quality 8-CH Intel® High Definition Audio
I'm not sure I agree on the first point as I, from my own experience, could get hold of nForce5 motherboards far earlier than the KA3-MVP. The overclocking claim also is quite bold.
Processor:

AMD Sempron™, Athlon™ 64, Athlon™ 64×2, Athlon™ 64FX processors, Socket AM2

Chipset:

ATI® CrossFire Xpress 3200, North Bridge: ATI® RD580, South Bridge: ATI® SB600

Front Side Bus:

2000 MT/s HyperTransport™

Memory:

Dual channel DDR2 800 / 667 / 533 x 4 DIMMs, Max 32GB

VGA on Die:

N/A

Expansion Slots:

2 x PCIe x16, 1 x PCIe x1, 2 x PCI

IDE:

ATA133 x 2 (one from SB600 and one from JMB363)

Serial ATA(SATA)/RAID:

Supported by SB600: 4 x Serial ATAII 3.0Gb/s devices (RAID0, RAID1, RAID10 configuration)
Supported by JMB363: 2 x Serial ATAII 3.0Gb/s devices (RAID0, RAID1& RAID 0+1 configuration)
Support NCQ&eSATA & Hot plug&Port Multiplier (JMB363)

Audio:

Realtek ALC883 8-channel audio CODEC (HDA) 

LAN:

Agere E1310I Gigabit LAN controller
Realtek RTL8100C 10/100 LAN controller

IEEE1394:

1394a x 2 (VIA VT6308)

Back Panel I/O Ports:

1 x PS/2 keyboard & PS/2 mouse connectors
4 x USB ports
2 x RJ45 LAN connectors
1 x Serial port (COM1)
1 x Audio port (Line-in,4x Line-out, Mic_in)
2 x Digital SPDIF (Optical & Coaxial) out

Internal I/O Connectors:

1 x Speaker header
1 x IrDA for SIR header
2 x 1394a headers
3 x USB 2.0 headers support additional 6 USB ports
1 x Front panel switch/LED header
1 x Front panel audio header
1 x CD in header
1 x 26-pin LPT header 

Support CD:

Driver CD, CD with utilities: Data Process Utility, Pro Magic Plus, ShowShifter, I'm in Touch, WinDVD, WinDVD Creator 2, WinRip2

Special Features:

One PCI-slot with better filtering circuit.

Form Factor:

ATX (12″ x 9.6″)
The KA3MVP Extreme is a good example on how motherboard makers solve the lack of features in the ATI chipset. Both on the SATA-front and on the LAN-front ECS has added some third-party solutions. Even so the motherboard only got a single Gigabit controller, something that probably won't bother that many people. I did actually have some issues installing the drivers for the Agere controller though so for this article I choose to use the Realtek controller.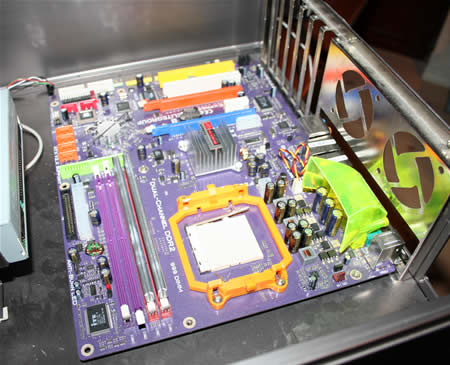 Features worth mentioning are:
PCI slot with better filtering circuit
One of the PCI-slots have a better filtering circuit and is recommended to be used for audio cards.
Doctor LED
While it sounds like a German Porno-star it actually is two LED's that indicate if the PCI-E slots are working fine. They do so by blinking randomly with a clear blue color. Quite funky and irritating after a while.
Port multiplicator
The motherboard has a funky way of supporting up to 5 SATA disks on one SATA connector. With the motherboard you get a back-panel with a SATA port. This back-panel is hooked up to one of the JMB363 SATA ports. With an external port-multiplication device (has to be bought separately) you then can connect up to 5 drives to this one SATA-port.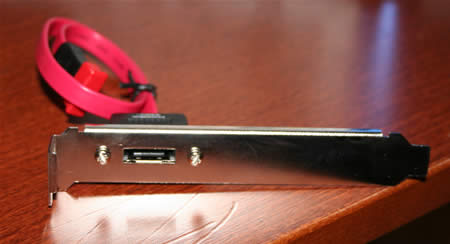 Top-Hat Flash
I didn't get this with my review motherboard but in retail boards you should get a second bios-chip which can be placed upon the old that sits on the motherboard. This allows you to start from a fresh bios which overwrites the corrupted one on the motherboard.
THE BOX AND THE CONTENTS
 The motherboard comes in a pretty nice looking box.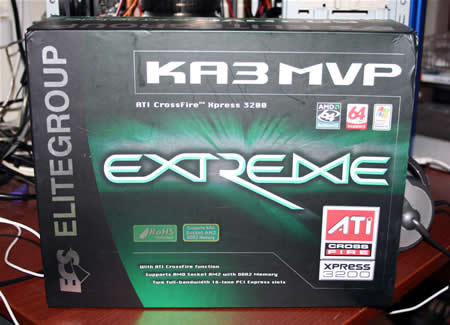 Opening up the box we find the following pieces:
4 SATA cables
2 80-wire IDE cable
1 floppy disk drive cable
1 SATA power adaptor for 2 SATA devices
1 port multiplier I/O bracket
1 LAN cross-over cable
1 I/O bracket containing two USB ports and one Firewire (IEEE 1394a) port
1 I/O bracket for the parallel port
1 front panel module for installing the USB and Firewire ports on the front panel of your PC case.
CD with drivers
CD with utilities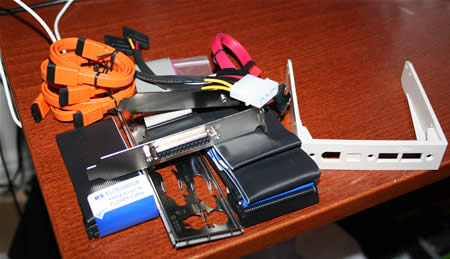 On the utility CD you find the following software:
Data Process Utility
Pro Magic Plus
ShowShifter
I'm in Touch
WinDVD
WinDVD Creator 2
WinRip2
Something that I didn't get in my box was a manual. At a later date I got a beta version of the manual in digital form but so far the new manual isn't available on the ECS website so I don't know if they finally are including the manual or not. I certainly hope so.
I definitely like the front panel module that ECS includes which allows you to use the I/O bracket for the USB and Firewire ports on the front instead of back of the case.
The motherboard
Looking closer at the motherboard the first thing you notice are all the colors.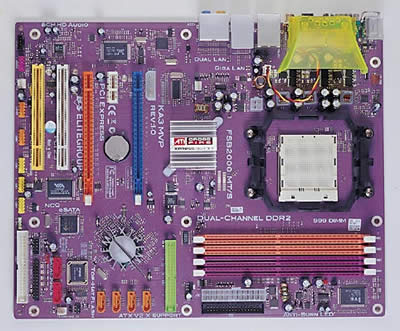 The motherboard itself is purple while other parts of the motherboard are yellow, orange, green, blue and red. Normally I like it when colors are used for the different connectors since it helps non-experts to figure out where to hook up things like the front USB and Firewire. However, ECS has chosen not to follow "standards" where USB connectors are blue and Firewire red. I'm not really sure why since it just serves to confuse.
Overall the layout of the KA3-MVP is good. Everything is neatly placed and easy to reach, including the floppy connector. On nForce5 motherboards the floppy connector is placed as far away from the floppy drive as possible. Not on the KA3-MVP. Here it instead sits as close as possible to where you will have a floppy drive. The motherboard also has two IDE-connectors.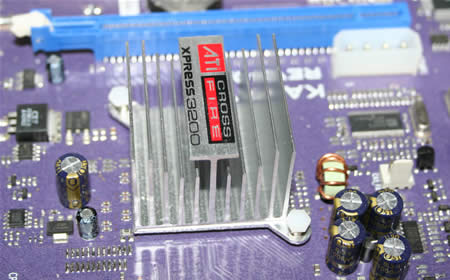 ATI chipsets are known not to require much additional cooling and this is something we see on the KA3-MVP. Both the Northbridge and the SB600 Southbridge use passive coolers. ECS has however added a small fan and a fanduct behind the CPU. This help keep the CPU cool as well as cooling the voltage regulators.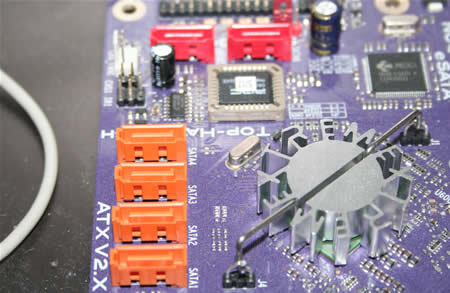 You'll find 6 SATA-connectors on the board. 4 are grouped at the edge of the motherboard, as far away from long video cards as possible. The other two are placed close by; however still relatively clear of a long dual-slot video card.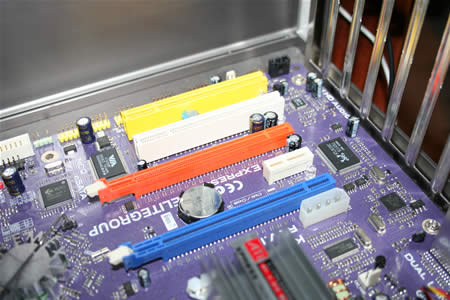 The CMOS battery is not optimal placed
Between the PCI-E and PCI slots you find the blue Dr LED leds. These lights up when the slots are working properly. They then blink randomly (or actually there are supposed to be some 'logic' behind their blinking). They do get very annoying after a while though if you have the case open or a case window.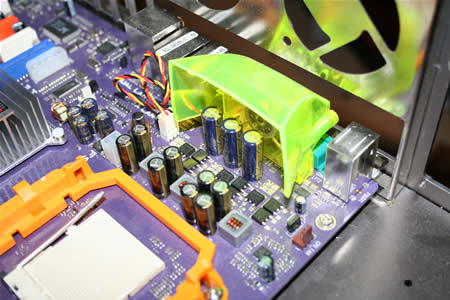 If I have to complain about something it is the placement of the 4-pin 12V connector and the PCI-slots. The 12V connector is placed so that it will be hard to draw the cable there in a nice way. As for the PCI-slots, if you use 2 ATI-cards in Crossfire you'll loose one of the PCI-slots leaving you with a single slot for any add-on cards you want to use. The CMOS battery also isn't optimal palced if you ever need to remove it as you will have to remove any video card also.
STARTING UP THE COMPUTER – BIOS
The KA3-MVP Extreme uses the Award Bios. It contains the usual settings for overclocking. The CPU Voltage can be modified from +0.55V to +0.7625V in 0.0125V steps and from +0.775V to +1.350V in 0.25V steps. Memory voltage can be modified +0.05V to +0.35V in 0.05V steps. North Bridge Voltage can be set from normal, +0.05V +0.10V and 0.15V. HyperTransport Voltage can be set as normal, +0.05V, +0.10V and +0.15V. The CPU FSB can be set from 200MHz-500MHz in 1MHz increments.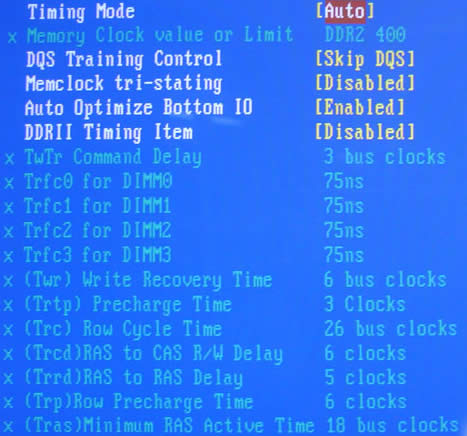 Newer beta bios has added the ability to change CAS and CT
In the latest released bios (1.0j) ECS somehow have forgotten to allow the user to change the CAS and the Command Rate of the memory. This means the system uses the SPD-setting from the memory. At first I thought that it was this that made my Super Talent DDR2 800 memory to only run at 666 MHz in WinXP (as reported by CPU-z). ECS provided me with an beta bios that allows you to change CAS and Command Rate. I'm not sure when they plan on releasing it to the public. Unfortunately my issues with the Super Talent memory prevailed and I decided to switch to Corsair DDR2 1066 MHz memory instead which worked perfectly.
THE TEST SYSTEM AND THE BENCHMARKS
The board was tested with the following components:
Antec NeoHE 550W PSU. Excellent PSU which handles both SLI and Crossfire systems.
Maxtor 80GB EIDE 6L080L0 with WinXP SP2 installed
Maxtor 60 GB D740X-6L. Hooked up to the computer through the EasyIDE adapter to test USB performance
Seagate Barracuda 7200.7 120 GB.
Seagate 7200.9 320 GB
Two Seagate 7200.9 320 GB set up in RAID 0
LiteOn DVD-RW 812-S
Zalman CNPS9500 AM2 CPU cooler. Works for both AM2 and Socket 939.
AMD FX-62 AM2
Corsair 1066 Mhz SLI-Mem run at 800 Mhz
The motherboards used in the systems
Foxconn C51XEM2AA-8EKRS2H (driver version 9.35, nForce 590 SLI)
ASUS M2N32 – SLI Deluxe Wireless Edition (driver version 9.35, nForce 590 SLI)
ECS (Elite Group) KA3MVP Extreme (Crossfire Xpress3200 AM2, RD580 + SB600)
The Video cards used in the systems
ATI-systems: HIS X1900XT + HIS X1900XT Crossfire Edition with Catalyst 6.6
NVIDIA-systems: 2x XFX 7900GTX OC with ForceWare 91.31
The benchmarks
Synthetic
PCMark05 (default, CPU, Memory)
SiSoft Sandra 2007
3DMark06 (CPU)
Cinebench 9.5 (Daylight benchmark)
Disk and USB
HD Tach RW 3.0.1.0 on SATA drive
HD Tach RW 3.0.1.0 on Lacie USB-drive
HD Tach RW 3.0.1.0 on IDE-drive hooked up to USB slot.
HD Tach RW 3.0.1.0 on RAID 0 array

Applications
Create archive with WinRAR
Audio and Video encoding
Encode VOB of chapter 5 of Charlies Chocolate Factory to MPEG2 with TMP Express 4.0
Encode VOB of chapter 7 of Charlies Chocolate Factory to DivX with AutoGK
Encode Madonnas "Confession on a dance floor" to MP3 with WinLame (GUI for LameMP3)
Audio
RightMark 3DSound 2.2
Games
640×480 in Quake 4 and FEAR
SYNTHETIC BENCHMARKS
Synthetic benchmarks will never tell you the whole story on how you system will work in real life applications. They can however help you get a general feel on how various components work in your system and quite possibly even help find bottlenecks.
PC Mark 05
PC Mark 05 tests the system in a variety of everyday tasks designed to test the various subsystems of your computer. We've chosen to include the default PC Mark 05 score as well as scores for the separate CPU and Memory tests.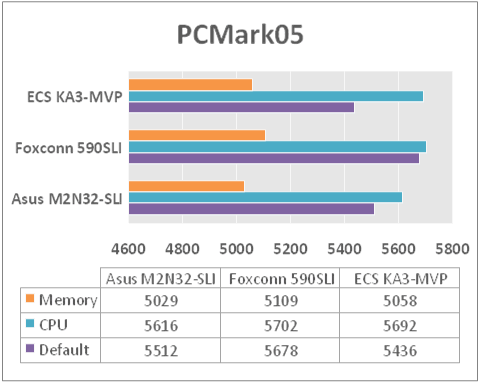 The ECS motherboard performs just as well in the memory and CPU benchmark as the two nForce5-based motherboards from ASUS and Foxconn. The difference in the overall PCMark05 score can be attributed to the different graphics cards used (2x 7900GTX vs 2x 1900XT).
3DMark06 CPU
We've picked out the CPU score from the loved/hated synthetic benchmark from Futuremark.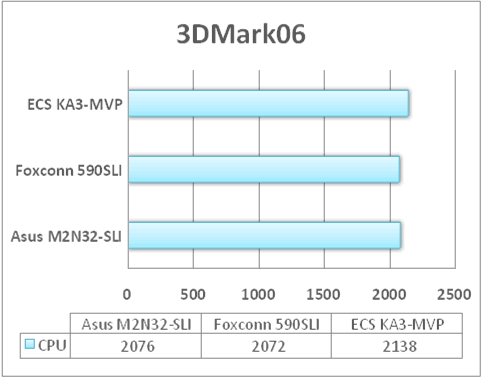 As expected all three motherboard perform equally. There is a 3% difference between the top result by the ECS motherboard and the slowest score from the Foxconn.
SiSoft Sandra 2007
This benchmark utility includes a variety of benchmark modules and is an excellent software to use when you need information about a subsystem or want to test it to make sure it works well. It also includes stress test modules.  We've picked out the two CPU benchmarks as well as the memory benchmark.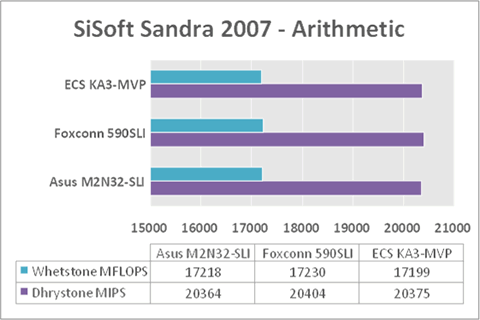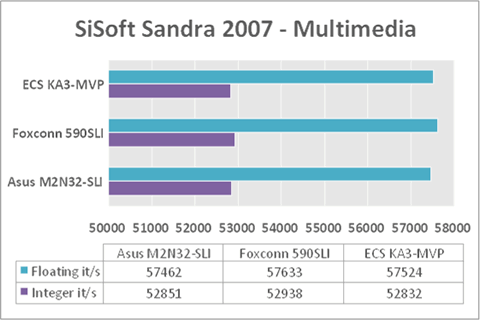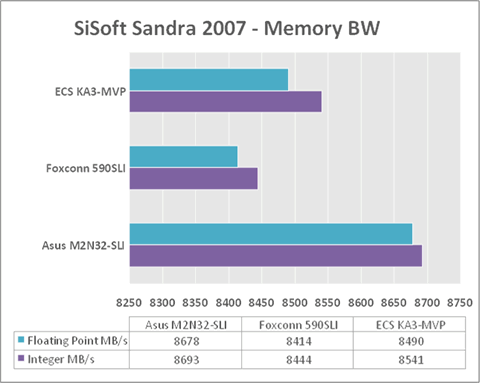 I know it is boring but these motherboards simply perform very similar when you look purely on their CPU performance. The memory bandwidth test shows that there are slight performance differences but they are in the 2-3% range (the scale of the axis makes the differences look bigger than they are).
CineBench 9.5
CineBench is based on the high performance 3D software CINEMA 4D. It includes various small benchmark modules. We've used the CPU module which renderers an image to the screen.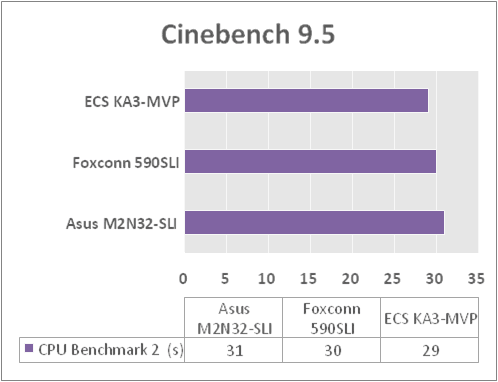 The ECS trails slightly behind the two nForce5 motherboards scoring 6% slower than the Asus M2N32-SLI.
APPLICATIONS
We've used WinRAR v3.51 and created archives from two different folders. This was done 3 times and the average score was taken.
Archive 1: 21198 files, ~560 MB of mixed images and text files
Archive 2: 1895 files, ~338 MB with the content from the System 32 folder in Windows (only files, not subfolders)
The ECS KA3-MVP is slower than both nForce5 motherboards by 8-12%.
DISK AND USB
To test the performance of the SATA-ports as well as the USB ports we've used HD Tach RW 3.0.1.0.
Test 1: Seagate Barracuda 7200.7 120 GB
Test 2: Seagate Barracuda 7200.10 320 GB (SATAII)
Test 3: RAID 0 (2x Seagate Barracuda 7200.10 320 GB (SATAII))
Test 4: External 160 GB USB Lacie harddisk
Test 5: Maxtor 60 GB D740X-6L hooked up to the computer through the EasyIDE adapter.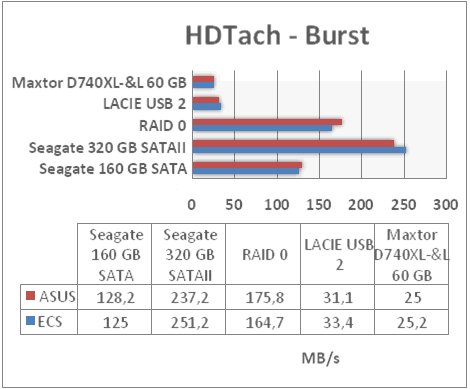 The ECS and the Asus M2N32-SLI both perform pretty similar when running the SATA disks. The 160 GB SATA drive is slightly faster on the ASUS while the 320 GB SATAII drive performs a bit better on the ECS. The Burst speed on the RAID0 array is slower than a single 320 GB SATAII and the ASUS performs better here. Moving to the USB drives the performance is almost neck-to-neck on both motherboards.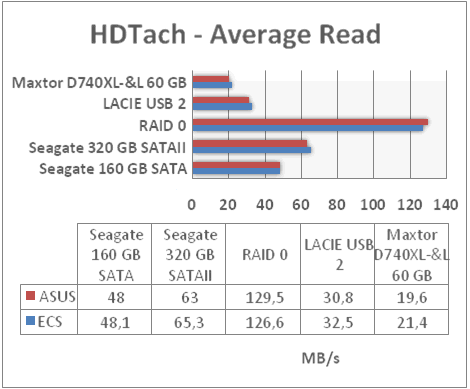 When measuring the average read-speed the motherboards perform very close to each other with a few "wins" for each motherboard.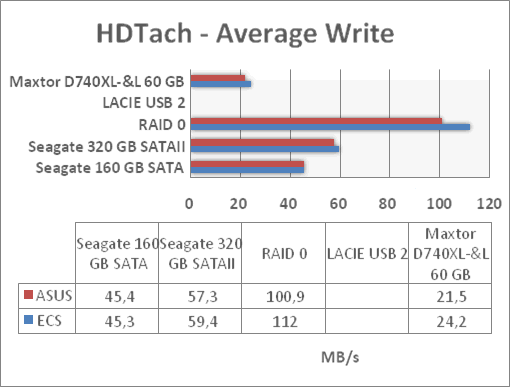 The average write test gives us a similar result although the ECS motherboard has almost 12% better performance on the RAID0 array.   I was unable to test the Lacie Drive on this run of tests due to the picky nature of HD Tach.
I think the most important results from all these tests is that the ECS is not plagued by bad USB performance like the earlier ATI SB400 SouthBridge.
AUDIO AND VIDEO ENCODING
In the first two tests we encode a VOB from the movie "Charlie and the Chocolate Factory" (the new film) with TMPGEnc 4.0 Xpress and with AutoGordian Knot. Then we test the MP3 encoding speed with WinLame and Madonna's latest CD, Confessions on a dance floor.
Test 1: VOB 5. Encoded to MPEG2 with TMPGEnc 4.0 Xpress . 2 pass. The results are the seconds it took for all passes.
Test 2: VOB 7. Encoded to DivX with AutoG.
Test 3: Madonna CD. Encoded with WinLame. High Quality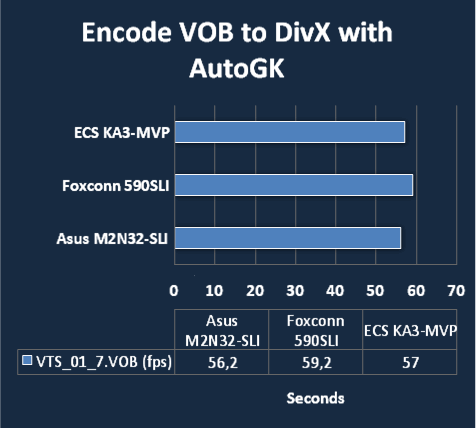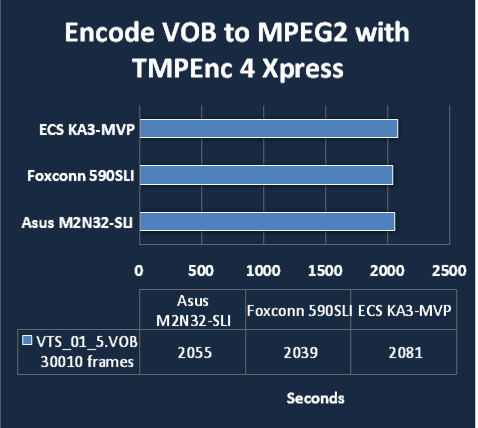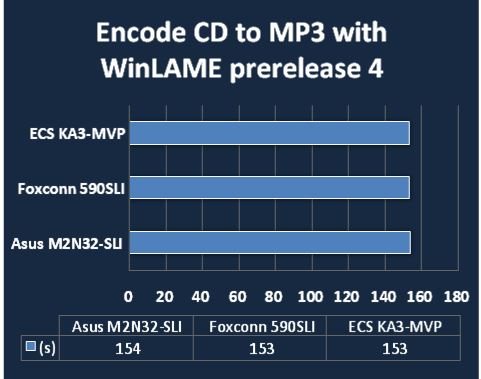 In the DivX encoding test the ECS places itself between the two nForce5 motherboards. When using TMPEnc 4 Express to encode a MPEG2 file it trails behind by 2%. Not much but it adds up when you look at the total time. The MP3 encoding however takes almost exactly the same time on all tested motherboards.
AUDIO
Both the Foxconn and the ECS motherboard use Realtek for their HD-Audio. ASUS on the other hand has chosen to use Soundmax/ADI.
Asus M2N32-SLI: ADI 1988B HDA, v 4530
Foxconn 590SLI: Realtek ALC882D HDA, v1.37
ECS KA3-MVP: Realtek ALC883 HDA, v1.39
I used the latest drivers available at each homepage. RightMark 2.2 was used to measure the CPU utilization when playing various types of sound.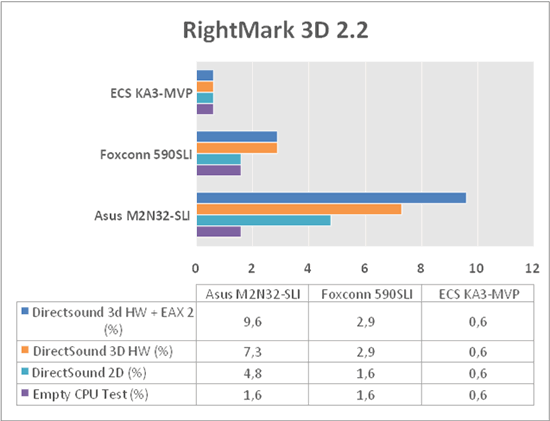 It's obvious that the Realtek HD-codec is much more CPU-efficient than the Soundmax/ADI codec. The version used by ECS manages to perform a lot better than the Foxconn version. The CPU utilization still is quite low
GAMES
We've tested Quake 4 and FEAR at 640×480 trying to take the video card out of the equation as much as possible.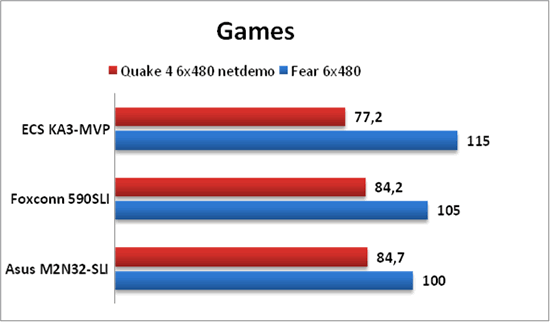 Even when you try to take the video card out of the equation it is obvious which game engine works best on which type of video card. The Quake 4 engine likes NVIDIA while FEAR and Half Life 2 likes ATI. The Foxconn motherboard manages a few more frames per second than the ASUS with the same video card.
OVERCLOCKING
As ECS is marketing this motherboard with the phrase: "Extreme overclocking and unprecedented control over system behavior" I was very curious how far I could push the FX-62 and the Corsair memory. I was a bit disappointed that it had issues with the Super Talent DDR2 800 memory. Even with the beta bios I couldn't get that RAM to run at 400/800 MHz. Instead it stayed at 333/666 MHz. The RAM works in other motherboards so it seems to be incompability between the two. I did actually see something interesting over at the page for the MSI KA9 Platinum which also uses the Xpress3200 AM2:
Due to the High Performance Memory design, motherboards or system configurations may or may not operate smoothly at the JEDEC (Joint Electron Device Engineering Council) standard settings (BIOS Default on the motherboard) such as DDR2 voltage, memory speeds and memory timing. Please confirm and adjust your memory setting in the BIOS accordingly for better system stability.
It is possible that I could have gotten the Super Talent RAM to run at 800 MHz if I spent more time tweaking the settings but I did set everything according to Super Talent's specifications and it still only run at 667 MHz when in Windows.
As I've mentioned in other motherboard reviews I am not an avid overclocker. This means I won't spend hours after hours trying to find the absolute maximum speed/voltage settings for CPU and RAM. I am more interested in seeing how good a motherboard is in providing extra speed without the need to fiddle too much with the settings in the bios.
As my FOXCONN C51XEM2AA review showed I could get both the Foxconn and the ASUS M2N32 SLI DELUXE up to 256 MHz x 12 = 3072 MHz just by adjusting the memory voltage to 2.2V (as per Corsairs specs for the 1066 MHz memory). Unfortunately the ECS KA3-MVP didn't clock as high and I had problems getting the CPU clock 220 MHz, even with a small CPU voltage raise.
Afterwards I've heard stories saying that ATI motherboards need to be overclocked in smaller steps and I've seen other reviews that at least have cracked the 220 MHz barrier so you might be luckier than me with your overclocking experience.
My biggest complaint regarding overclocking isn't as much a complaint against the ECS motherboard as a complaint against ATI for not providing a Windows utility comparable to NVIDIA's nTune. I know there were talks about the possibility of such a utility when I visited ATI in Berlin a month ago so let's hope they release something soon.
CONCLUSION
The ECS KA3-MVP Extreme is a good motherboard with some flaws. The biggest flaw is that it still feels a bit rough around the edges. The compability problems I had with the Super Talent DDR2 Ram as well as my issues with the Agere Gigabit controller are not good and I definitely hope ECS can fix these in a bios or driver update. To be honest though I haven't read about these in any other review so it might just be a problem with my early motherboard. The overclocking features also haven't impressed me yet, especially compared to what I got out from the nForce5 motherboards with the same CPU and RAM.
On the other hand it does perform well when you actually are using it. It has no problems keeping up with the nForce5 motherboards and I had no stability problems at all during my review period. ECS doesn't include tons of extra stuff with their motherboard as ASUS does with theirs but this helps keep the price down. At around $140 it is a lot cheaper than the FOXCONN C51XEM2AA and the ASUS M2N32 SLI DELUXE and slightly cheaper than the other few available Xpress3200 AM2 motherboards from ASUS, MSI and Sapphire.
Last but not least you won't be able to run two ATI-cards in Crossfire mode on the nForce5 motherboards.
Pros
+ Relatively cheap AM2 motherboard
+ Two 16x lane PCI-E slots for Crossfire
+ Colorful
+ Good motherboard layout
+ Good performance
+ Front I/O bracket for USB and Firewire
+ Finally good USB performance
Cons
– Some hardware issues (certain DDR2 RAM, Agere Gigabit Ethernet controller)
– Maybe too colorful
– Dr Led (please let us turn that off)
– Available bios at time of review still do not allow you to change the CAS or CT setting
– Not an good overclocker
Summary: If you have ATI cards and want to migrate to an AM2 CPU I can recommend this motherboard as long as you can live with its flaws. It is relatively cheap, performs well and is stable.