So much for history! Today, September 6th, 2006 is a new day and a special one at that. NVIDIA® along with XFX® are launching a new product, the GeForce7900 GS. The GeForce 7900 GS is the latest addition to the GeForce 7 family, and raises the performance bar in the $199 price range for the gaming enthusiast market segment. Please join us as we too launch our own extensive review of the XFX® GeForce™ 7900 GS XT edition to determine if it fits both your needs and pocketbook.
INTRODUCTION
For aeons now video card manufacturers have attempted to find just the optimal balance in the range of new products they introduce. By this I mean a concerted effort is put forth by their Research and Development section to suggest components and specifications in each card that will appeal to a certain consumer group. Up until roughly two years ago there were three types of video cards produced:
The "Profession Series" used by graphical artists and designers alone. The cost and limited functionality of these cards was strictly prohibitive for any other market.
The "High-End Gaming Edition" for the true Computer Enthusiast that didn't care what the price was as long as it was the fastest production card manufactured with plenty of headroom for overclocking.
The "Low End Basic Consumer Card" that would meet the needs of the corporate environment with good textural qualities and rudimentary graphics capabilities.
Due to this marketing mentality the middle grade user suffered. I'm talking about the average computer consumer that wanted a taste the "High-End Gaming" world but either couldn't afford and/or justify the expense of this top tier product. The need for a middle of the road product was rapidly becoming evident to both NVIDIA® and ATI® who were then and are currently for all intents and purposes the only two mainstream GPU/VPU chipset manufacturers. Both of these industrial giants realized a vast share of the consumer graphics market was essentially going completely unnoticed because of the cost associated with their high end legacy products. Hence both broadened their perspectives and sent their development team back to the drawing board to design a series of what I'll call for lack of better terms a "Mainstream Midline GPU/VPU" that would give "Joe/Josephine Average" a product he/she could both afford and be proud of.
As I alluded to earlier this was a couple of years and a quite a few chipset revisions ago. Even though NVIDIA® and ATI® still reign supreme as the masters of the GPU/VPU many other players have entered the market. Companies such as XFX, VisionTek, LeadTek, BFG, and EVGA to name a few that have taken the GPU/VPUs manufactured by NVIDIA® and ATI® and turned out final video card products adding their own touches of ingenuity and design along the way. Due to all these historical developments current graphics card products are now available to appeal to almost every subset of the consumer market.
So much for history! Today, September 6th, 2006 is a new day and a special one at that. NVIDIA® along with XFX® are launching a new product, the GeForce7900 GS. The GeForce 7900 GS is the latest addition to the GeForce 7 family, and raises the performance bar in the $199 price range for the gaming enthusiast market segment. Please join us as we too launch our own extensive review of the XFX® GeForce™ 7900 GS XT edition to determine if it fits both your needs and pocketbook.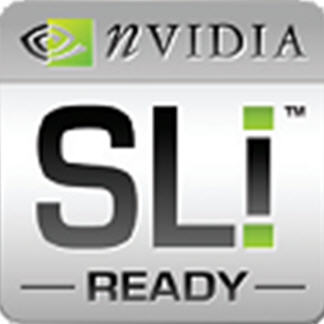 XFX: A Brief Overview
XFX, a company that is very well know not only to the general computer consumer but to the Computer Enthusiast community as well operates on the following corporate philosophy:  "XFX dares to go where the competition would like to, but can't. That's because, at XFX, we don't just create great digital video components–we build all-out, mind-blowing, performance crushing, competition-obliterating video cards and motherboards." "Oh, and not only are they amazing, you don't have to live on dry noodles and peanut butter to afford them."
From our rather extensive experience doing XFX product reviews we've seen this corporate philosophy transcend from merely words into a series of excellent, highly polished digital wonders that go a step beyond in not only performance but quality as well. We are highly anticipative that our review sample, the GeForce™ 7900 GS XT will continue to follow this same tradition.
FEATURES & SPECIFICATIONS
NVIDIA® 7900 GS GPU/VPU Features
Full Microsoft® DirectX® 9.0 Shader Model 3.0 Support:   The standard for today's PCs and next-generation consoles enables stunning and complex effects for cinematic realism. NVIDIA GPUs offer the most complete implementation of the Shader Model 3.0 feature set—including vertex texture fetch (VTF)—to ensure top-notch compatibility and performance for all DirectX 9 applications.
Built for Microsoft® Windows Vista™:   NVIDIA's third-generation GPU architecture built for Windows Vista gives users the best possible experience with the 3D graphical user interface in the upcoming operating system (OS) from Microsoft. The GeForce 7900 GS is fully compatible with Microsoft Vista's DirectX 9.0L and Windows Display Driver Model (WDDM).
NVIDIA® SLI™ Technology:   Delivers up to 2x the performance of a single GPU configuration for unparalleled gaming experiences by allowing two graphics cards to run in parallel. The must-have feature for performance PCI Express® graphics, SLI dramatically scales performance on today's hottest games.
NVIDIA® CineFX™ 4.0 Engine:  Delivers advanced visual effects at unimaginable speeds. Full support for Microsoft® DirectX® 9.0 Shader Model 3.0 enabling stunning and complex special effects. Next-generation shader architecture with new texture unit design streamlines texture processing for faster and smoother gameplay.
Full-Speed 128-Bit Studio-Precision Computation:   128-bit studio-precision computation (32-bit per component) through the entire pipeline delivers increased image quality with no performance compromise by preventing image defects due to low precision and thereby ensures the best image quality for even the most demanding applications.
Transparency Antialiasing:  Supports transparency supersampling and multisampling to dramatically improve the quality of objects modeled in alpha-tested textures (typically environmental details like chain link fences, grass, leaves, or other vegetation).
NVIDIA® Intellisample™ 4.0 Technology:   The industry's fastest antialiasing delivers ultra-realistic visuals, with no jagged edges, at super-fast speeds. Visual quality is taken to new heights through a rotated grid sampling pattern, advanced 128 tap sample coverage, 16x anisotropic filtering, and support for transparency supersampling and multisampling.
True High Dynamic-Range (HDR) Rendering Support:   The ultimate lighting effects bring environments to life for a truly immersive, ultra-realistic experience. Based on the OpenEXR technology from Industrial Light & Magic (http://www.openexr.com/), NVIDIA's 64-bit texture implementation delivers state-of-the-art high dynamic-range (HDR) visual effects through floating point capabilities in shading, filtering, texturing, and blending.
90nm Process Technology:   Delivers higher performance through blazing clock rates. 256-Bit High-Speed GDDR3 Memory Interface: Support for fast GDDR3 memory with high bandwidth delivers fluid frame rates for even the most advanced games and applications.
NVIDIA® PureVideo™

Adaptable Programmable Video Processor:  NVIDIA PureVideo is a programmable technology that can adapt to new video encoding formats as they are developed, providing a future-proof video solution. MPEG-2 Decode Acceleration – Allows smooth playback of all MPEG-2 videos with minimal CPU usage – freeing the PC to do other work. Requires MPEG-2 decoder.
H.264, VC-1, and MPEG2-HD Decode Acceleration: Enables the delivery of Hollywood movies stored on Blu-Ray or HD-DVD disks by accelerating the decode of content and significantly reducing CPU utilization.
WMV Decode Acceleration:  Playback videos in Microsoft's Windows Media Video High Definition (WMV HD) format without skipping frames or losing video detail.
Inverse Telecine (3:2 & 2:2 Pulldown Correction):  Recovers original film format data to provide more accurate video playback and superior picture quality for both SD and HD interlaced content. Requires supported video software.
Bad Edit Correction:   Detects disruption of the normal 3:2 or 2:2 cadence resulting from poor edits made after a film has been converted from 24 frames to 25 or 30 frames per second video format. Uses advanced processing techniques to recover the original film content and display
smooth, natural looking video.
Spatial-Temporal De-Interlacing:   Smoothes SD and HD video playback on progressive displays to deliver a crisp, clear picture that rivals high-end home theater systems. Requires supported video software.
High-Quality Scaling:   Allows for upscaling of a low-resolution video to HDTV resolutions (up to 1080p), while maintaining a clear, clean image. Also allows for downscaling videos, including high-definition, without experiencing any annoying flicker, while preserving image detail. Video Color Correction:  Corrects differences in color characteristics of RGB monitors and TV monitors through NVIDIA PureVideo's ProcAmp Color Controls settings, such as Brightness and Contrast. The display gamma correction ensures videos are not too dark, overly bright, or washed
out regardless of the video format or display.
Integrated SD and HD TV Output:  Connects to your standard definition or high-definition TV via Composite, S-Video, Component, DVI,or HDMI connections. Supports resolutions up to 1080p depending on connection type and TV capability.

UltraShadow II Technology:  Enhances the performance of bleeding-edge games, featuring complex scenes with multiple light sources and objects.
Normal Map Compression:  normal maps can be compressed 2:1 using the V8U8 compression technology, and applications using 3DC compression format will transparently work on the GeForce 7900 GS.
NVIDIA® ForceWare® Unified Driver Architecture (UDA):   Delivers a proven record of compatibility, reliability, and stability with the widest range of games and applications. ForceWare ensures the best out-of-box experience for every user and delivers continuous performance and feature updates over the life of NVIDIA GeForce GPUs.
OpenGL® 2.0 Optimizations and Support:  Ensures the best performance and application compatibility for all OpenGL applications.
Dual Dual-link DVI Support: Able to drive two of the industry's largest and highest resolution flat-panel displays up to 2560×1600.
Dual 400MHz RAMDACs:   Blazing-fast RAMDACs support dual QXGA analog displays with high, ergonomic refresh rates up to 2048×1536 @ 85Hz.
NVIDIA® GPU/VPU Product Comparison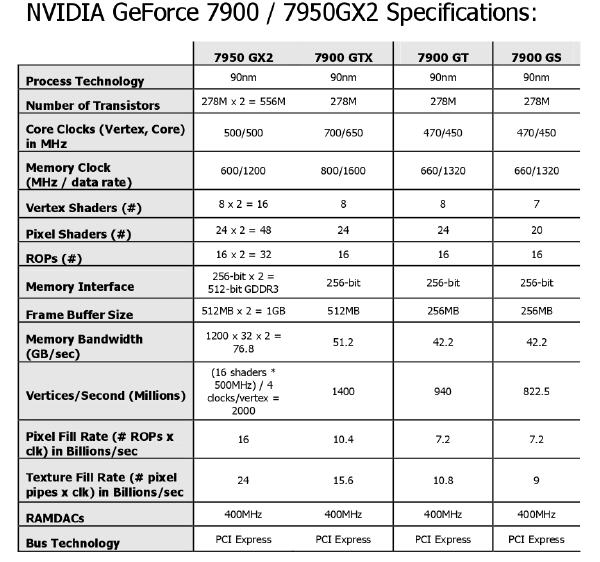 XFX® offers two models of the GeForce™ 7900 GS. The XT version has moderately faster specifications than the NVIDIA® reference design, those changes are detailed in the table below:

XFX® GeForce 7900 GS Model Comparison

Product Code

PV-T71P-UDE3

PV-T71P-UDF3

Verison

XT

non-XT

Clock (MHz)

480

450

BUS

256bit

256bit

Memory Type

DDR3

DDR3

Size

256Mb

256Mb

Memory Speed

1.4GHz

1.32GHz

Output

S-Video, Dual DVI, HDTV

S-Video, Dual DVI, HDTV

SLI

Yes

Yes

Maximum Resolution

2560×1600

2560×1600

Dimensions

8.25×4.5×0.75in

8.25×4.5×0.75in
DETAILED FEATURES
Extreme High Definition (XHD) Gaming
The GeForce 7900 GS XT in an SLI configuration supports playable gaming at Extreme High Definition (XHD) resolutions, where games can be played up to 2560×1600. The widescreen format of XHD allows users to see more of their PC games, enhance their video editing, and even add useful extra screen real estate to Google Earth imagery.
The sweet-spot XHD resolution for a GeForce 7900 GS SLI configuration is 1920×1200, using 23"-24" flat panels now selling for as low as $650. Some games may also play well at 2560×1600 on 30" LCD panels, such as Dell's 3007 WFP or the Apple Cinema Display.
Of course for the most amazing XHD gaming experience on a 30" panel, users should acquire a Quad SLI configuration using two 7950 GX2 graphics cards (four GPUs total). Quad SLI is now available for DIY system building and from leading systems vendors using both nForce 5 and nForce 4 motherboards with dual X16 PCI Express slots.
PureVideo Technology with H.264 Hardware Decode
NVIDIA's PureVideo and PureVideo HD technologies are comprised of a combination of dedicated GPU-based video processing hardware, along with software drivers and players that accelerate decoding and enhance image quality of both high-definition video in H.264, VC-1, WMV/WMV-HD, and MPEG-2 HD formats, and SD formats such as WMV and MPEG-2.
PureVideo provides superb picture clarity, ultra-smooth video playback, minimal CPU utilization, and low power consumption. High-precision subpixel processing enables videos to be scaled to any size, so that even smaller videos can look like they were recorded in high-resolution.
HDCP support is an optional feature with GeForce 7900 GS, and will be seen in some, but not all boards on the market. Every board is capable of including an HDCP crypto-ROM to provide HDCP protocol encoding, but it's up to the board vendor to integrate. (HDCP protected content must be HDCP-encoded by the GPU board prior to sending to an HDCP-capable digital display). Even if a board provides HDCP support, a complete solution still requires other HDCP compatible components such as an HDCP capable display and HDCP capable media player.
Important Note:   With Release 90 drivers, scores on the SD-based HQV Benchmark are improved significantly on NVIDIA GeForce 6 and GeForce 7 hardware. Release 90 drivers now add noise reduction and image sharpening algorithms, while improving our inverse telecine and de-interlacing algorithms to support more film cadences.
Transparency Antialiasing
The GeForce 7900 GS graphics architecture includes CineFX 4.0 and IntelliSample 4.0 features such as transparency supersampling and multisampling antialiasing modes. Transparency antialiasing permits transparent pixels (such as between fence links or leaves on trees) within textures to be used in edge blending operations to clean up jaggies. Check out the two images below: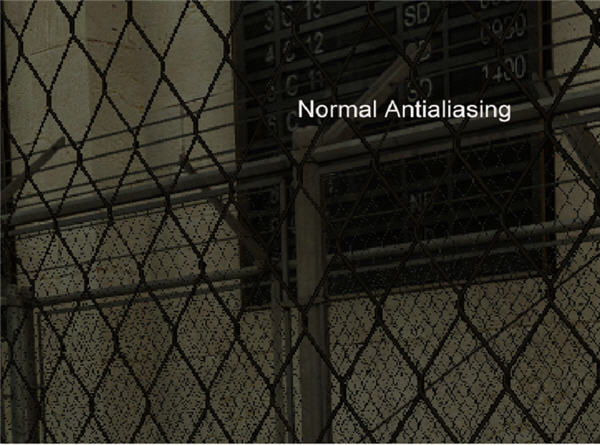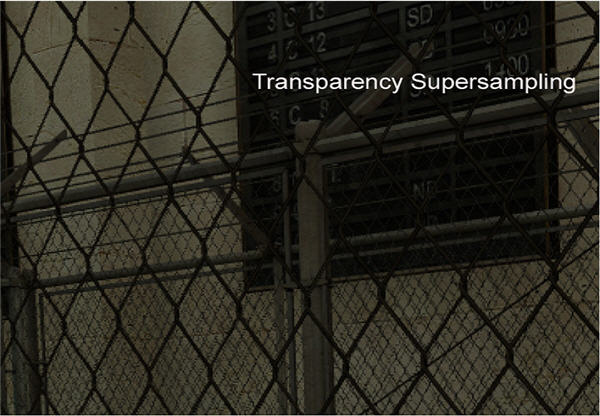 High Dynamic Range Rendering (HDR)
NVIDIA High Dynamic-Range (HDR) rendering uses 16-bit floating point components (64-bit FP total) to produce incredible dynamic range of scene lighting. Dark objects appear really dark, and bright scenes or lights can be very bright, with visible details still present at both extremes as well as the gradients in between. Developers can easily convert their applications to use HDR rendering and add many special effects not possible with standard 32-bit (8-bit per component) RGBA representations. See HDR effects in the image below: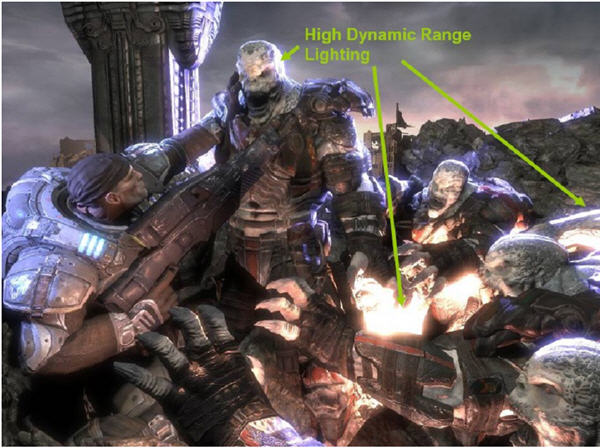 SLI Ready
The XFX 7900 GS GPU w/ Heatsink & Fan Delivers up to 2x the performance of a single GPU coniguration for unparalleled gaming experiences by allowing two graphics cards to run in parallel. The must-have feature for performance PCI Express graphics, SLI dramatically scales performance on over 60 top PC games.
THE PACKAGE & BUNDLE
We have always subscribed to the idea that the computer industry in general went a bit overboard in the packages that house their products. We're not talking about protective materials that the companies use to assure their product will arrive at your doorstep in one piece. Instead, we felt that the sheer size of the boxes and other materials used to carry these products generally wasted space, resources, and in some cases were not very environmentally friendly. We first noticed a favorable change approximately a year ago in this mentality in the gaming world when package sizing was shrunk to approximately 50% of it's previous design. We wondered when that change would be adopted by many of the hardware manufacturers, and were very happy to see it in the package we received from XFX for this product review.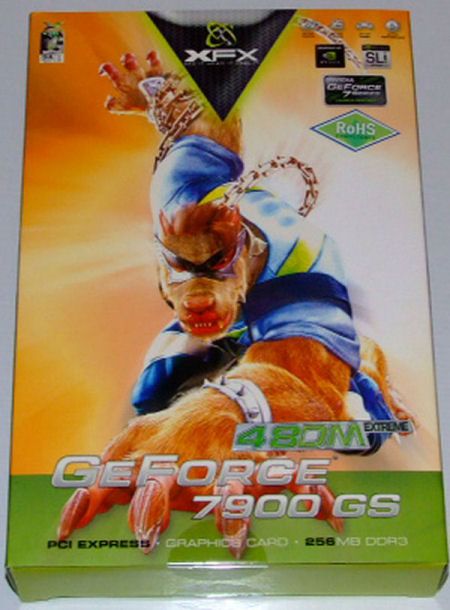 The Package … Front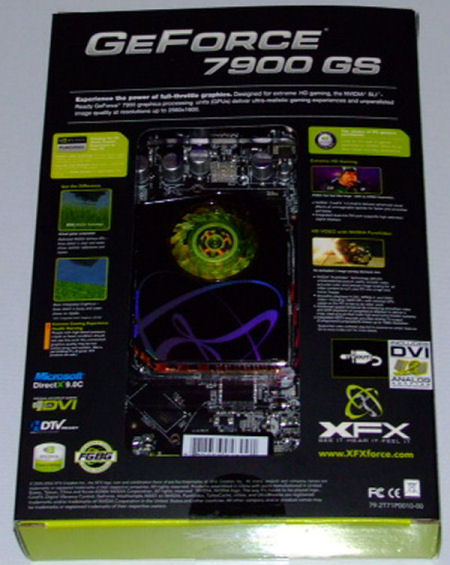 The Package … Rear
Our images of the packages probably do not give you an adequate concept of just how much wasted space has been alleviated. Suffice it to say that that the savings is >50%! Not only is the valued merchandise well protected in its new home but we're pretty sure that the overall savings in resources to XFX translate to a reduced cost to the consumer; not to mention decreased shipping costs. Kudos XFX on a job well done!
The Bundle
We're not certain if the accessory bundle we encountered with our prerelease sample of the XFX® GeForce™ 7900 GS XT is identical to that the end-user will receive in the consumer version. Either way given that the price of the card will be in the $200 USD range we feel the accessories to be more than adequate.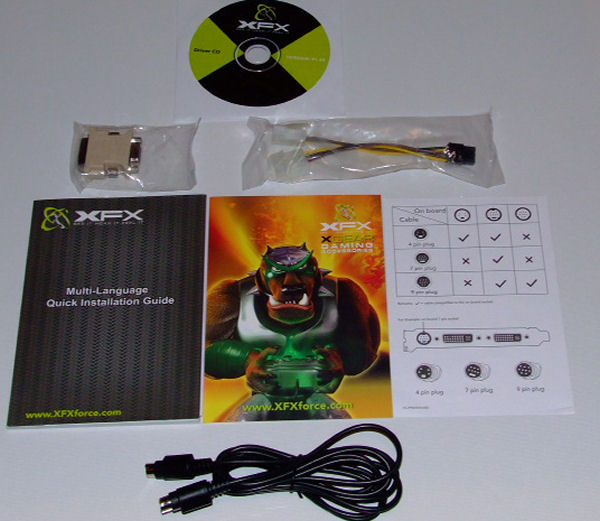 Bundled Accessories
Our package included:
1 – XFX GeForce 7900 GS XT card with dual DVI and S-Video outputs
1 – Driver/Utility CD
1 – DVI to analog adapter
1 – 6pin-4pin power adapter
1 – S-Video cable
1 – Installation Guide
THE CARD
We'll have to say this is one of the best looking video cards that we've seen in quite some time. It appears with each product release XFX goes the extra mile to outdo the one preceding it.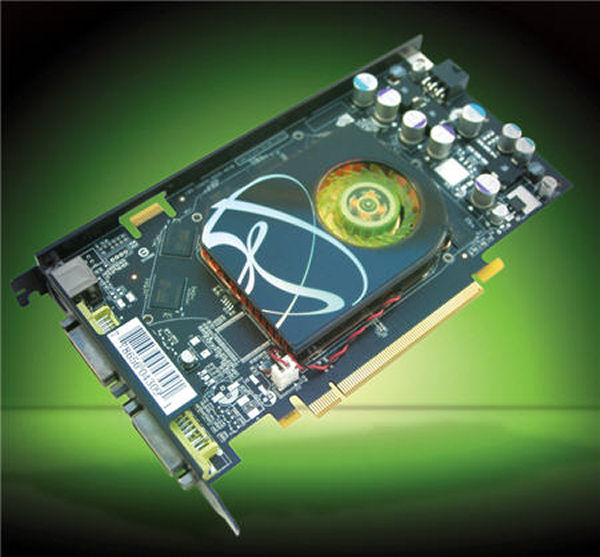 XFX® Geforce™ 7900 GS XT
As you can see from the above image the card is primarily black with touches of ivory and neon green giving it that "built for speed" look.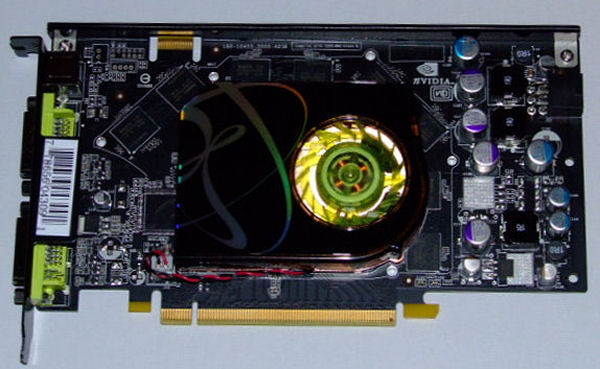 XFX® Geforce™ 7900 GS XT … Front View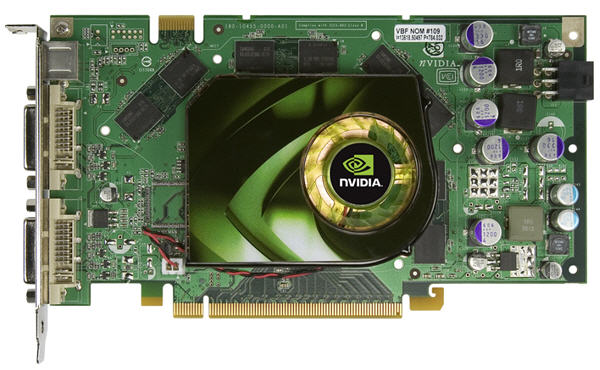 NVIDIA® Geforce™ 7900 GS Reference Card … Front View
As you can see from an exterior frontal view XFX® followed the NVIDIA® reference design of the 7900 GS quite closely in their production model. It appears that the reference style cooler was also used. We all know that the exterior of any video card is only "eye candy" and it's the internal production qualities of the product that make it sell, which we'll be examining shortly.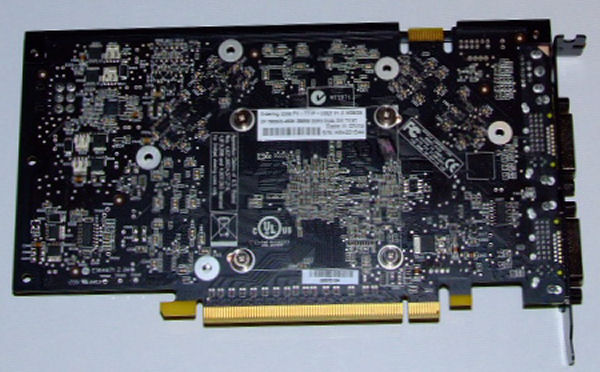 XFX® Geforce™ 7900 GS XT … Rear View
The rear of the card shows excellent component separation coupled with noteworthy traces and solder joints; making for improved cooling with adequate system airflow. It's probably one of the cleanest looking XFX cards I've ever seen. The cards shorter dimensions 8.25×4.5×0.75in are smaller than some of the previous models and in no way interferes with hard drive cables as many of the longer cards do in smaller mid tower enclosures.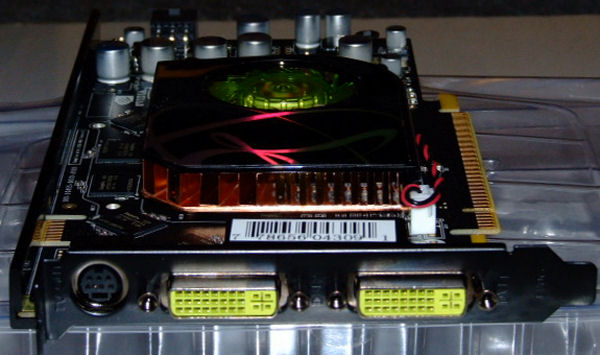 XFX® Geforce™ 7900 GS XT … Side View
A side view of the card shows the Dual DVI connectors as well as the S-Video video output.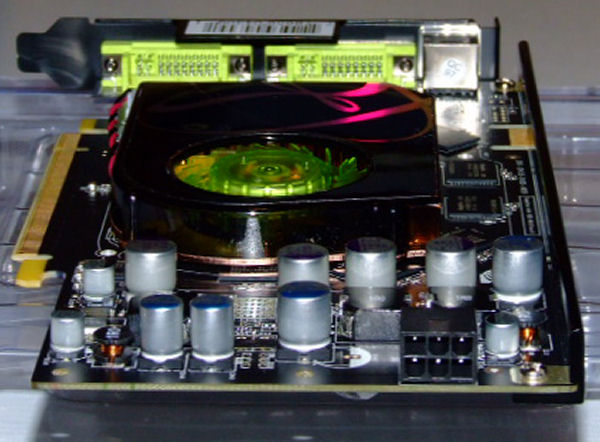 XFX® Geforce™ 7900 GS XT … Side View # 2
A view of the other side of the card shows the single 6-pin PCI-E power connector.
TESTING
Test System
AMD X2 5000+ running at default speed
ZALMAN CNPS9500AM2 HSF
ASUS M2N32-SLI Deluxe nForce 590 motherboard
2GB of Mushkin Redline XP2-8000 DDR-2 (4-5-4-11-1T @ 2.0 volts)
Card # 1: XFX® GeForce™ 7900 GS XT running ForceWare 91.47 drivers
Card # 1: XFX® GeForce™ 7800 XT running ForceWare 91.31 drivers
2 – Seagate NL35.2™ ST3500641NS 500GB drives
Corsair's CMPSU-620HX 620 watt power supply
Lian-Li G70 Case (customized by Performance PCs, Inc.)
Windows XP Pro SP2
Samsung Syncmaster 213T 21.3″ LCD Monitor
Benchmarks
3DMark06
3DMark05
Counter-Strike: Source, Video Stress Test
F.E.A.R. v 1.05
Far Cry v 1.33
Serious Sam II v 2.068
Testing Methodology
We will be testing the XFX® GeForce™ 7900 GS XT vs. the XFX® GeForce™ 7800 XT card. We will run the above captioned benchmarks on both systems with the each GPU/VPU set at default speed. Our synthetic benchmarks 3DMark06 and 3DMark05 will be run in default mode. All other gaming tests will be run at 1280 x 1024 (1024 x 768 in F.E.A.R), and 1600 x 1200 resolutions with Anti-Aliasing and Anisotropic Filtering disabled. We will then run the benchmarks again at the same resolutions with Anti-Aliasing set to 4X and Anisotropic Filtering set to 8X. Each of the tests will be run individually and in succession three times rebooting between each attempt and an average of the three results calculated and reported. F.E.A.R. benchmarks were also run with soft shadows disabled.
The benchmarking tests will also be run on what we refer to as a "real world system" meaning we'll run all the background applications that we run in every day life and not sequester them as are done by some reviewers to enhance benchmark results. Among the applications running in the background on our test system are:   Norton 2006 Internet Security (a real resource hog), Trillian, InCD, Steam and some other system applications that are too numerous to mention. Our hope in using this approach are to give you as close to possible the results you'd achieve if you were running these benchmarks on a similar system in your home. No other secondary enhancements to improve benchmark results will be run either.
TEST RESULTS
Synthetic Test Results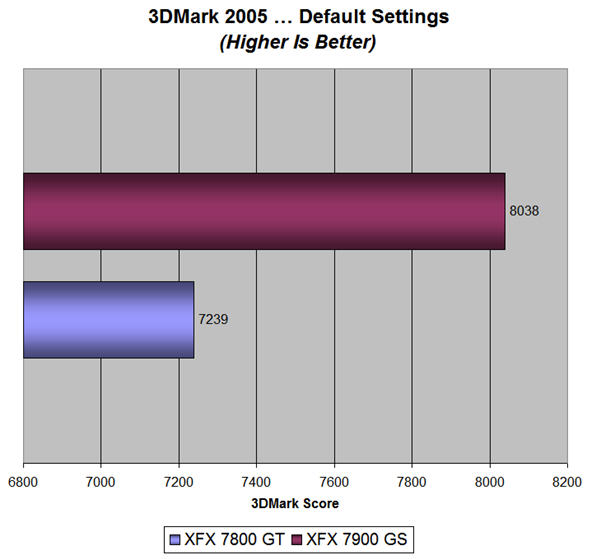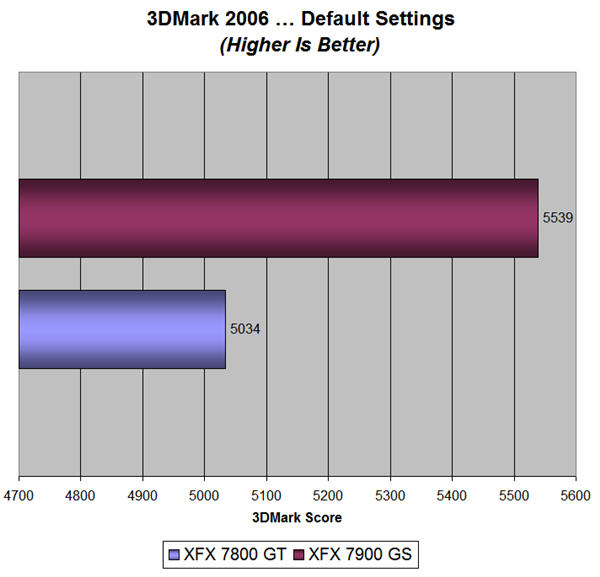 Gaming Benchmark Results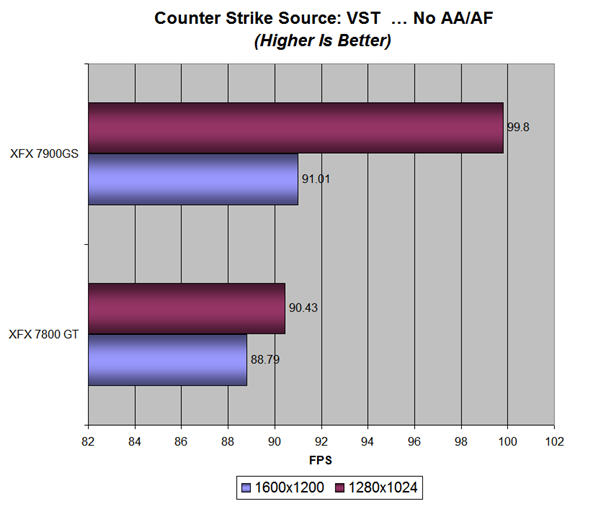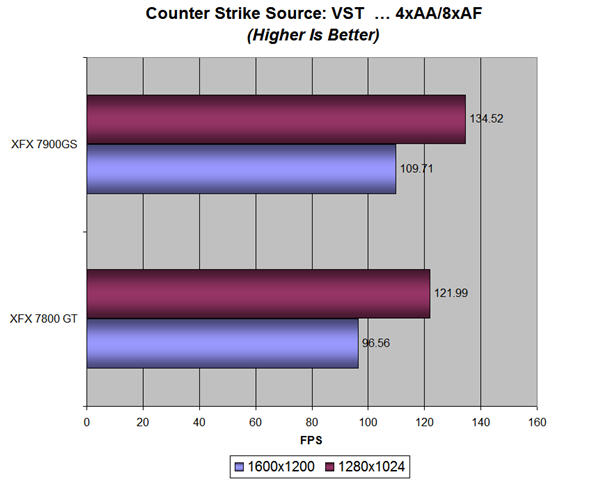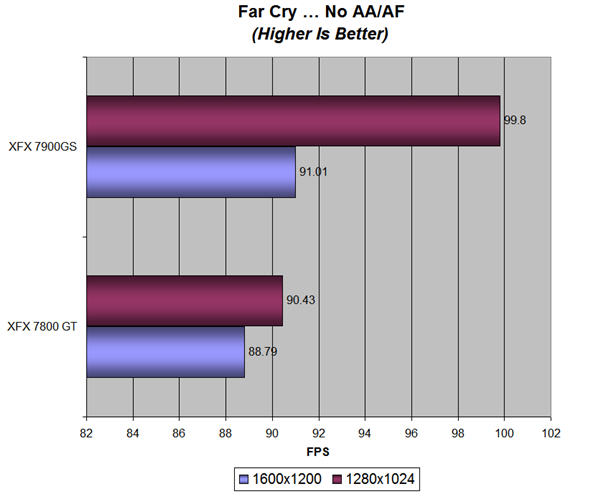 TEST RESULTS cont.
Gaming Benchmark Results cont.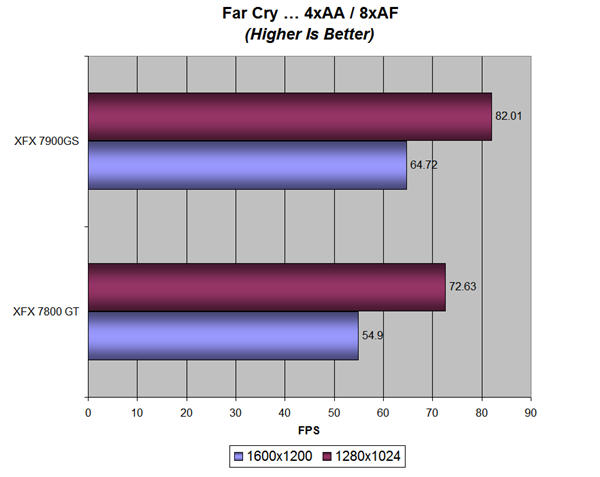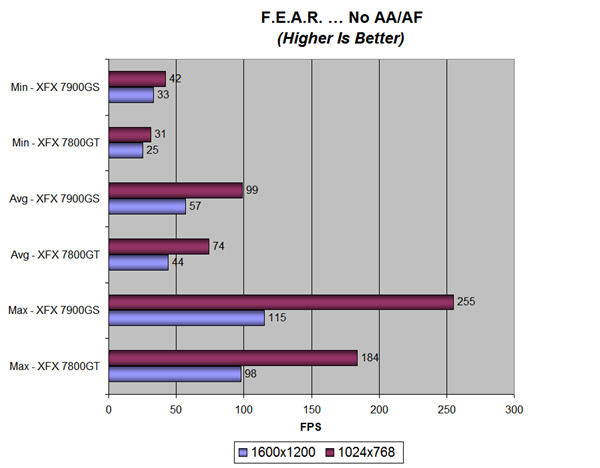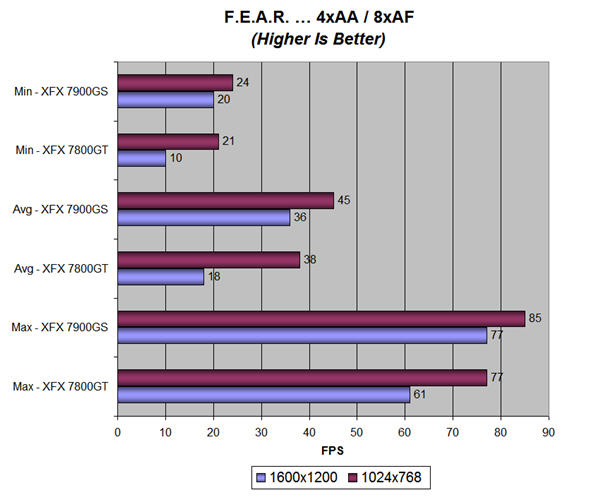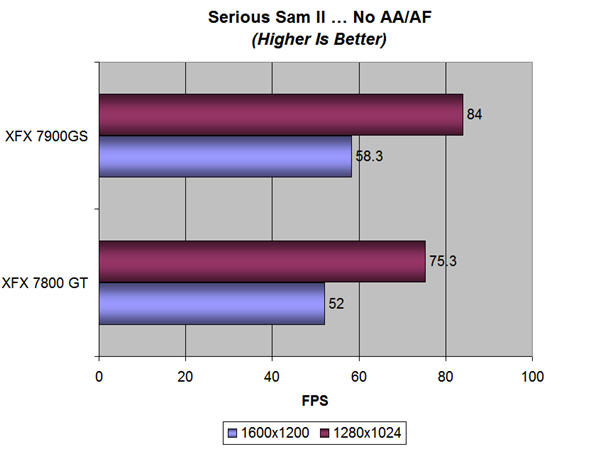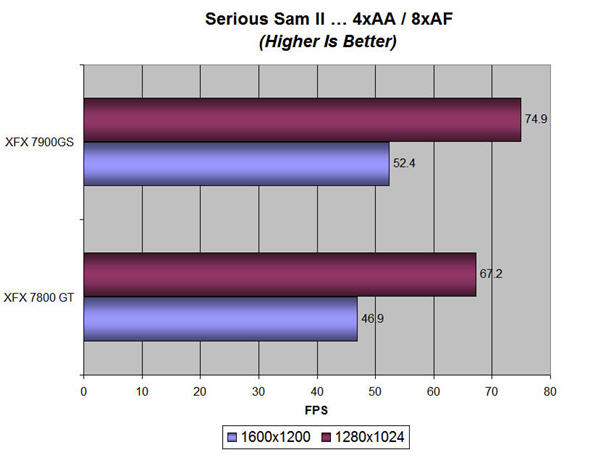 CONCLUSION
Who says cheaper isn't better? Well, maybe we have on a few occasions, but in this case we'd be forced the eat our words. The XFX® GeForce™ 7900 GS XT fills a void that has existed between the GeForce™ 7800 GT and the 7900 GTX and does so with both performance and graphics quality. Another point in its favor the 7900 GS has almost all of the features of the 7900 GT with almost identical performance for roughly $100 less out of your pocketbook. While this card would probably not appeal to the extreme Computer Enthusiast it would certainly more than satisfy the needs of those in the beginning to intermediate range. The XFX® GeForce™ 7900 GS XT would also appeal to the average computer consumer that I earlier alluded to wanting a taste of the "High-End Gaming" world but either couldn't afford and/or justify the expense of a top tier product.
Hell, I consider myself an extreme Computer Enthusiast and I'm highly impressed. The 7900 GS XT solidly trounced the 7800 GT that it was pitted against in every category with performance improvement margins ranging between 10% to as much as 60% in some of the benchmarks run. The 7800 GT is by no means a slouch but today it certainly met its "Waterloo". Previous testing with this same rig showed this product's prominence over its competitors from ATI as well. Unfortunately at this point in time I did not have an equivalent ATI card to use in the comparison presented in this review.
An area that I was saving for this part of the review to discuss is SLI. First imagine this scenario: The XFX 7900 GS XT will retail at release for an MSRP of $219.99 USD. There will also be a $20 MIR at all authorized XFX dealers dropping this card's cost to $199.99 or for sake of mathematics $200 USD. It's fully SLI certified and has performance that we've already seen that is far better than its $200 price tag would suggest. Stay with me here! For considerably less the cost of a GeForce™ 7950 GX2 or about the same retail cost as a GeForce™ 7900 GTX you've got an SLI rig that will perform quite nicely. I would think that many consumers that have been waiting for significant price drops on higher end cards will avail themselves of this opportunity.
In closing let me say that NVIDIA® and XFX® have done it again, by that I mean produced an excellent product that should be in high demand once its specifications and performance statistics become available to the masses. The graphics quality although certainly not as good as my GeForce™ 7950 GX2 isn't missing it by much, with all settings being equal. The cost is the lowest yet for a card with this type of graphics quality and performance. I heartily predict the XFX 7900 GS XT will be one of the best selling cards on the market in a very short time frame. I advise those of you that have been sitting on the fence for sometime waiting for the prices of higher end video cards to fall before purchasing to strongly consider this product as an option. I don't think you'll be disappointed!
Pros:
+  Extremely vibrant image & video rendering
+  Highly feature laden
+  High Dynamic Range Rendering (HDR) compliant
+  SLI certified and ready
+  Shader 3.0 compliant
+  Size causes no issues with hard drives
+  Excellent performance for the beginning to intermediate Computer Enthusiast
Cons:
–  It will not be quite the ticket for the Extreme Computer Enthusiast
Final Score: 9 out of 10 and the Bjorn3D Golden Bear Award.