Computer systems need more and more power. But is wattage and amperes the only indication on how good a power supply is? The be quiet! Dark Power Pro shows us that quality many times is more important than quantity.
Introduction
There was a time when people really didn't have to care what PSU they had in the computer. Then came the faster CPU's, the more power-hungry video cards, SLI and Crossfire and multiple cheap hard drives and now suddenly we see 600W and even 1000W PSU's being sold as an essential part of any enthusiast computer.
So why on earth are we looking at a measly 430W PSU in today's review? Well, if anything this review of the be quiet! Dark Power Pro 430W PSU should prove to you once and for all that quality is more important than quantity.
BE QUIET
be quiet is a German company that specializes on making high quality PSU's. They do have some other products like fans and Noise absorber kits but their main products are the Straight Power and the Dark Power series of PSU's
"We utilise innovative technologies and high-quality materials, to be able to guarantee the quality and workmanship of our products. That is how our power supplies provide an efficiency that exceeds 80% by far, as well as a reliability that makes it possible for us to grant a full 3 year warranty.

be quiet! power supplies are always characterized by an extremely low noise level. We believe that performance does not have to be loud. This assures you the possibility to concentrate on important things, while working with your computer."
Features and specifications
The Dark Power Pro is the follow-up to their popular Dark Power PSU. While the Straight Power series is aimed for people who "look for mature technology and love extremely reliable operations, if you want sufficient output at any time and prefer a power supply with a compact design", the Dark Power Pro PSU's are marketed as high-end PSU's for the professional users.
Let us take a look on what features the entire Dark Power pro series of PSU has:
TOP EFFICIENCY

Extremely high efficiency of >80% at loads of 50% for reduction of your electricity expenses
Active PFC with PF of up to 0.99 for stabilising and enhancing output voltage values
The power supply unit is manufactured in line with RoHS Guidelines

THERMO CONTROL

The fan follow-up control unit (ECASO) protects your hardware against overheating. The electronic thermo-control unit controls the power-supply fan speed, as well as the speed of up to 3 case fans directly connected to the power supplies.
Read-out tacho-signal from the power-supply fan through your mainboard.

SERVICE PLUS

3-year warranty
Service hotline: +49 40 736 76 86 – 559
Technical email support: [email protected]
Multi language manuals

HIGH CONNECTIVITY

Flexible cable management
Up to 19 cable bundles, of which 17 are removable
High-quality finish, including cable sleeves made of nylon braiding.
Highest possible compatibility to available mainboard technologies
Up to four 12V rails assure an independent power supply to the CPU.
ATX12V 2.2 and EPS12V 2.91
The connection of PCIe and ATI CrossFire graphic cards is possible by way of up to four 6-pin VGA connectors
Future-proof connectors for the upcoming generations of graphic cards
P8 connector for dual-server mainboards
Up to 12 SATA connectors
The connection to the mainboard is made by 24-pin connector; an included 20-pin makes operation with older mainboards also possible.
2 x 50 cm cable for desktop computers
I think this is about what you will expect from a better quality PSU these days without being extraordinary. The 3 year warranty is nice though.
Next let us take a look at the exact specifications for this PSU:
Output 430 Watt
ATX12V Version 2.2
1 x 120mm Silent ventilator
Active PFC
2 separate 12V cables
P4 and P8 plug
Specifications: +3,3V: 26A, +5V: 28A, +12V1: 20A, +12V2: 20A, -5V: 0,5A, -12V: 0,8A, +5VSB: 2,5A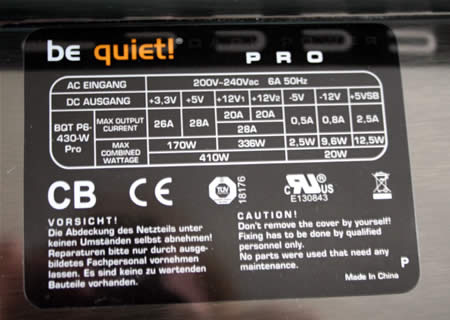 Recently the Dark Power Pro PSU's also get certified by ATI for Crossfire. This PSU is certified for X1800/X800 Crossfire combinations.
The PSU and the box
The Dark Power Pro comes in a cool black box that has a panther face on it.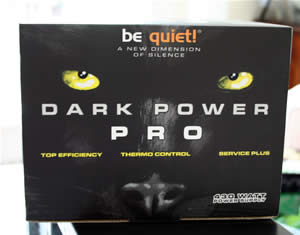 Inside the box you find:
The PSU
A 24-pin mainboard plug, with adapter to 20 pins
Bunch of removable cables
5 cable management ties
Manual
Power-cable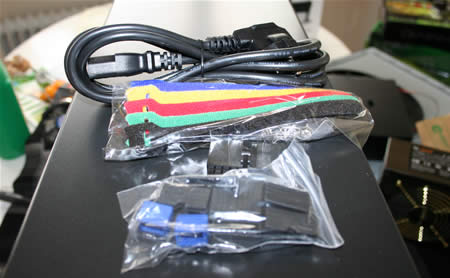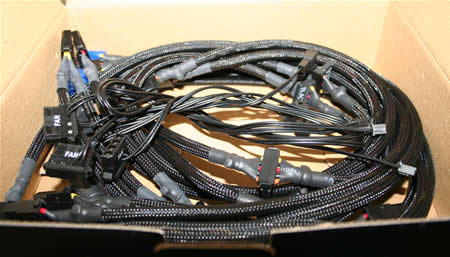 Except for the two mainboard power cables every cable on this PSU is removable making it easy to just use the ones you need.
The removable cables you get are:
motherboard header for PSU fan speed monitoring
3 fan only cables with a standard small 3-pin connector and a 4-pin Molex connector
2 PCIe cables
2 cables with a single 4-pin IDE drive connector
One cable with three 4-pin IDE drive connectors and one floppy connector
2 cables with three SATA drive connectors
1 cable with two 4-pin IDE drive connectors and one floppy connector
The actual PSU looks nice and quite sophisticated with its Titanium looking surface. On one side you have a 120 fan with a gold-looking fan grill. On another side you find all the connectors for the cables. And last but not least on the side facing out of the case you have a large exhaust vent.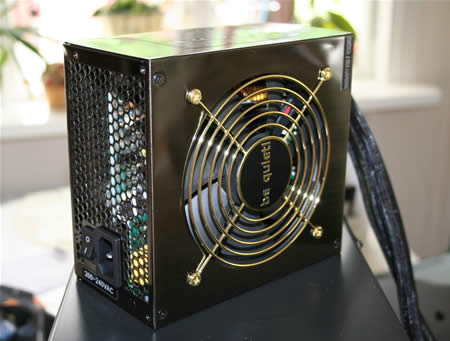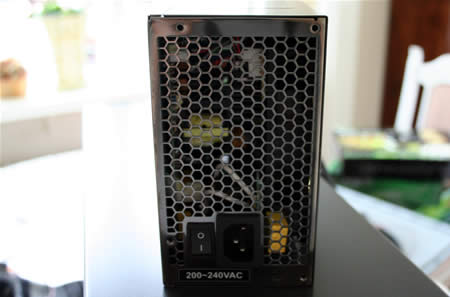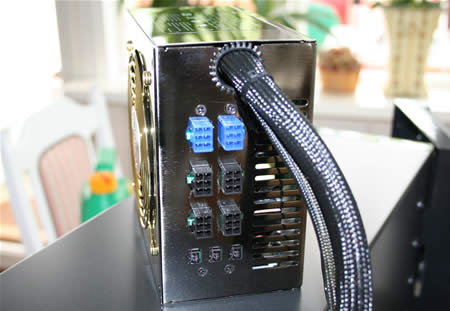 Inside
Let us take a quick look inside the PSU to see what we can find there.  Click on the images for larger versions.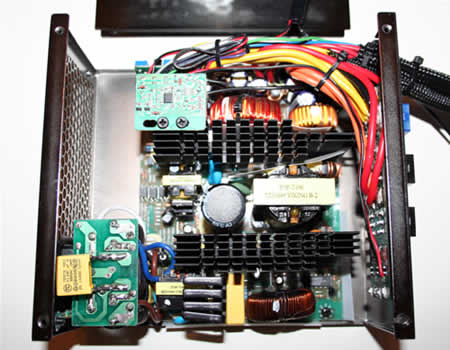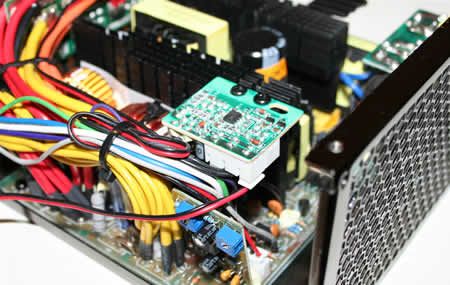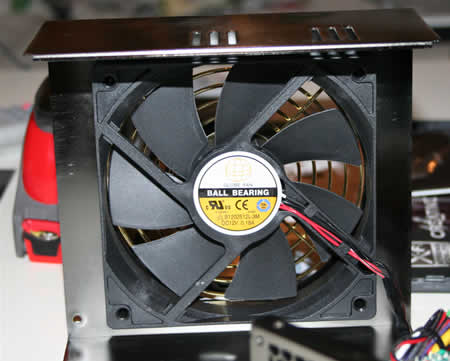 You can of course change the 120mm fan (the warranty is voided if the PSU is opened) and if you look at the middle image you'll notice that there are even fan connectors for more fans.
Testing
Testing a PSU isn't completely straight-forward. Even on this site you have seen some different methodologies in the past, something we are working to remedy in the future.
Since we unfortunately do not have a load-testing rig yet that can test the PSU outside a system without any other components affecting the result we right now have to do the next best thing and simply put as much as possible in the system and measure how the PSU handles it.  
Under load
The PSU is tested in the following conditions:
Idle
We test the PSU outside the case, at the Bios and last but not least in Windows after we've been idle for an hour.
Loaded
We throw as much as possible at the PSU. In this case it means running 2 instances of [email protected], burning a CD in Nero on the USB DVD-RW, moving files between two SATA drives, running the long test in HD-Tach RW on a third SATA drive as well as running 3DMark06. And this is done all at the same time.
The system we use for this test is comprised of these components:
AMD FX-62, overclocked 5%
2 GB Corsair SLI-mem run at 1066 MHz
ASUS Crosshair nForce590 SLI motherboard
HIS X1900XTX video card (test 1), 2x BFG 7900GTX OC in SLI (test 2)
4 Maxtor 320 GB SATAII Diamondmax 10 hard drives
One 80 GB Maxtor IDE hard drive
Samsung DVD-RW hooked up to the USB-port
Two 120 mm fans on the HTPC Tech station
The Results
| | | | | |
| --- | --- | --- | --- | --- |
|   | Outside | Bios | Windows Idle | Windows under load |
| 3.3V | 3.37 | 3.39 | 3.39 | 3.39 |
| 5V | 5.08 | 5.07 | 5.08 | 5.10 |
| 12V | 12.08 | 12.04 | 12.08 | 11.93 (ATI), 11.89 (SLI) |
As expected we see a dip in the 12V voltage when putting the system under load but it still is well within the ATX 2.2 specifications:
+5VDC: +/- 5% => 4.75V – 5.25V
+12VDC: +/-5% => 11.4V – 12.6V
+3.3VDC: +/-5% => 3.135V – 3.465V
You can read about the ATX 2.2 standard specifications here.
The voltages were stable and didn't fluctuate much. The only dips I saw was on the 12V line where for half a second 3-4 times the voltage dipped down to 11.84V and then back up.
As you can see in the table, after I successfully could run the system with the ATI card and all the other components, I decided to see if it actually could run two BFG 7900GTX OC cards in SLI-mode. I didn't really expect the system to work with all the other components in it but it flew throw 3Dmark06, Company of Heroes Performance test at 1920×1200 with every setting maxed out to max and the FEAR performance test.
Unfortunately I couldn't test Crossfire and since the ATI cards draw more juice I don't expect it to manage two X1900 cards in Crossfire. It is however certified for X1800 and X800.
In addition to these measurements the PSU has been used in my main system for the last few months. Sometimes you don't see quality issues until after it has been used for a while. So far however the Be quiet! Dark Power Pro 430W has performed perfectly not missing a beat or causing any issues to my system.
Just before this review went online I had the chance to set up a Core 2 Duo system with a E6400 CPU and dual 7900GTX and on that system the NVIDIA drivers reported that the video cards were not getting enough juice. So SLI on a Core 2 Duo system doesn't seem to work.
Not noisy
The be quiet! Dark Power Pro 430W also is a very quiet PSU. Unfortunately I couldn't measure the sound level this time but compared to the rest of my system it is very silent at idle as well as very silent when under heavy load. The fan actually keeps spinning a few minutes after you shut down your computer to cool the system down and I didn't notice it at first since it was virtually noiseless.
Conclusion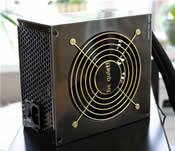 What can I say? While I did expect this PSU to be of high quality judging from their previous products I was skeptical if it would manage everything I would throw at it. I in some way had been fooled by the constant hunt for more Wattage and since I had problems running a similar system with some 500 and 600W PSU's I didn't think this PSU would be any better.
In the end I have to capitulate. Even with "just" 430W this PSU can handle a fully loaded system just fine, at least as long it is using a AMD CPU. It probably won't handle Quad-SLI but we can't really mark it down for that. This PSU clearly demonstrates that the quality and efficiency of a PSU is more important that the number of Watts and Amps it provides.
Just as impressive is that it does all this with a very low noise level making it a perfect component in a silent system.
The only real downside I see with this PSU is that it does cost quite a lot. At 80-100€ (sorry US guys but I haven't been able to find it there yet) it costs as much as many other high quality PSU's from Antec, Hyper and FSP. In my opinion however you get what you pay for and in this case you get a high quality product that won't disappoint you.
If you feel 430W still is too little be quiet! also has a 530W and a 600W version of the Dark Power Pro
Pros
+ Modular meaning less unused cables
+ Stable performance
+ Can handle a high load
+ Can handle relative high-end SLI and Crossfire configurations.
+ Very silent
Cons
– Quite pricey
– Even with this performance, will 430W be enough in the future?
– Can't handle a Core 2 Duo together with SLI
Summary: For its outstanding performance both when it comes to handle a high load in the system as well as being a very silent PSU I award the be quiet! Dark Power Pro a mark of 9 out of 10 and a Golden Bear Award.