Thanks to Jetart, system builders and performance enthusiasts will have a new tool to help maintain a cool running and stable system. If you want to overclock the system or video RAM to the extreme then you will need to compensate for the increased heat. The Jetart CK5000 is a perfect fit for system and video RAM cooling.
INTRODUCTION
Once upon a time not long ago, the computer had only one heatsink dwelling deep inside its case.  Some readers might remember "the good old days" when the most you had to worry about for system cooling was getting a heatsink with a fan that actually worked.  Then as systems improved, so did system cooling with it.  Before long, case fans were added, and even the motherboard chipset came equipped with a heatsink.  As progression would dictate, it wouldn't take but a few moments in time before there was a heatsink on everything that produced heat; including the system and video RAM.
While computer enthusiasts are demanding more from their computers systems then what they receive from the manufacturer.  Often times, settings will be tweaked and hardware may be over-clocked so that more performance may be squeezed from the system.  When more performance is demanded, it usually brings increased heat with it.  This is where the aftermarket industry has really catered to the computer enthusiast.
Thanks to Jetart, system builders and performance enthusiasts will have a new tool to help maintain a cool running and stable system.  If you want to overclock the system or video RAM to the extreme then you will need to compensate for the increased heat.  The Jetart CK5000 is a perfect fit for system and video RAM cooling.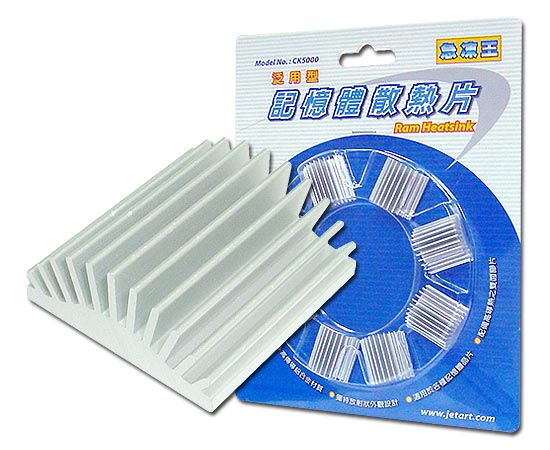 Jetart: Company Overview
Established in 1989, Jetart began as an ODM business for domestic and overseas customers from their office in Taiwan.  Jetart's ODM business includes lines of computer peripherals, electronic parts and other relating products.  Up to 1994 there were about 300 design projects completed.  In view of ODM design background, Jetart's research & development department has always played a very important role.
Nowadays, Jetart is not only a cooling devices designer but also a very professional & well-organized manufacturer, as well as an exporter.  In recent years, their focus has been on developing "Thermal Solution" related products.  All materials and production process are under very strict quality control procedures, and their capacity has come up to 12 millions pieces per year.
SPECIFICATIONS AND FEATURES
The Jetart website offers a short overview of their products.

 

Here are the specifications, as provided by the manufacturer.

 

In truth, Jetart has given a specification for every aspect of this small product.
Features:
·  Unique Radial Shape Design
·  Universal Compatibility
·  Thermal Tape Included
Specifications:
| | |
| --- | --- |
|  Dimensions |  22 x 22 x 10 mm |
|  Material |  Aluminum Alloy |
|  Weight |  6.5 g x 8 pieces |
|  Accessories |  • Thermal Tape : 3M 9448 |
I would like to add that while the heatsink itself measures 7/8" square, the 3M thermal tape does not reach to the edge.

 

The 3M 9448 thermal tape measures 11/16" square.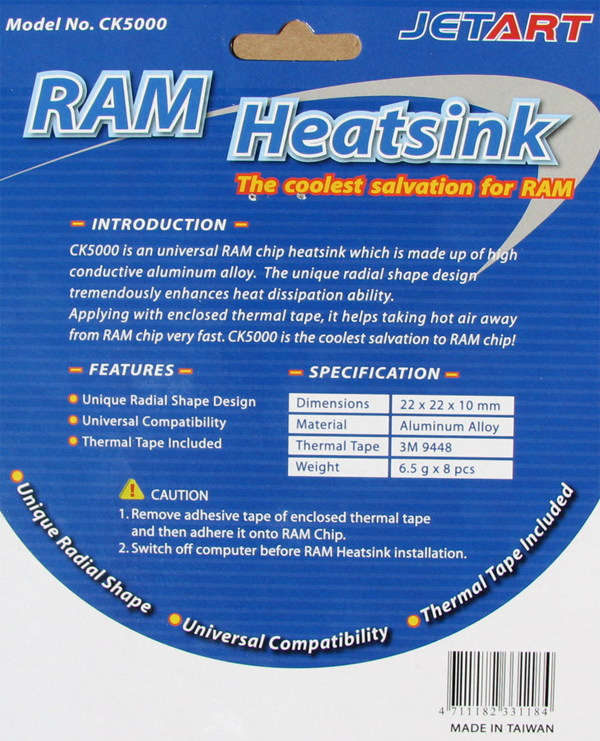 WHAT YOU GET
• (8) Aluminum Alloy Heatsinks
• 3M 9448 Thermal Tape applied to back of each heatsink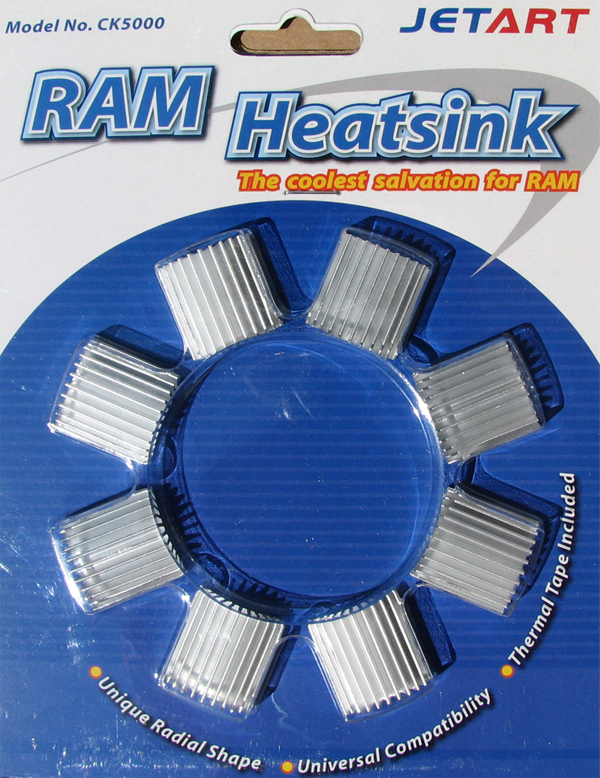 Once you open the retail bubble pack, installation is just a simple matter of choosing where to apply these heatsinks.  Of course, everything is very straight forward and uncomplicated, but I will walk you through the process.
INSTALLATION
Installation could not be easier: you simply remove the wax-paper backing from the 3M thermal tape on the back of the heatsink, and apply the heatsink onto the component of your choice using light but sufficient pressure.

3M 9448 Thermal Tape
Since Jetart has designed the CK5000 for direct application, there are no special tools required for installation.

 

The super geek might wear gloves, and remove the thermal tape backing with a blade, but I used my own two hands, so there were no tools required at all.
Unlike other heatsinks on the market, the Jetart CK5000 is made with a universal fit in mind.

 

This makes the Jetart CK5000 a good aftermarket upgrade for either system memory, video card memory, or any number of other heat-producing components.

 

The drawback to this universal design is that bigger is not always better and they heatsink may not fit on every RAM module.
As you can see for yourself, the heatsinks fit the some of the most popular applications.

 

While I had no problem installing the heatsink onto system memory modules which have only four RAM chips per side, if the module has eight chips you will not get these heatsinks to work very well.

 

I tried to convince myself that they could also work on a GeForce 6x/7x series video card, but because of the size this was the best I could do.

As this image illustrates, one heatsink is not going to be enough.  Two heatsinks will fit, but it isn't pretty.

While it may be functional, it is far from fashionable.  I think the Jetart CK5000 heatsinks will accomplish their function, but it would be advised to locate a better fitting heatsink on particularly demanding omponents.
PERFORMANCE
For testing purposes, I installed the Jetart CK5000 heatsinks onto two pieces of Infineon DDR2-4200 RAM.  This RAM was then installed onto my Foxconn 945P7AA-8EKRS2 motherboard.  This motherboard has been over-clocked in the past to beyond 240MHz FSB with other RAM modules.  This test would see if the CK5000 RAM modules offer any additional speed for the improved cooling.  All tests used MemTest 86+ to test RAM stability, and allowed for three complete passes to gain approval.
While the RAM modules I used were not the kind I would normally like to use for overclocking, they are representative of small measurable improvements.  Running at the default speed of 200MHz FSB proved easy enough before and after the heatsinks were applied.  I was able to improve the stock RAM to 213MHz stable without having to raise the voltage.  This is where I brought in the heatsinks, and tested the speed once again.  To my surprise, the RAM with CK5000 heatsinks installed was able to reach a top FSB of 220 with default votage.  I am certain that with overheating removed from the possible barriers, I could reach an even higher maximum stable speed if the RAM voltage was increased, but this simple test was enough to indicate that the Jetart CK5000 heatsinks proved beneficial.
CONCLUSION
I found Jetart CK5000 heatsinks to be a very solid solution RAM module cooling.  While the size of this product prohibits its use on a few DDR and DDR2 modules, it still has a large foundation of DDR, DDR2, and video RAM applications which I can highly recommend.  While copper heatsink material would allow better heat transfer, the aluminum alloy was nearly weightless and is not likely to fall off.
In all of my tests with the Jetart CK5000 heatsinks, I was impressed that it opened the doors for extreme overclocking on RAM that would otherwise be locked down due to heat.
There are many great reasons to go out and purchase this new product.  However, the lack of merchants who carry this product will make that a little difficult.  At the time of this writing I was unable to locate a major online merchant who sells this product.  Let's hope readers will see the benefits and generate demand.


Pros:
+ Easy installation
+ Radial cooling offers greater surface are for cooling
+ Thermal tape does not lose adhesion
+ Aluminum alloy composition cools efficiently
Cons:
–        Heatsink could be downsized to fit more RAM modules
Final Score: I have rated this product a 7.0 out of 10, and award the Bjorn3d.com Seal of Approval.
I would like to give a special thanks to Jetart for sending us this great product for review.