Overclocking and overcooling the video card is more of a phenomenon now then ever before thanks to the molten-hot video cards on the market and high-demand video games demanding more power. Thankfully, there are cooling solutions addressing and controlling this hot new trend. One of them is the KuFormula VF1 Plus VGA cooler by Sytrin.
Introduction
Computer enthusiasts are well know for taking a perfectly good piece of hardware, and tweaking it for the benefit of a slight increase in performance. While CPU's get all of the attention for overclocking, it the display adapter that really provides the enthusiast with results which can be immediately seen. Overclocking and overcooling the video card is more of a phenomenon now then ever before thanks to the molten-hot video cards on the market and high-demand video games demanding more power. Thankfully, there are cooling solutions addressing and controlling this hot new trend. One of them is the KuFormula VF1 Plus VGA cooler by Sytrin.
Ever since the GeForce 7900GT series warmed up the video card scene early this year, heat-related failures have raised GPU cooling concerns among computer enthusiasts across all platforms. After all, nobody likes to spend hundreds of dollars on a video card that can't produce a few extra frames of performance without starting a fire inside their computer. Since these heat-related issues are hardly isolated to the GeForce 7900 series, overclockers know that there is room for improvement on all video cards operating at or near the stability threshold due to temperature control; something requiring more then the original cooling heatsink and fan supplied from the manufacturer. This is a clear-cut case of the market supplying the consumer demand.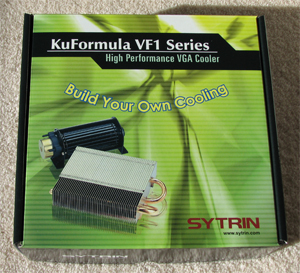 In this review I will utilize the KuFormula VF1 Plus VGA cooler to tame the burning desire my video card has to combust into flames. While there are at least dozens of various aftermarket VGA cooling solutions available at the time of this writing, it seems Sytrin has introduced something that stands out as unique and different in a sea of similarity. Using copper-based heatsink with dual heatpipes, the KuFormula VF1 is a formidable cooling solution on its own, add to it the radial fan system and anodized aluminum RAM heatsinks, and you have yourself one superior package for your VGA space heater.
About Sytrin Corporation
SYTRIN is a leading designer and manufacturer dedicating in cooling, casing, power and related peripheral products. Equipped with an experienced and professional team in the PC field for more than 10 years and high quality manufacturing, SYTRIN is aiming at developing and introducing the unique and creative technology and products to the markets, and also "One-Stop-Shopping" & "Total Solution Supply" to the customers.
Wide Cooling Solution Providing is one of Sytrin specialties, which is including various Thermal Modules (with heatpipe / copper built-in), PC Air Conditioning Cooling Technology, TE (Thermoelectric) + Air Cooling, TE (Thermoelectric) + Water Cooling and LED Cooling.
Following the innovative PC Air Conditioning Cooling technology, SYTRIN is further showing its outstanding achievements in VGA Cooling, "KuFormula VF1 Plus", which is of excellent cooling performance, and wide compatibility to most GPU cards.
Contents & Specifications
It was nice to see so many well crafted components packed into such a small package.  The KuFormula VF1 Plus really impressed me with the amount of product I found inside the small box.  It certainly felt as though there was plenty of value packed into this very well made $37 VGA cooler.

KuFormula VF1 Plus Contents
Included in the KuFormula VF1 Plus kit are:
 
Contents
Notice that the VF1 Plus kit is the only package which includes the radial cross-flow fan and RAM heatsinks.
 
Technical Specifications
Compatibility Support: 

Nvidia Geforce MX Series

Geforce Ti4*** Series

Geforce FX**** Series

Geforce 6200 Series

Geforce 6600 Series

Geforce 6800 Series

Geforce 7600GT

Geforce 7800 Series

Geforce 7900 Series (Partly)

Geforce 7800 GS AGP Series

EVGA GeForce 7800 GS CO Superclocked

ATI Radeon 9*** Series

Radeon X** Series

Radeon X1800's (Partly)

Radeon X1900's (Partly)

Radeon 1*** Series

Asus A9600GE
VF1 and SFFD120: Closer Look
The unique combination of copper heatsink with two efficient heat pipes, along with the additional RAM heatsinks and one of a kind radial fan, are a recipe for success.  Even the hottest video cards on the market get chills from this KuFormula VF1 Plus kit.
As you see from the image below, the heart of the KuFormula VF1 Plus is the solid copper heatsink with dual copper heatpipes pumping away heat to a large array of aluminum fins.  The slightly rough and grooved finish is apparent in the contact base.  While it would have been nice to have this surface polished smooth, the enthusiast will have to spend some time to get the surface to mate up perfectly.
KuFormula VF1 Plus heatsink
With the additional cooling components included in the KuFormula VF1 Plus kit, your video card will have very little reason to overheat.  It is more likely that you will hit the overclocking limit long before heat becomes an issue.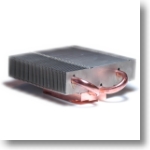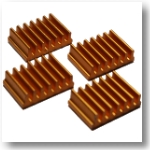 Key Features in the KuFormula VF1 Plus kit
The radial fan is a unique and imposing component in the KuFormula VF1 Plus kit.  I was surprised at the level of detail and quality this component offers, and the way it integrates perfectly with the rest of the kit.  The RAM heatsinks are anodized aluminum with thermal adhesive backs.  They seemed to me to be a bit short, since they measure less then a quarter-inch tall, but they ensure that you will have no problems at all with clearance.
SFFD120 vs. VF1
Sytrin has previously released other VGA cooling solutions.  One of these solutions, the SFFD120, is an add-on or stand-alone cooling solution which works together with the standard KuFormula VF1 kit.
SFFD120 is especially made to work with VF1 (basic version without fan) for ATI X1800/1900 (for those models the GPU and RAM sit further back on the cards), as well as certain SLi/CF applications.
– For ATI X1800/1900 : "VF1 Basic x 1 " + "SFFD120"
– For SLi/CF: "VF1 Basic x 2 " + "SFFD120"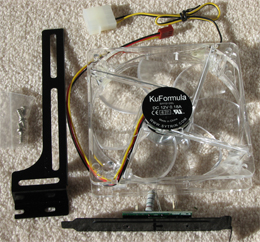 Different from the other fan kits, the SFFD120 includes a new bracket (available for different sized fans) and 3-speed E-Z set controller.
Besides VGA cooling, this "Cooling Fan Kit" can be also used for case cooling and CPU cooling.  This Multi-Functional Cooling Fan Kit sells for the attractive price of $9.99 MSRP.  It includes a 2-Ball 120mm LED Fan the fan bracket as well as 3-Speed Controller.
Installation
With all of the RAM heatsinks in place, my previous concerns about their height being too short may prove true. Although I cannot say that this will be true on all video cards, the GeForce 6xxx and 7xxx series video cards offer a lot more room under the GPU heatsink for larger RAM heatsinks.

KuFormula VF1 Plus Kit Mounted
For this photo, I used a nVidia GeForce 6800 to mount the KuFormula VF1 Plus kit.  Everything fit perfectly on this video card, and I did not have any problems.  The Installation went equally well for the GeForce 7900GT video card (not pictured).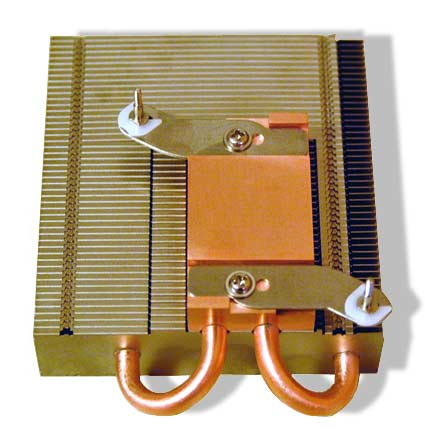 VF1 Clip System
Additionally, the VF1 heatsink clip system allows the large and slightly heavy heatsink to move around a little more then I would like to see.  It would have been much better to have the clip system utilize all four mounting point holes at each corner on the GeForce 6xxx and 7xxx series video cards rather then just two corner points.  I did notice a bit of shifting, which is not a good thing, and implies that contact is not as firm as I would have liked.

Fully Installed KuFormula VF1 Plus Kit
With the entire kit assembled and installed into my system, I began to see some space concerns.  On the mid-tower Ultra Aluminus case I have installed the KuFormula VF1 Plus kit into, the radial fan extends out to the very edge to where the panel meets the case.  On smaller mid-tower cases, such as the NZXT Adamas, the KuFormula VF1 Plus kit will not fit as it prohibits the side panel from closing.
Results & Conclusion
At first, I thought that the idea of a radial fan would be a huge benefit to the KuFormula VF1 Plus kit.  But after working with the clumsy configuration for mounting the expansion slots into the case, I began to think otherwise.  With the three-step speed controller, the radial fan was whisper silent.  Even on the highest step on the controller, the fan was still less audible then most 120mm fans.  However, as I got the video card warmed up by playing F.E.A.R. Combat, I noticed that the internal temperatures of the case were rising dramatically. 
Although this would be true of most aftermarket and original equipment VGA coolers, I would have preferred having the heated air drawn out of the case or driven up away from the video card.  I have included the final installation image below with airflow to illustrate how the radial cooler draws air from below and blows the air onto the heatsink and into the motherboard.  This air is then either trapped under the video card or re-circulated back through the radial fan.  All it would take for the KuFormula to be more efficient is redesigning the fan shroud so that it pulls the air away from the heatsink and exhausts it up out the back.
Air is trapped under the video card and re-circulated
In conclusion, the KuFormula VF1 Plus kit is an acceptable means of cooling a hot running video card.  Regardless of the fan shroud and direction of heated exhaust, the kit performed better then the original equipment supplied with the video card by the manufacturer and allowed for light overclocking.  Available at major online merchants for under $37, I can recommend the KuFormula VF1 Plus kit as a dependable and silent aftermarket cooling solution over reference stock coolers.  Hard-core gamers and performance enthusiasts who plan to overclock their high-power video card may find better cooling solutions available to them elsewhere.
Pro
Silent radial fan operation at low and medium settings

Excellent copper heatsink with dual-heatpipes

Better cooling over stock reference cooler
Con
Radial fan should be redesigned to draw in air amd vent heated air upward

RAM heatsinks could be taller

Large size prohibits use of radial fan on SLi or CrossFire configurations

Heatsink clips should utilize all four mounting points
Final Score: 7.0 out of 10.
I sincerely thank the Sytrin Corporation for sending these product samples to me for review.