Mixing two different enclosures, PC and HTPC, the design team built a very unique case for both enthusiasts and home theater entertainment folks. If you are tired of desktop Home Theater PCs and want more than just HTPC case, Mozart TX should be your object of desire. Its clever and neat design sends shivers down my spine every time I look at it. Can you withhold from not buying it? I think not as I would like to recommend it as my top pick of the year.
Introduction
Thermaltake has been very successful in designing PC cases. From regular tower chassis all the way to full tower and HTCP cases while satisfying the whole crowd. Much of Tt's success was coming from sales of Soprano, Tsunami and Xaser series followed by Armor and Eureka. Not so long ago the company had decided to take PC tower case, HTPC enclosure and make something special. It had seem the whole project was rather hard to manage, not to mention coming up with ideas and dealing with R&D teams frustration:

"After countless hours of hardship from everyone, we turned a few preliminary lines on a sketchbook into a beautiful actual creation. When the prototype returned, everyone wanted to be the first to see how our imaginations had turned out. After that, we fitted all the components into the prototype and started refining the goddess. Needless to say, there were a lot of refinements and revisions after the first prototype. The finished Mozart TX was simply stunningly beautiful and perfectly functional"
-Thermaltake R&R team
source: mozarttx.com
It's obvious, Thermaltake did not want another boring desktop HTCP into their line. Instead they've come up with something out of ordinary and eye catching. Mozart TX is not a regular looking PC case found in majority of households. It's 33 centimeters wide, 36 centimeters deep and 70 centimeters high (equivalent in inches: 13″ x 14″ x 27.5″) — almost cube like. That was Thermaltake's major plan, to make it different and get rid of the old boring design out of everyones' minds:
"After the design has been set, everyone was so excited: the chassis was simply too special. The tallness, the lack of depth, the expandability, the functions, were all so lovable. We had been so worried that she would come out as a child only a mother could love. However, in order to challenge technology and break the boundaries of today, we took the chance to satisfy everyone goals.
She questioned the chassis conformity and was born with a letter "X". The Mozart TX also represents the team effort and adventurous spirits of Thermaltake"
These are the bits behind Mozart TX history, but if you want to read more about it head over to mozarttx.com. Finally, let me show you what I've been talking about all this time.
Features
Mozart TX main features:
Cube tower with aluminum from panel
Dual PC in one chassis: primary ATX / BTX + secondary Mini ITX
7″ Drive Bay: compatible with 7″ LCD monitor
Media Lab (Optional): Media Center / VFD compliant
ITC: Independent Thermal Chamber technology for optimal thermal management
Liquid Cooling System: Spacious design for two 12 x 24 cm radiators
Superb Airflow: Total 11 vents for ten 12 cm and one 8 cm fans
Color: silver (all aluminum case), black (SECC body with aluminum front panel)
Case dimension: 720 x 330 x 360 mm (H*W*D)
You can read about all of it in more detail right below
Superb airflow

Total of 11 vents and smaller body depth give this case maximum airflow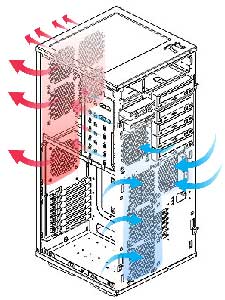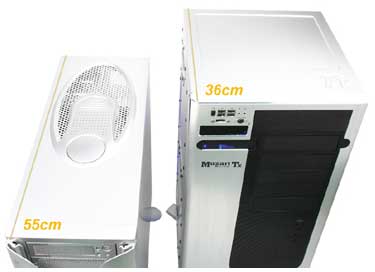 Dual PC
Designed to fit TWO independent systems (A(B)TX + Mini ITX)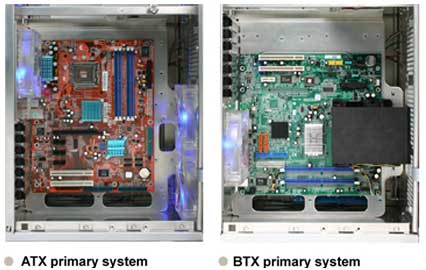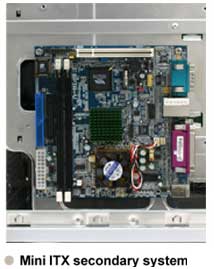 7″ drive bay
In it you can fit 7″ LCD display with touch screen. It's auto retractable and angle adjustable, supports standard VGA connection, no DVI though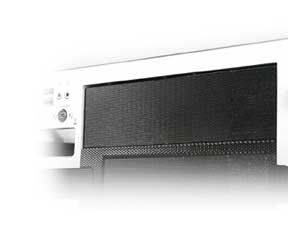 Liquid Cooling System
Can fit two 12 x 24 cm radiators or one 12 x 24 cm radiator or one 12 x 12 cm radiator. Has four 12 x 12 cm vents for liquid cooling system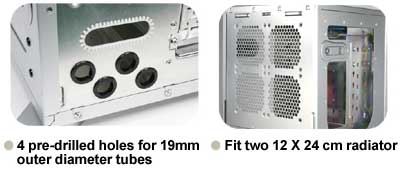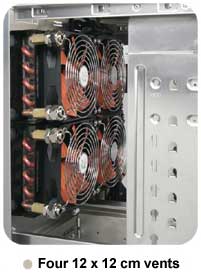 Structure features
Tool free installation on 5.25″ devices and PCI. Removable HDD cage with rubber pads to absorb vibrations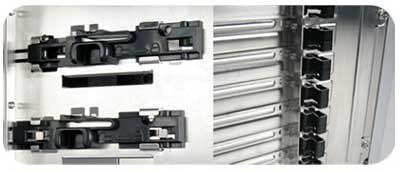 Front I/O features
Built in eSATA connector, 4 x USB2.0, 1 x 1394, HD audio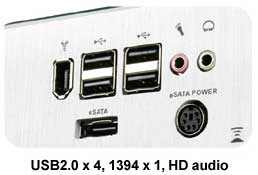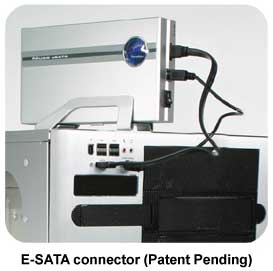 Specifications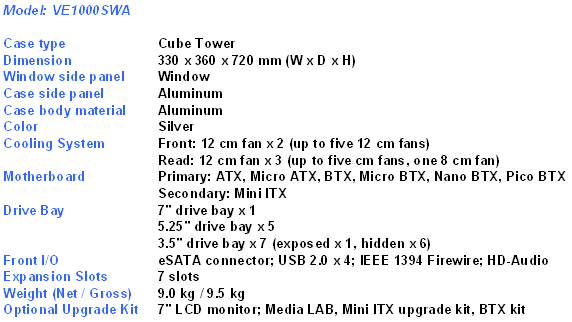 You can already conclude (without seeing the case first) from the table above that Thermaltake left no unused space. Compartments had been designed to maximize every part of Mozart TX, that includes secondary system with optional ITX PSU.
Package

Our Mozart TX arrived in a huge (D 465 x W 436 x H 805 mm) carboard box weighing at around 16.4 kg (gross weight). Let's leave the case itself on the side and have a look at how it arrived and what the box revealed. The case itself comes with:
5 x 120 mm fans
eSATA cable
IDE cable
Installation guide
Lots and lots of screws
Plastic mylars (polyester film to prevent short circuit)
Click a picture to see a larger view

---
---
Again, the box is huge though not heavy at all due to Mozarts aluminum design. Each side of the box contains useful information for the end user with additional information on optional accessories and upgrades. The top and bottom of the case are protected with styrofoam lids to minimize any damange being done during shipping — or even eliminate. As you can see from the fourth picture, this is not your regular rectangle looking case or horizontal HTCP enclosure either. Interior and mechanical engineers from Thermaltake did a wonderful job designing a cube HTCP chassis which can hold TWO complete, independent systems and still look very aesthetic.
Below we have Media LAB package. It contains the following goodies:
VFD display

Necessary cables / adapters

Remote control

AAA Batteries


Software package

Quick installation guide

Click a picture to see a larger view

---













---
Don't go to the next page just yet. Thermaltake threw in Media LAB LCD panel (aka VFD, designed over at Soundgraph) plus additional software package to control your ultimate Home Theatre PC System with the included remote control. Neat right? And guess what? It actually works like a charm, you just have to keep reading 🙂
External Design
The looks of Mozart TX are presumably the most interesting, especially the outside ones. For one, the case looks like a small refrigerator and it's something consumers haven't seen yet. On the other side, it's simply stylish and hard to take your eyes off of it.
Click a picture to see a larger view

---
---
Yes it's tall (70 cm, 27.55″), but is it big overall? Not at all considering you can fit so much inside. When I first saw the box it arrived in I thought
"oh boy, where am I gonna put it"
However after a few glances it occurred to me it wasn't that much bigger than full tower case! Anyway, let's keep on going. Case panel and body material are aluminum so it's quite light for overall dimensions. Front bezel features I/O ports located on the top left hand side: 4 x USB 2.0, 1 x IEEE1394, eSATA + eSATA power, audio ports. Just below is VFD window for Media LAB backlit LCD panel. The top most bay is used for 7″ LCD display, Thermaltake says it's the first case to feature such drive bay. Next up are panel doors. Yep you heard it I said door
s
as there are two, one for each side and are held in place by two hinges. Oh did I mention you can lock each panel with the included key?
The next image shows the back plate of the case. You can clearly see that power supply is no longer associated with top part of the case. Instead it's been sectioned into its own compartment close to the bottom. Right to it we have motherboard's I/O ports and 120 mm vent. Right above we have four 120 mm vents with inside fans for improved heat dissipation. On the next image you can see the already mentioned panel lock. Right doors come equipped with 120 mm vent — that's where power supply's fan is blowing to get rid of the heat. Last but not least are Mozart TX's feet. They are made out of plastic, just like regular foot stands you find in most PC cases. If I were to change something it would be the feet. Instead of plastic ones I'd use small wheels like those found on Tai Chi case.

Internal Design
I must say the inside is as interesting as the outside. There are a lot of cool solutions inside and most importantly no wasted space which is common in the mids of other cases. I want go through this stage in a pleasant matter and not irksome so please relax and bare with me, you gonna enjoy it 🙂
Click a picture to see a larger view

---
---
Let's start of with hard drive cage. The mechanism behind it is simple. You release two thumbscrews on the bottom and one on the top. What you do next is push down the metal tab (located at the top of HD cage) and pull the cage outward towards the back fans. The metal tab may be annoying as I had to apply some extra force to release it. Mozart TX features "tool free" 5.25″ drive installation mechanism. Notice the quotation marks? To me they are not exactly tool free as you have to use the included screws to hold it securely. Let's move on. All the cables inside were nicely tied up and stickied with a masking tape to prevent any clutter during system installation. On the third picture you can see the PSU compartment and Mini ITX section just below it. Dust filters are something I would expect in such case — it's obvious what's it preventing right? Door hinges are stiff and easily taken off, though I'd rather release the door than hinges themselves. In the main system compartment you can install additional two 120 mm fans (five included), in the secondary area you can put one 120 mm fan along with 80 mm fan in the back.
I almost forgot to show you PCI card installation mechanism. It's totally tool free, but if you want you can secure it with additional screw, but for the most part it won't be necessary unless you have dual slot card, then that would be wise to do.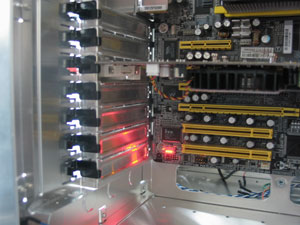 Internal design is quite interesting especially when thinking of secondary system, ten 120 mm fans and plenty of space left for optical devices or other optional gadgets such as 7″ retractable LCD monitor which fits into Mozart TX without saying anything. Do you need more proof that this case is designed for enthusiasts and home entertainment freaks? We have plenty more, just keep on reading.
Installation
I've completed my system swap in less than two hours. That may seem quite a lot, but consider I had to check every piece of the puzzle as this is NOT your standard tower case. It hides a lot of cool solutions, not to mention I had to make those pictures 🙂
Click a picture to see a larger view

---






---
First I pulled everything out of the old case. Then it had come to my attention it's going to be hard completing this procedure with left door open (they only swing 90 degrees). I had to take off the doors to ease the pain. Second I grabbed some mylars and stickied it on the motherboard tray to prevent any short circuit. Everything was going dandy until I positioned the board and found the bottom fan was in the way. Actually I believe it's not Thermaltake's fault, but DFI's. The board I've used was LanParty nF4 Ultra-D which uses Karajan audio module as seen on the second picture — I don't think this solution is entirely ATX compliant.
Now the fun part starts, installation of VFD module. Of course you can put it inside 5.25″ bay, but why do that when you have the dedicated space for it? The next two pictures show cables going through the VFD and front I/O to the mainboard. I've had a few problems mostly dealing with cables and front bezel not completely letting it lock in place. It took me some time to get all the cables through the case and down to the motherboard. Make sure you watch the blue cables when closing the front bezel, they sometimes get in the way and you may accidentally cut them.
Hard drive installation was quite easy. You put the drive in and screw it with the included screws. They are not your regular screws so have this in mind. The rubber rings (grommets) are there to reduce vibration from the HDs or other drives. Last thing was locking in place optical devices which was an irksome task. Thermaltake should have done a better job with this "tool free" solution. Put it this way, I've seen better mechanisms in cheaper cases. It's not awful, but neither is it brilliant.

Usability & Soundgraph software
Yes, the case is usable, but only with optional VFD panel and included software. Otherwise it just stands and looks dull. If you like watching TV, movies, photos or listening to music without having to click your mouse this is where it happens.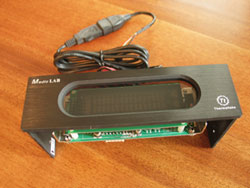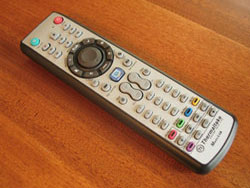 click on the image to enlarge
This Media LAB module and remote control were designed over at
Soundgraph
a company specializing in providing multimedia products and services. Consider this VFD a control center and the above remote a controlling device. The iMON panel seen above gives you ability to do everything with single remote control. If you'd like you can sit on your bed / sofa and do a lot of interesting things, including web browsing.
Software included is called iMEDIAN and provides the user with capabilies to do just everything.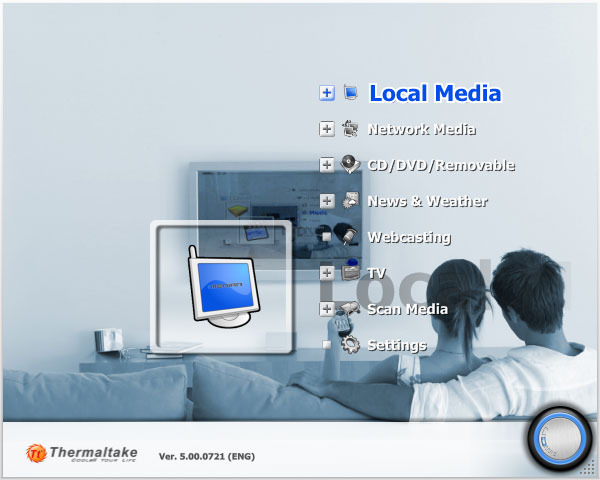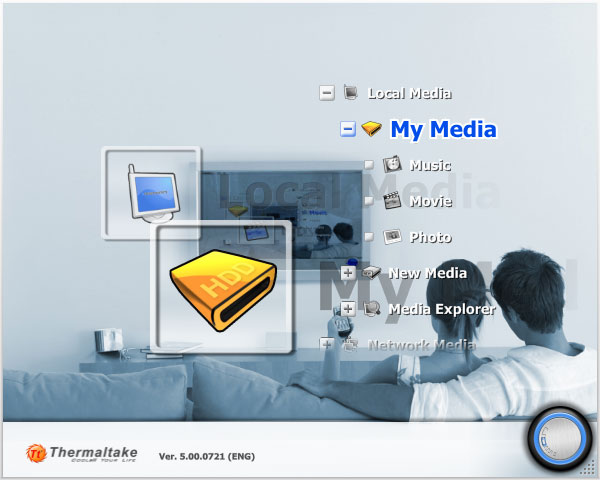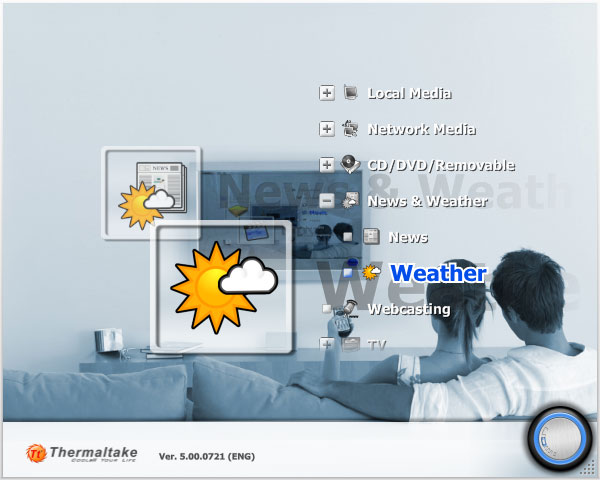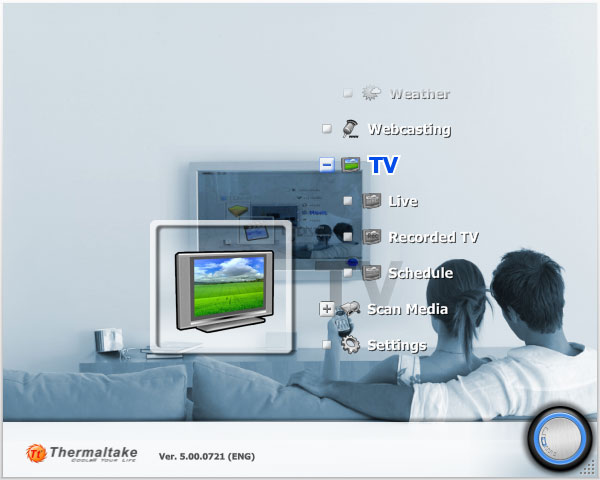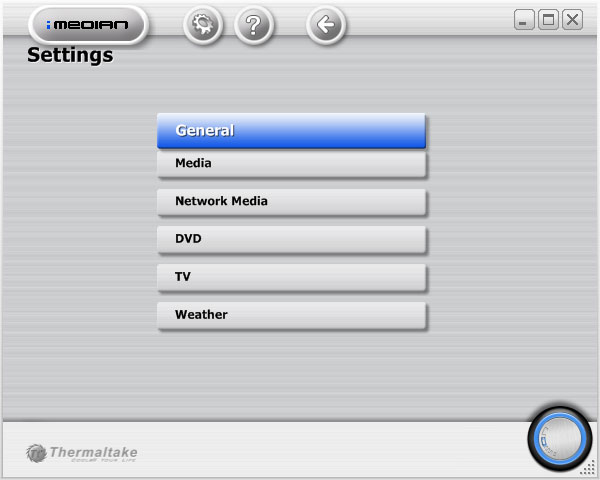 click on the picture to enlarge
When we hit iMEDIAN button on the remote control we are presented with the main screen (1st image). Software is intuitive so no explanation is necessary. There you can set your options and other settings as you please. How do you navigate it? Simple, just use your remote control 🙂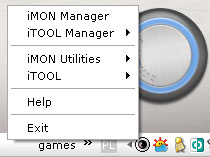 iMON system tray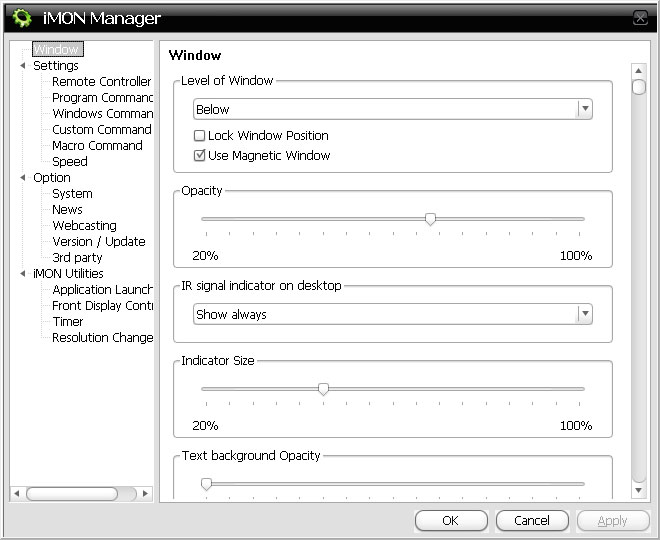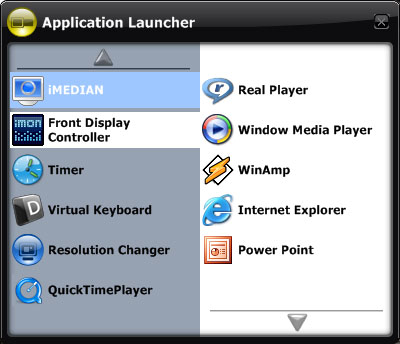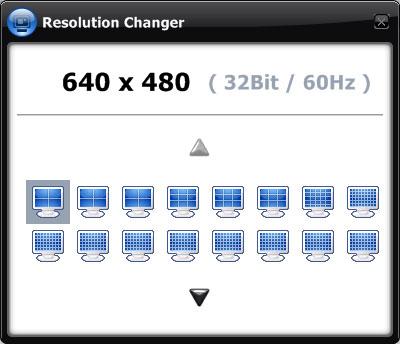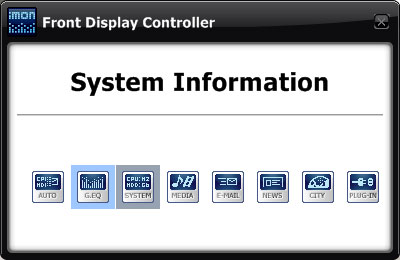 click on the picture to enlarge
Above you have more options to set from Windows level. Next is Application launcher, resolution changer, front display controller and more. Everything under your fingertips.
Final Thoughts & Conclusion
A lot can be said about Thermaltake's newest offering. Looking at the design, it's something we haven't seen yet in terms of proportions and size (except for Tai Chi, but that was really a server case). Research & development team did a magnificent job thinking outside the box and just brainstorming every idea they came up with. Mixing two different enclosures, PC and HTPC, the design team built a very unique case for both enthusiasts and home theater entertainment folks. The case does look abnormal, but what is normal in the first place? Is it tall? Yes, but it's not taller than super tower cases. Is it wide? No! Is it deep? No! Size is definitely not a con here. Its cube like design paid off. The case looks very aesthetic, slick, trendy, clean and most importantly friendly to any environment. Ten fans maybe a bit loud, but the included five do not bother that much. Hell, if you want you don't need any of them because Mozart TX has been so well designed its ventilation schematics and FOUR separate compartments give it maximum airflow with or without the fans.
Space was something I worried about. Face it, it's only 36 cm deep though it holds two complete systems (primary A(B)TX, secondary Mini ITX) and optional accessories including 7″ LCD screen. Additionally you have FIVE 5.25″ drive bays and SEVEN 3.5″ bays. I have not found any major problems with the case except for incompliance with DFI's nF4 series of motherboards which use Karajan audio module. I won't count it as a con though as Mozart TX is fully ATX, BTX, ITX compatible. It's something DFI has to consider, not Thermaltake though I've notified them about this situation.
Without Media LAB VFD, remote control or Soundgraph software, Mozart TX would be boring. With those three items you can do so much more than just holding two independent systems and having watercooling kit. If you are tired of desktop (horizontal line) Home Theater PCs and want more than just HTPC case, Mozart TX should be your object of desire. Its clever and neat design sends shivers down my spine every time I look at it. Can you withhold from not buying it? I think not as I would like to recommend it as my top pick of the year. By the way do not buy it without the Media LAB item, it's a marvelous addition. You can buy Mozart TX now for as low as $217 green.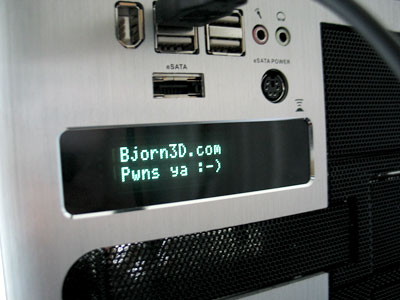 Pros:
+ Cube like slick design
+ All aluminum (VE1000SW(N)A only)
+ Excellent build quality
+ Plenty of space inside
+ Included five 120 mm fans
+ Can hold two independent systems
+ Two side panel doors with windows
+ ATX, BTX, ITX compatible
+ Optional 7″ retractable LCD display
+ Optional Media LAB panel + remote control
+ Designed to hold watercooling kit
+ Very good ventilation
+ Rubber rings to decrease HD vibrations
+ eSATA

Cons:
– Very minor, not worth mentioning again

Because I've had so much fun reviewing and playing around with Mozart TX it gets the rating of 9.5 (Very Good) out of 10 and Bjorn3D Golden Bear Award