Not veryone can afford one of the latest and greats video cards. We have tested the HIS X1950 Pro to see what it can offer for the price-consious gamer.
INTRODUCTION
Even though I am sure most of us would love to be able to buy one or two X1950XTX or GeForce 8800GTX cards, the hard reality is that we cannot afford to. We have to look to a cheaper alternative that still hopefully will perform well enough.
One of these cheaper alternatives is the Radeon X1950Pro. This is basically a cheaper X1900GT with faster clocks and internal Crossfire support.
Today I am testing the HIS X1950Pro IceQ3 Turbo. As the name implies this is the version from HIS that uses the excellent IceQ3 cooler instead of ATI's noisy reference-cooler.
FEATURES AND SPECIFICATIONS
The X1950Pro uses the R570 chipset (which is based heavily on the R580 chipset) and is done by an 80 nm process.
Let us first look at the specifications for the X1950 Pro.
| | |
| --- | --- |
| Feature/Specification |  HIS X1950Pro IceQ3 Turbo |
| Chipset | RV570 |
| Pixel Pipelines | 12 |
| Vertex engines | 8 |
| Fill Rate | 22.3GPixel/s |
| Memory Size (MB) | 256MB |
| Memory Type | GDDR3 |
| Engine CLK (MHz) | 620 (Turbo) (RivaTuner measured 630 Mhz) |
| Memory CLK (MHz) | 1480 |
| Memory Interface (bit) | 256 |
| Memory Bandwidth | 37.8GB |
As you can see it is quite similar to the X1900GT. The HIS X1950Pro IceQ3 Turbo is actually clocked a bit higher than the regular X1950 Pro. In fact, it was even clocked higher than HIS claims it should be. According to RivaTuner the card was clocked at 630 MHz instead of 620 MHz. It still was stable so see this as an added bonus. Thankfully HIS has moved away from using a special overclocking application and instead just clock the cards at their target speed right away.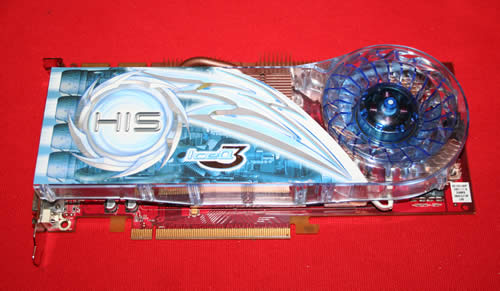 The main features of this card are:
Internal CrossFire support
Finally! One of the main complaints of Crossfire is that you had to use the huge dongle-cable as well as a master card and a slave card. This is due to a special compositing chip used on the high-end cards. On the X1950Pro the Crossfire support is integrated into the GPU. The card actually has two connectors on the top of the card, similar to a SLI-conenctor, which hints toward the possibility for daisychaining more than 2 cards.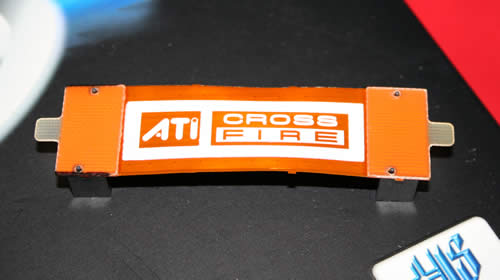 The crossfire bridge
ICEQ3 Cooler
The IceQ cooling system draws cool air from inside the case and exhausts warm air outwards. This prevents the fan from recycling warm air to cool the VPU, which increases cooling performance and lowers the air temperature inside the case significantly. Even more important is that the card is very silent when doing it.
HDCP support
Earlier each board maker could choose if they wanted to let the video card be HDCP ready or not. This is changed now and the HIS X1950Pro is HDCP Ready which means it can produce a HDCP-signal if you happen to watch a Blue-Ray or HD-DVD movie on your computer. Unfortunately I have neither a Blue-Ray nor a HD-DVD drive so I cannot test this.
WHAT YOU GET
The card comes in a very nice looking black box with a huge IceQ3 logo on the front. It is quite obvious what the main feature is with this card.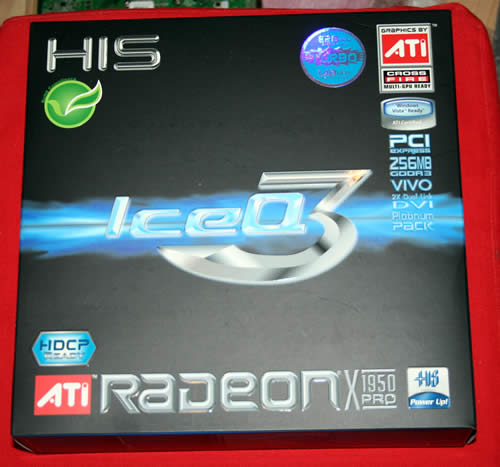 Inside we find the same things we always find when it comes to cards from HIS:
The card
VIVO Cable
HDTV Component Output cable
DVI to VGA Dongle x 2
FlatOut
Microsoft Dungeon Siege Full
CyberLink PowerDVD 7
CyberLink PowerDirector 5 SE Plus
CyberLink Power2Go 5 – CD
CyberLink [email protected] 3
GameShadow
The bundle is decent although both games, especially Dungeon Siege, are getting really old. The inclusion of a 2 channel version of PowerDVD7 is nice though.
THE CARD
If you read any of our previous reviews of HIS cards you know what to expect. As this is the IceQ version it does not use a standard cooler. Instead it uses the IceQ cooler from Artic Cooling. The cooler is translucent with a big blue sticker on it. The fans themselves are blue and glow nice in the dark when running.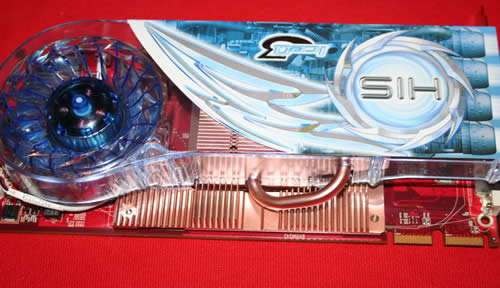 The memory chips all sit on the front of the card and have heatsinks on them.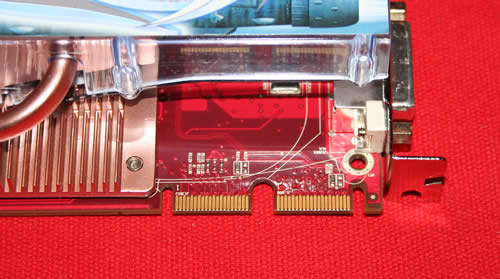 Crossfire connectors
In the back you find a PCI-E connector.
The card has two DVI-D connectors as well as a video connector for either S-Video Out or Component Out (HDTV).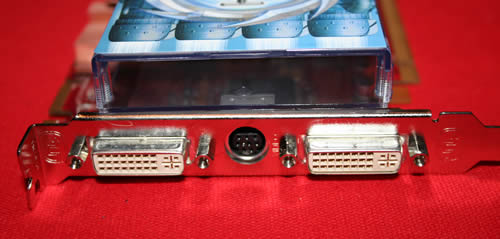 TESTING – THE SYSTEM AND THE BENCHMARKS
The test system consisted of the following hardware.

Test System 1

CPU 
Intel Core 2 Duo [email protected]

Motherboards

ASUS P5W DH Deluxe

Memory

Corsair XMS2 Xtreme 2048MB DDR2 XMS-1066

HDD

1×80 GB EIDE, 4×320 GB SATA

Video cards

HIS X1900XT (Cat 6.11)
HIS X1950Pro (Cat 6.10)
HIS X1650XT (Cat 6.11)
Reference X1800GTO (Cat 6.11)

I had to use a version on HIS driver CD to get the X1950Pro to work. The 6.11 Catalyst do not seem to have support for X1950Pro yet
I choose to benchmark the video cards with the following programs.

Software

3Dmark05 
Default

3Dmark06

Default

FEAR 1.08

Everything maxed out, Soft shadows On
4xAA, 8xAF

Company of Heroes

Everything maxed out, 4xAA, 16xAF

Quake 4

Ultra quality, 4xAA, 8xAF
TESTING – 3DMARK05 AND 3DMARK06
3DMark05 and 3DMark06 are synthetic benchmarks developed by Futuremark. The measurement unit "3DMark" is intended to give a normalized mean for comparing different GPU/VPUs. They has been accepted as both a standard and a mandatory benchmark throughout the gaming world for measuring performance.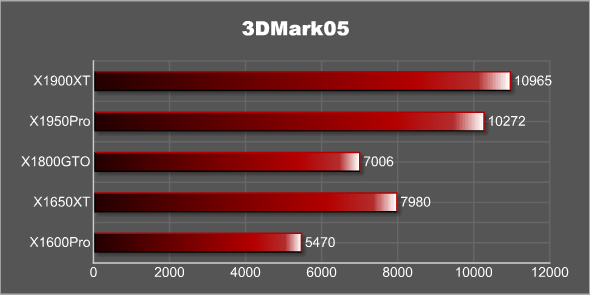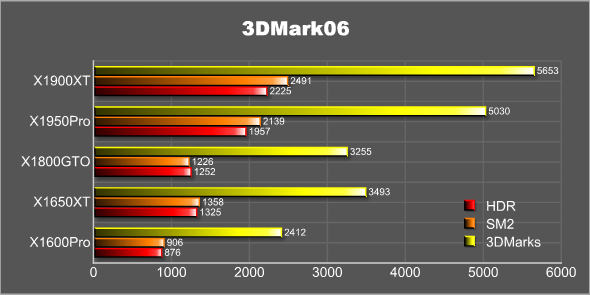 Both in 3DMark05 and 3DMark06 the X1950Pro trails quite close behind the X1900XT.
TESTING – FEAR
F.E.A.R. (First Encounter Assault Recon) is a first-person shooter game developed by Monolith Productions and released in October, 2005 for Windows. F.E.A.R. is one of the most resource intensive games in the FPS genre of games ever to be released. The game contains an integrated performance test that can be run to determine your system's performance based on the graphical options you have chosen. The beauty of the performance test is that it gives maximum, average, and minimum frames per second rates and also the percentage of each of those categorical rates your system performed. F.E.A.R. rocks both as a game and as a benchmark!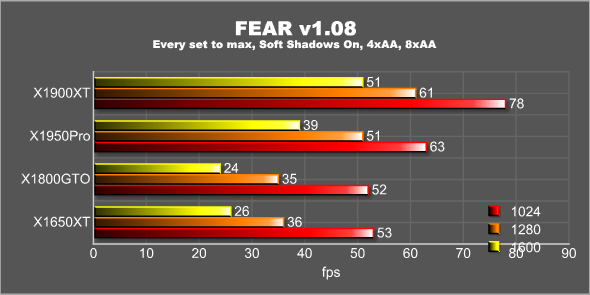 I've tested the cards at as high quality as possible to really push them. Even so the X1950Pro manages to produce playable framerates up to 1280×1024.
TESTING – COMPANY OF HEROES
Company of Heroes(COH) is a Real Time Strategy(RTS) game for the PC, announced on April, 2005. It is developed by the Canadian based company, Relic Entertainment, and published by THQ. We gladly changed from the first-person shooter based genres of the rest of our gaming benchmarks to this game which is RTS. Why? COH is an excellent game that is incredibly demanding on system resources thus making it an excellent benchmark. Like F.E.A.R. the game contains an integrated performance test that can be run to determine your system's performance based on the graphical options you have chosen. It uses the same multi-staged performance ratings as does the F.E.A.R. test. We salute you Relic Entertainment!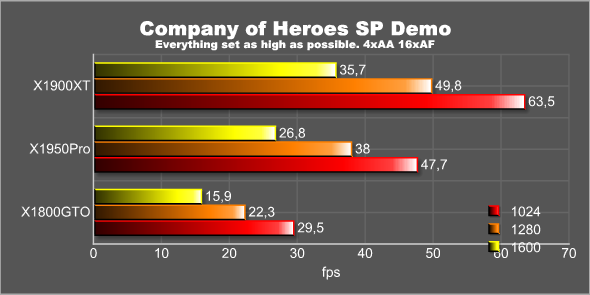 We again pushed the cards as hard as possible and set every slider as high as possible. The X1950pro lags behind the X1900XT when increasing the resolution but still produce playable framerates at 1280×1024.
TESTING – QUAKE 4
Quake 4 was released to gaming world in 2005 the year after Doom 3 by Raven Software. It uses the highly touted Doom 3 engine in its operation which means it also functions with the OpenGL API during rendering. Quake 4 and Doom 3 are two highly touted benchmarks that have lost little popularity since their inception.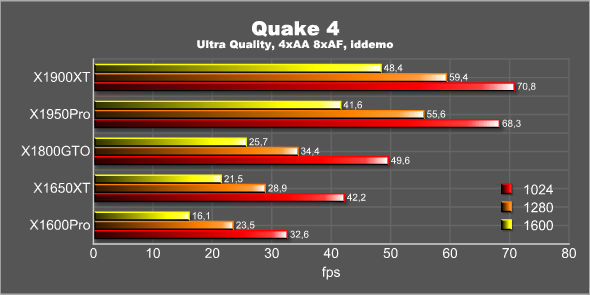 The X1950 Pro performs well in Quake 4 trailing quite close behind the X1900XT.
CONCLUSION
With the release of DX10 next year and the fact that NVIDIA already have announced their first DX10 cards, which also happened to be kick-ass, the question is if there is any reason to buy a DX9 card today. It isn't as simple to answer that as you might think. DX9 cards will of course still run under Vista and right now there are no indications that there will be any DX10-only games for quite some time. The DX10 cards we have seen now also cost an arm and a leg and even though I am sure that we will see cheaper DX10 cards in the long run there is no telling when that will be.
The X1950Pro is a very good mid-range card. It offers an excellent performance/price ratio and as it is an ATI card comes with excellent image quality. The HIS X1950Pro IceQ3 Turbo comes with an excellent cooler that both keeps the GPU cool as well as keep the card silent. The fact that you also can Crossfire two of them without the need for a dedicated Master card or a huge dongle is another plus, especially compared with a X1900XT which might be faster but is far less flexible when considering Crossfire.
Pros
+ Excellent price/performance ratio
+ Great cooler
+ Crossfire without a Mastercard or a huge dongle
Cons
– "Only" DX9
Summary: HIS X1950Pro IceQ3 Turbo is an excellent card that provides you with lots of performance for a reasonable price. The lack of DX10 support might be a turn-off but with DX10 still some time away in the future, no real info about any DX10-only games as well as no real mid-priced DX10 competitors available there is no reason to hesitate if you need a card now.

A award the HIS X1950Pro IceQ3 Turbo a 8.5 out of 10 and the Bjorn3D Seal of Approval.