Well known to computer enthusiasts and gamers alike, Lian Li has built a name based on performance and quality above everything else. Every single product released by Lian Li has had meticulous attention paid to details which the competition usually ignores. Clearly, there is no equal to Lian Li, especially in terms of construction and craftsmanship, but even the closest competitors have learned not to try and one-up Lian Li at their own game. In this review, the Lian Li PC-B20A (A for Aluminum Finish) mid-tower ATX computer case is up for close inspection. Labeled as part of the Classical Silent family from Lian Li, you will soon see if this should deserve to be your next investment.
Introduction
After building hundreds of systems over the past few years, I have developed a sense of what is manufacturers consider to be an acceptable product for distribution. While my experiences have ranged from products which were absolutely horrible in concept and production, to products which were carefully thought-out and produced, in the end the product is always less then satisfying. Very rarely have I seen a manufacturer take as much into consideration as I am pleased to see in the Lian Li products.
Well known to computer enthusiasts and gamers alike, Lian Li has built a name based on performance and quality above everything else. Every single product released by Lian Li has had meticulous attention paid to details which the competition usually ignores. Clearly, there is no equal to Lian Li, especially in terms of construction and craftsmanship, but even the closest competitors have learned not to try and one-up Lian Li at their own game. In this review, the Lian Li PC-B20A (A for Aluminum Finish) mid-tower ATX computer case is up for close inspection. Labeled as part of the Classical Silent family from Lian Li, you will soon see if this should deserve to be your next investment.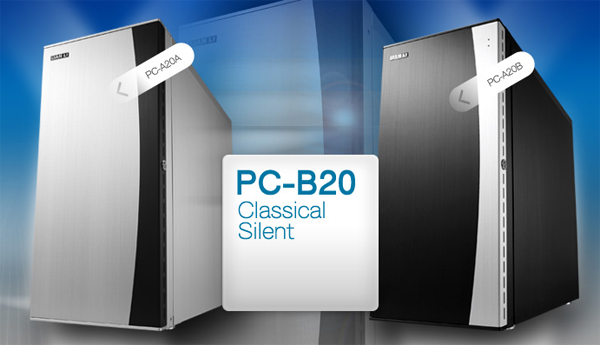 Lian Li PC-B20 Classical Silent Series
Over the past few months of reviewing products for Bjorn3d.com, it seems that I have created a name for myself as a case critic among manufacturers. While the PC-B20A is every bit better then the products in my past reviews, my drive to find those obvious (and hidden) design flaws has always inspired my review. Well, sadly this won't end today as I had hoped, as I have made sure to note every little particular thing I felt undesirable. But the good news is that my list is very short, and the PC-B20A is by far the best computer case I have yet to ever see produced. Suffice to say, this will be the case which I may judge others against in the future.
Like nearly every company who has made their presence known to the technology world in the past few years, Lian Li is a company based out of China. I am pleased by the competitive growth our Eastern neighbors have presented us in the technology markets, while at the same time I am very disappointed by the shear lack of skill and industrialism with which the West has met this challenge. Once upon a time the West was the driving force in technology and industry, but without skilled and driven individuals to push with force for the nation as a whole, competitors soon knocked us over and stood in our place. For this, I see a clear opportunity for Western manufacturers to take hold of any rooted patriotism and take back the industry with all of the competition it can handle.

Lian Li Industrial Co., LTD was founded in 1983. We are the one of the largest and most reputable manufacturer of aluminum PC case in Taiwan. With over twenty years of experience in the computer products field, our dedicated team of engineers, production specialists and administrative staff provide the finest quality accessories available on the market.
In 1993, Lian-Li Introduced the new lines of computer hardware, including bracket (for case & interfaces), Mobile rack (for H.D.D.), mounting kit (for FDD & HDD), aluminum PC cases, IPC, external cases, server cases and more. We also provide OEM & ODM services, you are assured of designs that will meet your exact specifications, and innovative ideas in manufacturing that will give your products an essential market edge.
Our outstanding quality has earned us ISO 9001 certification for all of our products. In addition, we back up our quality assurance with a two-year guarantee on most of our products.
R&D is one of the reasons why Lian Li is able to offer quality products to the market. Whether it is for OEM or ODM projects, our experienced mechanical and electrical engineers are capable of providing our customers with the best solutions in product design.
More details are available in the "About Us" section of the Lian Li web site.
Closer Look: Exterior
The Lian Li PC-B20A is an all-aluminum case with brushed aluminum finish.  Measuring 210mm Wide x 450mm High x 515mm Long, the PC-B20 series fits right into the ideal mid-tower ATX dimensions and should be large enough to still fit even the largest collection of hardware inside.  The PC-B20 series accomodates four 5.25″ bays, two 3.5″ bays, and three 3.5″ hard disk drives.
On the PC-B20A version there is a small section of black anodized aluminum which wraps around to form a second layer for the inside of the bezel door (see image at bottom of page).  From the front you will notice the very modest manufacturer's logo, which in my opinion should also include the green and yellow logo (as displayed in the introduction page).  There are very few stand-out features such as robot faces or large shaped vents in most Lian Li cases, and the PC-B20 series if no exception.  Designed to be elegant and classical, the external appearance is very simple and efficient.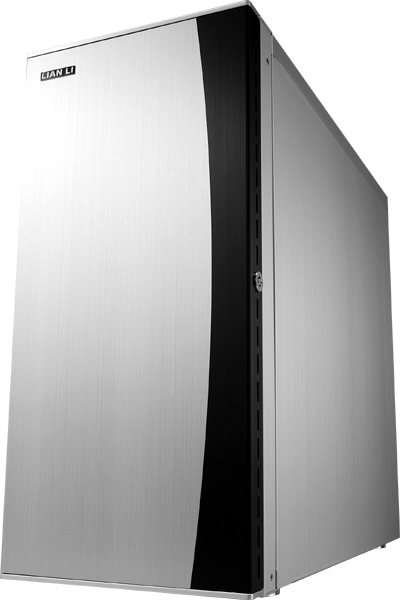 Lian Li PC-B20(A)
Shown for contrast, the PC-B20B version offers all of the same design features, with a color scheme which is directly opposite from the PC-B20A variant.  Looking closely, you can see the very small power and hard drive access LED's embedded into the bezel door at the upper-right corner.  Also notice a round key lock which secures this bezel door firmly onto the case.  Since the case is sealed for security, the only intake holes for fresh air are those found in the right side of the bezel door.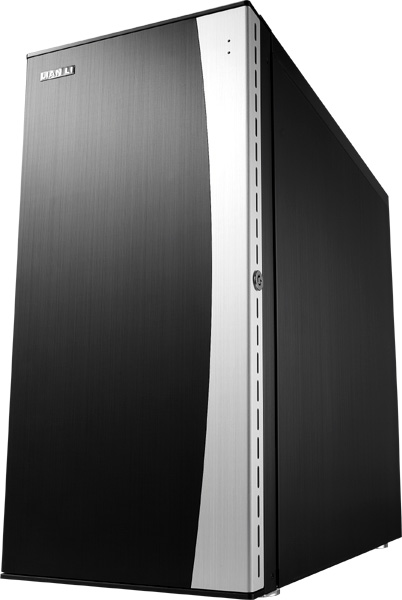 Lian Li PC-B20(B)
The bezel door has rubber foam insulating strips on each side, presumably to assist in keeping dust outside of the case.  Once the bezel door has been opened, the drive bays and switches are exposed.  All of the device bays have aluminum bay plates, which are easily removable and replaceable and match the finish.  If you prefer to remove the bezel door, simply remove three screws at both the top and bottom guide plates.  The bezle door is designed to lock and secure the unit, and the high-guage bezel assembly impresses that point.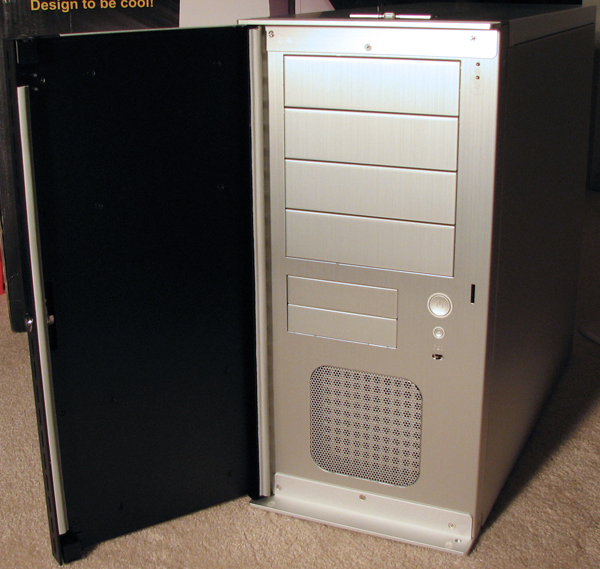 Lian Li PC-B20A: Open for Business!
Of the very few components which are not metal, there is the power button, reset button, and fan speed selector. While I feel that it is really very unnecessary to use aluminum for the buttons, I think that it would provide me with the comfort of additional detail as well as improved cleaning down the road. The reset switch is very small, if not tiny, and no wider then a pencil eraser. I suspect that nobody will be bumping the reset switch by accident.
Also revealed behind the bezel door is the filtered intake for the included 120mm hard disk bay cooling fan.  You will see more on this throughout the Closer Look: Internal section of this review.

Switches
One of my first noted discrepancies is the use of a very small and cheap fan speed selector switch.  If you can hardly see it in the images above and below, I am not to blame.  This switch is no larger then the tip of a toothpick.  It has three speed steps, which are labeled 3-2-1 on the top row and L-M-H on the bottom row; which are also very difficult to read even in person.  This is clearly a design flaw, considering that it takes away much of the effort to distinguish this case with a cheap mismatched part.  My suggestion is to design an inexpensive cap, possibly aluminum, which can fit directly over this switch.
Probably more of a personal choice dependant upon where you position your computer, the I/O panel is located at the forward top of the PC-B20 series.  This I/O panel features two USB ports, one IEEE-1324 FireWire port, and both headphone and microphone jacks.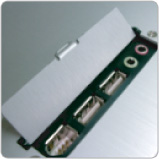 Top I/O Panel
Since this case is secure when it is locked down, it seems ironic that an major access point such as the I/O panel is not kept from reach.  However, it is understood that if someone has the means to access your computer, it wouldn't take much effort to reach around the back.  Speaking of back…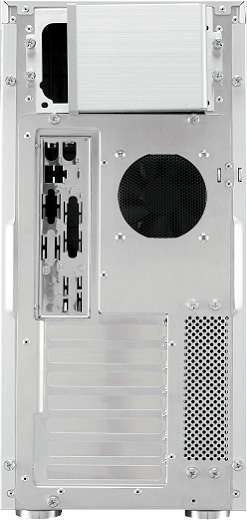 Shiny Backside.
The back of the Lian Li PC-B20A is where I discovered much of my delight in this case.  With a nearly tool-less design all around the case, the back of the case is comprised thumbscrews.  Describing to you the features from the image above, I will work from the bottom of the case up towards the top.  Part of the functionality in this case is derived from an improved cooling design.  While I will pick apart Lian Li's theory on case cooling later, the first details you see are evident from the back. 
Four very sturdy cushion feet support the weight of the PC-B20A, and make it very difficult for the case to slide around from its base.  These round feet even maintain appearances with a very nice polished aluminum treatment.
The VGA fan shroud exhausts heated air from a tall narrow opening closest to the access door.  Since most video cards are still recalculating their heated air inside the case, this feature should prove valuable for most users.  Even users of the newer GeForce 8800 series will see benefits as this VGA fan draws air past the large heatsink system.
Directly above this VGA fan is an 80mm intake fan which is intended to draft cool air to the CPU.  I see this as a partial design flaw, primarily because heated air from the VGA fan will rise and be sucked into this fan.  I choose to later remove and replace the fan so it exhausts heated CPU air out the back of the case.  While my testing showed no real evidence to quantify a clear advantage, the same could be said about a disadvantage.  One thing was certain though, some air circulation is better then none.  If I were to impart another design suggestion to the engineers at Lian Li, it would be to resist reinventing the wheel and simply use another 120mm fan identical to the VGA fan.  It would be quieter and move more air.
Finally, you will notice that covering the power supply exhaust area is an aluminum shroud which channels the heated power supply exhaust to the access panel side of the case (right in the image above).  I am unsure how well heated air will want to travel horizontally since it naturally rises vertically, but if anything it adds a bit of fashion while (attempting) to improve function.
Closer Look: Interior
Removing two thumbscrews will allow you to slide each of the access doors back, and then up and away from the case.  Once you open the Lian Li PC-B20A, you are welcomed into a whole new world of precision machined aluminum.  I was honestly taken back by the sheer attention to detail and fine craftsmanship.  It helps that every single component inside is fresh and clean, without so much as a fingerprint.
Lian Li PC-B20(B) Inside View
Certainly, I am impressed.  While I found very few disappointments in the exterior design, the interior is nearly flawless.  Both doors and the top panel have noise cancelling material applied to them.  Every internal piece and section can be easily removed by thumbscrews.  All four of the 5.25″ drive bays use tool-less design to secure each device into place, and removal is as easy as lifting the plastic retaining tab.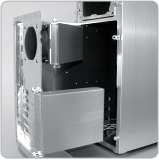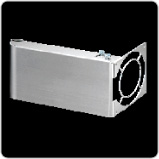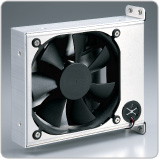 Engineering: Features That Work!
While many try, most fail when it comes to making component access a convenient endeavor.  By far my most favorite feature is the ability to slide the entire motherboard tray assembly out the back; and all by removing four thumbscrews.  Additionally, the fan shroud for the CPU is an effective method to help cool the processor and surrounding devices.  Using a series of thumbscrews, you can create a custom angle for the shroud.  Ideally, Lian Li designed this 80mm fan to take in air from the backside of the case and use the shroud to shape and focus the incoming current.  While this works, I noticed that my power supply unit began to practically breathe fire with all of the heated air coming from it.  In the end, I used the 80mm fan and shroud to draw heated air away from the CPU and out the back of the case, together with the VGA fan.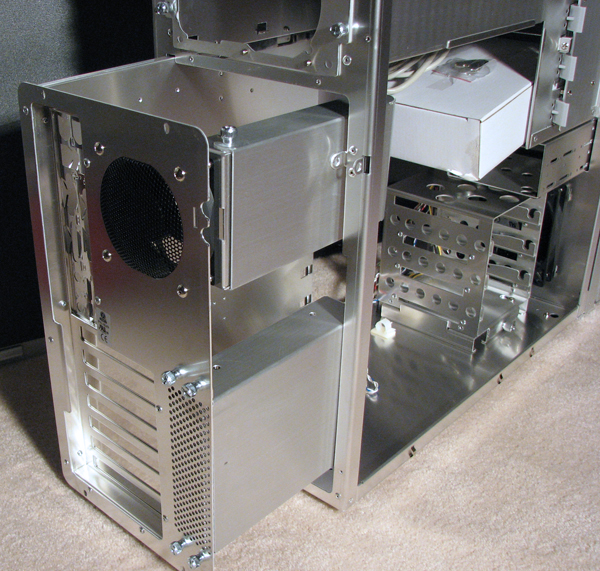 Easy Motherboard Installation
This feature proved invaluable since the initial motherboard I used for this review had to be removed and replaced.  For users requiring hardware security and tamper prevention, the motherboard tray can be locked using the designed latch system along with a padlock.
Attention to Detail: The Engineering Marvel
Since this is the first case I have ever reviewed which came with sound dampening material pre-applied, I am very impressed.  This was probably a very inexpensive feature to add, and yet so many manufacturers overlook it.  While the Lian Li PC-B20A is very quiet with the fans on their "low" settings, I found that the sound dampening material really made a noticable difference.  Once the VGA fan was set to "high" it raised the noise level enough for the dampening material to really play its role.
At the same time, Lian Li goes to the design table thinking outside the box; or perhaps it could be said that they are thing about what to put into the box.  Notice how even the 120mm VGA fan is a remarkable example of taking a little extra step to reap big benefits.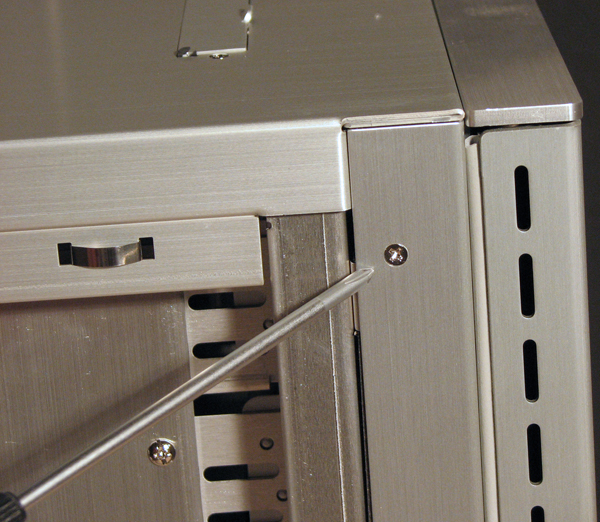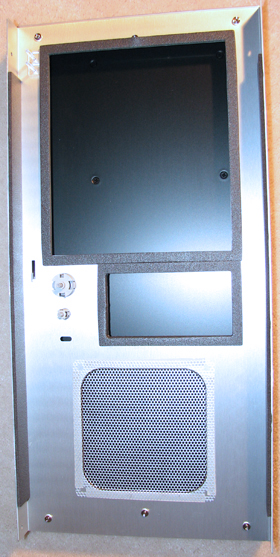 Remove Four Screws for Drive Bay Access
 Although I am certain that the front bezel assembly utilizes four corner screws for removal instead of some tool-less mechanism to maintain system integrity and security, I was brought down from my euphoria.  After seeing how easy other manufacturers have made it to access drive bays (see my other reviews such as the NZXT Adamas), I was a little disappointed that Lian Li made it troublesome to swap out devices.  After all, what's the point of easy release 5.25″ device tabs if you have to take the time to unscrew and remove the front bezel?  It seems like this was a compromise between convenience and security, and one that I won't hold against Lian Li.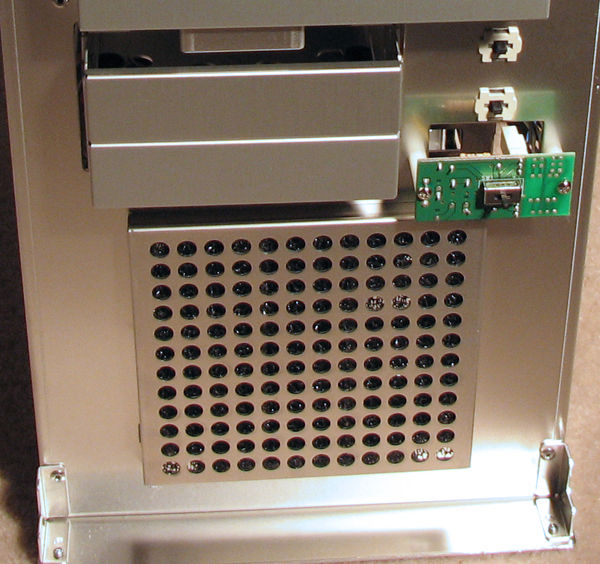 Front Access
Above is a more detailed image of the front access.  The coarse media filter allows ample airflow while keeping larger particles and debris from entering the case.  I cannot help by notice that the fan speed selector switch is still every bit as miniscule as the pins for the power and reset buttons in this close-up image; something that should have received a bit more attention by designers.  Ok, I'm sure you get my point.  I'll leave it alone now.
For reference, Lian Li did their design homework with regards to structural integrity.  This is no aluminum can, as you can see by the reinforced elbow joints at the lower corners.
Closer Look: Interior Details
Lian Li has already sold me on their PC-B20A case.  Just looking at this case would convince even the most die-hard enthusiast that only the best components are nestled inside.  Finally, even I can enjoy a case that lets my computer look as fast as it actually runs.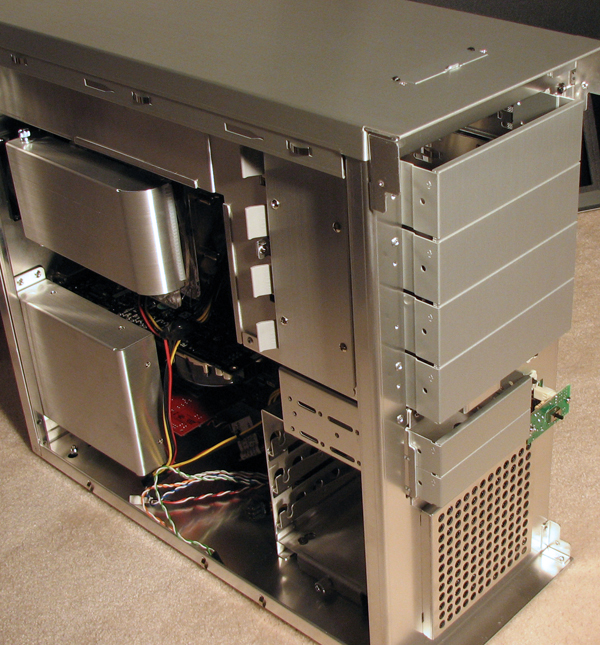 Brushed Aluminum Never Had It So Good
Perhaps my admiration for the Lian Li PC-B20A is partially due to my consistent use of painted or anodized black computer cases.  On the other hand, even if this case were painted pink I might still find great appreciation for the subtle design and thoughtful engineering.  Even a half-naked PC-B20A still looks good, as proved by the image above.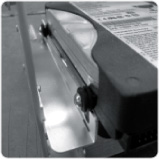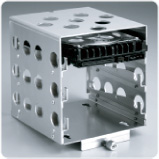 Hard Disk Drive Grommet Mount System & Rack
My vote is still not in regarding the choice Lian Li has used for mounting the hard disk drives in the PC-B20A.  To begin with, the hard disk drive rack can accommodate no more then three disks.  Each disk must have four screw and rubber grommets placed at the mounting corners, and then you press the drive assembly into place inside the rack.
This design offers some convenience, since removing the drive is the simple matter of unplugging the power and data cable.  However, the screws and grommets must both be removed if the drive is to be installed elsewhere.  It seems like the tab system which Lian Li utilized to hold the 5.25″ devices in place could have been designed to work with hard disk mounting as well.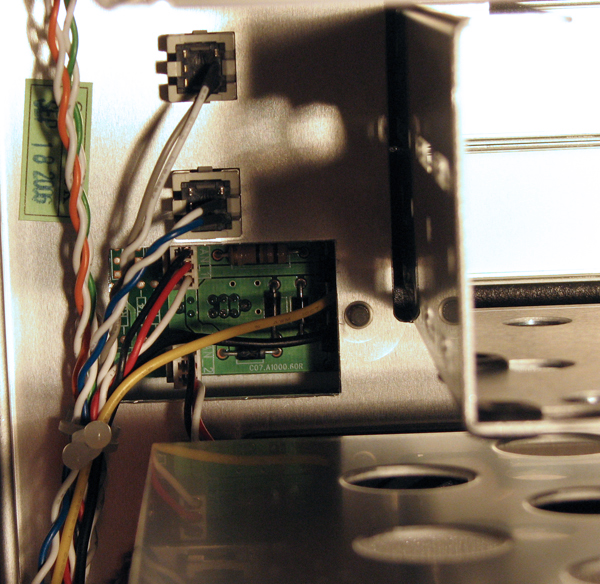 Fan Speed Controller Connections
One item of interest is the connection side to the fan speed controller.  From the front we brought attention to the fan speed switch, but behind that simple switch is what I would consider a redeeming quality.  Since Lian Li has included two fans in the PC-B20 series, one 120mm VGA fan and complimentary 80mm CPU fan, it seems very appropriate to have the fan speed controller switch offer support for both fans.  In my configuration, I found that the 80mm fan was remarkably quite at every setting, whereas the 120mm VGA fan could be a little loud at full speed.  In the end I plugged the CPU fan directly into the motherboard for full power at all times, but the VGA fan was kept on a leash so I don't have to tell it to quite down.
Fit & Finish
For some people, building a computer means piecing together all of the components, pressing the power button, and having a good time.  For someone like me, who must use and abuse a new product every few days, building a computer is a very constant chore which has become part of the job.
The thrill of building a computer is nearly dead inside of me. I still enjoy it, but I have a hard time approaching it like Christmas morning as I once did. Somewhere between my hundredth workstation with bad RAM or motherboard, and the inconsistently failing hard disk drive, I have begun to look at building systems from a perspective of making life easier. Thankfully, Lian Li is aware of people like me, and has made a great effort to keep maintenance chores as pain-free as possible.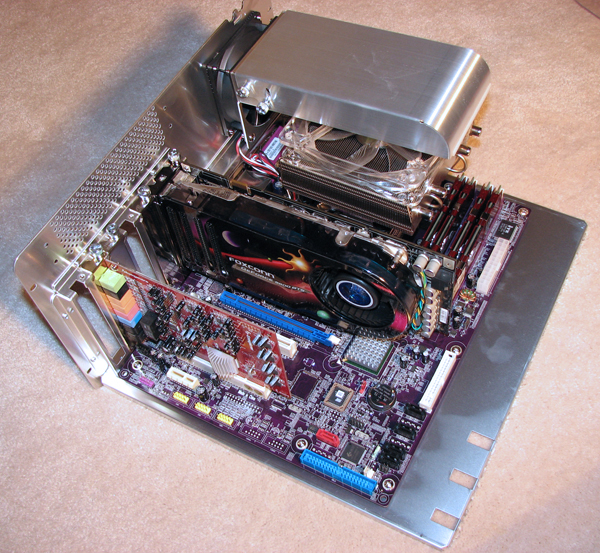 Test Subject #1 (Click for Large Image)
During my writing of this review, I decided to pair the Lian Li PC-B20A with a particular motherboard I was also set to review.  Well, thanks to Murphy's Law the motherboard was non-operational, and I had to remove and replace it.  Normally, this task would consume nearly an hour after removing all components and re-routing the wires, but with the convenient sliding tray and tool-less design I was able to complete the motherboard swap in under twenty minutes.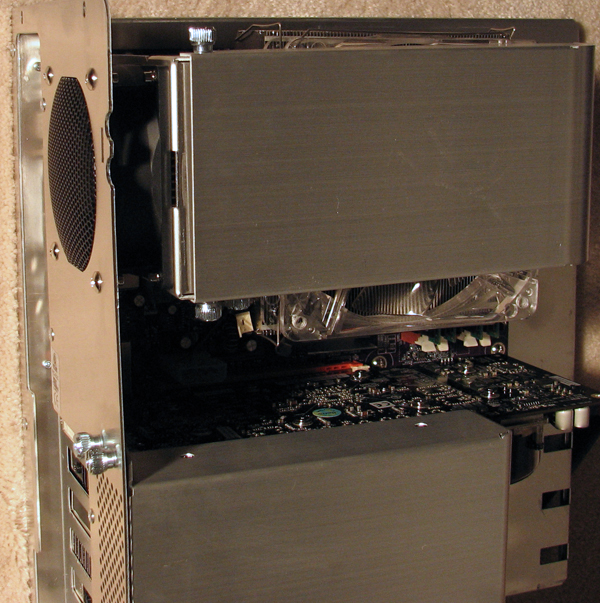 80mm CPU Fan Shroud and 120mm VGA Cooling Fan Channel
During my evaluation of the two unique fans designed into the PC-B20A, I experimented with the airflow direction for the CPU fan.  It seems that the 120mm VGA fan isn't moving quite as much air as I thought, which may prompt replacement if you require additional video card cooling.  The light airflow, even on the highest fan speed controller setting, pushes a slow steady stream of heated air from the vents.  Since heated air rises, and the CPU intake is directly in the path of this heated air, it made better sense for me to turn the fan around and make it gather heated air from around the CPU and vent it out the back as well.
As I mentioned previously, it would have made a lot more sense to me for Lian Li to put another 120mm air box in place of the 80mm fan with CPU shroud.  While I am suggesting changes, the length of the existing 120mm VGA fan box is a bit short and should be extended by another inch or more.  Since there is room for it, perhaps both of these fans and their respective housing could be removed and have a larger single fan box in their place.  These ideas might work, but I'm a product analyst, and not a Lian Li engineer.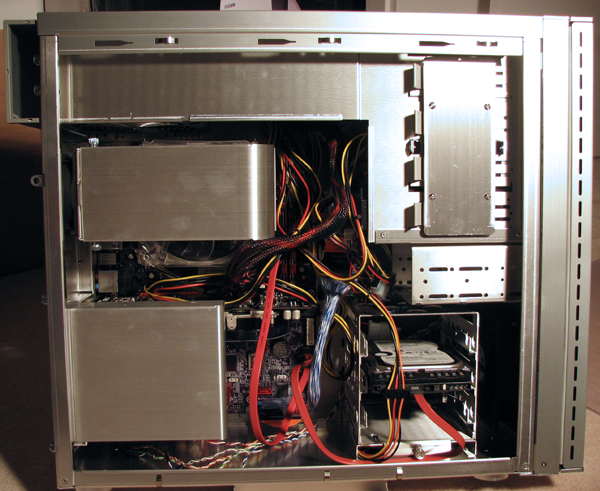 Ready for Action! (Click for Large Image)
With the exception of the single optical drive which required that I remove the front bezel to remove the drive bay plate and install the drive, the Lian Li offers a tool-less design.  In the future, I will not need to remove the front bezel, so the tabbed release system should complete the theme of hands-on construction.
Even though I washed my hands, my finger prints were beginning to show themselves all over the aluminum.  I eventually wore my soft cotton gloves, but it was too late to save the pristine appearance.  Some glass cleaner worked well to polish everything back up like new, but perhaps a pre-treated cloth will be the next accessory item to accompany Lian Li cases.
Final Thoughts
It doesn't take very long to see that Lian Li is not just trying to make a fast dollar by selling mass products to consumers. The PC-B20 series are fine examples of what a case should be to begin with. Every case I will see after this point will be measured against this one. Unfortunately, even the best designs have to make some sacrifices, and the PC-B20A is no exception.
The fine aluminum finish is best served in the PC-B20A, but if you are really in love with the color black, you should invest into the PC-B20B version. Both versions offer the same great features, such as the slide-out motherboard tray and hard drive rack, so it really comes down to personal preference. However, I must mention that I did notice how my standard black DVD-R/W drive seemed to detract from the fine brushed aluminum appearance of the front bezel. If Lian Li had designed the PC-B20A to include an all black bezel, but keep the bezel door and sides all as they are now, this would be much more color compatible.
In regards to performance, there is really not much to compare a case like this to. For the sake of comparison, I began with all of the components inside the NZXT Adamas, recorded temperatures, and then built the system into the PC-B20A. It really isn't fair to compare the PC-B20 series against anything else in the universe of computer cases; It is very much the same as pitting a Honda against a Porsche. For this very reason, I didn't go into great detail comparing inside system temperatures; although I did measure. When the dust cleared, the Lian Li B20A produced 1-2° C improvements for most recordings over the NZXT Adamas, despite the Adamas having a total of four 120mm fans cooling it.
It should be noted that there are not too many cases which incorporate the 120mm VGA cooling box or 80mm fan shroud systems as I have seen in the PC-B20 series. I believe that by having the 80mm CPU fan collect and exhaust heated air may yield improvements over the stock intake design – even if I couldn't get the numbers to concur. It appears as though there is still plenty of real estate available for improvements, and the serious case modder, gamer, or even computer enthusiast, will ultimately find that the PC-B20A allows for future remodeling with 120mm cooling fans at the top, bottom, and possibly even the side of the case.
Conclusion
For once, I am pleased with the final product.  It is rare that I make such blanket statements, but I can proudly recommend the Lian Li series of cases over all of the competition, with special recommendation for the PC-B20 series.  At the time of this writing, both versions of the Lian Li PC-B20 series (PC-B20A or PC-B20B) start around $170.  While this price is clearly on the high side, I am here to convince you that it is worth every dollar.  Buy it, and you will be convinced yourself.  The looks are astonishing and incomparable, the performance is top class, and the features are going to spoil you.
Sure, I have my reservations about a few small details, but if the worst thing I could find is a poorly sized fan speed controller switch, then you will not be disappointed.  Keeping in mind that I was hard pressed to discover any major flaw, it all came down to a few very minor issues that kept the Lian Li PC-B20A from getting a perfect score.
Pros:
+  Uncompromised quality control
+  Research & development shine through
+  Features will spoil you!
+  High strength full-aluminum construction
+  Plenty of working room 
+  Sound-dampening material on top and sides
+  The new measure for cases to follow 
+  Sliding removable motherboard assembly
Cons:
–  Expensive.  Worth every dollar, but still expensive.
–  Fan speed controller switch needs to be redesigned
Final Score: I award the Lian Li PC-B20A with a 9.0 (great) out of 10.0 and the Bjorn3D Golden Bear Award.  If you have the money, you should begin shopping for this case.
Special Thank-you:
This review would not be possible if it weren't for manufacturers like Lian Li who are willing to stick their neck out there and have a picky hardware analysts like me dissect their products.  Of course, I get the feeling that Lian Li wasn't too worried, but I am grateful, and certainly appreciate the opportunity.
I also appreciate and thank Hampton Technologies, Inc for providing this product for review and Hank Baron at Performance PC's, Inc. for his coordination. This case is available through Performance PC's website should you be interested.