You can't win the hearts of computer enthusiasts, system builders, and hardcore gamers by simply releasing one good product and calling it quits, so it's a good thing that companies such as NZXT have built a reputation based on releasing one great new product after another. In this review, the brand new Adamas completely aluminum mid-tower ATX case from NZXT's Classic Series will be put under the microscope and be completely dissected.
Introduction
You can't win the hearts of computer enthusiasts, system builders, and hardcore gamers by simply releasing one good product and calling it quits, so it's a good thing that companies such as NZXT have built a reputation based on releasing one great new product after another.  In this review, the brand new Adamas completely aluminum mid-tower ATX case from NZXT's Classic Series will be put under the microscope and be completely dissected.
Latin adams, adamant-, from Greek, unconquerable, impenetrable, hard. A legendary stone of impenetrable hardness, formerly sometimes identified with the diamond.
Introducing the Adamas, the luxurious high end chassis from NZXT. crafted from 3mm and 2mm aluminum this chassis can support well over 300lbs. The Adamas features a patented tooless technology for the front and side panels and unique finned drive bays for added cooling. Both the extruded chassis and four stock 12cm fans makes for a superior cooling system.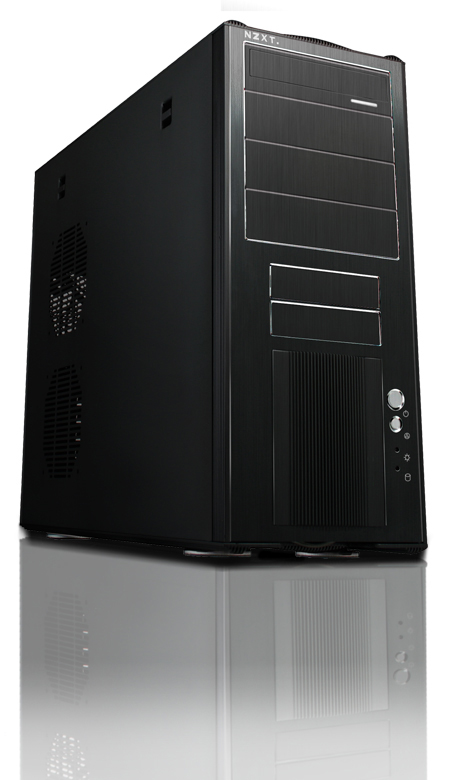 If it wasn't enough that NZXT is crafting some of the finest cases available to the market today, they are also reinventing the wheel; with success.  The tool-less panel design incorporated in the Adamas is one of the most durable latch systems I have yet to see.  You won't find more then a bottle-cap worth of plastic used to build this case; and even then we're talking about small pieces used to secure drive doors and make cushion feet for the case.  It really seems as though the marketing department over at NZXT didn't have to stretch the imagination in describing this case.
Features
Aluminum mid-tower chassis
Extra reinforced structure using welding technology
3 mm top and bottom aluminum frame
2 mm aluminum construction
Patented screwless side and front panel removal mechanism four included 120 mm ultra silent fan
AC97 and HD audio support for 5.1 and 7.1 audio
External ports: 2 x USB 2.0, microphone and headphone jacks, and IEEE-1394 Firewire
Specifications
MODEL: Adamas Series
CASE TYPE: Aluminum Mid Tower Chassis
FRONT PANEL MATERIAL: Aluminum
DIMENSIONS (W x H x D): 190 X 435 X 490mm
COOLING SYSTEM FRONT: 120mm fan (included)
COOLING SYSTEM REAR: 120mm Fan (included)
SIDE PANEL: 2 X 120mm fans (included)
DRIVE BAYS: 10 DRIVE BAYS
    4 EXTERNAL 5.25″ DRIVE BAYS
    1 EXTERNAL 3.5 " DRIVE BAYS
    5 INTERNAL 3.5″ DRIVE BAYS
    Screwless Rail Design
MATERIALS: 3.0mm Aluminum Frame, 2.0mm Aluminum Interior
EXPANSION SLOTS: 7
POWER SUPPLY: 500W PS2 ATX 12V 2.0 (OPTIONAL)
WEIGHT: 9.0 KGS (W/O Power)
MOTHERBOARD SUPPORT MOTHERBOARDS: ATX, MICRO-ATX
About NZXT
NZXT, a company built upon gamer's dreams, hopes to create products that put consumers first. Our objective is to provide every gamer with a case that they can identify with. Combining unique design and case performance, consumers will finally be able to find a quality case that will represent their own style and personality.
In the future, NZXT wishes all gamers who desire a personalized case to find it at NZXT. With the unveiling of every product, NZXT improves upon on weaknesses and strives for excellence. Although achieving perfection is not an easy task, NZXT is determined to meet and surpass consumer expectations.
Our dedicated sales and customer service team will also work diligently to earn your trust and loyalty. All our products are built with high quality material and engineered in the best conditions.
NZXT Headquarters and Factories are located overseas in China and Taiwan.
NZXT was established in 2004.
Taiwan Headquarters
6F, No.1, SEC 1, CHUNG SHAN RD.
PANCHIAO CITY, TAIPEI, TAIWAN 220
886-2-89535000 EXT: 201 (TEL)
Closer Look: Basic External Features
Indestructible. This was the very first notion that came to mind when I first held this case in my hands. Heavy. That was the second thing I thought about, because it isn't light at all; despite a nearly full-aluminum construction. In fact, with 3mm aluminum panels throughout, it seems a dichotomy to fashion such and durable case with such a light metal. Even so, I can't blame NZXT for constructing the Adamas to endure the next hundred years, as it truly is fashioned as a piece of art.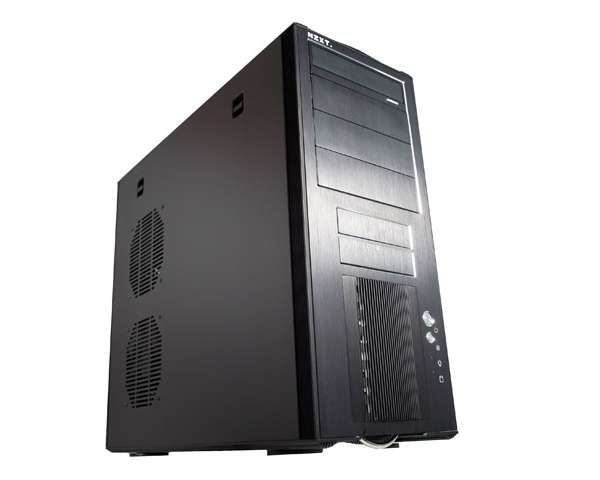 Adamas ATX Mid Tower Case
The upper 5.25″ drive bay features a spring loaded aluminum drop-down access door and aluminum button.  The optical drives motor will not suffer much strain when forcing the door down, since the door is fairly light weight and lightly sprung.
Attention to fit an finish are well evident in the construction of every component.  The NZXT Adamas spares no attempt as shining in the glory of attention to detail.  Look closely, and you will notice that the borders to the 5.25″ and 3.5″ bays have been routed with a bevel around the aluminum plates.  This bevel really catches your eye when the light reflects off from it.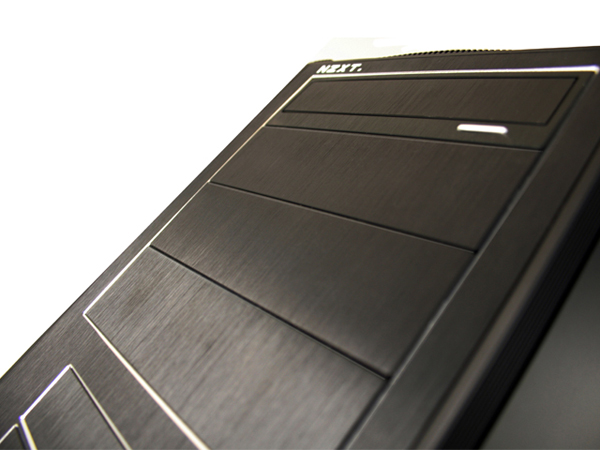 Machine-Finished Beveled Drive Bay Inserts
The image above is a great example of the light catching your eye.  As I write this, it is blinding me.  I will endure it however, because otherwise it really looks very nice and adds a great finish to the features of this case.  Besides, gamers don't ever see the light of day anyway.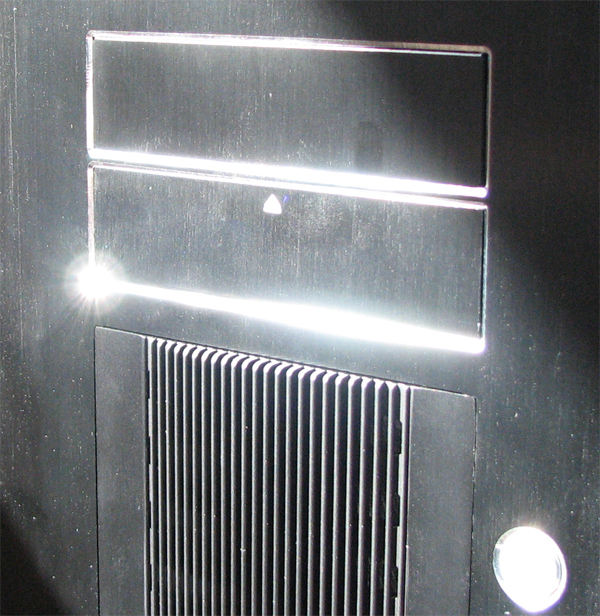 Reflected Sunlight
From the rear view, you can see that this case comes with more then enough active cooling fans and passive heatsinks to please even the most demanding hardware enthusiast.  There are four 120mm cooling fans included from NZXT with the Adamas.  The front fan cools the hard drive rack and comes with a screen to help filter debris from entering the case.  The two side panel fans blow directly onto the CPU and video card area's, which is very necessary with today's hardware producing enough heat to turn a computer case into an oven.  The rear fan exhausts heat out of the Adamas, and is positioned directly beside the CPU.  From the exterior view you will notice that the top and bottom of the Adamas both have built in heatsink fins as an integrated part of the case.  While I am unclear how the bottom fins will assist in radiating heat (which rises), or much less be seen, they are a very nice touch which completes the finishing detail of this case.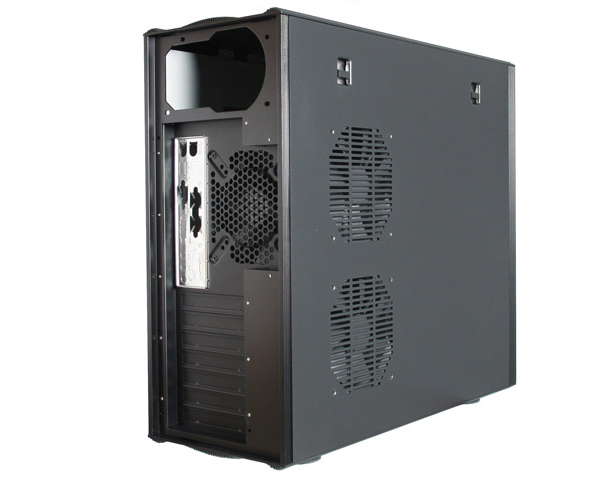 Adamas Rear View
Closer Look: Detailed External Features
When it comes down to the finer details, you won't have to look very deep to notice NZXT actually did some homework.  Every panel is billet aluminum construction, which improves the strength dramatically.  Although some might prefer a nice shiny polished finish, I think that the brushed aluminum finish adds a nice touch to the Adamas.  Looking closer, as depicted in the image below, the grain of the aluminum finish matches throughout the entire case.  Every piece and panel mates up tightly to the adjoining sections.  Attention to detail is a motto clearly etched into the designers at NZXT.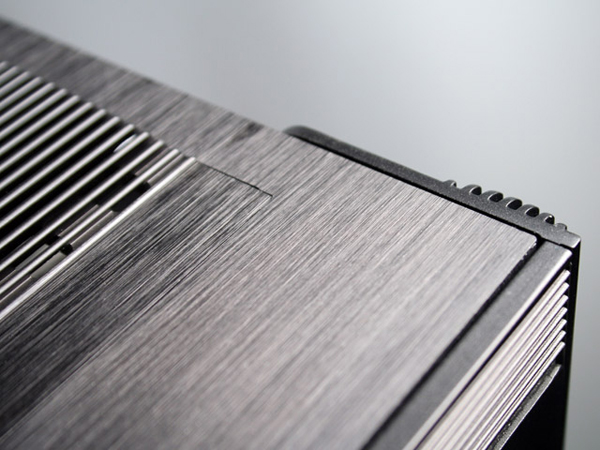 3mm Fully Aluminum Construction
Most other builders would have felt plastic buttons would be more then adaquate when designing their case.  Not NZXT, and not on the Adamas.  Fully CNC machined aluminum bottons adorn the front bezel, proving that you can never compromise when you aim to build the best computer case on the planet.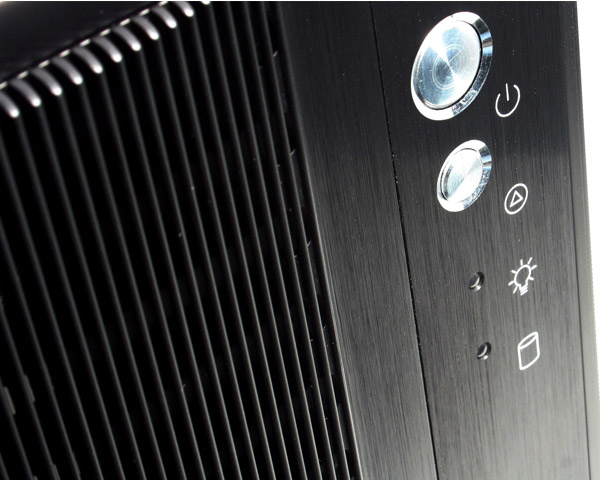 Machined Aluminum Buttons
It had previously been mentioned that there is roughly enough plastic built into the NZXT Adamas to make a bottle cap.  Here is one of the two pieces of plastic used in the construction of this case.  I have to imagine that NZXT probably initially tried aluminum for this piece, but found it to have less pliable properties then the plastic counterpart.
Located in the front I/O panel are the standard array of two USB 2.0 ports, one each microphone and headphone mini-plug, and one IEEE-1394 Firewire port.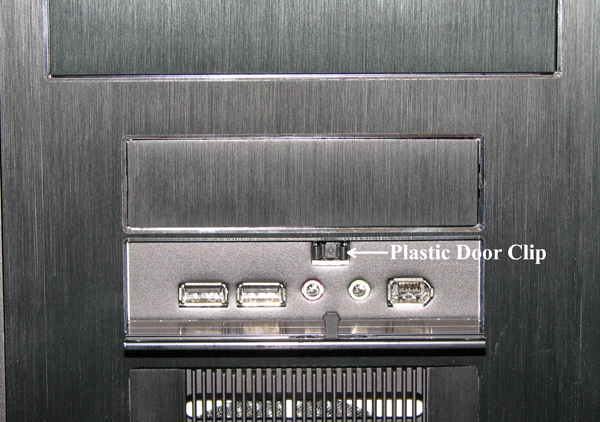 Plastic Door Clip
The front bezel release latch is the only non-aluminum metal piece included in the construction of this case.  I would say that if I were to melt down all of the components for the Adamas, it would likely measure 96% Aluminum, 3% steel, and less then 1% plastic.  It's a shame to suggest it, but this case will certainly keep its value; at least in terms of recycling.

Front Bezel Release Latch
Closer Look: Basic Internal Features
The aluminum front bezel on the Adamas is a solid billet aluminum plate.  Attached to this plate are the front I/O panel and LED indicators.  While you can unplug the wiring harness on the I/O card, the LED wires must be disconnected from the motherboard if you want to pull the bezel away from the case.
With the front bezel plate removed, you will have full access to the 5.25″ and 3.5″ drive bays.  If you need to install a drive after the motherboard has been mounted, you will have to remove the front bezel since there is no way to slide the drive in or out without hitting the motherboard.  In addition, the hard drives are not accessible from the front at all.  Again, if you need to swap out a drive, you will be removing the video card and possibly the motherboard to do so.  From my perspective, it would have made much more sense to allow open access to the hard drive rack after removing the front 120mm cooling fan.  In addition, the holes located behind this cooling fan cause restriction and backpressure.  While I see a design flaw here, the hardware enthusiast or case modder will make quick work of these problems.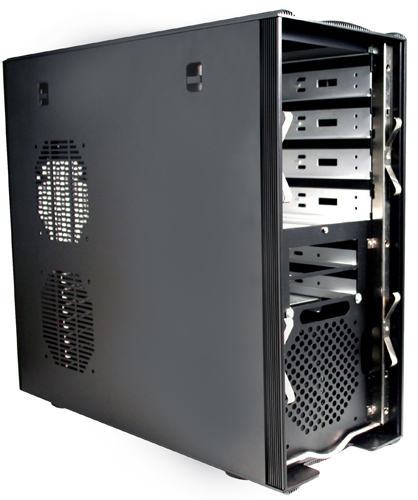 Front Corner with Bezel Removed
Turning the Adamas to its underside shows off the stylish but pointless fins, and some very high-quality feet. Each of the case feet have a pliable rubber ring around the edge, and offer some protection against minor vibration. Because of the natural tack of the rubber, coupled with the heavy weight of the Adamas, this case is not likely to be sliding anywhere.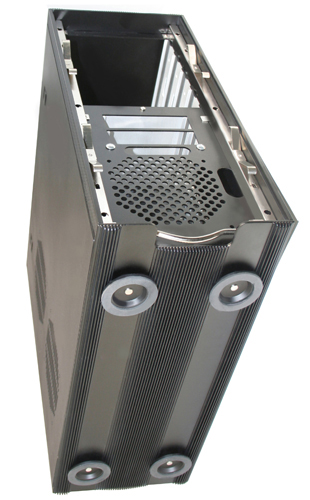 Bottom with Cushion Pad Feet
From the side view you can see that the NZXT Adamas is built to accommodate four 5.25″ bays, two 3.5″ bays, and four 3.5″ hard disk bays. Images can sometimes be misleading, and in this case the (double pun intended) the saying holds true. When I installed the first optical drive in the top most bay, it was very difficult in slide in from the rear, and had absolutely no clearance behind it. With multiple drives installed into the 5.25″ bays, you will notice a mere 1/8″ separation between each drive. Don't expect any extra cable management room in here, or on either side.

Internal Side View
From the angle of this image you can clearly see the soft rubber strips on each side of the cage.  Since you will likely be using screws on each side of the rack, the amount of anti-vibration protection these strips will provide will be very minimal if any at all.  Also take notice at how the motherboard will extend all of the way to the edge of the drive bays.  This will mean that the drives must be installed first, prior to installing the motherboard.  Once they are in, it will take some work to replace them later.

Drive Bay Mounting Racks
Closer Look: Detailed Internal Features
From a system builders perspective, NZXT has offered serveral perks in the Adamas.  While most of the fins built into the drive bay racks will likely provide less then marginal heat diffusion, the fully aluminum cage includes rubber stips lining the tracks of each bay.  These rubber strips offer a basic protection against minor vibrations.  Also note, that set screws are used to join components for this case, not pop-rivets.  This could be the critical detail that allows hardware enthusiasts and case modders the ability to further modify the design of the Adamas.

Opposite Side Internal View
Both side panel doors utilize aluminum and steel spring latches to secure themselves to the case frame.  I found these latches to be very firm, as not to accidentally open up or fall off.  In addition, the space required to open a side panel in merely one inch of clearance on the opening side.

Backside of Panel Door with Fans Removed
NZXT comforts the system builder once again with a very informative key for placing the motherboard standoffs for each form factor.  This case supports all form factors ranging from ATX to Micro-ATX.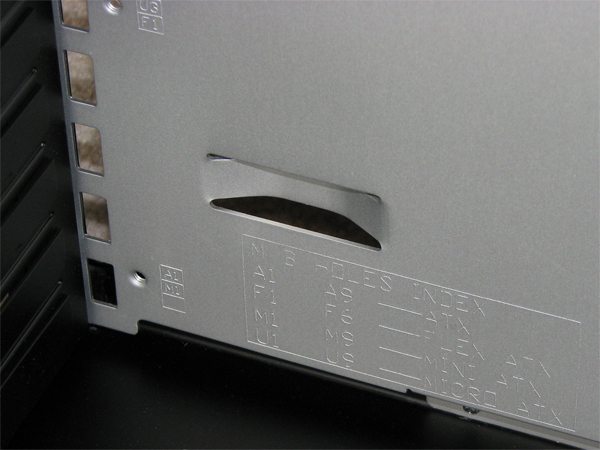 Motherboard Standoff Placement & Key
You might think I am done nit-picking the poor NZXT Adamas, but I'm not. Sadly, I am far from it. What more could be wrong you might ask? Well, to start with, the expansion slots utilize the break-away blanks. Once you break it away, you throw it away. It seems that the attention to detail department overlooked the fact that their case should come with replicable blanks, so the owner wouldn't be stuck looking for some when they were needed. But don't you worry NZXT, I found this detail for you, so I hope you remember it on future designs just have you have done with those in the past.
So what else is wrong? Well, it's not tool-less, but I can forgive that. In the past, I have had to remove the tool-less assemblies to accommodate non-standard blade designs on video cards and expansion devices; even on past NZXT cases (the LEXA comes to mind). Where NZXT made another mistake, at least from my perspective as a professional system builder, is in the minor detail of fastening screw selection. On every other case I have seen in my lifetime, and that is hundreds of cases, all of the expansion card slots use the unified coarse (UTS) thread standard. Oh, but not the NZXT Adamas. It comes pre-threaded to use Unified Fine (UNC) threading, so that you will easily strip the thread the first time you use a standard machine screw; which I did.
Last, but certainly not least, is the additional use of fine threaded motherboard standoffs.  I rarely encounter the use of UNC fine thread standoffs, so rare that I could probably call it one in a thousand.  At least NZXT includes several of these standoffs, so you can spare one if you manage to strip it with a standard screw; which I didn't do.

Internal Rear View
Fit & Finish
I found myself getting quickly frustrated by the component installation in the NZXT Adamas. While at a glance the case seems very well proportioned when it is viewed all alone, it is noticeably smaller then some of the other mid-tower cases I have used. In the comparison below, you will notice that the Ultra Aluminus offers a size advantage over the NZXT Adamas. This ultimately translates into more drive space.
While installing the motherboard, power supply unit, and add-in cards, it became a chore to manipulate the components with much dexterity. It reminded me of working of a foreign car, with no room for hands under the hood. In retrospect, I think that NZXT made a mistake by designing the Adamas with four 5.25″ drive bays and maintaining such a narrow frame.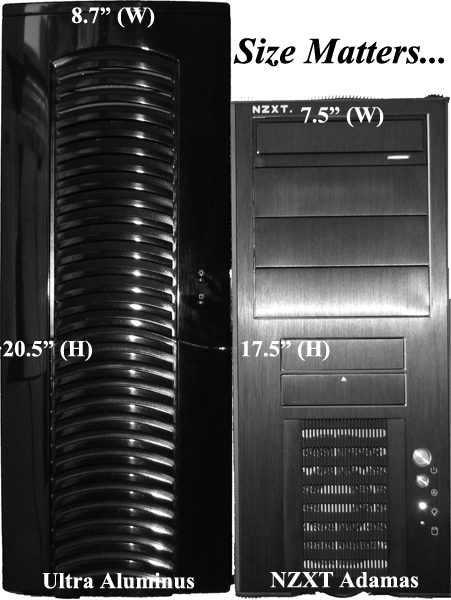 Size Matters.
Is the Adamas compensating for something?  The front panel I/O port cables extent well beyond the outer reaches of the Adamas, and will certainly pose a small cable management concern for those building a system with discreet cable placement.  Adding to this problem is the fact that these are shielded cables made of thick solid rubber insulation: they don't bend to well.  I was able to make a loop and tuck them back into the 3.5″ drive bay compartments.
The growing trend of offering removable motherboard trays ends with the Adamas.  Because of the small inner quarters, it wouldn't make any sense to include one anyway.  Any changes that would have required moving the motherboard, tray or not, would in fact demand that you remove the entire motherboard.
You might not have noticed, but the motherboard had been installed before the hard drives.  This was accidental, and it had to be removed because the hard drives could not fit in without hitting my southbridge cooler (modified).  This may or may not be an issue with some motherboards, but one thing is certain: it will be an issues with video card(s) installed.

Front I/O Cables
As you can clearly see from the image below, the NZXT Adamas is not a roomy case.  It narrowly fits all the hardware which I would describe as the standard list of components.  More then two hard drives will likely reduce the cooling efficiency, and without room for hiding cables the airflow channels might already be suspect.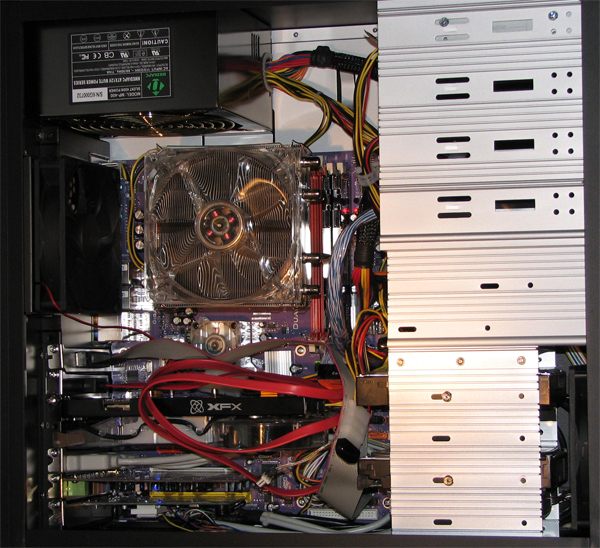 A very packed house
Final Thoughts & Conclusion
Maybe I have only myself to blame.  You see, I search for the relatively perfect computer case.  When I was asked to review the Adamas, I reviewed the information on the NZXT web site, and thought that I had found pay dirt.  Alas, it was too good to be true; the NZXT is not without its flaws.
As I pointed out in detail on the previous pages, the cramped work space and use of non-standard screw threading is a minor irritant.  Additionally, the drive access and removal could be unbearable for those who occasionally swap optical or hard drives, but not a major issue for most everyone else.  The Adamas may be indestructible, but thanks to its weight you sure won't see gamers, which are NZXT's target market, toting the Adamas to any LAN parties.
On the redeeming side of this review, the NZXT Adamas offers many positive features which compensate for it's short comings (there's that pun again).  For example, the case is finely crafted of billet aluminum and will tolerate even the most abusive environments.  Available in black or silver, NZXT has designed a real show pony with this case.  Additionally, the finish is going to withstand much more abuse then most every other case on the market.  The aluminum construction paired with its built-in heatsink fins and four cooling fans will most certainly keep temperatures at their lowest.  Finally, the Adamas has so many small details that prove its refinement that you come to appreciate the extraordinary attention to detail.
In conclusion, I recommend the Adamas for those who demand a well-designed and fashionable computer case with durability and performance at the forefront.  The Adamas is best suited for computers which do not get transported a lot or undergo continuous hardware changes.  Furthermore, NZXT has delivered a case that offers superior active and passive cooling well beyond the needs of the average consumer, as well as enough for the hardware enthusiast or gamer.
At the time of this writing, NZXT has just started to release this product to online merchants.  A search discovered Page Computers selling both silver and black versions for $154.43.
Pros:
+  Very well designed and constructed
+  Excellent cooling performance
+  Incredible attention to detail
+  Four quiet 120mm cooling fans included
+  Extremely durable all-aluminum construction
+  Attractive and fashionable design
+  Impressive use of billet materials
Cons:
–  Cramped interior quarters prohibit frequent hardware changes
–  Non-standard screw threading on expansion card slots
–  Should include matching replaceable expansion card blanks
–  Front I/O cables should be under 18″ long
 
Final Score: 8.5 out of 10 and the Bjorn3d.com Seal of Approval.

Special Thank-you:
This review would not be possible if it weren't for manufacturers like NZXT who are willing to stick their neck out there and have a picky hardware analysts like me dissect their products.  I am grateful, and certainly appreciate the opportunity.