The Gamepad Precision Pro is a mouse pad aimed at the gamers. It has two different surfaces which are supposed to cater both those gamers who need fast movement ("low sense gamers") and those who need high precision ("high sense gamers").
INTRODUCTION
Regardless if you are a serious gamer, work professionally with your computer or just use it to surf the web and check mail you need a good mouse mat. 
Most modern mice work fine directly on a desk but in my view there is no substitue for a good mouse mat when it comes to precision and comfort. I like those huge cloth mouse mats but when Revoltec offered me to review their Gamepad Precision Pro I couldn't say no.  
REVOLTEC
Before I was approached by Revoltec to review some of their products I didn't know lot about the company. I had a quick look at their homepage (www.revoltec.com) and while it didn't enlighten me much about the company it did show that Revoltec actually has a lot of different products. Lately I have seen that several stores here in Sweden have tons of modding stuff from Revoltec (fans, UV-active SATA cables, Cold cathode UV lights and so on) and I even bought myself a cheap USB2 Aluminum CD/DVD enclosure that so far has worked great.
FEATURES AND SPECIFICATIONS
The Gamepad Precision Pro is a mouse pad aimed at the gamers. It has two different surfaces which are supposed to cater both those gamers who need fast movement ("low sense gamers") and those who need high precision ("high sense gamers").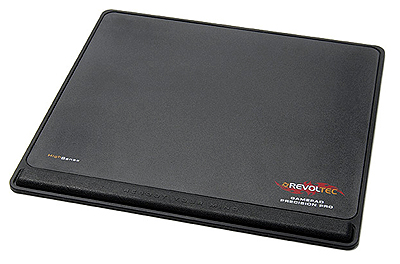 Technical data
Material: Plastic
Dimensions: 275 x 225 x 3,5 mm
Compatible with all standard mouse types including Laser.
Features
Two unique surfaces with different characteristics,
Highly precise movements and low friction resistance,
Special slip-resistant rubber frame and a rest for the heel of the hand,
Delivered with a high-quality and robust LAN carrying bag, including glide tapes
THE PACKAGE
The gamepad comes in a regular thin paper box. In the package you find:
LAN carrying bag
Gamepad with two different surfaces
Slip-resistant rubber frame with a heel-rest
Piece of glide tape for the mouse
The LAN carrying bag is stiff and lined with foam to not damage the game pad. The stiffness makes sure the gamepad does not bend or fold.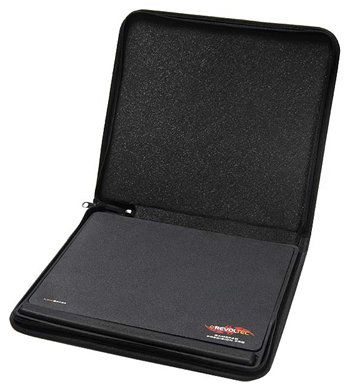 The rubber frame is used to make sure the gamepad does not move when you are using it. At the bottom of it you find a narrow wrist-rest. My first initial reaction to the wrist rest was that it was to thin and that it felt a bit uncomfortable. But it grew on me and now I don't notice it much.
The glide tape can be cut out and placed on to the feet of the mouse. I had some serious problems to separate the tape from the cover paper. The tape also curled together when I finally succeeded.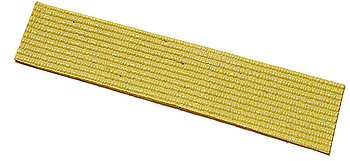 Glide tape
When I finally got the small pieces stuck on the mouse I did however notice it gliding a bit better. I use a Logitech G5 mouse which already has excellent glide pads so I didn't really expect to notice that much of a difference.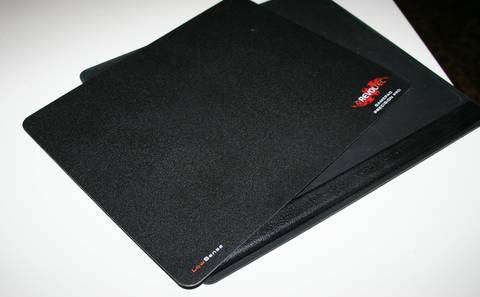 The actual gamepad fits into the rubber frame and can easily be removed and turned.
TESTING
The best way to test a mouse mat or game pad is to use it for a longer period. I have been using this pad for about 1 month now at work and at home. I have used it both while gaming and also while doing web work and regular surfing. Last but not least I lent it to a friend at work who games a lot to get his opinion.
The Size
After being used to the larger cloth-type mouse mats I had some issues adjusting to the smaller size of this mouse pad. I still prefer a larger mouse pad but as long as the mouse sensitivity is set so you only have to move the mouse a small distance the mouse pad works fine.
The two sides
The two sides have different surfaces as mentioned in the beginning of this review. However, I must admit that using both sides of the mouse pad with a number of different mice I couldn't really feel a difference in the mouse movement. I lend the game pad to a friend at work who plays a lot of FPS games and who is a "high sense gamer" and he had the same experience.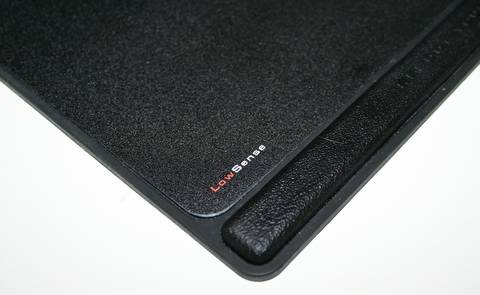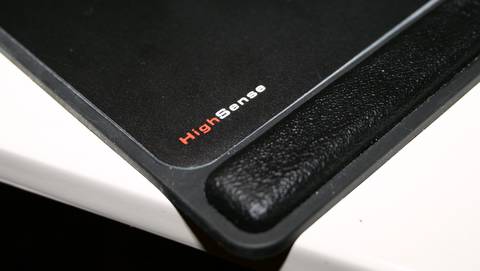 Click on each image for a larger version.
The Low Sense side has more structure than the High Sense side which is smooth
CONCLUSION
The Revoltec Gamepad Precision Pro is a nice and quite cheap game pad that works well both for gamers and for regular users like me. The dual surfaces are a nice touch although, as mentioned earlier in the review, they felt quite the same. The carrying bag makes it perfect for LAN-gamers.
The only negative points I can see with this game pad is that the heel rest is a bit thin and that the surface size is a bit on the small side for me personally.
Pro
+ Relatively cheap
+ Nice carrying bag
+ Two different surfaces
+ Gliders for mouse included
+ Mouse glides very well on the gamepad
+ Rubber frame stops the mosuepad from gliding
Cons
– A bit small
– Heel rest is too thin which increases the risk it will feel unconfortable after a longer session