For those enthusiasts waiting for the prices on the new G80 hardware to come down or those holding out to see what ATI (and NVIDIA) has to offer early next year, but who still need a graphics card that can power their games for the interim, cheaper but still powerful cards such as the 7950GT would easily suffice as a holdover until then.
INTRODUCTION
While many hardware shoppers are never thrilled to hear about new relaunches of old products as they tend to simply add to the confusion for the vast majority of us, in some cases they can still be a good thing! Today we are going to take a look at one of these relaunched products, FOXCONN's 512mb 7950GT "Over-Clocking Version" graphics card.
At this point I'm sure at least one person is scoffing at the idea of buying a DX9 card, when it has been announced nVidia plans to launch nine more DX10 capable graphics cards this coming February to join the two already on out the market. Except for those that are for the first time reading reviews this year most of you have likely heard about nVidia's latest released G80 graphics cards, namely the 8800GTX and 8800GTS (Which have been featured in numerous reviews on Bjorn3D). While DX10 and SM4.0 support will soon become a requirement to have, for the moment this is not quite the case as currently no games are out yet that make use of either of these, and even Vista with it's Aero Glass will run just fine on a DX9.0c based GPU using the built in DirectX9L.
For those enthusiasts waiting for the prices on the new G80 hardware to come down or those holding out to see what ATI (and NVIDIA) has to offer early next year, but who still need a graphics card that can power their games for the interim, then cheaper but still powerful cards such as the 7950GT might easily suffice as a holdover until then. When the market eventually becomes inundated with DX10 graphic cards this coming Spring, availability is not certain but high introductory prices certainly are. Not everyone can or is willing to wait until the dust settles and prices on DX10 parts reach normal levels, especially those who may very shortly be receiving some new PC games under the Christmas tree!
FOXCONN: The Company
FOXCONN is the registered trade name of Hon Hai Precision Industry Co., Ltd., a global leader in the design, manufacture, and distribution of advanced computer, communications, and consumer electronics components, including motherboards, graphics cards, CPU coolers, barebone systems, and chassis for personal computer desktops and servers. With over three decades of demonstrated manufacturing excellence, Hon Hai sets the standard in the industry for product quality and reliability, customer support, and value. In 2005 Hon Hai had sales of $25 billion (USD).

The Channel Service Division (CSD), part of the PCE Business Group of Hon Hai, is Hon Hai's worldwide organization for servicing channel customers. Guided by the mantra "The Art of More", CSD is dedicated to making it simpler and more affordable for its customers to offer superior information systems to their consumer and enterprise customers. CSD serves a network of distributors and OEM customers in Asia, EMEA, and the Americas.

To view an overview introduction of FOXCONN and our history, please click here.
FEATURES & SPECIFICATIONS
FOXCONN 7950GT "FV-N79GM3D2-HPOC" Features
512MB GDDR3 High-Speed Memory
580MHz/1560MHz Core/Memory Factory Overclock
NVIDIA® PureVideo™ HD Technology (More Info Below)
Full HDCP Support
Microsoft® DirectX®9.0c and ShaderModel 3.0 Support
OpenGL® 2.0 Optimizations and Support
NVIDIA® SLI™ Technology
Built for Microsoft® Windows Vista™
3 Year Warranty (Includes 1 Year "No Questions Asked" Reseller Exchange Policy)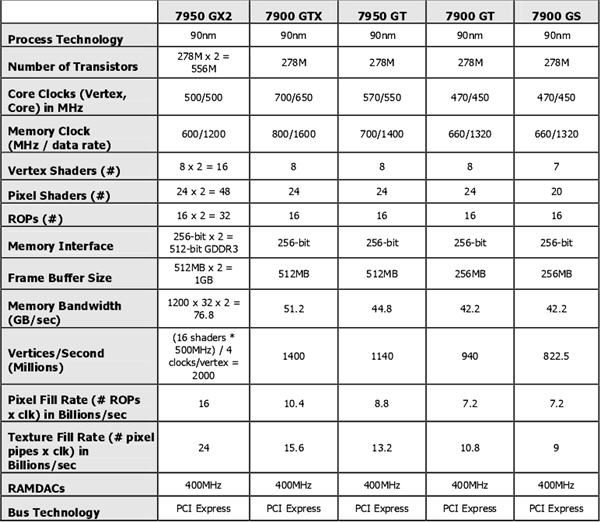 NVIDIA® 7900 Series GPU/VPU Product Comparison
Bringing the High-Definition Home Theater Experience to Your PC
Today's consumers demand a high-definition (HD) home theater experience on their PC. They want superb picture clarity, stutter-free playback and multiple display connectivity options. The best way to achieve this is with NVIDIA® PureVideo™ technology.
Watch videos on your desktop PC, notebook PC, or HDTV without the annoying artifacts and imperfections of traditional PC-based video solutions. NVIDIA PureVideo technology is the combination of a dedicated video processing core and software that delivers ultra-smooth, high-definition H.264, WMV, and MPEG-2 movies with minimal CPU utilization and low power consumption. And the high-precision subpixel processing enables videos to be scaled to any size, so that even small videos look like they were recorded in high-resolution.
Play HD DVD and Blu-ray movies on your PC with PureVideo HD technology
Available on HD DVDs and Blu-ray discs, high-definition movies are bringing an exciting new video experience to PC users. NVIDIA® PureVideo™ HD technology lets you enjoy cinematic-quality HD DVD and Blu-ray movies with low CPU utilization and power consumption, allowing higher quality movie playback and picture clarity.
PureVideo HD technology provides a combination of powerful hardware acceleration, content security, and integration with movie players, plus all the features found in PureVideo. Learn More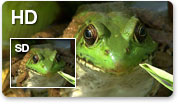 H.264, WMV, and MPEG-2 Hardware Acceleration
NVIDIA PureVideo provides ultra-smooth playback of H.264, WMV and MPEG-2 HD and SD videos with minimal CPU usage.
Ultra-smooth Video:

Dedicated video processing core provides astonishingly fluid high-definition video on your PC without stutter or skips.
Programmable video processor accelerates H.264, WMV, and MPEG-2 high-definition movies.
Discrete video processing core offloads the CPU and 3D engine of complex video tasks, freeing the PC to run multiple applications simultaneously, while consuming less power.
Superb Picture Clarity:

NVIDIA PureVideo delivers crisp pictures by eliminating double images, blurring, and distortions.
Jagged edges are smoothed with spatial temporal de-interlacing, inverse telecine, and advanced scaling technologies.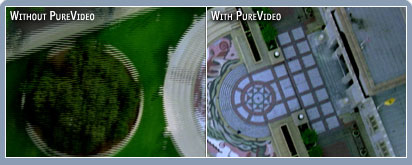 Precise, vivid colors on any display

Gamma, brightness, saturation, color temperature correction, and LCD sharpening provide lifelike pictures and vivid colors on any display.
Native HDTV support drives high-definition televisions at resolutions up to 1920x1080p through Component, DVI and HDMI interfaces
PACKAGING & EXTRAS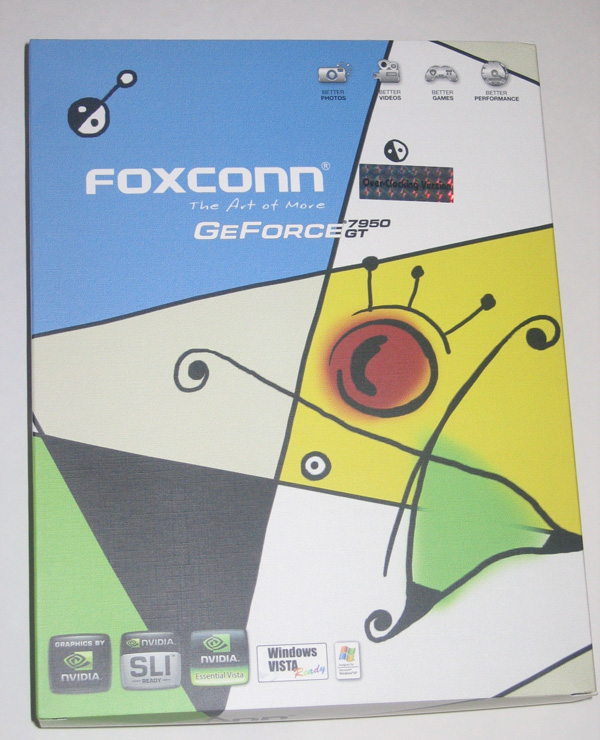 Foxconn 7950GT "FV-N79GM3D2-HPOC" Package Front View
The retail box this card arrived in is simply huge, it is even bigger than some full size motherboard boxes! Upon opening it I quickly discovered why; FOXCONN has seen fit to bundle a black USB GamePad controller in addition to the expected software package!
FOXCONN 7950GT "FV-N79GM3D2-HPOC" Package Rear View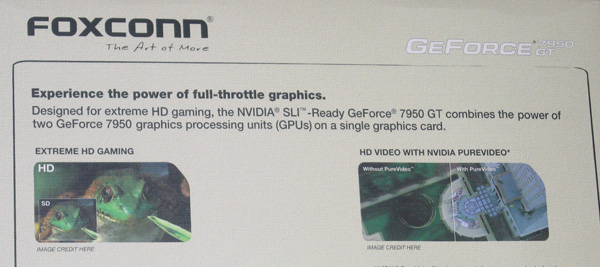 Don't confuse the 7950GT with a 7950GX2. Despite what the box may claim, you will only find one 7950GT core on this card, I can assure you. If you look closely you may even be able to read the "IMAGE CREDIT HERE" that is captioned under both images, which is the only other hint this may not be the final version yet of the packaging.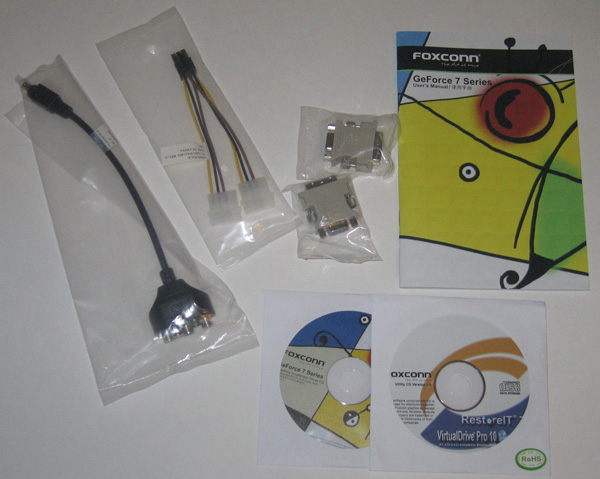 Bundled Extras
Driver Disk
User Manual
HDTV (Component Out) Output Cable
Molex 4pin to PCIe Pass-Through Power Cable
2x DVI to VGA/D-sub Adapters
Bundled RestoreIT v7.0 & VirtualDrivePro v10.0
USB 3D GamePad Controller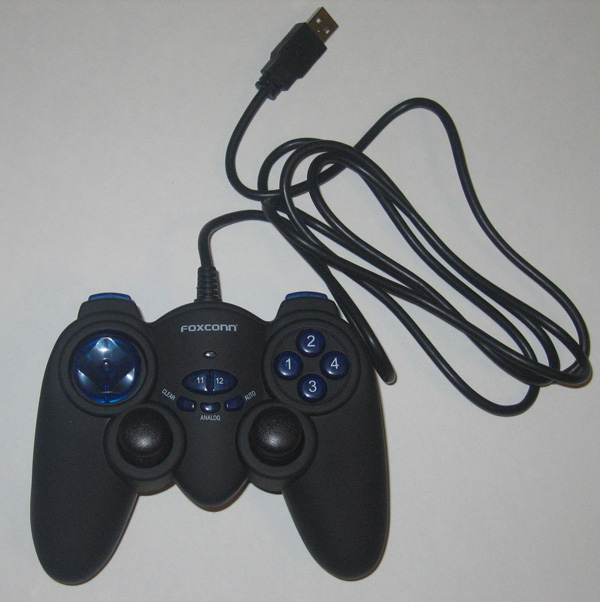 Included Game Controller
Here you can see FOXCONN's USB GamePad, which is quite similar to a Playstation 2 controller in both shape and button placement. While I haven't yet found a game to test it with, I did find it had a good grip to it and felt decently made without weighing too much to be a problem during those extended gaming sessions!
Besides the accessories and USB GamePad, both RestoreIT Pro backup and VirtualDrive Pro 10 software is included, which appear to be much more useful than an extra game or two that often go unopened anyway. Below are excerpts directly from FarStone's website that give a pretty good idea of what you are actually getting. Oh, and did I mention how much this software retails for? ($110 before the current promotion!)
"RestoreIT automatically backs up all files on your computer to a protected partition on your hard drive. After a virus attack, a Windows crash, or a software installation gone wrong, RestoreIT will return your system to normal, even when Windows does not boot. RestoreIT also lets you to store a complete snapshot of your C: drive to a networks share or to an external USB hard drive.

DriveClone saves a complete copy of your hard drive to CD, DVD, or to a USB external hard drive. This 1:1 copy lets you quickly recover, replace, or upgrade your hard drive in case of any catastrophic data disaster. Your files, settings, and installed software will appear exactly as they were when you created the cloned image."

"VirtualDrive Pro copies a CD or unprotected DVD as a compressed image, or "virtual CD," which runs in place of the original disc in any one of up to 23 "virtual drives.

VirtualDrive Pro makes it a snap to create custom virtual CDs with favorite tracks, expansion packs, documentation, and custom programs. Run as many virtual CDs simultaneously as you have available virtual drive letters, moving from one PC game or application to another without having to swap out CDs or wait for discs to spin up"
A CLOSER LOOK
One quick word of caution is that there has been a little confusion with the 7950GT. Namely that doubling the 7900GT's 256mb of video memory is only an option with the 7950GT class cards, not an actual requirement. This means that the majority of the cheaper 7950GT graphics cards are only equipped with half of the RAM, and any unwary 7950GT buyers could potentially end up with only half the card they were expecting.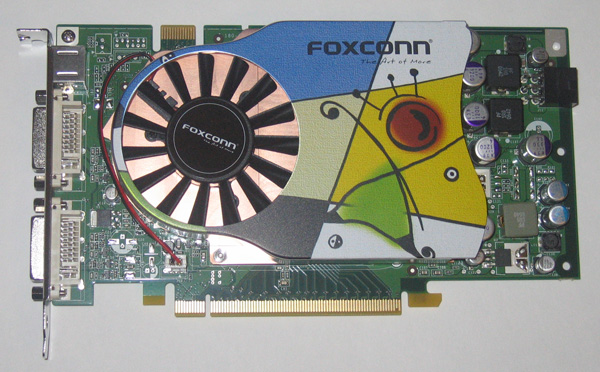 FOXCONN 7950GT "FV-N79GM3D2-HPOC"
Immediately upon opening the package, I noticed this specific FOXCONN card comes equipped with a non-reference cooler. Given the known poor acoustics of nVidia's reference cooler, this is a much welcome change that I was eager to see what differences it would offer. To save you the suspense, besides offering more efficient cooling and lower noise, several people will be glad to know this cooler completely covers all 512mb of the high-clocked onboard memory.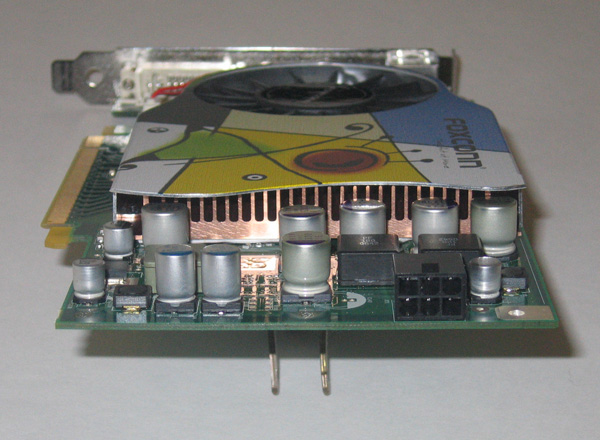 FOXCONN 7950GT: PCI-E
Also, interestingly, this 7950GT card is actually slightly smaller in length than the 7800GT. And unlike the 7800GT which requires a 4pin molex for additional power, the 7950GT requires the standard PCIe 6pin connector which is already a standard connector found on any high quality power supply.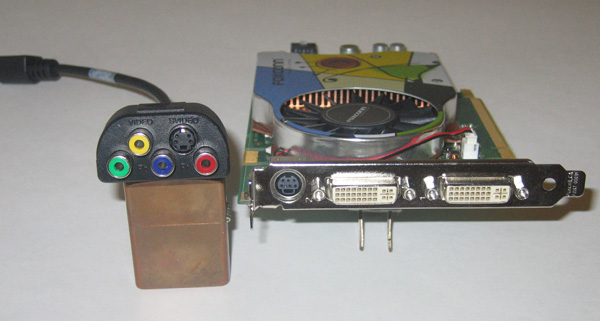 FOXCONN 7950GT: Ports
The 7950GT carries the now standard outputs: two DVI ports and a TV-out (component and S-video), and does come with full HDCP support. HDCP is the DRM technology that HD movies will use to prevent copying, and to view them will require HDCP support on both the graphics card and the monitor or TV displaying the movie.
While HDCP reportedly hasn't been fully implemented on the first set of movie discs, it will certainly be at some point in the very near future. If you don't have a fully compatible setup, one of two things happens depending on the disc you're trying to watch: the video refuses to play, or the resolution is forcibly lowered from HD to standard definition (480i or 480p).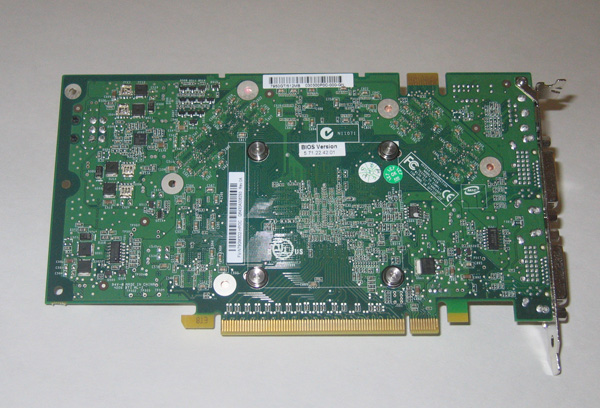 FOXCONN 7950GT: Rear View
FOXCONN offers a 3 year warranty on their graphics cards, which includes the 1 year "No Questions Asked" policy where the user may return the card to the reseller for a real-time replacement, no questions asked. While this does appear to cover the use of aftermarket cooling products and even overclocking, FOXCONN decided to not comment either way when asked for a quick confirmation.
Until I hear the first story about FOXCONN's tech support to the contrary, I'd have to say this policy sounds good for those users that like to use watercooling setups with their cards or simply like to overclock for every added ounce of performance. Not every nVidia graphics card distributor is as flexible with their warranty coverage, infact I would go as far as to say most aren't.
TESTING
Test Platform

Processor

Intel Core 2 Duo E6300 @ 2.8ghz

Motherboard

Gigabyte GA-965P-DS3, F7 BIOS

Memory

Corsair 2gb XMS2 DDR2-800 @ 4-4-4-12

Drive(s)

Seagate 320gb SATA drive

Graphics

Test Card 1:  XFX 7800GT 256mb 450/1050 Core/Mem

Test Card 2:   Foxconn 7950GT 512mb 580/1560 Core/Mem

Video Driver:  93.71 nVidia Forceware

Power Supply

Antec NeoHE 550watt PSU

Case

Antec P180B

Operating System

Windows XP Pro SP2
Testing Methodology
A fully updated install of XP Professional with the latest DX10 monthly updates was utilized, and all unnecessary programs including XP's System Restore, firewall, and Auto Update were disabled before testing. The hard drive was defragmented, then all tests were run three consecutive times and the results were averaged.
To help ensure that the CPU would not be a bottleneck in these benchmarks (And to represent a more powerful CPU), the E6300 was overclocked to 2.8ghz with a 400FSB and 1:1 RAM divider, to allow the RAM to run at it's exact DDR2-800 specifications. Despite the cache difference, this would place the CPU between the E6700 and X6800 CPUs in terms of performance.
Unless specifically noted all games options were set to their highest quality for benchmarking, as what good is a graphics card that can only deliver with the graphics turned down?
Synthetic Benchmarks & Games
3DMark06 v. 1.3
Quake 4 v. 1.2
Company of Heroes v. 1.4
F.E.A.R.
Prey
Half Life II: The Lost Coast
TEST RESULTS
3DMark06
3DMark06 is the obligatory synthetic benchmark, and the only one that will be used in this review. Only the default settings were utilized to allow scores to be directly compared for those users with only the free version of this program. The just released update, version 1.3v, was used.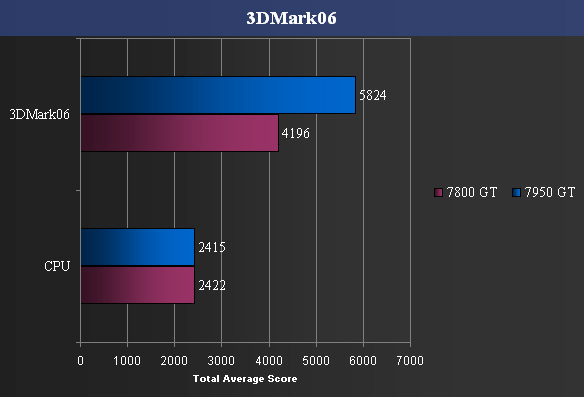 3DMark06 is the first version of Futuremark's graphic benchmarking programs to factor the CPU score into the final obtained results, so the average of the CPU scores were included for reference purposes, and used to confirm that the overclocked CPU was not affecting results between both cards.
Quake 4
Here we have one of the two OpenGL based games in this review. All settings were set to highest details. However due to benchmarking limitations the new 1.3 patch was not compatible with the benchmark program, so Quake 4 v1.2 was utilized for these tests.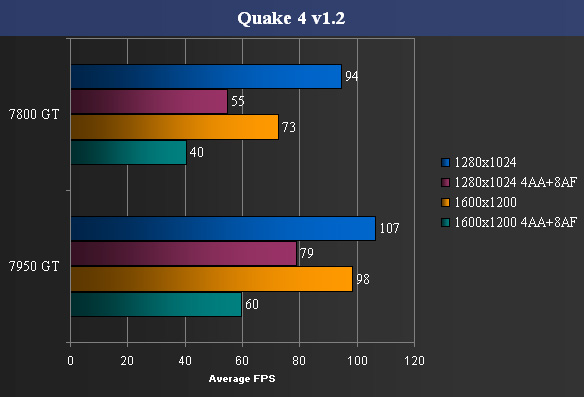 Right off we can see that the FOXCONN 7950GT does offer more crunchpower where it counts, and not just higher synthetic scores over the 7800GT! As soon as the load on the GPU is increased beyond the basic 1280×1024 resolution the 7950GT pulls away and maintains an average 20-25fps higher results across the three remaining tests.
Company of Heroes
All details and game options were set to their highest settings before benchmarking, as obviously we are interested in finding out what these cards can really offer. The in-game benchmarking tool was utilized for these benchmarks, and the latest 1.4 patch was used.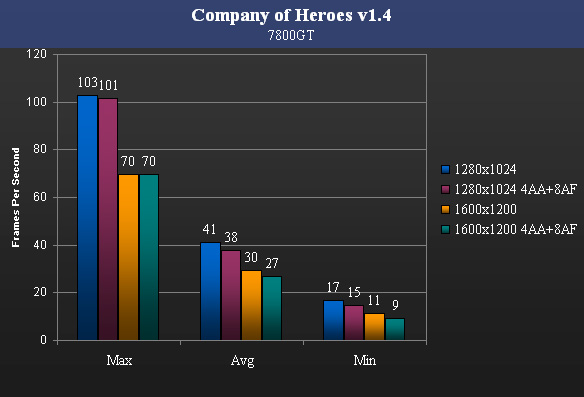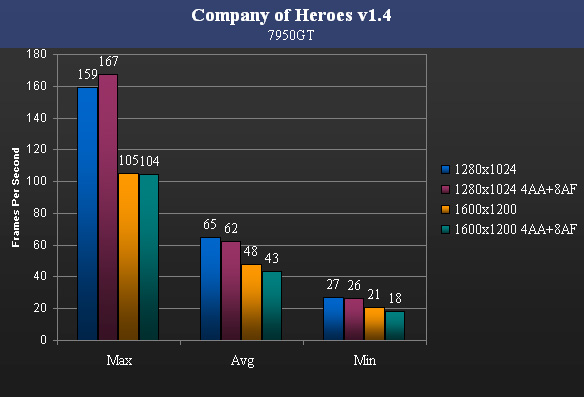 While the sharp increase in MAX framerates between both cards is interesting, it obviously should be the one value given the least weight of the three sets. Regardless, due to the benchmark itself the MAX results have a wide margin of error, but thankfully the AVG and MIN sets offer more consistent data. Anti-Aliasing and Anisotropic Filtering would appear to have less of an impact on this game than upping the game's resolution, although even so reductions in framerates are mostly gradual as the load on the graphics cards is increased. It is interesting to note that for both of the MIN 1600×1200 scores, the FOXCONN 7950GT actually manages to render double those of the 7800GT. And unlike the 7800GT, the FOXCONN 7950GT graphics card would allow the game to be played without issue at the 1600×1200 resolution.
TEST RESULTS cont.
F.E.A.R
The original unpatched install was utilized for this benchmark. All settings were set to their max, however soft shadows was disabled as it does not function correctly in this game, and imposes a high performance hit nonetheless. Due to game constraints only the 1600×1200 resolution was able to be used. Upon switching graphics cards and cables, for some inexplicable reason the game would no longer allow any resolutions between 1152×864 and 1600×900 to be set, so results with the 1280 resolution could not be obtained.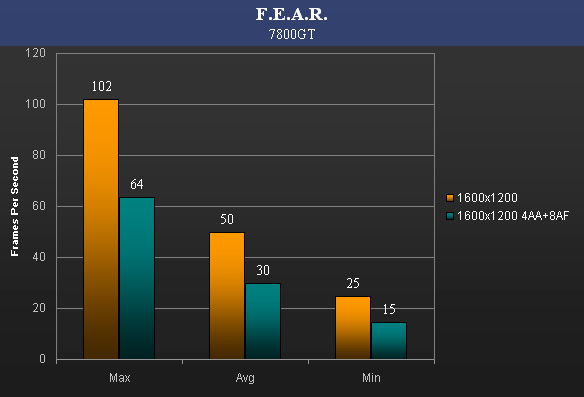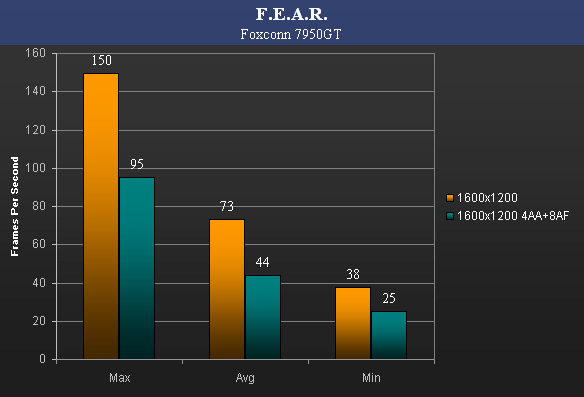 Again the 7950GT is able to deliver sizeable improvements at both settings, offering a 46% increase in average framerates at 1600×1200 alone! More importantly, it is able to raise the minimum framerate by 52% as well. Once we add 4AA & 8AF to the picture we see a whopping 67% improvement in minimum framerates, more than likely in large part due to the 512mb of memory advantage.
Prey
The demo version of Prey was utilized with this benchmark, and all settings were set to their highest options. Prey utilizes a modified Doom 3 engine, and therefore is the second OpenGL game in this roundup.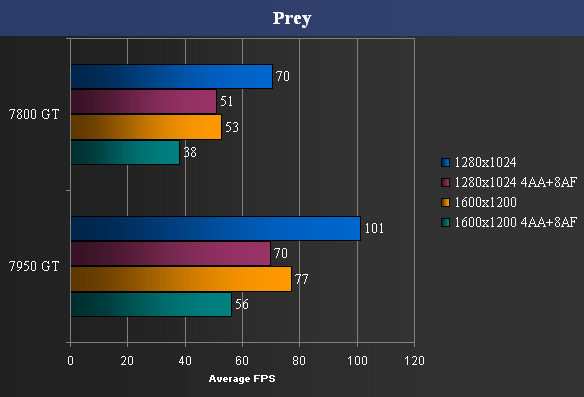 This is one of the games the 7950GT really pulls ahead of the 7800GT, as the 7950GT posts a higher average FPS at 1600×1200 using 4x AA+8x AF than the 7800GT can achieve at any setting, except 1280×1024!
HL2: The Lost Coast
Valve created games are some of the very few that support HDR+Anti-Aliasing simultaneously on non-G80 nVidia graphics cards, so full HDR and Anti-Aliasing were utilized for this benchmark. All other details were set to their maximum settings, including "reflect all" for the water.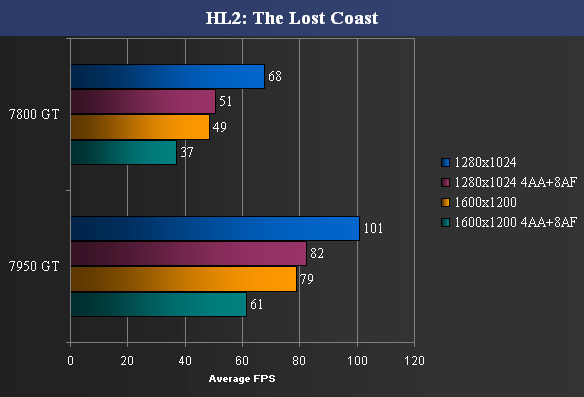 Again this is another impressive showing for the FOXCONN 7950GT card as it soundly beats out the 7800GT across the board. While the 7800GT running at the 1600×1200 resolution would lag fairly badly when the action gets intense or when viewing the beautifully rendered expanses of water, the 7950GT on the other hand is able to pull off very playable framerates at 1600×1200 with and without both Anti-Aliasing and Anisotropic Filtering.
OVERCLOCKING & TEMPERATURES
Using the new release of ATI Tool (Official 0.26 version), I simply selected Show 3D View and let the cube rotate, and for good measure loaded down both cores of the CPU to get things really cooking inside the case. After 25 minutes of continuous running, temperatures had peaked and leveled out with both cards. While the user's specific case, ambient room temp, and current state of case cooling make these numbers pretty much incomparable outside this review, they are at least useful for directly comparing against each other in this specific instance. Again for reference the test bed used is an Antec P180b case with all 120mm fans set between their usual low to medium speeds.
While a stock 7900GTX clocks in at 650MHz for the core, the FOXCONN 7950GT was capable of attaining a modest overclock to 610MHz while remaining completely stable. However I was surprised at the overclocking headroom on the GDDR3 memory, a more than 830MHz overclock was possible however in the interests of time and assured stability only 820MHz was used. In testament to FOXCONN, this cooler kept the card at or below 70c during the entire overclocking process. If that sounds warm to you (And it certainly is), then you might be surprised to hear this card is not set to begin throttling back due to overheating until it reaches a whopping 130c, according to the drivers! At stock speeds the FOXCONN 7950GT's core temperature would not budge over 61c. Ambient room temp was kept around 21c.
While the 7800GT grew marginally louder over it's already loud self, I could not subjectively notice any difference between the idle and fully loaded FOXCONN 7950GT graphics card, which can be attributed entirely to FOXCONN's non-reference cooler and not just a case of bad hearing on the reviewer's part! This card is much more silent than the stock nVidia reference cooler equipped models, and I must applaud FOXCONN for doing away with nVidia's stock cooler on their factory overclocked editions of their 7950GT cards.
While all games were retested at 1600×1200 4AA+8AF with the overclocked settings of 610/1640MHz, results for the most part were only about 5% higher at most accross all the games. At this high a resolution overclocking with what headroom that was left simply resulted in negligible frame rate improvements.
As the resolution used during overclocking increases, the law of diminishing returns comes into play. In other words, the improvements seen from overclocking would be much greater in direct proportion to the lower the resolution one happens to test at, but since we natually are only interested in the higher/highest achievable resolution the point becomes moot. This is likely to become even more prevailant as more XHD resolutions, such as 1920×1200, gradually move into the mainstream. However, there are other reasons people like to overclock their cards and that is to show them off, and 3DMark06 does happen to be a very clock sensitive synthetic benchmark…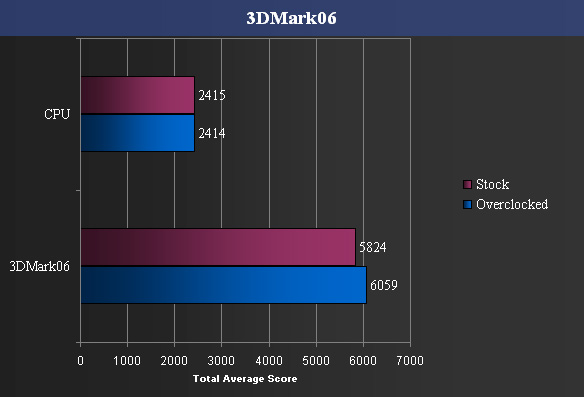 While the overclock yielded negligible improvements over it's stock settings in actual gameplay, it did offer an impressive showing by surpassing the 6,000 point barrier with 3DMark06, which before the advent of G80 would have been fairly good for just a single non-flagship card.
CONCLUSION
During CoH there was a definite improvement in framerates. For example doing a pan and scan with the camera to view the battlefield with the 7800GT was akin to watching a slide show on an old projector, however with the 7950GT it became possible to pan and scan across the playing field on the fly, even at the higher resolutions.
Having 512mb of onboard video RAM is not only a must have for some current games, but if you happen to be one of those users that likes to frequently alt-tab out of games then you will quickly notice the difference between a 256mb and 512mb equipped cards. Games like CoH alt-tabbed instantly without the pause for the system to fully clear the GPU RAM, completely doing away with the drawn out ~5 seconds usually taken to fully load the desktop and any open programs that the 7800GT needed. 256mb of video RAM will just not quite cut it anymore if you are looking to add a powerful addition to your system. 512mb of graphics memory is now the inflection point, with even larger sizes possible such as G80's 768mb and the expected 1gb that ATI's R600 GPU will bring.
I can remember just a few months ago when I was excited over the release of the 7900GS card, as it's entry ~$220 price for near 7900GT performance was a great deal at the time. Today with the advent of DX10 on the verge of sliding into the mainstream and with nVidia's DX10 graphics cards already making a large splash, you can now have 7900GTX performance with the FOXCONN 7950GT "Over-Clocking Version" for an MSRP of $269.
At the time of this review I could not find this graphics card available on the market. However an identical model with the same bundle is going for approximately $220 on one website after MIR, with the ONLY difference being that the memory is cut in half to 256mb. (Again, case in point about double-checking the memory sizes!) With half of the memory missing I cannot recommend that card as an alternative, despite its attractive price.
For those users that don't want to wait until prices settle next Spring or just have to play those new games they received for Xmas as soon as they can, but don't want to fully invest in one of the two currently available very highly priced DX10 graphics cards, then users can expect solid results with the FOXCONN 7950GT "Over-Clocking Version" graphics card. With an MSRP of $269 it places well under $300 (Before the likely expected MIRs, too) the FOXCONN 7950GT is still a valid alternative to the G80 series cards, especially if you game at any resolution below 1600×1200 where the power of an 8800GTX or 8800GTS will go mostly unused anyway.
Pros:
+  Price
+  Full HDCP Support
+  Excellent Cooler
+  First year "No Questions Asked" Warranty
+  Excellent Bundled Extras (Software & Game Controller)
Cons:
–  No DX10 or SM4 Support
–  No simultaneous HDR+AA in the majority of games.
Final Score: 8 out of 10 and the Bjorn3D Seal of Approval.
Word of Thanks
I'd like to personally extend my appreciation to FOXCONN for sending in a retail sample of this product for review. Without companies like them willing to take the time, effort, and cost to send in products for review, sites like Bjorn3d wouldn't be nearly where they are at today!
Members & non-members alike, we invite you to discuss this and other Reviews on the Bjorn3D Product Discussion forum…