QNAP Systems, Inc. has developed a very diverse line of products which accommodate all NAS needs. Bjorn3d.com has recently released a great review of the single drive NAS solution dubbed the TS-101 from QNAP's Turbo Station line of products. In this review I will dissect the larger and more diverse TS-201. Among the major benefits found in the QNAP Turbo Station TS-201 is that it functions nearly the same as a network file server with RAID-1, JBOD, and RAID-0 available, but without the associated costs.
Introduction
You may not know this, but there is a fast moving trend among power users which began in the corporate office and will end in your home.  You may not be aware of it yet, but very soon you will be telling others about it.  A few years back, IT directors noticed that it might save their company a lot of money to have a device which did all of the same functions as a file server, but without the cost and overhead of an operating system.  Since licensing costs have soared in the corporate environment, devices known as Network Attached Storage (NAS) servers have started showing up everywhere.  Up until recently, these items were usually somewhat expensive, and very limited in functionality.  With technology evolving at a tremendous rate, it didn't take long for the NAS servers to completely replace the networked file servers and reach prices that even home users could afford.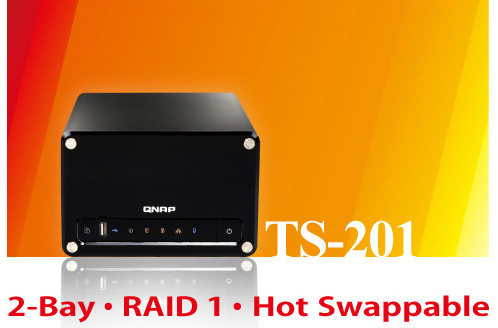 QNAP Systems, Inc. has developed a very diverse line of products which accommodate all NAS needs.  Bjorn3d.com has recently released a great review of the single drive NAS solution dubbed the TS-101 from QNAP's Turbo Station line of products.  In this review I will dissect the larger and more diverse TS-201.  Among the major benefits found in the QNAP Turbo Station TS-201 is that it functions nearly the same as a network file server with RAID-1, JBOD, and RAID-0 available, but without the associated costs.



Simple enclosure for easy installation and protection
The front panel can be removed simply by unfastening the four thumb screws. There is no need to remove the upper case or deal with complicated wires. Simply lock the hard disk on the disk trays, install them on TS-201 and they are ready to use.
Supports hotswap hard disk
When RAID 1 disk volume is configured, as a hard disk crashes, it can be replaced by a new disk without turning off the server. The system will rebuild immediately and all currently running tasks will not be interrupted. No professionals are needed to tackle disk failure.
Environmental-friendly and power-saving
RoHS standard qualified, adopts SoC system structure to reduce power consumption. Supports hard disk standby mode to save electricity expense.
Highly efficient heat dissipation system
Have passed strict thermal test to accomplish noise-free and efficient heat dissipation. The heat of hard disk and inside the enclosure is effectively dissipated to lengthen hard disk life.
One touch auto copy
Simply connect a USB storage device (e.g. pen drive, digital camera) to front USB port of TS-201 and press the copy button, all USB data can be copied to TS-201 independent of PC.
HDD upgradeable
Supports hard disks of different brands and capacities. External USB disk can be connected to expand disk capacity.
Stylish and compact design
Titanium enclosure with black front panel, illuminant LED indicators, dischargeable front panel and hard disk hotswap design.
About the company: QNAP Systems, Inc.
QNAP Systems, Inc. (QNAP) is a devoted and dominant provider of Internet Appliance (IA) products. QNAP was a previous IA business unit of ICP Electronics, Inc. (ICP). We have more than 4 years' solid and successful experience in designing and developing innovative and customized IA products. Our extensive expertise and product lines cover networking storage, digital surveillance and message communication.
QNAP has our own R&D, business development, and technical support sections to provide quality customer-oriented services. Until now QNAP has already released more than 20 NAS models for SMB (small and medium business). Our IA products have received ISO 9001 qualification, covering product design, manufacturing and supply. QNAP is dedicated to providing top quality products in the market and offering complete support to our customers.
For more information on QNAP, please visit their website at: http://www.qnap.com.tw/index.asp
Closer Look: TS-201
For some people, additional storage means adding another hard drive to the computer system and moving files onto it.  However, for the rest of us who depend on a secure and redundant file storage location the idea of simply using an additional drive could mean trouble.  In addition to the growing number of home users which take their data seriously, there are also a large number of power users who have networked their home, SOHO, or business, and want to implement a file server without the expensive software and licensing.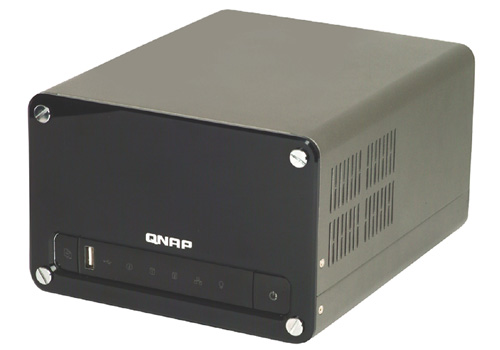 QNAP Turbo Station TS-201
The QNAP TS-201 is an average size for a two-drive NAS, measuring 8.5″L x 7″W x 4.5″H.  This small frame allows you to place the unit on a bookcase shelf, under the desk, or directly on top of a tower unit.  Since the unit draws cool air from the sides and vents out the back, planning for ventilation and exhaust will be useful in keeping the drives performing at their best.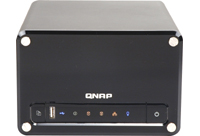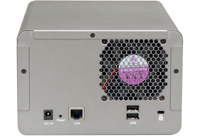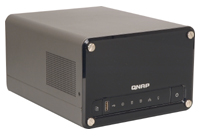 Multiple Views of the QNAP TS-201
Since the TS-201 maintains a very square shape, the unit is suitable for placement just about anywhere.  Although I didn't test this theory, it seemed to me that the construction was so sturdy that it might even hold the weight of someone standing on it.  Under normal usage however, the TS-201 is certainly suitable to support other devices on top of it, such as external hard drives or additional TS-201 NAS servers to create a SAN (Storage Area Network).
On the backside of the unit is the A/C adapter input, one 10/100/1000 gigabit Ethernet adapter, two USB 2.0 input connectors, and the device lock mounting hole.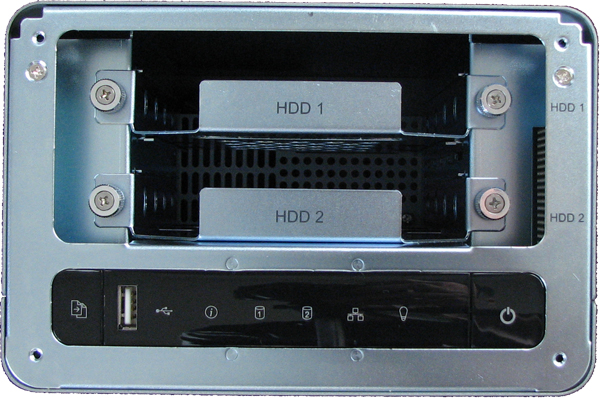 TS-201 without Bezel Plate (Click for large image)
The images above and below show off the solid steel frame which QNAP has designed into the TS-201.  There are no vibration dampening precautions, primarily because the solid construction prohibits most vibration.  The drive trays remove with knurled thumb screws, which are spring loaded and secured to the tray.  This was a nice subtle feature which I found to be very convenient.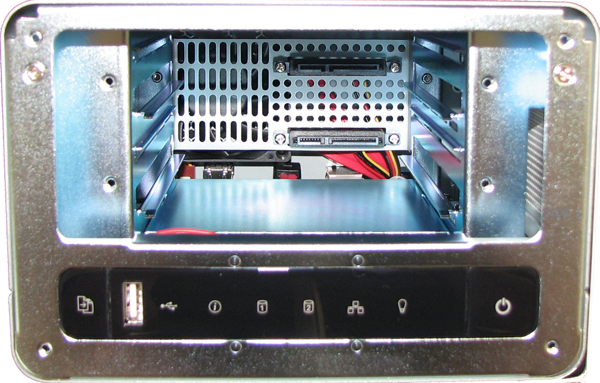 TS-201 Internals Exposed (Click for large image)
 Notice from the image above that the rear wall of the NAS enclosure is vented.  Air is drawn from the side vents from both frontal sides, and a 60mm cooling fan exhausts the heated air out to the back.
The front is very simple and somewhat plain, with a single USB 2.0 input connector (for USB flash drives), and some backlit status indicators.  The only button on the entire unit is a power button on the far right of the row.
Closer Look: Contents & Specifications
QNAP has made the process of building the NAS server very simple for the end user.  Since they have provided nearly everything you need to get your new NAS server up and working, all that remains is for you to select two matched SATA 3.5″ hard drives for a RAID-1 mirrored array, or up to two SATA drives for standalone storage without redundancy.  While using your NAS server with standalone hard disks may yield a larger capacity, QNAP has designed the TS-201 with RAID-1 functionality which is a real asset for precious and valuable data.
Retail Package Contents

It should be noted that while QNAP has included everything in this NAS kit except for the SATA hard disk drives, there were two items which I choose to replace in my configuration. First, and probably the most necessary, was the Ethernet patch cable. QNAP has designed the TS-201 with Gigabit Ethernet, which is designed for CAT-6 cable for correct pulse noise cancellation. However, QNAP dropped the ball and included a two-generation old CAT-5 Ethernet patch cable, which will work, but is primarily suitable for 10 Base-T Ethernet. The second item I replaced was primarily because of hassle and personal preference: the four flat head low profile thumbscrews. These required me to use a flathead screwdriver to install and remove them because they had holding area on their sides. I replaced them with more standard thumbscrews with Phillips head tooling.
Hardware Specifications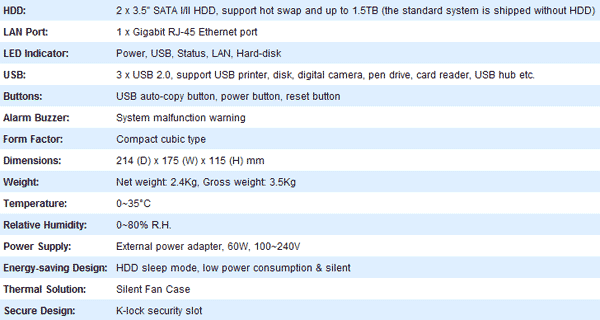 Hard disk drives are in a holding pattern while engineers research an alternate method for increasing storage capacities. Since perpendicular storage has recently improved this goal, capacity has greatly improved. However, even this new technology maintains some limitations. At the time of this writing, 750GB hard drives are as large as you can get, which means that Terabyte-sized NAS RAID-1 storage is still a few more months away. However, if you are part of the growing crowd of Torrent downloader's, then perhaps you will ignore the benefits of RAID-1 and opt for 1.5TB of storage space available in standalone disk mode.
Software Specification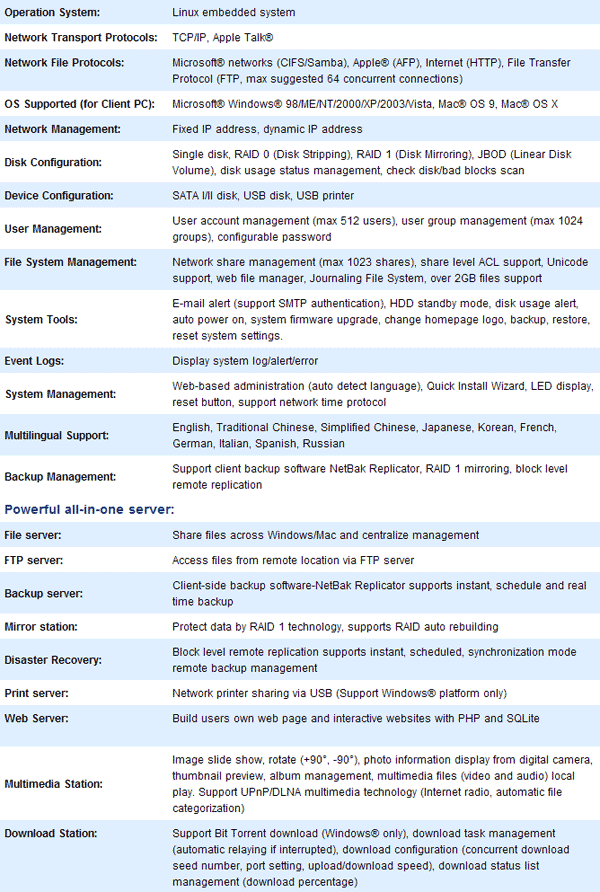 In addition to Windows support, the QNAP TS-201 is sure to please the Mac crowd with support for OS 9 and OS X. Additionally, TCP/IP and AppleTalk are both supported protocols. Reviewing the specifications above will reveal that the TS-201 is truly a fierce alternative to the overpriced file server market.
Features & Benefits
• 2 x 3.5″ SATA hot swappable hard disk bays


• Storage capacity up to 1.5TB (Maximum capacity)
• High performance RAID 1 for non-stop service
• Gigabit Ethernet with Jumbo Frame function for heavy throughput
• Easy to install, easy to setup, user friendly web GUI
• Powerful server management software
• QNAP unique triple backup technology:
   -NetBak Replicator
   -RAID 1
   -Remote Replication
• BT download client embedded
• Most complete UPnP/DLNA functions: Internet radio, automatic multimedia file sorting
• Multi-protocol system support on Windows, Macintosh, TCP/IP, HTTP, FTP
• Double-byte language support for file name, user name and security settings
• High availability to keep enterprises operating continuously
• Affordable initial setup cost and no license fee
• Stylish design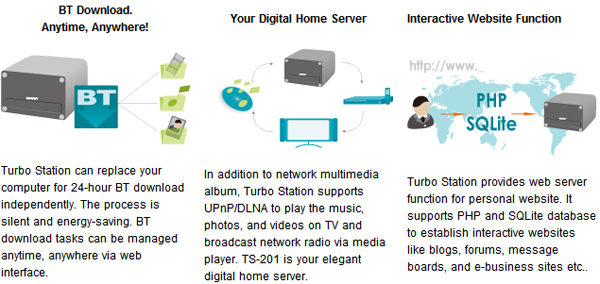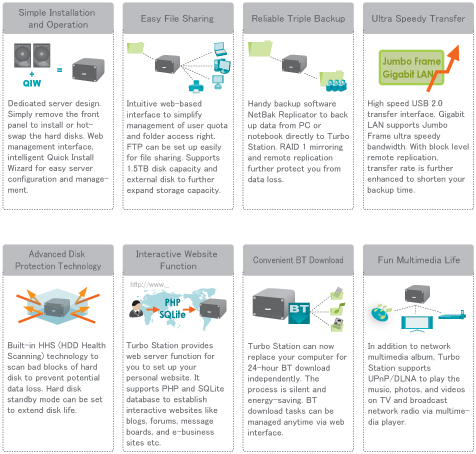 Advanced Features
TS-201 is a low cost full-featured, 2-bay, RAID 1, hot-swappable Network Attached Storage (NAS) server with a compact design. It provides shared data to clients and other servers on a Local Area Network (LAN). TS-201 is designed for medium/small office or solution providers who have networked storage requirements across Windows and Mac environments. TS-201 is also designed for users who do not have MIS people or who desire to maintain the server by themselves. Compared to a traditional file server, it is priced at a fraction of the cost. The compact size and large storage capacity provide highest price/performance ratio.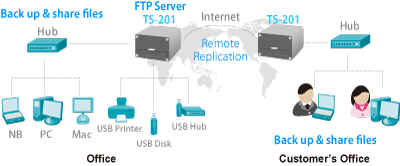 THE ADVANCED FEATURES OF QNAP TS-201 TURBO STATION
Large Capacity and Low Cost
TS-201 provides 2 SATA hot-swap hard drive bays and the capacity is up to 1.5 TB. The hot-swap SATA HDD interface costs at least 75% less than SCSI-based solutions. TS-201 offers affordable initial setup cost and competitive incremental cost.
Easy to Install
The front panel can be removed simply by unfastening the four thumb screws. There is no need to remove the upper case or deal with complicated wires. Simply lock the hard disks on the disk trays and insert them to TS-201. Connect the power supply and network cable, and finish a few installation steps. The server is ready to use!
Easy to Use
Browser-based Graphic User Interface (GUI) provides high usability for the administrator to manage the server and even BT download remotely.
Easy to Expand
Easy expansion and customization of storage space. Users can install one hard disk first and upgrade to 2 disks in the future when need more capacity. You can even connect external USB disk to further expand storage capacity.
High Performance
High speed USB 2.0 transfer interface. Gigabit LAN supports Jumbo Frame ultra speedy bandwidth. With block level remote replication, transfer rate is further enhanced to shorten your backup time.
High Interoperability
Multi-protocol system support on Microsoft and Apple networks.
High Reliability
TS-201 supports RAID 1 for 24 hours, 7 days a week non-stop service and easy maintenance. The intelligent on-line data rebuilding capability allows users to replace a failed drive by hot swap, this enables automatic data rebuilding to the new drive without suffering from any system downtime. The hard disk status and usage monitoring make sure data is secured by another drive and the system will alert the administrator automatically if any drive fails.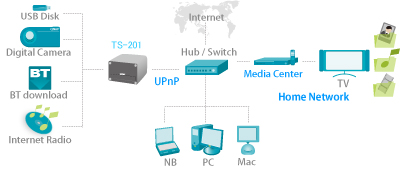 Powerful Management Software
1. Easy File Sharing: Intuitive web-based interface to simplify management of user quota and folder access right. FTP can be set up easily for file sharing.
2. Quick Installation Wizard (QIW): QIW can search and set up IP address on the LAN with just one click. Through QIW, DHCP or static IP configuration, overall system status and network drive mapping can be done easily.
3. Reliable Triple Backup: a. Handy backup software NetBak Replicator to back up data from PC or notebook directly to Turbo Station and restore backup files from the server to client computers easily. b. RAID 1 mirroring and c. remote replication further protect you from data loss.
4. Powerful Embedded Server Management: Network settings for Windows and Apple, management of the major services, hard disk management, user access right, quota, group, share folder management, status and event logs, remote shutdown, sleep mode etc.
5. Advanced Disk Protection Technology: Built-in HHS (HDD Health Scanning) technology to scan for bad blocks of hard disk to prevent potential data loss. Hard disk standby mode can be set to extend disk life.
6. One Touch Auto Copy: Simply connect a USB storage device (e.g. pen drive, digital camera) to front USB port of TS-201 and press the copy button, all USB data can be copied to TS-201 independent of PC.
Testing & Performance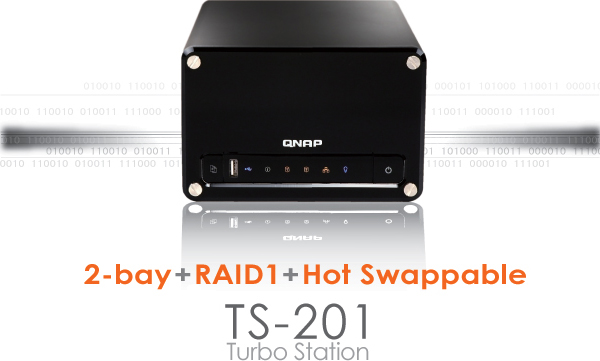 Testing
My test network consists of a D-Link DGL-4300 Gigabit Ethernet Wireless Gaming router with CAT-6 cabling throughout, the embedded Realtek RTL8168/8111 PCI-E Gigabit Ethernet NIC in my ABIT AB9-Pro motherboard, and the QNAP TS-201 Gigabit Ethernet interface.
For this review I utilized two brand new Seagate ST3500630AS 500GB SATA-II hard disk drives.  These are considered to be the fastest large volume hard drives available at the moment, with a 16MB cache buffer, and a speedy 8.5ms seek time.  Once installed into the drive trays, and loaded into the TS-201, I accessed the configuration page through a simple web interface.
I was given several choices, which are listed below.  My intentions were to first create a 1TB RAID-0 array of striped disks, and then break the array and rebuild a RAID-1 array.  I would not suggest this experimentation for the average user, since formatting disks of this size took almost an hour.  It is best if the intended configuration of the disks is decided and planned prior to setup.
• Single Disk Volume
Each disk will be used as a standalone disk. However, if a disk is damaged, all data will be lost.
• RAID 1 Mirroring Disk Volume
RAID 1 (mirroring disk) protects your data by automatically backing up the contents of one drive onto the second drive of a mirrored pair. This protects your data if one of the drives fails. Unfortunately, the storing capacity is equal to a single drive, as the second drive is used to automatically back up the first. Mirroring Disk is suitable for personal or corporate use to store important data.
• RAID 0 Striping Disk Volume
RAID 0 (striping disk) combines 2 or more drives into one larger disk. It offers the fastest disk access but it does not have any protection of your data if the striped array fails. The disk capacity equals the number of drives in the array times the size of the smallest drive. Striping disk is usually used to maximize your disk capacity or for fast disk access but not for storing important data.
• Linear Disk Volume (JBOD)
You can combine two or more disks into one larger disk. During file saving, the file will be saved on physical disks sequentially but does not have a disk failure file protection function. The overall capacity of linear disk is the sum of all disks. Linear disk is generally used for storing large data and is not appropriate to use for file protection of sensitive data.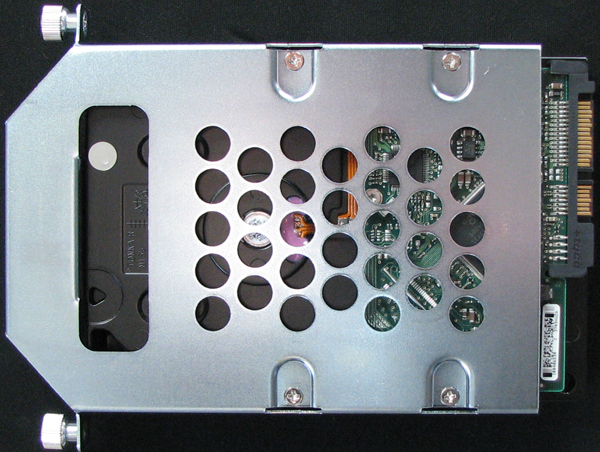 TS-201 Hard Disk Drive Tray (Click for large image)
Performance
In regards to performance, the QNAP Turbo Station TS-201 is a pure speed demon when compared to other NAS devices.  I found that I was limited more by the hard disk transfer speeds then I was the NAS server itself, thanks to Gigabit Ethernet.
ADDENDUM:
After the initial testing of the TS-201, some readers asked me to define some test results.  Using the Gigabit Ethernet port connected directly to the AB9 Pro motherboards Gigabit Ethernet port via CAT6 cable, I moved a single 1GB (1024MB) file from the NAS server, and then moved it back, recording the average.  In the end, the results showed me that Gigabit Ethernet can play a huge role in transfer speed, and for those power users with Jumbo Frame support this could reap huge rewards.
In RAID-0 mode, I found the TS-201 to transfer a 1GB file in 47 seconds on average.  It should be noted that the faster the hard disk drive (such as a 10,000 RPM hard drive) will perform network transfers faster then a slow hard disk drive (such as a 5400 RPM hard drive).
Although my testing was done in the absolute best-case scenario, my advice is to get the fastest drives you can afford if the workload consists of large files, and ensure your Ethernet network supports gigabit transfer speeds with Jumbo frame support.  Doing so will ensure that your own experience with the product will be at it finest.
Final Thoughts
Overall this is a great product at a reasonable price. There are so many different functions embedded into the QNAP TS-201 that I actually had to refrain from listing them all in one area. This product literally is a server, which allows you host an FTP, web page, multimedia library, or networked files. The web interface is amazingly simple and robust all at the same time. In fact, I found it to be far easier for me to set up complex function in the TS-201 then I ever found in a Windows based server.
The matte steel finish is very attractive, even if you are in love with the color black like I am. While I was not impressed with the bezel operation; primarily the flathead low-profile "thumbscrews" which were so short and flat that it meant I needed more then just a Phillips head screwdriver to build the unit, the overall appearance is very modern. The mounting trays were among the easiest I have seen, and used real thumbscrews (with Phillips head screws).
The accessory kit with the QNAP TS-201 is undermined by poor hardware selection. In addition to the dreadful flat slotted thumbscrews for the bezel, there is a category 5 Ethernet patch cable included. I found this particularly disappointing because CAT-5 is so far obsolete that it has since been replaced with CAT-5e and recently CAT-6. Additionally, you may not obtain gigabit Ethernet speeds with a CAT-5 cable for lengths longer then the included patch cable. Including a CAT-6 Ethernet Patch cable would have satisfied me (since I had to build my own for testing), and it would probably really impress the consumer without costing QNAP much more then a few cents.
There are a few very small details which I felt could have been improved if QNAP were to release a second edition of the TS-201. Obviously using uniform thumbscrews and including a CAT-6 patch cable would be at the top of this list, but I would also like to see a larger and longer life cooling fan and move the vents to a lower forward position for improved cooling. Finally, the hard disk tray is very efficient as it is, but there is no reason why more cooling holes and less solid metal could not be used.
Conclusion
I am picky, and I always have the reader and consumer in mind when I write my reviews. The TS-201 offers an impressive feature set, plenty of value, and well designed final product. Even if you only ever use the QNAP TS-201 for a network file server, you will not be disappointed. Take my word for it though, and experiment with the web, FTP, and multimedia center functions through the browser interface; this offers a whole other side to the product.
While replacing the CAT-5 cable with a much needed CAT-6 cable is highly recommended for Gigabit Ethernet operation, I have found satisfaction out of the TS-201 as a whole. I may have personal dislikes for a few very small details, but if the worst I could find is the mismatched thumbscrews and a slightly overwhelming PDF manual. Keeping in mind that I was hard pressed to discover any major design flaw in functionality, it all came down to a few very minor issues that kept the QNAP TS-201 from getting a perfect score.
For the very reasonable price of $368.43 at NewEgg, you can begin operating your own web, FTP, file, or multimedia server.  Considering the cost of server operating system software starting at over $500, purchasing the QNAP TS-201 is a steal.  For under $700 you will have a 1TB high-speed Gigabit Ethernet NAS ready to give your files a safe home.
Pros:
+  So many features you'll be amazed!
+  Legitimate server replacement
+  Easy to navigate web interface
+  High strength steel construction
+  Gigabit Ethernet
+  (3) Three total USB 2.0 ports
+  Simple assembly and start-up 
+  Very quiet operation
Cons:
–  Poor accessory kit (CAT-5 cable & flat thumbscrews)
–  Software and instructions can occasionally be confusing
–  Cooling fan does not have a control
–  Slightly larger then other brands
Final Score: I award the QNAP TS-201 with a final score of 8.5 (very good) out of 10.0 and the Bjorn3D Seal of Approval.  This product will be the future of SMB/SOHO networks, and is very affordable.
Special Thank-you:
This review would not be possible if it weren't for manufacturers like QNAP who are willing to stick their neck out there and have a picky hardware analysts like me dissect their products.  I am grateful, and certainly appreciate the opportunity.