The MobileSTOR Series MS2UT is a 2bay external RAID solution designed for video editing and data storage. With simplicity and flexibly in mind, the MS2UT is equipped with 2 Hot-Swappable 3.5" lockable drive trays and both USB 2.0 and eSATA host interfaces. Utilizing cutting edge Serial-ATA HDD technology, the MS2UT is guaranteed to provide unparallel performance to meet most data intensive demands. Supporting RAID 0 or RAID 1, enclosed in stylish aluminum housing, the MS2UT will allow you to easily choose between ultimate performance and high redundancy.
Introduction
Peripheral storage devices are quickly becoming a popular item among computer users, and owning an external storage device will be just as common as owning a printer very soon. Additionally, it is not uncommon to find and external storage device connected to a computer in a home, office, or SOHO in this day and age. Recently, the price of hard disk drives has dropped to the point where anyone can afford large capacity drives, so it makes good sense to begin investing in a secondary storage location. And with data transfer rates available at 1.5Gbs speeds via eSATA interface connections, these large drives can see their full potential.
QNAP is one of the many new companies which aim to satisfy the growing need for external storage solutions.  In this product review, I will take a close look at their MobileSTOR MS2UT eSATA RAID enclosure.  This enclosure offers RAID-0 and RAID-1 capability, with high-speed transfers available up to 1.5Gbps through the included eSATA cable, or 480Mbps with USB2.0.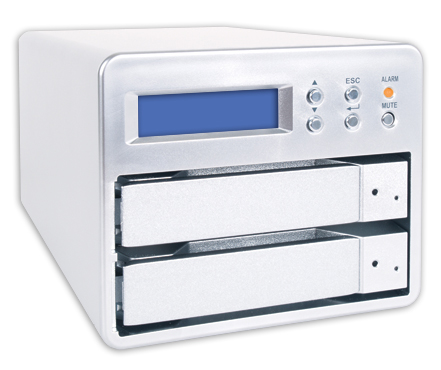 Sans Digital MS2UT eSATA RAID Enclosure
The MobileSTOR Series MS2UT is a 2bay external RAID solution designed for video editing and data storage. With simplicity and flexibly in mind, the MS2UT is equipped with 2 Hot-Swappable 3.5" lockable drive trays and both USB 2.0 and eSATA host interfaces. Utilizing cutting edge Serial-ATA HDD technology, the MS2UT is guaranteed to provide unparallel performance to meet most data intensive demands. Supporting RAID 0 or RAID 1, enclosed in stylish aluminum housing, the MS2UT will allow you to easily choose between ultimate performance and high redundancy.
About the company: Sans Digital
Sans Digital, located in Los Angeles, CA is a provider of high capacity, multi-functional advanced storage solutions. They can be used in home offices, small and medium-sized businesses, video editing, data backup, surveillance systems and many other industries. Our products provide great solutions for companies and individuals across the world who need effective and reliable data storage systems.
Technology and Service Differentiation
Sans Digital offers storage products for RAID and barebones systems for both OEM and ODM customers. By incorporating the latest technology, we set the standard in the storage industry. With products featuring advanced technology, we ensure that we will meet our customers needs.
Product and Service Innovation
Sans Digital offers products and services that are exclusively different, and therefore help customers improve their productivity. With over 10 years of experience offering complete storage solutions, Sans Digital's products have come to be distinct with their unmatched technology.
Business Productivity Solutions
Every customer is different and Sans Digital recognizes that one size fits all storage solutions is unlikely to meet everyone's requests. As a result, Sans Digital joined a wide variety of industry leaders to offer strong portfolio storage applications that are specific to various industries. This includes off-the-shelf or fully customized solutions.
Target Audiences
Our main customers include business and enterprise, government and education, creative professionals, as well as consumer and SOHO which are all targeted through our Distributors, System Integrators, Value-Added-Resellers, and Dealers.
Sans Digital specializes in serving these vertical industries: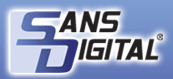 Audio-Video Editing
Data Backup
Surveillance Systems
Database Storage
Imaging
File Servers
Contents
Like most external storage kits, the manufacturer provides everything except the hard disk drives.  While this is still the case with the MS2UT, Sans Digital also offers this same storage solution with hard disks of different capacities.

Sans Digital MS2UT and Related Models
For this product review, I have received the MS2UT with all of the accessories pictured below.  Besides the primary MS2UT unit, Sans Digital includes: (1) eSATA cable measuring 24″ long, (1) DB-9 Serial cable for the software interface, (1) USB A/B cable measuring 36″ long, (1) 12V power cord, (2) plastic drive tray keys, and a screw assortment.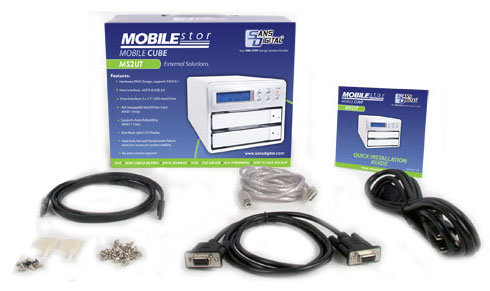 Contents: MS2UT
I was impressed with the high-quality reinforced and shielded eSATA cable which Sans Digital has included with this kit.  Even the USB cable was a departure from the norm and had a see-through cover with braided shielding.
Packaging
The MS2UT comes very well protected with closed-cell foam end caps which protect in transit.  Although my test unit was shipped via 3rd party distributor enclosed in an additional package, I believe that shipping this unit in its retail packaging is acceptable.

From everything I have seen so far, I am very impressed with the presentation of this unit.  Continue on, and we can see if Sans Digital does as well with the delivery and execution.
Closer Look: External
My first impressions are very positive. Sans Digital has done a great job of designing an enclosure which utilizes every available space inside.  I was especially pleased with the overall dimensions of the unit, which were smaller then most of the competition. In this case it is a small footprint that the consumer will appreciate most.

Sans Digital MS2UT Component Layout
From the images below, you can see that this unit is a very compact and well planned out.  The LCD screen is backlit, which you will see more of later into this article.  The hard drive trays are very solid with matching construction and finish.  Each tray is removed using an included pin-hole key, and there is a status LED on the far right side of the tray.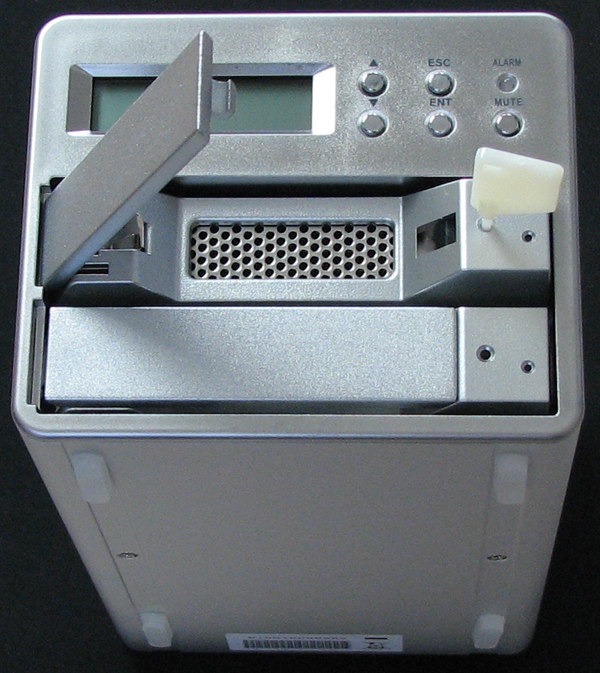 Front View: MS2UT
Looking at the front of the unit will reveal a very sharp and modern design.  Since the construction is primarily unfinished aluminum, Sans Digital went to great lengths to ensure uniformity throughout.  At first glance, the buttons do not seem very confusing, and the drive tray removal seems pretty straight-forward.
MS2UT: Flipside
There is a whole lot going on here at the back of the unit. With two separate cooling fans, and four different input connections, I am surprised that Sans Digital found room for a power switch. I noticed that while the 30mm system fan is not easily accessible, the larger 40mm disk cooling fan is replaceable. It would seem as though there should be more connections available under the eSATA port, but that may be left open for future use on other products. The USB 2.0 port and RS-232 Serial port are both accessible from the rear of the MS2UT.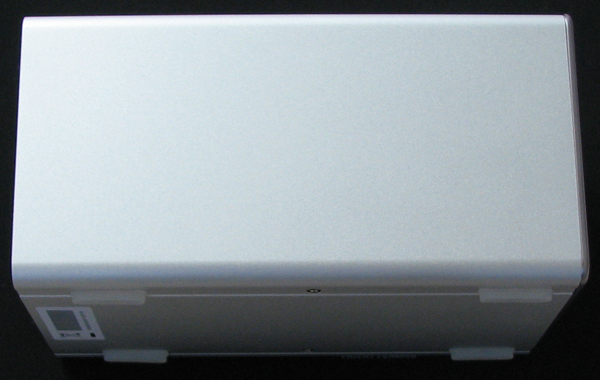 Side and Bottom View: MS2UT
The sides of the MS2UT are somewhat void of any design implementation such as vents or logo's. Perhaps I will add racing flames to the sides if this unit performs as fast as it claims.  The underside of the unit is also very Spartan, with four silicon-rubber vibration absorbing feet in place at each corner. During testing, it noticed that the unit stays firmly in place and will not mover even with light force.
Let's take a closer look inside…
Closer Look: Internal
It was my every intention to take this unit apart and show off the compact inner workings.  But I wasn't quite ready to disassemble the MS2UT as I would a power supply, and learned that there wasn't much more to be seen beyond the backplane board.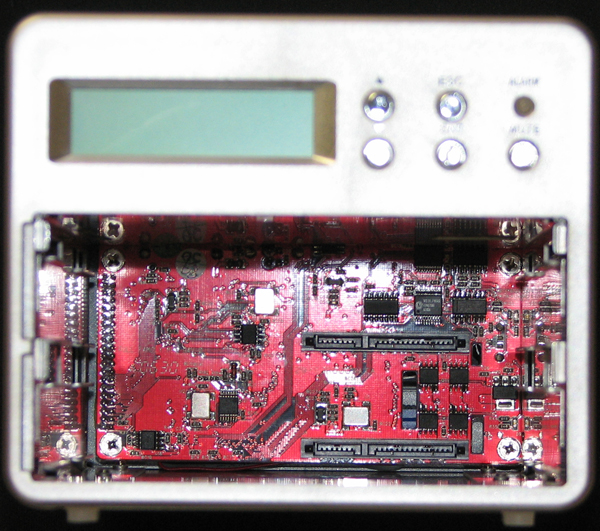 MS2UT: SATA Backplane
With the drive trays removed, you can see the colorful red PCB which serves as the SATA and power backplane.  Since the tray rails are guides to the hard drive trays, it is very unlikely that there should ever be any misalignment or damage to this internal component.  For as far as I could see into the unit, there are no ventilation holes anywhere but from the front of the drive trays.
MS2UT Hard Drive Tray
The external appearance of the hard drive tray is among my favorite features in this product. The handle latches firmly into place, and requires a pin-key to unlock them (although a paper-clip works all the same). With the handle open, the ventilation holes are visible, serving to assist in the cooling system for this unit.
One item which completely amazed me is the embedded access LED lights in each tray. As the device started, each tray would momentarily flash from a LED light on the far right side of the tray. The question which developed was: where is this LED light getting its signal and power from?

Tray Installation Instructions
It wasn't until I finally mounted the hard disk drives that I discovered the first design flaw.  Of course, I have learned to take the good with the bad, but this was an initial irritation which Sans Digital could have prevented.
In each tray there is a removable plastic frame which I presume allows the ends of the tray to remain at a fixed distance apart during packaging and shipping.  This is fine, and although I think that Sans Digital could save themselves some money by simply designing a cross-brace, the frame is still acceptable.  But this is not the real problem.
The real problem is the tiny machine screws which hold the trays into place.  These screws use a #2 Phillips head bit, or else you will be stripping them in place.  They also have a larger thread then what is found on the hard drives.  This means that you will need to remove them and use the supplied screws in the kit, which is not an issue.  The real issue with this ordeal is that the screws are such a trouble to install without having a uniquely large #2 Phillips handy.  Large head + tiny screw = bad match.  Sans Digital should have stuck to the standard on this one.
Features
If Sans Digital has loaded the MS2UT with features that match the looks, we could be in for a real treat.  Just the idea of connecting at full speed with the eSATA cable is exciting!
Hardware RAID Design, supports RAID 0,1
Host Interface: eSATA & USB 2.0 Combo
Drive Interface: 2x 3.5″ SATA I/SATA II HDD
Compact, stylish aluminum design.
Supports 3Gb/s and 1.5Gb/s SATA I and SATA II drives
Support latest 750GB Hard Drive. Up to 1.5TB storage capacity.
Hot Swappable trays which are compatible with various Hard Drives (RAID 1)
Data Auto-Rebuilding
LCD Display
Hard Disk, Fan and Temperature failure detectors to ensure system stability
Windows-based GUI software
Standard Interface, No extra drivers required
Since the MS2UT offers both RAID-0 and RAID-1 arrays, this product could see use as a large capacity mirrored storage device in RAID-1, or an excellent swapdisk/working directory with twin WD Raptors working in RAID-0.
Specifications

While Sans Digital lists a maximum capacity for the MS2UT, I have a good feeling that this limit is only due to the availablity of 750GB hard drives as the largest storage drive produced at the time of this release.

Cable Connections
Power draw is minimal, at a rated 70W, which means that your utility bill will not reflect an unappreciated increase.  Additionally, the MS2UT is backwards compatible with older computers through a USB 2.0 connection, but newer computers can take full advantage of the high-speed eSATA connection.
The RAID Manager software communicates with the MS2UT through the included RS-232 DB-9 Serial cable.  This appears to be a weakness in the design, since most new computer do not have a serial port and will require a DB-9 to USB converter to maintain the monitoring software (but not functionality).
Testing & Software
For this review I utilized two brand new Seagate ST3500630AS 500GB SATA-II hard disk drives.  These are considered to be the fastest large volume hard drives available at the moment, with a 16MB cache buffer, and a speedy 8.5ms seek time.  Once installed into the drive trays, and loaded into the TS-201, I accessed the configuration page through a simple web interface.
Since only two RAID arrays are available, my intention was to first create a 1TB RAID-0 array of striped disks, and then break the array and rebuild a RAID-1 array.  I would not suggest this experimentation for the average user, since formatting disks of this size took over an hour.  It is best if the intended configuration of the disks is decided and planned prior to setup.
After a long look over the MS2UT, I have concluded that the craftsmanship is second to none.  Although it was a bit unbearable installing the hard drives with tiny screws and their oversized #2 Phillips head, I can say that the worst is behind me.  Or is it?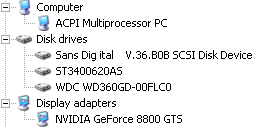 Device Manager
Once the unit was assembled, I used the eSATA to connect it into my system.  Since so drivers were provided, I was skeptical as to whether or not this would truely be a Plug & Play device.  As it turns out, Windows XP found the MS2UT right away, and added to the Disk Drives section in the Windows Device Manager.
After the MS2UT was connected and installed to my system, I could partition and format the RAID-1 (default) array via the Disk Manger interface.  No additional software in required to operate or configure this external storage device, and any setup configuration can be changed in the RAID Setup path displayed below.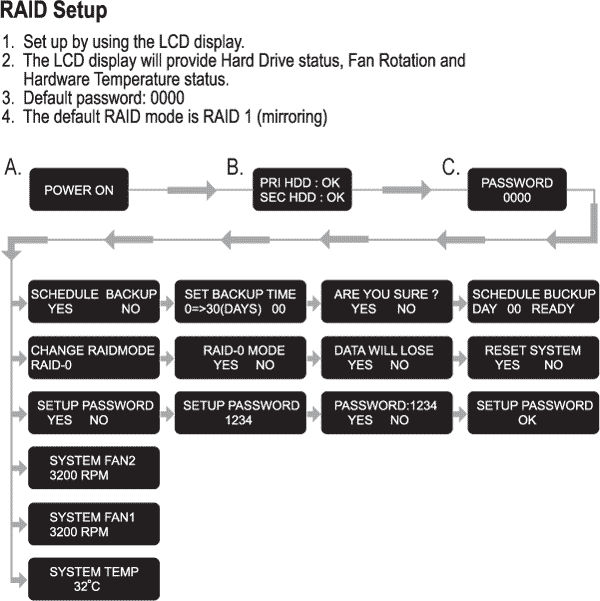 MS2UT Configuration Path
After I connected the MS2UT to my computer with the eSATA cable, I attempted to enter the RAID setup interface using the panel buttons located on the face of the unit.  Apparently, this setup menu is not available with the unit connected, so it was required for me to disconnect the unit before moving on.
In the RAID setup, there were a few very basic features that could be configured. Essentially it is summed up as: backup schedule, RAID mode, and password. The details on the scheduled backup are locked away in the CD manual, which are vague even still, but it was discovered that this feature works with the RAIDGuide RAID Manager software. Changing the RAID array was simple enough, as you get two choices in this menu: RAID-0, or RAID-1. As previously mentioned, all optional disk configuration in done in the Windows Disk Manager interface, so the scope of this software is very limited. Lastly, the password can be changed to something other then the default 0000. I left this as-is, since nobody else will be sitting at my desk.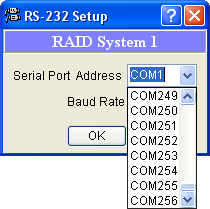 RAIDGuide RAID Configuration Setup
The management software, RAIDGuide RAID Manager, is a very basic application designed to monitor the RAID arrays and rebuild them if it is ever necessary. The first and largest drawback for this software is that it interfaces with the MS2UT through an included RS-232 BD-9 serial cable. Since my computer is based on the ABIT AB9 Pro motherboard, I do not have a DB-9 serial port; and most other motherboards on the modern market share the same design. When I contacted Sans Digital regarding this, it was recommended that users who do not have an available serial port use a USB to RS-232 converter. I have rarely seen these converters, although I do have a few which were included with UPS battery backup kits. Unfortunately, Sans Digital did not include this converter in their MS2UT kit, but I was informed that they "are looking into the USB (interface) as possibility".
I eventually connected the converter I had, and installed the RAIDManager software, but it was not as straight-forward as I would have liked.  Since the connection is locked into a serial port, it would require Sans Digital to change the RAIDManager software as well, if a USB solution were ever developed.  There was nothing more to the software then rebuilding a broken RAID array, or configuring alarms if a disk failed.
Since the MS2UT clearly supports both RAID-0 and RAID-1 arrays, I was curious if it could step down and operate with a single disk, or even two separate single disks.  After some experiments, and correspondence with Sans Digital, the hard truth was discovered.  I learned that one single disk can operate, but it will do so in a broken RAID-1 mode, and the alarm must be muted.  Two single disks were not possible, and would be entered into a RAID array once they were installed.
Final Thoughts
Every device I have ever connected to my system via eSATA has offered excellent transfer speed and performance, and the Sans Digital MS2UT is no exception.  With burst transfer speeds of up to 1.5Gbps available, nothing else compares.  Matching this with a set of disks in RAID-0 array, and you immediately have a very high-speed fast-access disk available for gaming, graphic arts, or video editing.
In RAID-0 mode, I found the MS2UT to perform nearly as well as with the disks installed onto my ABIT AB-9 Pro motherboard, which was surprising.  In RAID-1 array I noticed that my internal set did perform noticeably better on average, when compared to the MS2UT RAID-1 array.  Of course, I have full SATA-II 3.0Gbps internally, whereas eSATA is on the level of SATA-I standards at 1.5GBps.
Overall this is a good product, but I can't ignore the price. There are only two real functions embedded into the MS2UT: RAID-0 and RAID-1, so a unit such as thie MS2UT is really best suited as an external RAID storage solution, which would replace an internal SATA-I RAID controller card.  I found the Sans Digital MS2UT for sale at NewEgg.com for $260.01 shipped.  At this price, it is hard to recommend the MS2UT unless you really need external storage; since the price of NAS servers or a new motherboard which supports SATA-II RAID offer similar alternatives.
The rough aluminum finish is very attractive, and the overall appearance is very modern. The mounting trays were the best looking I have ever seen, and at the same time a giant pain to assemble thanks to horrible screws.  Even so, the MS2UT adds appeal to any environment, as it matched my Lian Li PC-201A case perfectly.
The accessory kit with the MS2UT is comprised of top-end components, and the eSATA is long enough to allow the unit to be placed a short distance away.  Nevertheless, I look forward to a day where the RS-232 serial cable is replaced by the included USB cable, which will modernize this unit.
For what it's worth, there were only a few small details which I felt could have been improved in the MS2UT.  Obviously replacing the outdated serial port interface with a USB interface would make it more compatible with systems made since this decade started.  Additionally, using uniform mounting screws would make installation easier, and simply not having drive tray blanks would save a step (and a whole lot of wasted plastic).
Conclusion
If external RAID is a requirement for your application, then the MS2UT is a well built solution.  However, I am not convinced the price this product reserves much value.  This is a harsh statement, I know, but for the price you could have any number of other devices which perform equally well.  I always have the consumers interest in mind when I write my reviews, and this product in really nice but not really necessary. The MS2UT offers a great RAID solution, but without additional value, it becomes a well designed product at a high price.  There are NAS servers which would offer the same solution, but lack the eSATA interface; and since nearly every motherboard made in the past year supports both the same RAID arrays as the MS2UT, it is a hard sell.  Take my word for it though, users who need the external RAID storage will not be disappointed.
Pros:
+  Hardware level RAID-0 and RAID-1 capability
+  eSATA offers 1.5Gbps data transfer speeds
+  Very attractive design and finish
+  High strength aluminum construction
+  USB 2.0 secondary data interface
+  Simple assembly and setup 
+  Occupies very little space
Cons:
–  Poor tray mounting screws
–  Software relies on RS-232 serial port interface
–  Cooling fans do not have a control and are not quiet
–  Expensive
Final Score: I rate the Sans Digital MS2UT with a final score of 7.0 (good) out of 10.
Special Thank-you:
This review would not be possible if it weren't for manufacturers like Sans Digital who are willing to have a picky hardware analysts like me review their product.  I am grateful, and certainly appreciate the opportunity.