Vantec has released a notebook cooler that does a lot more than just cool your notebook down. You will find both a 2.1 sound system and a 3 port USB2.0 hub on it. We've tested it to see if it is a worthile investment.
INTRODUCTION
Anyone who has worked with a laptop for a longer period of time knows that it gets very hot underneath. Not only can that produce some nasty effects on your lap but it also can both shorten the life span of the laptop as well as affect the performance when the computer clocks back the speed of the CPU and/or GPU due to the heat.
Notebook coolers have been available for a few years now so when Vantec released their Piano 101 they made sure to make it more than just another laptop cooler. In addition to the fan cooling the laptop they also put in a complete sound system and USB-hub.
FEATURES AND SPECIFICATIONS
The main features of the Vantec Piano 101 are:
Adjustable fan speed
The fan can be adjusted dynamically so you can choose between lots of cooling and higher noise or less cooling but a more quieter operation.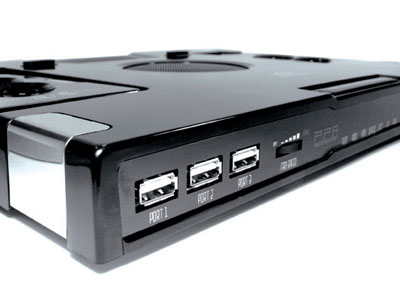 Built in USB2.0 Hub
The Piano 101 has a 3-port USB-hub.
2.1 Stereo System
The Piano 101 has a built-in 2.1 stereo system.
Sound enhancements
You can turn on/off Bass boost and 3D surround sound.
Several preset Sound EQ settings
Choose between flat/pops/classic/jazz and rock.
The Piano 101 can be had in several colors including black and white. The one I am testing is white.
The specifications for the Vantec Piano 101 are:
Total RMS power ( RMS ):15watts
。Satellites:5W x 2
。Subwoofer:5W x1
。Frequency response:60Hz – 20kHz
。Signal-to-noise ratio:> 80db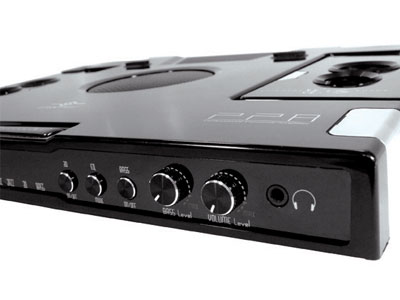 Drivers:
。Satellites:2 x 1.5″ Full-range drivers +2 x 1″
Highl-range drivers
。Subwoofer:2″ woofer
Speaker dimensions:
。Satellites:(H)19.0 x (L) 100 x (W)40 ( mm )
。Subwoofer:(H)26.0 x (L)120 x (W) 60 ( mm )
Piano dimensions:
。(H) 30 X (L)330 X (W) 252 (mm)
VANTEC – THE COMPANY
Vantec was found 1994 and has concentrated itself on thermal solutions.
Founded in 1994, Vantec is recognized as one of the premier thermal solutions leaders. We are devoted to manufacturing and developing total PC solutions for every computer user, from mainstream to enthusiast. Utilizing our technical expertise and innovative designs, we are constantly expanding our product line to offer advanced computer peripheral to meet the personal and industrial needs of modern computer users. Our primary goal is to create viable solutions to satisfy the consumer's needs. Offering complete and affordable ways to upgrade and maintain your personal computer, Vantec is a name you can trust for quality and reliability.

At Vantec, our mission is to produce the best thermal solutions on the market. Vantec produces quality products that help you keep your system cool. However, that is only the beginning. We produce two of the quietest power supplies on the market in our Stealth Power Supply and ION Power Supply. Our Multi-function Panel (NXP-101) and fan controllers (NXP-201 and NXP-205) give you a variety of options to monitor and control the temperature and noise of your computer. We also provide cold cathode lights in a myriad of colors, including UV, for you to light up your computer. And with our new Fan and Light controller (NXP-301 and NXP-305), you can control your fan speed and lights all with one convenient unit.
In addition to the Piano 101, Bjorn3D has also reviewed the Vantec NexStar 3 NST-260SU-BK eSATA Enclosure.
LOKING AT THE VANTEC PIANO 101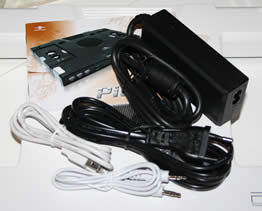 The Piano 101 comes in a nice box with handles. Inside we find:
The Vantec Piano 101
Power Adapter
USB cable
Audio cable
Manual
The Piano 101 is really nice looking. It has a cool glossy finish and both looks and feels exclusive. It still is just made of mainly plastic but it is hard and durable plastic.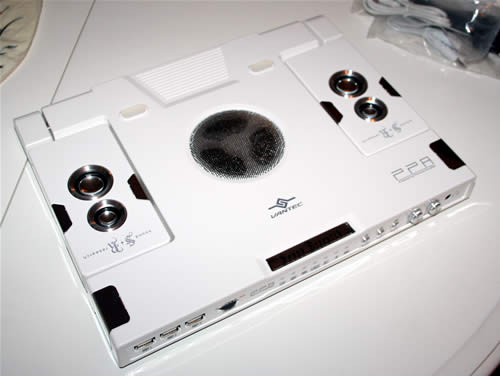 On the top of the Piano 101 you find the fan cover as well as two rubber pieces which are meant to help hold the laptop from sliding.
The two speakers can be folded up and even pulled out to accommodate for a larger laptop.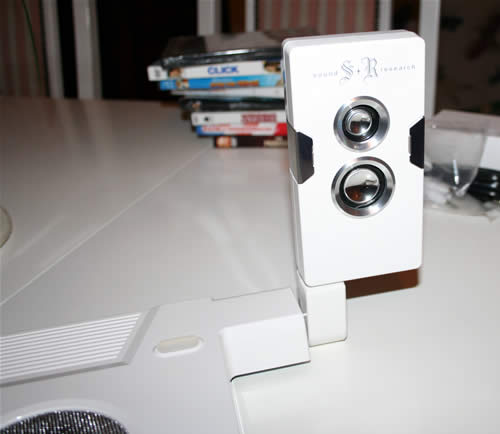 The speakers can be folded up as well as pulled out
further than on this image
On the back you'll find the connector for the power adapter and the USB-connector. On the front there are lots of knobs and buttons as well as 3 USB-connectors.
USING THE PIANO 101
I decided to test the Piano 101 on two laptops: my Dell Inspion 9400 with its 17" Widescreen screen and my mothers HP laptop with a 15.4" screen.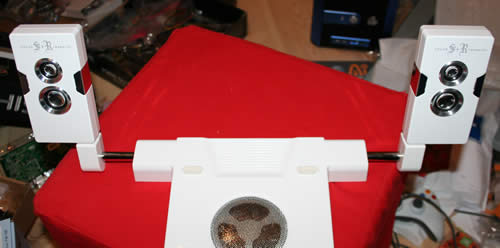 Yeah I know, it is messy in my room right now.
To many products unpacked on the floor.
Since the speakers are adjustable not only by folding them backwards but also pulling them outwards it is possible to fit the 15.4" HP between them. When I had it at my mother's house I actually hadn't figured out the pulling out part (you would have thought they would have mentioned it in the manual) so it was a bit tight to fit the laptop on the cooler. It still worked quite well even though the laptop were hanging out a bit over the front of the cooler.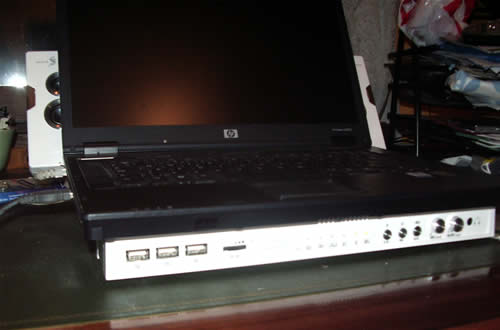 My Inspiron 9400 however didn't fit that well since I could not fit it between the pulled out speakers and thus the laptop hung out quite a long way outside the front of the Piano 101. It mainly was annoying when I wanted to change the volume or change the sound EQ. The Inspiron 9400 however is a huge laptop so it is no wonder the Vantec Piano 101 has a hard time accommodate it.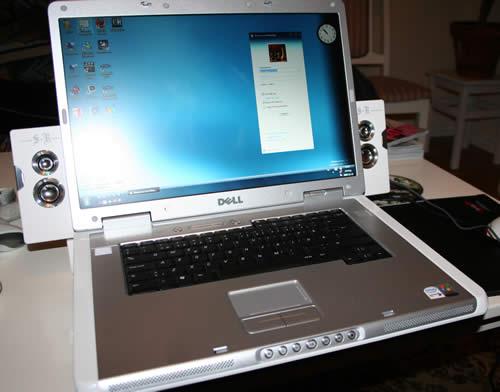 I appologize for the bad photo. You can however see the speakers
sticking out behind the lid.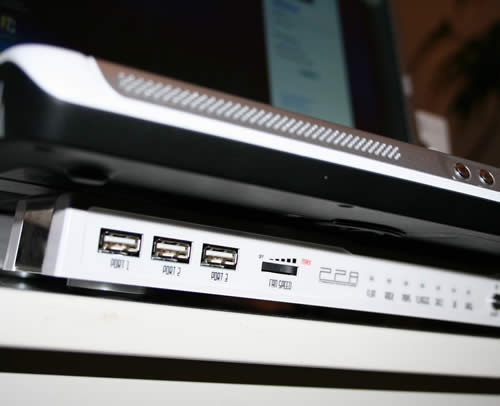 The Dell sticks out a few centimeters from the Piano 101
Since the Piano 101 is powered by a power adapter you need to be close to a source of power. This means that the Piano 101 not really is fit to be carried around with your laptop. If you do want to carry it around it is about the same size as a regular laptop and thus fit nicely into a laptop bag. The power adapter unfortunately is quite big so you need extra space for it.
Sound
Compared to the built in speakers in most laptops the Piano 101 produces nice audio. It is important to play with the sound EQ settings since they really affect the sound. My mother was a bit disappointed with the sound at first but when I changed it from flat to pop or rock the sound became much better. I also found that you really needed to have both Bass Boost and 3D Surround on to get a good result.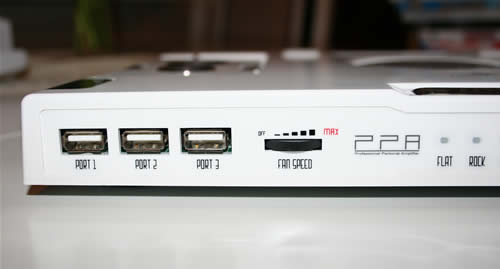 The main negative issue with the audio is the lack of a good bass. Compared to 2.1 systems from Creative or Logitech it seriously lacks the deep bass you can get with them. Compared the sound from internal speakers though it is a definite upgrade.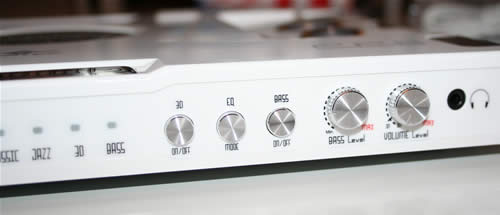 One odd "feature" I found was that when I turned the volume down to the absolute minimum (just before turning it off) the sound suddenly stopped coming out of the speakers while still being played through the bass speaker. Very odd.
Cooling
It is hard to really test the cooling feature of the Piano 101. The fan does blow a lot of air up onto the laptop so it probably does help keeping the laptop a bit cooler. At the full speed the fan can be heard but it never really gets annoying. Just by turning it down a little bit helps make it almost completely noiseless.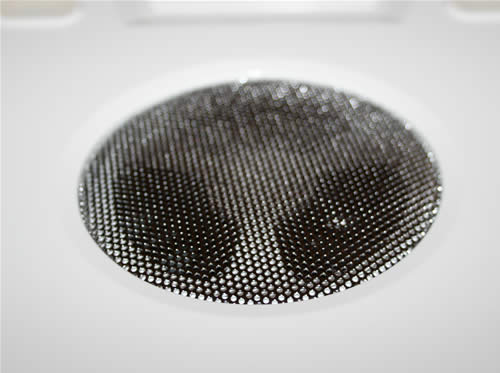 CONCLUSION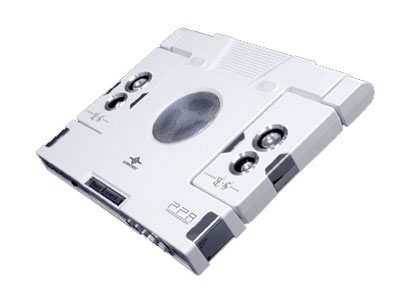 My first impression of the Vantec Piano 101 was that I wasn't quite sure why I would need it. Since it isn't really portable due to the huge power adapter I thought I might just live with the internal speakers of my laptop. After using it for a longer period of time I've warmed up considerably to it. The sound, while not up to an audiophile's expectations, is good enough for a normal person and there's enough with sound settings so you can tailor the sound to your liking. The added USB-hub also is a nice idea. Even with more modern laptops you often have the USB-ports scattered on several sides and with the Piano 101 you now have three ports conveniently placed at the front of the computer. Last but not least we got the cooling which in my opinion is the least important part.
The negative points are that it is not really mobile due to the need for the power adapter, the lack of punch in the bass as well as the fact that it can be hard to fit larger laptops and notebooks on top of it.
In the end I have no problems recommending it if you feel the need for some cooling for your laptop and at the same time want a better sound system and some extra USB-ports.
Pros
+ Looks really nice
+ Adjustable speakers
+ Ok sound quality
+ USB 2.0 Hub
Cons
– Would have been nice to power it by batteries so it really was mobile
– Bass lacks punch
– Larger laptops don't fit well and hang over the front of the Piano 101 making it hard to reach the buttons and knobs.
– Can be a bit unergonomic as you cannot rest your hands on the table anymore when typing.
I give the Vantec Piano a score of 8 out of 10 and a Bjorn3D Seal of Approval.

---
A big thanks to Leon @ Dollarshop.nl who provided us with this review sample. If you happen to live in Holland, Germany, Luxembourg or Belgium you definitely should check them out since they carry a lot of cool brands from Taiwan.