Today we are going to take a close look at the WinDVD 8, the Platinum edition. Our primary goals will be to determine if this highly feature-laden software works as advertised. We want to take this task a step further and determine whether WinDVD 8 Platinum is the new "Swiss Army Knife" in the realm of video player software or if it's just another mile marker on the road to success.
INTRODUCTION
Are you one of the millions of people worldwide that view movies via your computer? If the answer to this question is "YES" then chances are a great percentage of you use more than one computer source to facilitate this task. These computer sources will likely range from laptop to desktop to a full blown home theater PC (HTPC). The prospects are also good that you use more than one make of video player software to best meet the needs of the many media formats that you enjoy.
We're sure that those of you that fit the description we just alluded to have asked yourself many times: "Why doesn't some company produce a software product that does it all?" InterVideo® has just released their 8th iteration of WinDVD in two versions, Gold and Platinum. WinDVD® is certainly not the "new kid on the block" anymore after selling more than 175 million copies worldwide.
Today we are going to take a close look at the WinDVD® version 8, the Platinum edition. Our primary goals will be to determine if this highly feature-laden software works as advertised. We want to take this task a step further and determine whether WinDVD 8 Platinum is the new "Swiss Army Knife" in the realm of video player software or if it's just another mile marker on the road to success.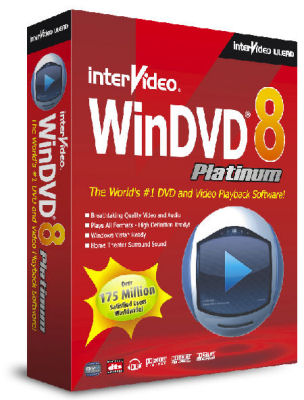 InterVideo: A Company Brief
InterVideo® is a leading provider of DVD software. InterVideo® has developed a technology platform from which it has created a broad suite of integrated multimedia software products that allow users to capture, edit, author, burn, distribute, and play digital video. InterVideo's software is bundled with products sold by the majority of the leading PC OEMs. The company is headquartered in Fremont, CA with regional offices in Europe, Taiwan, China and Japan.

High Definition Video
Before proceeding on with this review I thought it would be a good idea to do a short, simple overview of the various resolutions and terms that we'll be discussing so we are all on the same page:
Standard Definition

(SD) – (TV or DVD) you have resolution of either 480(PAL) or 576(NTSC) lines in a picture.

High Definition

720p – 720 stands for 720 lines of vertical display resolution, while the letter p stands for progressive scan or non-interlaced the possible refresh rates are 24, 25, 30, 50 and 60 Hz. Usually for TV we use 720p 60Hz in order to avoid blur in Cinema we use 720p 24Hz EVEN if the film is very action packed.
1080i – 1080 lines it uses 2 interlaced fields of 540 lines each, leads to a less perfect picture
1080p – 1080 lines of vertical display resolution this resolution is commonly known as HDTV in 50 or 60 Hz. The full size of the image in 1080p is 1920*1080 pixels.
High Definition Video (HDV) – a video format designed to record compressed HDTV video on standard DV media (DV or MiniDV cassette tape) resolution is 1440×1080.

Formats such as WMV-HD, VC1, H264, DivX-HD also come in HD resolutions. These are the formats future video will be displayed in.
In order to store HD movies, a special kind of media and player/recorder is needed such as BluRay or HD-DVD.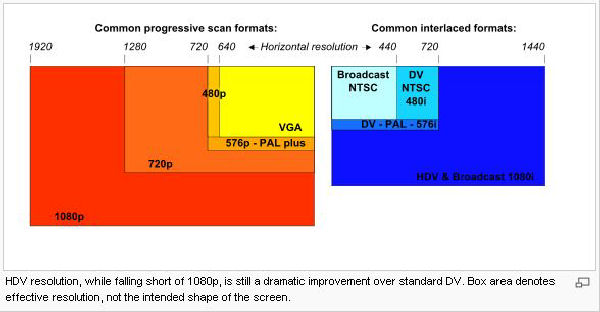 FEATURES & SPECIFICATIONS
Top Video Technologies Support – Intel ® ClearVideo, NVIDIA ® PureVideo.
Windows Vista™ Ready
All in One Player – MPEG2-HD, VC-1 and H.264, Standard-definition formats like MPEG-4, RealPlayer and WMV.
Intel® Core™ 2 Duo Support – allowing multitasking while playing back high definition video/audio formats.
Desktop, HTPC and Mobile compatible player
Breathtaking Quality Video
Superior Audio Center – WinDVD 8 includes support for Dolby® Digital, Dolby® Virtual Speaker, DTS Digital Surround Sound and SRS TruSurround Headphone, Dolby® XT for a full, immersive listening experience.
UPnP Media Server and Client – Now WinDVD 8 Platinum supports UPnP home networks as a Server or a Client. Set up content in folders, set permissions, and make content available through the network. Client plays back content from other UPnP- certified devices within a system
Video Desktop –Digital Video as a live desktop.
Boss Key – Designed to instantly pause your movie and remove it from your desktop, the Boss key is a new feature that will surely prove its worth.
QuickClip 2 – Capture your favorite movie scene as animated image file and share with friends via email or mobile phone.
Ready for Blu-ray & HD-DVD – WinDVD 8 Gold or Platinum can get HD DVD/Blu-ray Disc Playback functionality by purchasing the HD Upgrade Pack, available separately.
3GPP/3GPP2 File Format Support – Preview the video you captured from your mobile phone, clips that were sent to you!
Specification & Comparison Tables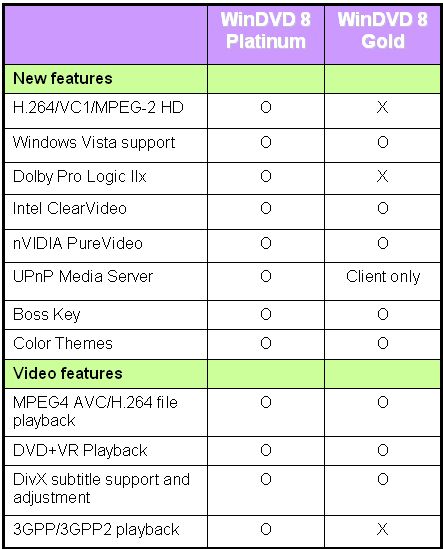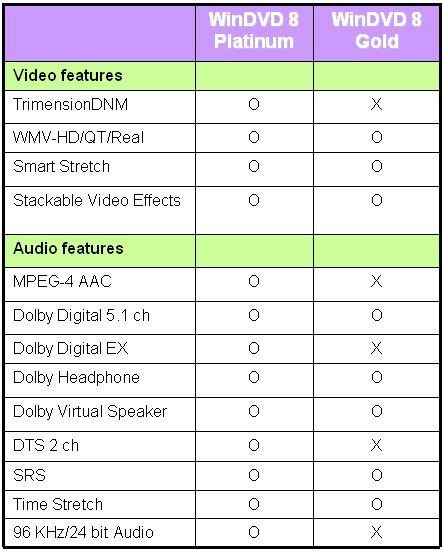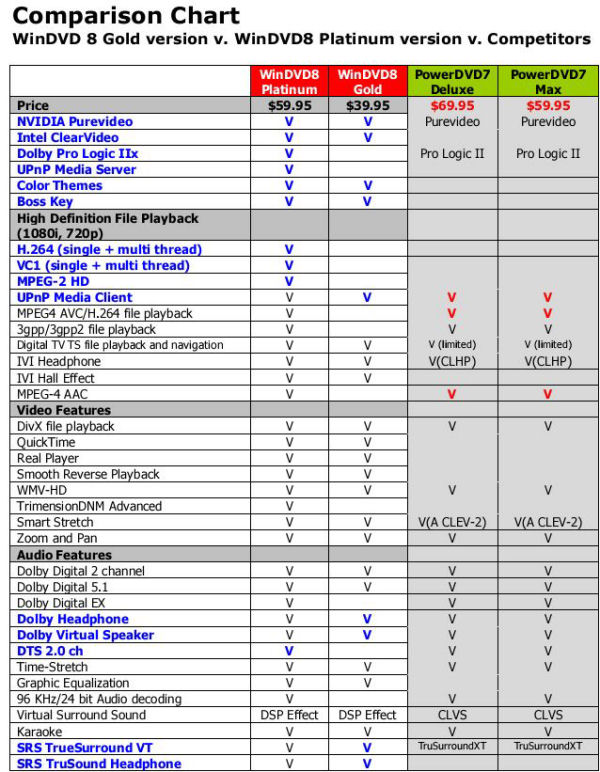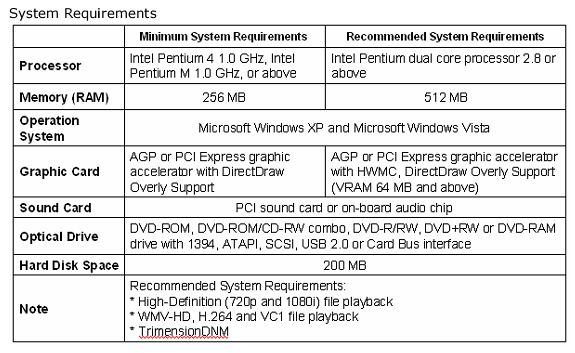 INSTALLATION
Installing WinDVD 8 is easy; pressing the "Next" button will bring the finish screen fast enough, for advanced users there is some options you can change: "file association", "install directory", and installation of added software.
Execute "Setup.exe". After passing the preinstall requirements, agree to the EULA and enter your personal details, select where to install, and what media will be associated with WinDVD.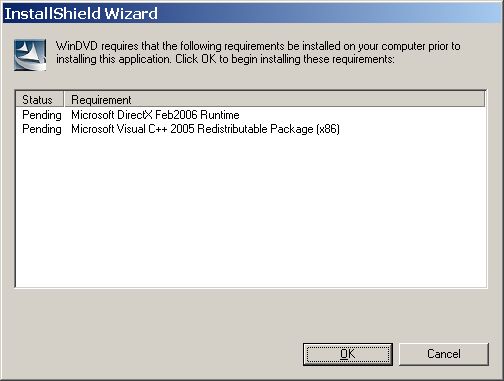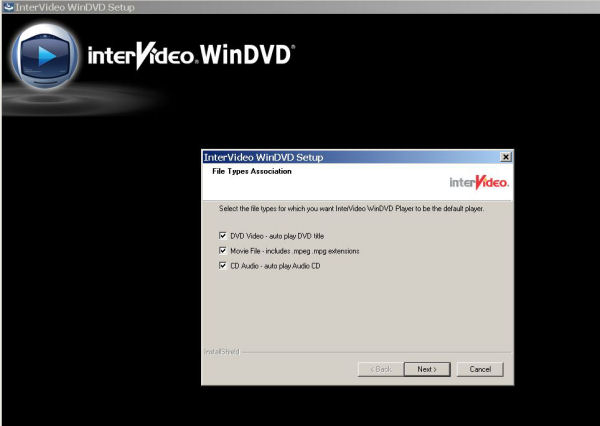 You have an option to install "Google Desktop" and later on "QuickTime" ® and "RealPlayer" ®.
When setup finishes your desktop will be decorated with 5 new icons.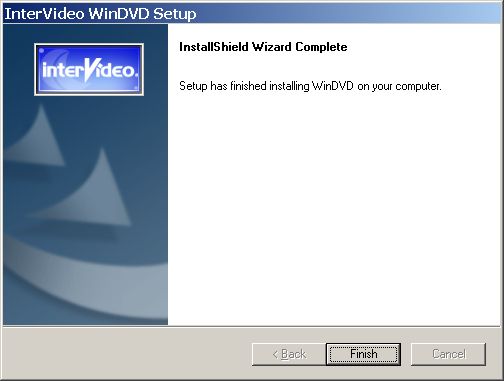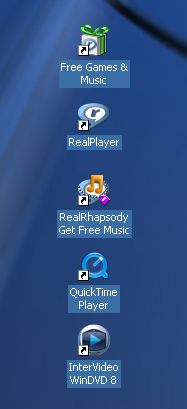 Setup has finished, lets get down to business; working with, and testing WinDVD 8 Platinum Edition.
DVDMovie Play
Using WinDVD is very intuitive, if you are familiar with DVD, VCR or any other player you will feel right at home.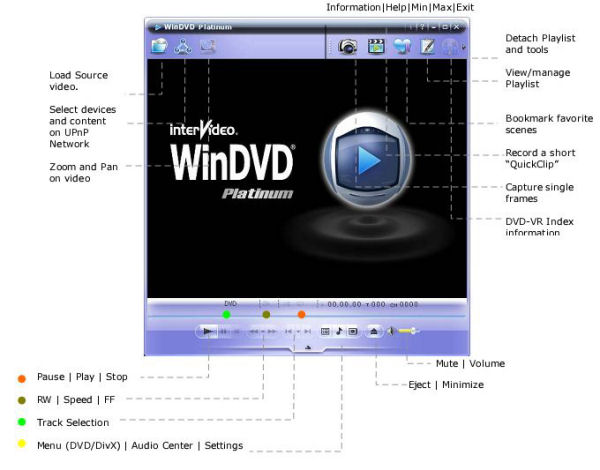 WinDVD® 8 Main Panel

DVD Sub Panel
You can also configure the best color theme to match your liking.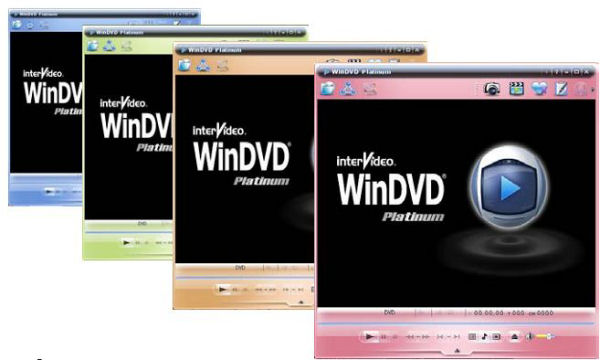 Color Themes
Audio Configuration Panel
The audio center gives you complete control over any aspect of sound you may need, it is detailed and yet very easy to navigate.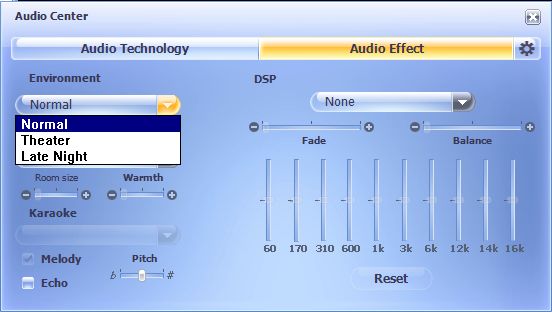 Select Your Environment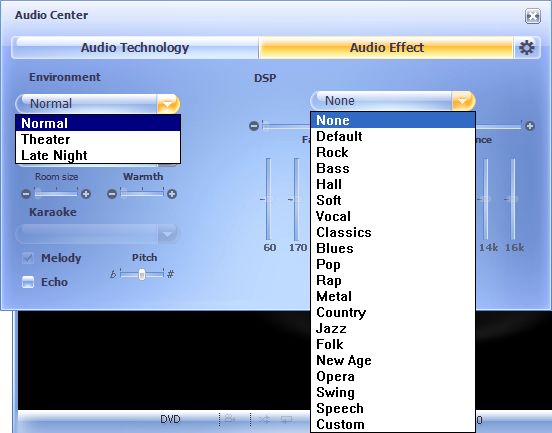 Select the Music Type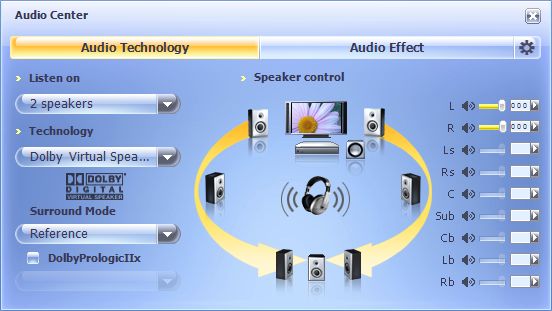 Select Your Speaker Arrangement
You can even make your living room sound as one of famous theaters, including the Sydney Opera house, Chicago and Broadway theaters.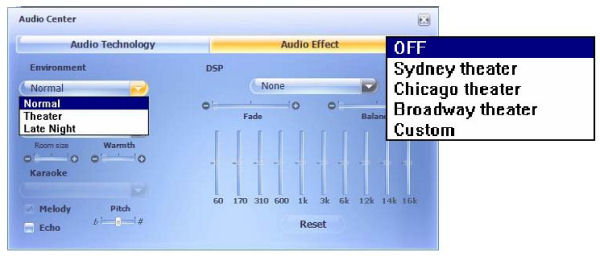 Video Configuration Panel
The video section is divided into four different tabs each controlling a different aspect of your viewing experience. Display – select the viewing format that best fits your needs. When playing a 4:3 home movie on widescreen TV, SmartStretch will stretch only the sides, resulting in a more natural looking picture.
Color – Offers a vast array of color adjustment options.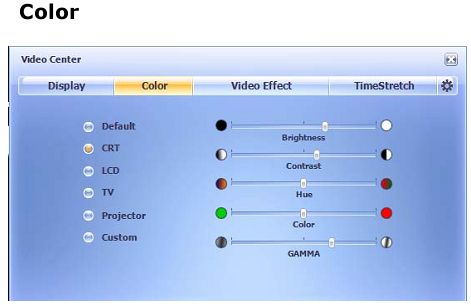 Effect – Compare and select the best video effect for your current movie. Half-screen allows you to see original & after effect on the same screen.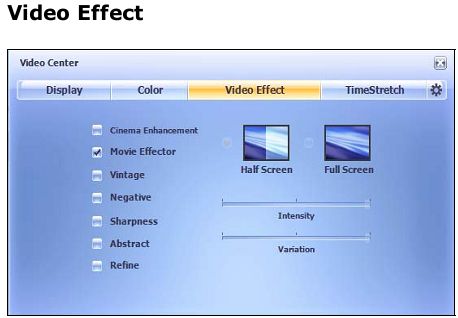 Time Stretch – when you don't have time to watch a movie at its standard speed you can watch the movie at a faster than normal speed while retaining natural sound.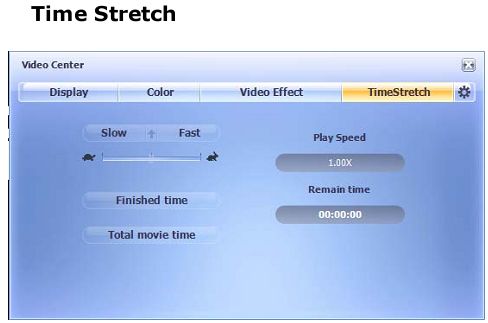 Mobility Settings
Set up Mobile Technology options – adjust the player to utilize memory and power to maximize your battery power.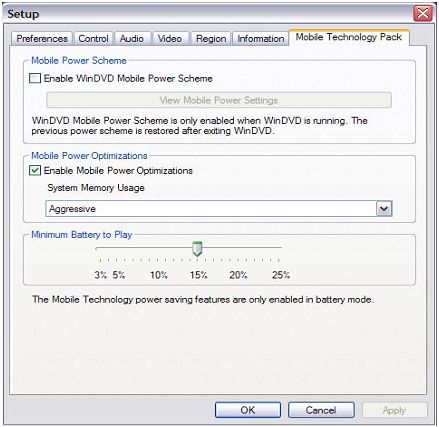 Hardware Settings
Activates various hardware acceleration available from NVIDIA and/or Intel.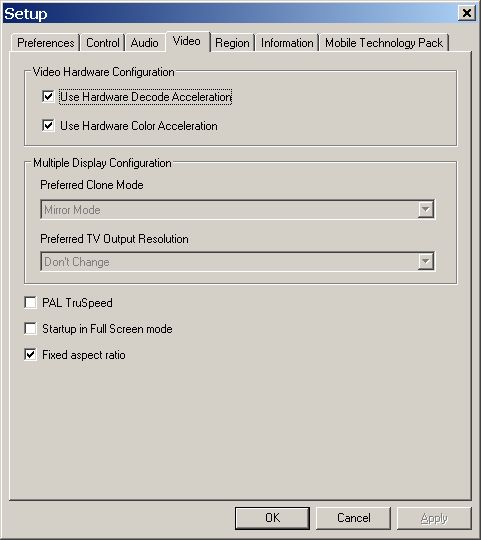 PAL TruSpeed – Example:  Pal DVD plays at 25FPS and the movie is staged at 23.976FPS; this will fix the problem.
Special Features
UPNP ServerClient:  WinDVD 8 Platinum is a UPnP compatible DVD player, which means video or audio content can by directly streamed from the host device regardless of networked location.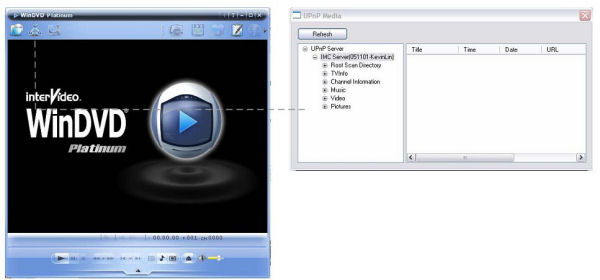 QuickClip 2:  Capture your favorite movie scene as animated image file and share with friends via email or mobile phone.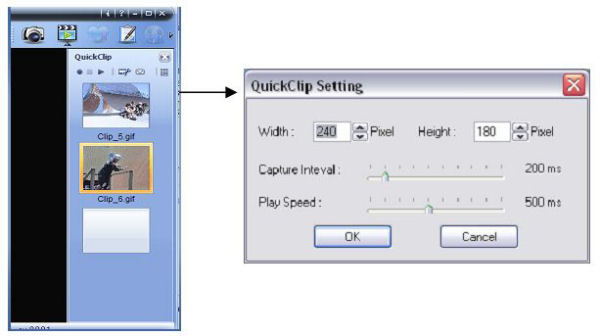 TESTING
Test Platform

Processor

AMD Athlon64 3200+ @ 2.0GHz

Motherboard

Epox 9NPA+ ULTRA

Memory

Geil Value 512MB x 2 @ 200Mhz

Drive(s)

2 x Western Digital 80GB IDE drives

Graphics

XFX 7800GT 256MB Extreme Edition

Power Supply

Enermax 425W

Monitor

IBM P76 17" CRT (Support up to 1600*1200)

Operating System

Windows XP Pro SP2
Test Methodology
I have gathered several files of different formats and different resolution in order to check the performance & quality of the application. All tests were run with Hardware Acceleration both enabled and disabled. I have collected a number of clips from various formats at varying resolutions. I will test the system by running each of the clips three times and reporting an average of the percent of CPU utilization. I will also report average and maximum memory utilization in megabytes used at the end of the testing. I included a screenshot of most of the formats tested, the "Screenshot" button in "WinDVD 8" was used to capture each image.
Digital Video Data:
HDV – WinDVD Sample movie (1440 x 1080)
WMV-HD
MPEG4 – All movies from DivX Test CD v2
VID-3I MPEG4 ASP High Definition 720p test (MPEG4 ASP High Definition 1280 x 720)
VID-3J MPEG4 ASP High Definition 1080p test (MPEG4 ASP DivXHD High Definition 1920 x 1088)
VID-4J MPEG4 ASP High Definition 1080p (MPEG4 AVC x264 High Definition 1920 x 1088 + LC-AAC CBR)
VID-4I MPEG4 ASP High Definition 720p (MPEG4 AVC High Definition 1280 x 720 + LC-AAC CBR)
MPEG2 – All movies from DivX Test CD v2
TEST RESULTS
Standard DVD/DIVX

HDV

720p

1080i

1080p

Memory Utilization

PROBLEMS
WinDVD problems are not of the severe type, at most I would refer to them as annoyances, still one should be aware of them – there aren't too many, and here is the list:
Installation is overloaded with other software like "Google Desktop" which is selected by default.
The screenshot button is grayed out on WMV-HD movies.
One movie wasn't playing correctly; this trailer was only displaying green background. I list this as a problem because I was able to play it correctly in "Media Player Classic", a free player that I often use. I think it is a problem in the encoding as I tried playing it with the newly installed Quick Time Player and the problem persists there as well.
Inaccurate information – on the comparison to PowerDVD Deluxe 7 the official WinDVD table states PowerDVD does not support H264 while on CyberLink Site it is reported as supported.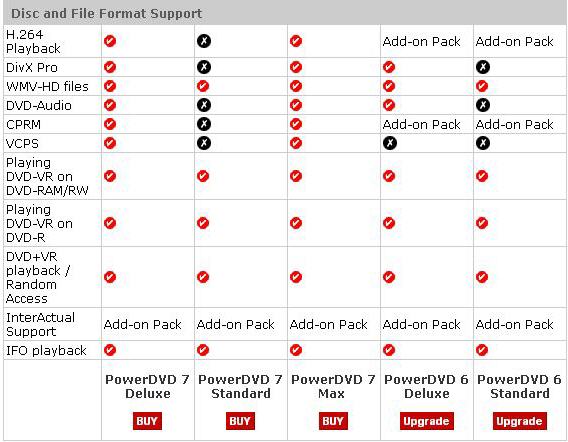 CONCLUSION
After the journey into "WinDVD 8" has ended. I can say with confidence "WinDVD 8 Platinum" lived to its expectations!
Almost any media type could be played with ease; plethora of features makes WinDVD 8 a precious addition to any computer system. As mentioned above WinDVD 8 is not "Problem free" but the advantages make up for any inconvenience. The ability to adjust the player to all computer types, Built-In media support, and compatibility with the upcoming Windows Vista definitely makes WinDVD a clear choice to anyone looking for a player. Even pricing is reasonable.
It looks like InterVideo has developed a winner. Watching movies and listening to music has never been easier. If you are looking for an easy solution for your Desktop, Laptop, and HTPC look no further.
I would like to thank InterVideo for allowing me the opportunity to review WinDVD 8 Platinum Edition.
Pros:
+  Price
+  Great video quality
+  Very Easy to use – even for beginners
+  Hardware media support available at an additional cost
+  Feature Rich
+  Hardware acceleration support
+  Good help system
+  Windows Vista™ ready
Cons:
–  Installation is bloated with other software
–  Hardware media support costs more money
–  Some H.264 videos will not play
–  Screenshot feature not working with WMV-HD
Final Score: 8.5 out of 10 and the Bjorn3D Seal of Approval.