For system builders who cater to the demanding consumer, or the do-it-yourself gamer and enthusiast, the computer case has become a means to extend your personal tastes into a unique appearance. Since modifying a computer case is an extreme endeavor for only the most patient craftsman, the next best solution is to purchase from myriad of styles, sizes, and purpose-driven cases available on the market.
INTRODUCTION
Computer cases are the face and body of a computer. With that said, the range of different designs for computer cases can span the gamut, with something available for everyone. Since most consumers have become more performance minded and possibly more personal, it seems expected that builders and enthusiasts have finally evolved to think outside the beige box.
For system builders who cater to the demanding consumer, or the do-it-yourself gamer and enthusiast, the computer case has become a means to extend your personal tastes into a unique appearance. Since modifying a computer case is an extreme endeavor for only the most patient craftsman, the next best solution is to purchase from myriad of styles, sizes, and purpose-driven cases available on the market.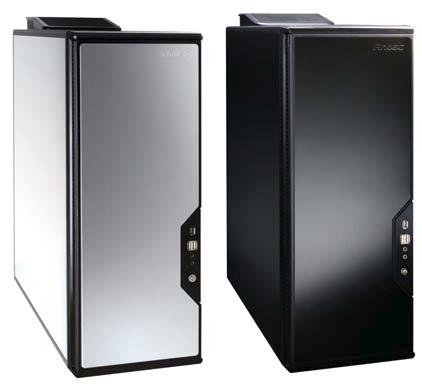 For this review, I will take a in-depth look at the Antec P180B ATX computer case from their Performance One lineup.  As with most Antec cases, the name doesn't say much.  Thankfully, I have plenty of images like the one above to help compensate for lack of a colorful name.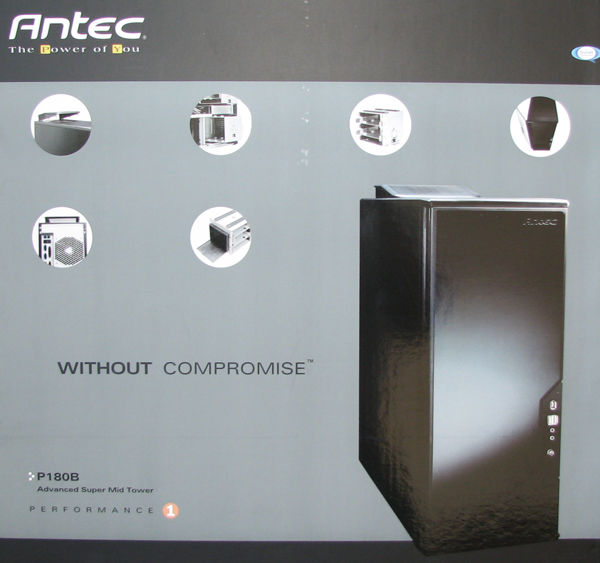 It is expected that the P180B will offer the performance Antec is best known for, along with some powerful looks to keep up appearances.  We will soon see if it delivers on our expectations.

ANTEC: THE COMPANY'S OVERVIEW
Antec began in 1986, long before the tech boom of the late 1990's, in Fremont, California. Now operating offices in the United States and Europe, Antec offers products to 25 countries worldwide. Presently, Antec maintains a popular range of products in: computer cases, power supplies, cooling fans, lighting components, and accessories. Antec is the original High Performance Upgrade company, which created the PC upgrade replacement category at retail. Their enclosures and power supplies have been the #1 seller by far in North American distribution and retail channels for five years running.
FEATURES & SPECIFICATIONS
Antec labels the P180B as part of their Performance One family of computer cases.  While the name of this product line may give some insight to the purpose of these cases, their actual performance and features remains undefined.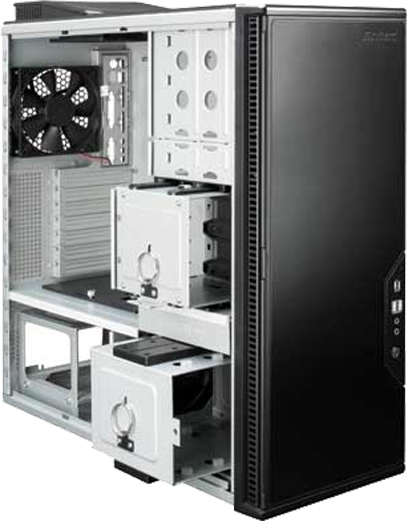 Features:
Unique upper and lower chamber structure The power supply resides in a separate chamber to isolate heat from the system and lower system noise.
Innovative three-layer side panels and front door (aluminum, plastic, aluminum) dampen system noise, making this one of the quietest cases available.
Cooling System:
– 1 rear (standard) 120mm TriCool™ Fan with 3-speed switch control
– 1 top (standard) 120mm TriCool™ Fan
– 1 lower chamber (standard) 120mm TriCool™ Fan
– 1 front (optional) 120mm fan
– 1 middle (optional) 120mm fan to cool graphics cards
– Upper drive cage can be used as a duct to provide fresh air to graphics cards
Maximum expandability with 11 Drive Bays
– External 4 x 5.25″; 1 x 3.5″
– Internal 6 x 3.5″ for HDD
Motherboard: Fits micro and standard ATX
Double hinge front door designed to open up to 270º
7 Expansion Slots
Front Ports
– 2 x USB 2.0
– 1 x IEEE 1394 (FireWire®, i.Link®)
– Audio In and Out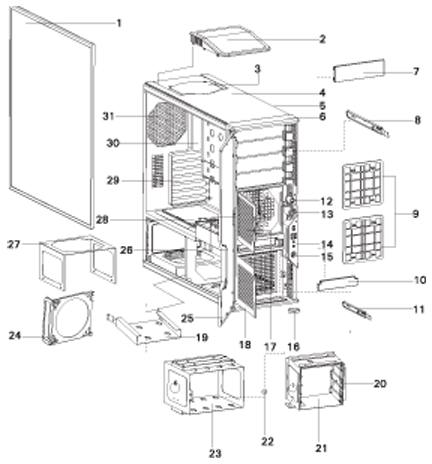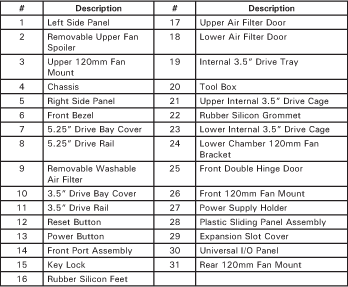 To optimize performance of your P180 the choice of your power supply is crucial. Antec strongly recommends choosing from our Phantom, NeoHE or TruePower series.
Silicone grommets in the hard drive cages absorb vibrations and reduce noise.
Features built in washable air-filters.
Specifications:
Material: 0.8mm cold rolled steel for durability through the majority of chassis, 1.0mm cold rolled steel around the 4x HDD area
54cm (H) x 20.5cm (W) x 50.7cm (D)
21.3″(H) x 8.1″(W) x 19.9″(D)
CLOSER LOOK: EXTERIOR
At first glance, the P180 series seems to appear very minimalist in design.  Even if first impressions of this black on black case are true, I found more then enough evidence to suggest the theme of the overall design is intended to be function over fashion.  After all, which would you rather have: a computer which improves performance or one that looks like a robot?  But to really appreciate the design, you must search around the details.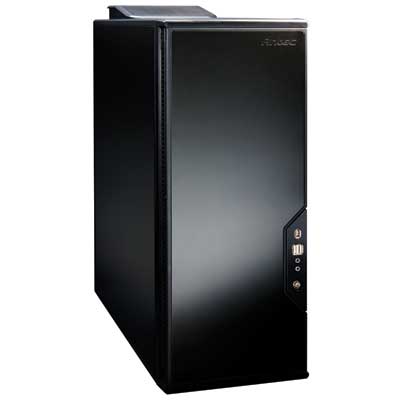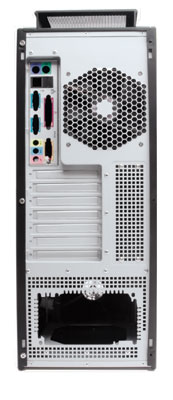 Since the designers at Antec have always pushed more in the direction of performance with their products, with very few of their cases sacrificing results for looks, it will come as no surprise that the P180B is very much a "sleeper", because nobody would look at it and guess that it performs as well as it does.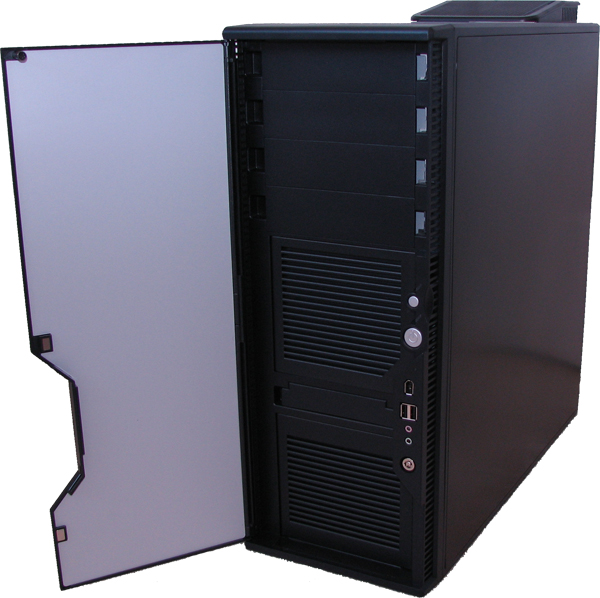 Judging from the Antec P180B images thus far, there will be no laser light shows emanating from this case. Clearly, which is a poor use of puns; there are no windows in which your internals will brightly shine. I think that this will upset some gamers who insist that every internal hardware component come equipped with its own array of LED's. For the computer enthusiast and overclocker however, this is bliss.
Since most people dislike having to continually open the front bezel door to access power and optical drives, it would seem that a half-door would be more popular.  Not so, at least no in the realm of Antec cases.  Like many others on the current market, if you burn CD's or DVD's you should get used to either keeping the bezel door wide open, or listening to your optical drive knock on it when the work is complete.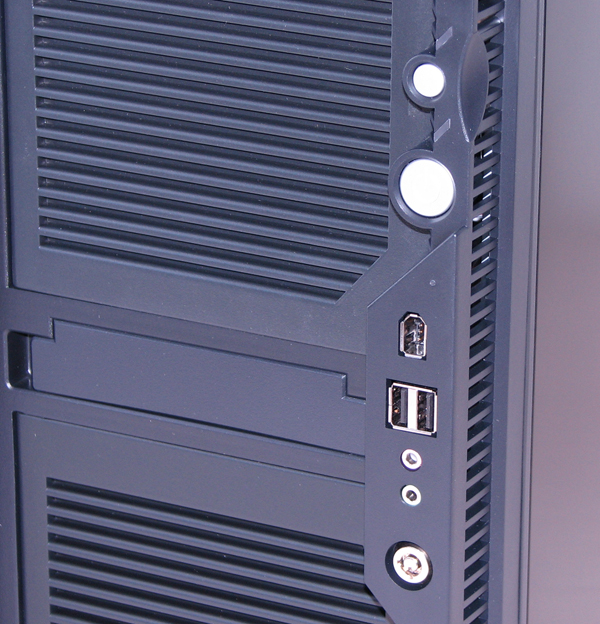 Plenty of ventilation to be had with the P180B.  Since it comes with three adjustable speed 120mm TriCool™ cooling fans and two additional 120mm cooling fan compartments, it seems reasonable that there is so much intake area to the case.  In the image above the front I/O panel is exposed, and the power button is hidden behind a plastic covered metal door.  There isn't too much glitz or glamour to the P180B, with the only escape from the black colored theme is a few small silver colored gems consisting of the front I/O panel, lock, and buttons.
Closer Look: Interior
It would be unfair to say that the Antec P180B is all function and no fashion.  Sure, it lacks some eye candy, I'll admit.  But even with the lack of shapes and colors to keep your interest it is fair to say that the overall exterior design is refined and complementary.
More important is what's on the inside, at least that's what I hear.  Open the P180B and you see a whole other side to this case you would have guess existed.  Now form your first impression.
 
P180B Interior: Service Side View
Antec has packed the P180B Performance One with every design feature available to ensure it earns its namesake. Pull-out cages equipped with draw rings and retainer posts make for handy access. Vented optical drive cage allows the screw less rails to glide in and out for simple installation. But wait, there's more.

P180B Interior: Back Corner View
Silicone rubber grommets are attached to the hard disk drive cage, and they are soft enough to absorb any vibration.  There are even strips of silicone rubber inside the power supply frame; because where there's a fan, there will be vibration.
One obviously unique standout feature Antec has included is the seperated chamber system and cable vent portals.  By design, this feature keeps the path of heated airflow contained and more efficiently exhausted from the case.

P180B Interior: Side View
Fan placement is well designed and well engineered.  While the P180B comes with three 120mm fans, there is room for a fourth 120mm fan directly in front of the 3.5″ drive cage.
DETAILED INTERIOR FEATURES
Similar to in orientation to other reverse mount (false-BTX) style cases, the power supply has been relocated to the lowest portion of the case where it is coolest.  This not only allows the PSU to run at its most efficient temperatures, as well as isolate the heat.  Unlike most other ATX cases where the power supply is fastened to the backside of the case with four screws, the P180B uses a steel cage with silicon rubber strips which frames the PSU and holds it into place. 
A 120mm TriCool™ cooling fan separates the hard drive portion of the lower chamber from the power supply. This means that the hard drives are never affected by the heat exhausted or created by the power supply unit.
The image below gives a good representation of the motherboard chamber.  The PSU cables travel up through the large left portal, and SATA cables can travel down into the hard drive chamber through the right portal.  The formed cutouts in the chamber portal covers allow each chamber to become its own isolated environment, free from thermal impact by adjacent components.
Another 120mm TriCool™ cooling fan is positioned at the rear of the P180B, which is directly at the level of the CPU. There is a third 120mm TriCool™ cooling fan directly above the horizontal location of the CPU. These fans work together to exhaust heated air from the largest heat-generating component, which ultimately allows the other components in this chamber to operate at an ambient temperature.
Antec paid close attention to small details in the P180B, which is evidenced by the special vented expansion bay blanks.  Anyone else, and this includes a few $200 cases I have seen, feel like plain stamped steel would do.  It is encouraging to see Antec really take the extra effort so that we may achieve the best performance possible.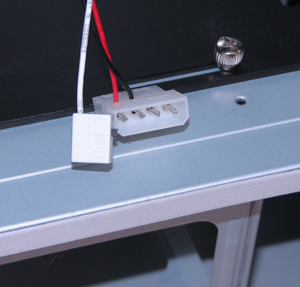 One of the few things I would change in future releases would be the control switch for the supplied TriCool™ three-speed 120mm cooling fans. Not only did each fan have a six-inch cord leading up the switch, but very little design effort these could have been designed to either fit into a bracket, or snap directly into the fan. The good news is that the Molex 4-Pin power connector uses one of the newer style pass-through connectors.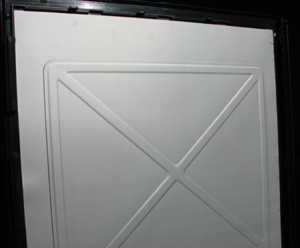 There were a few particular items that left me less then impressed.  Aside from the dongle-like speed switches on the three fans, I found the case itself to be extremely heavy.  Just imagine a completely steel case, and add a full cover of plastic over it.  This combination makes the weight of the case a small con in my scoring.
FIT & FINISH
Up to this point, the Antec P180B has been an empty home. For most builders, moving the components into the case is usually considered work. While the P180B still requires some effort (hey, it can't put itself together), there is plenty of elbow room to work with. I found the installation to be far more enjoyable then any other case to date. Even cable management was taken care of for me by using the chamber portal plates to keep things tidy.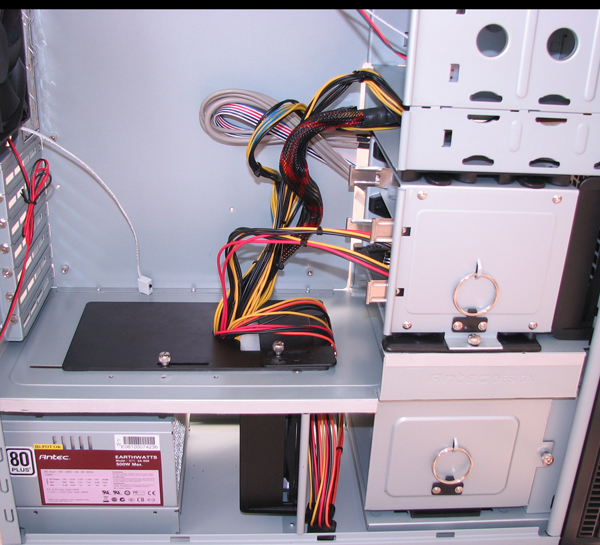 Antec includes a large variety of screws and fasteners with the P180B kit. However, most items such as 5.25″ and 3.5″ drives use a screw less design with snap-in rails. The two additional 120mm cooling fan brackets were a little more work to reach, with removal of the hard drive and 3.5″ drive cages necessary for access.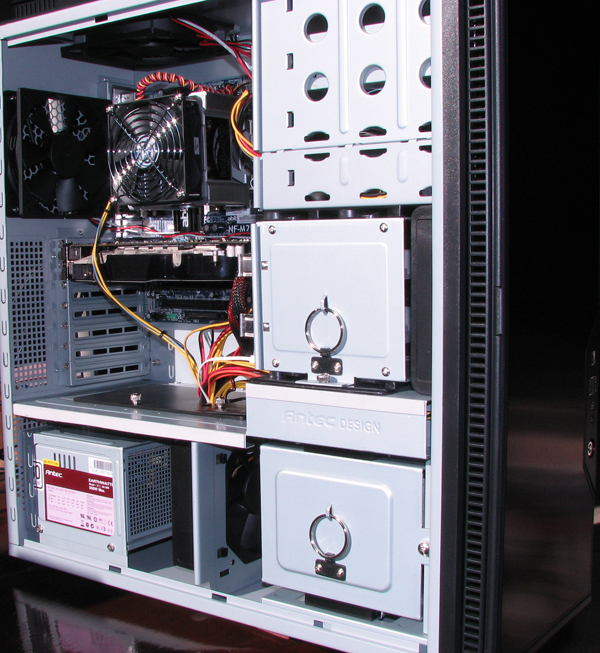 The finished product definitely earns over my respect, and has me thankful I didn't pass judgment based on looks. The design of this case alone is a cooling-performance improvement all on its own – allowing for isolated cooling chambers between the two largest heat-generating components.
In my testing with the Antec P180B, operating temperatures dropped across the board.  Of course, with the TriCool™ fans capable of operating at three different speeds, the cooling performance is relative.  With all five 120mm cooling fan locations operating at full power, I did notice some moderate noise levels.  Conversely, all of that noise paid off dividends in the form of the coldest case I am yet to measure.
FINAL THOUGHTS
A very subtle and minimalist approach to the exterior appearance has been faithfully represented by the designers, yet this lack of creativity may be cause for some to dislike the Antec PC180B. This will mean that the Antec P180B is not for everyone, especially those who like to show off their gear; but there aren't too many cases that satisfy the entire enthusiast crowd anyway.  However, if performance is the goal you need to look no further: the Antec P180B delivers big.
The black on black finish is a little overbearing in the Antec PC180B, but if you are really in love with the color black, this is the model for you.  The Antec PC180 series is available in both black, and silver on black.  Both versions offer the same great features, such as powerful cooling and isolated component chambers, so it really comes down to personal preference.  However, I must mention that unlike some cases where silver is used, I did notice that the front bezel of both models is black and will combine well with similarly colored components.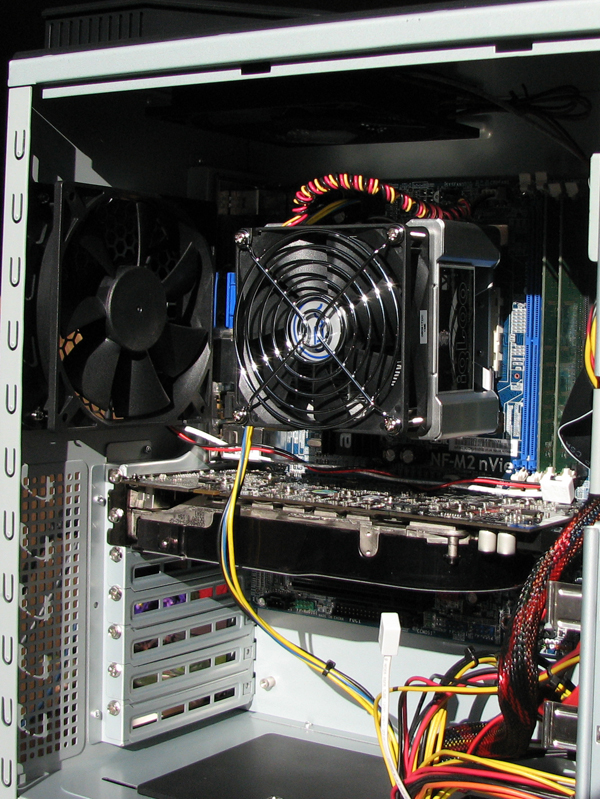 In my comparison testing against the Lian Li PC-B20A, I found that the chamber system incorporated into the Antec P180B did in fact separate it from other cases which also offer plenty of cooling. In its stock form (three 120mm cooling fans set on "High") the Antec P180B actually posted an average of 2°C cooler temperatures at idle and 4°C under full load. While this was not a detailed comparison test, primarily because the Lian Li PC-B20A is the closest performance competitor with its ducted exhaust fans, the lack of a chambered design puts other cases at a clear disadvantage. While looks can be forgiven by some, performance must be respected by all.
It should be noted that in my testing, the highly efficient Antec EarthWatts EA500 500W PSU was utilized. This translates into a cooler power supply chamber, at least compared to other power supply units. I also used the Abit NF-M2 nView motherboard, which cools the chipset with a heatpipe. Finally, the GeForce 8800 GTS was used, and the combination of heatpipe cooling and externally exhausted heatsink all helped keep the internal temperatures cooler then with other components which recirculate heat inside the case.
CONCLUSION
The current trend has computer processors operating at cooler temperatures with less power, and hotter video cards consuming more power.  So long as this continues, there will be an emphasis on cases which offer performance cooling; especially if you plan to overclock anything.  At the time of this writing, both versions of the Antec PC180 start around $130 shipped, which is considerable less then the case I compared it against.  While this price is slightly higher then others on the market, it still keeps near to the average while offering excellent performance at the sacrifice of appearance.
I may have my reservations about a few small details, but if the worst thing I could find is the ugly pigtailed fan speed controller switch and mundane looks, then you will not be disappointed with the quality of the Antec PC180B.  Keeping in mind that I was hard pressed to discover any major flaw, it all came down to a few very minor issues and the lack of creative looks which detracted from the final score.
Pros:
+  Uncompromised quality control
+  Research & development shine through
+  Features will spoil you
+  High strength reinforced steel construction
+  Plenty of working room 
+  Excellent cooling performance
+  Unique chamber design isolates heat-generating components
Cons:
–  Heavy!  This case felt like it was loaded with bricks when carried
–  Fan speed controller switch needs to be redesigned and shortened
–  Lackluster design and appearance
–  Fans (on high) are very loud
Final Score: I award the Antec Performance One P180B with an 8.5 (Very Good) out of 10.0.
Special Thank-you:
This review would not be possible if it weren't for manufacturers like Antec who are willing to have a picky hardware analysts like me dissect their products.  I am grateful, and certainly appreciate the opportunity.
Members & non-members alike, we invite you to discuss this and other Reviews on the Bjorn3D Product Discussion forum…