While the X1950XT might no longer be the fastest GPU on the market it still is a fast GPU and with a price that won't require you to sell your kidneys to be able to afford it (well, maybe one of them). Today we are testing the ASUS X1950XTX Crossfire 512 MB DDR4, the flagship in ASUS ATI-lineup.
INTRODUCTION
The battle between NVIDIA and ATI to have the fastest available card is constantly raging. A few months ATI has the upper hand until NVIDIA releases their next GPU and so on. Right now at the time of writing the speed crown falls in the NVIDIA corner with their 8800-series of GPU's. ATI has to settle for second price with their X1950XTX GPU.
While the X1950XT might no longer be the fastest GPU on the market it still is a fast GPU and with a price that won't require you to sell your kidneys to be able to afford it (well, maybe one of them). Today we are testing the
ASUS X1950XTX Crossfire 512 MB DDR4, the flagship in ASUS ATI-lineup.
ASUS: THE COMPANY
I think most of us have been in contact with a ASUS product at some stage. ASUS makes not only video cards but also a wide variety of other products like motherboards, notebooks, monitors, network products, PDA's and optical drives. In fact ASUS seems to have products in most areas.

ASUS mission statement is:
"Imagine innovations that simplify our lives and enable us to realize our full potential. It is technologies' responsibility to accommodate us, not the other way around, because all devices should perform and communicate seamlessly anytime, anywhere."
ASUS products usually are of high quality and thus my expectations on this card were quite high.
FEATURES & SPECIFICATIONS
The card I am reviewing today is a X1950XTX Crossfire Edition card. Even though ATI has started to use a bridge to run cheaper cards, like the X1650XT, in Crossfire mode, the faster cards still need to have a master Crossfire card in order to be able to run in dual card Crossfire mode. With earlier models the Crossfire Master cards were both hard to find and more expensive but luckily ATI has made sure that a Crossfire Master card should cost the same as the regular cards. A quick check at one of our local webshops shows that this is true.
The specifications for the ASUS X1950XTX Crossfire are as following:
ASUS X1950XTX Crossfire 512 MB DDR4 Specifications
Chipset
R580+
Memory
512 MB
Memory Type
DDR4
Graphics Core
650 MHz
Memory Clock
2 GHz (1 GHz DDR4)
Dual Link DVI – Supporting digital
output up to 2560×1600
Dual Link
Memory Interface
256-bit
Bus Type
PCI-E
Highlighted Features

HDCP Compliant
Dual DVI Out
HDTV ready
Crossfire Master Card
TV Out
ASUS haven't done anything special with the X1950XTX GPU leaving it at the stock 650 MHz for the GPU and 1 GHz for the memory.
The card of course has all the regular features that we come to expect from a X1950XTX GPU: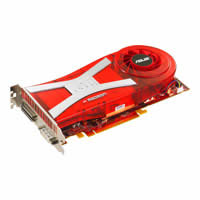 High Image quality in games
With full SM3.0 support as well as Adaptive AntiAliasing and High Quality Anisotropic Filtering, the image quality in games are second to none. It isn't until with the 8800-series of GPU's that NVIDIA has caught up.
Crossfire Support
Hook up 2 cards for almost double the performance
HDR together with AA
No need to choose whether you want HDR or AA as the X1950XTX supports both together.
AVIVO
Attach it to a 10-bit display and be dazzled by 1.07 billion colours. But even on 8-bit displays the image quality is very good.
HDCP compliant
The ASUS X1950XTX is fully HDCP compliant and thus allows you to watch Bluer-Ray or HD-DVD movies at full HD-resolutions.
ASUS Special Software
Included with the card is a bunch of ASUS-made software. ASUS Splendid enhances the video quality, ASUS Video Security Online helps keep an eye on your home while you are away, ASUS Game LiveShow allows you to stream live gaming action over the net, ASUS Game replay lets you record any game in MPEG4 file, ASUS Game FaceMessenger lets you chat with others and ASUS OnScreenDisplay lets you adjust settings without leaving the game.
WHAT YOU GET
 The card comes in a huge box. The box is quite good looking and advertises one of the games that is included with the card, Ghost Recon.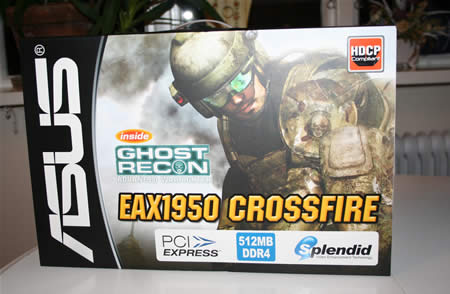 It's not hard to figure out which game the card is shipped with
Inside the box we find:
The card
A Crossfire cable
DVI to VGA adapter
DVI to Component (YPrPb) adapter
Power cable
The game Snowblind
The game Ghost Recon:Advanced Warfigher
CD with ASUS utilities and drivers
CD with manual
Quick install manual
(Fake?) leather pouch for CD's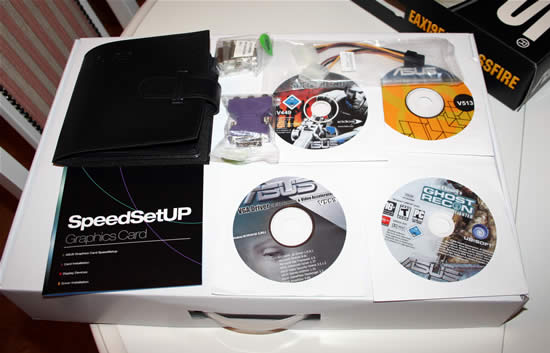 Missing in the picture: the Crossfire Cable.
The bundle is surprisingly good. While Snowblind is a decent game it is Ghost Recon:Advanced Warfigher that really shows off the cards graphical features and performance. Oddly enough no multimedia programs are included. Since ASUS always includes some Cyberlink utilities with their motherboards I would have expected the same here.
The ASUS utilities are interesting, especially the one allowing you to broadcast a game on the net. Unfortunately the utilities require you to only use ASUS own drivers and since they usually are at least 1 version behind the latest ATI-drivers I'm not sure how many will use them.
The Card
The ASUS X1950XTX looks exactly the same as the ATI X1950XTX reference board. It is quite large and features a shiny red cooler/fan onto of the card.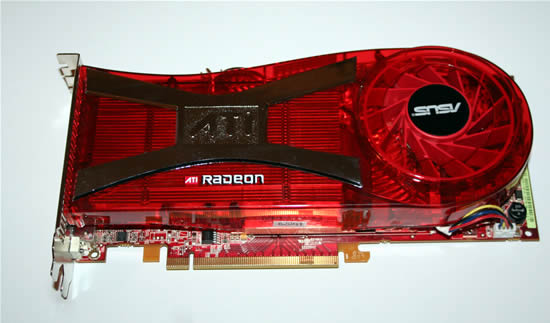 The card is shiny and red. There are no leds in it though to light everything up.
The memory chips are all covered with a copper heat sink helping cool them down.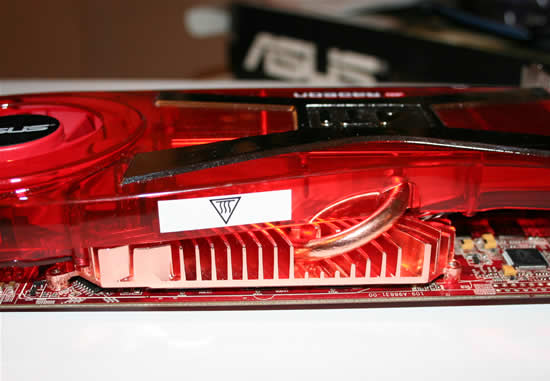 There's some heavy copper heat sink covering the GPU and the memory
In the back we see the crossfire connector and a regular DVI-I connector.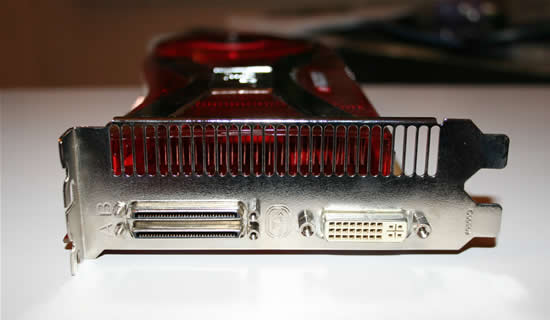 Even though newer slower ATI cards use an internal Crossfire-bridge,
the X1950XTX still needs the Crossfire Cable.
Power is handled by a single PCI-power connector.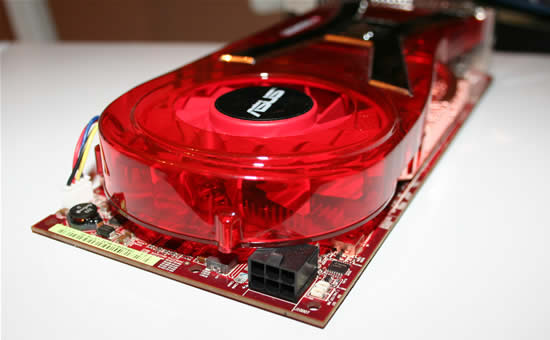 As expected you need to provide some power to the card.
The card is quite heavy due to all the copper on it.
TESTING – THE SYSTEM
The card was tested in my review machine which consists of the following hardware/software:

Test System
CPU 
Intel Core 2 Duo [email protected]

Motherboards

ASUS P5W DH Deluxe

Memory

Corsair XMS2 Xtreme 2048MB DDR2 XMS-1066

HDD

1×80 GB EIDE, 4×320 GB SATA

Video cards

HIS X1900XT (Cat 7.1)
ASUS X1950XTX (Cat 7.1)
BFG 7900GTX OC (ForceWare 93.71)
To test the card we used the following programs: 

Software

3Dmark05 
Default

3Dmark06

Default

FEAR 1.08

Everything maxed out,
Soft shadows On
4xAA, 8xAF

Company of Heroes. v1.4 

Everything maxed out, 4xAA, 16xAF set in control panel

Quake 4

Ultra quality, 4xAA, 8xAF
TESTING – 3DMARK05 AND 3DMARK06
3DMark05 and 3DMark06 are synthetic benchmarks developed by Futuremark. The measurement unit "3DMark" is intended to give a normalized mean for comparing different GPU/VPUs. They has been accepted as both a standard and a mandatory benchmark throughout the gaming world for measuring performance.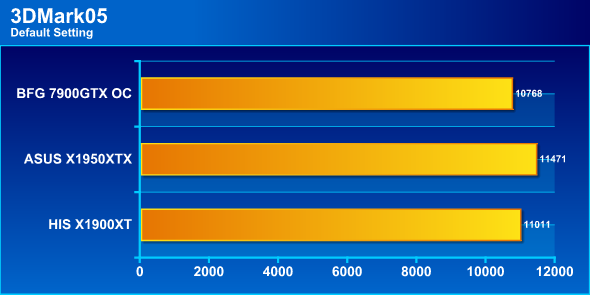 The difference between the three cards is small. The ASUS X1950XTX is just 6% faster than the BFG 7900GTX OC.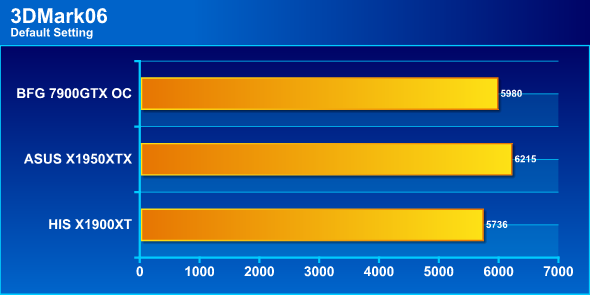 The difference is a bit larger in 3Dmark06 but still not very big. The ASUS X1950XTX is around 4% faster than the BFG 7900GTX and around 8% faster than the HIS X1900XT.
TESTING – COMPANY OF HEROES
Company of Heroes(COH) is a Real Time Strategy(RTS) game for the PC, announced on April, 2005. It is developed by the Canadian based company, Relic Entertainment, and published by THQ. We gladly changed from the first-person shooter based genres of the rest of our gaming benchmarks to this game which is RTS. Why? COH is an excellent game that is incredibly demanding on system resources thus making it an excellent benchmark. Like F.E.A.R. the game contains an integrated performance test that can be run to determine your system's performance based on the graphical options you have chosen. It uses the same multi-staged performance ratings as does the F.E.A.R. test. We salute you Relic Entertainment!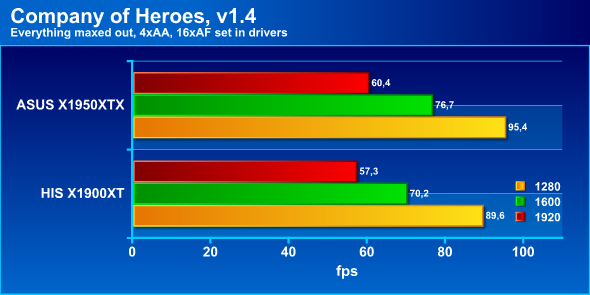 Unfortunately I didn't have time to run the full game benchmark on the BFG 7900GTX (the motherboard was gone). So in this case we will just compare the performance between the two ATI cards. The difference again isn't that big. The ASUS X1950XTX is just around 5-6% faster than the HIS X1900XT.
TESTING – FEAR
F.E.A.R. (First Encounter Assault Recon) is a first-person shooter game developed by Monolith Productions and released in October, 2005 for Windows. F.E.A.R. is one of the most resource intensive games in the FPS genre of games ever to be released. The game contains an integrated performance test that can be run to determine your system's performance based on the graphical options you have chosen.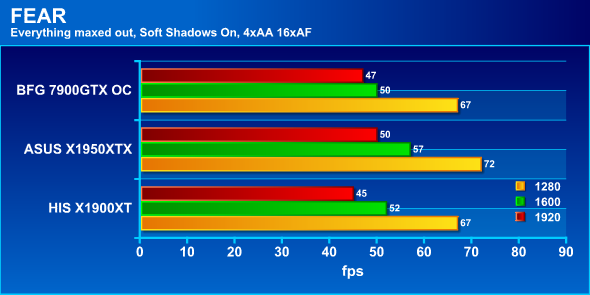 As seen in the earlier tests the ASUS X1950XTX beats the other two cards although by a small margin.
TESTING – QUAKE 4
Quake4 was released to gaming world in 2005 the year after Doom 3 by Raven Software. It uses the highly touted Doom 3 engine in its operation which means it also functions with the OpenGL API during rendering. Quake 4 and Doom 3 are two highly valued benchmarks that have lost little popularity since their inception.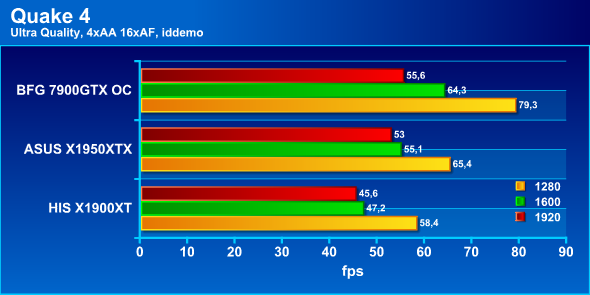 The BFG 7900GTX dominates the benchmark. Behind it the ASUS X1950XTX clearly beats the HIS X1900XT, performing between 12-16% better. 
TESTING – CROSSFIRE
We now know the card is fast when it is running alone. But what when it is running in Crossfire-mode? We earlier tested this card together with a ATI reference X1950XTX card in our Sparkle 8800GTX review´. In this test the Core 2 Duo CPU was overclocked to 2.67 GHz.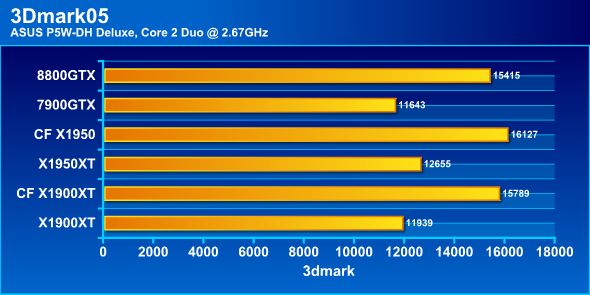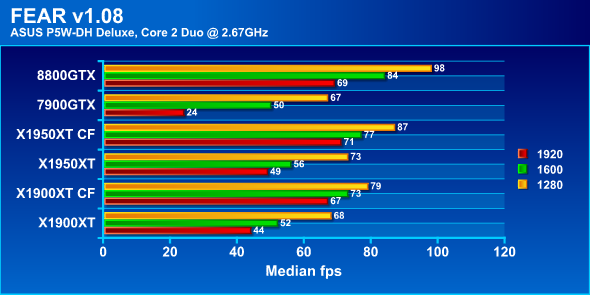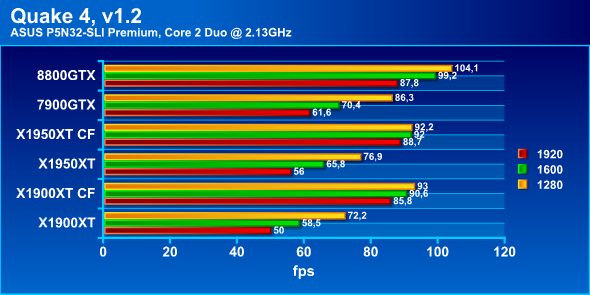 Putting two X1950XTX's in your system will give you excellent framerates that in some cases can beat a 8800GTX.
CONCLUSION
The ASUS X1950XTX Crossfire 512 MB DDR4 is a good card. The X1950XTX is the fastest available GPU from ATI and performs really well. ASUS implementation is decent although you really do not get any extra on the card. It has the stock ATI cooling and comes default clocked. The bundle helps things up with 1 decent game and one good game and the utilities are a nice extra.
The problem however is value. The price you will have to pay for this card, around $375, will give you an ASUS 8800GS video card, a card with more memory and which is at least 20-25 faster not to mention it has DX10 support. I would even consider looking at a ASUS X1900XTX since the difference isn't that big between the cards.
Pro
+ Fast
+ HDCP-compliant
+ Good bundle
+ One of the cheaper X1950XTX cards
Con

– Price to close to the ASUS 8800GTS
– Not fast enough over the X1900XT to warrant higher price
– Utilities requires you to use ASUS's own drivers
Final Score: I award the ASUS X1950XTX Crossfire 512 MB DDR4 a score of 6.5 (Pretty Good/Good) out of 10 paws!