I should first point out that the Foxconn 975X7AB-8EKRS2H is fully Core 2 Duo ready. Foxconn has a previous product titled, you guessed it, 975X7AA-8EKRS2H, that is not compatible with Core 2 Duo processors, so hence the "B" in the "975X7AB". To recap, the board we have in this review is the "AB" product refresh/update with the needed changes having been made to the voltage regulator and BIOS.
INTRODUCTION
Today we have a review of a not so well known FOXCONN motherboard for the Intel platform. While Intel's Core 2 Duo line of processors probably doesn't need any introduction since storming onto the hardware scene, one of its side effects has been to greatly muddle motherboard choices for many computer users when looking for an accompanying Core 2 Duo compatible motherboard.
Despite the sudden surge of choices, if anything, choosing between Intel Core 2 Duo motherboards can be more confusing now than ever if you are not keen on buying any of the well known premium (And subsequently premium priced) boards. Currently nVidia is offering a variety of nForce 4, 500, and 600 series motherboards simultaneously, Intel is offering the older flagship 975X chipset and the newer 965 series chipsets, and a few creative manufacturers have even added Core 2 Duo support to select Intel 865P and 945 equipped motherboards. To add to the confusion ATI has their RD600, and Via and SiS have their own Core 2 Duo ready chipsets out there for the value end.
If that still wasn't enough for you, then Intel is getting ready to release a chipset refresh later this year, codenamed Bearlake, which is planned to replace the flagship 975X chipset by Q3'07 and bring DDR3, 1,333FSB, and PCI Express 2.0 support amongst other features to their platform. But lets not get ahead of ourselves, that is still a good ways off and many readers probably can't or don't want to wait that long!
Up for review today is FOXCONN's premium Intel motherboard, the 975X7AB-8EKRS2H. Despite the mouthful of a name, for those few users that are able to get around and decode the name it does contain a good deal of information regarding the motherboard it represents.
While I'll get into details regarding its name later, I should first point out that the Foxconn 975X7AB-8EKRS2H is fully Core 2 Duo ready. Foxconn has a previous product titled, you guessed it, 975X7AA-8EKRS2H, that is not compatible with Core 2 Duo processors, so hence the "B" in the "975X7AB". To recap, the board we have in this review is the "AB" product refresh/update with the needed changes having been made to the voltage regulator and BIOS.
FOXCONN: THE COMPANY
FOXCONN is the registered trade name of Hon Hai Precision Industry Co., Ltd., a global leader in the design, manufacture, and distribution of advanced computer, communications, and consumer electronics components, including motherboards, graphics cards, CPU coolers, barebone systems, and chassis for personal computer desktops and servers. With over three decades of demonstrated manufacturing excellence, Hon Hai sets the standard in the industry for product quality and reliability, customer support, and value. In 2005 Hon Hai had sales of $25 billion (USD).

The Channel Service Division (CSD), part of the PCE Business Group of Hon Hai, is Hon Hai's worldwide organization for servicing channel customers. Guided by the mantra "The Art of More", CSD is dedicated to making it simpler and more affordable for its customers to offer superior information systems to their consumer and enterprise customers. CSD serves a network of distributors and OEM customers in Asia, EMEA, and the Americas.

To view an overview introduction of FOXCONN and our history, please click here.
SPECIFICATIONS & FEATURES
FOXCONN 975X7AB-8EKRS2H Motherboard Specifications

Processor:

Intel® Core™ 2 Extreme, Core™ 2 Duo(Conroe), Pentium® EE, Pentium® D, Pentium® 4, Intel® Core™ 2 Quad

Socket Type:

Socket T (LGA775)

Chipset:

Intel® 975X + Intel® ICH7R

Front Side Bus:

1066 / 800 MHz

Memory:

Dual channel DDR2 800 (OC) / 667 / 533 x 4 DIMMs, Max 8GB

Expansion Slots:

2 x PCIe x16 ( CrossFire compatible ), 2 x PCIe x1, 2 x PCI

Serial ATA(SATA)/RAID:

5 x Serial ATA II w / RAID 0, 1, 0+1, 5, 10, Intel® Matrix RAID

IDE:

1 x ATA 133, 1 x ATA 100

LAN:

Dual GbE LAN, Dual Marvell 88E8056 (PCIe)

IEEE1394:

2 x 1394a, TI TSB43AB22APDT ( one pin header and one rear port)

Audio:

7.1 channel, Realtek ALC 882 (High Definition Azailia)

Internal I/O Connectors:

2 x USB 2.0 headers support 4 ports

1 x Front audio header

1 x S/PDIF out header

1 x IrDA header

1 x CD-IN header

1 x AUX-IN header

1 x Front panel header

1 x Buzzer

1 x COM2

1 x IEEE 1394a

1 x speaker

BIOS Features:

FWH 4MB, ACPI 2.0b, APM 1.2, PnP 1.0a, SMBIOS 2.3, USB 2.0

Support CD:

Drivers, DirectX, Adobe Reader, Super Utility, Norton Internet Security

Special Features:

SuperRecovery, SuperBoot, SuperBIOS Protect, SuperStep, Fox Live Update, Ratio Free, Fox Intelligent Stepping, Fox One

Form Factor:

ATX (12" x 9.6")
Special Features 
Supports Intel® Quad Core Ready
Intel® Core™2 Extreme Quad-Core processors, manufactured using a 65nm silicon technology, are the latest high-performance CPUs. This cutting-edge processor offers significant performance boosts and provides a more energy efficient platform in overall terms. For extreme computing. Enjoy revolutionary levels of performance enabling vivid, high-definition experiences and multi-tasking responsiveness from state-of-the-art Intel dual-core and quad-core technologies.  
---
Supports Intel® Core™ 2 Duo processors
Intel® Core™ 2 Duo processors set a new standard in desktop processor performance  and energy efficiency. Based on revolutionary Intel® Core™ microarchitecture, the breakthrough Intel® Core™2 Duo processor family is designed to provide powerful energy-efficient performance so you can do more at once without slowing down.With power-optimized dual-core technology and exceptional energy efficiency, the Intel® Core™2 Duo processor excels running the most intense applications.
---
Windows Vista Premium Certified
Microsoft Windows Vista is designed to dramatically improve the computing experience of every kind of PC user—from people at home who use their PCs for simple web browsing, to business people who must organize and act on large volumes of data, to scientists who routinely perform complex mathematical analysis.
---
FOXONE ™ Technology
Windows and BIOS based over-clocking and system control. automatically run your  machine faster or slower according to loading or manually overclock the system with ease.
---
Digital PWM
Foxconn's Digital Power Management system brings greater performance capability  and control. By replacing traditional analogue power circuitry with a digital system,  heat is reduced and much smaller voltage increment adjustments are possible,  meaning greater control for overclockers.
The digital system also has the benefit of increasing space around the CPU socket,  making damage to motherboard components less likely when installing and removing  CPUs.
PACKAGING & ACCESSORIES
Right off the large size and choice of elaborate gold packaging clearly hints that what's housed within is FOXCONN's current flagship motherboard for the Intel platform, including listing a couple of its more notable features. Of course we're not really interested in the packaging, but what's inside!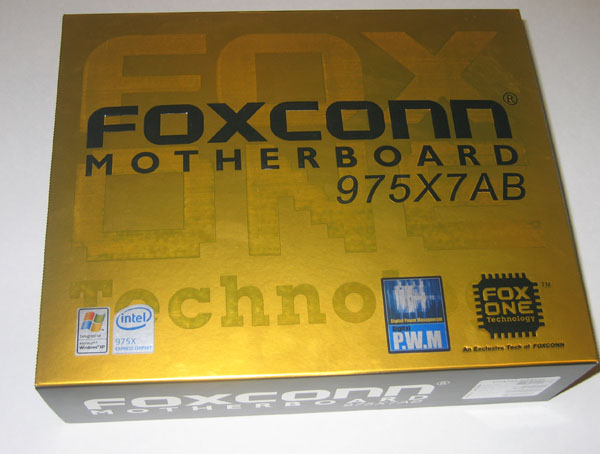 And what's inside happens to be quite a lot! I will simply list them below, but pretty much every possibly needed cable has been included, with enough PCI slot adapters to guarantee you'll have plenty of ports no matter your choice of case.
Driver Disk
User Manual
Rear I/O Plate
2 – Round IDE/PATA Cables
1 – Round FDD Cable
4 – SATA Cables
2 – Molex -> SATA Power Cables
Serial PCI Slot
4-Port USB PCI Slot
1394 Firewire PCI Slot 
Fold Out Reference Guide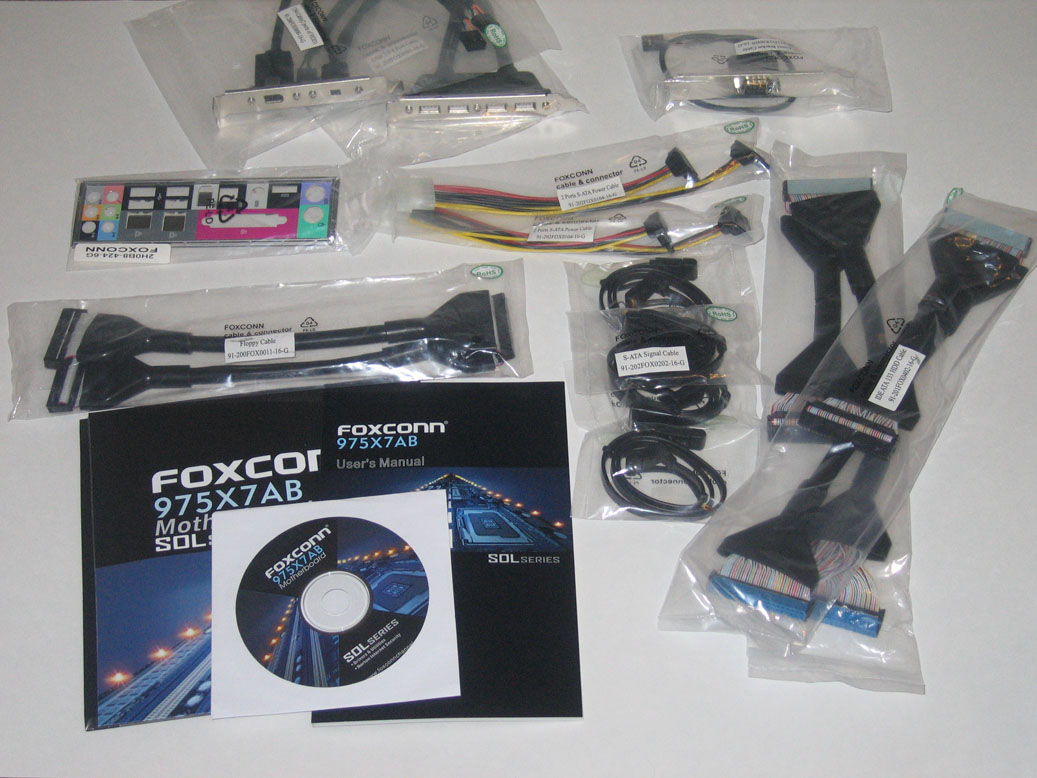 In addition to the full package of accessories and cables FOXCONN included a handy, very large fold-out guide for component, pin-out, and BIOS referencing. They also listed the steps complete with color photos for properly installing your LGA-775 CPU along the outside edges. On the inside of the fold out is a basic layout chart listing what the main connectors for the motherboard are. They go on to include a basic overlay of the Rear I/O ports, and several helpful up close shots that give a complete pin layout for not only the Front Panel connections, but the 1394, HD Audio, and USB ports as well. There'll be no digging through the manual praying they listed pin outs if you have to deal with one of those computer cases that provide lots of tiny plastic connectors that must be matched up on a pin by pin basis. Should you want to go digging anyway, FOXCONN thoughtfully provided pin-out descriptions to almost every I/O connector built into the motherboard.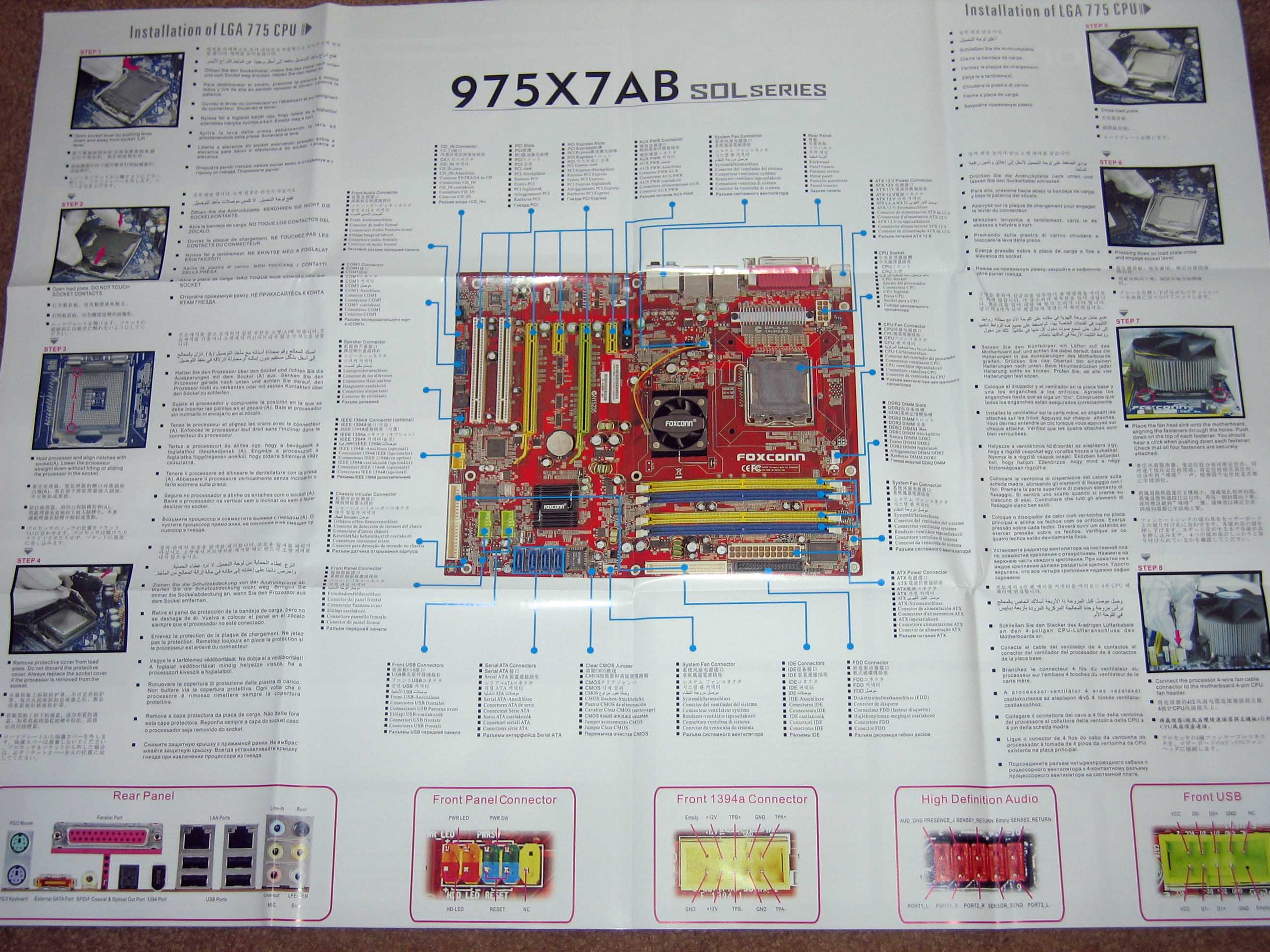 Users should make note that despite the silkscreened print in the depicted illustration of the Front Panel ports, this photo should actually be rotated 180 degrees so the text would be upside down. Therefore don't do what this reviewer did and assume the pins exactly match the illustration's orientation as it would appear, because you'll have to fix them before the computer will power on later.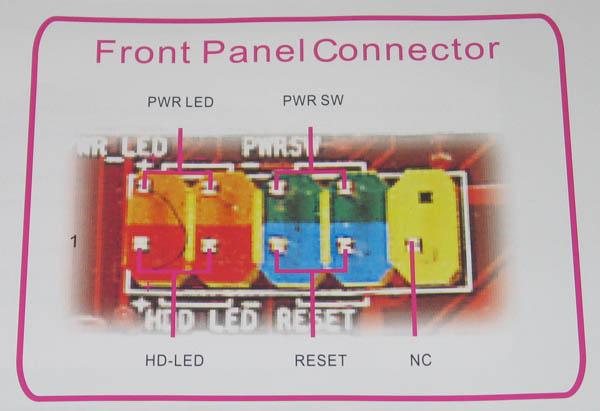 Additionally I was presented with the problem that the traditional "Power LED" connector that comes in most cases is a 3 pin connector, however the 975X7AB will allow only a 2pin Pwr LED connector to be used as you can see above. While I simply used a secondary HDD LED connector instead, not every case has one so it would have been nice if FOXCONN would keep to the generally accepted pin-out standard here.
Moving on, the reverse side of the fold out guide gives a somewhat helpful listing of the main BIOS screens and a brief explanation of what you would find in them.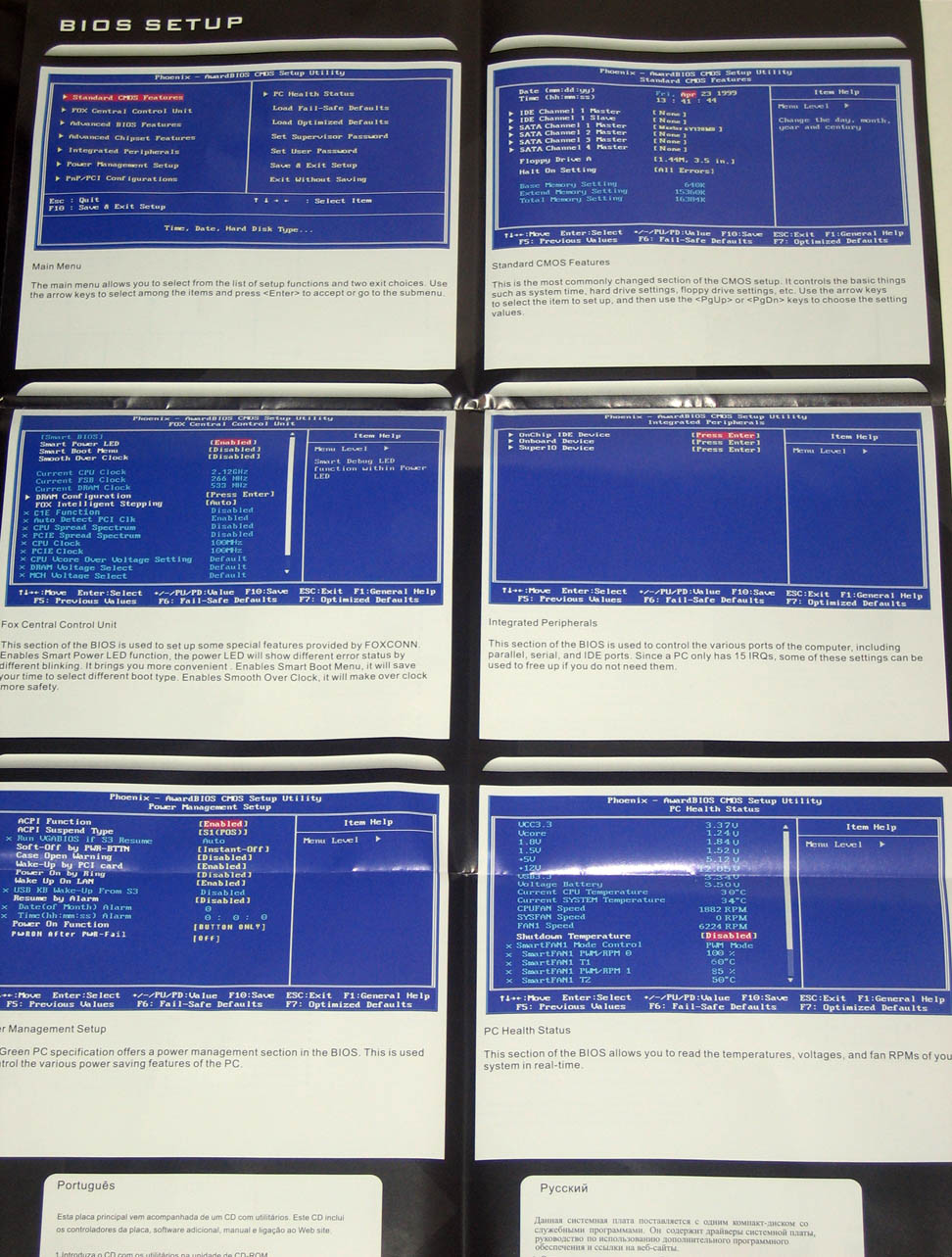 A CLOSER LOOK
After having to literally dig through the pile of accessories and extras that come within this almost to-small box to remove the motherboard, expectations were high and I was not let down.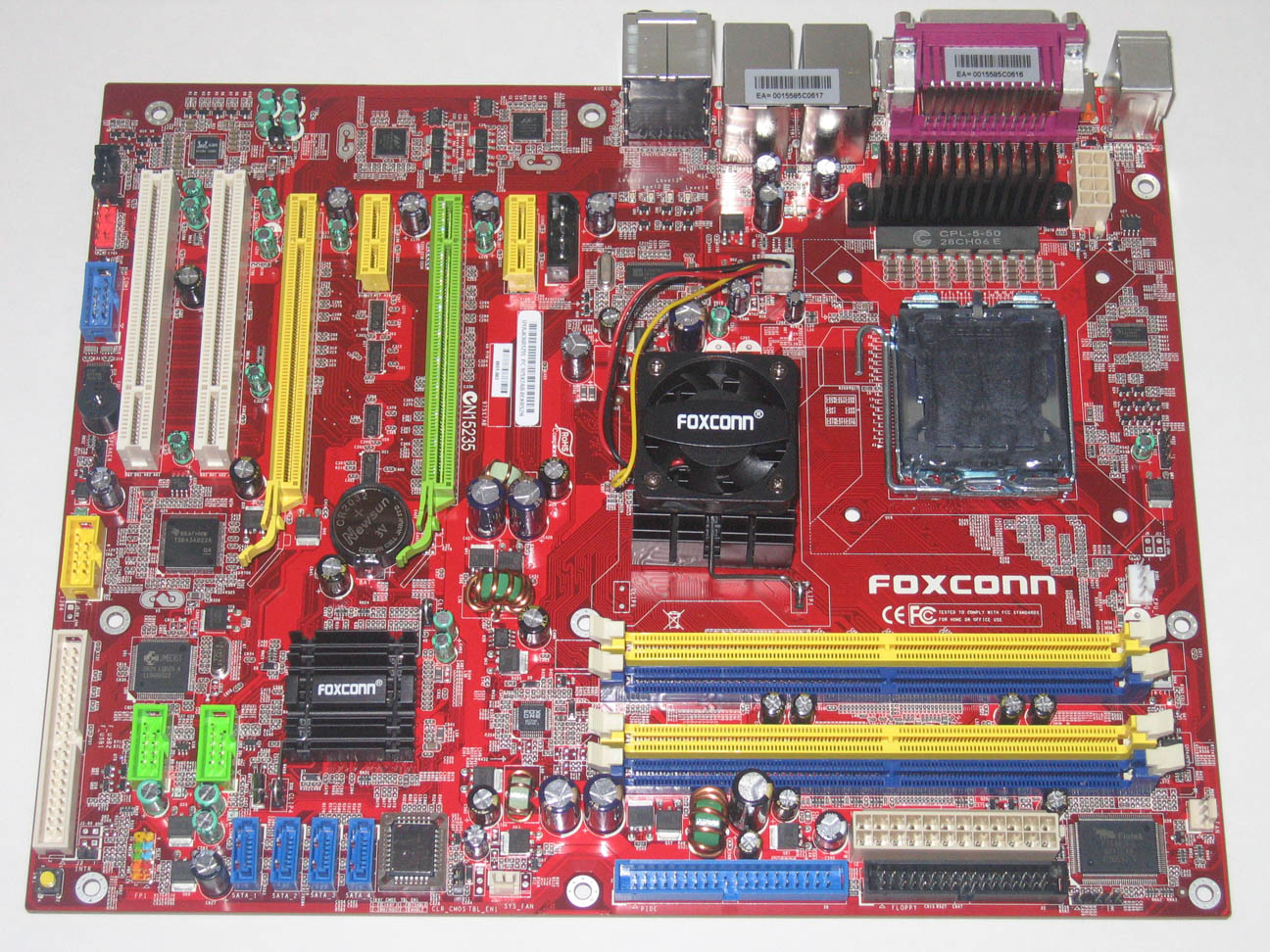 The 975X7AB is a full size ATX board in all respects, unlike the DS3 it is up against in this review which happens to be a few inches thinner in width going from the rear I/O ports to the memory slots.
Besides the Crossfire/SLI capability, FOXCONN wisely chose to include active cooling for the northbridge chipset. This is good because it is already proven that the 975X chipset needs extra voltage to achieve those overclocks, and should prevent the chipset from getting overly hot should the user choose to try a little overclocking. During testing the chipset fan proved to be inaudible over other case components, and can be manually controlled from the BIOS.
Looking closely, at least a few things should quickly stand out. If you haven't noticed the very, very spartan appearance of the CPU socket area, then you most definitely should take a look. One of the first features that caught my attention when reviewing this board is that it is one of the first on the market to have utilized a Digital PWM in place of the traditional analog circuitry used to power the CPU.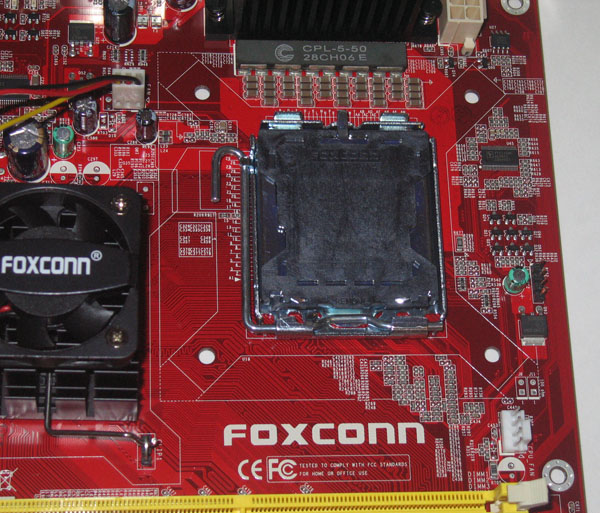 Amongst making for a very clean, almost empty area around the CPU socket, other advantages of a Digital PWM include a much finer control and higher accuracy in regards to the various voltage options available for the CPU. More and more board manufacturers are incorporating Digital PWM's into their upcoming designs, and they will likely become standard throughout the mid to high end market this year.
Another thing to notice is that despite the plethora of ports and features this board only offers 4 SATA II ports in addition to the 1 external SATA port on the backplate, which might not be enough for some users these days. However this board does feature two IDE ports which allow up to four IDE devices to be connected which balances the shortage of SATA ports somewhat, and might be more beneficial for the majority of users still using the perfectly good legacy IDE disk and optical disc drives.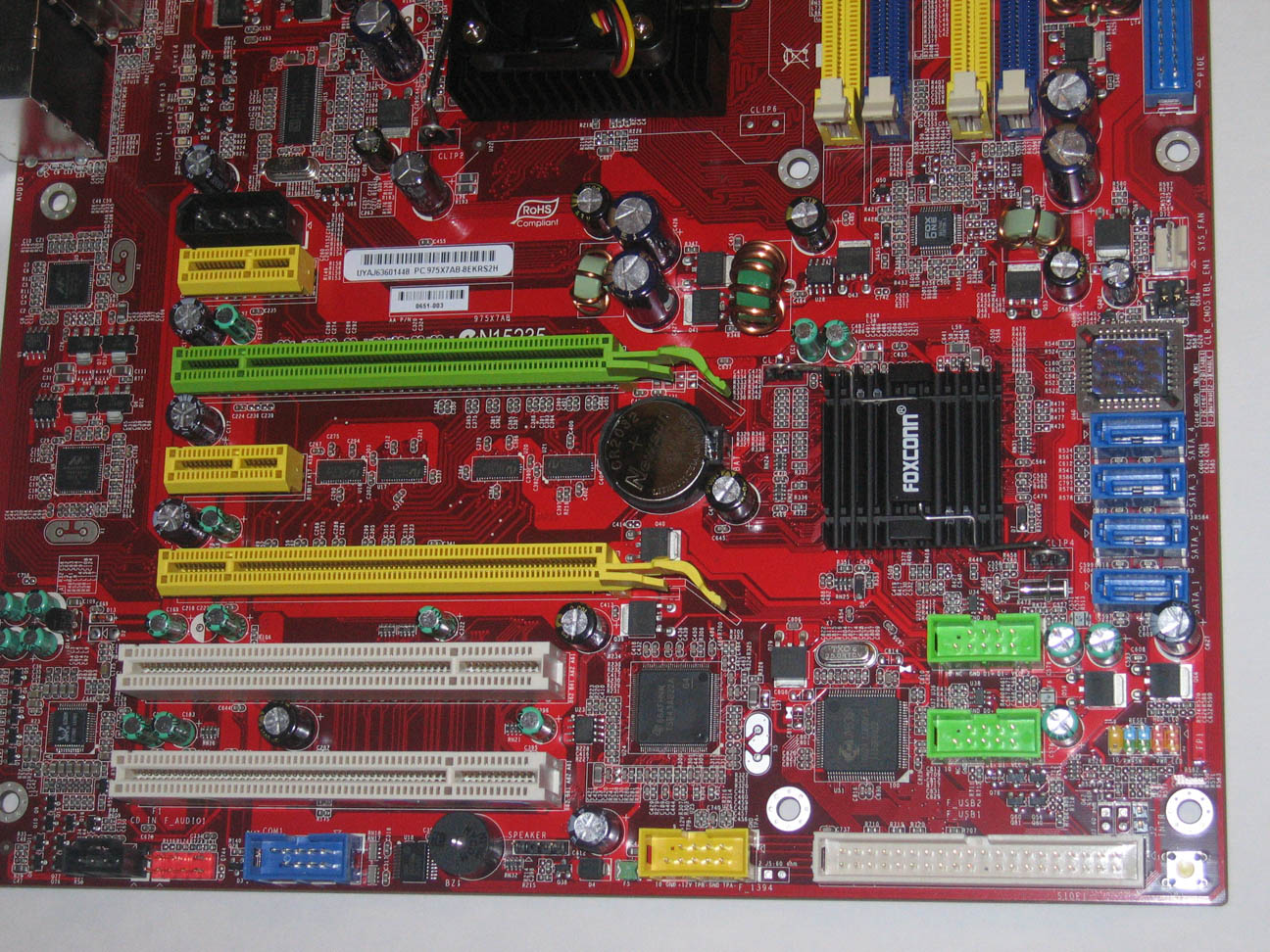 In the above image both PCIe x16 slots can clearly be seen, which in dual-GPU configuration will operate in PCIe x8+x8 mode. No slots or switches will need to be configured before use. Just above the first PCIe x1 slot FOXCONN has choosen to place a 4pin molex connector to independently power the graphics cards for better stability. Moving across, next to the white IDE slot happens to be a power switch button built directly onto the corner of the motherboard. While it's a plus some users may enjoy, I can't help but say I would have preferred to have seen a CMOS reset button. Due to the flash you can see the button in question better with the first motherboard photo above.
The memory slots are correctly color coded for dual-channel use, and I cannot find any layout faults to really complain about with this motherboard. All of the connectors are very conveniently placed along the outside board edges, including the red HD Azalia connector which many other manufacturers have taken to inconveniently placing just behind the rear I/O panel. Also nice to see is that if using a lengthy graphics card, such as any of the DX10 capable cards, you will not run into any issues with the location of the SATA ports, nor have issues installing and removing memory modules with a graphics card still occupying the main PCIe x16 slot. FOXCONN has definitely into their choice of motherboard layouts with this motherboard.
Having the Digital PWM on the 975X7AB pretty much guarantees almost any socket-775 aftermarket cooler to be compatible, as long as the height of the northbridge fan does not get in the way. I tested this board with the both Zalman 7700Cu and Scythe Ninja coolers and there was still plenty of room left to go around.
Speaking of the blackplate: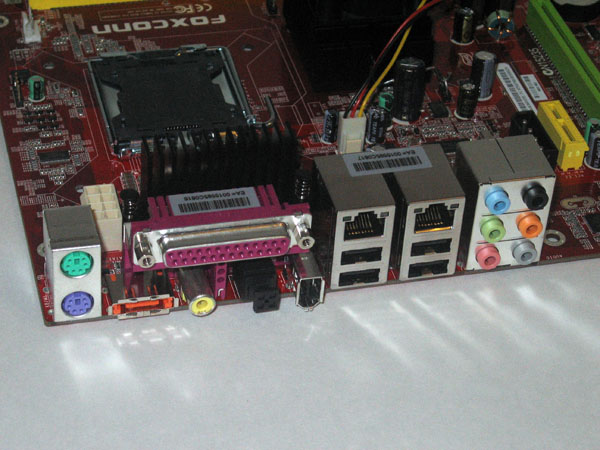 The Serial port has been regulated to an internal COM connector which only if needed can be used via the serial PCI slot bracket included in the package. Instead there is a full array of more current connectors available: 
PS/2 Mouse/Keyboard Ports
External SATA Port
Coaxial S/SPDIF Out Port
Optical S/SPDIF Out Port
1394a Firewire 400 Port
Parallel Printer Port
4 – USB 2.0 Ports
2 – Marvel Gigabit Ethernet Ports
7.1-Channel HD Azalia Audio Ports
The eSATA port and one of the internal IDE ports are thanks to an added Jmicron controller chip. The 975X7AB features dual Gigabit LAN ports, both controlled via a Marvel 88E8056 chip and connected via the PCIe bus, which should prove to be more than enough speed for anyone.
Test Bed Configuration

Processor:

Intel Core 2 Duo E6300

Dual Core, 1.86GHz, 2MB Unified Cache, 1066FSB

Motherboards:

FOXCONN 975X7AB-8EKRS2H (635F1P20 BIOS)

Gigabyte GA-965P-DS3 (F9 BIOS)

RAM:

Corsair 2 x 1gb XMS2 DDR2-800 @ 4-4-4-12 Timings

Graphics:

FOXCONN 7950GT OC Edition

Hard Drives:

1 Seagate 320gb SATA Hard Drive

2x Seagate 320gb SATA Hard Drives (RAID 0)

Power Supply:

Antec NeoHE 550watt PSU

Case:

Antec P180B

Operating System:

Windows XP Professional w/ SP2
Testing Methodology
A fully updated install of XP Professional with the latest DX9 monthly updates was utilized, and all unnecessary programs including XP's System Restore, firewall, and Auto Update were disabled before testing. The hard drive was defragmented, then all tests were run three consecutive times and the results were averaged. Unless specifically noted all games options were set to their highest quality for benchmarking.
Benchmarks & Games Utilized
3DMark06 v1.3
PCMark05 v1.2.0
RightMark Memory Analyzer v3.72
CineBench v9.5
WinRAR v3.61
HDTach v3.0.1.0
Quake 4 v1.2
Company of Heroes v1.4
Half Life 2: The Lost Coast
Even amongst motherboards test results are usually fairly similar, upgrading the components used with the motherboard will almost always net a larger performance increase than only upgrading the motherboard itself.
Usually benchmarks these days are more to ensure that nothing is amiss, such as the case with nVidia's current 680i issues with SATA disks or ATI's past issues with sub-par USB throughput performance on their older 400 series chipsets. Therefore in my opinion choice of motherboards to use in your computer should come down to price, package, support, and the specific intended use which might include stability, overclocking, features, or some combination thereof. More concisely, I am simply trying to say that performance differences of just a few percent should fall to the bottom of the list as they simply won't be noticed in the vast majority of real life applications.
TEST RESULTS: SYNTHETICS
3DMark06
3DMark06 is the obligatory synthetic benchmark, and is the first of three that will be used in this review. Only the default settings were utilized to allow scores to be directly compared for those users with only the free version of this program. The just released update, version 1.1.0 was used.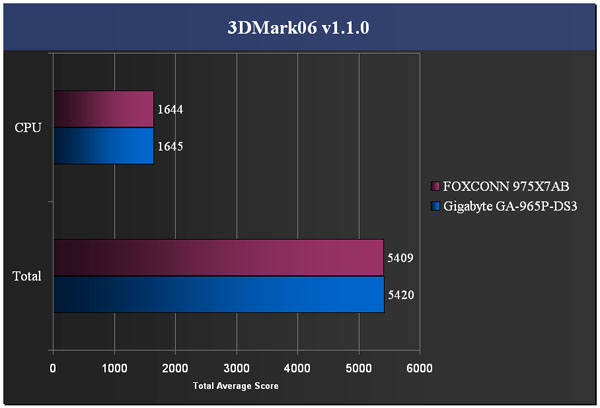 3DMark06 is the first version of Futuremark's graphic benchmarking program to factor the CPU score into the final obtained results, so the CPU scores were included for reference. So far as expected results are extremely close with the DS3 taking the head start by just 11 points.
PCMark05
PCMark05 is another recently updated synthetic test from Futuremark, with the version 1.2 used. Here I have included the break down to show the separate scores for the various subsystems, with the total PCMark05 score in teal at the very bottom. From these results it would appear the FOXCONN 975X7AB has a better tuned BIOS for general performance, as it takes a small lead in every test except the CPU subsystem score. This is enough to give the 975X7AB on average over 100 points higher in the final tally.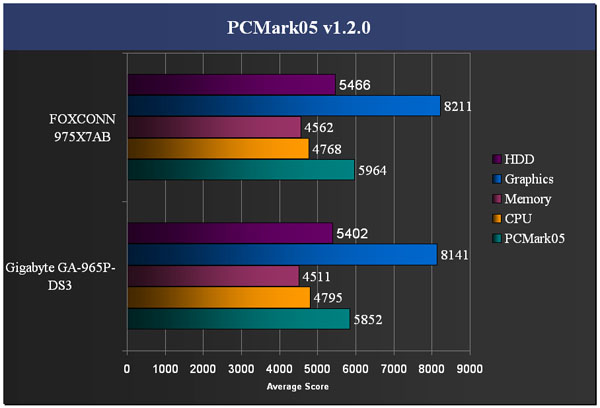 RightMark Memory Analyzer

RightMark's Memory Analyzer is an open-source project designed to give highly accurate, repeatable results in addition to all the information you might need to know regarding latencies and bandwidth for your system. Here I have utilized the four RAM Performance tests, using the default 4MB to 20MB file size settings.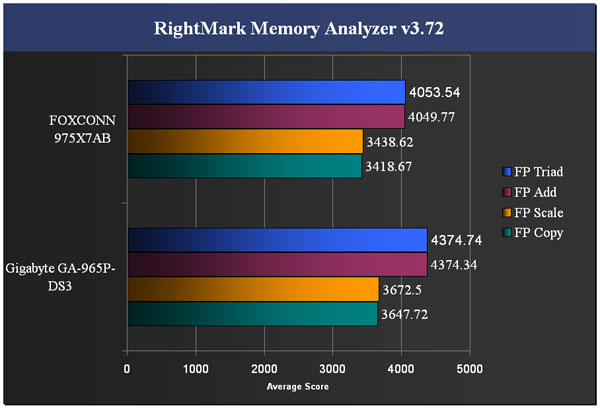 Interestingly, the FOXCONN 975X7AB loses out in this test across all four floating-point variations, consistently by about 200 and 300 depending on the tests in question. There are two very good explanations for this, the first and probably more likely reason is that it is known the newer 965P chipset featured a few improvements in the memory subsystem and these could be the results of those improvements.
The second explanation is that the 975X7AB is being hampered by an unusually slow tRAS setting, which while I do not believe to be the case is certainly possible considering that CPU-Z to Speedfan, SiSoft Sandra to RightMark Memory Analyzer refuse to report the same tRAS setting that was manually set in the BIOS. Infact they do not even report the same value, giving anything from "15" to "19" instead of the correct "12"! While this would indeed make for a convenient explanation, the 975X7AB manages to lead the above benchmarks and most of the upcoming benchmarks as well, so it is far more likely we are simply seeing the result of Intel's optimizations made to the newer 965P chipset on the DS3.
TEST RESULTS: APPLICATIONS
CineBench
CineBench is a 3d rendering program which primarily stresses the system's CPU. The multi-core render test was utilized, and as with all benchmarks the average of three runs was taken.
Yet again the FOXCONN 975X7AB edges out a small lead over the Gigabyte DS3, however just to show how close both motherboards really are both completed the benchmark runs in the same 38 seconds each.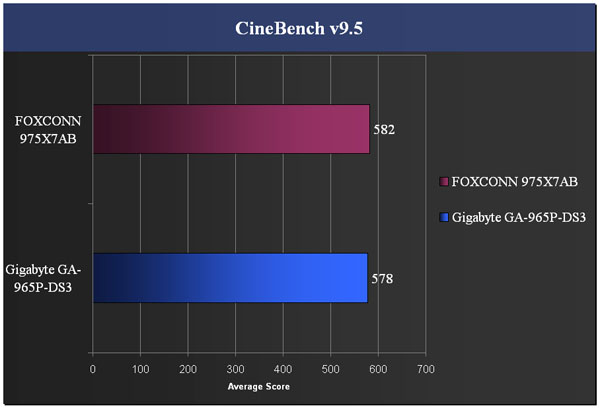 WinRAR
WinRAR has become a fairly well known program, but not so well known is the built-in benchmark to measure total capable compression speed and error checking. As well as using this benchmark tool I took an old backup copy of my 1GB flash drive and measured the length of time taken to both compress the folder, and then unzip the compressed archive.
The backup folder utilized was full of a random mix of compressed executables and mostly uncompressed files and folders, which in all total a very large 910mb in size. The hard drive was defragmented before each round of tests and identical copies fully deleted to ensure the same section of the hard drive would be used for each run. WinRAR 3.61 is also fully multi-threaded and therefore takes advantage of multi-core systems, and as such was the version used for these tests.
WinRAR 3.61

 

FOXCONN 975X7AB

Gigabyte GA-965P-DS3

Benchmark (Total KB/s)*

1,099

1,106

File Compression (min:sec)

5:45

5:40

File Extraction (seconds)

40

50

Lower is better, unless otherwise noted with a *
Results are mixed, and while the Gigabyte board edges out a marginal win in overall KB/s and does takes a 5 second lead in the File Compression test, on average it would then takes a full 10 seconds longer to complete the File Extraction run than the 975X7AB motherboard. During testing results were fairly consistent, and again all values were the average of three runs. 
HD Tach
HD Tach is a program designed to measure pure hard disk performance. For all of the tests the Long 32mb bench run was used. The most important value should be the Average Read speed, as this is a good approximate speed you can expect your particular hard drive to perform at, depending on the drive used. As expected results are close, although the newer ICH8 southbridge on the DS3 appears to have a marginal advantage in both Average Read MB/s and Random Access Time. The margin of error with the CPU Utilization numbers is about 2%, so I will not comment on those.
Seagate 320GB SATA Hard Disk Drive Performance

 

FOXCONN 975X7AB

Gigabyte GA-965P-DS3

Random Access Time (ms)

14.10

13.53

CPU Utilization (%)

2.67

3

Average Read (MB/s)*

66.50

64.30

Burst Speed (MB/s)*

135.27

132.53

Lower is better, unless otherwise noted with a *
As expected USB results are a flat draw, however it is at least a little interesting to simply note the lower Random Access Time advantage of flash memory compared to the overall faster hard drives.
Lexar USB 1GB Flash Drive Performance

 

FOXCONN 975X7AB

Gigabyte GA-965P-DS3

Random Access Time (ms)

1.13

1.1

CPU Utilization (%)

2.67

2.67

Average Read (MB/s)*

8.80

8.80

Burst Speed (MB/s)*

8.90

8.90

Lower is better, unless otherwise noted with a *
For the RAID benchmarking a blank RAID 0 array was created on both motherboards using the default partition settings. While the DS3 uses a secondary Jmicron chip to provide basic RAID 1, 0 support, the ICH7R southbridge on the 975X7AB provides RAID 0, 1, 0+1, 5, 1+0 (RAID 10), and various Intel Matrix RAID options.
When attempting to set up a secondary RAID disk array with the 975X7AB, things started to go wrong. First off none of the applicable RAID drivers would install with the excuse "hardware was not supported", and incidentally just to be sure I tried all of the installation files scattered throughout the driver package with the same expected results. This is strange as only the ICH7R southbridge provides the SATA RAID support on this board, and the driver package did contain the correct specific installation files.
As Windows XP was installed on it's own separate drive I proceeded to create the RAID 0 array regardless with the 975X7AB and that proceeded without issue. However just two seconds into the Windows XP loading screen Windows would bluescreen with an identical STOP error each time. Disabling the RAID drives would allow XP to again complete it's boot normally. As Intel's ICH7R southbridge is over a generation old these kinds of problems with RAID drivers are simply not acceptable on a mature platform.
RAID 0 Hard Drive Performance (2x Seagate 320GB SATA Hard Drives)

 

FOXCONN 975X7AB

Gigabyte GA-965P-DS3

Random Access Time (ms)

n/a

14

CPU Utilization (%)

n/a

4.33

Average Read (MB/s)*

n/a

113.87

Burst Speed (MB/s)*

n/a

1,502.40

Lower is better, unless otherwise noted with a *
TEST RESULTS: GAMES
Quake 4
To compare graphics performance, the benchmark was run at 800×600 to ensure the CPU would be the main bottleneck, and then run at a more realistic 1920×1200 resolution with all settings at high quality with no AA or AF. Unfortunately I need not have worried as the CPU or how the OpenGL is handled appears to be the main bottleneck even at a massive XHD resolution. I verified the results several times and triple checked the settings, however the results were repeatable and upon a little research these results don't appear to be abnormal when using the idNetDemo.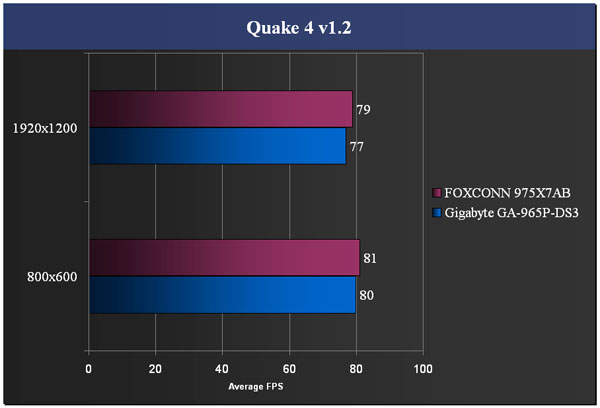 Company of Heroes

The in game performance test was utilized. The average and minimum framerate results should hold the most weight for obvious reasons. So therefore throwing out the MAX FPS values, I would call this one a draw as no one will notice 1 extra Frame Per Second in the middle of their gameplay, even at 1920×1200 resolution. 😉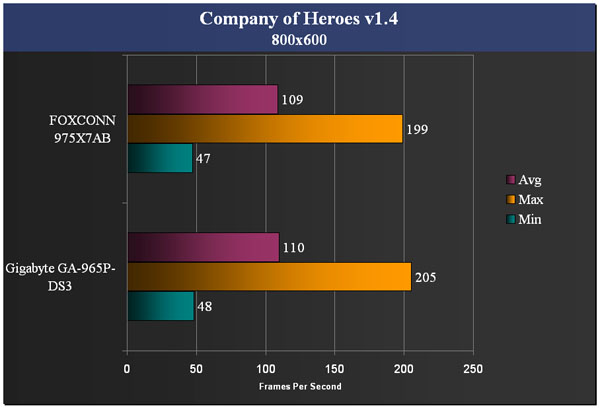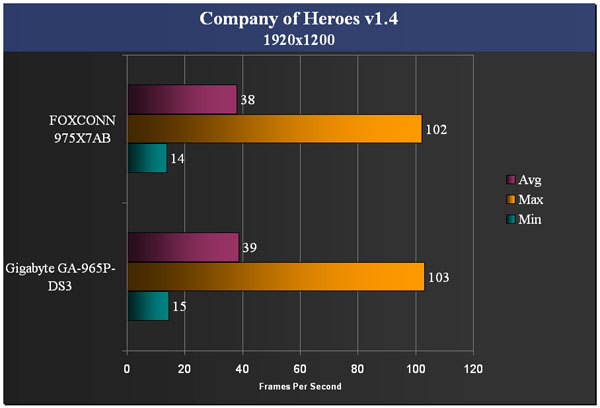 HL2: The Lost Coast

Half Life 2: The Lost Coast is still a very demanding benchmark, and thankfully also shows the more expected results when the resolution used is raised. Again all settings were on max quality with full HDR, no AA or AF used. And again the 975X7AB takes a textbook definition of a marginal lead over the Gigabyte DS3.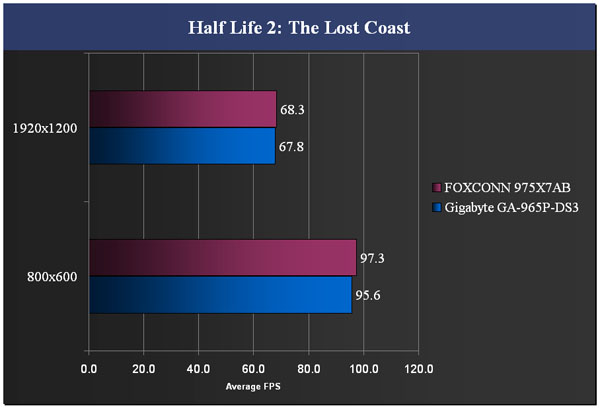 OVERCLOCKING
FOXCONN 975X7AB-8EKRS2H BIOS Settings

FSB Clock:

266 to 600FSB in increments of 1

PCIe Frequency:

100 to 200

CPU Vcore OverVoltage:

-21% to +24% in increments of 3%

CPU Termination Voltage:

-0.090v to +0.180v in increments of 0.030v

MCH Voltage:

-0.120v to +0.240v in increments of 0.040v

DRAM Voltage:

-0150v to +0.600v in increments of 0.050v
To my surprise this board has performed very well thanks to the newer '20' BIOS that shipped with this replacement board, and I was surprisingly easily able to reach an overclock of 400FSB. I should clearly point out that this was with spending very little time trying to coerce the board, and additionally I am not fully literate with some of the voltage options in the BIOS. As such I was naturally reluctant to push the envelope as far as I normally would while still remaining inside what I personally consider to be the "safe" zone, so there is doubtlessly further headroom left for those users that enjoy tweaking their boards for maximum performance and overclocks.
That said, one thing I want to make note of is that the 975X7AB displayed an extremely long delay before POST during all overclocking attempts tested. After rebooting from a known stable overclock either from Windows or from saving a change in the BIOS, the board would always require a whopping 20-26 seconds to POST measured from the screen going black after shutdown, to exactly when the graphics card text would flash on the screen which occurs just before the POST beep would occur. I found this to be fairly strange, but results were consistent with this board and a previous 975X7AB I had been testing with.
Even more strangely both 975X7AB boards would be very inconsistent after a clearing of the CMOS as well. While they tended to POST normally, sometimes both would simply delay for more than just a few seconds before POSTing, and once or twice sometimes simply not display anything at all.(!) However I have found that if this problem occurs after having cleared the BIOS, then shutting the system down and simply leaving it off for several minutes would then result in an immediate POST upon the next boot up.
SOME (OKAY, MANY) FINAL THOUGHTS
When first installing a new mainboard I've developed the habit of downloading all of the latest drivers from the manufacturers respectwebsite to a flash drive before installing anything. This bypasses installing drivers off of the CD, then having to install them all again since logically the versions that come on the CD are almost always several versions out of date. This time I was proven wrong however, as after downloading & installing the Marvel LAN drivers from the FOXCONN website I quickly realized XP was still not recognizing the ethernet ports and subsequently both Marvel Gbit ethernet ports were still not working. In this case the FOXCONN website lists only the "April 06" 8.32.3.3 version of these drivers available for download, which did not happen to work! Thankfully the CD version did work, and happened to be several releases newer than those on the website,  8.51.5.3 to be precise.(!)
Some readers will have picked up from various comments that I have had a previous 975X7AB board, which unfortunately had some rather perplexing issues which I can safely say the replacement board has lacked. While having to deal with such problems is usually not a positive experience, I can at least say it gave me plenty of time to see FOXCONN's software utilities mature through numerous updates in the stretch of time it took to complete this review.
Had the first motherboard had lacked any issues and I had been able to publish a complete review one time late last year I would have given FOXCONN's software utilities some rather sharp criticism, FOX ONE in particular due to the program's previously quirky nature and completely unreliable, sometimes alarming readings. I am pleased to say none of the issues remain in the newer version I used while testing this motherboard. As a rule FOXCONN only lists the most current versions of their applications and drivers for download, however the versions of these programs I used are shown in the screengrabs below for those looking for the info.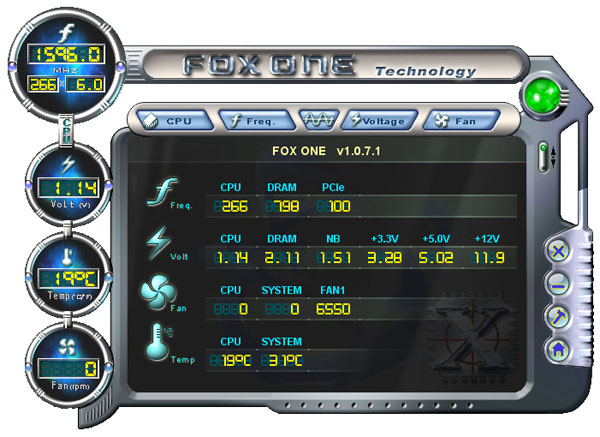 Above praise aside, I would like make a few suggestions. One of the 975X7AB's features includes a backup BIOS should anything occur to the original BIOS to prevent booting, which allows the board to boot as normal instead of leaving the user with a dead system. While this is a definite plus, I am sure I am not the only person who would greatly appreciate being immediately notified if the backup BIOS happens to be what is booting the system! As it stands, if the backup BIOS boots the system the only way for the user to find out is if they by chance decide to run the LiveUpdate utility, which will only then decide to display this warning prompt.

Many users will be happy to note that the LiveUpdate utility provides a quick "One stop shopping" experience for all system updates, including the BIOS, all FOXCONN utilities, and all system drivers thanks to a simple "Update All" button. Remember I was just complimenting FOXCONN for having fixed the majority of their utility issues? On older incarnations of LiveUpdate should you ever have canceled an already begun download, the utility would error until the offending partially completed file was manually deleted from its package directory. The current version has fixed this issue, and even supports a resume function for non-completed downloads.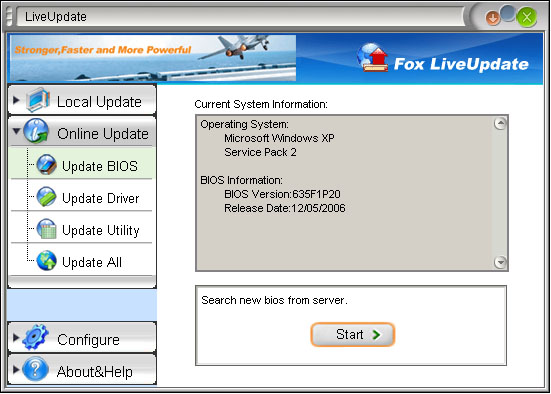 CONCLUSION
FOXCONN really seems to be making an effort with this motherboard in trying hard to equal their well known C51XEM2AA-8EKRS2H motherboard for AMD's Socket AM2 platform. So, did they do it? I will have to give a reserved yes, and elaborate a bit below as unfortunately it's not a clear cut win for the 975X7AB.
FOXCONN has gone all out on the features and package accessories, and put a good deal of thought into designing the layout of this motherboard of which I cannot find anything to gripe about. The approximately $170 price tag that this board can be found at is also a good match for this board's combination of performance and feature offerings.
However there are still a few niggling issues FOXCONN needs to resolve. This motherboard offers a very expansive array of RAID options, infact they offer every possible option available without having to resort to an add-on RAID controller card, however the point is rather moot if the RAID drivers refuse to install.
While FOXCONN has done a exemplary job with this motherboard, it's a case of getting the hard things right and the easy things wrong. Besides the RAID drivers, the Marvel drivers listed on the website also didn't work, and the majority of utilities and drivers had  still newer versions that were only accessible through the LiveUpdate program.
All of that aside, I already mentioned the excellent job with the layout, and 400FSB overclocks for a 975X chipset based board is honestly very good. Again the strange 20-26 second POST delays during overclocking is a bit unusual though, to not even say anything about the occasional failure to POST after a CMOS clear. Users not interested in overclocking will not have to deal with that however.
So, if irksome driver issues or overclocking quirks are not enough to persuade you against choosing this otherwise excellent motherboard, then the FOXCONN 975X7AB would make for a good alternative to many of the boards currently on the market. I'd like to offer one last word of caution for anyone who is thinking of purchasing this board. They should specifically double check they are looking at the "975X7AB" version and not the previous "975X7AA" model, as the majority of the major online retailers are currently selling both versions of this board on their websites. One good thing at least, is that the newer "AB" model can be found slightly cheaper than the previous "AA" edition.
Pros:
+ Crossfire Capability
+ Excellent Board Layout
+ Features & Accessories
+ Three Year Warranty
Cons:
–  Lingering Driver Issues
–  Quirky Overclocking
–  Non-native DDR2-800 Support
Final Score: I award the FOXCONN 975X7AB 8.5 (Very Good) out of 10 paws!
Word of Thanks
I'd like to personally extend my appreciation to FOXCONN for sending in a retail sample of this product for review. Without companies like them willing to take the risk, time, and cost to send in products for review, sites like Bjorn3d wouldn't be nearly where they are at today!
Members & non-members alike, we invite you to discuss this and other Reviews on the Bjorn3D Product Discussion forum…