VIZO Technology Corp has created a product which many would consider past-due: a self-contained liquid cooled CPU heatsink and fan. That's right, an all-in-one CPU cooler which has an integrated water-cooling pump, resoivoir, and fan, and manages to consume no more space then most aftermarket coolers.
Introduction
The start of a new year allows us to welcome in new change, and new ideas.  Looking back at 2006 there have been many innovations and improvements in the computer industry, most of which received more then their share of the limelight.
Video cards received the much need boost in performance with NVIDIA's GeForce 8 generation of video cards, hard drives began storing data in a perpendicular format, and even power supplies grew with more power rails. The media painted headlines with news of the Intel's Core 2 Duo and Core 2 Extreme quad-core line of processors, which ushered in a new age of high-performance computing with plenty of overclocking potential. There were even a few major mentions revolving around the improved cooling technology utilizing large heat pipe architecture. But the best was yet to be uncovered… the press didn't quite cover one particular item.
Back in late October of 2006, VIZO Technology Corp and their product development team released a product which many would consider past-due: a self-contained liquid cooled CPU heatsink and fan. That's right, an all-in-one CPU cooler which has an integrated water-cooling pump, reservoir, and fan, and manages to consume no more space than the average aftermarket cooler. VIZO even beat all of the others to the market, but since they are a relatively small name in the advertising-fueled industry, their product went nearly unnoticed. Even major web technology tabloids made the mistake of awarding a product released over a month later as the first; but forgetting to inquire upon the facts is not uncommon for web tabloids.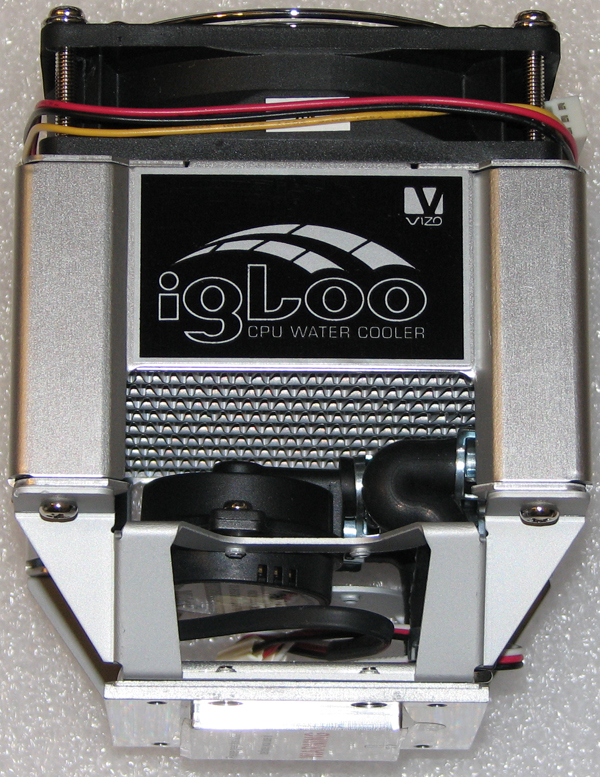 VIZO Igloo CPU Water Cooler: CCL-100-FD
But the bottom line is this: Who developed and released the first ever self-contained CPU water cooler is not nearly important as who makes the best.  So in this review, I will discover if VIZO has created a great product which could help innovate the industry, or if the idea is too new for its time.  One thing is certain, VIZO is well known for placing emphasis on research and development, so I would be surprised if the VIZO Igloo fails to perform.
About the company: VIZO Technology Corporation
VIZO Technology Corp. is a leading global manufacturer and designer of computer peripheral products serving customers around the world. We own the best team and complete innovation technology. Utilizing experiences for many years and sufficient mature skills, VIZO insists in developing value added, ideal based, zeal catered and optimum designed products for customers to meet mainstream demands. That's why we are named VIZO.
VIZO provides the PC users a variety of PC DIY products and peripherals, including hard drive external enclosure, multimedia storage, front panel, mouse, PC fan, system cooling, cold cathode light, crystal neon light, card reader , USB hub, PC accessory and so on; Meanwhile, VIZO produces special effect products which can make your PC more stylish and unique.
VIZO's vision is to make customers enjoy the high quality PC stuff all the time. To carry out it, VIZO aims at non-stop improvement, continuous innovation, excellent design, firm development and quality-improving technology and keeps putting all our effort in research and development. For high product quality, VIZO insists in the strict quality control process and owns highly recommended global product approval.
Closer Look: Igloo
In true VIZO fashion, the retail packaging for the Igloo utilizes attractive artwork and colorful lettering.  The packaging protects the Igloo from damage by using a reinforced transparent plastic shell which is strong enough to safely sustain direct impact if accidentally dropped.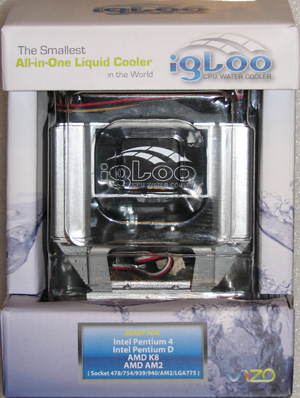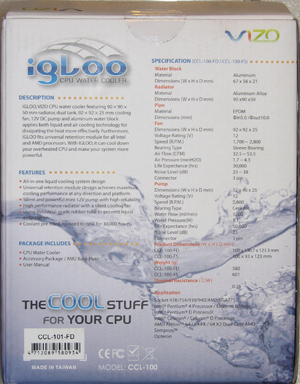 VIZO Igloo Retail Packaging
Once removed from the protective packaging, the unit consists of the Igloo cooler, an illustrated instruction poster, and a very large array of hardware and mounting plates to assist in the installation onto most every platform currently available.  In my installation, I found the kit ready to support every installation scenario across the scope of modern CPU sockets on the market.  This includes the present Intel and AMD sockets, as well as the past few generations.  Supported CPU sockets include: Socket 478/754/939/940/AM2/LGA775.
VIZO made great attempts to keep the footprint of the Igloo to the minimum necessary to remain efficient.  To this end, the Igloo incorporates a 92mm cooling fan atop the radiator in the CCL-100-FD "direct" version (reviewed).  In the slightly heavier CCL-100-FS "side draft" version (pictured below), this same fan is utilized from the side for lower profile installations.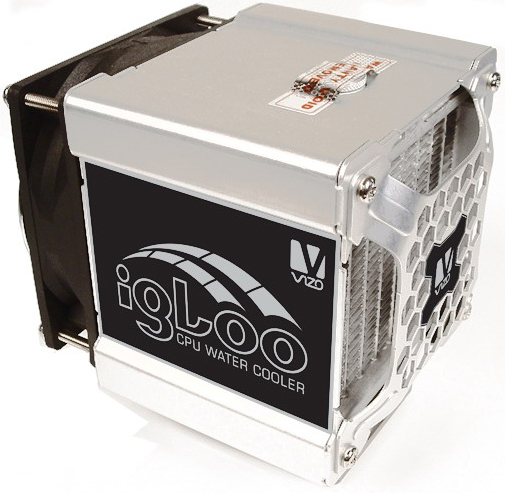 VIZO Igloo CCL-FS-100 Side Draft Version (Not Reviewed)
From this top view of the VIZO Igloo, the fans rotational and draft direction indicate that air is pushed down onto the radiator.  Since heated air causes thermals to rise, it would improve cooling to reverse the cooling fan so that heated air is being pulled up and away from the water block and radiator.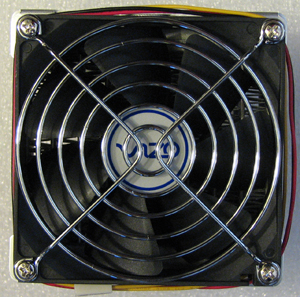 VIZO 92mm × 92mm × 25mm Cooling Fan
In my testing, I found that reversing the fan so that it drafts heated air up and away from the unit improved cooling by at least 1° C in all tests.  This adjustment is recommended for optimal cooling performance when cooling very hot running processors, and should have been designed this way out of the box.  VIZO, are you listening?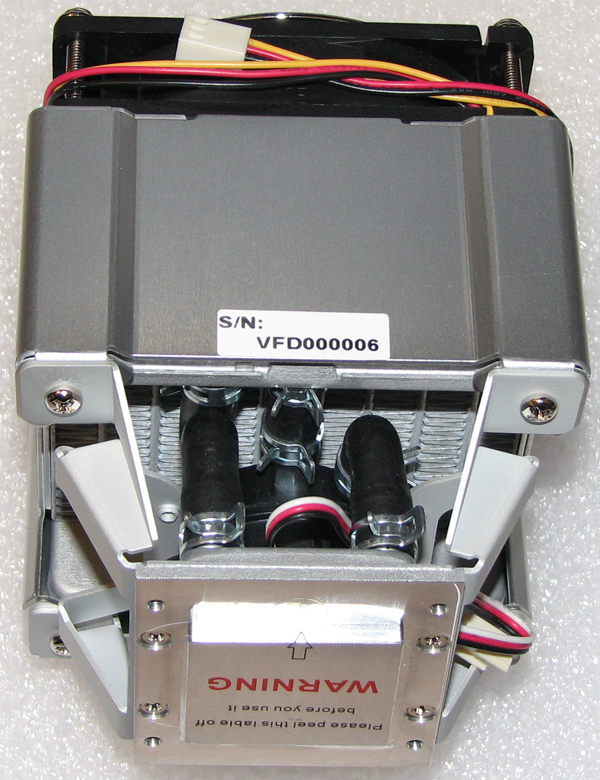 VIZO Igloo CCL-100-FD: Lower View
Prior to installation, I have thus far been impressed with the very efficient use of space in the design of the Igloo.  VIZO has really produced a streamlined product, which could open many doors for avid enthusiasts and overclockers.
Construction: Igloo
Aluminum is the thermally conductive metal of choice for the VIZO Igloo. Comprised of an aluminum alloy radiator, the Igloo is built using an aluminum casing and water block. The Aluminum water block has flat machine screws securing it to the mating surface, which means that the hardcore performance enthusiast may find it irresistible to modify the liquid channel patterns inside. Additionally, while a copper water block would add a premium to the cost of the unit, it could possibly improve heat transfer, and the serious gamer, overclocker, or modder may have the time and ability to fashion a copper version for themselves.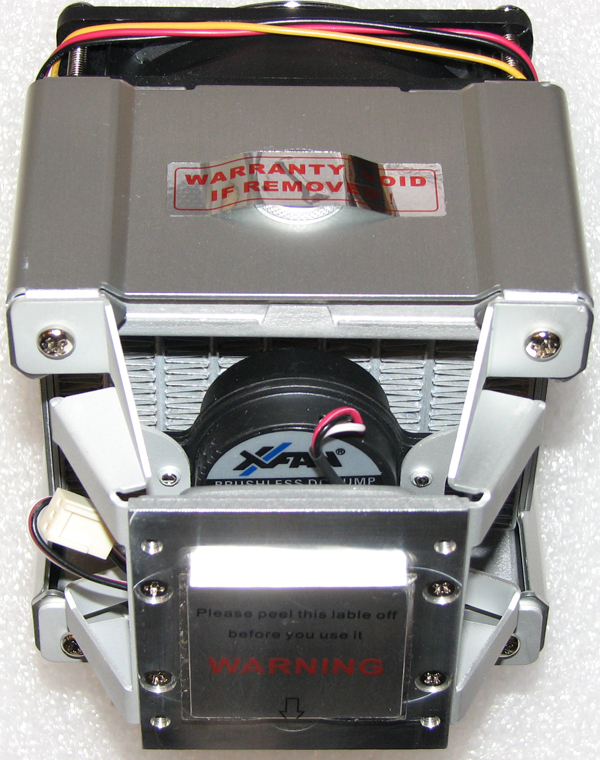 Igloo Mating Surface and Reservoir Filler
Since I had no plans to tear apart this unit prior to testing, the reservoir filler plug remained sealed and protected by a warranty notice sticker.  This may not intimidate the hardcore enthusiast, but if you like a company to replace their product if it fails, then don't become too curious with the contents.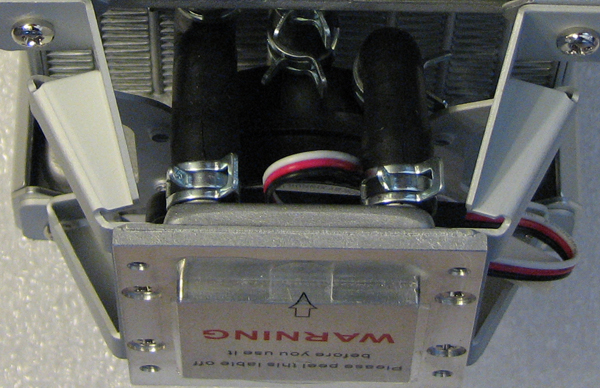 Pump Inlet and Outlet Points into Water Block
Specifications:
Water Block Material: Aluminum
Dimensions (W x H x D mm): 67 x 56 x 21
Radiator Material: Aluminum Alloy
Dimensions (W x H x D mm): 90 x90 x50
Pipe:
Material: EPDM
Dimensions (mm): Φin5.0 /Φout10.0
Fan:
Dimensions (W x H x D mm): 92 x 92 x 25
Bearing Type: Sleeve Bearing
Rated Voltage: DC 12 V
Speed: 1,700 ~ 2,800 RPM
Noise Level: 23 ~ 38 dBA
Air Flow: 32.5 ~ 53.5 CFM
Connector: 3 pin
Pump:
Dimensions (W x H x D): 52 x 46 x 25mm
Bearing Type: Ceramic
Rated Voltage: 12V
Speed : 2800 RPM
Noise Level: 23 ~ 38 dBA
Water Flow (ml/min): 1200
Water Pressure (M): 1.1
Life Expectance (hrs): 50000
Noise Level (dB): 23
Connector: 3 pin
Thermal Resistance (℃/W): 0.25
Product Dimensions (Wx H x D mm):
CCL-100-FD: 100 x 100.7 x 123.3 mm (Featured Model)
CCL-100-FS: 100 x 93 x 123 mm (Side Draft Model)
Weight:
CCL-100-FD: 580g
CCL-100-FS: 601g
Application:
Intel® Core 2 Duo® / Intel® Core 2 Extreme
Intel® Pentium® 4 Processor / Extreme Edition
Intel® Pentium® D Processor
Intel® Celeron® / Celeron® D Processor
AMD Athlon™ 64 / 64 FX / 64 X2 Dual-Core
AMD Sempron™
Opteron
* Socket 478/754/939/940/AM2/LGA775
Package Contents: 
CPU Water Cooler
Accessory Package / AM2 Back Plate
User Manual
Testing & Performance
Test Methodology
To properly test the efficiency of the VIZO Igloo CPU cooler, I measured the temperatures at full load. This full load condition will be reached by utilizing the Folding at Home project console client on each CPU core.  The dual-core AMD Athlon™ 64 X2 Dual-Core 3800+ will be slightly overclocked from 2.0GHz (200MHz FSB) to 2.2GHz (220MHz FSB) which is sure to also help raise the temperatures up a few degrees.
Temperature readings will be obtained through software, via the integrated thermal sensors and SpeedFan v4.31.  I normally dislike using integrated sensors, because they are only as reliable as the person who built the BIOS and calibrated the sensors.  All recorded temperatures are relative to this motherboard and BIOS revision, ambient room temperature, and settings which I used.  Ultimately this test is accepted as a self-contained comparison, but even so it will be as uniform as possible.
Beginning with the OEM cooling solution bundled with the AMD Athlon™ 64 X2 Dual-Core 3800+ processor, I allowed the system to run a full ten minutes at idle before collecting my readings, and then loaded the CPU using two Folding @ Home clients for another ten minutes before recording the temperature.  This procedure was repeated in cycles, with a power down in-between each run.  I recorded five total idle and loaded test readings with the OEM cooling solution, and then restarted the testing with the VIZO Igloo.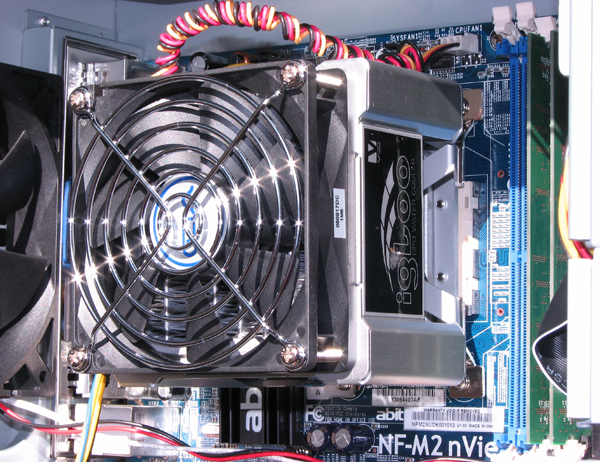 Small Footprint, Big Expectations.
Test System
Processor: AMD Athlon™ 64 X2 Dual-Core 3800+ 2.0GHz operating at 2.2 GHz (220 MHz FSB) 
Memory: 1 GB (512 MB x2 modules) Crucial DDR2-6400 SDRAM
Hard Disk: Western Digital WD360GD Raptor 10,000 RPM SATA
Optical Drive: Toshiba SH-S182M DVD R/W
Operating System: Windows XP Professional SP-2 with IE7
Results & Conclusion
After testing the VIZO Igloo against the OEM cooling solution bundled with the AMD Athlon™ 64 X2 Dual-Core 3800+ processor, I have found some surprising results.
Results
Did you notice that this page is missing a comparison chart? That's because the VIZO Igloo performed exactly like the OEM solution. Since all five readings I collected and measured from each cooler were taken at between 18.4°-18.8° C ambient temperature, I knew my results were very accurate. However, in disbelief, I recorded each reading again three more times at load using two Folding @ Home clients. Again, the results were virtually identical. With eight readings averaged, Both coolers idle at 28° C, and both measured 42° C under full load. Very disappointing for a $60 aftermarket cooling solution.
Probably the only positive result, ignoring the performance numbers, is size: it takes up less room than your average aftermarket air-cooling solution. Since it is not very tall, and outer dimensions are 92mm, the image below should give readers a good idea of how small the VIZO Igloo unit really is. There is plenty of working room left around the cooler, so channeled cooling air circulation is not impeded. If only looks were everything.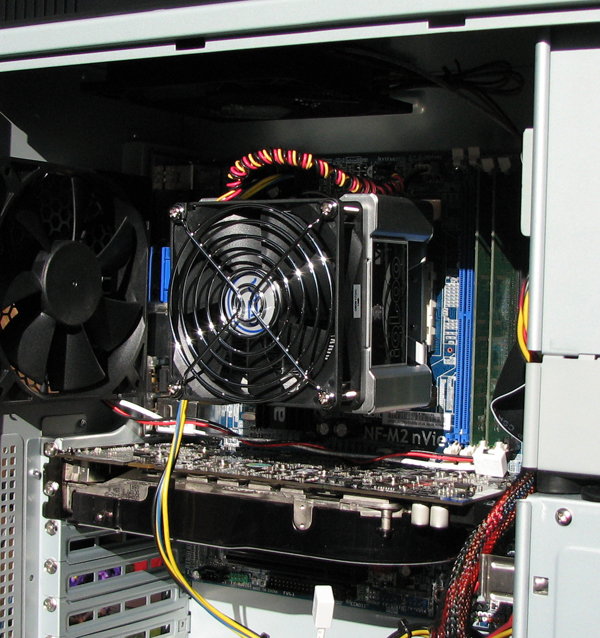 Completed Installation: Plenty of Room to Spare.
Since I was not about to tear apart this unit prior to testing, the reservoir filler plug is sealed and protected by a warranty notice sticker. If performance results had been a little better, I might be more inclined to see where I could make small improvements. For now however, the Igloo is a self-contained unit with very few design flaws; even despite less then expected results.
Conclusion
Some water cooling enthusiasts will have their own take on this product, and particularly how I tested it. Perhaps if it were not winter time, and the indoor temperature was closer to 30° C, then perhaps the VIZO Igloo would make a more noticeable difference; but it's not, and it didn't.
I have not had the opportunity to hold the competition's product in my own two hands or test it, but based on images alone, the looks of the VIZO Igloo are astonishing and incomparable. But looks aren't everything, and when it comes to a product intended to perform, looks aren't anything at all. Since the VIZO Igloo's performance is negligible, it appears as though VIZO simply needs to return to the drawing board to improve upon this present design.
In my testing I found that the direction of the cooling fan made a slight but noticeable difference if it is reversed, but since even with this improvement the results mirrored those of a cooling solution you receive for free with the AMD Athlon™ 64 X2 Dual-Core 3800+ processor, I suspect that you buyers will be disappointed. Keeping in mind that I was hard pressed to discover any major flaw, it all came down to performance results which factored into the final score.
Pros:
+  Maintenance free design
+  High strength full-aluminum construction
+  Small footprint leaves plenty of working room 
+  Very quiet operation
+  The very first self-contained CPU water cooling solution
+  Non-proprietary 92mm fan allows for upgrades
Cons:
–  Performance was identical to OEM cooling solution
–  Availability – not yet available online
–  Cooling fan should be reversed to draw air away from unit
Final Score: I rate the VIZO Igloo CCL-100-FD with a final score of 4.5 (Barely Acceptable) out of 10.0.
Special Thank-you:
This review would not be possible if it weren't for manufacturers like VIZO, who are willing to stick their neck out there and have a picky hardware analysts like me dissect their products.  I am grateful, and certainly appreciate the opportunity.
Members & non-members alike, we invite you to discuss this and other Reviews on the Bjorn3D Product Discussion forum…