Since consumers have long been in the dark about power supply units, it seems common that manufacturers market their product and push features that may not actually make a difference in performance. For example, it could be seen early last year that multi-rail technology was viewed as a positive innovation. Yet later down the road we learn that a single-rail power supply unit not only offers more stable and efficient power if designed and built correctly; it would also cost less.
INTRODUCTION
The power supply unit is the single most important part of any computer. Regardless of the system there is but one golden rule: whether it be a simple workstation with integrated components or an advanced gaming system with every cutting-edge product available, everything requires power to operate.  Anyone who has suffered system failure because of a low-end power supply will tell you not all power supply units (PSU's) are created equal.  While every journalist has their own system for reviewing a power supply, my review will take a very detailed look at the Antec EarthWatts 500W PSU at every angle, and submit the unit to battery of tests in order to ensure that this PSU will provide computer systems with stable power. 
In last year alone, the computer industry made huge leaps in power supply technology.  Single rail power supplies were dominantly standard heading into 2006, but that soon changed.  Now just one year later, we have seen a very sudden shift making multi-rail power supplies the most common configuration.  As power supply technology continuously evolves, a two-rail power supply may not make headlines against bleeding edge PSU's with a half-dozen main power rails.  However, Antec helps drive power supply evolution forward and brings to us the Earthwatts series with 80%+ efficiency and two main 12V power rails to enhance power stability under load; all at a bargain price that won't bleed the wallet.

Since consumers have long been in the dark about power supply units, it seems common that manufacturers market their product and push features that may not actually make a difference in performance. For example, it could be seen early last year that multi-rail technology was viewed as a positive innovation. Yet later down the road we learn that a single-rail power supply unit not only offers more stable and efficient power if designed and built correctly; it would also cost less.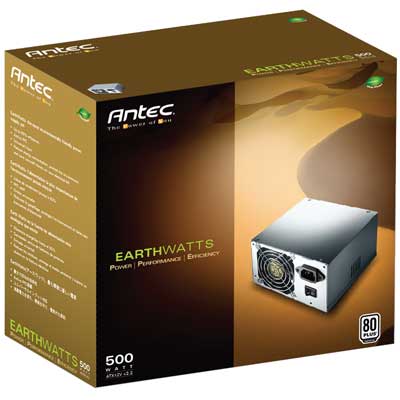 The new generation of power supplies has begun to amp up the competition for efficiency. Antec's EarthWatts series is among the first to cause a stir in the PSU marketing strategy by emphasizing efficient power delivery over the multi-rail hype. The two +12V rails allow you to distribute your power more evenly, which will result in a more stable system, but they also deliver at least 80% of the power that they promise. Available in three models: 380 Watt, 430 Watt and a 500 Watt which delivers enough power for even the most cutting edge components. EarthWatts PSU's perfectly handle dual processor, dual graphics card, and just about anything else you can throw at it; all because of the added efficiency.
Antec claims "EarthWatts, the most environmentally friendly Power Supply yet."  Do your part for the environment with EarthWatts power supplies. The earth is our most valuable resource and protecting and preserving it for future generations is of utmost importance. EarthWatts is available in three highly efficient models—380 Watt, 430 Watt, and 500 Watt—and are all 80 PLUS® certified, the newest standard in power supply efficiency. And that means that using EarthWatts will save you money on your electrical bill.

ANTEC: THE COMPANY'S OVERVIEW
Antec began in 1986, long before the tech boom of the late 1990's, in Fremont, California. Now operating offices in the United States and Europe, Antec offers products to 25 countries worldwide. Presently, Antec maintains a popular range of products in: computer cases, power supplies, cooling fans, lighting components, and accessories. Antec is the original High Performance Upgrade company, which created the PC upgrade replacement category at retail. Their enclosures and power supplies have been the #1 seller by far in North American distribution and retail channels for five years running.
Features & Specifications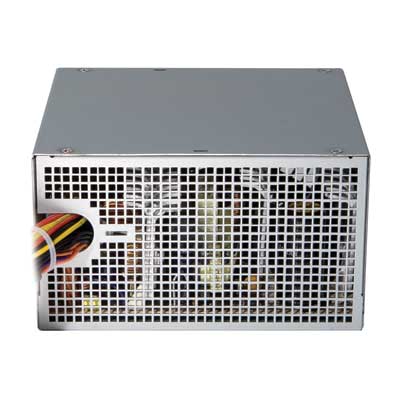 80 PLUS® certified—the newest standard in power supply efficiency
High efficiency saves power, saving you money on your electrical bill
Universal power input and active Power Factor Correction—so it automatically works on any power grid in the world
Dual 12V output rails
80mm low noise cooling fan
Dual 12V outputs: 12V2 for Motherboard and peripherals; 12V1 for processor
Industrial-grade protection circuitry prevents damage resulting from short circuits, power overloads, over voltage, and under voltage
4 SATA connectors
PCI-E connector: one for 380W and 430W, two for 500W
Safety approvals: UL, CUL, FCC, TÜV, CE, CB, C-tick, CCC
PF value up to 99%
AQ3 Antec Quality three-year parts and labor warranty
Specifications: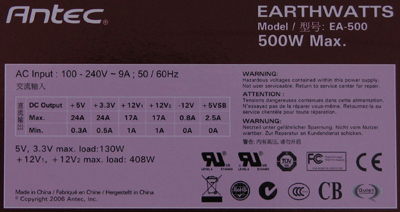 Fast Facts: 80 PLUS
What does 80 PLUS® Certified mean?
80 PLUS® Certified is the new standard in power supply efficiency. It means at any load between 20%-100% the power supply is working at at least 80% efficiency. Standard non-certified 80 PLUS power supplies can vary from 65% up to 85% efficiency depending on load and temperatures, but typically run at top efficiency only at high loads.
Why is high efficiency good for you? Why should you buy an 80 PLUS® Certified power supply?
High efficiency saves you money every month on your electrical bill, reduces heat in your computer's system and prolongs its life. With an 80 PLUS® Certified power supply you know that no matter what it is working at a very high efficiency level. This requires less power from the power grid, meaning less resources are used to produce the power for your computer. Plus your power supply will be running cooler which allows the use of lower speed fans, making for a quieter computing experience.
Is there a connection between cooling and efficiency?
Yes. The more efficient a power supply is the less heat it produces. This means a highly efficient power supply runs cooler and can lead to a cooler running system.
What is Antec doing to make 80 PLUS® Certified power supplies available to everyone?
Antec has been striving to deliver high efficiency power supplies to the world for the past couple of years. The time has come to utilize this independent certification so that all customers can be sure of what they're getting and that it isn't just marketing hype.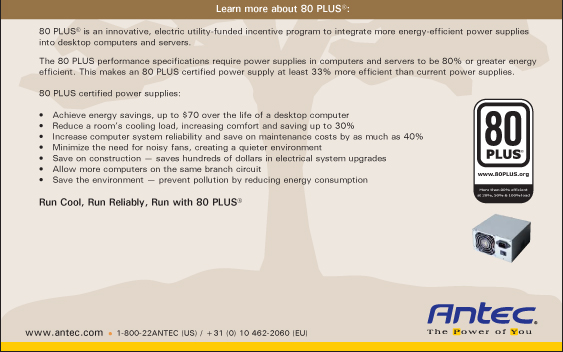 Antec's first 80 PLUS certified power supply line is the EarthWatts line of power supplies. But since we care, this is only the first of Antec's 80 PLUS certified lines of power supplies. Watch for more to come.
CLOSER LOOK: EA-500 EXTERNAL
It would be a safe statement to say that most consumers appreciate the appeal of nice product packaging, but do not let it intimidate their purchase.  To me, it is the product which resides on the opposite side of the cardboard which I am concerned about.  I believe Antec feels differently.
With specific regard to the EarthWatts series of power supply units, I see that the retail packaging has a very attractive design which makes it appealing.  Nice Earth tones, with images of clean sand.  So then it comes as a surprise that despite Antec's marketing efforts, my first impression of the EA-500 should be so very lackluster.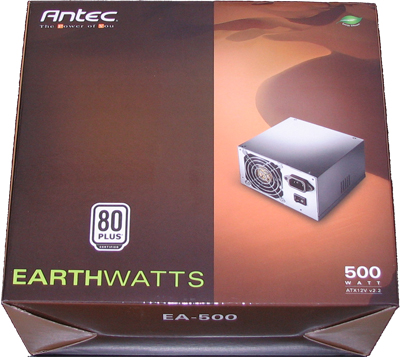 By now, I know that Antec is famous for function before fashion, as this was the theme for Antec's TruePower Trio review a few months back.  Much like the TruePower Trio, I found myself fighting off disappointment once I removed the EarthWatts EA-500 from the packaging.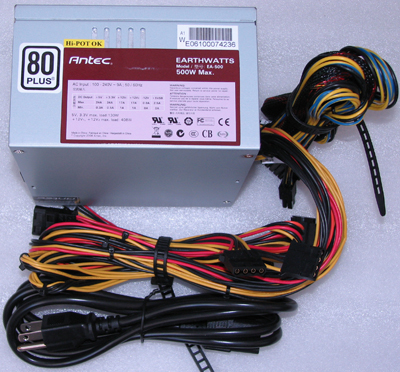 Perhaps I expect too much from manufacturers.  But lets look at what you get for around $80.00:
Antec EA-500 EarthWatts 500W Power Supply Unit with 80mm fan

Standard 4′ Grounded Power Cord

ATX12V v2.2 Connection

12V2 for Motherboard and peripherals

12V1 for processor

4 SATA connectors

PCI-E connector: one for 380W and 430W, two for 500W

AQ3 – Antec Quality three-year parts and labor warranty
I will save my final thoughts for the conclusion, but suffice to say that Antec could have spent the extra dollar in production costs to use plated or anodized metal for the PSU case.  Additionally, modular cable group designs found in some more expensive higher-end power supplies were not used for good reason, but there are still some simple features which could have been incorporated such as a 120mm fan or matching sleeved peripheral cables.
But this is a power efficient product, and it holds function before fashion.  It is obviously not made with the gamer, modder, or hardware enthusiast in mind.  But why not?
CLOSER LOOK: EA-500 INTERNAL COMPONENTS
As evidenced by the Spartan use of electronic components in the Antec EA-500 power supply, the EarthWatts is an economy of design both inside an out.  Sheared aluminum heatsinks are used in place of more expensive alternatives; primarily because the active PFC coupled with high efficiency keeps the temperatures modest by design.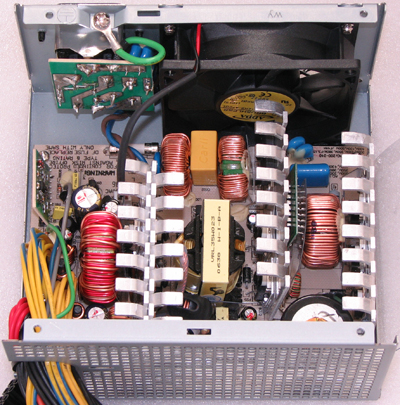 Antec departed from the industry standard when it trusted cooling to a silent 80mm cooling fan.  While the cross-flow design offers efficient cooling to an already efficient design, I have to wonder if the more common 120mm fan would have offered better cooling still with even less fan noise.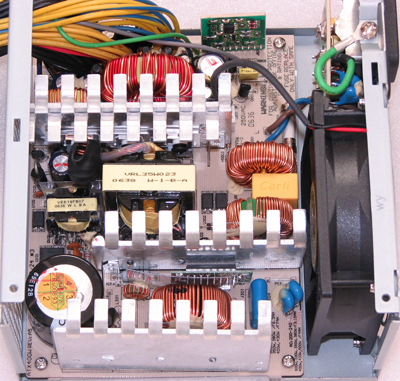 In comparison to other power supply units, Antec utilized a single main power capacitor in the design of the 500W EarthWatts EA-500 PSU.  We will soon see if this has any affect on system stability or voltage regularity in the testing section which follows.
TESTING
Test Methodology
When I first approached how I would test this unit, I contemplated the controversial methods of loading a PSU. Many would be correct to state that simply measuring the voltage output between sources in not enough. Unfortunately, neither Bjorn3d.com nor I have access to the specialized loading devices which would truly load and test the PSU.  Each PSU was given a one-week burn-in period.  Although this period is really for the sake of revealing major failure or flaws, it is not required of the power supply unit.
The most important aspect of this review is how I will actually test and torture this power supply unit. It would seem adequate to use a digital multi-meter and take some readings while at idle and under load. But Adequate just doesn't cut it with me, and Bjorn3d.com wouldn't stand for it. So like everything else I do, it will be overdone.
A digital multi-meter is used to record accurate voltages from the PSU. Software tools do not use any calibrated tool to record their readings. They utilize the programming of the BIOS in conjunction with the sensors built into the motherboard to produce a reading. As I recently learned after a BIOS update, software tools will yield improper readings. Every part of a power supply test is subjective and relative to the hardware used, and so my test system will have different hardware then yours and measurements will probably not be the same.
In this review the term "idle" will represent the values of the power supply readings at the BIOS level, without the introduction of software. In addition, I will make use of an ATX 2.0 power supply tester and my Extech 450 digital multi-meter to record low-load voltages. This way, you will get a true baseline as to what power draw is created on a low-load system as well as a truly idle system.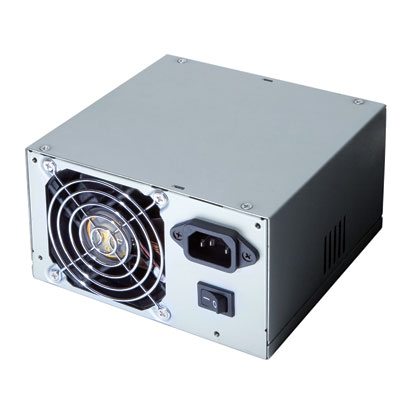 Antec EarthWatts EA500
Step 1: Get a low-load reading with a PSU test unit
This step requires nothing more then the power supply, a digital multi-meter, and a PSU tester. I start the PSU as a standalone device by using the PSU tester then record the various voltages with my digital multi-meter. I will use this as the baseline reading.
Step 2: Get relative idle readings
I prefer to consider the BIOS options menu the most accurate idle measurement that can be captured. Since the Operating System has not yet loaded there will not be any amount of load added by random hard disk access or CPU fluctuations while Windows is running. It would be incorrect to consider an idle test to be measured while Windows is running because there really is some amount of load there beyond an idle measurement. Again, this is up for interpretation, but I am testing this PSU and the best way I can avoid interference with an idle reading is to do it while in the BIOS.
Step 3: Get a heavy load reading
This is the last step in my test set and even more relative then the idle test. I say it is relative because all of my hardware will only remain the same for these two tests, and likely no others in the future or past. It is guaranteed that when I test a PSU it will not be measured with the same hardware installed as when you test your own. What I consider to be loaded is not going to be the same for you.
When the power supply is under load you can bet that I will have every piece of hardware I can find running at the time each voltage reading is taken. Three hard disk drives will be writing large date files to three USB flash drives, the floppy drive will be formatting a diskette, and the SATA optical drive will be burning a DVD as part of the torture test.  As a Bjorn3d exclusive, I will also submit the EA500 PSU to a harsh USB power draw by charging two devices: my Palm Zire 21, and my Motorola L2 cellular phone. The dual-core Intel Core 2 Duo E6600 will be over-clocked to 3.0GHz and will utilize two [email protected] console clients to force each core to 100% usage. At the same time, I will be running 3DMark06 to draw as much power as possible from the GeForce 8800 GTS.  All of this will all be done with the sole intention of pushing the power rails on the 500W EA500 PSU to the limit and measuring voltage variations.  Less voltage variation between idle to full load measurements will translate into better system stability.
It should again be noted that unfortunately neither Bjorn3d.com or myself have access to the specialized (and very expensive) loading devices which would truly load and test the PSU.
Test System
Motherboard: ABIT NF-M2 nView (Nvidia® GF6150/NF430 chipsets)
Processor: AMD Athlon™ 64 X2 Dual-Core 3800+ 2.0GHz operating at 2.2 GHz (220 MHz FSB)
Memory: 2 GB (512 MB x4 modules) Crucial 533MHz DDR2 SDRAM
Hard Disk 1: Western Digital WD360GD Raptor 10,000 RPM SATA
Optical Drive: Toshiba SH-S182M ATA DVD R/W
Operating System: Windows XP Professional SP-2 with IE7
TEST RESULTS
In my first series of tests, I connected the Antec EarthWatts EA-500, TruePower Trio TP3-650, and the Ultra X-Finity 500W to a Coolmax PC/SPS tester. While I like that this tester has a connector module for everything a power supply can throw at it, I recognize that these tester units are not nearly as effective as the units with a built in LCD display. At any rate, I connected each unit to the tester, and what I found surprising was that on both the Antec power supply units the tester showed that the -5.0V was not passing the test. I did not regard this event, since I have seen some units display this very same occurrence on these very low-load tests and still function exactly as they are supposed to under load.

While the tester results are for a sample basis and are not factored into the results table below, they helped me determine what the low-load readings were for the purpose of comparing voltage reading to actual load conditions.  During all tests, I maintained an ambient room temperature of 20.0~20.8° C.  It should be noted that lower temperatures were tested with similar results, however higher temperatures were not attempted.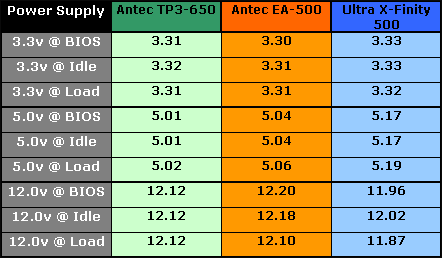 In this review I have demonstrated how the 500W Antec EarthWatts EA-500 performed in comparison to the 650W Antec TruePower Trio TP3-650 and 500W Ultra X-Finity power sully units. Based on the chart above, the 500W EarthWatts EA-500 maintained decent consistency during the 3.3V and 5.0V tests, but opened to a 0.1V difference during the most essential and critical 12V tests. Compared to the Antec TruePower Trio TP3-650 three-rail system, the 500W EarthWatts power supply offers a indication that three rails could in fact be better then two. To be honest, I really thought that the three-rail system would provide very little additional stability over a good two-rail unit. I noticed that in all of my multiple readings for the 12.0V test, the voltage was always a little on the high side; which later tapered out to a more familiar range under full load.
CONCLUSION
Presently, the 500W Antec EarthWatts SKU# EA-500 is being sold at a few major online retailers for under $80 at the time of this writing (in the United States). This price falls directly in-line with competitor offerings which do not feature the same 80 PLUS efficiency rating. Even though it is fairly priced, and offers above average efficiency, the unfinished steel case has me thinking that Antec recycled it from old stock. Other then the main power connector, there are no cable sleeves, and the connector plugs are a flat black. I can only recommend the 500W Antec EarthWatts PSU to those consumers who desire decent performance and efficiency at a fair market price for average needs, because the EarthWatts series is the definition of function before fashion.
I love the idea of saving the planet, and I do my part to contribute whenever I have the opportunity.  However unless Antec dresses up the EarthWatts series of power supplies with something more attractive then the old low-end stamped steel power supply cases from a decade back, then the low wattage and bad looks could mean that the EarthWatts name will end up in the landfills.  With the industry catering to computer enthusiasts, it surprises me that Antec was so involved with function that they totally abandoned fashion altogether.  Perhaps Antec should consider embracing the "Save the Planet" movement with a little more conviction and offer the next release of EarthWatts power supplies with plastic cases.
Pros:
+ 80 PLUS® Certified efficiency
+ Excellent performance 
+ Active PFC 
+ Fully sleeved main power connector 
+ Very high efficiency rating: PFC = 0.99 
+ Extremely quiet operation
+ Excellent power regulation
+ Industrial grade components
Cons:
– Plain design and dull finish detract from the allure of efficiency
– Peripheral cables should also be sleeved to match
– 120mm cooling fan should be the standard
Final Score: I rate the 500W Antec EarthWatts SKU# EA-500 with a final score of 7.25 (Good) out of 10.
Special Thank-you:
This review would not be possible if it weren't for manufacturers like Antec, who are willing to risk their name and reputation to have a picky hardware analysts like me dissect their product.  I am grateful, and certainly appreciate the opportunity.