HT Omega, Inc. is among the first companies to offer authentic high-fidelity sound at a true 24-bit level of performance. The world class Oxygen 8788 based audio processor by C-Media supports most all industry standards for 3D computer sound; including EAX™ 1.0 & 2.0, A3D™ 1.0 and DirectSound™.
Introduction
Manufacturers seem to be throwing around the term 7.1 channel audio in all directions these days.  It's everywhere; even the low-end segment seems to be offering onboard (integrated) 7.1 channel sound with their products.  But it doesn't take long to notice that not all audio solutions sound alike; even if it has been labeled "High Definition".
This is because most computers being used today provide audio through integrated low-quality sound, or in some small numbers the computer may have a dedicated audio controller based sound card.  At a glance, the two most prevalent forms of audio quality in personal computers are poor and acceptable.  Although the industry tries to keep in step with Moore's Law, there is one thing that is predominantly true: computer sound is the last item on the list for performance evolution.  Gamers and audiophiles alike know then to make this mistake, and have sound quality at the forefront of there needs.

HT Omega, Inc. is among the first companies to offer authentic high-fidelity sound at a true 24-bit level of performance.  The world class Oxygen 8788 based audio processor by C-Media supports most all industry standards for 3D computer sound, including EAX™ 1.0 & 2.0, A3D™ 1.0 and DirectSound™.  Other very large companies abused consumer trust and have made claims to having this level of sound, only to wind up in court disputes or offer subsequent products that boast 24-bit processing but haplessly renders at 16-bit.  HT Omega has released the real deal: CLARO 24-bit/192KHz 8-channel high definition sound.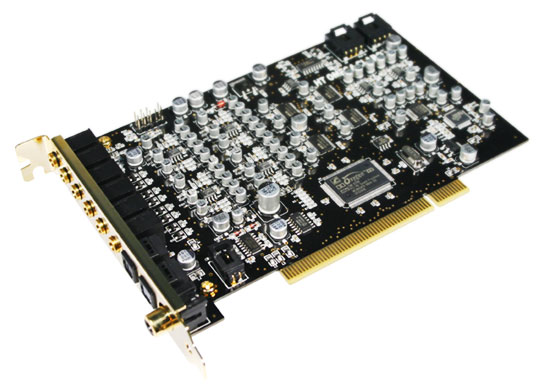 In this review, I will showcase the powerful features included in the HT Omega CLARO.  Rated to beyond 110dB, I will share the experience of clarity and definition in every melody that frolics on my eardrums.  Intended for the audiophile with a discerning ear, the hardcore computer enthusiast and gamer who demands the best, and the home theater buff who settles for nothing less then DTS, the HT Omega CLARO delivers at every level.
About the company: HT Omega, Inc.
HT Omega is a US based company operating out of Ontario, California which manufactures multimedia hardware and peripherals.  With a dedicated R&D division for PC and professional audio components, HT Omega is quickly expanding into the global market for consumer PC audio equipment based on Dolby Digital and DTS technologies.  Game users and home entertainment enthusiasts around the world use HT Omega for the ultimate results.
HT Omega specializes in multimedia devices, especially electronic audio.  Our engineers designed some of the most successful soundcards sold globally over past five years.  The drive and passion of HT Omega's highly qualified employees is to continue to develop innovative and ground-breaking new products.
Features and Contents
HT Omegas' CLARO is a high quality PCI bus 8-channel sound card that can be built into home audio electronics or personal computers to provide high fidelity sound playback and processing.  The CLARO enables studio level audio performance, and offers gamers the complete spectrum of sound they require.  With support for 8 outbound streams, CLARO can easily support the latest theater quality 5.1, 6.1, or even 7.1 surround sound systems.  For enhanced playback, CLARO enables limited hardware resources to be used which allow customers to experience the complete surround sound experience whether using four or even just two speakers.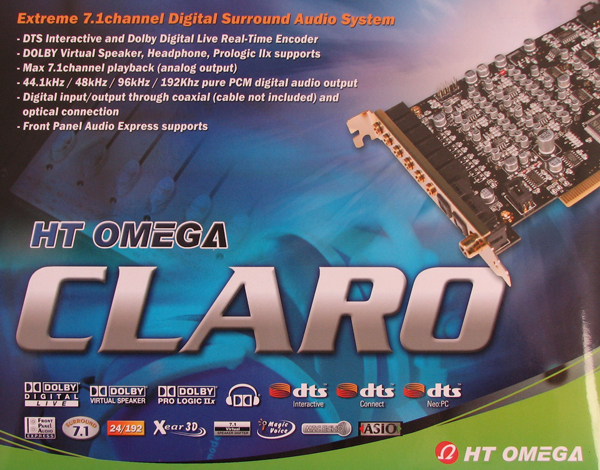 Features:
The C-Media Oxygen HD CMI8788 Audio Processor is main engine of CLARO
4 pcs 24-bit/192kHz AK4396VF (120dB-part spec.) DACs for 7.1channel output. (24-bit/192kHz in 7.1channel playback)
1 pc 24-bit/192kHz WM8785G (110dB-part spec.) ADC input (24-bit/192kHz recording)
1 pc CMI9780 AC'97 2.3 CODEC for AUX input, CD input, MIC input (16bit/48kHz playback/recording)
 Integrated up to 192k/24-bit S/PDIF high grade special Optical and Coaxial connectors for 44.1kHz,48kHz, 96kHz, 192kHz SPDIF output. (work simultaneously)
Integrated up to 192k/24-bit S/PDIF high grade special Optical receiver for 44.1kHz,48kHz, 96kHz, 192kHz SPDIF input.
Supports onboard Coaxial or CD Digital input connector for up to 192kHz SPDIF input. (Optional Cable need for Coaxial input)
Standard 10PIN Front Panel Audio supports connectivity for stereo audio output and a microphone input from PC case
DTS® Interactive – a real-time 5.1 channel encoder that takes 2 or more channels and encodes them into a DTS bit stream
DTS® NeoPC – an up-mix matrix that turns any 2 channel audio into 7.1 channel surround sound
Dolby® Digital Live(AC-3) real time 5.1 channel encoding bit-stream to facilitate the connection with CE AV receiver
Dolby® Pro-Logic IIx surround processor, spreading stereo audio into 7.1 channel surround sound
Renowned Dolby® Headphone technology, conveying 5.1 surround and 3D gaming audio over stereo headphones
The latest Dolby® Virtual Speaker solution, creating amazing virtual surround sound from a generic two-speaker configuration
C-Media FlexBass™ – configurable LFE channel crossover frequency(from 50 to 250Hz)
C-Media Magic Voice™, a popular feature for disguising voice in online chatting
C-Media Xear3D™ 7.1 Virtual Speaker Shifter technology
C-Media's unique Karaoke functions: Microphone Echo, Key-shifting
Individual 10-band EQ for each channel
27 global reverberation environments
Play 3D demo program
Supports most industrial standards of 3D sound for PC gaming, including EAX™ 1.0 & 2.0, A3D™ 1.0 and DirectSound™
Supported operating systems: Microsoft Windows® 2000 Service Pack 3 (SP3) / XP Service Pack 1(SP1) / Server 2003 SP1 / XP Media Center Edition 2005 (MCE) / XP x64 Edition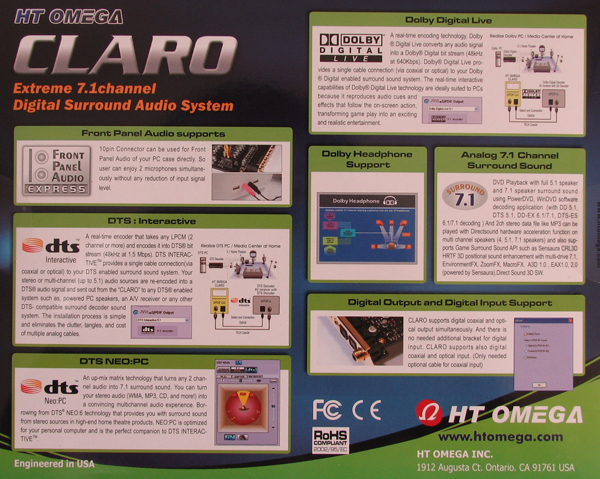 Contents:
• HT Omega CLARO 7.1 Channel PCI-bus Audio Card
• TOSLINK Fiber Optic Digital Cable
• English Owner's Manual
• Drivers/Applications Installation CD
• Warranty Card
Closer Look: CLARO
Sound cards have become a bit of a mystery to consumers.  Since you can't see the difference the product makes, such is the case with processors or video cards, you depend on other senses.  Even still, with such a fierce market for audio devices it has become unproductive to compare one high-end card against another using your own ears.  Manufacturers learned this early on, which is why we see so many new audio devices equipped with gold-plated bells and solid-state whistles.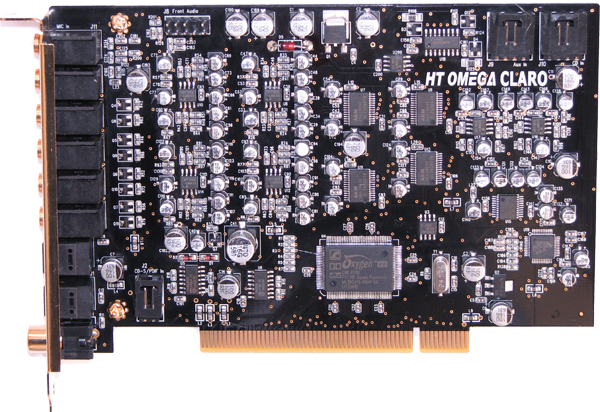 Since the CLARO is a clear competitor to the Bluegears b-Enspirer, it is refreshing to see that HT Omega did not just simply re-brand a similar product as their own.  At first glance, HT Omega's use of all solid state capacitors in the product really catches attention.  Not only will these components lend to a longer overall product life, but they certainly provide a more modern look to a very modern product.  It never made sense to me why the competition uses standard capacitors in their newly released products; which relegates them practically obsolete the moment they hit the market.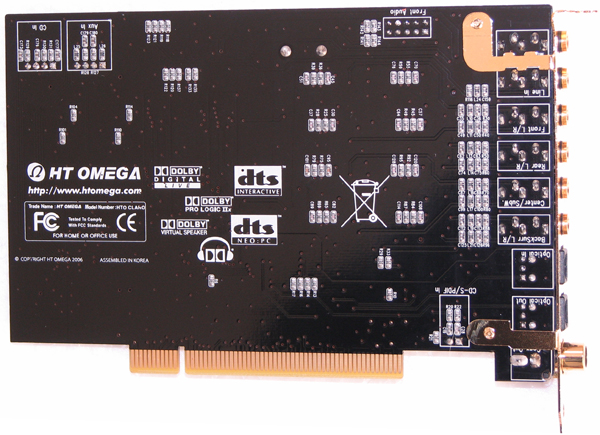 The CLARO is quite literally a new product which simply shares the same CMI8788 Oxygen audio processor.  And why not?  The C-Media Oxygen audio processor is among the best on the planet, so it makes perfect sense to build a better sound card using tried-and-true technology.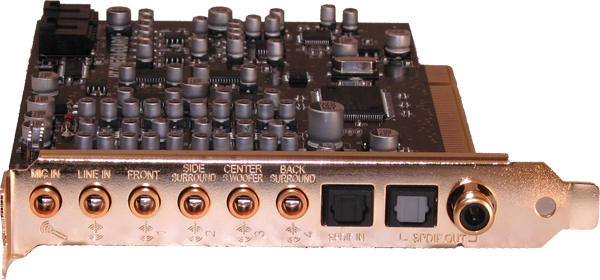 Certainly the CLARO takes its styling cues from the auto industry.  Between the black PCB and the gold plated accents, this card is clearly following the trends most enjoyed by the Bentley and Cadillac Escalade crowd.  Come to think of it, I believe it was Creative's Sound Blaster Platinum that first hit the market with the black and gold outfit.  I can accept this design, because despite it's overuse it is still attractive and refined.  Let's just be thankful that colored LED's haven't made their way onto this device like they have with recent video card trends.
Software & Installation
The HT Omega CLARO maintains a very slim profile; something most HTPS builders will appreciate. Installation is very standard: remove power from the system, install the CLARO into an available PCI slot, and fasten down to the case. The software provided by HT Omega on CD-ROM was also the most current version available at the time of this writing, so no additional downloading will be necessary.  I installed the HT Omega CLARO into one of my Windows XP workstations at first, but later decided to fit it into a new Windows Vista Ultimate Edition project system and found that it worked without a problem.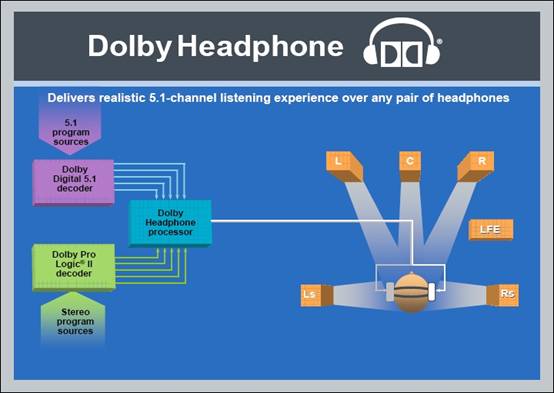 With the CLARO in place, I found that Windows Vista RC2 did not automatically install a reference driver for the device, which I expected. So I used the beta Windows Vista driver available from the C-Media website to install the CLARO without any problems.  There were some noticeable differences in the installations between Windows XP and Windows Vista.  One difference is that Windows Vista requires you to right-click on the setup.exe file in order to run it as an administrator, and then proceed with the Windows Vista recommended installation procedure.  Once installed, a small Xear 3D icon appears in the system tray.
Software
Most people may not need much more then the default settings for their audio equipment. Those people are also the same bunch that suffer from hearing loss and think that onboard audio is as good as it gets. HT Omega borrows from the refined C-Media toolbox to utilize the 3D Audio Configuration software (version 1.0.48.27). With the Oxygen HD Configuration software you can customize the settings to your ears' content.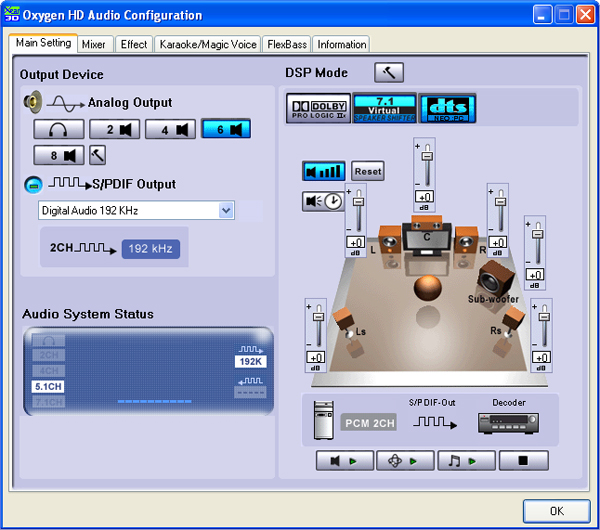 In the Main Settings page, you can adjust settings to best suite your system equipment. In this configuration, I have selected a 6-channel system with 192KHz digital audio output. Even beyond this first step, I am afforded the opportunity to raise and lower the gain from +12db to -96db on each channel. There is also a test sequence and sample music available at the bottom of the page to sample each channels configuration. During this process a simple bar graph will be drawn in the Audio System Status window showing audio peaks and valleys.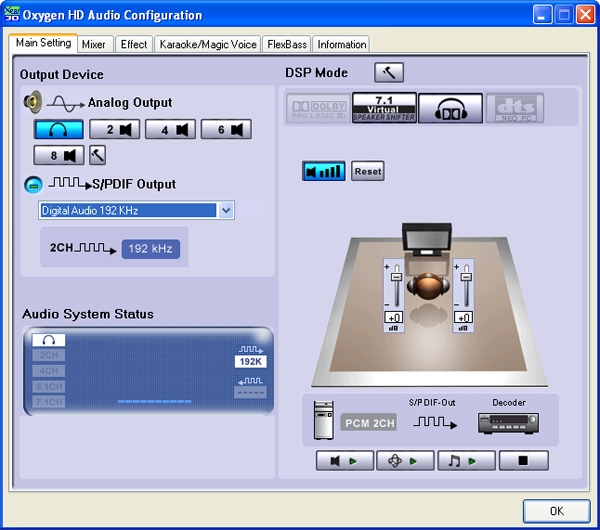 Even headphones are given special treatment, since HT Omega and C-Media are aware that not everyone has the ability or desire to mount eight speakers in their work environment.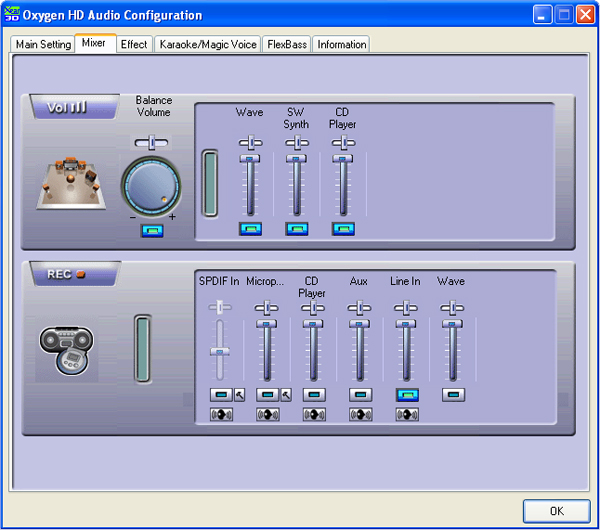 The Mixer page is very similar to the Windows Audio advanced properties page. The one thing I noticed it that the volume knob displayed on this page will show the volume level, but it will not allow you to move the dial. I though this was a bit meaningless in a sea of feature-rich functions.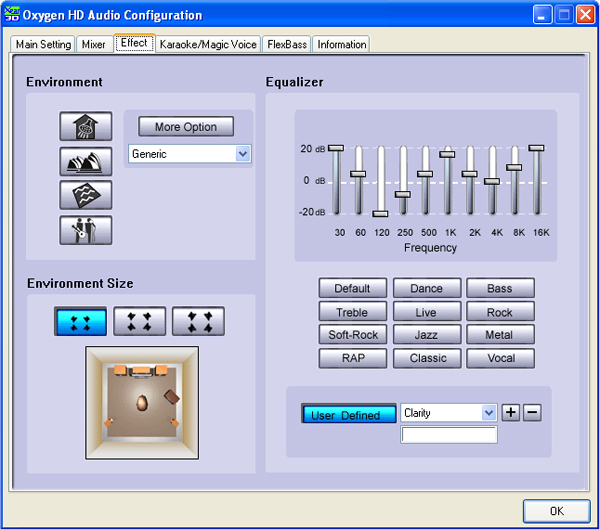 On the Effect page, you can customize and save 10-band equalizer settings to unlimited profiles. The Environment tool is a creative feature to disguise sounds or alter their presence and location. The Environment Size tool allows you to scale the sound reverberation based on your listening environment.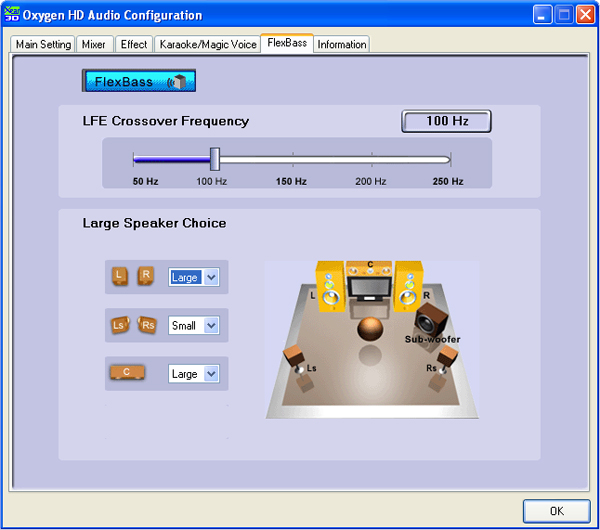 The FlexBass page allows for specific frequency crossover ranges to be programmed into your system. In my application, I noticed that enabling this feature cut-out my subwoofer channel and put the rear speakers in its place. I have this feature disabled so that the channels will not be affected by software separation of the channels.
Testing
Since hearing is subjective to the individual, I relied upon software to do my bidding. It has become necessary to distrust my own ears, since each and every manufacturer declares specific device features; such as support for particular APIs and extensions, specific number of hardware accelerated sound buffers. It has become impossible to check the presence and quality of features declared for any sound device or new drivers without special software. Therefore, a dedicated sound test is required to diagnose and test the feature implementation quality of specific sound system.
This is where I depend on the brilliant minds at RightMark to assist me in a subjective comparison. For testing sound cards, I depend on RightMark 3DSound (v2.3). This is an independent synthetic sound test for testing hardware features and quality of software support, specifically using the RightMark 3DSound: CPU Utilization test. All tests were run using the DirectSound test battery, and were configured with a frequency of 192,000 and 128 buffers.
It would be unfair to compare audio devices which promise very different features, so in my testing I decided to compare the HT Omega CLARO to its slightly older cousin, the Bluegears b-Enspirer.  Both devices utilize C-Media's CMI8788 Oxygen chipset, and both offer audio quality up to 24bit/192kHz over eight channels.  The major difference between the two is in the construction and I/O interfaces.
Test System
Motherboard: ABIT AB9 Pro v1.5 BIOS (Intel 965 chipset)
Processor: Intel E6600 Core 2 Duo 2.2GHz operating at 3.0 GHz (334 MHz FSB)
Memory: 2 GB (1,024 MB x2 modules) Corsair CM2X1024-6400C4 DDR2 SDRAM @ 835MHz
Hard Disk 1: Western Digital WD360GD 10,000 RPM SATA
Optical Drive: Lite-On SH-16A7S-05 SATA DVD R/W
Operating System: Windows XP Professional SP-2 with IE7
Audio Device #1: HT Omega 7.1 C-Media 8788 Oxygen Chipset
Audio Device #2: Bluegears b-Enspirer 7.1 C-Media 8788 Oxygen Chipset
Performance



Again, for the DirectSound 3D and EAX test you see that the HT Omega CLARO requires just a little more CPU then the Bluegears b-Enspirer.  In this test, the Bluegears b-Enspirer peaked at 7% and dropped to as low as 2.5% CPU utilization, and the HT Omega CLARO peaked as high as 9% and dropped to 3.5%.  These results certainly won't translate into any noticeable performance hit, but the numbers are there.
Conclusion
Even though it is taken for granted, most people would agree that better sound quality is always appreciated.  If you are even slightly inclined to appreciate great, high-quality sound, then you owe it to yourself to move up to professional grade audio; and if you already insist on only the best then the HT Omega CLARO is clearly the sound card for you.  I can't say enough about the sound quality served up by the HT Omega CLARO.  Even my Logitech X-530 5.1 speaker system seems outclassed by the quality I receive from the CLARO, so it might be time for me to step up to the full range 7.1 systems I would normally show off in the entertainment room. The HT Omega CLARO easily receives the prestigious Bjorn3D.com Golden Bear Award; which is not often given to most products.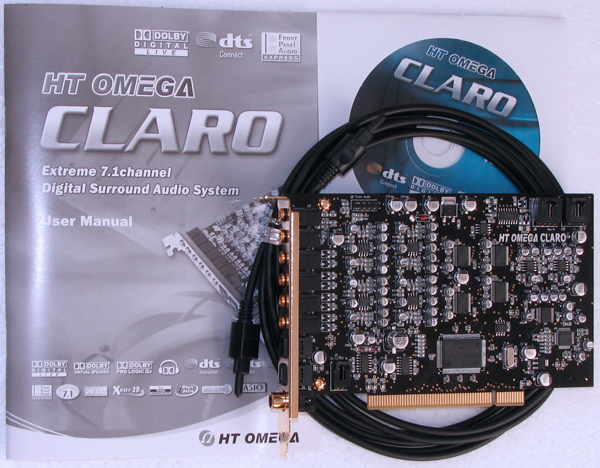 At the time of this writing, the HT Omega CLARO has yet to find a North American distributor for the online market.  Priced to sell for $65.68 at NewEgg.com, we should hope to see other major online retailers picking up on this product very soon; the HT Omega CLARO out-performs the competition at a reasonable price.  Even the TOSLINK Fiber Optic Digital Cable is included, so it's a single purchase solution.
Pros:
+  Unparalleled sound quality
+  True 24-bit audio processing
+  Digital 192KHz output into 8 independently controlled channels
+  Excellent compatibility with Windows Vista
+  Feature-driven software interface
+  Solid state capacitors
+  Simultaneous optical and digital coax output
+  Gold plated I/O panel
+  Internal & front panel digital/analog connections
Cons:
–  Software interface would benefit from a help file or balloons
–  Consumes just a fraction more processor power then the competition

Final Score: I rate the HT Omega CLARO with a final score of 9.5 (Exceptionally Good) out of 10.0, and award the CLARO with the very prestigious Bjorn3d.com Golden Bear Award.
Special Thank-you:
This review would not be possible if it weren't for manufacturers like HT Omega, Inc., who are willing to risk their emerging name and reputation to have a picky hardware analysts like me dissect their product.  I am grateful, and certainly appreciate the opportunity.