With the release of Windows Vista it was expected that we would see a lot of products using Vista as a means to separate themselves from other products. ASUS has released four "Vista Edition" motherboards and we have tested the Premium Core2Duo motherboard to see in what the Vista-name actually means for the user.
INTRODUCTION
If you think that we already have reviewed the ASUS P5B you are correct. I reviewed the P5B-E back in end of November 2006 and really liked it, awarding it 9 out of 10 and a Seal of Approval. So why do we review it again? Well – this time it is another variant of the P5B that we are taking a look on.
ASUS is doing the same thing as NVIDIA and ATI are doing. They come out with a wide range of products, all having almost the same name. A quick look at a local e-retailer gave me a list of 9 different P5B motherboards in addition to all the other P5-something (P5W, P5N and so on) motherboards ASUS sells.
The motherboard that is under scrutiny today is the new P5B PremiumVista Edition motherboard. As the name implies this is a motherboard that is aimed for everyone who already has or plan to build a computer with Vista.
ABOUT ASUS
ASUS, a technology-oriented company blessed with one of the world's top R&D teams, is well known for high-quality and innovative technology. As a leading provider of 3C (computers, communications and consumer electronics) total solutions, ASUS offers a complete product portfolio to compete in the new millennium.

In 2005, ASUS shipped 52 million motherboards, which means one out of every 3 desktop PCs sold last year was powered by an ASUS motherboard. If we line them up side by side, the length will be longer than the distance from New York to San Francisco.

ASUS products' top quality stems from product development. It's like learning Chinese Kung-Fu; one must begin with cultivating the "Chi" and inner strength. Besides innovating cutting-edge features, ASUS engineers also pay special attention to EMI (electromagnetic interference), thermal, acoustics and details that usually go unnoticed to achieve complete customer satisfaction. ASUS notebooks are the first TCO'99-certified notebooks worldwide. The requirements for this honor include radiation emission control, energy (battery consumption), ecology (environment friendly) and ergonomics.

Imagine innovations that simplify our lives and enable us to realize our full potential. It is technologies' responsibility to accommodate us, not the other way around, because all devices should perform and communicate seamlessly anytime, anywhere. ASUS thrives to become an integrated 3C solution provider. (Computer, Communications, Consumer electronics.)

Over the past 2 decades, technology has changed the way we live and experience the world. We have been enabled to work, play, learn, and communicate in ways we have never before thought possible. Since its inception, ASUS has been the cornerstone of this evolution. 1 out of every 4 desktop PCs in the world today has an ASUS motherboard inside. As a major player of this evolution, we have established our corporate mission … ASUS mission: Provide innovative IT solutions that empower people and businesses reaching their full potential.
SPECIFICATIONS
ASUS has released two Vista Edition motherboards for Intel and two for AMD (AM2). The specifications for the Intel Vista Edition motherboards are similar to the regular P5B motherboards with a few exceptions.
Feature/Specification

 P5B Premium 
Vista Edition

 P5B-Plus 
Vista Edition

P5B-E

CPU 

Intel® Core™2 Quad/ Core™2 Extreme / Core™2 Duo Ready

Intel® Core™2 Quad/ Core™2 Extreme / Core™2 Duo Ready

Intel® Core™2 Quad/ Core™2 Extreme / Core™2 Duo Ready

Chipset 

Intel® P965 / ICH8R

Intel® P965 / ICH8R

Intel® P965 / ICH8R

System Bus 

1066/800/533 MHz

Memory 

DDR2 800 / 667 / 533

DDR2 800 / 667 / 533

DDR2 800 / 667 / 533

Gigabit LAN 

Dual Gb

1

1

PCI-E x16 

1

1

PCI-E x4/x1 

0/1

0/3

0/3

PCI 

3

3

3

PATA 

1

1

1

SATA 3 Gb/s 

8(1x eSATA)

RAID 

RAID 0, 1, 5 and 10
RAID 0, 1 and JBOD

RAID 0, 1, 5 and 10
RAID 0, 1 and JBOD

RAID 0, 1, 5 and 10
RAID 0, 1 and JBOD

Audio 

8ch HD

8ch

1394a 

2

2

2

USB 

8

8

10
At its core the P5B Premium Vista Edition motherboard is an P965 chipset motherboard with both Core 2 Duo and Core 2 Quad support.
While the P5B Plus Vista Edition motherboard, just as the P5B-E, does not have support for Crossfire (since it only has one PCI-E 16x connector), the Premium version has two PCI-E 16x connectors and thus has support for Crossfire.
FEATURES
As with all ASUS motherboards this motherboard is crammed full with plenty of cool features.
Includes AI GEAR, AI NAP and AI NOS


AI GEAR lets you balance the performance and quietness of the system by allowing you to select profiles which affect CPU frequency and Vcore voltage in real-time. AI NAP lets users instantly snooze the PC without terminating the tasks. The system will continue operating at minimum power and noise when the user is temporarily away. It keeps downloading files or running applications in quietest state while you're sleeping. Last but not least AI NOS dynamically overclocks the system depending on the load.

Bios protection with CrashFree BIOS 3, EZ Flash 2 and C.P.R. (CPU Parameter Recall)
CrashFree BIOS 3 lets you re-flash corrupt bios from a flash drive. EZ Flash 2 lets you flash the bios from a flash disk directly in the Bios-screen. C.P.R helps you when you overclocked your system to much by re-setting the old settings making a CMOS clear unnecessary.
SATA-On-The-Go and Dual RAID
You both get a SATA-port on the back of the motherboard as well as 8 internal SATA-connectors (6 from the Intel chipset and 2 from the JMicron controller). The Intel chipset supports RAID 0,1,5,10 and the JMicron controller supports RAID 0,1 and JBOD.
8-channel HD-Audio
The ADI1988 8-channel Codec provides the motherboard with HD-audio. In the back you find two optical out connectors.
These are all nice and cool features, however this motherboard is sold with the VISTA name and thus the Vista Edition features are the ones I will look more closely at in this review:

ScreenDuo
Included with the motherboard is a little extra screen that you hook up to the PC via USB and which can display additional info like RSS feeds, calendar schedule or system information.
AI Remote


The motherboard also comes with a remote that can be used to control the PC and various applications. While this is listed under the "Vista Edition Features" it actually has been included in other Digital Home motherboards from ASUS like the P5DHW Deluxe.

AP Trigger


This feature lets you use the AI Remote and boot into windows and launch any predefined apps with the press of a button. 
ASAP (ASUS Accelerated Propeller)


Behind this odd name we find 512 MB flash-memory that has been integrated onto the motherboard. In Vista it supports ReadyBoost.

TPM Support
The P5B Vista Edition comes with a TPM (Trusted Platform Module) header.

It does not include a TPM Module though so if you want to be able to use it you need to buy a module separately.
THE BOX AND THE BUNDLE
The motherboard comes in a nice black box. It is quite clear that this motherboard is aimed for the Vista-owners since it has Vista written on the front of the box not once, not twice but three times.
Inside the box you find the usual assortment of cables and other items.
EIDE and floppy-cable
SATA signal cables for 6 devices, SATA power cables for 2 devices
2x MOLEX => SATA Power adapters
Backplate
Extra USB-ports
Extra Firewire port
User Guide for motherboard and ScreenDuo
ScreenDuo
Array Microphone
AI Remote
Q-Connectors
Extra chipset fan to use when using watercooling on CPU
CD with driver, WinDVD8 Trial, Photoimpact 12 SE, Cyberlink Backup, Symantec Internet Security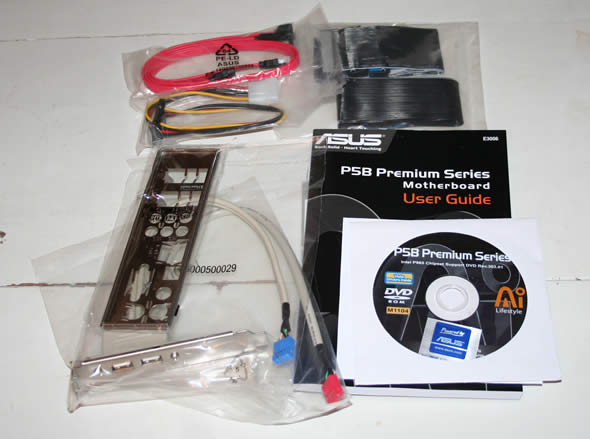 Anyone who has bought one of ASUS high-end motherboards knows that ASUS likes to include tons of useful stuff in the box. This is also true with this motherboard. In addition to the assortment of cables you get the ScreenDuo, the AI remote and the Array mike and of course my favourite, the Q-connector which makes it so much easier to hook up the case to the motherboard. In the manual it states that the motherboard comes with 6 SATA signal cables but my motherboard actually only came with 2. It wasn't until I double-checked in the manual just before going to print that I realized they were missing.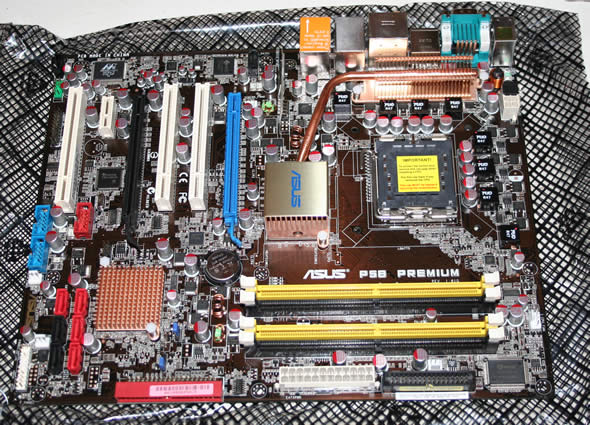 The motherboard itself is also black and looks nice. I definitely like this better than the bland look on the cheaper P5E models.
The layout of the motherboard is the same as many other ASUS motherboards. It uses a passive cooling system for the chipsets which uses the fan on the CPU to take heat away. This is also the reason why they include an extra chipset fan that can be used if you do not use a fan on the CPU, for instance when using watercooling. Unfortunately this means that if you choose watercooling to get down the noise in the case you end up with a new fan.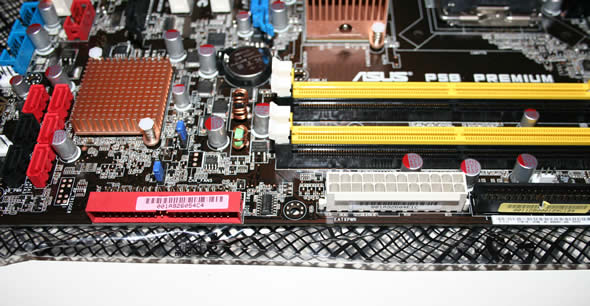 The EIDE connector is angled to the motherboard meaning that you need to make sure there is room in the case.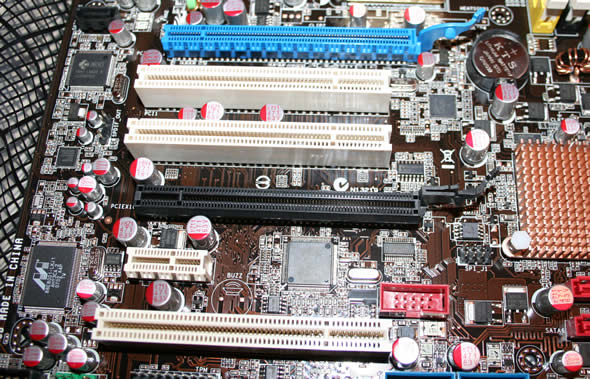 The motherboard comes with 2 PCI-E 16x slots, one PCI-E 1x slot and 3 regular PCI-slots.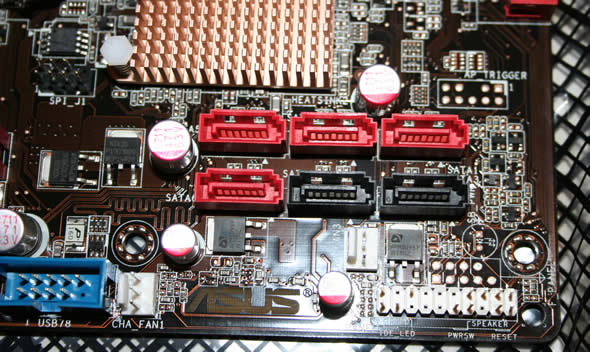 There are 6 SATA connectors grouped at the front of the motherboard, one at the back of the motherboard behind the PCI-E slots, and one on the rear I/O panel usable for external SATA devices.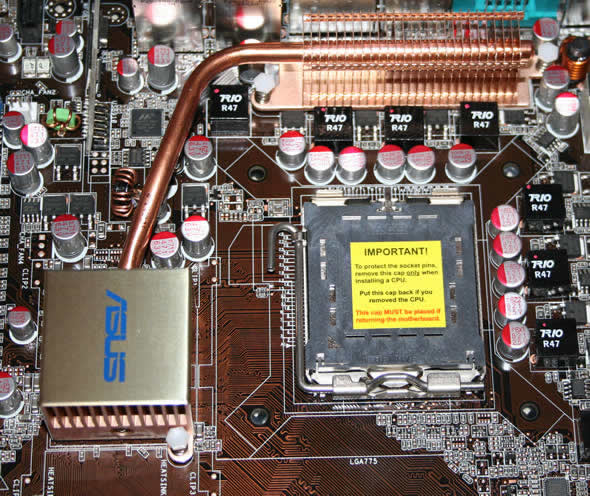 There is ample room around the CPU socket so that most big after market coolers should fit.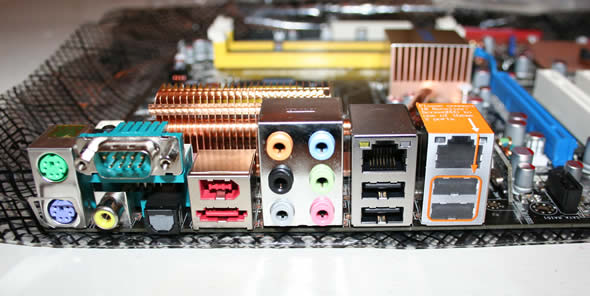 You'll find the expected connectors in the back of the motherboard including two Gigabit Ethernet connectors, 4 USB connectors and various audio-connectors.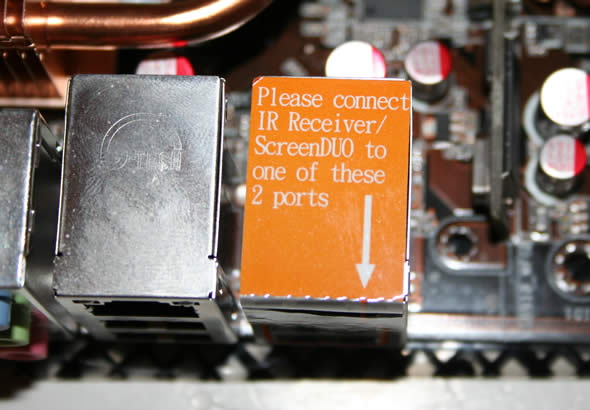 I am not sure why but the motherboard included a sticker that told us to use the two rightmost USB-connectors for the IR-receiver and the ScreenDuo. I can't recall any of the other motherboards using the IR-receiver mentioning this and I actually used the IR-receiver in another USB-connector and also tested the ScreenDuo on another computer without any problems so I'm not sure what the sticker is there for.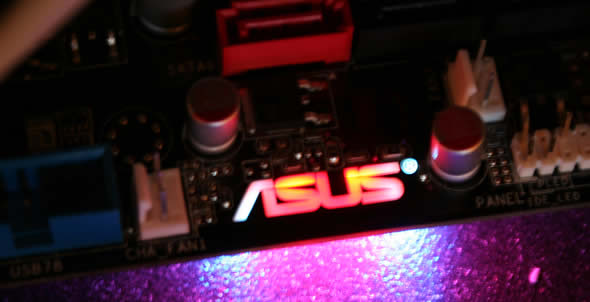 The ASUS-logo lights up both when the computer is turned off and when it is turned on. Blue means turned off and red turned on. Not that I really see the point with this.
THE VISTA FEATURES
So what is all this "Vista Edition" about then? Let us take a closer look at the features that are advertised as intended for the Vista OS.
ScreenDuo
There has been a lot of talk about Vista supporting a second screen on laptops allowing them to display information without you having to open the laptop. The feature is called Windows SideShow.
When reading about the ScreenDuo I first was sure that this was the same thing which they had added to the desktop, and in fact ASUS is advertising this as "Windows SideShow on MB" on their site. However – as far as I can see this is not the case? It does not show up in the SideShow control panel applet and instead uses ASUS's own software. It also works fine on Windows XP so I am not sure if it is a SideShow supported device or not. I've seen some mentions on the net that it still might be but right now it just seems to use its own gadgets and not the SideShow gadgets.
The ScreenDuo has a 2.5″ diagonal QVGA (320×240) display. The resolution isn't insane but sharp enough for this small display.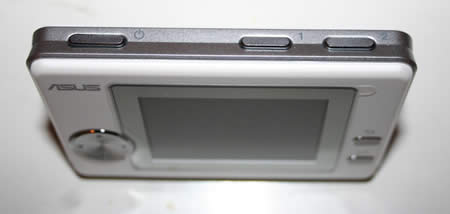 There is a 4-way direction pad plus some buttons on the front and 3 more buttons on the top of the ScreenDuo.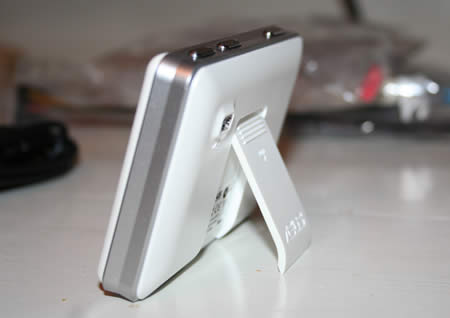 On the back you find a stand which allows you to keep the ScreenDuo placed upright so you can see it without having to hold it up.
The ScreenDuo is hooked up to the computer through USB. I personally hope they can make it wireless at some point since it would open up a lot more possibilities for it.
Installing the ScreenDuo was a mess. I tried it both on an English Vista Home Premium machine and on a English Windows XP pro machine. The problem was that as soon as the installation program started it was obvious that something was not right. Instead of text there was lots of questionmarks and then the number "1.73". I can guess that the install program was using Chinese characters and since I have an English OS it could not display them. After some trial and error I finally got the ScreenDuo installed on both my Vista machine and my XP machine. It would be nice if ASUS put up some new English based drivers soon for the ScreenDuo on their site. So far at the time of writing they do not have one piece of driver for this motherboard up on their site, something I find quite bad considering it is out and costs a lot of money.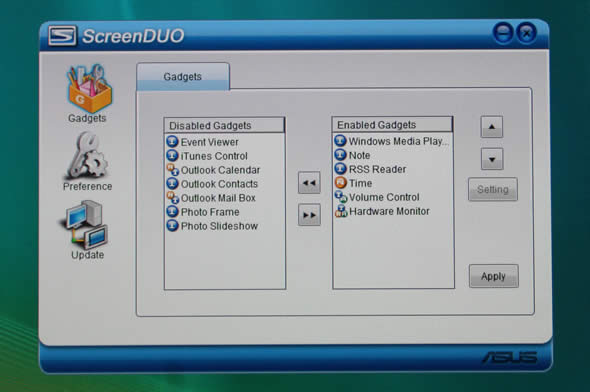 The ScreenDuo set-up program looks ok although it does not look like a Vista program. It lets you choose which gadgets you want to display on the ScreenDuo, and also with some gadgets configure them.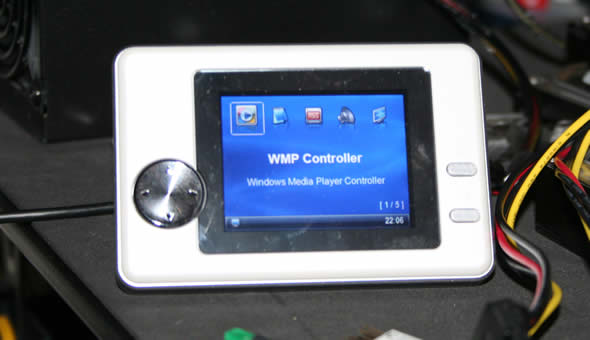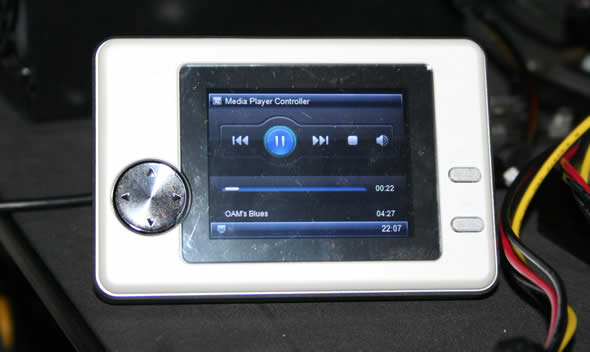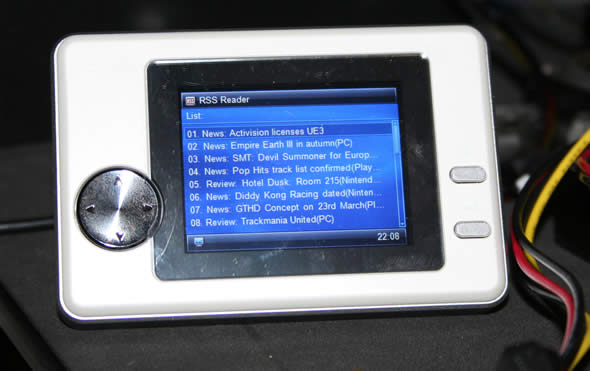 There aren't a whole lot of gadgets available from the start. The Outlook gadgets are useful if you use Outlook. I would have liked one for any POP3 program though. The RSS gadget is cool but more just for a quick glance on the titles than reading a longer text. The iTunes and WMP-gadgets let you control the two programs.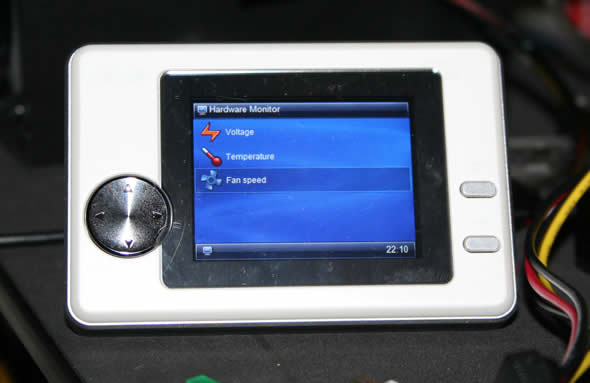 The Hardware Monitor gadget is not as useful as it could be as it only lets you show either the fan-speed, the voltage or the temperature, but not all three at once.
The whole idea with the ScreenDuo is great but it really needs a lot more cooler gadgets. Anyone who use the Logitech G17 keyboard knows that there are a lot of cool plugins now for the small LCD-screen (for World of Warcraft, FRAPs and lots more) and I think ASUS needs to make it as easy as possible for the community to create new plugins to make the ScreenDuo a useful addition to the motherboard.
Asus Accelerated Propeller, or ASAP
I wonder who came up with the name of this feature. It really makes no sense to me at all. In the end what ASUS has done is to put a small flash-drive on the motherboard. In the space where you normally find an integrated WIFI-card we now have a small flash-drive soldered to the motherboard. There actually is space for an USB-connector there so this is a regular USB flash drive we are talking about.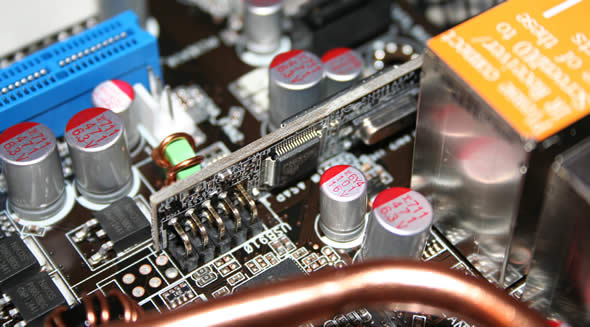 The little flash-memory actually is occupying a USB-header which is why 
this motherboard "only" has 8 USB connectors instead of the usual 10
The size of the flash-memory are 512 MB and it shows up as a regular removable flash-drive. This memory can be used either as normal memory or for the ReadyBoost feature in Vista.
The flash memory device serves as an additional memory cache—that is, memory that the computer can access much more quickly than it can access data on the hard drive. Windows ReadyBoost relies on the intelligent memory management of Windows SuperFetch and can significantly improve system responsiveness.
The advantages with ReadyBoost are questionable and hard to measure. The rule of thumb though has been that you should have the same amount of memory for ReadyBoost as you have in the system. This means that the 512 MB ASAP memory is too little for a good Vista system. I also did some benchmarking with the memory (see page 10) and it was just fast enough to be accepted by Vista as ReadyBoost capable flash memory, but almost 20% slower than some cheap external flash drives.
The ASAP flash drive actually comes up as an boot option in the BIOS and I tried to install a variety of Linux USB distros on the ASAP but never managed to get further than "Boot failed". To be fair though the same happened with two other "real" SanDisk Cruzer USB-flash drives so I'm not sure the problem really is the ASAP memory or just that I haven't cracked the Linux-on-flash-drive nut yet. 
AI Remote
This really isn't a Vista feature since you can get the AI Remote on other ASUS motherboards to. It is however a quite neat feature.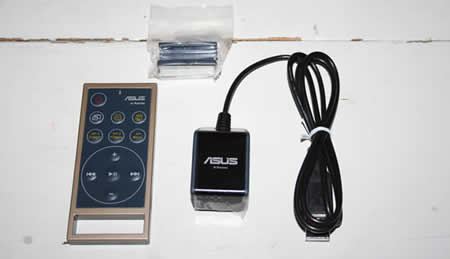 Basically you get a IR-receiver and a small remote which you can use to do stuff with your computer. You can use it to control WMP, start a program or just turn on/off the system.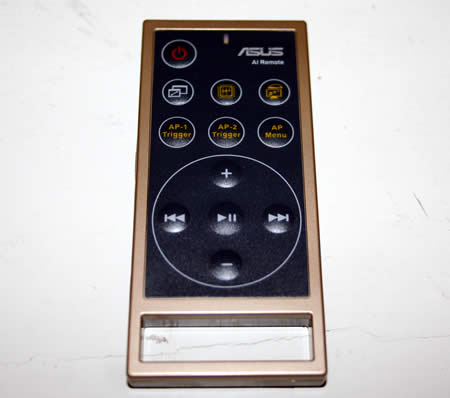 The remote is small, almost a bit too small.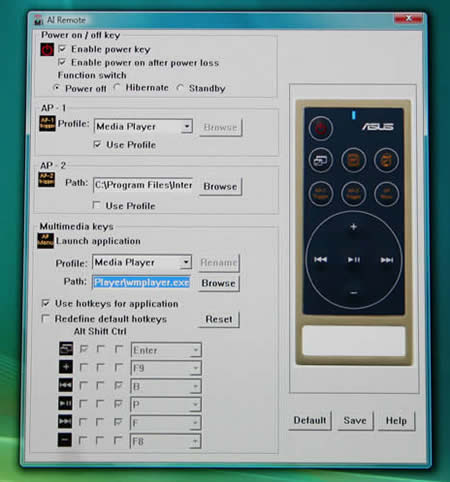 Since this motherboard is intended for Vista I of course tested it on Vista. Using the set-up for the remote I specified a button to turn on the Media Center application. This worked fine. Unfortunately the remote could not control MCE in any way, not even turning down the volume. When I pressed Volume Up it turned down the volume. When I pressed Volume down it muted the volume.
For WMP though it worked fine. I guess it still hasn't been tuned well for Vista and the Media Center. Again it is a bit disappointing that you cannot find any updates for it on ASUS webpage. 
AP Trigger
This is a quite cool feature that works both on the ScreenDuo and on the AI Remote. It lets you specify a program that you want to start when the system starts. When you then press the AP Trigger button on either the AI Remote or the ScreenDuo (they have two buttons on each allowing you to have 4 different startup programs) the system boots and the program of choice starts.
So, if you know you always want to read the e-mail in the morning after you boot up the machine you just program one of the buttons on the AI remote and then as you walk towards the machine you press it and the machine boots up and opens up your e-mail program ready for you to read the mail.
It seems that AP Trigger is a feature specific for this motherboard since I cannot find any info on ASUS other high-end Digital Home motherboards, that also has the AI Remote, regarding this feature.
THE BIOS
The BIOS is very much like any other BIOS that we have seen on a ASUS P965 motherboard. Here follows some images to show you some of the possible settings.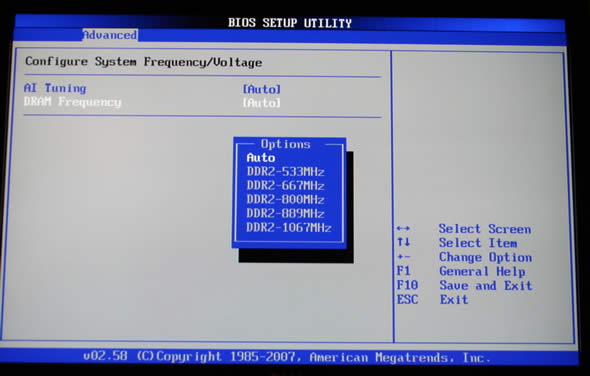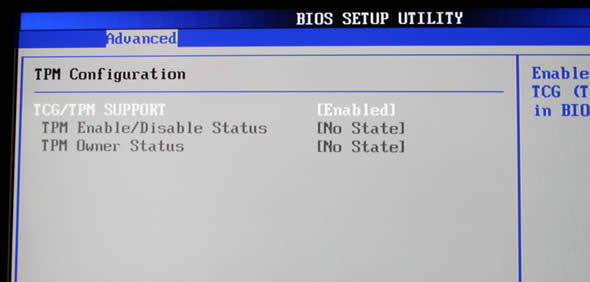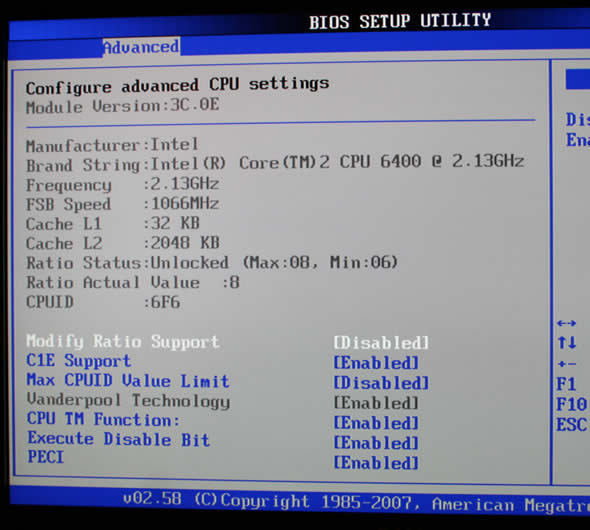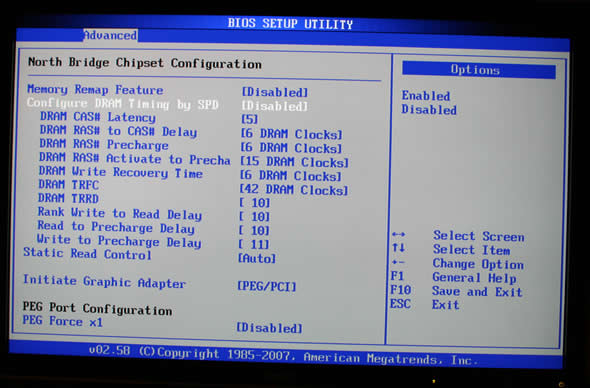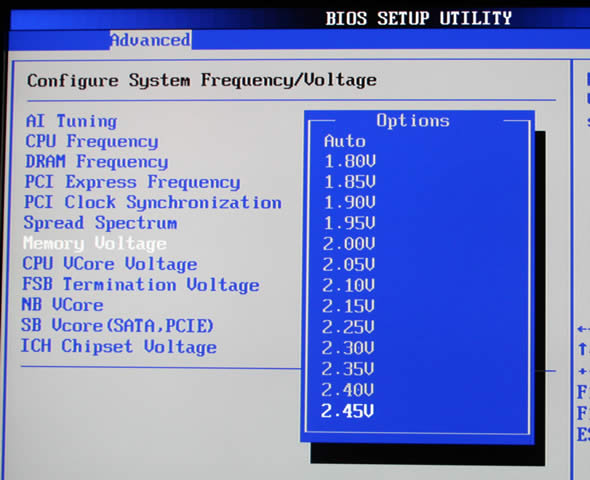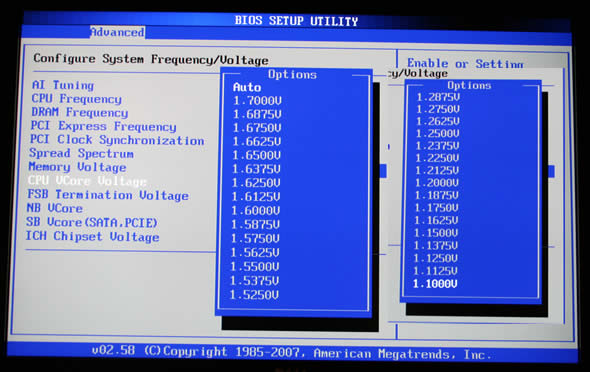 TESTING – INTRODUCTION
Since this is a "Vista Edition" motherboard I of course decided to test it on Vista even though the driver situation is a bit shaky. I decided to compare it to the P5B-E that I reviewed earlier.
There should not be many differences in performance between these two motherboards. 
The test system consisted of the following hardware.
Test System 1
CPU 
Intel Core 2 Duo [email protected]

Motherboards

ASUS P5B Premium Vista Edition (P965)
ASUS P5B-E (P965)

Memory

Corsair XMS2 Xtreme 2048MB DDR2 XMS-1066

HDD

1×80 GB EIDE, 4×320 GB SATA

Video cards

ASUS 8800GTS
I choose to benchmark the motherboard in the following programs.
Software
PCMark05 
Default, CPU, Mem, GFX, HDD

3Dmark06

Default

SiSoft Sandra XI

CPU, Mem BW 

HD Tach RW

Speed of ASAP flashdrive and external flashdrives
TESTING – PCMARK05 AND 3DMARK06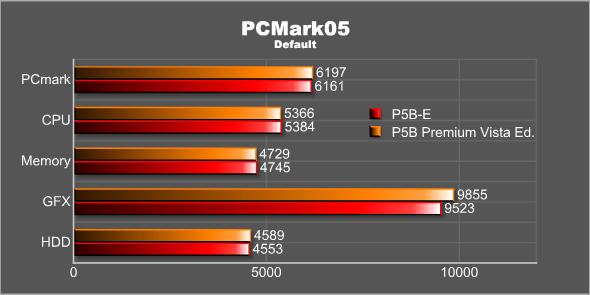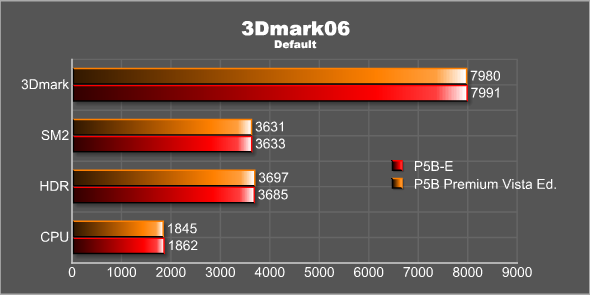 TESTING – SISOFT SANDRA XI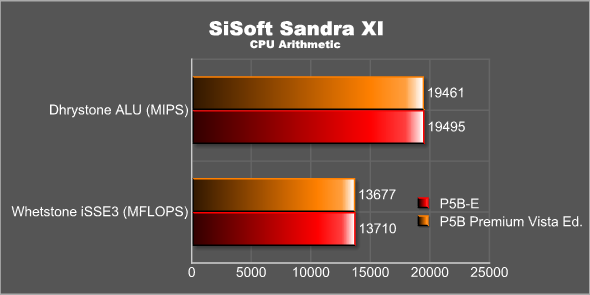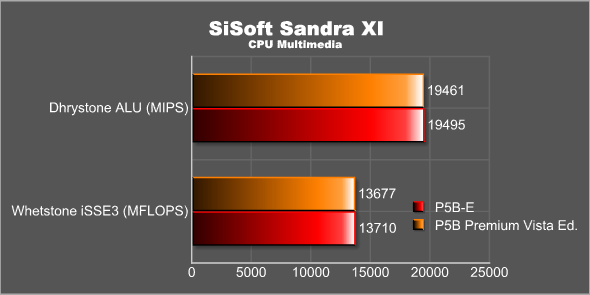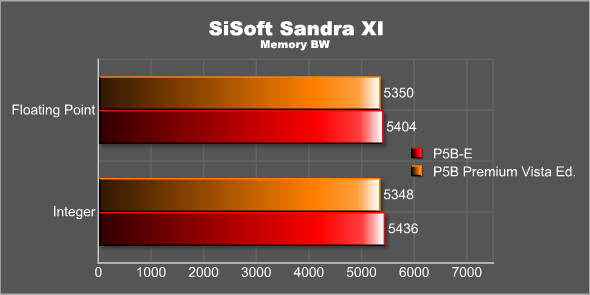 TESTING – HD TACH RW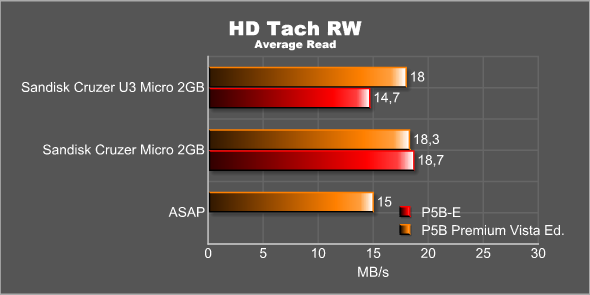 The ASAP flash storage on the P5B Premium Vista Edition is slower than the two Sandisk Cruzer flash drives I tested against. Considering that they basically give those away for free now (well, almost) you might just as well get a 2 GB drive for ReadyBoost.
OVERCLOCKING
There really is no big differences between this motherboard and the P5B-E I reviewed earlier when it comes to overclocking. I ended up with exactly the same max overclock as on that motherboard, 360×8 = 2.88 GHz (from the stock 2.13 GHz). Just as on the P5B-E I could go to 370×8 (3 GHz) but just as on that motherboard the video card started running at half speed.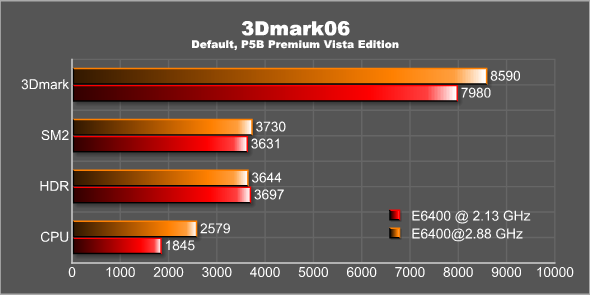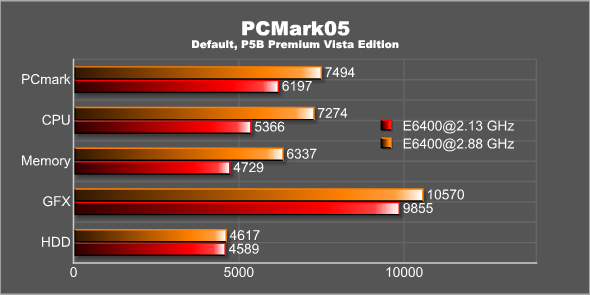 FINAL THOUGHTS AND CONCLUSION
There are two ways you can look at the ASUS P5B Premium Vista Edition.
If I would be in a bad mood and feeling cynical I would say that the whole "Vista Edition" thing is a cynical way for ASUS to try to cash in on the release of Vista. Except for the ReadyBoost support for the ASAP flash memory, none of the "Vista Edition features" really have anything to do with Vista and run just as well under XP. None of the features also scream of "must-have". The ScreenDuo is quite promising but without better drivers and better gadgets it will stay "promising" and never mature to "useful". ASAP's ReadyBoost support is only useful for low-memory Vista systems which would benefit from buying more ram instead of this motherboard. The AI-Remote is ok although it doesn't even manage to work in the Media Center program in Vista which I find a bit odd and AP Trigger is only useful if you can't be bothered to take the extra step and launch your application after the computer resumes.
At the price they are selling it for, around $260, it is one of ASUS's more expensive motherboards and that you don't even get enough SATA cables for half of the included SATA ports is quite disappointing.
If I was in a better mood I instead would focus on the simple fact that this is yet another great motherboard from ASUS. You get a lot with the motherboard. The ScreenDuo, while still just "promising", is really cool and with the correct gadgets I can see it becoming really useful. The AI-remote does work in many other applications except for Media Center, and thus is perfect for if you just want to start up WMP or iTunes and play some music without having to run over to the computer. The motherboard also is stable and performs well. I didn't run into any oddities during my 2 weeks of testing.
So in the end it comes down to if the extra features of the motherboard are useful for you. ASUS has a range of other nice high-end motherboards that cost approximately the same or a bit less including the P5B Deluxe which I would say is the direct alternative to this motherboard, the P5W DH DELUXE which comes with the AI Remote and WIFI support or one of the nForce 690 Striker motherboards. In the company of these motherboards the ASUS P5B Premium Vista Edition fairs pretty well since mainly the ScreenDuo makes it stand out.
Pros
+ Good performance
+ Stable
+ Decent overclocker
+ ScreenDuo is a cool device with lots of promise
+ AI Remote and AP Trigger
+ Lots of settings in the bios for overclockers
Cons
– ScreenDuo does not support Windows SideShow at this moment
– The drivers for the ScreenDuo are pretty crappy
– Not to many gadgets for ScreenDuo
– The 512 MB ASAP storage doesn't add anything to the motherboard
– Where did my extra 4 SATA cables go? Best make sure you get everything when buying it in retail. 
– Quite pricey
Summary: Even with its flaws the ASUS P5B Premium Vista Edition is a great motherboard that performs just as well as any of ASUS other high-end motherboards. To me the ScreenDuo itself is worth the extra price you pay over the P5B Deluxe and the other extra features are just extra gravy. I award the ASUS P5B Premium Vista Edition an 8 out of 10 and the Bjorn3D Seal of Approval.