After a great and successful launch of the G80, as covered in detail here at Bjorn3D back in November, 2006; I have in my hand yet another 8800 card to feast on – Foxconn's 8800GTS 640MB Overclocked version.
INTRODUCTION
Being a heavy gamer, I can say I am really excited at this point of time. If you'll take a look into the near future, you will see that we are facing a massive amount of amazing, jaw dropping games that will make your PC at home one of the hottest spots to be around. Besides being innovative and featuring some fascinating stories, those games will make even the high-end cards stop for some cool air… In order to get the most out of those games and experience the real thing, you'll have to grab yourself a decent graphics card and I am here to talk about one of the serious candidates to fill that hungry PCI-Express slot in your motherboard.
After a great and successful launch of the G80, as covered in detail here at Bjorn3D back in November, 2006; I have in my hand yet another 8800 card to feast on – Foxconn's 8800GTS 640MB Overclocked version.
We would like our system to perform the best at any cost and we will do (almost) anything to make our CPU, RAM or GPU in our case, run at the highest frequencies they possibly can. Therefore, the majority of us will find themselves messing and tweaking the core and RAM frequencies in order to squeeze as much as we can out of the poor piece of hardware we just purchased, without getting any side effects in the process.
In order to get even better results, people usually go and purchase a third party cooler to replace the stock cooler that came with the card. This whole process, of course, voids the warranty of the card and that is a risk every overclocker out there must take when pushing his card to the limit. Well, Foxconn, as other companies out there, knows this is probably what will happen and releases a factory overclocked card with some nice frequencies settings out of the box. This will save you some precious time, money and obviously, keep your warranty valid, which is not something to take for granted.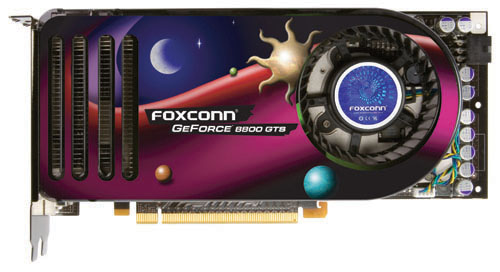 About The Company: FOXCONN
Foxconn is the registered trade name of Hon Hai Precision Industry Co., Ltd., a global leader in the design, manufacture, and distribution of advanced computer, communications, and consumer electronics components, including motherboards, graphics cards, CPU coolers, barebone systems, and chassis for personal computer desktops and servers. With over three decades of demonstrated manufacturing excellence, Hon Hai sets the standard in the industry for product quality and reliability, customer support, and value. In 2005 Hon Hai had sales of $25 billion (USD).

The Channel Service Division (CSD), part of the PCE Business Group of Hon Hai, is Hon Hai's worldwide organization for servicing channel customers. Guided by the mantra "The Art of More", CSD is dedicated to making it simpler and more affordable for its customers to offer superior information systems to their consumer and enterprise customers. CSD serves a network of distributors and OEM customers in Asia, EMEA, and the Americas.
FEATURES & SPECIFICATIONS
The 8800GTS OC offers us great performance, as we learned to expect from a 8800 series card. Obviously, it also brings with it the key features that this great line of cards is known for, including the "Windows Vista" support we all look up to. In order to make it affordable, some features have been removed on the 8800 GTS card in comparison to the 8800 GTX. Of course all main improvements and characteristics are maintained (Full Microsoft® DirectX® 10 ShaderModel 4.0 Support)
The only problem here is that at the time these lines are being written, Nvidia's reviewers guide explicitly called for reviewers to review the card using only Windows XP, since Windows Vista is not currently supported properly and drivers are bring stabilized, hence making the results inaccurate in some cases..
FOXCONN FV-N88SMBD2-ONOC Key Features
NVIDIA® GeForce® 8800 GTS
640MB GDDR3 High-Speed Memory
96 Stream processors running at 1.2GHz
NVIDIA® GigaThread™ Technology Support
NVIDIA® Lumenex™ Engine
NVIDIA® QuantumEffects™ Technology Support
Full HDCP Support – The 8800GTS is fully HDCP compliant which means it allows you to watch Blue-Ray and HD-DVD movies at full HD-resolutions.
Full Microsoft® DirectX® 10 ShaderModel 4.0 Support – The pride of the 8800 series is their support of DirectX10 for amazing experience playing future games and applications that use the new technology
OpenGL® 2.0 Optimizations and Support
Built for Microsoft® Windows Vista™ – Continuing its commitment to develop innovative products that enhance the end-user experience, NVIDIA has been working with Microsoft in preparation for the highly anticipated, next-generation Windows® operating system (OS)-Windows Vista™
Bundled 3D Game Pad
Bundled RestoreIT v7.0& VirtualDrivePro v10.0
Factory overclocked version – Saves you precious time and money by being factory overclocked out of the box.
Foxconn 8800 GTS-OC Specifications

GPU
NVIDIA® GeForce 8800GTX
Core
G80
Core Clock
575MHz
Pixel Pipeline
96 Stream processors running at 1.2GHz
Vertex Pipeline
96 Stream processors running at 1.2GHz
RAMDACs
400 MHz
Memory Type
GDDR3
Memory Size
640MB
Memory Clock
1800MHz
Memory Interface
320-bit
Graphics Bus Technology
PCI Express x16
Cooler
Fansink
Connectors
Dual Dual-Link DVI + HDTV-Out
Special Features
NVIDIA® PureVideo™ HD Support
NVIDIA® SLI™ Support
Dual Dual-Link DVI Support
HDTV Out Support
Windows Vista™ Support
Bundled 3D Game Pad
Bundled RestoreIT v7.0
VirtualDrivePro v10.0
Factory Overclocked Version
CLOSER LOOK
The Package
The Foxconn packaging is pretty colorful and fun to look at (can anyone explain those eyes all over the umbrella?).
The box that contains the card and accessories is pretty big in comparison to the actual size of the 8800GTS, which is quite small in comparison to its big brother the 8800GTX.
The Card
The 8800 cards series are great performers but, from what I saw until now, not exactly looking as well as they perform. The Foxconn 8800GTS OC is an exception in this aspect as the card is beautifully designed with cool looks and vivid colors. It is also pretty heavy due to its massive cooling solution.
Having said that, it is as light as a feather when compared to the 8800GTX monster piece. The physical size of the 8800GTS is surprisingly much smaller than I expected and when put on the table along with the GTX, the difference is huge. This, of course, helps when you try to install it in your case and is something customers should take into consideration when considering those two cards.
The Foxconn 8800GTS 640MB OC has Dual-Link DVI Support and HDTV Out Support, although I currently experience some difficulties adjusting the Video out to work properly with the new drivers (97.92) from Nvidia. Can't figure out the new control panel just yet since they omitted a lot of options. I sure hope Nvidia will take care of this problem in the next drivers' release.
Installation is pretty much straight forward, the card, as I mentioned, isn't too big and will fit into any standard case. Also, if the card beeps right when you turn the computer on, you would know you forgot to connect the power cable.
CLOSER LOOK
What You Get
The full content of the box:
The card
DVI to VGA adapter
Power Cable
HDTV Cable (High End)
Driver CD
Manual
USB 3D Game Pad
RestoreIT v7.0
VirtualDrive Pro v10
Utility CD
RestoreIT v7.0:   Powerful, automatic, user-friendly data backup and recovery.
Recover from a data disaster —even when Windows won't boot
Restore system files AND personal files
Automatically back up to a network or USB device
VirtualDrive Pro v10.0:  Virtual Drive accelerates your game play, run PC games without the disc.
Protect CDs and DVDs by playing electronic pictures
Organize virtual CDs in a user-friendly interface
Pre-load multiple games and swap them out via hot keys
USB 3D Game Pad
In most bundles, you will find a game included which usually, somehow, never matches your taste…Instead, Foxconn chooses to include a game pad, which is quite refreshing and I must say I liked it very much. It supports most recent games and is pretty fun to use in certain games.
Digital/Analog mode
4 axis, 12-fire buttons
Vibration feedback function
Turbo/clear function
Compatible with Windows 2000/XP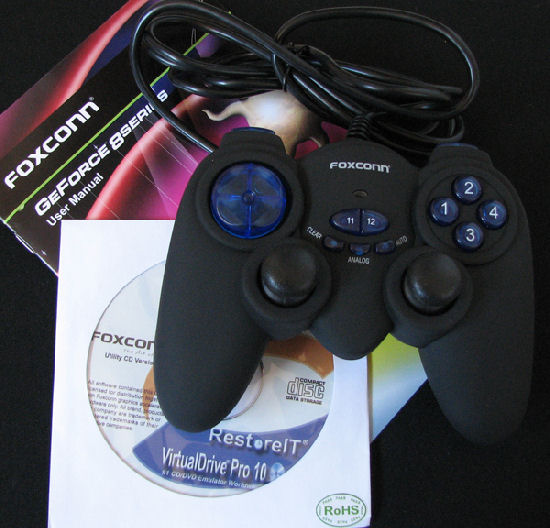 TESTING
As we all know, system configuration is a major factor in benchmarking. It is very important to understand the exact factors and configuration used in order to conclude anything about the performance of the card in question.
Test Platform

Processor

OPTERON 2210 * 2

Motherboard

TYAN D2915

Memory

2GB * 4 DDR2 ECC REG

Drive(s)

WD Raptor 36GB SATA 10K RPM

Graphics

Test Card 1:   EVGA 8800GTX

Test Card 2:   Foxconn 8800GTS OC

Test Card 3:   XFX 7900GT SLI XXX

Test Card 4:   XFX 7800GT XXX

Operating System

Windows XP Pro SP2
Synthetic & Gaming Benchmarks

3DMark06

Default Settings

Doom 3

Timedemo Demo1 Benchmark
Ultra Quality Settings
4x Anti Aliasing

Prey

HOC/Guru3D Benchmark
Maximum Settings
4x Anti Aliasing
16x Anisotropic Filtering)

Company of Heroes v1.4

Maximum Settings
Shadow Quality High
AA Enabled
Texture Detail Ultra

F.E.A.R v1.8

Maximum Settings
4x Anti Aliasing
16x Anisotropic Filtering
I must note something here. I know for a fact that the configuration above is seriously bottlenecking the GPU and drops the bench results dramatically. I checked the 8800GTX and 8800GTS on a E6600 Core 2 Duo based system and I had about 25%-50% performance boost in 3Dmark and F.E.A.R (No overclock done). Unfortunately, I couldn't test all the cards and all benchmarks on the C2D based system since it wasn't available for me for too long. We can still come to the same conclusions based on the ratio and not absolute results in the following benchmarks. Note that in all tests (except 3Dmark06), I had the graphics settings set to maximum, including AA and AF.
TEST RESULTS
3DMark06 v. 1.1.0
3DMark06 developed by Futuremark is a synthetic benchmark used for universal testing of all graphics solutions. 3DMark06 features HDR rendering, complex HDR post processing, dynamic soft shadows for all objects, water shader with HDR refraction, HDR reflection, depth fog and Gerstner wave functions, realistic sky model with cloud blending, and approximately 5.4 million triangles and 8.8 million vertices; to name just a few. The measurement unit "3DMark" is intended to give a normalized mean for comparing different GPU/VPUs. It has been accepted as both a standard and a mandatory benchmark throughout the gaming world for measuring performance.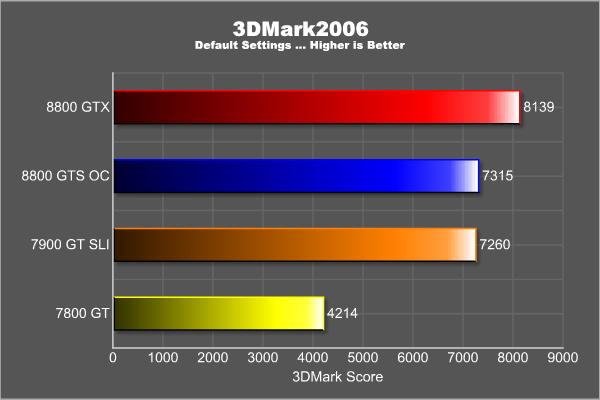 Doom 3
Doom3 does not need any introduction and it has become a very popular game to benchmark. I used the TimeDemo Demo1 command in order to run the internal demo and get the average FPS.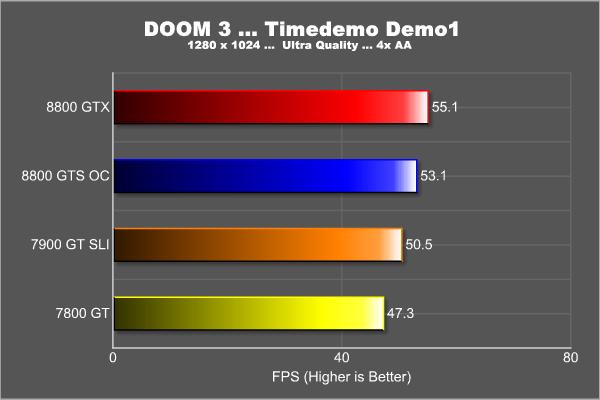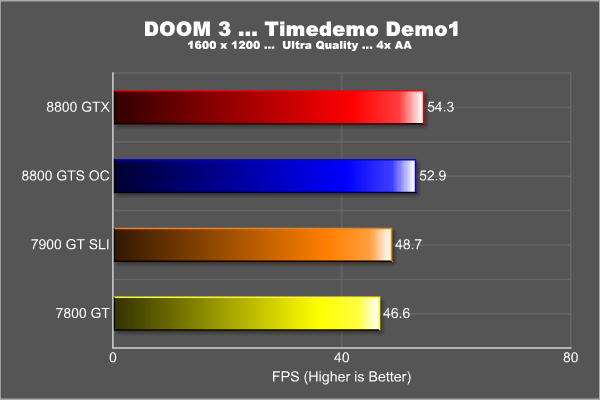 Prey Demo
Prey has a lot going for it: A new take on the typical alien invasion story incorporates Native American-based spirit powers, ooey-gooey biotech weapons, and MC Escher-inspired level design that is a complete head trip. Built on the powerful Doom 3 engine Prey features both an outstanding single player and a robust multiplayer mode. In order to bench Prey and get the results, I used the very convenient benchmark from HardwareOC.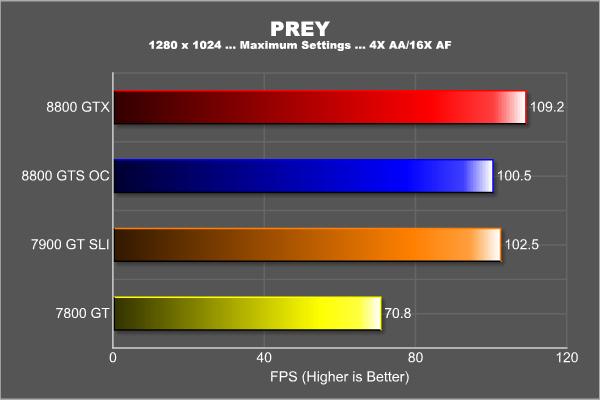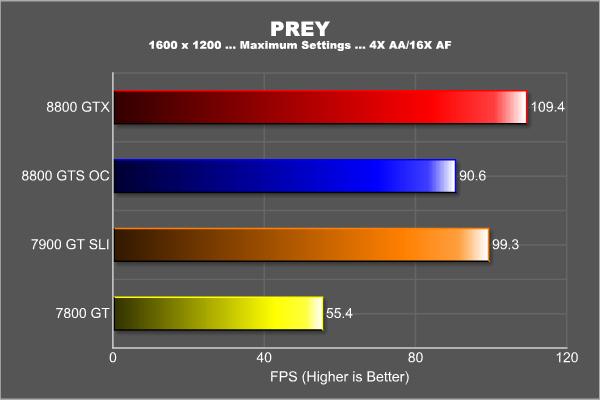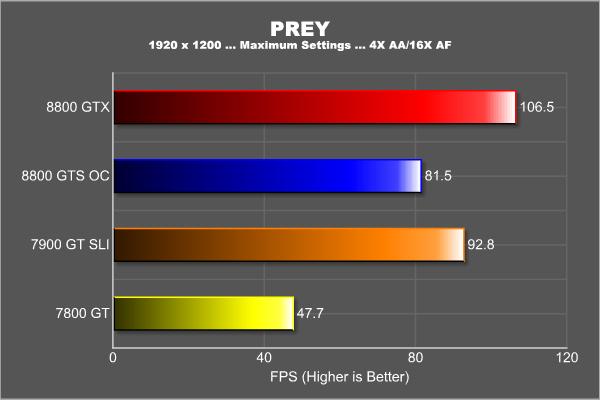 TEST RESULTS
F.E.A.R
F.E.A.R. (First Encounter Assault Recon) is a first-person shooter game developed by Monolith Productions and released in October, 2005 for Windows. F.E.A.R. is one of the most resource intensive games in the FPS genre of games ever to be released. The game contains an integrated performance test that can be run to determine your system's performance based on the graphical options you have chosen.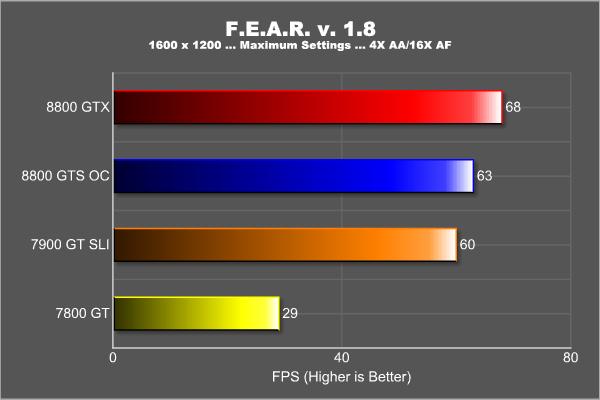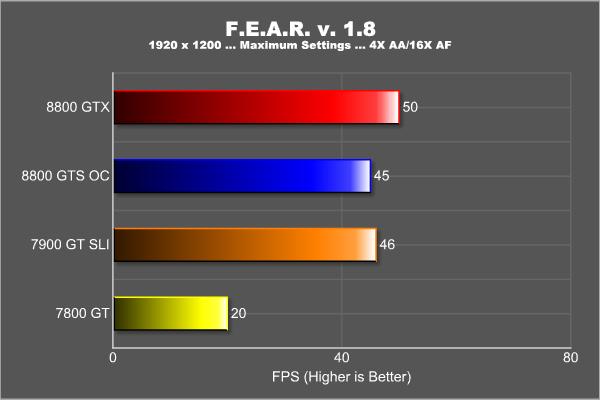 I also took the min, max and average results for the Foxconn 8800GTS OC so you can see the specific results in detail.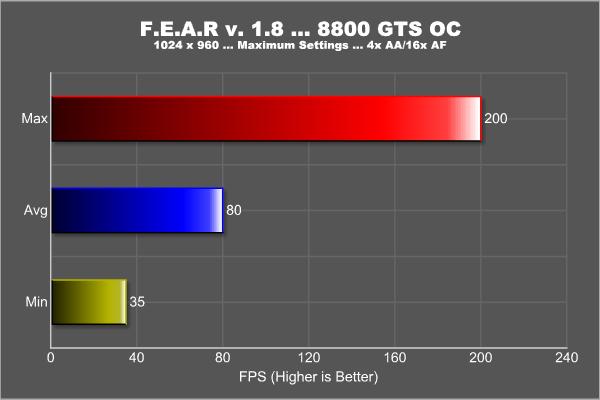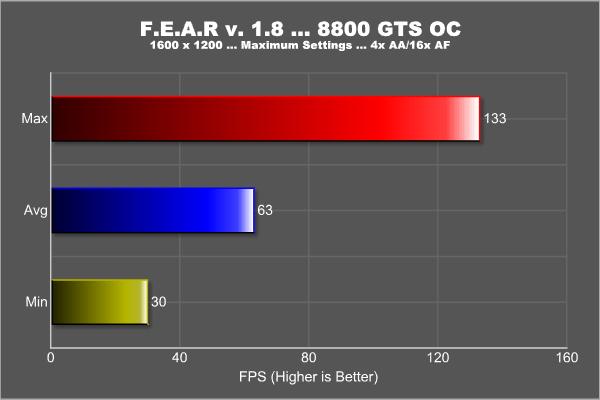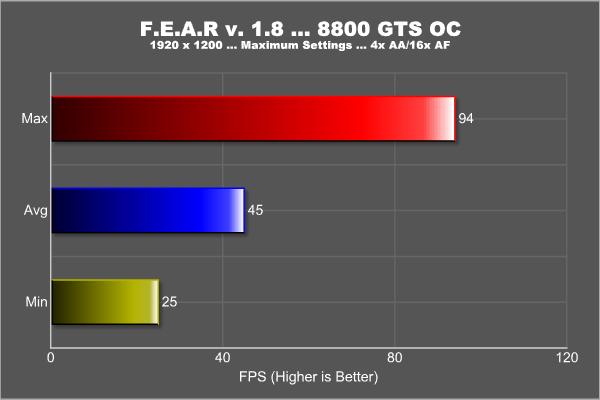 TEST RESULTS
Company of Heroes
Company of Heroes(COH) is a Real Time Strategy(RTS) game for the PC, announced on April, 2005. It is developed by the Canadian based company, Relic Entertainment, and published by THQ. We gladly changed from the first-person shooter based genres of the rest of our gaming benchmarks to this game which is RTS. Why? COH is an excellent game that is incredibly demanding on system resources thus making it an excellent benchmark. Like F.E.A.R. the game contains an integrated performance test that can be run to determine your system's performance based on the graphical options you have chosen. It uses the same multi-staged performance ratings as does the F.E.A.R. test. We salute you Relic Entertainment!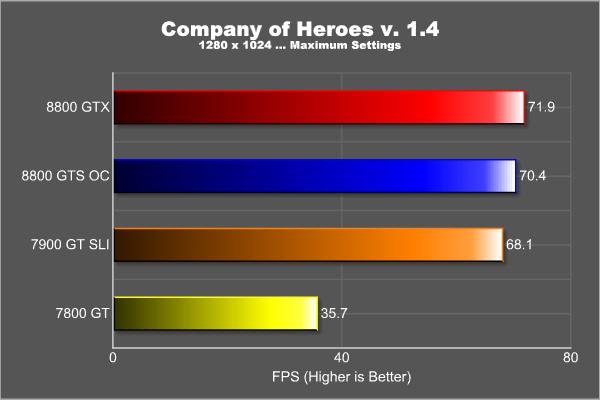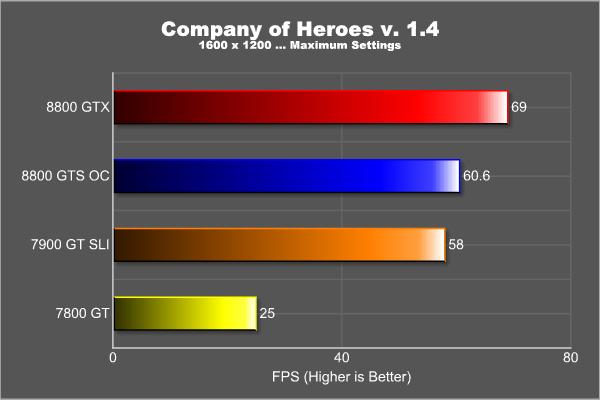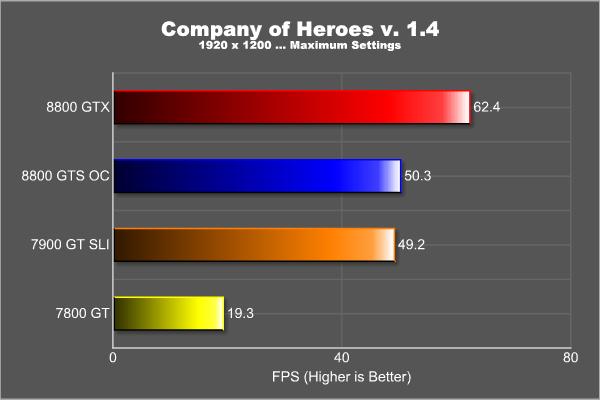 As you can obviously see, the cards achieve the same scores more or less on the lower resolutions but as we raise the resolution, the gaps become clearer and if you own a large screen, you will be able to enjoy the higher resolutions.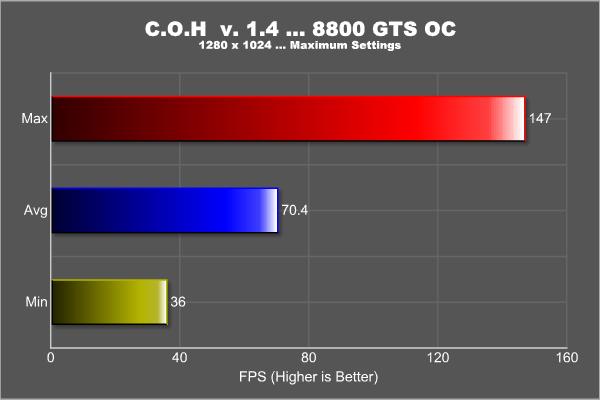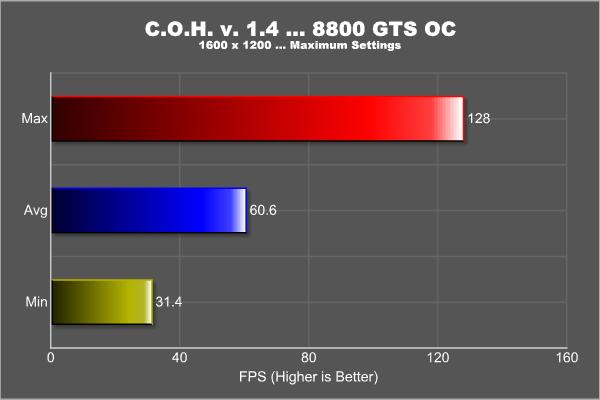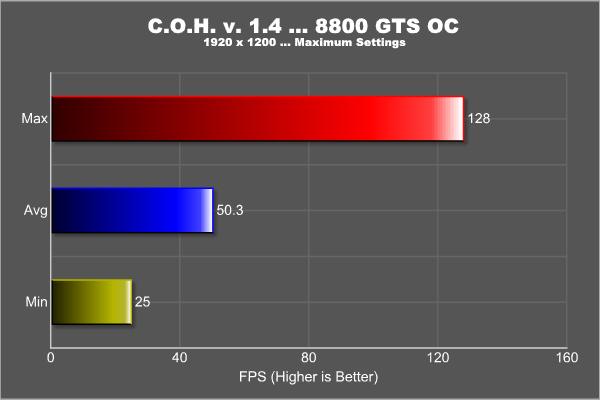 Interesting to see that Max FPS on 1600×1200 and 1920×1200 is the same and stands on 128. But if you look on the Average and Min FPS, you'll see the difference…
CONCLUSION
As you can see, the Foxconn 8800GTS OC is a great performer and will add a lot to your experience when playing recent games with jaw dropping visual effects and top of the line technology from Nvidia. Of course, when examining the results, we can see that in most cases, the 7900GT SLI is close behind and even, in some cases, outperforms the GTS. When DX10 support will be more stable, I am positive you will be able to see the difference more clearly.
Looking at the results, you can easily conclude that moving to 8800GTS from a high-end series 7 cards, will boost your performance by 50%- 75% when playing on high resolution. In addition, the image quality is much better, smoother movement and shiny look to the surroundings.
Pros:
+  Great overclock with valid warranty
+  Highly feature laden
+  Full Microsoft® DirectX® 10 Support
+  SLI™ certified
+  Silent and efficient cooling solution
+  Great overclock with valid warrantye
+  Silent and efficient cooling solution
+  A quality product
+  Great bundle
Cons:
–  A bit expensive for the average consumer
–  No leds (non overclocked does have a led)
–  NVIDIA has removed some features in the new driver control panel
Final Score: 9.5 out of 10 and the prestigious Bjorn3D Golden Bear Award.
I'd like to express my sincere appreciation to everyone at the Foxconn, Channel Division for allowing me the opportunity to review this excellent graphics solution.