Without a doubt, this is one of the best performing passively cooled cards that I have reviewed so far. Taking this very popular RV570 chip and slapping on Accelero S2 silent cooling system was a spot on move. Although the clocks are lowered just a bit, PowerColor X1950 PRO SCS3 does not lose in benchmarks.
INTRODUCTION
G80 being out for a while, it's now AMD's turn to bring new generation of video cards. For that however, you will have to wait another month or so before we even see first R600 cards being sold. Meanwhile, AMD partners are going stiff and are seeking fresh blood to feed their customers. I would assume the madness that's going on as they can't deliver new cards thus make no money. Forget that for a while and let's move back in time to R500 era.
Back in October 2006, I've had a chance to check out PowerColor X1950 PRO running Arctic Cooling system. Ever since that day, we haven't seen anything new from AMD except for boiling X1550 SCS which brought nothing new except for name change. So what can AIBs do about not being able to get AMD's piece of the pie? The answer is release another SKU of the most popular card.
What I have for you today is PowerColor X1950 PRO SCS3. The card itself should be somewhat familiar, though "SCS3" suffix explanation might be needed. You probably gathered from our previous PowerColor reviews what SCS stood for, if not than read along. Silent Cooling System is what PowerColor used for the first time with their Bravo X700, X800 XL SCS2 512MB and then with X1550 SCS. Now it's time for something completely fresh.
KEY FEATURES
World's fastest silent graphic card
Passive cooler designed by Arctic Cooling
Video-in/Video-out (VIVO)
Support for DirectX 9c, Open GL 2.0 and Shader Model 3.0
High-bandwidth Digital Content Protection (HDCP) ready
H.264 playback with ATI's Avivo™ Video- & Display Engine
Windows Vista ready
Internal Crossfire
The introduction of X1950 PRO eliminates the need for a Crossfire master card to operate properly. The X1950 PRO brings a slight, but healthy change. Instead of using external compositing chip, dongle as well as master/slave card ATI incorporated Crossfire support into the GPU. It's definitely the easiest approach with less complications for the end user. It does seem a lot like NVIDIA's SLI bridge solution with minor difference — there are two connectors on the PCB instead of just one. Does any of this ring a bell to you? Daisy chained graphic cards is the answer. Although implementing an internal compositing engine adds costs to the production of a chip, ATI won't lose money and just the opposite they will profit from it big time. To recap, internal Crossfire is all about:
Native support with no need for dedicated master / slave card or special hardware
24-bit connection with resolutions up to 2560×2048
Supports both Intel and AMD platforms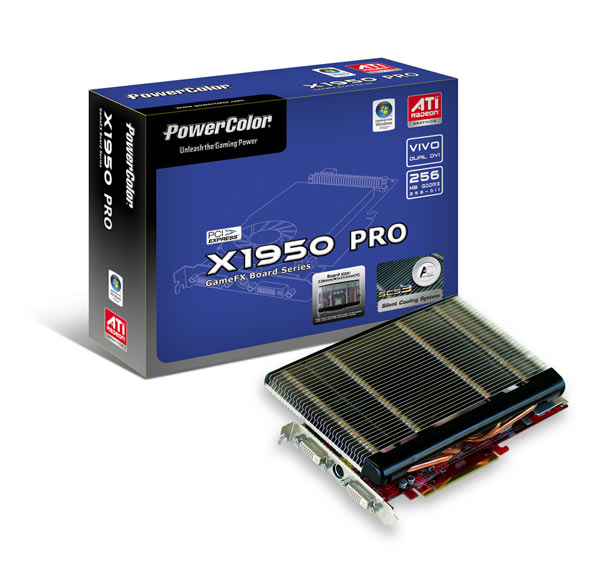 Should you require more detailed information on X1K please revisit our article: The X1000 series – ATI goes SM3.0
For those not in the know Tul Corporation is a Tier-1 provider of AMD-based graphic cards. The company is also a leader in providing motherboards and barebone systems. So what about PowerColor?
PowerColor is a consumer brand focused on providing cutting-edge graphics card products to retail customers. Our goal for the Tul brand is to be the industry's number one provider of technology product solutions. Our goal for the PowerColor brand is to be the world's number one brand of graphics cards. PowerColor is in effect owned by Tul Corporation, however the brands are operated independently of each other.
VPU SPECIFICATIONS
RADEON X1950 PRO (RV570) is nothing else but RADEON X1900 GT (R580LE) built on 80 nanometer process, little tweaks and new name. Thus it carries same traits as R580: Shader Model 3.0, Ultra-Threading Dispatch Processors, new cache architecture and Ring Bus. You can find more details about those features in my PowerColor X1800 XT review. The real difference though will be price. AMD will try to put it below $200 anytime soon. Currently the street price for this board will settle around $229.
The X190(5)0 has the same pipeline configuration as R580. The pipeline is no longer in 1:1 ratio (ALU:Texture) as with R520, it's 3:1. So, RADEON X1950 PRO shares the above design and benefits from it in a fashionly manner. Right below you can see the differences between X1950 PRO / GT and XT.
12 ROPs (16 for XT / XTX)
12 Pixel Pipelines (16 for XT / XTX)
36 Pixel Shaders (48 for XT / XTX)
12 Texture units (16 for XT / XTX)
The rest stays the same, more detailed information right below
Video card

PowerColor X1950 PRO SCS3

PowerColor X1900 GT

PowerColor X1900 XT



GPU (256-bit)
RV570
R580LE
R580
Chip Architecture
.08µ (TSMC fab)
.09µ (TSMC fab)
 .09µ (TSMC fab)
Transistors
~330 Million
~384 Million

 ~384 Million
Memory Architecture
256-bit
256-bit
 256-bit
Frame Buffer Size
256 MB GDDR-3
256 MB GDDR-3
512 MB GDDR-3
Pipeline
architecture1
12 ROPs
12 Pixel Pipelines
36 Pixel Shader units
12 TexUnits / pipe
3 ALU units / pipe
1 Z-samples / pipe
12 ROPs
12 Pixel Pipelines
36 Pixel Shader units
12 TexUnits / pipe
3 ALU units / pipe
1 Z-samples / pipe
16 ROPs
16 Pixel Pipelines
48 Pixel Shader units
16 TexUnits / pipe
3 ALU units / pipe
1 Z-samples / pipe
Vertex Pipelines
8
8
8
TMU(s) per Pipeline
1
1
1
Engine
Ultra-threaded architecture
Ultra-threaded architecture
Ultra-threaded architecture
Bus Type
PCI-e 16x
PCI-e 16x
 PCI-e 16x
Core Clock
575 MHz

575 MHz
 625 MHz
Memory Clock
1380 MHz DDR

1200 MHz DDR
 1450 MHz DDR
RAMDACs
2x 400 MHz DACs
2x 400 MHz DACs
 2x 400 MHz DACs
Memory Bandwidth

44.8 GB / sec

38.4 GB / sec

 

46 GB / sec

Pixel Fillrate
6.9 GPixels / sec

6.9

GPixels / sec

 

10

GPixels / sec
Texel Fillrate
6.9 GTexels / sec
6.9

GTexels / sec


10

GTexels / sec
Geometry rate
1150 Mtriangles / sec

1150 Mtriangles / sec
1250 Mtriangles / sec
DirectX Version
9.0c
9.0c
 9.0c
Pixel Shader
9.0c
9.0c
 3.0
Vertex Shader
9.0c
9.0c
 3.0
1To recap, RADEON X1950 PRO has the following pipeline configuration: 12:1:3:1
Radeon® X1950 Graphics Technology – GPU Specifications
Features

36 pixel shader processors
8 vertex shader processors
Up to 256-bit 8 channel GDDR3 memory interface
Native PCI Express® x16 bus interface
Plug-and-play (native) CrossFire™
Shader Technology

Support for Microsoft® DirectX® 9.0 programmable vertex and pixel shaders in hardware.
Shader Model 3.0 vertex and pixel shader support:

Full speed 32-bit floating point processing
High dynamic range rendering with floating point blending and anti-aliasing support
High performance dynamic branching and flow control

Complete feature set also supported in OpenGL® 2.0
Anti-Aliasing and Anisotropic Filtering

2x/4x/6x Anti-Aliasing modes:

Sparse multi-sample algorithm with gamma correction, programmable sample patterns, and centroid sampling
New Adaptive Anti-Aliasing mode
Temporal Anti-Aliasing

Lossless Color Compression (up to 6:1) at all resolutions, up to and including widescreen HDTV
2x/4x/8x/16x Anisotropic Filtering modes:

Up to 128-tap texture filtering
Adaptive algorithm with performance and quality options

Improved rendering with higher subpixel precision and LOD computation levels

New rotational high quality rendering mode
3Dc+™ — Advanced Texture Compression

High quality 4:1 compression for normal maps and luminance maps
Works with any single-channel or two-channel data format
Ring Bus Memory Controller

Programmable arbitration logic maximizes memory efficiency, software upgradeable
New fully associative texture, color, and Z cache design
Hierarchical Z-Buffer with Early Z Test
Lossless Z-Buffer Compression (up to 48:1)
Fast Z-Buffer Clear
Z Cache optimized for real-time shadow rendering
Optimized for performance at high display resolutions, up to and including widescreen HDTV
Avivo™ Video and Display Engine

New advanced video capabilities, including high fidelity gamma, color correction and scaling
Dual independent display controllers that support true 30 bits per pixel throughout the display pipe
Full symmetry on both heads
Each display interface supports display resolutions beyond 2560×1600
Advanced DVI capabilities, including 10-bit, 16-bit HDR output
YPrPb component output for direct drive of HDTV displays
Seamless integration of pixel shaders with video in real time
MPEG1/2/4 decode and encode acceleration:
DXVA support

Hardware motion compensation, iDCT, DCT and color space conversion

All-format DTV/HDTV decoding
Adaptive per-pixel de-interlacing and frame rate conversion (temporal filtering)
CrossFire™

Multi-GPU technology
Four modes of operation:

Alternate frame rendering for maximum performance
Supertiling for optimal load-balancing
Scissoring for compatibility
Super AA for maximum image quality

Native CrossFire support simplifies setup by requiring no dedicated slave or master hardware
24-bit CrossFire connection enables high resolutions and refresh rates
Supports the broadest range of platforms for both Intel and AMD
THE CARD
What really changed with X1950 PRO SCS3 in terms of physical design is the cooling system and the way heat dissipates from the GPU and memory chips. This will be the main target of our discussion and I will try to give you a better view of how this thing is cooled.
Click a picture to see a larger view
---
---
PowerColor has teamed up with Arctic Cooling once more bringing you Accelero S2 — noiseless cooling solution. The most eye catching thing about it is its size. It's wider than the card itself, but not longer than the PCB. What makes this card run cool? Thirty one fins, copper base / heatpipes and memory heatsinks. Here is a brief overview of how heat is transported from these hot areas outside cards perimiter.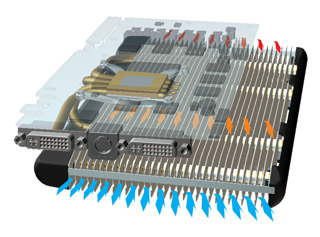 Colder air cools the fins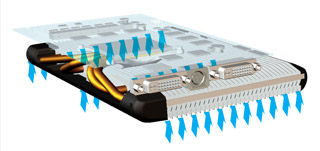 Dissipating heat is transported via heatpipes to the fins
Here is how it works. Colder air cools the fins, the dissipating heat is then transported via heatpipes back to the fins where it's effectively removed. The included RAM / voltage regulator sinks help cool those parts as they get hot quickly.
Copper base is thick and serves a very important purpose in this whole reaction chain. Moving along the card exhibits dual DVI-I outputs (HDCP ready) as well as S-Video out. The board carries standard display support: VGA compatible, VESA compatible BIOS for SVGA and DDC 1/2b/2b+. Modules used come from SAMSUNG: K4J55323QG-BC14. Last image shows Crossfire connector. Note that due to this SCS3 solution it might *not* be possible to Crossfire two identical cards as one of the connectors will be blocked by the heatsink.
BUNDLE
The front and back of the box highlight cards specifications and features. The back of the box sports specs. The sides show system requirements. Additionally you'll find major features being listed in 6 different languages.
Click a picture to see a larger view
---
---
When you open up the white box you face the bundle. It's not anything special, but Tul gives you all you need to run this baby.
Driver CD
CyberLink DVD Solutions

PowerProducer 2 Gold DVD
PowerDirector 3
Power2Go 3

Quick installation guide
As for accessories, here it is:
S-Video cable
Composite cable
HDTV cable
1 DVI-I to VGA adapter

6-pin molex power connector

S-Video to AV connector
TESTING METHODOLOGY
All gaming tests were performed using two different image settings: 0aa0af and 4aa8af. Because we are not dealing with entry level video card, we will use the following resolutions: 1024×768, 1280×1024 and 1600×1200. As far as driver settings are concerned, the card was clocked at 575 MHz core and 1380 MHz DDR memory. High quality AF was used for anisotropic filtering. CATALYST A.I was set to standard and mipmap detail level set to high quality. All other settings were at their default states.
PLATFORM
No changes here since X1800 XT review. All of our benchmarks were ran on Athlon64 3000+ clocked at 2.5GHz. As always, I'm going to compare RADEON line ranging from X1800 all the way up to X1950 PRO. The only thing that changes are CATALYST drivers. Note that X1950 PRO is really a "souped up" X1900 GT — 80 nanometer process, higher clocks, less power draw. The table below shows test system configuration as well benchmarks used throughout this comparison.
As far as installation goes I cannot report any problems. The card booted without any glitches. However when overclocked using ATI's Overdrive, screen flickers. Used ATITool instead.
Testing Platform

Processor
AMD Athlon 64 @ 2.5 GHz
Motherboard
DFI LANPARTY UT nF4 SLI-D
Memory
G.Skill F1-4000BIU2 DDR (3-3-2-8-1T)
Video card(s)
PowerColor X1950 PRO SCS3 256 MB
PowerColor X1950 PRO 256 MB
PowerColor X1900 GT 256 MB
PowerColor X1800 GTO 256 MB
PowerColor X1900 XT 512 MB
PowerColor X1800 XT 512 MB
Hard drive(s)
Seagate SATA II ST3250620AS
Western Digital WD120JB
CPU Cooling
Thermaltake TMG A1 (s393)
Power supply
Thermaltake Toughpower 850W
Case
 Thermaltake Mozart TX
Operating System
 Windows XP SP2
Drivers
DirectX 9.0c
nForce4 6.86 drivers
CATALYST 7.3

Benchmarks

Synthetic
3DMark 2005 v1.2.0
3DMark 2006
D3D Right Mark
Games
Company of Heroes / ingame benchmark
F.E.A.R / ingame benchmark
Half-Life 2: Episode 1 / Bjorn3D custom timedemo
Doom 3 / default timedemo
Quake 4 / id NET timedemo
NFS: Most Wanted
Far Cry 1.32 / custom timedemo
THEORETICAL THROUGHPUT
The cards throughput was measured using 3DMark05 application. I'll be comparing it to regular X1950 PRO, X1900 GT, X1800 GTO, X1900 XT as well as X1800 XT.

3DMARK05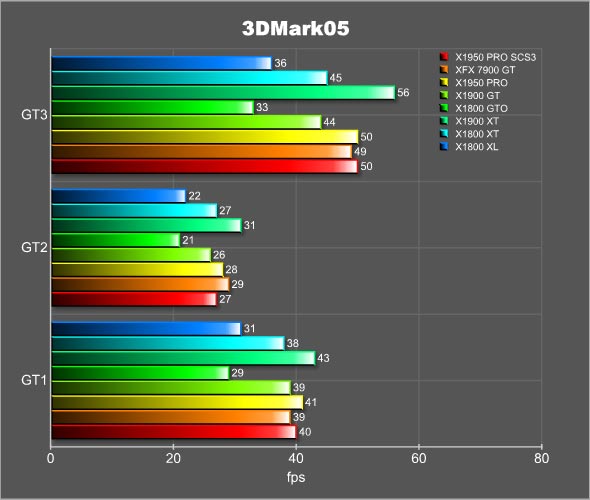 3DMARK06
RIGHTMARK
D3D RightMark is a very useful tool for measuring different theoretical throughputs of a graphics chip. I ran couple of synthetic tests to stress out X1950 PRO. The main focus of theses tests will be to stress out Geometric Processing (Vertex Shading) as well as Pixel Shader units.
With D3D RightMark you will be able to get the following information about your video card:
Features supported by your video card
Pixel Fillrate and Texel Fillrate
Pixel shader processing speed (all shader models)
Vertex shader (geometry) processing speed (all shader models)
Point sprites drawing speed
HSR efficency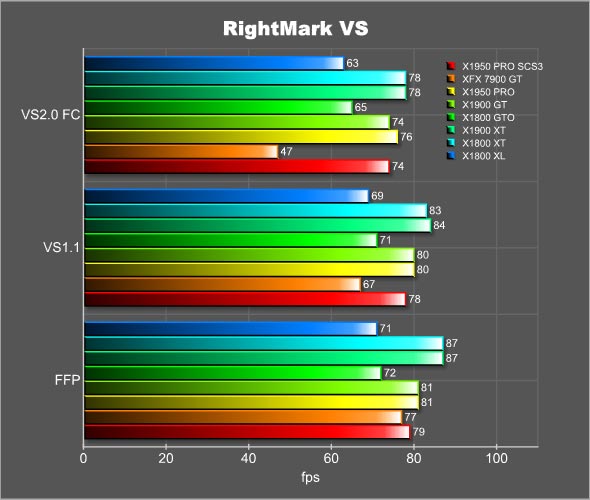 In this test, we are looking at the vertex shader's (geometry) processing speed. I chose Diffuse + specular (3 point lights) for our lightning profile which is probably the most useful setting. This will give us peak geometrical throughput. In order to get a clearer overlook, three different shader profiles were used: Fixed Function Pipeline (FFP) VS1.0 and VS 2.0 flow control.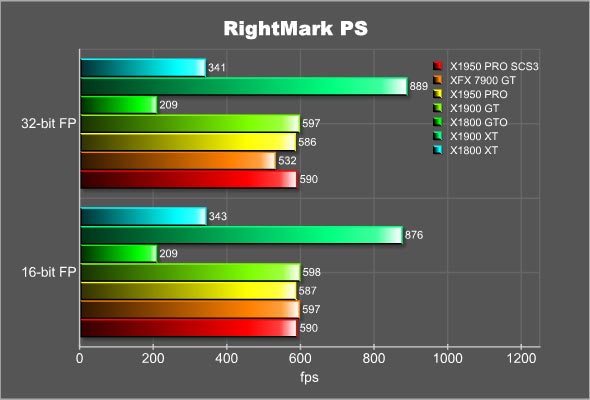 COMPANY OF HEROES
CoH is one of the best WWII RTS games that happened to appear on shelves in 2006. As Yaniv would say it's THE WWII game.
Company of heroes is the first game from Relic that is using the new "Essence" graphics engine. This engine brings all the new features of next-generation graphics cards into the game and makes it a genuine eye candy. When a tank's shell will hit the ground, a huge visual explosion accompanied with pieces of dirt, mud and thick smoke will rock your screen, making your speakers roar.

You will understand what I am talking about right within the first minute you'll play. Each soldier has about 2000 different animations and you'll be able to see their mood and feeling according to these animations. Zoom into the battlefield to see how your jeep driver turns the wheel towards the direction you pointed. Watch how soldiers exchange shells and magazines while shooting at enemy's forces.
This is just an excerpt from our review so be sure to check it all out. The cards that I'm testing today will be benched using CoH's ingame performance benchmark and believe me, it gives your video card a rough ride!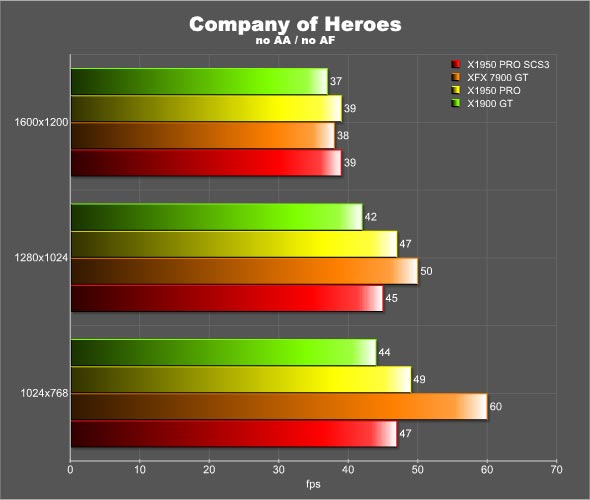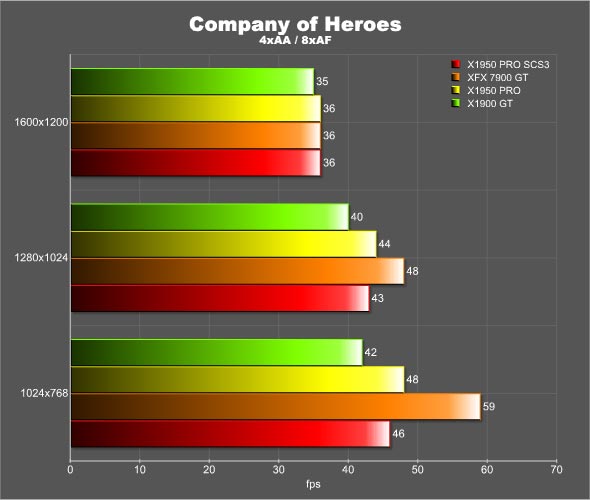 F.E.A.R
The game has been out for sometime now and is being admired by a lot of gamers all over the planet. It's scary, dark, gloomy and best of all addictive!
Game Overview
An unidentified paramilitary force infiltrates a multi-billion dollar aerospace compound, taking hostages but issuing no demands. The government responds by sending in special forces, but loses contact as an eerie signal interrupts radio communications. When the interference subsides moments later, the team has been obliterated. As part of a classified strike team created to deal with threats no one else can handle, your mission is simple: Eliminate the intruders at any cost. Determine the origin of the signal. And contain the crisis before it spirals out of control.
As you probably know, F.E.A.R uses a very sophisticated game engine (FEAR).
Rendering

FEAR is powered by a new flexible, extensible, and data driven DirectX 9 renderer that uses materials for rendering all visual objects. Each material associates an HLSL shader with artist-editable parameters used for rendering, including texture maps (normal, specular, emissive, etc.), colors, and numeric constants.

Lightning Model

FEAR features a unified Blinn-Phong per-pixel lighting model, allowing each light to generate both diffuse and specular lighting consistently across all solid objects in the environment. The lighting pipeline uses the following passes:

Emissive: The emissive pass allows objects to display a glow effect and establishes the depth buffer to improve performance.

Lighting: The lighting pass renders each light, first by generating shadows and then by applying the lighting onto any pixels that are visible and not shadowed.
Translucency: The translucent pass blends all translucent objects into the scene using back to front sorting.

Visual Effects

FEAR features a new optimized, data driven effects system that allows for the creation of key-framed effects that can be comprised of dynamic lights, particle systems, models, and sounds. Examples of the effects that can be created using this system include weapon muzzle flashes, explosions, footsteps, fire, snow, steam, smoke, dust, and debris.

Sample Lights

FEAR's lighting model is very flexible and allows developers to easily add new lights. Existing lights include:

Point Light: The point light is a single point that emits light equally in all directions.
Spotlight: Similar to a flashlight, the spotlight projects light within a specified field of view. The spotlight can also use a texture to tint the color of the lighting on a per pixel basis.
Cube Projector: Similar to the point light, the cube projector uses a cubic texture to tint each lit pixel.
Directional Light: This lighting is emitted from a rectangular plane and is used to simulate directional lights like sunlight.

Point Fill: Although similar to the point light, the point fill is an efficient option because it does not utilize specular lighting or cast shadows.
A more detailed overview of other F.E.A.R technologies can be found over at Touchdown Entertainment. These include: Havok Physics Engine and Modeling / Animations System.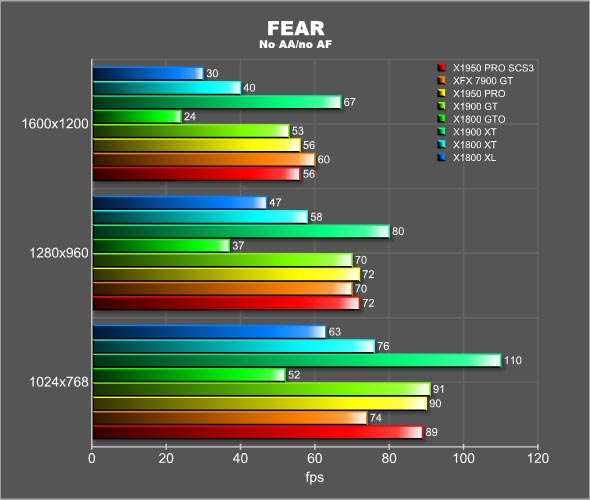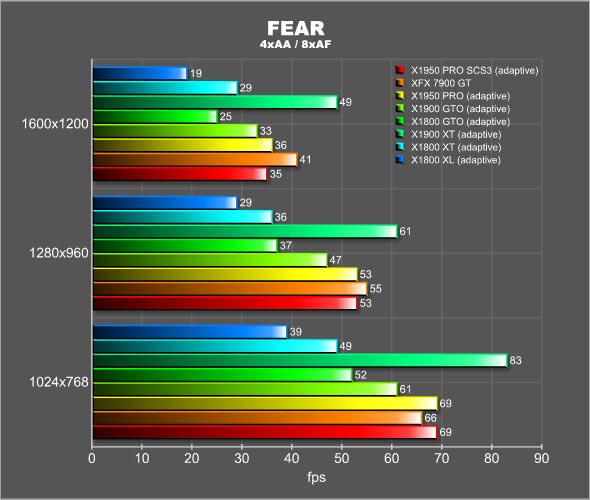 HALF-LIFE 2: EPISODE 1
A great sequel Half-Life 2, Game Of The Year. It's short yet concrete with a lot of new stuff from Valve. These include:
An all-new episode for one of the best-selling action games of all time.
Discover what's become of City 17, Dr. Breen, and the G-Man.
Incredibly advanced Artificial Intelligence (AI).
Highly detailed environments, featuring High Dynamic Range lighting, provide amazing gameplay settings.
Digital Actors: The most sophisticated in-game characters ever witnessed.
Physical Gameplay: Objects obey the laws of gravity, friction, and buoyancy.
Design Team Commentary Mode.
Also includes two multiplayer games: Half-Life 2 Deathmatch and Half-Life Deathmatch: SourceTM.
Half-Life 2 not required to play.
Episode One exposes Alyx's combat skills and knowledge of City 17. Battle side-by-side with her through Valve's first episodic game, a four-to-six hour adventure of greater density and detail than non-episodic releases.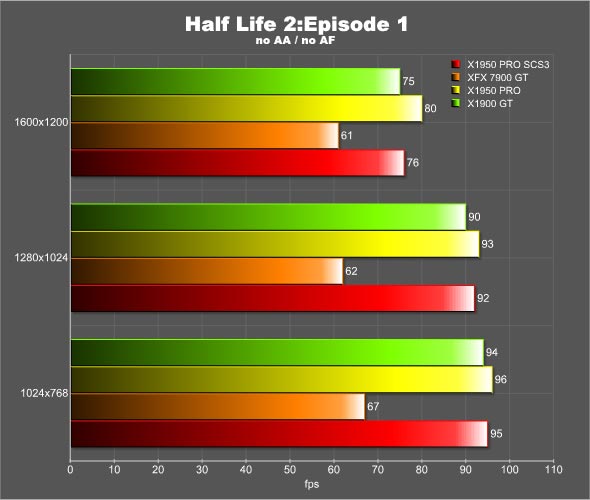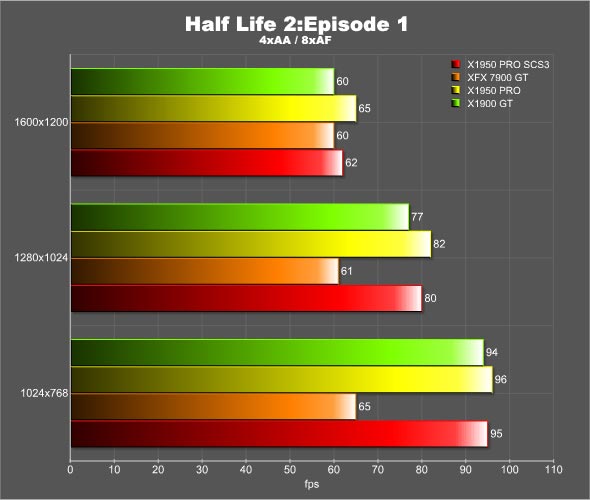 HALF-LIFE 2
We all love Half-Life 2 and we all want best performance out of our hardware. The game is built around Source engine which utilizes a very wide range of DirectX 8 / 9 special effects. Those include:
Diffuse / specular bump mapping
Dynamic soft shadows
Localized / global valumetric fog
Dynamic refraction
High Level-of-Detail (LOD)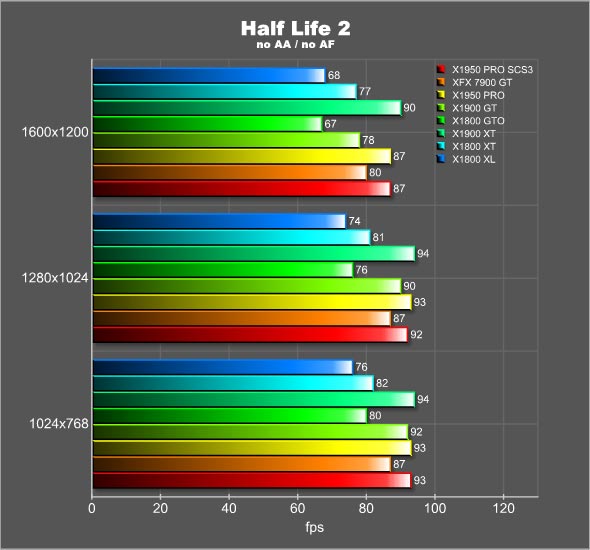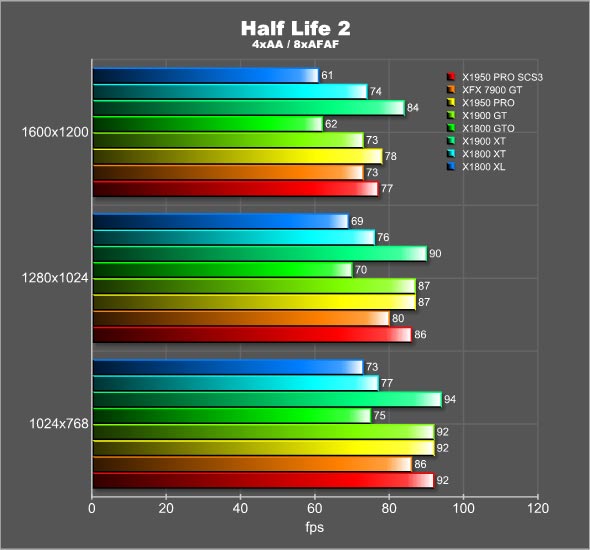 QUAKE 4
This is another good title worth looking at. With success of Quake 3, id Software decided (after few years) it would be proper to have a sequel. Designed over at Raven Software's farm, Q4 features rich single player as well as intensive and popular multiplayer mode.
It uses Doom 3 engine so you should be familiar with available effects. In any case, I listed them below
Unified lightning and shadowing engine

Dynamic per-pixel lightning
Stencil shadowing
Specular lightning

Realistic bumpmapping
Dynamic and ambient six-channel audio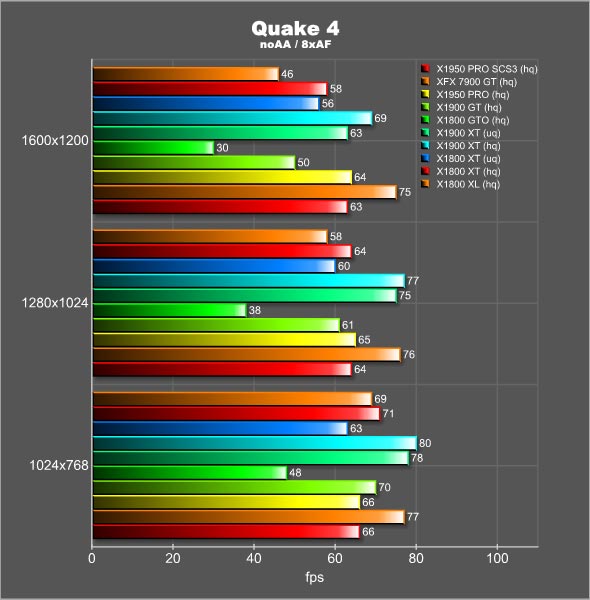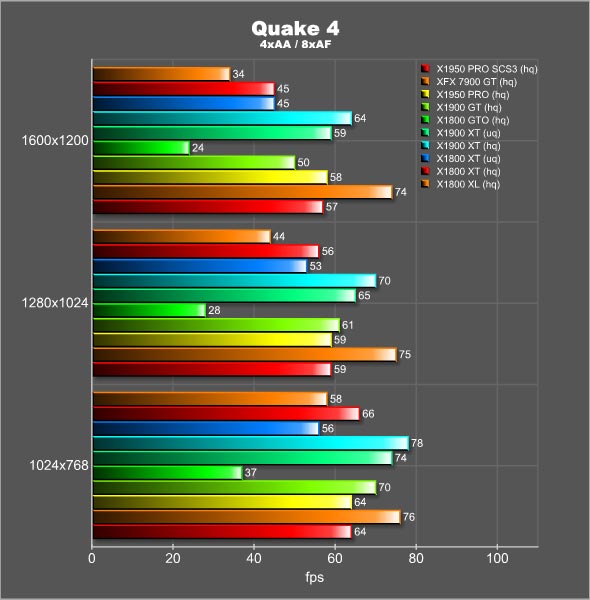 DOOM 3
Although this game needs no introduction, I will go over some of the game features and technology behind Doom 3. It took the guys at id Software over four years to complete this project. Lead programmer, John Carmack spent an awful lot of time designing the game engine, but his hard work paid off — to some extent since this is first title which houses Doom 3 engine.
Let's look at some of the engine tech features which are present in Doom 3:
Unified lightning and shadowing engine

Dynamic per-pixel lightning
Stencil shadowing
Specular lightning

Realistic bumpmapping
Dynamic and ambient six-channel audio
However you look at it, Carmack's lightning engine is the essence of Doom 3. With OpenGL being the primary API, shaders have been put to a heavy use in order to create the realisticly looking environment. Instead of using lightmaps the game engine now processes all shadows in real-time. This technique is called stencil shadowing which can accurately shadow other objects in the scene. There are disadvantage to this method however:
Requires a lot of fillrate
Fast CPU is needed for shadow calculations
Inability to render soft shadows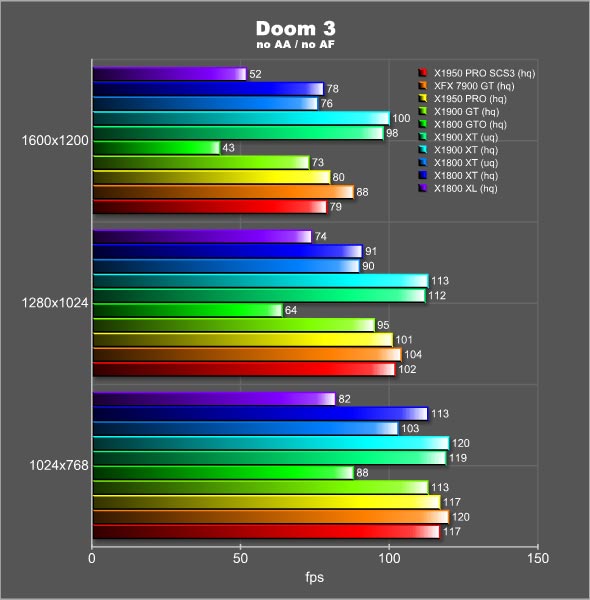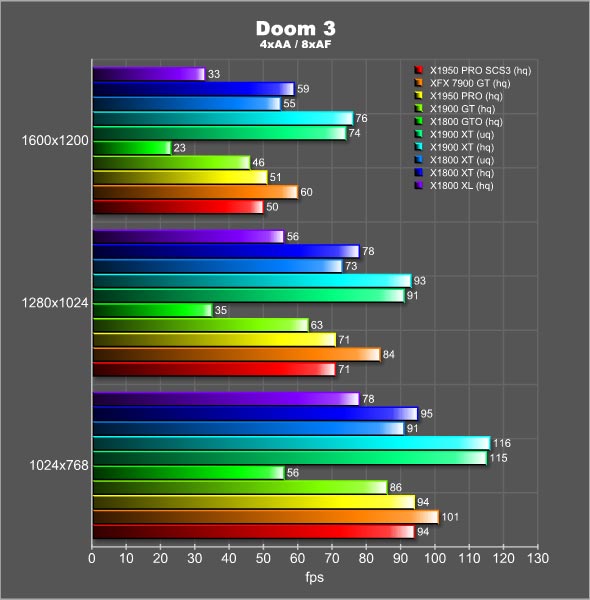 NEED FOR SPEED: MOST WANTED
We have quite a few new titles in this review. This one comes from Electronic Arts. If you've played NFS Hot Pursuit you know what I'm talking about. There are a lot of ideas taken out from the older NFS. The main difference between Most Wanted and Underground (in terms of graphics) is addition of HDR-type effects. It's pseudo-HDR (more like bloom), but looks lovely nonetheless. Additionally the game sports flashy new reflections, better object geometry, improved lightning system and finally physics engine.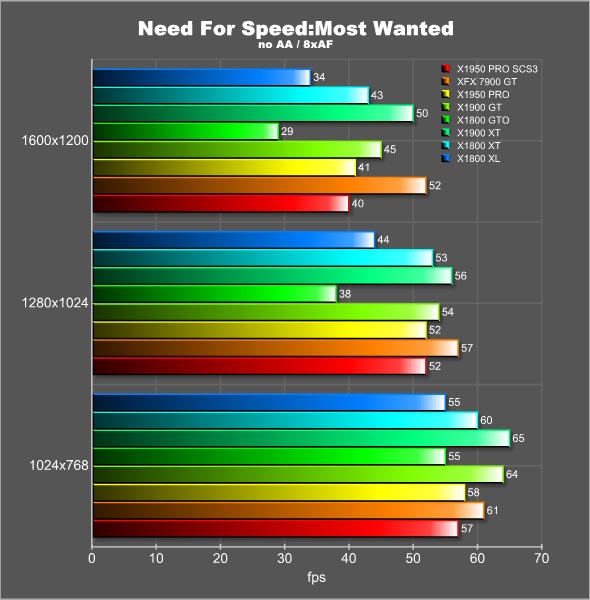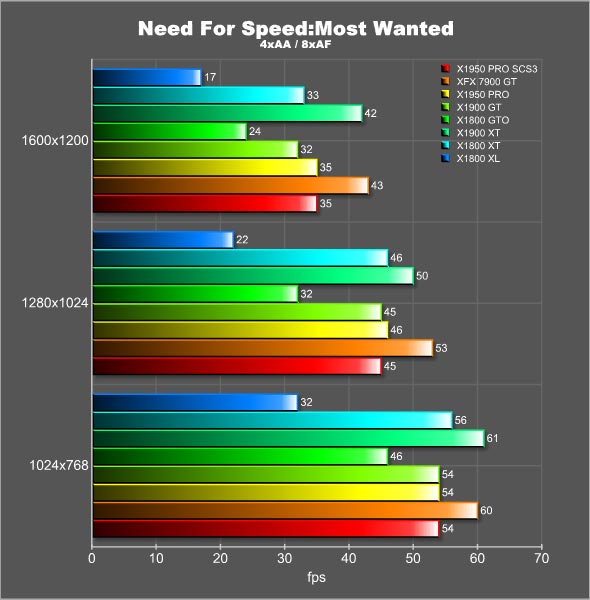 FAR CRY
The company behind this game is Crytek. It was pretty much the first title which used a heavy load of PS 2.0 shaders. For our benching purposes we are using the full version with the newest 1.33 patch applied. Anyone who played this title will admire the draw distance, beautiful outside vegetation and incredibly spooky indoor environment. The game also features topnotch self-learning A.I and very realistic physics.
Far Cry's CryEngine is pretty scalable, however you'd need at least DirectX 8 class hardware to enjoy the refractive water effects, ripples, real time per-pixel lighting, specular bump-mapping or volumetric effects.
The map of choice was Research. It's a high-polygon map with both outdoor and indoor environment.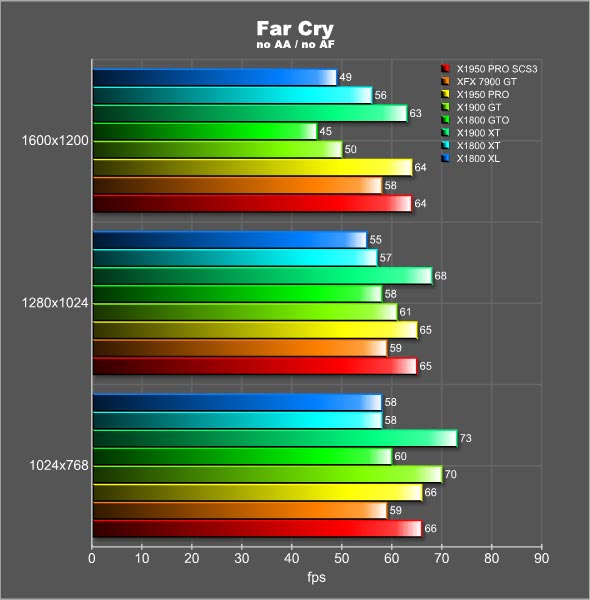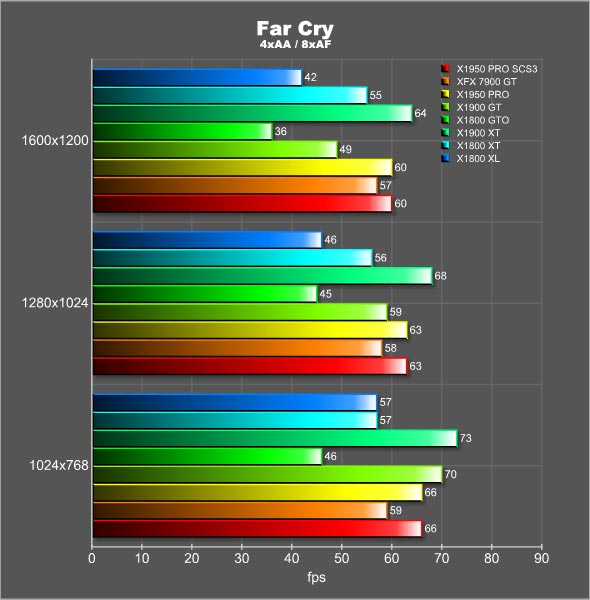 OVERCLOCKING & TEMPS
Usually I cover this part meticulously, but this is a justified exception. The card is simply not made for overclocking. Because of passive cooling and most likely lowered voltage I wasn't even able to hit 600 MHz on core. Trying additional fan did not help one bit. ATI's Overdrive seemed to function a bit funky. Every clock change resulted in screen flickering. Using ATITool I was able to hit 594 MHz for the GPU. Memory did not want to overclock at all. Any increase in MHz made the system unstable and hard reset was necessary.
Our previous review also featured silently cooled video card. It was PowerColor X1550 SCS however that one had terrible temperature problems and we couldn't recommend it to anyone with HTPC or SFF system. This X1950 PRO SCS3 however seems to be just the opposite of X1550. It's silent yet it runs cool. Idle state reveals around 42C, during load the temps go up to 62C. The difference seems a bit high, but since it's a passive solution it's understanable. Checking SCS3 with a hand revealved no sign of hot spots. Even memory heatsinks weren't hot.
CONCLUSION
Without a doubt, this is one of the best performing passively cooled cards that I have reviewed so far. Taking this very popular RV570 chip and slapping on Accelero S2 silent cooling system was a spot on move. Although the clocks are lowered just a bit, PowerColor X1950 PRO SCS3 does not lose in benchmarks. It might be slower 1-2 FPS, but in the long run you won't feel a difference in performance. Looking back at the cooling, the only downside I have noticed were dimensions. This particular X1950 PRO isn't suited for SFF / HTPC systems as it takes up two slots and is quite tall. There are of course HTPC casings that will provide sufficient clearance for PowerColor X1950 PRO SCS3 and the like.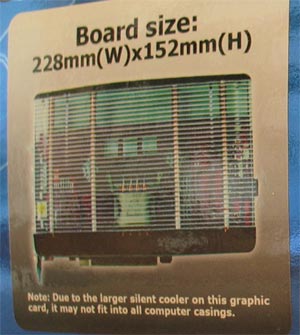 Due to the larger silent cooler on this graphic card, it may not fit into all computer casings
As you can see, SCS3 aka Accelero S2 is pretty large in size: 228 mm wide and 152 mm high. It's a pity that you won't be able to use two exact boards in Crossfire configuration. You can however use one SCS3 model in conjunction with another X1950 PRO, but that would be blasphemy in my opinion.
If you feel you need an upgrade and don't want your ears hurt this is definitely a video card for you. On top of that it doesn't stray away when it comes down to performance. RADEON X1950 PRO is one hell of a popular product. AMD keeps milking the cow while it can and its partners are still making dough by selling those. This just proves a theory: good products tend to stay longer on the market and are more appreciated than those that, don't have pleasant and desirable qualities.
Taking everything into account, it's a decent deal for $229 green. Just make sure this thing fits into your chassis.
Pros:
+ Absolutely silent operation
+ Low idle / load temperatures
+ No performance sacrificed
+ Memory heatsinks
+ HDCP ready
Cons:
– Not overclock friendly
– Not Crossfire friendly: can't combine two of the same kind
For absolute silence, on par performance and stable operation, PowerColor X1950 PRO SCS3 gets the score of 9 (Extremely Good) out of 10 and Bjorn3D Seal of Approval.