To help take care of the increased need for power, Thermaltake has released a separate PSU intended just for your video cards. In our review we test it to see if it is worth the money or if you better spend it on a new PSU.
INTRODUCTION
With each new generation of high-end video cards the demand for power just keeps growing. Not only does the separate video cards need more power, using two in SLI or Crossfire mode increases the power demand even more. It is of course possible to just buy a new more powerful PSU every time you upgrade but that is not always practical, especially if you have a PSU that you are happy with and do not want to have to replace.
With the release of the GeForce 8 cards from NVIDIA and R600 from AMD we also have another problem. While two PCI-Express power cables were enough to power two previous generation video cards in SLI or Crossfire, we now need 4(!) cables if we happen to be able to afford a second GeForce 8800GTX or R600.
Thermaltake has the perfect product for anyone who wants to add some more power without having to change the whole PSU: the Purepower Power Express 250W.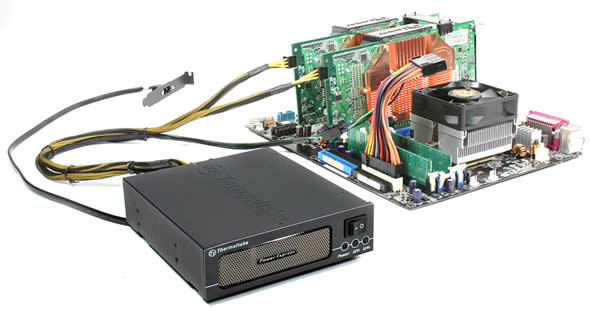 ABOUT THERMALTAKE
Thermaltake is one of those companies that create a lot of different products. They are mainly known for their cases and their power supplies but also make a lot of different cooling products like liquid cooling systems and fans.
"Thermaltake Technology Co., Ltd. started its core business based on our extensive knowledge of PC thermal management during the era where the area of performance CPU cooling was only exclusive for "overclockers" orPC enthusiasts. With the company's initial launch of Orb coolers, it created waves of shocks and appraisals throughout the gaming and overclocking communities. Thermaltake quickly became the name gamers turn to when they need high-end and reliable thermal solutions.

With company's core business of CPU cooling still growing at a vast rate, Thermaltake made another grand entry to the PC chassis industry. To date, Thermaltake has always been considered as the pioneering company that revolutionized the PC chassis industry with Xaser series enclosures. The typical and traditional beige and plastic front panel design was outdone by Xaser series chassis's atypical gaming red and aluminum front panel. It was also the first enclosure available to public with Hardcano unti which provided users full control over computer's thermal management system.

In the year 2002, Thermaltake announced Purepower line of power supply unti for the ever-growing power-hungry PCs. Purepower series PSU quickly gained recognition with its extensive warranty and high-reliability guaranty.

Today, Thermaltake has grown into a world-class company with state-of-the-art testing and R&D facility based in Taiwan along with 60+ engineers and ID team covering each application segment such as Liquid Cooling, Air Cooling, PC Enclosure and Power Supply for main-stream users, high-end solutions, system integrators and industrial applications; thus achieve Thermaltake's company motto, " COOLall YOUR LIFE " !
FEATURES AND SPECIFICATION
The specifications of this little box are as follows:
Feature/Specification

 Model W0099

Maximum Power

250 Watts (Peak Load: 300Watts)

Color

 Black

Switches

ATX Logic on-off additional power rocker switch

PFC (Power Factor Correction)

Active PFC

Cooling System

4 cm Fan

SPEED: 5500 (+/- 10%) RPM

DIMENSION:

40 X 40 X 20 mm
AIR FLOW: 6.3 CFM
TEMP. AUTO CONTROL

Noise

20dB at 2000RPM  

Over Voltage Protection Recycle AC to Reset 

Maximum value not over 12.8~15.5V 

Dimensions 

16.4cm(L)x14.5cm(W)x4.1cm(H)

Net Weight

1.2 kg

Input Voltage

90VAC~264VAC

Input Frequency Range

47 ~ 63 Hz

Input

Current 5A

Hold-up Time

16ms

Efficiency

Above 75% at full load

Output

Voltage: +12V1 & +12V2
Max. Load: 21A (Peak Load: 25A)
Min. Load: 0A
Output Voltage: 11.4VDC~12.6VDC
Ripple & Noise: Less than 100mVpp
Features
Standard 5.25″ design: fits into any 5.25″ drive bay of all cases
Two 6-pin PCI-Express connectors support nVIDIA SLI technology
Work with main power supply: reduce the loading on current PSU and no need to upgrade current PSU while running dual card mode
Keeps stable power input for graphic cards to maximize the overclock-ability & performance
Three LEDs display: red for power on, one green LED for 12V1, and another one for 12V2
High reliability: MTBF>100,000 hours
Protections: Input Circuit, Over Power, Short-Circuit, Under Voltage, Over Voltage, and Over-temperature protection
Safety / EMI Approvals: CE and FCC certified
PACKAGING AND THE UNIT
The Purepower Power Express 250W comes in a small box similar to the ones used for PSU's. It is full of small photos showing the various parts included in the box.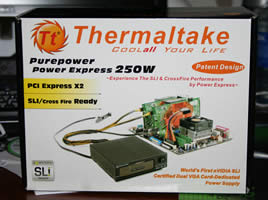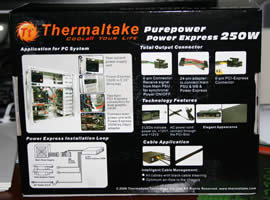 Opening up the box we find the following items:
The PSU which sits in a 5.25 cabinet
24-pin adapter: to Connect main PSU & MB & Power Express
Power cord
Manual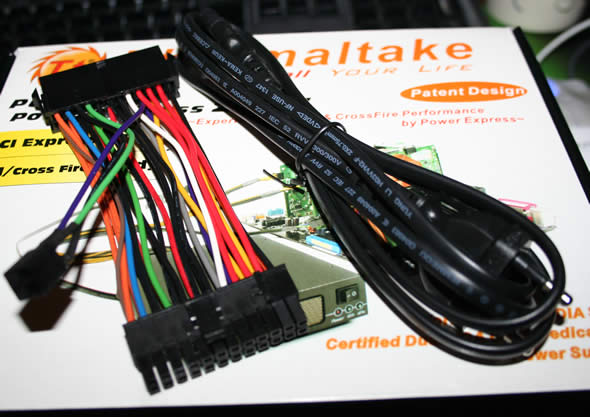 The main unit is made of black metal and made to sit in a 5.25 slot. In the front there is a grill, 3 lamps and an on/off switch.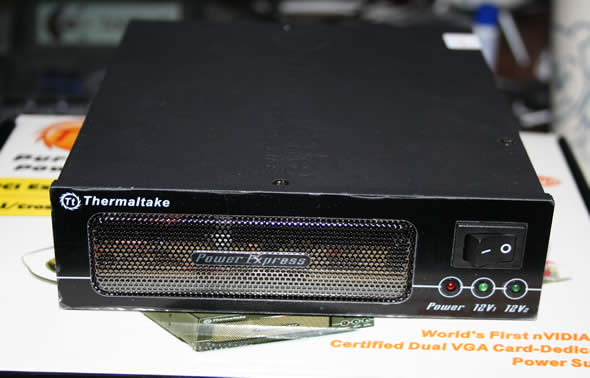 In the back of the unit we find several cables coming out. The AC power cable ends in a small back plate that sits over a PCI-slot. This is where you hook the unit up to the power source outside of the computer.
A sleeve is used to take care of the other cables coming out of the back of the unit. We find 2 PCI-Express power connectors and a special connector that hooks up to the 24-pin adapter that is included. This cable is used to synchronize Power On/off with the main PSU.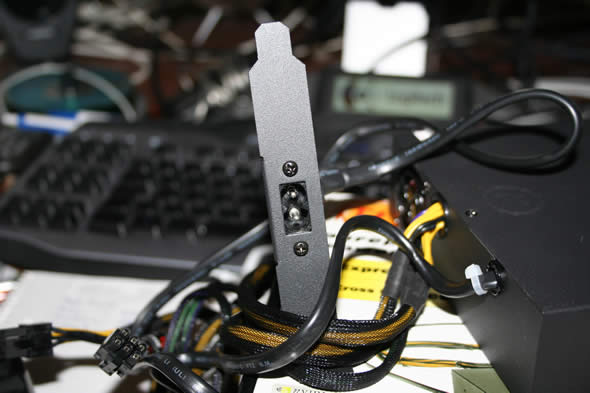 There actually is a small fan inside the unit which spins up depending on the temperature and workload.
Installation
Installing the unit is easy. It slots into an empty 5.25 slot and then you put the back plate over an empty PCI-slot in the back. The 24-pin adapter that is used to sit between the power cable from the PSU and the motherboard is quite long making it easy to fit it even in tight spaces as you can bend the cable around.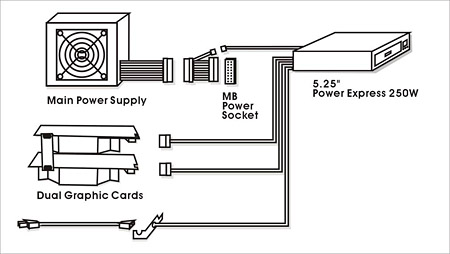 How to install the Power Express 250W
Using the PSU
The PSU has 2 lamps on the front of the unit. The power lamp just signals that the power is on. The other two lamps light up as each PCI-Express power cable is hooked up to a video card.
TESTING
Testing a PSU usually means I have to use a Multimeter to measure the Volt on each line (3.3V, 5V and 12V). In this case it is hard as it doesn't have any Molex-connectors on it where I can do any measurements.
I instead decided to use a simple meter which measures the power consumption at any given time.
Next I set up this system:
The ASUS 8800GTS needs power from one PCI-Express power cable while the Calibri 8800GTX uses both. The Calibri however also get some extra power for its TEC-cooler from a separate Molex-connector so I was curious to see how much extra juice it actually needed from the Purepower Power Express 250W.
I measured the watts used at the bios screen, in Windows after 10 minutes of no activity and the max watts when running 3Dmark06 at 1920×1200 with 8xAA and 16xAF. If that does not put as much strain as possible on both the video card and the rest of the system I do not know what will. This was done both just using my High Power 620W PSU and together with the Purepower Power Express 250W hooked up to the Calibri 8800GTX and the ASUS 8800GTS.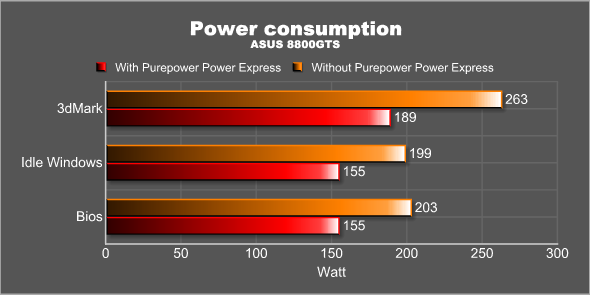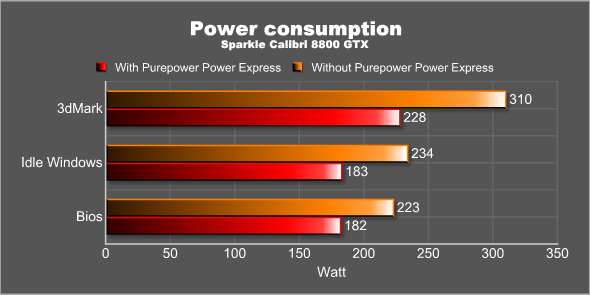 The difference in the bios and Windows Idle is about 40-50W while the difference grows to over 80W when pushing the card. So in other words, in my case the Power Express 250W took off over 80W load from my PSU.
CONCLUSION
There is hardly anything negative that I can come up with regarding the Purepower Power Express 250W. At a price around $45 it is quite cheap, especially when you compare it to buying a completely new PSU. It has no problems to deliver the power needed for either a single high end card or dual high end cards in SLI or Crossfire. The only negatives I can see right now is that it "only" comes with two PCI-Express power connectors, few if you are considering SLI 8800GTX or even three video cards, and that the R600 will need a 8-pin PCI-Express power connector, in addition to a standard 6-pin connector, if you plan to overclock it (two standard 6-pin PCI-Express power connectors will work fine for normal use).
Pros
+ Stable performance
+ Silent
+ Good price
Cons
– Give us even more PCI-E power connectors
– Lacks 8-pin PCI-Express power connector that is needed for overclocking of the AMD/ATI R600
I award the Thermaltake Purepower Power Express 250W a 9 out of 10 and a Golden Bear Award.